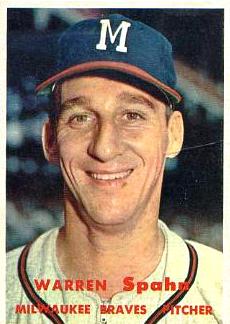 ---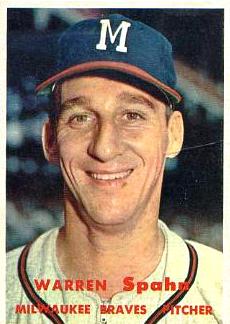 The fifth-winningest pitcher of all time, Warren Spahn went 363-245 over parts of 21 years from 1942 to 1965. Only by remaining in the game two seasons too long did he fail to finish with an ERA under 3.00 (3.09) and a winning percentage over .600 (.597), and his totals are all the more impressive considering that he didn't record his first big-league victory until he was 25. Spahn should make everyone's list of the 10 best pitchers in baseball history, and was the one "sure thing" Braves fans had to  cheer for through the team's final five years in Boston — and far beyond.
Named after both President Warren G. Harding and his own father, Warren Edward Spahn was born in Buffalo, New York, on April 23, 1921, the fifth of six children and the first of two sons to Ed and Mabel Spahn. Supporting his family in the city's blue-collar East End, Ed was a $27-a-week wallpaper salesman who didn't own a car. His family ate meat maybe once a week, and his children stuffed their shoes with newspapers. A good bowler and semipro baseball player but too small at 5 feet 7 and 130 pounds to dream of a big-league career, Ed sublimated his disappointment by teaching the game to left-handed Warren, the most promising athlete in the family. Ed knew there were only so many positions open for a lefty; so just in case Warren couldn't hit well enough to play first base (his favorite position), Ed taught him exhaustively how to throw fastballs and curves from a mound he built in the backyard. "You've got to have control," Ed said over and over. "Without control you're nothing!" Warren nodded and kept dreaming of playing first in the big leagues.
"He insisted that I throw with a fluid motion, and the high leg kick was part of the deception to the hitter," Warren told Oklahoma City's Daily Oklahoman in 1998. "Hitters said the ball seemed to come out of my uniform."
The secret of Spahn's future injury-free longevity was the foundation laid by his dad. "He taught me how to follow through with my shoulder and body, how to throw without any strain, how to get the most out of my pitch and out of my weight even when I was a skinny kid," Spahn told sportswriter Bob Broeg. "He taught me how to roll a curveball, how to let it go off my fingers at the last moment. He taught me how to pass my knee by my right elbow.
"I thought it was a lot of drudgery. It was lots more fun just to pick up the ball and throw, but Dad wouldn't let me play catch unless I did it correctly."
Ed and Warren went to Buffalo Bisons minor-league games together, and Warren came to admire Buffalo first baseman Big Bill Kelly, a former major leaguer (A's 1920, Phillies 1928) who hit 149 homers for the Bisons from 1922 to 1930 and earlier had played semipro ball with Ed. Warren's father also instructed him to track the motion of Bisons pitcher Charlie "Lefty" Perkins (A's 1930, Dodgers 1934). "Now, if you want to be a pitcher, watch every move Charlie Perkins makes," Ed told his son. "If you want to be a first baseman, watch Bill Kelly."
Because of his father's connections on the Buffalo club, Warren got to shag balls in practice. When he couldn't remember names, he called all the players "Kelly," and they in turn called him Kelly Spahn. "After those Bison games my dad gave me the option of an ice cream cone or a streetcar ride home," Spahn told the Tulsa Daily World's John Ferguson. "Many times we took the ice cream and rehashed the game walking home."
Plainly, the kid wanted to be another Lou Gehrig. When he was 9, Warren donned a uniform for the Lake City Social Club midgets and played with them for three years. He graduated to American Legion ball, always a great training ground for future major leaguers. Eventually Warren was playing first base for three local teams six days a week. In a dream sequence on the Lake City Athletic Club team, the 110-pound 13-year-old played with his 37-year-old father and handled Ed's hard throws from third. "You'd think he was going to throw it right through me," Spahn told the Christian Science Monitor's Ed Rumill. "I weighed only about 110 pounds in those days. But he was teaching me to play hard and it did a lot of good."
When Warren arrived at South Park High School, however, he discovered an All-Scholastic player named Bill Benzerman (who later became a professional wrestler) occupying first base; reluctantly, Spahn took up pitching — this time for good. When his coach asked if he had a favorite uniform number, the ever-contrary lefty said 13. "Thirteen, eh? Not the superstitious kind, I see." "Uh-huh," Spahn said. "Thirteen has always been good luck for me."
The youngster led his high school to two city championships, went undefeated his last two seasons, and threw a no-hitter his senior year, but he was spurned by big-league scouts as too skinny. As fate would have it, a disenchanted Red Sox scout named Billy Meyers disagreed with the popular consensus. Meyers didn't like the deal the Sox were offering one Sebastian Sisti, so he had quit one Boston job and took Sisti with him to the other a few years earlier. (Sibby Sisti would later become a longtime teammate of Spahn's with the Boston and Milwaukee Braves.)
Meyers still worked part time for the Boston Bees (as they were called from 1936 to 1940 before a name change back to Braves) when he wasn't selling tickets for the New York Central Railroad. Impressed by Spahn's control, he signed the young hurler in 1940 (at Ed's insistence, after he graduated from high school), for $80 a month. Because his family couldn't afford expenses, Spahn turned down a partial scholarship from Cornell University and headed straight for the low minors.
Spahn's first pro assignment was the PONY League's Bradford (Pa.) Bees, managed by Jack Onslow. When Spahn asked for number 13, Onslow reportedly replied, "Fella, we don't carry any number thirteens. A guy's liable to run into enough tough luck around here without wearing any number thirteen on his back."
Experimenting with a new delivery for an overhand curve after about one-third of the season, Spahn snapped the pitch too sharply and tore several tendons in his left shoulder. Warren went home with his arm in a sling, and his father went into a depression. Then, after the youngster returned to Pennsylvania two weeks later, he threw his first hard pitch and tumbled off the mound clutching his shoulder. The trainer said he'd need a year off if he was lucky, and Onslow muttered, "You know, maybe I should have given that fellow number 13 after all." Back home, Ed Spahn reacted by going into a deeper depression and was hospitalized. Young Warren spent the remainder of the summer, the fall, and the winter checking baggage at the Buffalo railroad terminal.
With a 5-4 record, 62 strikeouts in 66 innings, and a 2.83 ERA in his brief stay, however, Spahn had showed promise. He recovered by the next season, only to run into more bad luck. In a 1941 appearance at spring training in San Antonio with the Braves, he suffered a broken and permanently disfigured nose courtesy of a teammate's errant throw. He also got some nicknames he didn't appreciate: Hooks and The Great Profile. Even his father called him Meatnose.
"When Dad's nose was broken, John Berardino's nose was also broken the same day," Spahn's son, Greg, recalls. "They sent John to a specialist to have it fixed. They called Dad in and told him, 'Warren, we will send you to a specialist to have your nose fixed, but most people that have that done end up with sinus problems and you're not a very good-looking guy.' The ballclub didn't want to spend the money on Dad's nose. John Berardino being an actor, that was a different story."
Nonetheless, Bees manager Casey Stengel said, "He's only 20 years old and needs work. But mark my word, if nothing happens to the kid, he can be a great one." Stengel also said, "Someday he's going to be one of the best left-handers in the league."
In the summer of '41, playing for Evansville of the Three-I League, Spahn led the circuit in wins (19), winning percentage (.760), shutouts (7), and ERA (1.83). With Spahn throwing 42 consecutive scoreless innings and three one-hitters, Evansville won the pennant. Manager Bob Coleman changed Spahn's delivery to put less pressure on his elbow and Warren's roommate, pitcher Willard Donovan, showed him the pickoff move he would perfect.
According to one legend, the old Hall of Fame catcher Ernie Lombardi warmed Spahn up in spring training of 1942. When he threw one of his best fastballs, Lombardi reportedly caught it barehanded, spat tobacco juice on it, and threw it back harder. Turning his back to rub off the juice, Spahn thought, "I'm not sure I belong here."
Even so, Spahn's smooth overhand delivery and flawless follow-though won raves at 1942 spring headquarters in Sanford, Florida, and he made the Boston club (now the Braves again). But when he failed to brush back Pee Wee Reese in his second big-league outing as Stengel ordered, the manager stalked to the mound and growled, "After your shower, pick up your railroad ticket to Hartford." Spahn reported, wowed the Eastern League with a 17-12 record and a 1.96 ERA, and returned to pitch twice more for the seventh-place Braves.
He had no wins over his 15 2/3 abbreviated innings with Boston, but did get credit for an abbreviated complete game on September 26 when Polo Grounds kids who had been admitted for working in a wartime scrap-metal drive swarmed the field and forced the Giants to forfeit a game in which they were beating him 5-2 (no pitcher gets a win in a forfeit). All of this, Spahn knew, was a prelude to war. He enlisted in the Army in October of '42, and in November Buck Private Spahn was shipped to Camp Gruber, 60 miles southeast of Tulsa, Oklahoma, where he learned to be a combat engineer. It is also where he met his future wife when Buffalo friend Roy Reimann introduced him to LoRene Southard, an oil company executive secretary with spectacular business acumen who would later help make Spahn rich.
The lefty had a far rougher World War II experience than most big-leaguers, who spent the conflict out of harm's way with gloves instead of guns, but before entering the fray he too got to play some ball. Pitching in the summer of 1944 for the Gruber Engineers, with Reimann as his catcher, Spahn won his first 10 games — seven on shutouts — and struck out 186 batters in just 80 innings. The winning streak was snapped when he uncharacteristically committed three throwing errors in a 7-1 loss to the semipro Atlas Electrics of Tulsa at Texas League Park on July 30, 1944. He may have had a lot on his mind, because Spahn was shipped to Europe aboard the Queen Mary on November 9, 1944. As a staff sergeant in the 276th Engineer Combat Battalion, he arrived in France a few weeks later, and survived for about 10 days on peanut butter sandwiches provided by friendly British soldiers.
Spahn's 9th Armored Division, which preceded much larger groups of Allied troops, was charged with repairing roads and bridges. Spahn fought in the snowy, frozen Battle of the Bulge, getting nicked by bullets on the abdomen and back of the head. Crossing France and Belgium, his division arrived at the Rhine River and the Ludendorff railroad bridge at Remagen on March 7, 1945. While retreating, the Nazis had destroyed every intact bridge but the one at Remagen. The demolitions were in place, but for some reason they had never pushed the plunger. The bridge's defense was crucial to the Allies for delivering men, vehicles and equipment to the German heartland. On March 9, Sergeant Spahn and the 276th were ordered to the bridge to remove the demolitions, repair the bridge, maintain it, and construct a second span for two-way traffic. Working furiously to maintain the girders, Spahn and Co. were bombarded by V-2 rockets while troops, tanks, and trucks crossed above them. A biographer, Al Silverman, later described the scene:
"While the bridge vibrated and twanged like banjo strings, swaying precariously as marching infantrymen tramped across each catwalk, and tanks rumbled across the planked railbed, the units patched holes, bolstered the bridge with heavy supports, repaired damaged flooring and cratered approaches."
Ten days after the first successful crossing, Spahn received an assignment at a meeting over the center of the bridge and walked off to explain to his platoon that they'd be taking over the bridge's security at 4 p.m. At 3:56 a platoon member shouted, "Look at the back! The bridge is falling down!" Possibly overloaded, certainly bombarded, the span slipped into the river, leaving 28 soldiers dead, 93 injured, and Sergeant Spahn with shrapnel in his left foot. Having crossed the Rhine, however, the Americans were able to protect a second bridge and other smaller pontoon bridges they built. Surgeons removed Spahn's shrapnel. On June 1, 1945, he was the only ballplayer given a battlefield promotion, from staff sergeant to second lieutenant. In all, he earned a Bronze Star, a Purple Heart, a battlefield promotion, and a Presidential citation. That made him the most decorated ballplayer in World War II. (Like Spahn, Hoyt Wilhelm earned a Purple Heart, but Spahn alone received the Bronze Star.)
Aged rapidly by his battle experiences into a partially bald and fully-grown veteran, Spahn also built up stamina, concentration, and discipline during this period. "After what I went through overseas, I never thought of anything I was told to do in baseball as hard work," he insisted. "You get over feeling like that when you spend days on end sleeping in frozen tank tracks in enemy-threatened territory. The Army taught me what's important and what isn't."
Typically, Spahn found humor in the grimmest of situations. Because German spies would wear American uniforms, he said, "Anybody we didn't know, we'd ask, 'Who plays second for the Bums?' If he didn't answer 'Eddie Stanky,' he was dead." Spahn had no use for being labeled a hero. "The guys who died over there were heroes," he told his son, Greg. Nor did Spahn cotton to the view of baseball historians who estimated that he lost 30 or 40 wins to service time. "I matured a lot in those [war] years," he said. "If I had not had that maturity, I wouldn't have pitched until I was 45." (A statement like that says much about character. By contrast, the querulous Bob Feller says that if it weren't for his wartime service, "I'd have won more games than Warren Spahn.")
Unaware that the war would end just two months later after the dropping of atomic bombs on Hiroshima and Nagasaki in August 1945, Spahn accepted the battlefield promotion, which forced him to remain in the service until the next May and miss the start of the '46 baseball season. Instead, he became the hottest pitcher in Germany that spring; working for the 115th Engineers Group, he allowed one run and struck out 73 batters in four games. And when he returned stateside, the Braves immediately promoted him to the majors, on June 10, 1946. "This is the first time in years I've reported to anybody without saluting," he told new Boston manager Billy Southworth.
Spahn appeared in his first postwar game seven days later — Bunker Hill Day in New England — and gave up one run and four hits in four innings of a doubleheader opener against the Cardinals at Braves Field. "He was all grace," biographer Al Silverman wrote, "kicking his right leg high in the air, his left elbow passing his right knee, just as his dad had taught him, then uncoiling and the ball snapping to the plate out of flapping sleeves and trousers, the ball streaking in and on the batter almost before he could measure it, blazing in like a freight train coming out of the darkness."
In his first start, on July 14, Spahn beat the Pirates, 4-1, and allowed just one runner past second base (Frankie Gustine, who homered). It was his first big-league victory, but Warren was distracted by love. Southworth wanted him to wait until after the season before marrying LoRene Southard — he even offered to be best man and pay for the wedding and honeymoon — but Spahn instead got a day off and married her on August 10. Then, after initial success, he lost four straight. Chuck Dressen, a Dodgers coach, said Spahn was tipping off his pitches. "We can beat Spahn every time he pitches," Dressen crowed. "We know every pitch he throws." Spahn, who would correct the flaw the following spring with help from pitching coach Johnny Cooney, still went 8-5 with a 2.94 ERA over the second half of the '46 season. "Pressure? What pressure?" he said. "If I do badly, what's the worst thing that's going to happen? No one is going to shoot at me!"
Because of his military service, balding pate, and relatively advanced age — he won his first game at 25 — Spahn fit in quickly and became an instant elder statesman on the Boston club. "He was born old," a teammate said, and the writers described him as a downright Homeric figure. In a single column, legendary New York sportswriter Red Smith playfully called him "goose-necked, stork-legged," and "a gowky [probably a typo for "gawky"], bat-eared old warrior with the ample nose."
Some pitchers are unapproachable on the days they start. For his part, Spahn played practical jokes. He thought nothing of whacking teammates upside the head, setting their straw hats on fire while they wore them, or leaving mice in their pockets. "When I'm kidding, I'm actually relaxing," he said. "It's my way of coping with pressure."
An act like that can grow old in a hurry if you don't win. But already everyone expected him to be an ace. In a 1946 conversation captured by a Philadelphia sportswriter, Phillies manager Ben Chapman and slugger Del Ennis traded impressions with Giants slugger Johnny Mize:
Chapman: "Spahn has one of the greatest overhand curves I've ever seen."
Ennis: "Never mind the curve. What I have to watch for is the change of pace he throws. I swing at it before it is halfway to the plate."
Mize: "The curve and change of pace are all right, but it's that fastball. It does tricks as it reaches the plate."
Spahn's performance backed up these concerns. In notching a 21-win season that helped the Braves to a third-place finish in 1947, Spahn led the league in ERA (2.33), innings pitched (289 2/3) and shutouts (7) while getting just 13 runs of support in his 10 losses. Most of the 1948 season was a different story; preoccupied by LoRene's pregnancy, the October 1 birth of their only child, Gregory, and an erratic fastball, he was only 15-12, but Spahn and right-hander Johnny Sain pitched the Braves to a pennant with an incredible stretch run, prompting the "Spahn and Sain and pray for rain" poetry crafted by Boston Post sports editor Gerry Hern and repeated around the Hub. The exact words were: 
First we'll use Spahn, then we'll use Sain
Then an off day, followed by rain
Back will come Spahn, followed by Sain
And followed, we hope, by two days of rain.
Beginning on September 6, Spahn and Sain started 11 of Boston's next 16 games, with Spahn going 4-1 and Sain 5-1. On September 6, Warren threw a 14-inning, 2-1 win over the Dodgers in which he picked off Jackie Robinson twice. It was probably the best-pitched game by any Brave all season, and helped spark a 13-1 stretch by the club that all but wrapped up the NL flag. Facing Cleveland in the World Series, however, Spahn lost his only start, 4-1 in Game Two. "A few inches the other way and a couple of those hits would have been outs," said Sain, who had beaten Bob Feller 1-0 in the opener. "You gave it a good try." "I pitch to win them all, same as you," Spahn replied.
With the Braves trailing three games to one, Spahn won Game Five with 5 2/3 innings of one-hit, seven-strikeout relief before the largest crowd in World Series history until that time — 86,288 strong in Cleveland. Back in Boston the next day, Southworth asked the weary Spahn if he had anything left, since the manager had to pinch hit for starter Bill Voiselle in his next at-bat and the Braves were trailing late in Game Six, 3-1 "I'll give it all I've got," Spahn said, but he had trouble warming up. When he relieved in the eighth, the Indians scored an insurance run off him with three straight singles before Spahn stymied the rally with a pickoff that started a double play. The Braves' two-run rally in the bottom of the eighth fell just short; Spahn retired the last four men he faced and struck out the side in the ninth to give him 12 K's in his 12 Series innings, but the Braves lost, 4-3.
Members of the Boston Braves Historical Association sometimes speculate: If Spahn had held the Indians scoreless and the Braves had rallied to win the Series, would they have left town so soon thereafter? No one knows for sure, but the club certainly didn't help matters with an uninspiring title defense. The Braves immediately self-destructed amid dissension, contract disputes, and injury in 1949, finished four games under .500 in fourth place, and began the decline that led to their departure from Boston. Already annoyed by the signing of 18-year-old "bonus baby" pitcher Johnny Antonelli for $50,000 or more in 1948, veteran players balked at Southworth's two-a-day workouts totaling six hours at spring training. Drinking heavily, his nerves in tatters, Southworth had to take a leave of absence two-thirds of the way through the season. Unsatisfied, the players voted him a half-share of their fourth-place Series money. Then, as if things could not get worse, management infuriated players and many fans by trading double-play mainstays Alvin Dark and Eddie Stanky for four Giants on December 14, 1949.
But neither these distractions nor even his own salary disputes affected Spahn's concentration: Up to 172 pounds, using his thick wrist and well-developed chest muscles, he went 21-14, 21-17, 22-14 in 1949-51, leading the National League in strikeouts all three years and in wins twice. He could go long — he struck out a then-league-record 18 Cubs in 15 innings on June 14, 1952 — and he could talk long. After surrendering a homer to a rookie named Willie Mays, for instance, he said memorably: "He was something like 0-for-21 [actually 0-for-12] the first time I saw him. His first major-league hit was a home run off me — and I'll never forgive myself. We might have gotten rid of Willie forever if I'd only struck him out."
Spahn was not only a jokester. He notably befriended Sam Jethroe, the Braves' first black player, and helped start the Jimmy Fund charity in support of Dana-Farber Cancer Institute. He was also an oracle whose every word on pitching was eagerly awaited. "A pitcher needs two pitches — one they're looking for and one to cross 'em up," Spahn said at one point. On another occasion, he stated, "Hitting is timing. Pitching is upsetting timing." Warren's quotability was a welcome distraction for the 1952 team, which slipped back into the second division when Spahn went 14-19 despite a league-leading 193 strikeouts and a stellar 2.98 ERA (nonsupport again serving as his nemesis). It was his fourth straight strikeout crown.
While negotiating his 1953 contract, Spahn accepted a $25,000 pact but rejected a deal that would have paid him 10 cents for every paid admission over 800,000. That made sense, since the Braves had just drawn a league-low 281,278 in 1952. Spahn looked for another payday when his business venture opened Warren Spahn's Diner just across Commonwealth Avenue from Braves Field. When the team moved to Milwaukee during spring training, however, Spahn took a double loss: the Braves drew 1,826,397 in their first Midwestern season (which would have meant a $100,000 bonus had he taken the deal), and the restaurant opened without its primary owner.
Financial loss wasn't the only concern Warren took west. For all his success, his popularity with fans, and the respect of the many teammates and opponents he helped, Spahn was an insecure man who never forgot his youth in Depression-era Buffalo. After ripping cartilage in a knee during 1953 spring training, he didn't tell anyone. "I was one of the senior men on the club, and they'd have let me go in a minute if I went on the disabled list," he told The Sporting News's Dave Kindred. Spahn pitched in pain all year, won the Braves' Milwaukee opener and the All-Star Game, and led the league in wins (23) and ERA (2.10). Only then did he have offseason surgery.
The Braves finished second, third, and second their first three years in Milwaukee while rebuilding with players like Hank Aaron, Joe Adcock, Del Crandall, Billy Bruton, and Spahn's new running buddy and prankster pal, pitcher Lew Burdette — who, ironically, had been picked up from the Yankees in a trade for the declining Sain. Spahn remained dominant, but with a chance to capture the 1956 pennant on the season's final day after winning 10 of his last 11 games, he lost a 12-inning heartbreaker to the Cardinals when a double-play ball took a bad hop. He actually cried while leaving the field, and threw his glove at a prying photographer (to whom he later apologized). But the 36-year-old Spahn bounced back in 1957, capturing his only Cy Young Award by going 21-11 with a league-leading 18 complete games and winning six times in 19 stretch-drive days while the Braves took their first pennant in Milwaukee.
Spahn lost the World Series opener to the Yankees, 3-1, but won Game Four, 7-5, in 10 innings. It was perhaps with mixed feelings when he fell sick with the flu that Spahnie watched as Burdette took his scheduled start on two days' rest and beat the Yankees in Game Seven. Although happy to see his buddy win three games and a new car as Series MVP, Warren had no doubt wanted the ball himself.
When both teams repeated as pennant-winners the next year, Spahn (22-11 in the regular season) won Game One of the rematch, 4-3, in 10 innings, contributing two hits and an RBI himself. Then, locked in a pitcher's zone ("All I can see … is a strike zone waving a bat"), he two-hit the Yankees in Game Four, 3-0, to give Milwaukee a commanding three-to-one lead. But called on by manager Fred Haney to pitch on two days' rest, Spahn lost Game Six, 4-3, in 10 innings; the Braves might have won the contest (and the Series) in regulation if Billy Bruton hadn't misplayed a fly ball into a single and third-base coach Billy Herman hadn't sent 37-year-old Andy Pafko to be tagged out at home on a short fly. Many considered Spahn the outstanding pitcher of the Series, but the Yankees won in seven games.
With extraordinary staying power, the 38-year-old Spahn pitched a league-high 292 innings and went 21-15 for the injury-addled 1959 Braves, who lost the pennant in a two-game playoff to the Dodgers. Then, as the team began slipping, he stayed dominant by throwing his only two no-hitters at the ages of 39 and 40. He fanned 15 Phillies in his first gem, a 4-0 win on September 16, 1960. "All right, just nobody say I've got a no-hitter going," he announced to a shocked Milwaukee bench in violation of the silence code, and he ended with a flourish — starting a spectacular 1-6-3 play for the final out. Seven months later, he faced the minimum 27 batters in a 1-0 no-hit win over the Giants on April 28, 1961, retiring Matty Alou with a spectacular backhanded flip to squelch a bunt attempt in the ninth. (Spahnie allowed two walks in this contest, but double plays wiped out both baserunners, accounting for his 27 men faced.)
This wasn't his only milestone contest of 1961; Spahn won his 300th game with a 2-1 victory over the Cubs before a Milwaukee-record crowd of 48,642 on August 11, making him just the 13th pitcher (and the first since Lefty Grove in 1941) to reach the hallowed mark. Even upon getting there, he was far from done; in perhaps the last extraordinary performance of an extraordinary career, the 42-year-old lefty lost a 16-inning duel with the Giants' 25-year-old Juan Marichal, 1-0, thanks to arch-nemesis Willie Mays' homer, at 12:31 a.m. on July 3, 1963. Despite this setback, Spahn finished the '63 season 23-7, led the league with 22 complete games, and even captured several MVP votes.
Explaining his longevity, the usually loquacious Spahn needed just one word: mechanics. "You've got to be a student of pitching," he stated. "The way I threw, I never tried to put too much strain on my left arm." Whitlow Wyatt, a Braves pitching coach, said, "He makes my job easier. Every pitch he throws he has an idea behind it."
Spahn's longtime catcher Del Crandall told Spahn's son, Greg, a high-school hitting star who had career-ending surgery in college and later became a successful real-estate executive in Tulsa, that his father showed the batter three things: the sole of his right shoe, the back of his glove, and finally the ball. Spahn leaned forward in an almost courtly bow to the hitters, then rocked back, his right leg raised above his head in what The Sporting News' Kindred called a five-minutes-to-six position, followed by an overhand delivery that was as smooth and regular as an oil-field pumping jack back home in Oklahoma, where he now owned a ranch. Since every pitch was thrown with the same motion, the batter had no idea what to expect. "Sometimes the motion deceived me, and I was the catcher," Crandall said.
And there was something else. Because of an old separated shoulder from high-school football, the 6-foot-tall Spahn couldn't raise his right hand higher than his shoulder. As he moved toward the plate, his glove rose slowly, and then descended quickly through the hitter's line of vision. "People kept telling me that the motion of the glove really bothered hitters," Spahn told Kindred. "So I kept doing it. Whatever bothered hitters, I was for."
This silky-smooth delivery placed a minimum of pressure on Spahn's arm. He also benefited from revolutionary training habits. In his time, pitchers used spring training to get in shape and babied their arms between starts. Spahn headed to camp in tiptop condition, having spent the winters working on his ranch, and threw between starts. Both practices are common today. The same could be said of Spahn's research habits, since he studied hitters' tendencies and rarely gave them the same pitches from one year to the next. He was no slouch at the plate himself; in addition to his 363 victories, he also had 363 lifetime hits — including 35 home runs.
As time passed, Spahn adapted. When his fastball began to fade, he learned a screwball, and when that wasn't enough, he picked up a slider. When his aching knees betrayed him in 1964, he went 6-13 and had to endure manager Bobby Bragan's insinuation that he was hanging on selfishly because of his $80,000 salary. On November 23, 1964, the Mets purchased Spahn from the Braves to be both pitcher and pitching coach. A week later they signed Yankees catching great Yogi Berra. "I don't know whether we'll be the oldest battery in baseball, but I know we'll be the ugliest," Spahn said.
Warren had truly come full circle, as the Mets manager was none other than his first skipper with the Braves back in '42: Casey Stengel. After finishing sixth or seventh his final six years with Boston, Casey had forged a Hall of Fame career in leading the Yankees to 10 pennants in just 12 seasons. Now he was with a club even more woeful than his Braves; the Mets had lost a record 120 games under Stengel in their maiden 1962 season, and suffered 109 and 111 more setbacks over the next two campaigns.
Although even Spahn could not overcome the hardship of having a club of youngsters and castoffs as his support staff, he was sometimes able to take matters into his own hands. Facing Claude Osteen of the Dodgers during the 1965 season, for instance, Spahn carried a 3-0 lead into the ninth. After the Dodgers scored two runs, Stengel, who had admired Spahn with the Braves and saw no reason to change his mind, asked his elderly pitching coach whom he wanted to bring in from the bullpen. Spahn said he wanted to leave the starter in, and then promptly retired the last three batters.
The miracles quickly ran out, though, and Spahn was released and signed by the Giants in midseason. He left Gotham with another great quip: "I'm the only guy to play for Casey Stengel before and after he was a genius."
Spahn again faltered, but not before he saw Willie Mays get his 500th homer. "I saw your first, Willie, and now your 500th," he said. Congratulations." Released at season's end with a 7-16 record, Spahn later said, "I didn't retire from baseball. Baseball retired me."
Disappointed or not, Spahn stayed in the game. When he pitched three games for the Mexico City Tigers in 1966 and three games for the Tulsa Oilers in 1967, people got the mistaken impression that the 45-year-old was staging a comeback. Actually, he was demonstrating technique to a Mexican team he was coaching, and then trying to improve attendance for an American team he was managing. His Oilers won the Pacific Coast League championship in 1968, and Spahn was voted Manager of the Year. Before being fired in 1971 because he'd refused a promotion to Cardinals pitching coach the previous year and outstayed his welcome, he racked up 372 wins. He scouted and coached minor-league pitchers for the Cardinals in 1971, then spent two unhappy years as pitching coach for the Cleveland Indians. His spirits lifted when the Hall of Fame called. Only the sixth player elected in his first year of eligibility — his appearances for Mexico City and Tulsa kept his name off the ballot two additional years — Spahn was admitted in 1973 along with posthumous induction for his son's favorite player, Roberto Clemente.
Spahn instructed Hiroshima Carp pitchers in the summers of 1973-78, then coached minor-league pitchers in the Angels system for a few years before tiring of travel on "funny little airplanes," as he told writer Rich Westcott, after the 1981 season. Blunt-spoken to the end, he blasted long-haired players and dismissed the idea of a designated hitter, saying, "I think pitchers should be athletes."
On October 16, 1995, Spahn was inducted into the Boston Braves Hall of Fame at the third annual reunion of the Boston Braves Historical Association. In their last day together in Boston, he and Johnny Sain visited what was left of Braves Field and the memories of 1948. Addressing a sizable gathering, Spahn remarked that with that kind of attendance in his day, the Braves might still be playing in Boston.
Thanks to his half-Cherokee wife, LoRene, who got her husband to give up the Buffalo winters and settle in Hartshorne, Oklahoma, Spahn grew rich running a 2,000-acre cattle ranch and leasing some of his land for gas wells. "My mother talked us into buying four beachfront properties in Florida," Greg Spahn says of LoRene, who died in 1978. "They're worth millions now."
In August 2003, the Braves unveiled Shan Gray's nine-foot bronze statue of Spahn kicking high outside Turner Stadium in Atlanta. Ailing from a litany of mostly age-related difficulties — a broken leg, four broken ribs, a punctured lung, internal bleeding, and fluid buildup in his lungs — Spahn, 82, was wheeled in to see the work. "I took great pride in mooning people," he said. "That's the reason I developed that leg kick."
It was one of the last and best memories of Spahn: kicking and joking. He died on November 24, 2003, and was buried in Elmwood Cemetery back home in Hartshorne. Posthumous honors followed. The city of Buffalo renamed the street to Cazenovia Park, his old high school field, Warren Spahn Way. Other statues went up at Bricktown Ballpark in Oklahoma City and the Oklahoma Sports Museum in Guthrie. Finally, the Oklahoma Sports Museum established the Warren Spahn Award in 1999 to honor the majors' leading left-handed pitcher.
Should the award have been named for another lefty: a Grove, Sandy Koufax, Steve Carlton, or Eddie Plank? Not if winning matters most. Spahn's 363 wins are the most of any lefthander, and he was a consistently reliable pitcher, as his ERA's in the regular season (3.09), All-Star Games (3.21) and World Series (3.05) attest. Spahn also holds or shares modern major-league records for 20-win seasons (13), most years leading the league in games won (8), career innings by a lefthander (5,246), wins in a season at age 40 (21) and 42 (23) and possibly double plays started by a pitcher (82), which is not an official statistic. His 35 homers are the most by a National League pitcher. Spahn won 75 games after the age of 40, and no matter what his age was great in the clutch. During his career he had a .546 April-July winning percentage, followed by a .676 percentage in August-October — a staggering .130 increase.
In SABR's Baseball Research Journal No. 32, Eric Marshall White described Spahn as "the most fantastic finisher of them all." And he did indeed look as if he could go on forever. "I don't think Spahn will ever get into the Hall of Fame," Stan Musial said. "He'll never stop pitching."
This biography originally appeared in SABR's "Spahn, Sain, and Teddy Ballgame: Boston's (almost) Perfect Baseball Summer of 1948," edited by Bill Nowlin and published by Rounder Books in 2008.
Sources
Bjarkman, Peter C. Warren Spahn (New York: Chelsea House Publications, 1994)
Buege, Bob. The Milwaukee Braves: A Baseball Eulogy (Milwaukee: Douglas American Sports Publications, 1988)
Cohen, Richard M., & David F. Neft. The World Series (New York: Macmillan, 1986)
Johnson, Richard A. Images of America: Boston Braves (Charleston S.C., Chicago, Portsmouth. N.H., San Francisco: Arcadia Publishing, 2001)
Kaese, Harold. The Boston Braves 1871-1953 (Boston: Northeastern University Press, 2004)
Porter, David L., editor. Biographical Dictionary of American Sports: Baseball (Westport Conn.: Greenwood Press, 1987)
Silverman, Al. Warren Spahn; Immortal Southpaw (New York: Bartholomew House, Sport Magazine Library No. 9, 1961)
Thorn, John, Pete Palmer, Michael Gershman, and David Pietrusza, editors. Total Baseball, fifth edition. (New York: Viking/Penguin Books USA, 1997)
Retrosheet.org
Photo Credit
The Topps Company
Born
April 23, 1921 at Buffalo, NY (USA)
Died
November 24, 2003 at Broken Arrow, OK (USA)
If you can help us improve this player's biography, contact us.
http://bioproj.sabr.org/bp_ftp/images3/SpahnWarren.jpg
600
800
admin
/wp-content/uploads/2020/02/sabr_logo.png
admin
2012-01-04 19:54:23
2021-09-26 10:11:51
Warren Spahn