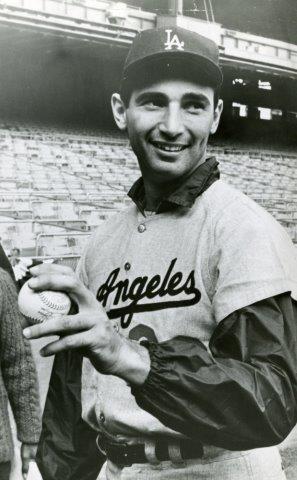 ---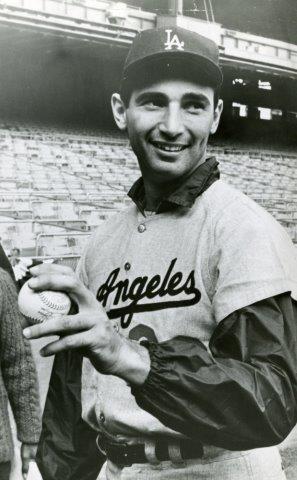 "Mystique" is a word often linked with Sandy Koufax. He was dubbed "The Left Arm of God" for his pitching feats — especially over the five years from 1962 to 1966. A litany of statistics attests to his brilliance during this period, but perhaps the most salient points are these: Koufax became the first man to win three Cy Young Awards, and was the only pitcher to do so when the prize was given to just one major leaguer. He also won the Triple Crown of pitching in each of those seasons (1963, 1965, and 1966). He pitched four no-hitters, one of them a perfect game.
The great Ernie Banks described what it was like to face Koufax. "It was frightening. He had that tremendous fastball that would rise, and a great curveball that started at the eyes and broke to the ankles. In the end you knew you were going to be embarrassed. You were either going to strike out or foul out."1 Banks said, "He was the greatest pitcher I ever saw. Most of the time we knew what was coming. He held his hands closer to his head when he threw a curveball, but it didn't matter."2
Koufax's build — huge back, long arms, and exceptionally long fingers — enabled him to put extra spin on his pitches. According to Dodgers catcher Norm Sherry, Koufax could "do things with a baseball nobody has been able to do before or since."3 Pictures show that the baseball was as low as the top of his left ankle when he reached back to throw. He then propelled the ball with a fluid over-the-top delivery that utilized the weight and force of his body.4
Koufax believed his natural gifts required him to work hard at his job of winning games. His personal integrity was deep. It took six seasons for him to master his wildness, however, and his career was halted after the 1966 season by an arthritic left elbow. His decision to retire at the age of 30 after such a dominant run left many, both inside and outside of baseball, wondering why he would leave at the top of his game. Yet this too contributed to his aura. When he was elected to the Baseball Hall of Fame in 1972, he was just 36 years old — the youngest man ever inducted. Decades after his retirement, debate still stirs over Koufax's dazzling peak vs. his career totals.
Two other factors fueled Koufax's legend. As one of the greatest Jewish baseball players ever, he became a hero in that community, especially after refusing to pitch the opening game of the World Series in 1965 because it fell on the High Holy Day of Yom Kippur.5 The other was his deep sense of privacy. Koufax was, and still is, a greatly admired figure — yet he chose to make few public appearances. Remaining out of the spotlight gave Koufax sightings extra cachet. "Awestruck" is another word frequently attached to this man. Opponents and fans felt that way watching him on the mound, and he retained a unique personal presence.
Sandy Koufax was born as Sanford Braun on December 30, 1935. His parents were Evelyn (née Lichtenstein) and Jack Braun, Sephardic Jews of Hungarian descent.6 The family lived in the Bensonhurst section of Brooklyn. Koufax had an older stepsister, Edith, who died in November 1997.
When Sandy was 3, Evelyn (an accountant) divorced Jack Braun.7 She and the children lived with her parents in Brooklyn. Sandy's grandfather, Max Lichtenstein, was a plumber. The boy's street activities were stoop ball, punch ball, and stickball.8
Sandy was 9 when Evelyn married Irving Koufax, the lawyer whom Sandy affectionately came to call his dad.9 The Koufaxes moved to Rockville Centre, New York. They lived on the first floor of a two-story home owned by his uncle, Sam Lichtenstein, an architect.10
The young Koufax had just completed ninth grade, when — after a Long Island Railroad train derailment — the Koufax family moved back to Bensonhurst. It was then, at the age of 14, that Koufax took up another sport in which he had a lot of talent: basketball. He was a strong rebounder who demonstrated his jumping ability in front of the New York Knicks when the Police Athletic League of Bath Beach arranged for a benefit game to be played at the gym in Lafayette High School, which Sandy began to attend in 10th grade.11
During summer vacations from school, Koufax worked as a waiter and counselor at Camp Chi-Wan-Da, near Kingston, New York. He had been going to this camp since the age of 3. His mother was its bookkeeper.12
Milton Laurie, a delivery driver for the New York Journal American, is believed to be the first man to uncover Koufax's pitching ability. Laurie, a longtime sandlot manager who had years before been signed by the Boston Braves, spotted Koufax pitching for the Tomahawks in the Ice Cream League, a counterpart of the Little League and Babe Ruth League.13 Even though Koufax walked nine men in two innings, Laurie had his son Walter, who was a classmate, invite Koufax to join his sandlot team. Koufax at first refused, but after much begging by Laurie, he changed his mind. Laurie's team, the Parkviews, were part of the Coney Island Sports League.14 Koufax was busy working in summer camp. As such, he did not play much, but when he did, he would strike out 16 to 18 batters.
It thrilled Sandy to see Irving Koufax arrive one day at a game. That night, at the dinner table, Irving related how impressed he was and said Evelyn should hand Sandy some money to buy a new pair of spikes. This was a complete surprise to the young Koufax, who had repeatedly heard his father say that "spending on baseball is a waste of money" and "a baseball player you will never be." His parents wanted him to follow in the footsteps of his uncles, who were architects.
Yet it was his interest and skill in basketball that won Koufax a university scholarship. His parents were excited when he accepted the offer from the University of Cincinnati, where the basketball program had a strong reputation. The Bearcat scouts had seen Koufax playing both at high school and at the Jewish Community House.15
At the urging of friends, Koufax did go out for baseball in his senior year at Lafayette. He played first base. The team captain was Fred Wilpon, a lefty with a "crackling" curveball, who decades later became the owner of the New York Mets.16 Their coach was Charlie Sheerin, a utility infielder for the 1936 Phillies.17
Koufax stood 6-feet-2 when fully grown. (During his major-league career, he weighed as much as 210 pounds.) When he went to Cincinnati, he was a starting forward on the freshman team. He was known to be a "savage" rebounder and able to dunk.18 He was the team's third-leading scorer with a 9.7-point average. The team won 12 of 14 games, and according to the coach, Ed Jucker, Koufax could have made it in professional basketball. Jucker led the Bearcats varsity squad to NCAA championships in 1961 and 1962; he later coached the NBA's Cincinnati Royals.19
Jucker was also the Bearcats' baseball coach. The team lacked pitchers, so Koufax volunteered to help out. He threw hard but was so wild that catchers wanted no part of him. In his debut game, at Keesler Air Force Base in Biloxi, Mississippi, Koufax struggled. He returned to the Cincinnati campus to pitch a four-hitter against Wayne, striking out 16. He next took on Louisville, striking out 18, a school record. He finished his first college season with a record of 3-1, 51 strikeouts and 30 walks in 31 innings.20 He caught the eye of major-league scouts.
Koufax interested each of the three New York City big-league clubs — the Yankees, Giants, and Dodgers — not only because he could throw hard but also because of his religion. Since the days of John McGraw, the New York teams had desired Jewish drawing cards. His faith may have had something to do with it — the bigger factor was his performance — yet it was said in the 1960s that when Koufax pitched, regardless of where, there would be 10,000 more fans in attendance.21
The Yankees sent a Jewish scout, which offended the Koufax family. They offered only $4,000 and a Class-D assignment.22 Koufax had a tryout with the Giants at the Polo Grounds. He showed up without his glove and had to borrow one from Johnny Antonelli.23 The team lost interest; tense and frightened, Sandy was wild.24
Jimmy Murphy, who covered school sports for the Brooklyn Eagle, tipped off Dodgers scout Al Campanis to Koufax. This led to a workout at Ebbets Field before the general manager, Buzzie Bavasi, and the manager, Walt Alston.25 Campanis offered a $14,000 bonus and a $6,000 salary. Branch Rickey, who by then was general manager of the Pittsburgh Pirates, authorized one of his scouts to top the Dodgers by $5,000. The Milwaukee Braves offered $30,000.26 But they were too late. Sandy had talked with Irving Koufax frequently, and they decided to sign with Brooklyn. Irving sealed the deal with a handshake. It was on December 14, 1954, that Koufax signed as a bonus baby.
Sandy then dropped out of Cincinnati and transferred to Columbia University to take some courses at the school of architecture.27 The demands of playing baseball and the requirement that Koufax fulfill his military service obligation of six months between playing seasons eventually caused him to drop out of Columbia.28
Koufax's bonus was rather modest compared to what many bonus babies got in that era. Yet the rules then in effect denied clubs the right to send any player to the minors who was given more than $6,000 to sign.29 Thus, Koufax never spent a day in the minors.30
According to teammate Carl Erskine, even as a rookie Koufax showed a quiet sense of humor. Erskine related how in the spring of 1955, the Dodgers were on a city bus heading back to their hotel after an exhibition game in Miami. The Dodgers had lost and it was a hot night. The bus stopped to let a very slow freight train pass. The passengers grew impatient; coach Billy Herman, sitting across the aisle from Koufax, let out, "Darn, you can give this town back to the Jews." The entire bus went silent. Koufax, not even 20 then, very softly said, "Now Billy, you know we already have it." This defused the situation with no carryover.31
It was more than two months into the 1955 season before Koufax made his major-league debut. Early in the season, he injured his ankle and wound up on the disabled list. Tommy Lasorda was the odd man out on June 8, when he was demoted to the Montreal Royals to make room for Koufax. Lasorda liked to say, "It took the greatest left-handed pitcher in baseball history to get me off that Brooklyn club — and I still think they made a mistake."32
Once off the DL, another reason for Koufax's idleness emerged: Alston favored experience over youth. This was true of many big-league managers then, but Alston's tendency was more pronounced because the Dodgers were a World Series contender.
Also, in those days, big-league pitching staffs were smaller and structured differently. There were four regular starters, and they were expected to pitch deep into the game if not complete it. There were two long-relief men in case a starter got into early trouble. Although the "closer" role was evolving and the concept of saves was just emerging, there was also one short man, used sometimes to wrap up the game or often to put out late-inning fires. The eighth and ninth pitchers were the low men on the totem pole. In the normal course of events, they did not get into games. They awaited a blowout by either side or some catastrophe (injury) to occur.33
Finally, on June 24, 1955, against the Braves at Milwaukee's County Stadium, Koufax got into a game for Brooklyn. He entered at the start of the fifth inning with the Dodgers trailing, 7-1, and pitched two scoreless innings, striking out two.
After one more relief outing, Koufax got his first start, on July 6, 1955. It was the first game of a doubleheader in Pittsburgh. He lasted just 4⅔ innings. He walked eight batters and gave up three hits but allowed only one run. He was not the pitcher of record. After that, he pitched just three times in a span of 50 days.
Koufax's first win came on August 27, 1955. He started and went the distance, shutting out the Cincinnati Reds on two hits and five walks. He fanned 14, including Gus Bell four times. In his next start, on September 3, Koufax threw another shutout, over Pittsburgh. He allowed just five hits. Those were his only two wins as a rookie.
Koufax was on the World Series roster in 1955 but did not pitch. He took night classes at Columbia while the Series was in progress, then attended in the day after Johnny Podres finished off the Yankees.34 Brooklyn won the pennant again in 1956; once more Koufax was on the postseason roster, but Alston did not call upon him.
During his first two years as a Dodger, Koufax gained little experience — just 28 appearances (15 starts) and barely 100 innings pitched. He was frustrated and quick to blame his wildness and unsteadiness on the lack of regular work.35 It was a vicious cycle. He couldn't pitch until his control improved — but the less he pitched, the worse his control became. While in Brooklyn for three years, Koufax considered himself not a pitcher but an arm. He could not help but feel that some potentially prime years were wasted.36
Koufax got a boost in May 1956, however, with the arrival of Sal Maglie. Koufax and Don Drysdale (then a 19-year-old rookie) sat in the bullpen with the savvy veteran and listened to analysis of what was happening on the field.37
During the 1956-57 offseason, rather than touring Japan with most of the Dodgers, Koufax got a chance to practice his "lessons" in winter ball. The Dodgers arranged for him to pitch in Puerto Rico with the Caguas Criollos. The manager was Ben Geraghty, from the Braves organization, a renowned developer of young talent. Although Koufax posted a won-lost record of just 3-6, he showed more glimpses of brilliance — a one-hit shutout and a two-hit shutout. The great Roberto Clemente got the only hits off Koufax in the latter game, Sandy's last in Puerto Rico. Caguas had to release him because a league ruling precluded teams from having more than three imported players with big-league experience.38
Koufax got more work with Brooklyn in 1957. He pitched in 34 games, starting 13 of them, and logged over 100 innings. That season ended on a distinctive note: Koufax became the last man to throw a pitch in a Brooklyn Dodgers uniform. In relief of Roger Craig at Philadelphia, he struck out Willie Jones on three pitches.
During the 1958 season, with the Dodgers now ensconced in Los Angeles, Koufax told Carl Erskine that he was going to quit baseball and pursue an opportunity to buy into a radio station. But at the end of the season, Koufax felt appreciative of the way the Dodgers had treated him. He had been used more than ever before — 40 games, 26 starts, nearly 160 innings pitched. He said he would give it one more year (1959) before making a final decision.
Erskine believed that because basketball had been Koufax's favorite sport, he did not possess the inner fire for baseball that other rookies and players in general had. Koufax would not approach the other pitchers for advice or ask any questions. He was being self-taught. There was no one trying to show him how to pace himself or how to hold a runner. In addition to the bonus rule, which prevented Koufax from getting seasoning, Erskine talked about competition. In the 1950s, players generally had one-year contracts, and thus were not inclined to take a rookie under their wing and show him the ropes. Each man was fighting for his own job. It was not uncommon for players to be released in midyear and be replaced by one of the many minor-league aspirants.
Erskine said Koufax may have felt some guilt about leapfrogging over the other pitchers that each of the 15 farm teams in the Dodgers organization had. Koufax had taken a spot on the roster that another deserved more. His sensitivity played a role in his image of himself.39
Koufax started poorly in 1959. By May 2 he had started four games — not getting past the fourth inning in any — and relieved once. In just 11 innings, he had allowed 19 hits and 17 walks, and his ERA was a dismal 12.27. Koufax felt that the Dodgers were very close to getting rid of him. Pitching coach Joe Becker said, "He has no coordination and he has lost all his confidence. His arm is sound, but mechanically he is all fouled up. …"
Even though Walt Alston said not to give up on Koufax, Sandy believed those were the words of the front office, not the field manager. At this point Koufax was hoping that some other team would claim him on waivers so he could continue in the big leagues.40 In mid-June, though, it started to come together. Koufax improved his control and pitched three consecutive complete-game victories. He had a similar run in late August. On August 31, against the Giants at the Los Angeles Coliseum, Koufax struck out 18 batters. It was his final win of the season. In the bottom of the ninth with the score tied, Koufax was allowed to hit and singled to left field off Giants starter Jack Sanford. After Junior Gilliam singled, Wally Moon launched a three-run walk-off home run. The win streak ended September 6 when, after matching zeroes with Chicago's Art Ceccarelli for nine innings, Koufax gave up a three-run homer to Ernie Banks in the 10th and lost.
Koufax was continuing to mature as a pitcher. In 1959 the Dodgers won another pennant, and so he appeared in a World Series at last. After pitching two innings in Game One, a blowout victory for the White Sox, Koufax started Game Five. On October 6, in front of 92,706 spectators at the Coliseum, he pitched seven innings of five-hit ball, striking out six. He walked only one batter and allowed the game's only run when Sherm Lollar grounded into a double play. The White Sox may have won, but Erskine believed that Koufax realized that he could be truly successful in the major leagues.41 What also transformed him from an inconsistent pitcher to a Hall of Famer was coming to grips with fear of failure on such a big stage.42
The Dodgers realized more fully what they had in 1960, when Yankees GM George Weiss tried to get Koufax in a trade for catcher Elston Howard. Bavasi turned the deal down.43 The original offer for Howard was Duke Snider and Johnny Podres.44 Koufax himself may not have agreed. When the 1960 season ended, he was again uncertain about his future. He was disgusted with his performance over 175 innings. Despite 197 strikeouts, both his control (100 walks allowed) and ERA (3.91) had improved just marginally.45
It's often observed that the two halves of Koufax's 12-year career stand in stark contrast. From 1955 through 1960, he won 36 and lost 40, with 405 walks in 691⅔ innings. His ERA was 4.10. But Koufax burst into prominence in 1961, winning 18 games and leading the National League with 269 strikeouts.
During spring training in 1961, Norm Sherry, sitting with Koufax on a bus filled with reserves heading out of Vero Beach to an exhibition game, had suggested to Koufax that he ease up a bit — the harder he threw, the wilder he became. Koufax would then tense his massive muscles, and thus his fastball would lose life and his control would erode further. Joe Becker stated, "He needs a loose wrist to get snap in the ball at the position of release, not more muscular tension than he was already creating."46 Sherry said, "Why not have some fun out there, Sandy? Don't try to throw so hard and use more curveballs and changeups."47
Heeding this suggestion was truly the turning point in Koufax's career. He economized effort, retained velocity, and gained better control of both his pitches and himself. In other words, he went from thrower to pitcher. The mental dimension of his game was prominent.
At times Koufax put on an act to fool batters into looking for a different pitch. He did not like to shake off signs in a regular manner; he believed it was a tip-off. So he would purposely shake off a series of signs only to come back to where he wanted to be.

Koufax would not think of the other team's lineup before warming up. He believed that thinking about the hitters that late forced him to concentrate upon them completely.48

He focused on retiring the average hitters, rather than getting out the best opposing batter. His philosophy was that allowing the star(s) to reach base three or four times in a game did not matter if no one else preceded or followed with a hit.

To be at his best, on the two days before a start Koufax abstained from any activity that might interfere with his performance.49
Of interest, however, Koufax believed that luck had a lot to do with success on the mound — particularly line shots hit right at an infielder. Some other noteworthy points include these:
When Koufax wasn't pitching, he liked to hold a ball with his fastball and curveball grips to strengthen his muscles and tendons.50

He could never throw a slider — it hurt his arm.

For leverage and push, Koufax pitched from atop the rubber rather than in front of it.

He believed it necessary to establish the outer half of the plate with a fastball and not get beaten in a close game by throwing a strike on the inner half.51

Koufax never blamed any single play or player for costing him a game, because that same player got him out of trouble in another game.52
Koufax's last win in 1961 came in the last big-league game played at the LA Coliseum. He earned a complete-game victory after 13 innings and 205 pitches. He struck out 15 and walked only three, not allowing a hit over the final five innings.
During his last five seasons, 1962-1966, Koufax ascended to a new level — one of the best peak periods from any pitcher ever (though he did benefit from a notably pitcher-friendly home park in Dodger Stadium). Over that span, he won 111 games and lost only 34, with a 1.95 ERA. He led the National League in ERA in each of those five seasons. The Sporting News named him NL Pitcher of the Year from 1963 through 1966. In each of his Cy Young Award/Triple Crown seasons (1963, 1965, and 1966) he won at least 25 games and struck out over 300 batters. In 1963 he was also the NL's Most Valuable Player, and he was the runner-up in the MVP voting of 1965 and 1966.
Koufax enjoyed his fame, but only from afar. Though always elegantly dressed, poised, and articulate, he was a basically shy and repressed person. He did not welcome all the commotion that came with his success. He tried very hard to stay out of the news. He would on occasion avoid answering the phone. On urgent matters, a call was often replaced by a wire to Koufax's home.53 He would often dine in gourmet restaurants at his own expense rather than eat the club's traditional fare, "Dodger steaks."54 However, he almost never left his hotel room in his final two seasons, preferring to order room service to avoid the attention.55
Koufax's 1962 season was off to a good start. On April 24 at Wrigley Field he struck out 18 Cubs as the Dodgers won 10-2. His progress was then interrupted by a career-threatening injury — not to his elbow or shoulder, but to his index finger. It happened in his next start, on April 28 against Pittsburgh at Dodger Stadium. By nature a right-handed batter, Koufax decided to protect his throwing arm by swinging lefty instead. In this unfamiliar stance, a pitch from Pirates starter Earl Francis jammed his hand — oddly enough, Koufax got an infield single on the play. He remained in the game, earning a complete-game 2-1 victory. However, the trauma led to the circulatory condition called Raynaud's phenomenon.56 It got so bad that if he pressed the finger, it would turn white for hours. His thumb was also affected to a degree.
Despite this numbness, Koufax pitched a no-hitter against the Mets on June 30, 1962. On July 12 he won his 14th game of the season, also against the Mets. (He feasted on the expansion club in its weak early years, going 17-2 with a 1.44 ERA.) He did not win another game that year. On July 17 Koufax left a game against the Reds after the first inning. He was out of the lineup until September 21. The doctors tried various drugs and intravenous injections designed to dissolve the blood clot in his finger. It alleviated the condition, but at one point the threat of amputation existed.57
In the heat of a pennant race with the Giants, Koufax returned, but the layoff had cost him endurance. The Dodgers faded down the stretch, and a three-game playoff for the flag ensued. Koufax took the ball for Game One but was knocked out of the box in the second inning.
Going into the 1963 season, there were some lingering doubts about Koufax's condition. He missed three starts in late April and early May with a sore shoulder. His first game back was a victory over the Cardinals, followed by his second career no-hitter, on May 11 against the San Francisco Giants. Koufax was perfect until he walked Ed Bailey with one out in the eighth. Surprisingly, he struck out only four. After the game Koufax said, "Because of my finger and shoulder injuries and caliber of the Giants, this would have to be my biggest thrill."58
The opposing pitcher at Dodger Stadium that night was one of the other premier pitchers in the NL, Juan Marichal. Koufax and the Dominican ace started against each other four times, and this was Koufax's second triumph before losing the next two.
Koufax finished the 1963 season 25-5. He fired 11 shutouts — since then only five other pitchers have had seasons with double-digit shutout totals, and none since 1985.59
The Dodgers went on to sweep the World Series against the Yankees. Koufax was named Series MVP, going all the way to win both Game One (5-2) and Game Four (2-1). In Game One, he struck out 15, breaking his old friend Carl Erskine's record, set exactly a decade before. Koufax was aware of it; when he saw Erskine he actually apologized.60 Koufax set another Series record that day by striking out the first five batters he faced.
By the end of the 1963 season, Koufax had developed traumatic arthritis in his left elbow. Pictures often showed him with his left arm in an ice bath after games. Some experts speculated that the elbow problem came from throwing a few pitches side-arm in his early years. Koufax believed that it happened over a period of 10 to 12 years and may have started in high school when he fell on the basketball court.61
The general public had been unaware of the heat treatments that followed.62 Koufax went to the trainer about an hour before his starts to have Capsolin — basically, chili pepper salve — rubbed on his arm. Capsolin irritates the skin to increase circulation; it burns until the arm goes numb. Excessive application would cause the skin to start peeling.63 Originally, when his arm blew up, Koufax was given phenylbutazone alka, an anti-inflammatory pill.64 The nonsteroidal drug was intended for animals and is no longer approved for human use. Today's equivalent is Ibuprofen.
During 1964 Koufax's arthritis became exacerbated. On April 22 he lasted only one inning. He took 12 days off and returned to pitch a complete-game 10-inning win. A month later in Philadelphia, he pitched his third career no-hitter (and only shutout ever against the Phillies).
In Milwaukee on August 8, Koufax dove back to second base on a pickoff attempt and landed on his elbow. The chronic throbbing after he pitched became more acute; eventually everywhere from his shoulder to wrist swelled up. The team's orthopedic surgeon, Dr. Robert Kerlan, took X-rays that revealed the extent of the arthritis. The treatment was aspirating the fluid build-up with a needle, cortisone injections, and oral medications to relieve the inflammation.65
Koufax's final start that season came on August 16. Yet despite taking the mound just 29 times in 1964, he won 19 games.
Koufax came up with the idea that if he skipped his customary sideline throwing between starts it would help lessen the pain.66 The idea seemed to work, as shown by his 1965 record, including a career-high 335⅔ innings pitched. His 382 strikeouts shattered the modern-era record of 349 that Rube Waddell had set in 1904.
Another memorable matchup against Juan Marichal took place on August 22, 1965 — the game in which Marichal took a bat to Johnny Roseboro's head. Marichal, ejected in the third inning, got no decision. Koufax retired Bob Schroder (who finished Marichal's turn at bat) and Tito Fuentes, but he was still shaken. He walked two and then gave up a three-run homer to Willie Mays that gave the Giants a 4-3 victory.67
Koufax, knowing the deadly force of his own deliveries, refrained from beanball wars and never sought to hurt a batter. According to his co-author, Ed Linn, he would not intentionally throw at a hitter and did not try to make batters look bad.68 Over his career, he hit just 18 batters.
By contrast, the National League's other premier pitcher of the day, Bob Gibson, hit 102 batters over his career 3,884 innings. Gibson (and Don Drysdale) believed that brushback pitches had a valuable purpose. Yet in his five matchups against Gibson from 1961 through 1966, Koufax was 4-1 with a 0.92 ERA and three shutouts. (His 10 shutouts against the Cardinals were the most he threw against any team.)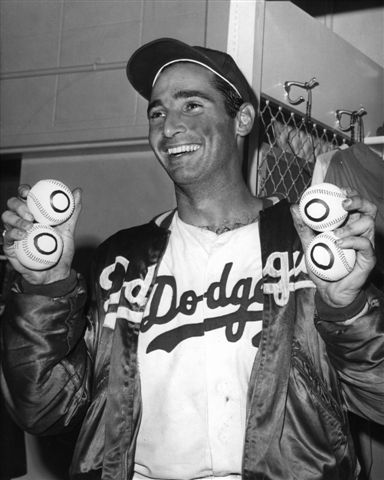 With his perfect game at Dodger Stadium on September 9, 1965, Koufax became the first major-league pitcher to throw a fourth no-hitter, surpassing Bob Feller. The Cubs' pitcher, Bob Hendley, allowed just one hit — the teams' combined totals of just one hit and two baserunners are records that have not since been approached.
But the left-arm pain remained at times unbearable for Koufax, despite the Capsolin, ice baths, and pain relievers. He found that his left arm was shortening. He had to lean over to reach his face when shaving.
Nonetheless, down the stretch, in yet another heated pennant race with the Giants, Koufax had four complete-game wins in his last five starts. He then pitched two shutouts against Minnesota in the World Series. Though he lost Game Two, he threw a four-hitter in Game Five, striking out 10. In Game Seven, on just two days' rest, he fired a three-hitter. For the second time, he won Series MVP honors.
Koufax's personal decision not to pitch on Yom Kippur, which fell on October 6 in 1965, has been well chronicled. According to media reports, supposedly Koufax was going to consult a rabbi to determine whether he could play. But on October 2 he said simply, "I didn't want to say anything about it before because we were not in a position to clinch the pennant. But at no time did I ever consider it. I will definitely not pitch."69
Sports Illustrated named Koufax its Sportsman of the Year for 1965, and writer Jack Olsen asked what drove him. Koufax responded, "I think it's just competition. I want to win, and I want to do things well. And I want to be capable of doing my best. If I were to go out and get beat and then realize after the game that I got beat because of something I did the day before … to me, that's the worst way to lose. … I'd be ashamed of myself."70
Before the 1966 season, Koufax became embroiled in contract negotiations. He and the Dodgers' other pitching mainstay, Don Drysdale, had grown weary of being played against each other in the process. The two decided to pool their strength and make their salary demands together. The sides were far apart at first; eventually, Buzzie Bavasi made a final offer of $240,000 as a package. This was at the time the largest sum ever paid two pitchers on one club for one season — Koufax's portion, $130,000, was then the highest salary in baseball history.71 However, Koufax and Drysdale had to give up the no-cut clauses in their contracts.72 Club owner Walter O'Malley was ready to let them both walk if they did not accept that final offer. He mentioned that the Mets were interested in them both.73
In 1966 Koufax matched his career highs of the preceding season with 41 starts and 27 complete games. During that season, though, it became necessary for him to receive cortisone injections directly into the elbow joint. The injections became more frequent as the inflammation and fluid in the elbow became more and more difficult to contain. Dr. Kerlan had warned that the traumatic arthritis was incurable. By the end of the 1966 season, Koufax's left arm was bent at a 22.5-degree angle and the bone spurs in the elbow had grown to almost a quarter-inch. Every pitch would bring pain. Combing his hair had become a painful effort. He had his suit jackets retailored so that the malformation of his left arm would be hidden.74
Yet Koufax never missed a turn — his competitive fire continued to drive him. In midseason Bob Hunter of the Los Angeles Times reported that Koufax had said, "I go out to pitch a no-hitter every game. Of course that can't be, but after I allow one hit, I shoot for a shutout."75 That dovetailed with his comment the previous year: "And when I give up a run, I want to pitch a one-run game."76
In echoes of the 1951 stretch drive, the Giants got hot late in the 1966 race — the threat of a playoff for the Dodgers loomed. But Koufax turned the rivals away in the season's last game. Pitching on two days' rest in the nightcap of a doubleheader at Philadelphia, he hurled a complete-game 6-3 victory over Jim Bunning to clinch the pennant.77
In the 1966 World Series against Baltimore, Koufax started Game Two, going on three days' rest after his October 2 pennant-clincher. He pitched six innings and allowed four runs; meanwhile, 20-year-old Jim Palmer threw a shutout. The Orioles swept the Series in four games, and so that was the last mound appearance ever by Sandy Koufax.
Before the season was over, the autobiography Koufax, written in conjunction with Ed Linn, was published. Among many detailed insights was the following: "I do not think the ballplayer is of an extraordinary importance in our national life. We do not heal the sick or bring peace and comfort to a troubled world. All we do is to provide a few hours of diversion to the people who want to come to the park, and a sort of conflict to those who identify their fortunes with ours through the season. … [B]y its nature, it is a brief, self-liquidating life. It is a temporary life, really, a period between the time of our youth and the beginning of our lifetime career."78 While Koufax's decision to retire has often been portrayed as "abrupt," this passage supports the idea that he had been contemplating retirement for some time.
It's noteworthy that in 1964, Koufax commented that to be considered a great pitcher, you need to show that you can win games for 10 to 15 years. To be a great ballplayer, your accomplishments need to span not just a couple of years but a whole career.79
With this in mind, Carl Erskine's take on Koufax's early retirement becomes even more intriguing. In Erskine's view, once Koufax established his pitching records, he had reached a point where he had nothing more to prove and wanted to leave at the top of the heap. Erskine believed that Koufax never felt totally comfortable as a major-league pitcher. He had never heard or seen any medical report that said Koufax could not go out and pitch.80
In his 12 seasons, Sandy Koufax amassed the following notable statistics:
Winning percentage of .655

ERA of 2.76

40 shutouts, including 10 1-0 victories

Along with his four no-hitters, two one-hitters, eight two- hitters, and 17 three-hitters

9.28 strikeouts per nine innings

Eight regular-season games with 15 or more strikeouts

Opponents' batting average of .205

6.79 hits allowed per nine innings during his career
Koufax never won a Gold Glove, but in 1965 he did not commit an error.81
As noted, Ernie Banks had a hard time facing Koufax. In 143 plate appearances, Banks had only 23 hits (they did include seven home runs) and struck out 31 times. One player who had great success against Koufax was Bill Virdon — .404 in 60 plate appearances despite swinging left-handed, well above his career .267 average.
Even for a pitcher, Koufax was a weak hitter, batting just .097 in his career. He did have two home runs. Both came at County Stadium in Milwaukee against the Braves and both were off left-handers. His first, on June 13, 1962, was a solo shot to left center in the fifth inning off Warren Spahn. It proved to be the winning run. The second came a year later off Denny Lemaster. Other batting highlights include a home game against Houston on July 20, 1965. In the ninth with the score tied, Walt Alston allowed Koufax to bat with two out and two on. Koufax delivered a walk-off single to left. Also, in a game against the Mets on June 5, 1966, Koufax had two hits in one inning.
In December 1966, Koufax joined NBC as a broadcaster. His contract (which also called for him to do other work for the network) was for an estimated $1 million over 10 years.82 Koufax was reassigned to the second broadcasting team in 1969 to gain more experience; Tony Kubek was promoted to join Curt Gowdy, and Pee Wee Reese's contract was not renewed.83
After the 1968 season, the Dodgers made a formal offer to Koufax to return. He politely turned it down, telling Bob Hunter that he did not want to wind up a cripple and not be able to play a normal game of golf.84
According to Carl Erskine, Koufax wanted to have a successful marriage with children. Sandy was regularly seen in the presence of beautiful young women, yet he wondered why he could not meet someone like Erskine's wife. He confessed that his dates had usually been introduced to him at cocktail parties. Erskine told Koufax that was the problem. "You should go to your synagogue or other such similar places to meet a different kind of woman."85
Koufax never became a father, but he got married three times. His first wife was Anne Widmark, daughter of actor Richard Widmark. Their wedding was on New Year's Day, 1969.86 They lived in East Holden, near Ellsworth, Maine. They bought what was known as the Winkumpaugh Farm on October 4, 1971, then proceeded to buy the 300 adjacent acres. Koufax joined the Bucksport Golf Club and got his handicap down to six. He was able to advance to the championship flights in the 1973 Maine State Amateur Championship. He continued his interest in electronics and dabbled in carpentry and gourmet cooking.87 Sandy's sister Edith related that when they were growing up, her brother was a pretty good cook and handy around the family home, which he wired for sound. When Edith married, he even came over to the newlyweds' home and spent three hours fixing a sewing machine.88
It was at his Maine home that Koufax received the news that he had been voted into the Hall of Fame.89 At the time his 344 votes were the most ever. In his Hall of Fame acceptance speech on August 7, 1972, Koufax referred to his old pitching coach, Joe Becker: "Becker pushed me, shoved me, embarrassed me and made me work and thank God for him. Being a pitcher I feel that it is sometimes very solitary, very lonely. … You feel like, well, everybody on the other team is against you, and they are. The only one that seems to be close, the only friend you have is the catcher, and I'd like to thank every catcher who ever caught in any ballgame I was ever in, two in particular, Roy Campanella, who caught the very first one, and John Roseboro, who caught most of the others."
Koufax's contract with NBC was terminated by mutual consent before the start of the 1973 season.90 From Koufax's side, the decision to leave the broadcast booth stemmed in part from difficulty in talking baseball to people who had not played the game professionally. Other challenges for him were describing pitchers whose repertoires differed from his, and being honest and critical of the men he played with and against. As a result, he was uncomfortable on the air.91
In 1974 the Koufaxes sold the Maine property and moved back to California. Koufax played golf, invested in real estate and enjoyed listening to music at home. He rarely attended a baseball game, instead watching on television. He admitted that he missed playing, stating, "It's hard not to miss the one thing in your life you've done very well."92
After his retirement, Koufax spent much of his time on a ranch outside Paso Robles. He eventually ran into financial difficulties. Thus, he returned to baseball in 1979 as a special pitching coach for the Dodgers.93 Over the following 11 years he worked with prospects during spring training, paying follow-up visits in Double A and Triple A. Keeping a low profile, he had no name on the back of his jacket when on the practice field. During the offseason he retreated to his ranch and eventually to southern Idaho to keep away from the press and baseball.94
Anne Widmark and Koufax divorced in 1982. In 1985 Koufax married his second wife, Kimberly Francis, a fitness enthusiast with a passion for the arts. For a time, they lived in Oregon, where she had a gallery. Their marriage ended in the winter of 1998-1999.95 Koufax married a third time, to Jane Purucker Clarke, a sorority sister of Laura Bush, former President George W. Bush's wife.96
The 1989 season was the last of Koufax's 11 years with the Dodgers as minor-league pitching instructor, although he continued to visit unofficially in spring training. For many years, well into the 21st century, he would also visit the Mets in spring training to catch up with old friend Fred Wilpon and offer sage advice to young pitchers. Sometimes he would disappear, though, before players had a chance to shake his huge hand.
Many books have been written about Sandy Koufax over the years, a testament to enduring public interest in the man. Not a day goes by without his name appearing on the World Wide Web.97 The year 2002 brought Sandy Koufax: A Lefty's Legacy, by Jane Leavy. Koufax authorized the book but declined to be interviewed; thus, Leavy interviewed more than 400 people to gain perspective on the player and person, from the standpoints of both baseball and Judaism. It became a bestseller and was praised for the quality of its writing.
Alas, after the book came out, Koufax's relationship with the Dodgers became severely strained. The New York Post, then owned — as were the Dodgers — by News Corp., planted a blind item insinuating that Koufax was gay. The paper quickly withdrew the item and apologized, but Koufax severed his ties with the club for a couple of years. In 2004, however, Frank McCourt bought the Dodgers, and Koufax resumed his unofficial spring-training visits to work with pitchers.98
In 2007, 41 years after he retired from baseball, Koufax was the final player chosen in the draft to stock the six teams for the first (and only) season of the Israel Baseball League. Koufax, then 71, was picked by the Modi'in Miracle in the draft conducted by the head of the league's operations, Dan Duquette. Miracle manager Art Shamsky (another noted Jewish big leaguer) stated, "His selection is a tribute to the esteem with which he is held by everyone associated with this league. It's been 41 years between starts for him. If he's rested and ready to take the mound again, we want him on our team."99
Koufax remained a frequent newsmaker. In 2010 President Barack Obama likened himself in jest to Koufax at a White House gathering that honored Jewish Americans. Obama said, "We are both lefties. He can't pitch on Yom Kippur. I can't pitch." Obama started his introduction by saying "This is a pretty fancy … pretty distinguished group and Sandy Koufax."100 The mention of Koufax's name brought the biggest cheer at this event, which included members of the House and Senate, two justices of the Supreme Court, Olympic athletes, entrepreneurs, and rabbinical scholars.
Koufax's reputation for privacy endured for decades. Even his own mother saw him as a mystery. When she heard that Sandy was writing his autobiography, she asked if she could get one of the first copies so she could learn about her son. "You never told me anything," she said.101 One 1999 report noted, "Koufax's tight band of friends … call him The Ghost because of the way he suddenly appears and disappears."102 Yet this report and others over the years emphasized his loyalty. Fellow Brooklyn native Joe Torre said that once you were in Koufax's inner circle, you were in for good.103 For example, even though Fred Wilpon got Sandy to become one of the investors in Bernard Madoff's notorious Ponzi scheme, Koufax publicly supported Wilpon. He would have testified on behalf of the Mets' ownership, had a settlement not averted a civil trial.
Koufax himself added balance to the portrait. "I'm trying to figure out who says I'm private," he said with a grin. "I'm at the Final Four. I go to golf tournaments. I go to the movies. I go to dinner. I live my life. Somebody wrote that 50 years ago, and they're still writing that. … I don't care what anybody says. I'm past caring."104
In the spring of 2012, Guggenheim Baseball bought the Dodgers, and co-owner Earvin "Magic" Johnson reached out to Koufax. Previously, Sandy had thrown out the first pitch at Dodger Stadium on Opening Day 2008, but in 2013, he forged closer ties with the club again. He continued to impart his wisdom to pitchers and became a special adviser to Chairman Mark Walter. Koufax expressed his delight and said that some of his most cherished memories came at Dodger Stadium. But Ned Colletti, who was then the team's general manager, summed it up perfectly.
"He's as iconic a player as we'll ever have."105
Last revised: February 9, 2016
Notes
Born
December 30, 1935 at Brooklyn, NY (USA)
If you can help us improve this player's biography, contact us.
http://sabr.org/sites/default/files/images/Koufax-Sandy-NBHOF.jpg
600
800
admin
/wp-content/uploads/2020/02/sabr_logo.png
admin
2016-02-09 13:24:50
2020-06-18 02:20:41
Sandy Koufax