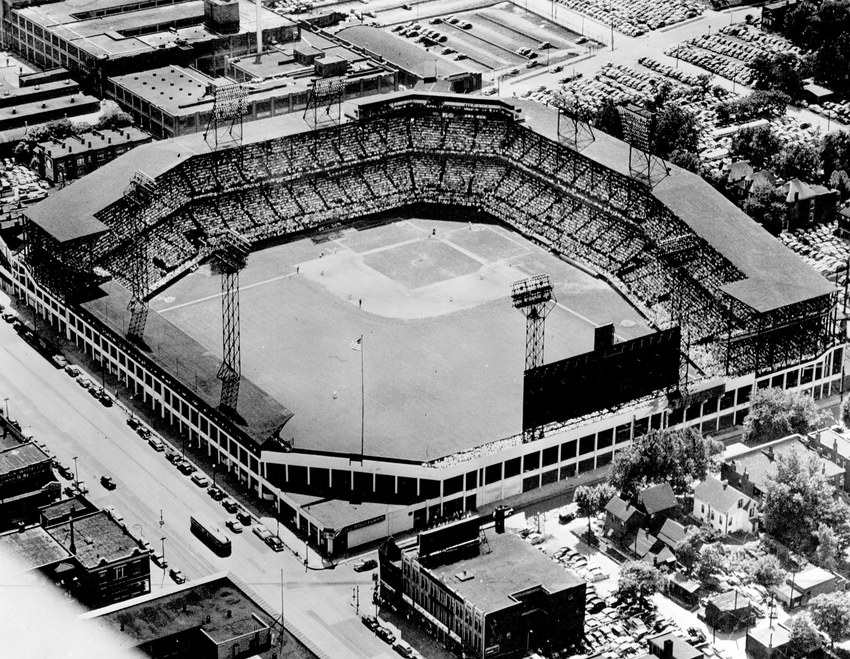 May 8, 1966: Cardinals play their last game at Sportsman's Park
---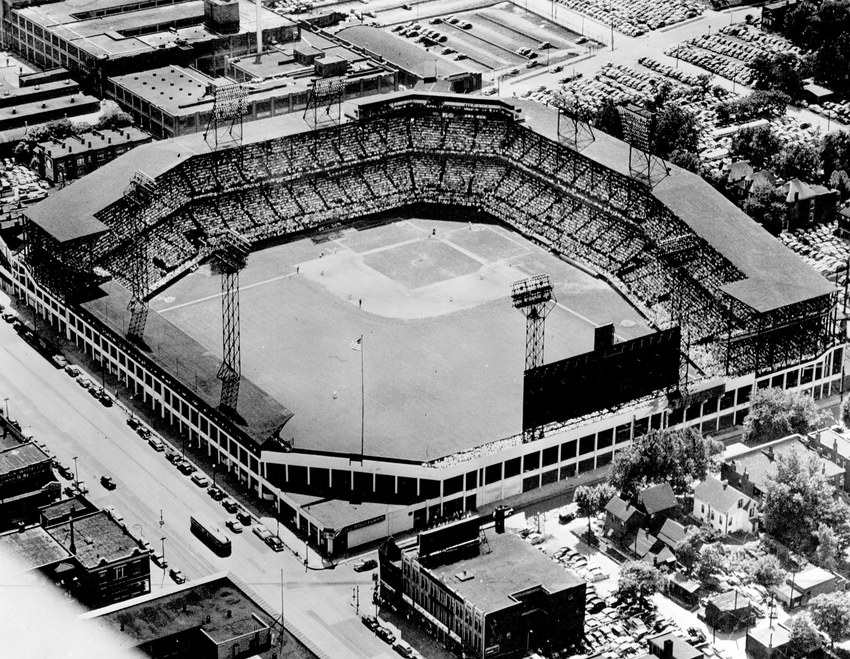 On May 8, 1966, Sportsman's Park hosted its last major-league baseball game. The venerable facility stood on grounds that had been in use for baseball since 1866. St. Louis's first professional team played there in 1875. Over the years the Cardinals and their late intracity rival Browns shared the ballpark. It was the site of 10 World Series, home turf for the likes of Hornsby, Sisler, Dean, Musial, and Gibson as well as a field where players like Ruth, Gehrig, and Williams walked. Where Enos Slaughter made his "mad dash" to win the 1946 World Series. And where 3-foot-7 Eddie Gaedel famously worked a walk in his only major-league appearance. And no ballpark in the country had hosted more big-league games.
With all this and much more in the way of historical lore, the last game would end with a celebration. Pregame ceremonies honored the Browns' greatest player, George Sisler, and the Cardinals' beloved Stan Musial just three years after his retirement. Fans were interviewed before the game and shared memories of Browns and Cardinal contests which hearkened back to the 1920s. Nostalgia was in full force.1
Playing the Cardinals were the league-leading San Francisco Giants, led by Willie Mays, who just days before had smashed his 512th major-league home run to take over the all-time National League record from Mel Ott. Alongside Mays played two future Hall of Famers, Orlando Cepeda and Willie McCovey. Thirty-two year-old Bob Shaw (1-3) started for the Giants. Eighth-place St. Louis countered with 22-year-old rookie Larry Jaster, who had a 2-2 record. Despite their slow start, the Cardinals were just two years removed from winning the World Series and still boasted a formidable lineup with Lou Brock, Curt Flood, and Tim McCarver among others. They were slumping, however, having lost their last three games, including a 15-2 shellacking the day before, thanks in part to Cepeda's grand slam.
Before 17,503 spectators, the game opened with what looked to be a repeat of the previous day's performance as the Giants plated three runs, the big blow Cepeda's two run-double. In the third, San Francisco struck again, this time when Jim Ray Hart launched his fifth home run of the young season. The two-run shot gave the Giants a 5-0 lead.
With the makings of another blowout at hand, St. Louis got back in the game in the bottom of the fourth on the strength of a walk and three hits, including two-run homers by McCarver and pinch-hitter Bob Skinner. An inning later Mike Shannon came to bat with the Cardinals now down by one run. Shannon, a St. Louis area native who played ball for the Catholic Youth Council as a 14-year-old, homered to tie the game, 5-5. It would prove to be the last home run hit by a Cardinal in the old ballpark.
Visions of a stirring comeback were dashed the next inning when McCovey hit a three-run homer off Jaster's replacement, Tracy Stallard. After Jesus Alou hit an RBI single in the eighth, Mays ended the Giants' scoring in the ninth with his eighth home run of the season to set the final margin at 10-5. Trivia reigned in the bottom of the ninth when Jerry Buchek became the last Cardinal baserunner, via a walk. (Charlie Smith made the last St. Louis hit — a single in the fifth.) Buchek was erased on a double-play ball hit by Alex Johnson, the last man to bat at Sportsman's Park. Ironically, the winning pitcher for the Giants was longtime Cardinal Lindy McDaniel, whose five innings of scoreless relief earned him his first win of the season.
While the game might have ended, the various festivities hadn't. Longtime groundskeeper Bill Stocksick, who had originally "placed" home plate in the field in 1909, dug it up and carried it to a helicopter that took it to Busch Stadium, where Stan Musial and Joan Nolan, "Miss Redbird of 1966," replanted it later that evening.
The remaining crowd sang "Auld Lang Syne" and with that, the ceremonies ended. Youngsters were allowed to run around on the playing field. One of Red Schoendienst's daughters went out to second and scooped up some earth where her All-Star father had played for years. A fan who had occupied the same seat in the ballpark for years dismantled it and took part of it home.
Scarcely had the ceremonies ended when the Cardinals announced a major trade. Not only were they getting a new ballpark but a new first baseman was on the way as well. The Giants' Orlando Cepeda was coming to the Redbirds in exchange for pitcher Ray Sadecki. San Francisco, which would rattle off four straight second-place finishes in the 1960s, needed a left-handed starting pitcher. Sadecki, a 20-game winner in 1964, had the potential to fill that need, but that potential went largely unrealized during his four-year, 32-39 stay with San Francisco. His 3-7 record with the Giants in 1966 proved a significant contribution to their razor-thin 1½-game loss of the pennant to the Los Angeles Dodgers.
The power-hitting Cepeda, whose chronic knee injuries limited him to just 33 games in 1965, became a cornerstone for St. Louis as the Cardinals built teams that captured consecutive pennants in 1967 and '68. Cepeda hit .325 and had a league-leading 111 RBIs for the 1967 world champions, on the way to being selected as the National League's Most Valuable Player.
Stands for the old ballpark would soon be torn down, the field remaining in place to be used for recreation by the Herbert Hoover Boys Club.2
Four days after the final game was played at Sportsman's Park, the Cardinals — with Cepeda in the lineup — hosted their first league game in the new, more spacious, more modern Busch Stadium, beating the Atlanta Braves in 12 innings, 4-3, before 46,048 fans, a then all-time attendance record for St. Louis.3 Not only did the new facility represent a success for the Cardinals, but it also provided a major boost to revitalizing the Gateway City.
Closing the old ballpark was part of St. Louis's bicentennial efforts to refurbish the downtown area, a 31-block district that had not kept up with the times and was an increasing blight on the city's image. The city used eminent domain to tear up parking lots and raze timeworn hotels and warehouses, and dilapidated buildings.4 Just a few blocks from the new ballpark the iconic Gateway Arch had been completed in late 1965; months later Busch Stadium was ready for its debut. Sportswriters trying to describe the new ballpark were taken by its vastness. A facility that could accommodate both professional baseball and football was encircled by wide concourses and ramps, upper and lower decks completely surrounding the playing field and a prominent state-of-the-art scoreboard. The seating capacity was at 49,275, well above Sportsman's Park's 30,500.5
Modern stadiums were replacing the old ballparks. Within the decade beginning in 1961, Griffith Stadium, the Polo Grounds, Sportsman's Park, Crosley Field, Connie Mack Stadium, and Forbes Field saw their last major-league games. They had become antiquated, less relevant in changing times. Many structures were in need of major restoration or repair. As was the case with Sportsman's Park, most of these edifices were located in run-down parts of the city that were inconvenient to get to. Demographics reflected a shift of populations from inner city to suburban living. In the years after World War II fans found that rather than using intra-urban bus or subway systems, they had to drive to ballgames. Therefore, parking, designed for a minimal number of drivers prior to the war, was woefully inadequate.
The new stadiums were certainly more fan-friendly with greater parking capacity, easier access and egress, modern restroom facilities and concession stands, as well as pyrotechnically enticing scoreboards, fan appreciation days, and numerous other marketing initiatives.
But with this something was lost. Ballparks lost their uniqueness. Various idiosyncrasies such as the Polo Grounds' oddly configured playing field or Crosley Field's left-field terrace were replaced by "cookie cutter" venues. As ballplayer Richie Hebner stated, "When I'm at bat, I can't tell whether I'm in Cincinnati, Philly, or St. Louis."6
Perhaps Cardinals pitcher Nelson Briles captured the change from old to new best when he observed. "[T]he transition from the ballpark — small, close to fans, electric atmosphere — to a big stadium, which was a compromise for everybody because you are removed from the field and you lose that intimacy and the closeness to the action, and you lost a good angle of view. And as a result fans suffered a bit." 7
In 2006 the "new" Busch Stadium was replaced another "new" Busch Stadium.
This article appears in "Sportsman's Park in St. Louis: Home of the Browns and Cardinals at Grand and Dodier" (SABR, 2017), edited by Gregory H. Wolf. Click here to read more articles from this book online.
Sources
In addition to the sources cited in the Notes, the author also accessed Retrosheet.org and Baseball-Reference.com.
Notes
1 https://youtube.com/watch?v=ZArYa5lEIcQ.
2 Neal Russo, "Million Memories — They're All That's Left in Cards' Old Park," The Sporting News, May 21, 1966: 25.
3 Neal Russo, "Something New in St. Louis — Spacious Stadium," The Sporting News, May 28, 1966: 15.
4 Tim O'Neill, "A Look Back: In 1966 New Busch Stadium Was a Tub-Thumping Civic Cause," St. Louis Post-Dispatch, May 11, 2013: 13.
5 Philip J. Lowry, Green Cathedrals: The Ultimate Celebration of Major League and Negro League Ballparks, (New York: Walker & Company, 2006), 202, 204; Russo, "Something New in St. Louis."
6 Curt Smith, Storied Stadiums: Baseball's History Through Its Ballparks (New York: Carroll & Graf Publishers, 2001), 301.
7 Peter Golenbock, The Spirit of St. Louis: A History of the St. Louis Cardinals and Browns (New York: Avon Books, Inc. 2000), 477.
Additional Stats
San Francisco Giants 10
St. Louis Cardinals 5
---
Busch Stadium
St. Louis, MO
Box Score + PBP:
Corrections? Additions?
If you can help us improve this game story, contact us.
Tags
https://sabr.org/sites/default/files/Sportsmans-Park-STL-NBHOF.png
600
800
admin
/wp-content/uploads/2020/02/sabr_logo.png
admin
2018-11-28 15:22:13
2020-04-17 10:23:43
May 8, 1966: Cardinals play their last game at Sportsman's Park