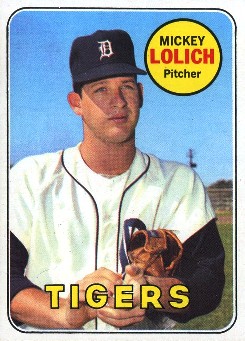 October 10, 1968: Lolich outduels Gibson in dramatic Game Seven victory
---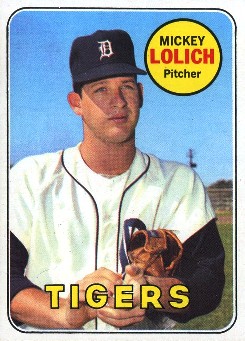 Game Seven of the 1968 World Series between the Detroit Tigers and the St. Louis Cardinals ranks among the greatest of all time. Screenwriters could not have created more drama. The two historic franchises had last met 34 years earlier, in 1934, in a bitter World Series battle that ended in a painful Game Seven loss for the Tigers. The Detroit and St. Louis 1968 teams presented a vivid contrast. The Tigers were the AL leaders in home runs with 185 blasts, 2½ times as many as the Cardinals' 73. Conversely, Detroit's stolen-base total was a minuscule 26, which was less than half of the 62 one Cardinal player, Lou Brock, had achieved. The reigning world champion Cardinals were the heavy favorites and raced off to a 3-1 Series lead. Only two previous teams in World Series history had been able to bounce back from this deficit to take the crown. The Tigers, however, were the comeback kings. During the regular season they had come from behind in the seventh inning or later to win 40 times. In Game Five they had trailed 3-0 and were only seven outs from elimination, but rallied to win 5-3. After a Game Six 13-1 Detroit romp, the Series was tied.
Prior to the Series, the pitching matchup had been the story. In the "Year of the Pitcher," Bob Gibson had a legendary season of dominance. He posted phenomenal numbers, including a 1.12 ERA, 13 shutouts, and 28 complete games in 34 starts. No team had been able to knock Gibson out of the box the entire season. Entering this Game Seven, he had won seven straight World Series starts and held the record for most complete games in a World Series. In Game One against Detroit he had set a new World Series record with 17 strikeouts.
The spotlight matchup had been billed as Gibson versus Detroit's Denny McLain. McLain had been the first hurler to win 30 games since the Cardinals' Dizzy Dean had done so 30 years earlier. However, McLain faltered in his first two games of the Series, losing both contests to Gibson. Mickey Lolich was chosen by Detroit manager Mayo Smith as the Game Seven starter. Lolich was the Tigers' hottest pitcher. He had finished the season on a 10-2 won-lost run, after being relegated to the bullpen in early August. Before the Series, former American League slugger Roger Maris had warned his Cardinals teammates that Lolich, not McLain, was the pitcher to fear.1 Lolich had been very effective against the Cards in Games Two and Five. He had gone the distance in each while yielding a total of only four runs. With only two days' rest, Lolichwas asked by manager Smith to give him five good innings, after which he would turn the game over to his bullpen.
The fall weather was perfect as a capacity crowd of 54,692 filled Busch Stadium on Thursday, October 10. However, the playing field was less than perfect. The football Cardinals had played a game there the prior weekend. It had also rained on Wednesday, and the hastily repaired turf was still wet in some places.
Through the first three innings Gibson continued his dominance. He retired all nine batters in order. With his fifth strikeout in the third, Gibson established a new World Series record of 32, exceeding his own mark set against the Yankees in 1964. For Lolich, things were not quite as easy. He escaped the first inning after 21 pitches by getting Mike Shannon to fly out to right field with runners at first and second. In the second he struggled with his control again and walked Tim McCarver, who was erased on a double play. In the third Lolich retired the side in order on three grounders. He recalled, "In the first couple of innings, I was trying to put the ball in certain spots and was struggling. Then I said, 'The hell with it. I'll just put it in there and see what happens."2One other play in the early innings hinted at what was to come later. In the first inning, Tigers center fielder Jim Northrup caught a spike in the turf and slipped momentarily as he flagged down a fly ball hit by Julian Javier.
The game remained scoreless through the fifth. Both Gibson and Lolich refused to yield. Detroit got its first hit on an infield single by Mickey Stanley in the fourth. Likewise, St. Louis had only one runner from the third through the fifth, Tim McCarver on a ground single to left.
Lolich had now given Smith the requested five innings. Mickey recalled, "After the fifth inning, Mayo looked at me every inning and I would tell him I was OK."3 Tigers catcher Bill Freehan said, "Mickey's best pitch was a sinking fastball. He lost some of his speed, but he kept his pitches down, down, down. Lolich agreed: "When I got a little tired the ball sank eight inches instead of four."4
The sixth inning was pivotal for the Cardinals. Gibson retired the Tigers in order. Then in the bottom half of the inning, St. Louis squandered two potential scoring opportunities and a chance to take the lead. Brock led off with a single to left. The hit tied New York Yankee Bobby Richardson's record of 13 for the most base hits in a World Series. Seeking to start a rally and a record-setting eighth steal, Brock edged farther and farther off first base, daring Lolich to throw over. Earlier in the Series, Brock had succeeded on the same play: When Lolich threw to first, he broke for second and beat first baseman Norm Cash's throw. Now, with Brock taking a 20- to 25-foot lead, Cash yelled for the throw. Lolich obliged, and this time Cash's relay to Stanley at second arrived in time to record the out. Cash later told reporters, "I really don't understand why (Brock) did it. That was too much of a risk with the score tied and a game like this."5 Brock defended his attempt. "That was the first time since 1966 I've been thrown out on that play. … This was the way we played all year and I thought it was a good gamble."6
But the fateful sixth was still not over. After Javier lined out to shortstop, Curt Flood beat out a grounder to short for a single. Once again Cardinals base running faltered. Flood had already stolen three bases in the Series, but this time Lolich picked him off on his third pitch. "He hadn't been throwing over there, just looking. So I figured he wasn't going to throw then. I just broke too soon. He had a good move to first. It was my fault," Flood said.7The Tigers had neutralized the Cardinals' vaunted running attack, and the game remained scoreless.
The Tigers would now make the Cardinals pay for squandering their chances to seize the lead. The first two Tigers in the seventh made outs. Gibson had retired 20 of his first 21 batters. But now the tide turned. Cash singled to right and Willie Horton singled to left Gibson recalled, "I had to retire Northrup, who had given me more trouble than any other Tiger."8Northrup had homered off Gibson in Game Four. Cardinals catcher McCarver went to the mound to discuss how to pitch to him. Northrup then attacked a first-pitch fastball, lining it to deep center. Flood, one of the best center fielders in baseball, took three steps in, but slipped as he reversed direction. The ball went over his head for a two-run triple. "I couldn't see the ball at all when it left Northrup's bat," Flood said after the game. "I started to come in for it. … I tried to reverse my field but it was no use. I slipped on the wet grass and I couldn't get back there. What that all amounts to is that I loused up."9 The next batter, Bill Freehan, lined a double to left-center to drive in Northrup. After an intentional walk to Don Wert, Lolich struck out to end the inning,but the damage had been done. The Tigers now led, 3-0.
With nine more outs to record, Lolich told manager Smith that he wasn't coming out.10 In the next two innings he worked around a two-base error by center fielder Northrup in the seventh and a walk to Lou Brock in the eighth. Gibson was allowed to bat in the eighth and so remain in the game. He struck out.
The Tigers had gone down in order in the eighth, but in the ninth they added an insurance run on singles by Horton, Northrup, and Wert. Now with a four-run lead, Lolich retired the first two hitters in the ninth, Flood and Orlando Cepeda, on a liner to shortstop and a foul pop to the catcher. Then Mike Shannon kept the game going and spoiled Lolich's his shutout with a homer to left. But the ever-calm Lolich ended the game by getting McCarver on a foul popup to Freehan. Freehan turned to embrace the jubilant Lolich, who jumped into his arms. The come-from-behind Tigers were world champions.
Afterward, a gracious Gibson acknowledged, "I got beat because the other guy pitched a better game."11Lolich was named the series MVP. The elated pitcher proclaimed, "Mickey Lolich has always been a number on the roster. Finally, somebody knows who I am."12 Back in Detroit, an estimated 20,000 people stormed the airport to await their heroes.13 Signs declared: "Lolich for President."14
Notes
Additional Stats
Detroit Tigers 4
St. Louis Cardinals 1
Game 7, WS
---
Busch Stadium
St. Louis, MO
Box Score + PBP:
Corrections? Additions?
If you can help us improve this game story, contact us.
Tags
http://bioproj.sabr.org/bp_ftp/images3/LolichMickey.jpg
600
800
admin
/wp-content/uploads/2020/02/sabr_logo.png
admin
2017-02-22 13:24:28
2020-04-17 13:34:06
October 10, 1968: Lolich outduels Gibson in dramatic Game Seven victory