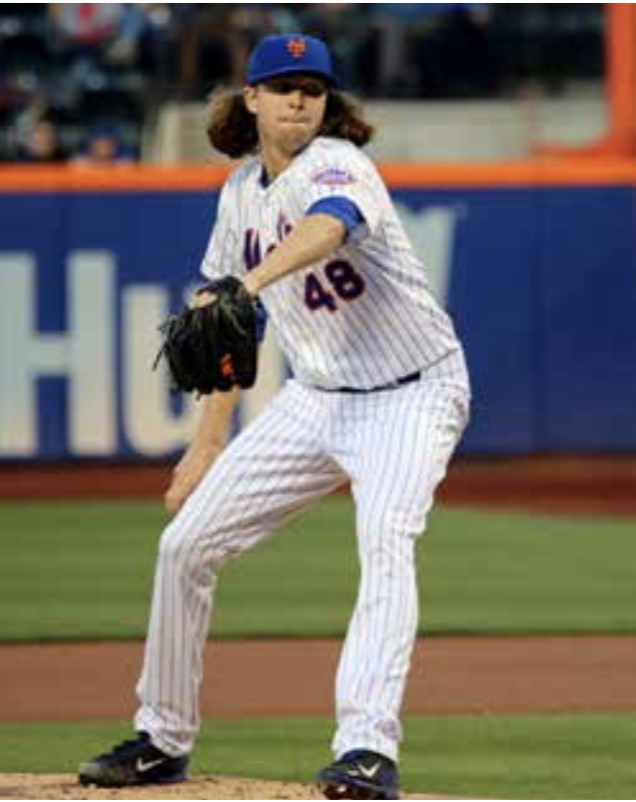 October 15, 2015: Mets edge Dodgers to advance to NLCS
---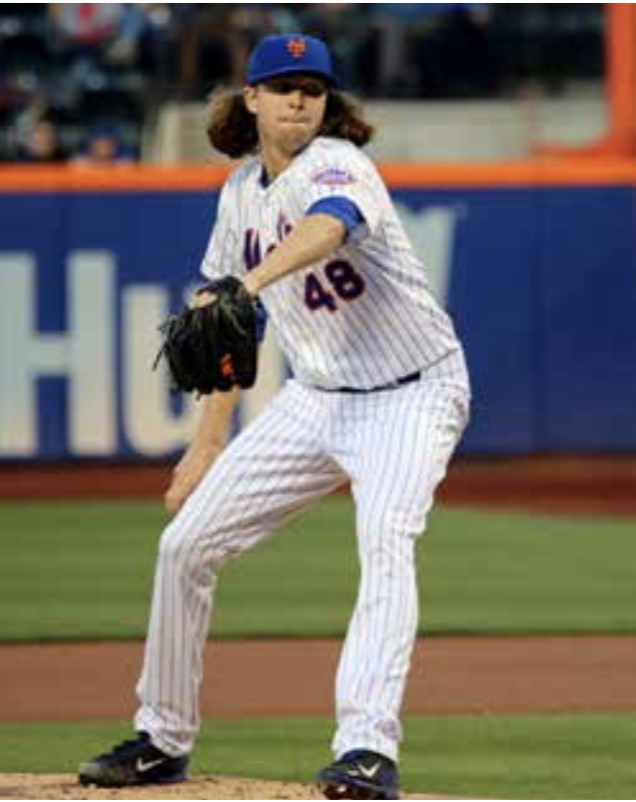 The New York Mets beat the heavily favored Los Angeles Dodgers, 3-2, in the National League Division Series winner-take-all Game Five at Dodger Stadium, before a crowd of 54,602. Daniel Murphy of the Mets, who hit .281 with 14 home runs during the regular season, played the role of hero in the game by going 3-for-4 with a double and a homer and scoring after a heads-up play on the basepaths in the fourth inning.
The teams had split the first two games in LA and did the same at New York's Citi Field. Now, with Clayton Kershaw having picked up the win in Game Four and the Dodgers handing the ball to Zack Greinke for Game Five, the Dodgers figured they were in a pretty good position to win the series.
Game One winner Jacob deGrom took the mound for the Mets. In Game One, the 2014 NL Rookie of the Year,1 pitched seven shutout innings, giving up five hits while striking out 13 Dodgers. During the regular season, deGrom went 14-8 with a 2.54 ERA and 205 strikeouts in 191 innings pitched.
The Dodgers' starter was Zack Greinke, the regular-season ERA leader, who picked up the win in Game Two of the series. Greinke was 19-3 with a league-leading 1.66 ERA in 32 starts during the regular season, striking out 200 in 202⅔ innings pitched.
DeGrom had a 3.66 ERA in three career regular-season starts against LA. Greinke, who had held the Mets to two runs in Game Two, had limited his opponents to three or fewer runs in all but two of his regular-season starts.2
The Dodgers finished first in the NL West with a 92-70 record; the Mets at 90-72 were the champions of the NL East.
Mets leadoff hitter Curtis Granderson grounded to third baseman Justin Turner, who in the shift was playing between first and second. Granderson was called out at first, but after review, the call was overturned and he was safe. After David Wright struck out swinging, Murphy doubled into the left-field gap and advanced to third when Enrique Hernandez bobbled the ball, scoring Granderson. Greinke buckled down and struck out Yoenis Cespedes and Lucas Duda to get out of the inning.
Howie Kendrick led off against deGrom and lined his third pitch to first baseman Duda. Corey Seager lined a base hit to left field. Adrian Gonzalez followed with a single to right, sending Seager to third. Justin Turner followed with a single to right, driving in Seager and advancing Gonzalez to third. Andre Ethier singled on a soft pop fly to left, scoring Gonzalez, with Turner taking second. Dan Warthen, the Mets pitching coach, came out to calm down deGrom. It must have worked; deGrom struck out Yasmani Grandal and Enrique Hernandez to end the inning with the Dodgers leading, 2-1. The three runs scored on five singles and a double, with five of the six outs recorded as strikeouts.
Greinke retired the Mets in order in the top of the second while striking out Travis d'Arnaud and Wilmer Flores. With one out, Michael Conforto drove the ball to the warning track down the right-field line, but a diving Andre Ethier tracked it down.
The Dodgers threatened again in their half of the second. Joc Pederson walked and advanced to second on Greinke's bunt. Howie Kendrick reached on an error by shortstop Flores, whose high throw pulled Duda off the bag. Peterson held at second. But deGrom struck out Seager and Gonzalez to get out of the jam.
The Mets were retired 1-2-3 in the top of the third. Justin Turner, playing with a banged-up knee, led off the bottom of the third inning by doubling into the left field corner. Andre Ethier lined out to Conforto in left. With a 2-and-0 count on Grandal, Turner stole third. Grandal reached first on a walk, bringing out Mets manager Terry Collins. DeGrom got Hernandez to ground into a 1-6-3 double play to end the inning.
Daniel Murphy singled to left to lead off the Mets fourth. After Cespedes flied out to center, Duda walked. In a heads-up play, as Murphy jogged to second on the walk he noticed no one was covering third because the shift was on, so as soon as he reached second, he broke for third. The Dodgers had three infielders to the right of second base and Seager was very close to second base when Murphy arrived there. Murphy, who stole only two bases during the regular season, took off for third hoping that nobody had called time out. "Just trying to casually walk to second and hoping that nobody called time because I look like an idiot if somebody calls time and I run to third," Murphy said. "I'm not sure who was supposed to cover, but there was nobody there. I'm not the fleetest of foot, but just fast enough for that one."3 Murphy's alertness paid off: When Travis d'Arnaud hit a foul fly to Ethier in right, Murphy tagged up and scored, tying the game at 2-2. Conforto grounded out to end the inning.
With one out in the top of the sixth, Murphy again came through, hitting a home run to right to give the Mets a 3-2 lead and silencing the crowd at Chavez Ravine. Greinke had allowed only five baserunners in six innings, but Murphy was a triple short of a cycle.4
Neither starting pitcher made it out of the seventh inning. With two down in the Mets' half, Flores singled to center. Kelly Johnson, pinch-hitting for deGrom, singled to second baseman Howie Kendrick, bringing Dodgers manager Don Mattingly out of the dugout to take the ball from Greinke. Luis Avilan replaced Greinke and retired Granderson on a fly ball to Hernandez in left.
Noah Syndergaard came in to pitch the bottom of the seventh and allowed only a two-out walk to Gonzalez. It was the rookie's first big-league relief appearance.
Chris Hatcher replaced Avilan in the top of the eighth and retired the side in order. Jeurys Familia came in to replace Syndergaard in the bottom of the eighth, and did the same.
The Dodgers' Kenley Jansen came in to pitch in the top of the ninth to try to hold the Mets at bay. He got Duda to pop out to short and d'Arnaud to pop out to first baseman Gonzalez in foul territory. Juan Lagares doubled down the left-field line and Jansen intentionally walked Flores with Familia coming up to bat. Familia, in his first plate appearance of 2015 (he had only four in his major-league career),5 struck out swinging, giving the Dodgers one last chance to keep their season alive.
Chase Utley, making his first appearance since serving a two-game suspension for his take-out slide in Game Two of the series that broke the leg of Mets shortstop Ruben Tejada, lined out to Granderson in right field.6 Familia then struck out A.J. Ellis and Howie Kendrick to pick up the save, his second of the series and send the Mets to the NL Championship Series against the Chicago Cubs.
Murphy had three hits off Greinke. Murphy batted .333 in the series and homered three times, twice off Greinke and once off Kershaw. He was voted the series' MVP.
"Daniel was a tough out all series," Dodgers manager Mattingly said. "He's always to me been a guy that's been a tough out. Pretty much hits everybody's fastball."7
DeGrom won two games in the series, both on the road. Fifty-eight of his 105 pitches were with runners in scoring position.
This article was published in "Met-rospectives: A Collection of the Greatest Games in New York Mets History" (SABR, 2018), edited by Brian Wright and Bill Nowlin. To read more articles from this book at the SABR Games Project, click here.

Sources
In addition to the sources cited in the Notes, the author also accessed MLB.com, MLB.TV, and Retrosheet.org.
https://www.baseball-reference.com/boxes/LAN/LAN201510150.shtml
https://www.retrosheet.org/boxesetc/2015/B10150LAN2015.htm
Notes
1 Associated Press, "Mets Eliminate $307-Million Dodgers," San Francisco Examiner, October 15, 2015. sfexaminer.com/mets-eliminate-307-million-dodgers/.
2 Anthony DiComo and Ken Gurnick, "Daniel Boon: Murphy Lifts Mets Unto NLCS!" MLB.com, October 16, 2015. https://mlb.com/news/mets-defeat-dodgers-in-game-5-advance-to-nlcs/c-154600686.
3 "Mets Eliminate $307-Million Dodgers."
4 "Mets 3, Dodgers 2: NLDS Game 5 Recap," October 15, 2015. nytimes.com/live/new-york-mets-los-angeles-dodgers-nlds-game-5/.
5 Ibid.
6 Scott Polacek, "Mets vs. Dodgers: Game 5 Score and Twitter Reaction From 2015 MLB Playoffs," bleacherreport.com, October 15, 2015. bleacherreport.com/articles/2579659-mets-vs-dodgers-game-5-score-and-twitter-reaction-from-2015-mlb-playoffs
7 "Mets Eliminate $307-Million Dodgers."
Additional Stats
New York Mets 3
Los Angeles Dodgers 2
Game 5, NLDS
---
Dodger Stadium
Los Angeles, CA
Box Score + PBP:
Corrections? Additions?
If you can help us improve this game story, contact us.
Tags
https://sabr.org/sites/default/files/Screen%20Shot%202019-10-17%20at%202.45.57%20PM.png
600
800
admin
/wp-content/uploads/2020/02/sabr_logo.png
admin
2019-10-17 14:41:53
2020-04-17 13:33:56
October 15, 2015: Mets edge Dodgers to advance to NLCS