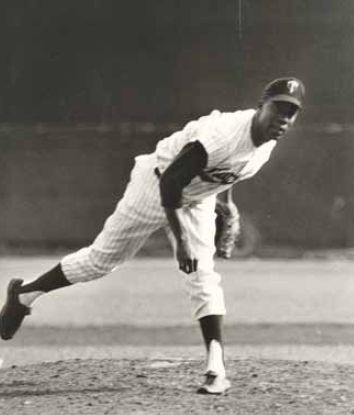 October 13, 1965: Mudcat ties the Series with pitching, hitting in Game Six
---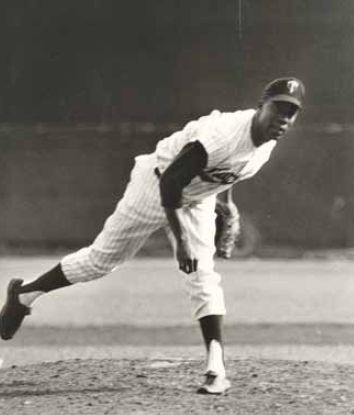 It sounds like a corny Hollywood movie. The home team has its back against the wall. It calls on its best pitcher, who bravely goes to the mound despite being sick. He not only wins the game, but hits a home run to boot. And if that's not enough cornball for you, a friend had asked the pitcher to win a game for the man's wife, who recently died in an automobile accident.
Welcome to Game Six of the 1965 World Series, where everything described above really happened. The Minnesota Twins had their backs against the wall, having dropped three straight to the Dodgers in Los Angeles after winning the first two games in Minneapolis. Twins manager Sam Mele gave the ball to Jim "Mudcat" Grant, who had a 1-1 record in the Series and who only had two days' rest after giving up five runs (four earned) in five-plus innings in a 7-2 Twins loss. The pressure on Grant was compounded by the fact that he had a bad cold and sore knees.
"My head feels like a balloon, my cold's no better and my knees are bothering me," said Grant. "Otherwise, I'm all right."1
Claude Osteen started Game Six for the Dodgers. Osteen was the Twins' nemesis, having accumulated a 5-0 won-lost record against them when he pitched for the Washington Senators, plus a 4-0 shutout win in Game Three of this World Series.
So far, this had been a homer's Series, with each team winning in its home park. After taking the first two games at Metropolitan Stadium, the Twins lost all three games in Los Angeles, were shut out twice, and were outscored 18-2.
"In losing the three games in LA, the all-round play of the Twins was like that of disorganized sandlotters," wrote sportswriter George Raubacher. "Little Leaguers generally function better than did the Twins in three reverses away from home."2
Ouch.
Perhaps that critique didn't motivate Grant, but the need to win certainly did, and his pitching showed it, as he was almost perfect through four innings. Dodgers catcher John Roseboro reached safely in the third on an error by third baseman Harmon Killebrew, but was thrown out trying to steal second on a "strike 'em out, throw 'em out" double play with second baseman Dick Tracewski at the plate. Osteen started off well enough, giving up three hits and two walks through the first three frames, but keeping the Dodgers off the scoreboard. That all changed in the fourth.
Twins catcher Earl Battey led off the inning with a groundball to second base but Tracewski, playing in place of the injured Jim Lefebvre, booted the ball and Battey was safe. Left fielder Bob Allison, who was 1-for-10 at this point in the Series, sent Osteen's third pitch on a long ride into the lower left-field pavilion, giving the Twins a 2-0 lead.
Grant gave up his first hit in the fifth, a harmless single by Dodgers right fielder Ron Fairly. Grant experienced his only tough spot of the game in the next inning. Tracewski singled and then, after Willie Crawford struck out while pinch-hitting for Osteen, moved to second on a base hit by shortstop Maury Wills. With two on and one out, Grant induced third baseman Junior Gilliam to pop to short and got center fielder Willie Davis to fly to center.
When managers make the standard move in a game, such as removing a pitcher for a pinch-hitter or walking the number-eight hitter to get to the pitcher's spot in the batting order, they know that sometimes these moves won't work. It's when both moves backfire in the same inning that the gray hair comes in. Dodgers manager Walter Alston would have bought a truckload of "Just For Men" if it had existed back then after the Twins' half of the sixth because his moves failed spectacularly.
Howie Reed replaced Osteen on the mound and, with one out, walked Allison, who then stole second while first baseman Don Mincher struck out looking. Alston then ordered Reed to walk second baseman Frank Quilici, who was hitting .188 for the Series, to get to Grant, who hit .155 during the season with no home runs. The same move blew up in the Twins' face in Game Five, when Dodgers pitcher Sandy Koufax got a single to drive in a run; and on this day Grant got a hit, too, except in this case it was a three-run homer to left-center, making the score 5-0.
It's a tradition in baseball that any pitcher who hits a home run can suddenly talk about hitting as if he's Ted Williams.
"I said to myself, 'He's going to throw me a curve. He can't afford to give me a fastball in a situation like this,'" said Grant. "Sure enough, he threw the curve. I knew it was gone the moment I hit it."3
The Dodgers didn't mount any further threats. Fairly belted a solo home run to right-center leading off the seventh, but otherwise Grant breezed through the rest of the game. He pitched masterfully, allowing only six hits and striking out five while not walking anyone. He stayed ahead of the hitters the whole game – of the 33 batters he faced, he threw first-pitch strikes to 28.
The fact that it was a win-or-go-home situation no doubt motivated Grant, but he had a deeper, more personal incentive as well. Before the game, he received a telegram from a friend that said: "Win the next one for Scotty. … Your friend, Howdy Doody."4 Grant explained to a reporter that "Howdy Doody" was a friend of his in Kansas City and that Scotty, the friend's wife, had died in a car accident a week and a half before, and that they were married for less than a year.
"I thought about her when I went out to the mound," said Grant. "I'm glad I made my friend a little happier."5
On to Game Seven.
Sources
Janesville (Wisconsin) Daily Gazette
Ellensburg (Washington) Daily Record
Sports Illustrated
San Bernardino (California) Daily Sun
Notes

Additional Stats
Minnesota Twins 5
Los Angeles Dodgers 1
Game 6, WS
---
Metropolitan Stadium
Bloomington, MN
Box Score + PBP:
Corrections? Additions?
If you can help us improve this game story, contact us.
Tags
http://sabr.org/sites/default/files/MudcatGrant.JPG
600
800
admin
/wp-content/uploads/2020/02/sabr_logo.png
admin
2016-07-22 13:36:19
2022-11-01 01:13:44
October 13, 1965: Mudcat ties the Series with pitching, hitting in Game Six