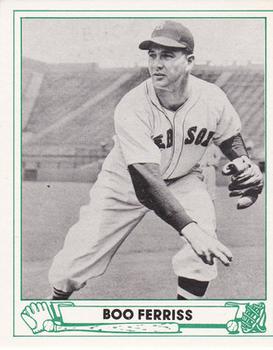 October 9, 1946: Boo Ferriss extends his unbeaten string at Fenway with Game 3 win
---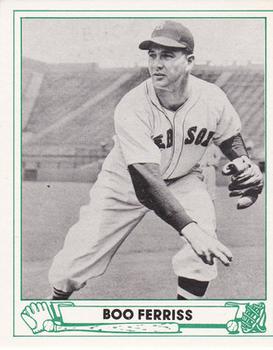 Twenty-four-year-old pitcher Dave "Boo" Ferriss completed one of the most spectacular seasons in Boston Red Sox history when he won 25 games against only six losses in 1946. He was the beneficiary of a potent Red Sox offense that lost only 50 games during the regular season. They captured their first American League pennant since Babe Ruth played for them in 1918.
During the regular season, Boston fans had celebrated the return of its stars Ted Williams, Dom DiMaggio, Bobby Doerr, and Johnny Pesky from their World War II service. Furthermore, Ferriss was also the "toast of the town" in leading the American League in winning percentage (.806). The humble Mississippi Delta native had endeared himself to Red Sox fans the year before by winning 21 games in his rookie season, including winning his first eight major-league starts. In 1946, Ferriss dispelled any thoughts his rookie year had been a fluke due to most of the major-leaguer regulars still performing military service. At different times during 1946, Ferriss had 10-game and 12-game winning streaks.
With the Red Sox favored over the St. Louis Cardinals in the World Series, it was only natural to assume Ferriss, the second-year sensation who had already won 46 career games, would be the starting pitcher in the opening game of the Series in St. Louis.
However, Red Sox manager Joe Cronin was silent on his opening game starter until a couple of days before the game.1 He also had Tex Hughson on the staff, who had an outstanding season as well. While Ferriss was generally thought to be the unquestioned ace of the staff based on wins, in fact Hughson held the edge over Ferriss in ERA (2.75 to 3.25), strikeouts (172 to 106), and WHIP (1.090 to 1.259) during the regular season. Behind Ferriss and Hughson, Cronin also had a lot of confidence in the rest of his starting rotation that also included Mickey Harris (17-9), Joe Dobson (13-7), and Jim Bagby (7-6).
Cronin settled on Hughson as the Game One starter, a decision having the backing of Hughson's teammates.2 Years later, Ferriss's own assessment was that he thought Cronin held him for Game Three in Fenway Park because he had been 13-0 there during the regular season.3
The Red Sox took Game One, 3-2, in St. Louis on Rudy York's home run in the 10th inning. Cronin went with Harris as his starter in Game Two, but the Cardinals evened the Series on Harry Brecheen's masterful four-hit shutout in a 3-0 win.
Neither team had hit particularly well during the first two games. York's home run in the first game was the only extra-base hit by the usually powerful Red Sox team. The Cardinals had deployed an extreme shift of its fielders (three infielders and two outfielders to the right of second base) against Williams, and it worked. He managed to get only one hit, as he disregarded opportunities to try to hit to the opposite field.4
After an offday for travel, the Series shifted to Boston for Game Three on October 9. Ferriss's start had Boston fans feeling very confident because of his unbeaten string in Fenway. He had last pitched in an exhibition series between the Red Sox and a team of American League all-stars prior to the start of the World Series.5 He was well-rested coming into what was his biggest game at that point in his brief career. After all, he was used to pitching on three days or less rest (occurring in 22 of his 28 starts). Murry Dickson drew the starting assignment for the Cardinals. He had turned in a fine regular season (15-6, 2.88 ERA), too, following his return from the Army.
In the top of the first inning, Stan Musial walked and stole second, assisted by Red Sox catcher Hal Wagner's low throw that went into center field. Musial considered advancing to third on the play, but DiMaggio's quick retrieval of Wagner's throw gave him second thoughts. With Enos Slaughter batting, Musial took too much of a lead at second, and Ferriss caught him flat-footed. As Musial darted for third, Ferriss threw the ball to third baseman Pinky Higgins, who tagged him out.
Then in the bottom half of the inning, York once again supplied a powerful bat for the Red Sox when he hit a three-run homer over the left-field wall that scored Pesky and Williams. Despite Williams's earlier struggles to hit, Dickson had intentionally walked him get to York.
Ferriss pitched as though he had something to prove, perhaps in the interest of maintaining his reputation as ace of the staff. He never allowed more than one baserunner in an inning, and Musial was the only Cardinals player to get past second base, with a triple in the ninth.
In the bottom of the eighth, the Red Sox added an insurance run when Wagner, facing Ted Wilks, reached base on an error by second baseman Red Schoendienst that scored York, who had reached on a single and advanced to third on Doerr's double.
With Ferriss coasting in the top of the ninth inning, he retired Schoendienst and Terry Moore. But then Musial followed with a triple to right field. Ferriss quickly recovered by striking out Slaughter in dramatic fashion to end the game, 4-0.
After the game, Dickson commented about York's at-bat in the first inning: "I didn't want to walk him, and I thought he might be looking for a fast ball, so I threw a let-up curve that didn't fool him a — bit."6
Ferriss praised teammate York, who had delivered six home runs (four of them game-winners) while he was pitching during the regular season. Ferriss said, "Seems like Rudy is always hitting one for me when I need it."7
Cardinals manager Eddie Dyer and coach Mike Gonzalez were complimentary of Ferriss's effectiveness on the mound. They particularly noted his side-arm sinker that consistently hit the outside corner of the plate.8 Ferriss, who gave the game ball to his mother after the contest, yielded only six hits and one walk, and was aided by two Red Sox double plays. He picked up his 14th victory at Fenway that season.
After suffering the first-inning damage by the Red Sox, Dickson turned in a creditable performance by giving up only four more hits. In the eighth inning, he was replaced by Ted Wilks, who gave up the unearned run to the Red Sox.
In the third inning, Williams finally took the bait on the defensive shift the Cardinals were using against him. He laid down a slow-rolling bunt toward third base that shortstop Marty Marion had to come over to field because of the shift. But it was to no avail, since Dickson got out of the inning without allowing a run. It was a disappointing series for Williams, who had entered fall classic play with a banged-up right elbow. He managed to get only five singles and batted in only one run in his 30 plate appearances.
The Series was tied after six games, and Ferriss wound up getting the starting assignment in Game Seven at Sportsman's Park. He wasn't nearly as effective in the finale, as he was chased from the game in the fifth inning after giving up three runs on seven hits, including three doubles. The Cardinals went on to win the game and their third World Series in five years.
Sources
In addition to the sources referenced in the Notes, the author also consulted:
baseball-reference.com/boxes/BOS/BOS194610090.shtml.
retrosheet.org/boxesetc/1946/B10090BOS1946.htm.
Nason, Jerry. " 'No Rain' For Series Game: Ferriss and Dickson Scheduled to Pitch," Boston Globe, October 9, 1946: 1.
Nason, Jerry. "Ferriss Hurls Brilliant 6-Hit 4 to 0 Shutout Before 35,500," Boston Globe, October 10, 1946: 1.
Stockton, J. Roy. "York Belts Home Run With Two on Base; Ferriss Hurls 6-Hitter," St. Louis Post-Dispatch, October 9, 1946: 1B.
Notes
1 Bob Broeg, "Cronin Likely to Rely on Hughson; Precedent Against Birds in Opener," St. Louis Post-Dispatch, October 5, 1946: 6A.
2 Jerry Nason, "Sox Players Would Choose Hughson for Season Opener," Boston Globe, October 5, 1946: 6.
3 Bob Ferriss, telephone interview on October 22, 2013.
4 "Will Williams Hit? Big Question at the Moment," Boston Globe, October 9, 1946: 8.
5 The exhibition series occurred while St. Louis and Brooklyn were engaged in a National League playoff series to settle a tie at the end of the regular season.
6 Bob Broeg, "Big Pitch to York Was 'Let-up' Curve Says Murry," St. Louis Post-Dispatch, October 9, 1946: 1B.
7 Harold Kaese, "Always Hits When Needed, Says Ferriss of Rudy York," Boston Globe, October 10, 1946: 1.
8 Broeg, "Big Pitch": 2B.
Additional Stats
Boston Red Sox 4
St. Louis Cardinals 0
Game 3, WS
---
Fenway Park
Boston, MA
Box Score + PBP:
Corrections? Additions?
If you can help us improve this game story, contact us.
Tags
https://sabr.org/sites/default/files/Ferriss-Boo-TCMA.jpg
600
800
admin
/wp-content/uploads/2020/02/sabr_logo.png
admin
2019-05-10 00:19:59
2020-04-17 13:33:58
October 9, 1946: Boo Ferriss extends his unbeaten string at Fenway with Game 3 win