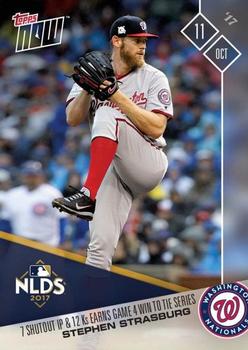 October 11, 2017: Too sick to pitch? Strasburg has last laugh against Cubs in NLDS
---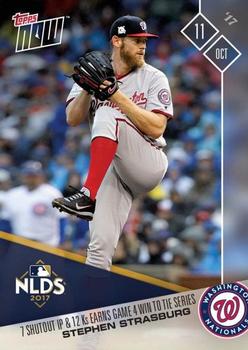 For much of the rain-induced two-day gap between Games Three and Four of the 2017 Washington Nationals-Chicago Cubs Division Series, it appeared that Stephen Strasburg would be too sick to take the mound for the Nats in Game Four. But after enduring some withering criticism during the unscheduled offday, Strasburg told Washington manager Dusty Baker that he wanted the ball. And after his dominating performance against the Chicagoans, it was the Cubs who were feeling ill: Strasburg struck out 12 and permitted only three hits while working seven shutout innings, as the Nationals forced a decisive Game Five with a 5-0 victory.
Strasburg had been the center of postseason controversy in 2012, when the Nationals kept him off their playoff roster to protect him from possible injury. He found himself in the spotlight again when Game Four, which was originally scheduled for Wednesday, October 10, was postponed because of rain in Chicago. The rainout meant that Strasburg, who had been brilliant in the Nationals' 3-0 loss to the Cubs in Game One (seven innings, three hits, 10 strikeouts, zero earned runs allowed), would be able to start Game Four on four days' rest.
However, Strasburg wasn't feeling well. "He spoke with Mike Maddux, our pitching coach, after his bullpen on Monday, and looked bad and under the weather, looked sick," reported Nationals general manager Mike Rizzo.1 Baker blamed mold from the air-conditioning in the Nationals' hotel. "It's just this time of year for mold around Chicago – I think it's mold. I mean, I have it, too," said Baker.2 So the Nationals announced that their Game Four starter would be Tanner Roark, not Strasburg. The result was a flood of criticism for Strasburg, particularly from former players. "If I'm his teammate and I walk into the clubhouse the next day, I can't make eye contact with this dude," said former Cub David Ross. "I mean, this is as bad as it gets as a teammate."3 "Really can't take the ball in an elimination game because of a runny nose. Sad. Not in my foxhole!' tweeted Hall of Famer Wade Boggs.4
However, Strasburg woke up feeling better on the morning of Game Four, and told Maddux that he wanted to pitch. He was outstanding in his seven innings of work, despite the 59-degree temperature, drizzly rain, and howling winds. "I'm surprised I was able to hang in there," Strasburg said after the game. "I think it's just situations where you try and break the game down, keep it simple, and just know that going in, whatever I have in the tank, I'm giving it everything I have."5 The Cubs' best chance against Strasburg came in the second inning, when Ben Zobrist doubled and Addison Russell followed with a long fly ball to left field. The wind helped keep the ball in the park, and Jayson Werth caught it on the warning track.
Despite Strasburg's brilliance, the Cubs kept the game close most of the way thanks to excellent pitching from Jake Arrieta, who pitched the first four innings, and Jon Lester, who worked into the eighth. Through seven innings, the only run of the game came in the third, and it was unearned. Trea Turner doubled against Arrieta with one out, then took third on a wild pitch. Werth struck out looking, but after Bryce Harper walked and stole second, Ryan Zimmerman hit a groundball to short, and the ball hit off the heel of Russell's glove for an error as Turner raced home.
The Nationals broke the game open in the eighth. With two out and nobody on against Lester (who had walked Zimmerman but then picked him off), Daniel Murphy singled to center. Cubs manager Joe Maddon then replaced Lester with Carl Edwards Jr., who was in the midst of a terrible postseason that saw him walk six batters in only 4⅔ innings. With Anthony Rendon up, Edwards threw a wild pitch that allowed Murphy to take second, then walked both Rendon and Matt Wieters to load the bases. After Edwards started Michael Taylor off with ball one, Maddon brought in closer Wade Davis. In 34⅓ previous postseason career innings, Davis had permitted only one home run. But Taylor was able to peek at some video of Davis while the Cubs closer was warming up, and said he "felt good once I stepped back in."6 After throwing a strike, Davis threw a fastball that Taylor belted to right field. Despite the fact that the ball was hit into the wind, it landed in the basket nearly 400 feet away for a grand slam that made the score 5-0.
"That had to be absolutely crushed," Maddon said of Taylor's drive. "That's into a gale, high, opposite field. … That surprised all of us, obviously."7 "I didn't think any right-handed batter could hit that ball out of the ballpark like [Taylor] did tonight," said Baker.8
"I was kind of numb running around the bases," said Taylor. "I didn't think it was going to get out the way the wind was blowing in."9 Ryan Madson and Sean Doolittle each pitched a scoreless inning to complete Washington's series-tying victory.
Despite the defeat, the Cubs were upbeat after the game. "It's two heavyweights going at it," said Jon Lester. "We're going to the last round. We're going to figure it out."10 The Cubs did bounce back the next night, finishing off the Nationals with a wild 9-8 victory to advance to the League Championship Series against the Los Angeles Dodgers. But the Cubs' bid to advance to the World Series for the second straight year ended in defeat, as the Dodgers prevailed in five games.
This article appears in "Wrigley Field: The Friendly Confines at Clark and Addison" (SABR, 2019), edited by Gregory H. Wolf. To read more stories from this book online, click here.
Sources
In addition to the sources cited in the Notes, the author also accessed Baseball-Reference.com.
https://www.baseball-reference.com/boxes/CHN/CHN201710110.shtml
https://www.retrosheet.org/boxesetc/2017/B10110CHN2017.htm
Notes
1 Scott Allen, " 'Very, Very Depleted' Stephen Strasburg Still Wanted to Pitch Game 4, Says Nationals GM," https://washingtonpost.com/news/dc-sports-bog/wp/2017/10/11/very-very-depleted-stephen-strasburg-still-wanted-to-pitch-game-4-says-nationals-gm/, October 11, 2017; accessed 12-24-17.
2 Jorge Castillo, "Nationals Will Stick With Tanner Roark Over Stephen Strasburg for Postponed Game 4," https://washingtonpost.com/news/nationals-journal/wp/2017/10/10/nationals-cubs-nlds-game-4-delayed-due-to-rain/, October 10, 2017; accessed 12-24-17.
3 Dan Steinberg, "Former MLB Players Were Teeing Off on Stephen Strasburg Before Plans Changed," https://washingtonpost.com/News/Dc-Sports-Bog/Wp/2017/10/11/Former-Mlb-Players-Were-Teeing-Off-On-Stephen-Strasburg-Before-Plans-Changed/, October 11, 2017; accessed 12-24-17.
4 Steinberg.
5 Jorge Castillo, "Stephen Strasburg, Michael A. Taylor Put Nats on Their Backs and Force Game 5," https://washingtonpost.com/sports/nationals/stephen-strasburg-michael-a-taylor-put-nats-on-their-backs-and-force-game-5/2017/10/11/cde055bc-aec0-11e7-a908-a3470754bbb9_story.html, October 11, 2017; accessed 12-24-17.
6 Paul Skrbina, "Taylor's Cram, Slam Prove to Be Decisive," Chicago Tribune, October 12, 2017.
7 Castillo, "Stephen Strasburg."
8 Ibid.
9 Skrbina.
10 "Strasburg, Nationals Beat Cubs 5-0, Force NLDS to Game 5," https://espn.com/mlb/recap?gameId=371011116, October 11, 2017; accessed 12/26/17/.
Additional Stats
Washington Nationals 5
Chicago Cubs 0
Game 4, NLDS
---
Wrigley Field
Chicago, IL
Box Score + PBP:
Corrections? Additions?
If you can help us improve this game story, contact us.
Tags
https://sabr.org/sites/default/files/Strasburg-Stephen-2017.jpg
600
800
admin
/wp-content/uploads/2020/02/sabr_logo.png
admin
2020-01-09 12:18:54
2020-04-17 13:33:55
October 11, 2017: Too sick to pitch? Strasburg has last laugh against Cubs in NLDS