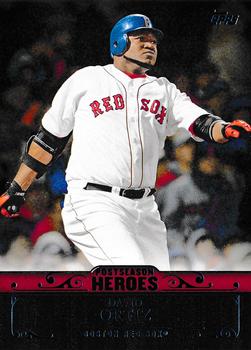 October 13, 2013: Big Papi's grand slam ties ALCS at 1-1
---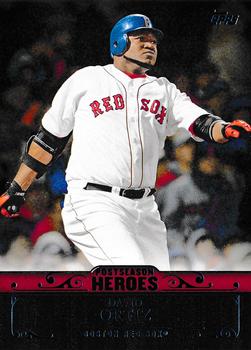 It is the bottom of the eighth inning of Game Two, and the Boston Red Sox are squarely facing the prospect of heading to Detroit having lost the first two games of the 2013 ALCS at home. The score is 5-1 Tigers, but the Red Sox have a glimmer of hope. The bases are loaded with two outs. David Ortiz, perceived by many to be a postseason clutch hitter as a result of back-to-back walk-off hits in the 2004 ALCS,1 has a chance to prove it. He steps into the left-hand-batter's box. The crowd rises in anticipation, knowing that if the Red Sox are going to get back into this series, it may be now or never.
But let's step back a minute. How did we get to this moment?
Before Ortiz walked to the plate, things were looking bleak for the Red Sox. The previous night, in Game One, the AL Central Division champion Detroit Tigers had defeated the Red Sox 1-0 in a pitchers' duel featuring Anibal Sanchez and Jon Lester.2 The Red Sox had been held hitless until the ninth inning of that game, when Boston left fielder Daniel Nava managed their lone hit of the night, a one-out single. The Tigers, however, retired the next two hitters to preserve the slim margin of victory and swipe home-field advantage.
In Game Two, the Tigers' pitching picked up right where it had left off. Through seven solid innings, starting pitcher Max Scherzer held the Red Sox to just two hits and a single run — a two-out RBI double by Dustin Pedroia in the sixth inning. Meanwhile, the Red Sox pitching did not fare nearly as well. The Tigers scored five runs in the first seven innings, highlighted by a gargantuan two-run home run by Alex Avila over the visitors' bullpen.
The Red Sox mounted their first serious threat in the eighth inning, after Scherzer, and his 108 pitches, gave way to the bullpen. Reliever Jose Veras induced a Stephen Drew groundout on just one pitch, but third baseman Will Middlebrooks ripped a double down the third-base line, putting a Red Sox runner in scoring position for just the second time that night. After Veras walked Jacoby Ellsbury, the Tigers brought in Al Alburquerque, who struck out Shane Victorino. With two outs, and 38,000 fans in the stands imploring the Red Sox to get the tying run to the plate, Pedroia laced a single into right field. Tigers right fielder Torii Hunter got the ball into the infield quickly, forcing Middlebrooks to stop at third base and setting the stage for the biggest at-bat of the game.
With the left-handed Ortiz coming to the plate, Tigers manager Jim Leyland brought in his most reliable reliever, Joaquin Benoit. During the regular season, Benoit had converted nine of nine hold opportunities before becoming the team's main closer, and he had converted 24 saves against just two blown saves.3 Though a right-hander, Benoit had a pronounced reverse platoon split in 2013; left-handed batters had hit for a meager .524 OPS against him.4
Ortiz's reputation notwithstanding, Tigers fans had reasons to feel confident. Ortiz was 0-for-6 so far in the series with four strikeouts, and Benoit had held him without an extra-base hit in 27 career appearances.5 Even with the bases loaded, the Red Sox' win expectancy was a mere 7 percent.6 Ortiz, however, lined the first pitch he saw into the Red Sox bullpen, famously causing Hunter to catapult over the short right-field wall in a valiant, but unsuccessful, effort to preserve the lead. With one swing, David Ortiz had increased the Red Sox' win probability by 45 percent.7 Said teammate Victorino, "[H]e has a knack for heroics. … It's fun to watch. As frustrating as it gets at some times for all of us, for him, he's always positive."8
In the now-tied game, in the top of the ninth, the Red Sox brought in their closer, Koji Uehara, who retired the Tigers in order. In the bottom of the inning, Red Sox left fielder Jonny Gomes greeted Tigers pitcher (and future Cy Young Award winner with the Red Sox9) Rick Porcello with a broken-bat infield single to shortstop Jose Iglesias. Iglesias — who had been traded from the Red Sox to the Tigers earlier in the season10 — threw the ball wide of first baseman Prince Fielder, allowing Gomes to reach second. After a wild pitch, Red Sox catcher Jarrod Saltalamacchia hit a hard groundball into left field, sending the Red Sox to Detroit with the series tied at 1-1.
Sparked by Ortiz's late-inning heroics, the Red Sox went on to win the ALCS in six games. In the World Series, Ortiz carried the Red Sox to their (and his) third championship in 10 years, going 11-for-16 with eight walks and a 1.948 OPS,11 cementing his legacy as one of the most accomplished postseason players of his generation.
Sources
baseball-reference.com/boxes/BOS/BOS201310130.shtml
retrosheet.org/boxesetc/2013/B10130BOS2013.htm
Notes
1 baseball-reference.com/boxes/BOS/BOS200410170.shtml; baseball-reference.com/boxes/BOS/BOS200410180.shtml.
2 baseball-reference.com/boxes/BOS/BOS201310120.shtml.
3 baseball-reference.com/players/gl.fcgi?id=benoijo01&t=p&year=2013.
4 baseball-reference.com/players/split.fcgi?id=benoijo01&year=2013&t=p.
5 Jason Mastrodonato, "David and Go tie-eth: Slam Rescues Sox in LCS," mlb.com, October 13, 2013, mlb.com/news/david-ortiz-grand-slam-rescues-red-sox-in-alcs/c-62930324.
6 baseball-reference.com/boxes/BOS/BOS201310130.shtml.
7 Ibid.
8 Mastrodonato.
9 Ian Browne, "Porcello Wins AL Cy Young Award," mlb.com, November 16, 2016, mlb.com/news/red-sox-rick-porcello-wins-al-cy-young-award/c-209009974.
10 Bob Nightengale, "Jake Peavy Traded to Red Sox in Three-Team Trade," usatoday.com, July 30, 2013, usatoday.com/story/sports/mlb/2013/07/30/white-sox-trade-jake-peavy-to-red-sox-three-team-trade-jose-iglesias-avisail-garcia/2601729/.
11 baseball-reference.com/players/gl.fcgi?id=ortizda01&t=b&year=0&post=1.
Additional Stats
Boston Red Sox 6
Detroit Tigers 5
Game 2, ALCS
---
Fenway Park
Boston, MA
Box Score + PBP:
Corrections? Additions?
If you can help us improve this game story, contact us.
Tags
https://sabr.org/sites/default/files/OrtizDavid-2013.jpg
600
800
admin
/wp-content/uploads/2020/02/sabr_logo.png
admin
2018-09-27 16:15:57
2020-04-17 13:34:01
October 13, 2013: Big Papi's grand slam ties ALCS at 1-1