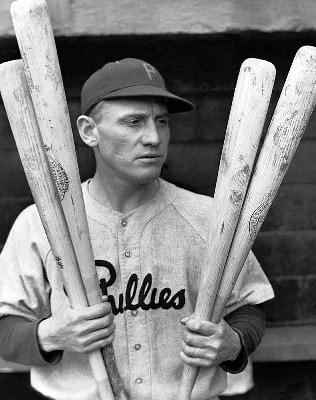 October 6, 1935: Cubs stave off elimination in Game 5 on Chuck Klein's homer
---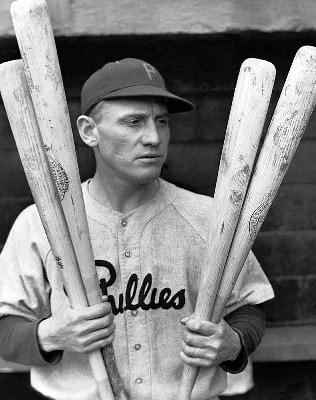 After Game One of the 1935 World Series, Detroit's playing manager, Mickey Cochrane, shared, "You'll go a long time until you see better pitching than that Warneke tossed at us this afternoon."1 Cochrane knew of what he spoke firsthand, having gone 0-for-4 including three taps back to Lon Warneke. Warneke's performance was outstanding; he shut out the Tigers' formidable lineup, 3-0, on four hits. Detroit had averaged six runs per game during the year on the strength of a .290 team batting average with a lineup including four future Hall of Famers.2And Warneke had silenced them.
Now, four days later, Warneke was scheduled to pitch again. Despite his dominance of Detroit in Game One, the pressure was decidedly on Warneke to repeat his performance. After winning the opening contest, Chicago proceeded to lose the next three games and was on the verge of elimination. It did not help their chances that center fielder Freddie Lindstrom broke his middle finger the previous day attempting to field a Charlie Gehringer line drive. Lindstrom had been a solid performer in Chicago's run toward the pennant in September and was lost for the remaining games of the Series. Nor did it help that hanging over the Cubs was that going back to 1918 they had lost seven straight World Series games at Wrigley Field.
Despite Detroit's commanding lead, Cochrane did not assume winning the championship was inevitable — events of the previous season had shown that. One win away from taking the World Series in 1934 against the St. Louis Cardinals, Detroit lost the last two games allowing the Cardinals to claim the title. Also hanging over the team was a further cloud: The Tigers had never won a fall classic despite appearing in four previous Series.
Warneke faced Schoolboy Rowe again. Rowe (19-13 for the season) had pitched well in the first game; however, his seven-hit venture did not match Warneke's scoreless effort. Rowe was pitching just two days after relieving in Game Three, going the last four frames of a game won by Detroit in 11 innings. Starting on such short rest did not seem a problem for the 25-year-old Rowe, who had thrown 275⅔ innings and 21 complete games during the season.
As a night of light rain and early-morning fog gave way to a cool afternoon sporting a "brilliant sun," 49,237 people trekked to Wrigley Field to see, win or lose, their last glimpse of the 1935 Cubs at home.3 Warneke picked up where he left off in Game One, allowing a harmless single to Cochrane, who advanced to second before the Tigers went down. Warneke dispatched the Detroit sluggers on a total of just 12 pitches in the second and third.
Meanwhile Chicago was held scoreless by Rowe the first two innings. The closest they came to scoring was on back-to-back singles by Chuck Klein and Gabby Hartnett in the first. In the bottom of the third, Billy Herman led off with a triple. Klein came to bat again.
He was in the lineup only because of Lindstrom's injury. Klein had been a major frustration to the Cubs since he joined them in a trade with Philadelphia after the 1933 season. In almost 5½ years with the Phillies, Klein had averaged .359 with 35 home runs and 134 RBIs. His efforts had peaked when he won the Triple Crown in 1933.
In Klein's first two seasons with Chicago, his performance averaged.297, 21 home runs, and 77 RBIs, not bad for many but hardly what had been expected of him, making him a target of Cubs fans' derision. At the beginning of September, Klein went into a 0-for-18 slump. He was benched just as Chicago started on the 21-game winning streak that propelled it to the pennant. Clearly not part of the winning effort, Klein was castigated for his subpar play, his negligible role in the team's win on the eve of the World Series described in decidedly negative terms: "Considering the number of times his name is entered in the all-time records of the game, Chuck is a pathetic figure, if one may feel sorry for someone who may receive $5,000 for simply watching a World Series."4
Klein had already singled in the first off Rowe, Now, with Herman at third, Klein turned on a 1-and-1 pitch and deposited it over the screening at the right-field wall putting Chicago in the lead, 2-0.5
After Klein's blast, Rowe settled down, preventing further scoring in the next three innings. Warneke allowed two singles in the fourth, then retired Detroit's lineup in order in the fifth and sixth. In the sixth, fans noticed Bill Lee, then Charlie Root warming up in the Chicago bullpen. This was unusual, as Warneke seemed to be doing quite well, having allowed only three hits and no runs. In the top of the seventh Lee came on to pitch.
Warneke had pulled a tendon in his arm. Later he told reporters that he felt a "twitch" in his shoulder while pitching to Rowe in the third. In the sixth, after he threw a strike to Gehringer, Hartnett came out to the mound and signaled Manager Charlie Grimm to begin warming up a new pitcher. Warneke got Gehringer on a line drive to Klein in center but his day was done.6
A sense of disquiet filled the ballpark as Lee began to pitch. Warneke had thrown exceptionally well and now was out of the game. Lee, who was 20-6 during the season, had given up four runs in 7⅓ innings in Game Three — not exactly a sterling performance. Neither Warneke's departure from the game or Lee's entrance into it augured well for the team.
The crowd grew more uneasy as Lee walked Goose Goslin to lead off the seventh — the first walk of the day for Detroit. Pete Fox came to bat with a .350 average for the Series, but Lee induced him to fly out to right field. Shortstop Billy Rogell stepped up and slapped a grounder to his counterpart, Billy Jurges, who stepped on second to force Goslin and threw out Rogell at first for an inning-ending double play.
Chicago had been quiet for three innings after Klein's home run but in the bottom of the seventh the Cubs' offense came to life again. Jurges singled to lead off and was sacrificed to second by Lee. Augie Galan rapped a hard groundball through Marv Owen at first for an error. Jurges tried to score, only to be thrown out at the plate by Fox on a close play. Jurges argued the call to no avail with Umpire George Moriarty.
There had been friction with Moriarty through the Series, most visible with a mass ejection of three players (including Cubs manager Charlie Grimm) in Game Three for excessive bench jockeying.7 Despite Jurges' ranting, peace was eventually restored. With Galan at second on Jurges' failed attempt to score, Herman ripped his second extra-base hit of the afternoon, a double to right, and the Cubs had an insurance run as Galan scored easily.
Despite the 3-1 score, the Cubs were not out of the woods; Detroit's lineup was too potent to ease up. Lee flirted with disaster in the eighth after there was one out. Flea Clifton was in the lineup only because Hank Greenberg had injured his wrist in Game Two.8 Clifton came to the plate 0-for-10 in the Series — and Lee walked him.9 Rowe, a good hitting pitcher singled Clifton to second.10 With Detroit on the cusp of a rally, Lee struck out Jo-Jo White and induced Cochrane to ground out to end the frame.
After Chicago went down in order in the bottom of the eighth, Detroit made one last push to claim the World Series that day.
Gehringer, Goslin, and Fox hit successive singles to score one run. Rogell flied out and Gee Walker pinch-hit for Owen. Walker, who had hit .301 for the season and had power, represented the go-ahead run. He grounded out, moving Goslin to third and Fox, the tying run, to second. Fortunately for Lee, the hapless Clifton was up next. Clifton lofted a foul popup down the first-base line, where Phil Cavarretta made the putout, just missing crashing into the concrete wall along the playing field.11
It had been a narrow thing. Chicago staved off elimination — the Cubs had won at home but now faced Detroit on their turf at Navin Field. They would so without Warneke, who was done for the Series — even the possibility of relieving.12 The Cubs were set to face Tommy Bridges, who had beaten them in Game Two of the series.
This article appears in "Wrigley Field: The Friendly Confines at Clark and Addison" (SABR, 2019), edited by Gregory H. Wolf. To read more stories from this book online, click here.
Sources
In addition to the sources listed in the Notes, the author also consulted Baseball-Reference.com and Retrosheet.org.
Notes
1 Don Duren, "Lon Warneke," SABR BioProject, https://sabr.org/bioproj/person/5a2fe3c9.
2 The Hall of Famers were Mickey Cochrane, Charlie Gehringer, Goose Goslin, and Hank Greenberg.
3 John Drebinger, "Klein Hits Homer as Cubs Win, 3 to 1," New York Times, October 7, 1935: 1.
4 Quoted without source in James Lincoln Ray, "Chuck Klein," SABR BioProject, https://sabr.org/bioproj/person/8dd27865.
5Drebinger, "Klein Hits Homer."
6 Frederick Lieb, "Goslin's Hit Spells Victory for Tigers," The Sporting News, October 10, 1935: 9.
7 Moriarty ejected Grimm, Woody English, and Tuck Stainback for heckling Detroit's Hank Greenberg over his Jewish ethnicity, setting a record for ejections during the World Series. Under then existing protocol, no player could be ejected from the World Series without the approval of Commissioner Kenesaw Mountain Landis. For this indiscretion, Moriarty was fined $200. Eric Enders, George Moriarty, sabr.org/bioproj/person/44c82f26.
8Marv Owen, the regular third baseman had taken over first, and Clifton took his spot at third base.
9 Clifton would end up 0-for-16 for the Series.
10 Rowe hit .312 during the season with three home runs.
11Lieb, "Goslin's Hit Spells Victory."
12Warneke's injury did not prove serious. He was the Cubs' Opening Day pitcher in 1936.
Additional Stats
Detroit Tigers 6
Chicago Cubs 3
Game 5, WS
---
Wrigley Field
Chicago, IL
Box Score + PBP:
Corrections? Additions?
If you can help us improve this game story, contact us.
Tags
http://bioproj.sabr.org/bp_ftp/images5/KleinChuck.jpg
600
800
admin
/wp-content/uploads/2020/02/sabr_logo.png
admin
2019-12-02 13:52:15
2020-04-17 13:33:55
October 6, 1935: Cubs stave off elimination in Game 5 on Chuck Klein's homer