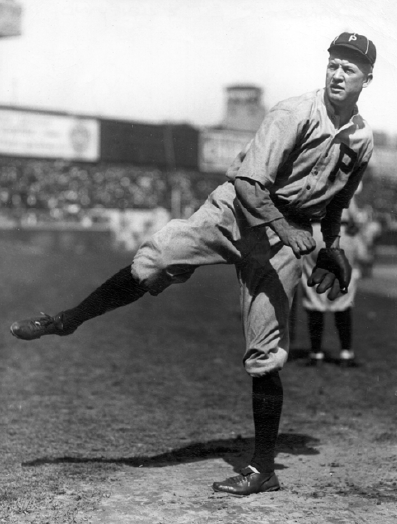 October 11, 1915: Red Sox squeeze by Pete Alexander's Phillies in Game Three
---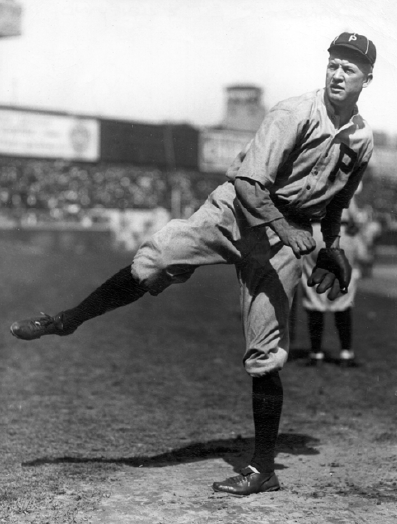 The 1915 World Series featured the upstart Philadelphia Phillies, who had swept to the National League pennant by seven games behind Grover Cleveland Alexander's phenomenal 31 wins (including 12 shutouts, four one-hitters, and three two-hitters),1 against the heavily favored Boston Red Sox, winners of 101 games in a close pennant race against the Detroit Tigers.2
In 1915 baseball still followed the practice of a coin flip to determine which team hosted the opening games of the World Series. Phillies' president William F. Baker won the toss, and the first two games were played in his bandbox ballpark, the Baker Bowl.3 The Phillies won the October 8 opener, 3-1, behind Alexander's eight-hitter but the Red Sox captured the second game, 2-1, behind a three-hitter by the diminutive Rube Foster, who also knocked in the winning run with a ninth-inning single.4 President Woodrow Wilson, accompanied by his fiancée, Edith Galt, attended game and threw out the first pitch. He was the first president to attend a World Series game.
The Series then switched to Boston for Games Three and Four. The Red Sox elected, with the consent of the crosstown Braves, to play their home games in brand-new Braves Field, which had a capacity of 42,000, the largest in the big leagues.5 While the larger seating capacity of Braves Field certainly influenced the Red Sox decision to move, the club was also no doubt seeking a competitive advantage. The Braves Field outfield was expansive, measuring 402 feet down each foul line and 550 feet to dead center,6 and would allow the exceedingly fast Red Sox outfield trio of Tris Speaker, Duffy Lewis, and Harry Hooper plenty of room to track down fly balls.
Phillies manager Pat Moran7 started the redoubtable Alexander on two days' rest.8 Red Sox manager Bill Carrigan picked Dutch Leonard, one of the top lefties in the American League, over the protestations of Babe Ruth, who was arguably the top southpaw in the league and who very much wanted a World Series start.9 According to one report, Carrigan purposely kept Ruth on the bench to make it clear to the cocky, out-of-control 20-year-old that the Red Sox could win without him.10
A World Series record crowd of 42,360 crammed into Braves Field, more than saw the first two games in Philadelphia combined. Among them was a delegation from the Massachusetts Women's Suffrage Association, which gave Red Sox star center fielder Tris Speaker a $10 gold piece for scoring the first Red Sox run of the Series.11 Once the game started, Speaker promptly lost leadoff hitter Milt Stock's lazy fly ball in the sun. Speaker never moved for the ball, which fell about 15 feet from where he was standing for a gift double. Dave Bancroft sacrificed Stock to third but Leonard pitched himself out of the early hole, retiring Dode Paskert on a foul popup to Larry Gardner at third before striking out Phils slugger Gavvy Cravath to end the inning.
Another taut pitcher's duel quickly developed as Alexander retired the first four Red Sox hitters before allowing a single to left by Duffy Lewis, who was promptly thrown out by catcher Ed Burns. 12
The game was scoreless when Ed Burns led off the Phillies' third with a ground single to right just out of the reach of second baseman Jack Barry. Alexander sacrificed and was safe when first baseman Dick Hoblitzell muffed Gardner's perfect throw. Stock sacrificed and the Phillies had runners on second and third with one out. Dave Bancroft followed with a single to center to plate Burns with the first run of the game. Alexander took a wide turn at third before Moran, coaching third, put on the brakes. He drew a throw home from Speaker, which enabled Bancroft to scamper down to second. Paskert was next and lofted a ball to short right but Barry made a fine running catch while the runners held.
That again brought up Cravath, the undisputed leading slugger in the game. He'd set a twentieth-century major-league record that year with 24 home runs, his third year in a row to lead the majors. (He also led in runs batted in with 115.)13 Cravath proceeded to hit the longest ball of the Series, a prodigious blast to deepest left field that sent Lewis racing with his back to the plate. He turned and grabbed the ball just in front of the left-field bleachers, a full 400 feet from home plate, to retire the side. Cravath's blast would have been a three-run homer in Fenway Park or the Baker Bowl, but was just a long out in Braves Field.14 Thus, two great Red Sox fielding plays in the inning kept the Phillies to a single run.
The Red Sox tied the score in their half of the fourth on Speaker's one-out line triple down the right-field line, quickly followed by Hoblitzell's long sacrifice to Paskert in left to score Tris. Both hurlers then set down the opposition without a baserunner until the bottom of the seventh, when Speaker led off with a single to left. Hoblitzell attempted to sacrifice but Burns pounced on the ball and threw to Bancroft at second to force Speaker while Hoblitzell stood at home plate thinking the ball was foul. The Phillies threw to first for the double play and while the Red Sox squawked long and hard to home-plate umpire Silk O'Loughlin, the call stood.15
While Alexander held the Red Sox at bay, the Phillies could not even generate a baserunner after the third inning. In the ninth Leonard made it 20 consecutive Phillies retired after two groundouts and a foul pop. In the bottom of the inning Hooper led off with a two-strike single to right field. Everett Scott twice failed to lay down a sacrifice, but with two strikes surprised the Phillies by poking a bunt that got by Alexander. Second baseman Bert Niehoff raced in from second and made a sparkling play, just nipping Scott at first while Hooper advanced to second. Manager Moran then ordered an intentional pass to Speaker to put runners on first and second with one out. As Speaker trotted down to first, he doffed his cap to the Phillies dugout.16 Hoblitzell was next and slashed a drive that seemed headed to right field. Niehoff, however, made another fine play to get to the ball and threw to first to get the batter by a whisker.
That left runners on second and third with two outs and Duffy Lewis coming to the plate in one of the pivotal and most controversial at-bats in the Series. At that juncture the hot-hitting Lewis was 4-for-7 against Alexander in the Series. The feeling in the press box was that Moran would order Alexander to intentionally walk Lewis to set up a force at any base and bring Larry Gardner to the plate.17 But after a mound confab, the Phillies decided to pitch to Lewis even with first base open. Lewis laced Alexander's first pitch to center field to drive in the winning run and end the ballgame. In a happy delirium the Red Sox faithful rushed onto the field, lifted Lewis on their shoulders and carried him off the field. He later lamented that the crowd almost broke his back.18 The hit proved to be the seminal moment in Lewis' rock-solid11-year big-league career.19
The Phillies couldn't recover from the walkoff loss, which put Boston ahead in the Series two games to one. They proceeded to lose two more one-run games as the Red Sox claimed the world championship in five games.
After the Series, Alexander defended the decision to pitch to Lewis in the ninth inning of Game Three, asserting that in a prior all-star tour Lewis had gotten exactly two hits off him in 12 to 14 games, striking out four times in one game. He wrote, "If there was a player in the world that I should have felt confident in facing on past experiences, that man was Lewis. Every series has its star. I didn't know that Lewis was to be the star of 1915."20
Alexander also revealed after the Series that he had strained his pitching shoulder while favoring a blister in a game against Brooklyn on Labor Day and had not been healthy since, even though he had thrown a one-hit shutout against the Braves on September 29 to clinch the pennant. According to Alexander, "[i]t is a very disconcerting experience to find yourself at the critical moment, when every eye is on you, and know that you are not in your best form."21
Moran intended to bring Alexander back in Game Five on only one day's rest (after pitching Game Three on two days' rest). Alex, however, was forced to tell his manager after warming up that his "arm was not right."22 To baseball's then greatest pitcher, the 1915 Series was "a peculiar, personal disappointment in that I was unable, through lack of condition to live up to expectations of my friends."23
This article appeared in "Braves Field: Memorable Moments at Boston's Lost Diamond" (SABR, 2015), edited by Bill Nowlin and Bob Brady. To read more articles from this book, click here.
Sources
In addition to the sources mentioned in the Notes, box scores for this game can be seen on baseball-reference.com, and retrosheet.org at:
http://www.baseball-reference.com/postseason/1915_WS.shtml
http://www.retrosheet.org/boxesetc/1915/B10110BOS1915.htm
Alexander, Charles C. Spoke – A Biography of Tris Speaker (Dallas: Southern Methodist University Press, 2007).
Alexander, Grover Cleveland. "How I Lost the World Series," Baseball Magazine, January 1916.
The Baseball Encyclopedia (New York: The Macmillan Company, 1969).
Baseball-reference.com.
Clark, Ellery H., Jr. Red Sox Forever (Hicksville, New York: Exposition Press, 1979).
Gay, Timothy M. Tris Speaker – the Rough-and-Tumble Life of a Baseball Legend (Lincoln: University of Nebraska Press, 2005).
Golenbock, Peter. Fenway – An Unexpurgated History of the Boston Red Sox (New York: G.P. Putnam's Sons, 1992).
Honig, Donald. The October Heroes (New York: Simon & Schuster, 1979).
Kavanagh, Jack. Ol' Pete – The Grover Cleveland Alexander Story (South Bend, Indiana: Diamond Communications, Inc., 1996).
Krueger, Joseph J. Baseball's Greatest Drama – World Series History, 1903-1945 (Milwaukee: Joseph J. Krueger, 1946).
Lieb, Frederick G., and Stan Baumgartner. The Philadelphia Phillies (Kent, Ohio: Kent University Press, 2009, originally published by A.S. Barnes & Co., Inc., 1948).
Lieb, Frederick. Baseball As I Have Known It (New York: Coward, McCann & Geoghegan, 1977).
Lieb, Frederick G. The Boston Red Sox (Carbondale: Southern Illinois University Press, 2003, originally published by G.P. Putman's Sons, 1947).
Ritter, Lawrence S. Lost Ballparks – A Celebration of Baseball's Legendary Fields (New York: Viking, 1992).
Ritter, Lawrence S. The Glory of Their Times (New York: Macmillan & Co., 1966).
Skipper, John C. Wicked Curve – The Life and Troubled Times of Grover Cleveland Alexander (Jefferson, North Carolina: McFarland & Company, Inc., 2006).
Westcott, Rich, and Frank Bilovsky. The New Phillies Encyclopedia (Philadelphia: Temple University Press, 1993).
Zingg, Paul J. Harry Hooper – An American Baseball Life (Urbana: University of Illinois Press, 1993).
Notes
Additional Stats
Boston Red Sox 2
Philadelphia Phillies 1
Game 3, WS
---
Braves Field
Boston, MA
Box Score + PBP:
Corrections? Additions?
If you can help us improve this game story, contact us.
Tags
http://sabr.org/sites/default/files/AlexanderPete-1915.png
600
800
admin
/wp-content/uploads/2020/02/sabr_logo.png
admin
2015-06-15 06:40:06
2020-04-17 13:34:08
October 11, 1915: Red Sox squeeze by Pete Alexander's Phillies in Game Three