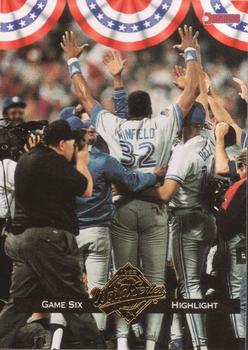 October 24, 1992: Blue Jays become first Canadian team to win World Series
---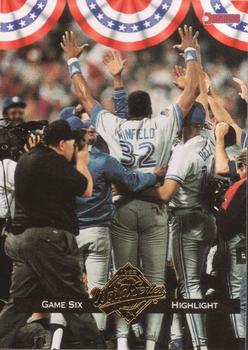 After the Atlanta Braves staved off elimination with a win in Toronto two nights earlier, Game Six of the 1992 World Series once again began with the historic possibility of the Toronto Blue Jays becoming the first non-US and first Canadian-based team ever to win the fall classic.
In Toronto's first at-bat, Devon White singled, stole second, and later scored on a sacrifice fly by Joe Carter to open the scoring. Atlanta tied the game in the third when Deion Sanders doubled, stole third, and scored on Terry Pendleton's fly out.
Leading off the fourth inning, left fielder Candy Maldonado made it 2-1 for Toronto by belting a Steve Avery fastball over the left-field wall. Atlanta mounted a scoring threat in the fifth when Toronto starter David Cone labored through a 26-pitch inning. He gave up a walk, two-out single, and stolen base to put runners on second and third but the veteran right-hander got out of the jam by recording a fourth straight inning-ending strikeout.
Pitchers on both sides frustrated batters all night. Atlanta ended up leaving 10 runners on base; Toronto, which put at least one runner on in each inning, stranded 13.
In the bottom of the ninth, with the score 2-1, veteran Toronto closer Tom Henke came on to get the biggest three outs of his career. Toronto's all-time saves leader was riding a 14⅔-inning scoreless streak in postseason play and had already preserved Toronto's wins in Games Two and Four.
But Atlanta rallied. Jeff Blauser reached second on a single and a sacrifice by Damon Berryhill. Lonnie Smith walked, bringing Francisco Cabrera off the bench for his first appearance of the World Series. Ten days earlier, Cabrera had hit a walk-off two-run single in Game Seven of the NLCS, giving Atlanta the National League pennant over Pittsburgh. Now he found himself in almost the identical situation: elimination game, bottom of the ninth, down by a run, the tying and winning runs on base. Cabrera cracked a liner to left field. Maldonado misjudged the ball for a split-second but stepped back, leaped up, and caught it.
One out to go …
Henke slipped two breaking balls by Otis Nixon to get ahead, 0-and-2. One strike to go … but Nixon slapped Henke's next offering through the left side to score Blauser with the tying run. Smith and Nixon advanced an extra base on Maldonado's wild throw home. With the winning run at third, Henke composed himself and got Ron Gant to fly out to deep center, sending Game Six into extra innings.
After an uneventful 10th inning, White was hit by a pitch with one out in the top of the 11th from left-hander Charlie Leibrandt, pitching his second relief inning. Roberto Alomar lined a changeup on one hop to center field, moving White to second. Despite Toronto's top right-handed run producers due up and right-handed closer Jeff Reardon warming up in the bullpen, Atlanta manager Bobby Cox elected to stick with Leibrandt. Reardon had been ineffective in two earlier Series appearances, giving up the game-winning RBIs each time.
Leibrandt got Carter to pop out to center, bringing cleanup batter Dave Winfield, 41, to the plate. Including a dismal performance in the 1981 fall classic, the veteran of 19 major-league seasons was now mired in a career 5-for-43 World Series slump with no extra-base hits and just two RBIs. Cox weighed the slump versus Winfield's four career home runs against Leibrandt and stuck with his southpaw.
Could Winfield shed the "Mr. May" label bestowed on him by Yankees owner George Steinbrenner?1
Winfield pulled a 3-and-2 changeup down the left-field line for a double. White and Alomar, both running on the pitch, scored easily as Gant, chasing the ball, stumbled briefly on the warning track.
"I didn't do a whole lot, but I did it at the right time. This is the best team I ever played on," a relieved Winfield reflected after the game. "I'll tell you, I'm the oldest man in this room, the longest waiting for a world championship, but also the happiest man here."2
Winfield's perfectly timed clutch hit gave Toronto a 4-2 lead. Cox would be second-guessed again as Leibrandt was saddled with the ignominy of giving up another devastating extra-inning World Series hit to a right-handed batter. Exactly 52 weeks earlier, he had served up Kirby Puckett's Game Six-winning home run in Minnesota.
Yet the Braves did not concede meekly. Blauser – as he had done in the ninth inning – led off the bottom of the 11th with a single. Berryhill grounded Jimmy Key's next pitch on the infield, a sure double play, but the ball hopped unexpectedly off shortstop Alfredo Griffin's glove, putting runners on the corners. Pitcher John Smoltz entered the game as a pinch-runner for Berryhill, representing the tying run. Rafael Belliard sacrificed Smoltz to second.
Like Cox, Toronto manager Cito Gaston stuck with his left-hander, Key, despite right-handed pinch-hitter Brian Hunter coming up. Hunter grounded out to first base, scoring Blauser and trimming Toronto's lead to 4-3 as Smoltz reached third.
Nixon marched to the plate with two out, looking to rescue his club again. Gaston walked to the mound and years later recalled that Key was honest about the situation. "You know what, Cito? I haven't had a lot of luck with this guy," Key acknowledged.3 Gaston summoned young righty Mike Timlin into the game.
As the speedy Nixon dug in, Gaston and several infielders warned Timlin that Nixon might bunt. "Cito told me about it and [Toronto catcher] Pat Borders told me about it and then [Kelly] Gruber mentioned it," Timlin said. "And then Joe Carter, who was at first, he comes over and says, 'You've got to help me out on the bunt a little bit.'"4 Nixon fouled off the first pitch. Then, as if on cue, he bunted the ball between the mound and first base. Fully prepared, Timlin fielded it cleanly and lobbed the ball to Carter, nipping Nixon by a half-step for the final out. "I dreamt and dreamt of this day, this situation. I always wanted to be in it. Tonight I came through, just like I always came through in my dreams," Timlin remarked.5
At 12:50 A.M. Sunday, the Toronto Blue Jays had finally won the World Series and a championship pennant would be raised outside the United States for the first time ever. Borders was named MVP of the Series after leading his club in batting (.450) and all batters in hits (9) and slugging (.750). "It's unbelievable. I never even thought I'd make it to the major leagues, let alone be an MVP in a World Series," said Borders.6
The calm, understated Gaston was the first African-American manager to win the World Series and he gave credit to his players at the championship parade in Toronto the next day. "From Day One in Detroit, if you could have seen their faces, how determined they were, you'd know this was going to happen. I'm so proud of you guys, you're the greatest. Let's do it again."7
Gaston, in turn, received praise from team members. "He's doing a great job," said All-Star second baseman Alomar. "He's man-to-man, not the kind of guy who likes to show people up. A lot of players respect that."8 The franchise's chairman of the board, Peter Widdrington, agreed. "This is a great personal triumph for Cito. I think he was absolutely the right guy at the right time for the right team. … He's as tough as nails. He commands a great deal of respect without asking for it. He's completely supportive of his playing personnel and he's a first-rate guy."9
Tributes for the Blue Jays came from around the world, and even from out of this world. President George H.W. Bush, entering the last days of the 1992 election campaign, made a congratulatory phone call to Gaston from Air Force One, declaring, "America is proud of you."10 Steve MacLean, Canada's third astronaut, crowed from the space shuttle Columbia, "I've always said from the beginning that the Jays would win in six."11
The Blue Jays World Series victory occurred at just the right time. Canada seemed to be coming apart from high unemployment, economic recession, and the quagmire of divisive constitutional amendments that were to be voted on in a national referendum taking place the same day as the World Series parade. The significance of Toronto's championship win was succinctly summed up by Canadian Prime Minister Brian Mulroney in his congratulatory memo to the ballclub.
"This triumph is a dream come true for Blue Jay players and fans and the culmination of many years of planning and effort by the coaching staff and management," the prime minister said. "As the first Canadian team ever to win the series, yours is an historic victory, one which will live forever in Canadian sports history. For all the fans who have supported your club right from that first game on a snowy April day in 1977, this is a sweet moment indeed. You have united a nation behind you, capturing the imagination of Canadians from coast to coast."12
Sources
Besides the sources cited in the Notes, the author also consulted the following:
http://baseball-reference.com/boxes/ATL/ATL199210240.shtml
http://retrosheet.org/boxesetc/1992/B10240ATL1992.htm
Cheek, Tom, and Howard Berger. Road to Glory: An Insider's Look at 16 Years of Blue Jay Baseball (Toronto: Warwick Publishing, 1993).
DiManno, Rosie. Glory Jays: Canada's World Series Champions (Champaign, Illinois: Sagamore Publishing, 1993).
Kinsella, W.P., Furman Bisher, Dave Perkins, and Stephen Green. A Series for the World: Baseball's First International Fall Classic (San Francisco: Woodford Publishing, 1992).
World Series Game Six: Toronto Blue Jays at Atlanta Braves, CBS Television (Buffalo, New York: WIVB, October 24, 1992).
Notes
1 Murray Chass, "Baseball; Winfield Convinces His Chief Doubter," New York Times, October 6, 1985: S3.
2 Allan Ryan, "WORLD BEATERS! Jays Best in Baseball After Nail Biting, 11-Inning Victory," Toronto Star, October 25, 1992: E1.
3 http://sportsnet.ca/baseball/mlb/blue-jays-oral-history-memories-of-92-world-series/.
4 Robert MacLeod, "Timlin Still Has Fond Memories of Championship Year With Jays," Globe and Mail (Toronto), September 7, 2007: S6.
5 Dave Perkins, "Timlin's 'Dream' of Victory Realized," Toronto Star, October 25, 1992: E4.
6 Marty York, "It Doesn't Get Any Better Than This," Globe and Mail, October 26, 1992: D1.
7 Jack Lakey, "250,000 Jays Fans Line Streets," Toronto Star, October 27, 1992: A4.
8 Larry Millson, "Cito Gaston Proves That His Way Is the Winning Way," Globe and Mail, October 26, 1992: D2.
9 Millson.
10 Neil A. Campbell, "Top of the World," Globe and Mail, October 26, 1992: D1.
11 Nicolaas van Rijn, "Raves Pour in for Cito's Jays," Toronto Star, October 26, 1992: A4.
12 Caroline Mallan, "Half a Million Jubilant Jays Fans Pack Downtown," Toronto Star, October 25, 1992: A1.
Additional Stats
Toronto Blue Jays 4
Atlanta Braves 3
11 innings
Game 6, WS
---
Atlanta-Fulton County Stadium
Atlanta, GA
Box Score + PBP:
Corrections? Additions?
If you can help us improve this game story, contact us.
Tags
http://sabr.org/sites/default/files/WinfieldDave-1993Donruss.jpg
600
800
admin
/wp-content/uploads/2020/02/sabr_logo.png
admin
2016-03-24 14:29:49
2022-02-09 01:35:46
October 24, 1992: Blue Jays become first Canadian team to win World Series