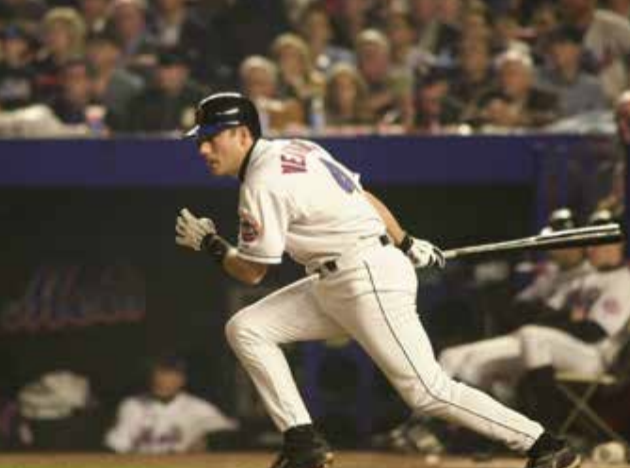 October 17, 1999: Robin Ventura's 'grand slam single' sends Mets to win in Game 5
---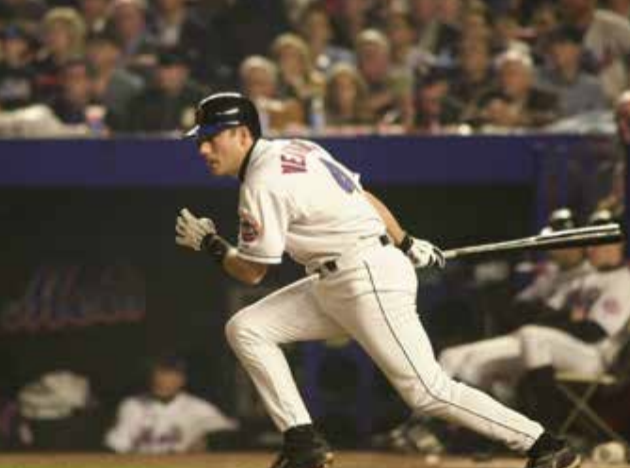 They spent nearly three weeks walking a tightrope.
By losing eight of nine in a crucial late September stretch — including five times to Atlanta — the Mets went from one game behind the Braves in the National League East standings to eight back. And with it came an unwelcome sense of déjà vu. In 1998, five straight defeats to end the regular season left the Mets one game short of the National League wild card. The only difference in their week-plus meltdown of '99 was that the Mets had time to rectify it. They were two games behind the Cincinnati Reds, but with just three games to play. Chipper Jones, who used his otherworldly performance at New York's expense as a springboard to being named the 1999 National League MVP, was leaving his division rivals for dead. "Now all the Mets' fans can go home and put their Yankees stuff on," he said.1
But the Braves would soon realize how many lives the Mets had remaining.
A home sweep of Pittsburgh in the final three games of the regular season coupled with two Reds defeats put New York and Cincinnati in a tie for the final playoff spot and forced a one-game tiebreaker at Cinergy Field. Behind Edgardo Alfonzo's first-inning homer and Al Leiter's nine innings of brilliance on the mound, the Mets prevailed, 5-0. It was off to Arizona for the Division Series, where the Mets split two with the Diamondbacks. New York took Games Three and Four at Shea, the latter on Todd Pratt's walk-off home run.
Some 20 days since the Braves presumably wiped the Mets out of the playoff picture, they were battling for the right to go to the fall classic. But that battle became relatively one-sided, as Atlanta edged New York in each of the first three games to take a commanding series advantage that no team had ever overcome. The Mets, continuing to teeter on the brink, staved off elimination in Game Four with a bottom-of-the-eighth-inning rally.
That drama, though, had nothing on what would transpire the next day and night. A two-run first-inning homer by John Olerud (who delivered Game Four's winning single) off Greg Maddux was countered by a pair of Braves scores in the top of the fourth. From there, the bats went silent. New York manager Bobby Valentine, operating with no margin for error, called on a bevy of bullpen help — beginning with Orel Hershiser. Eleven years earlier, as a Los Angeles Dodger, Hershiser almost single-handedly killed the Mets' pennant hopes. Now, he tried to prolong them — with 3⅓ shutout innings in relief of starter Masato Yoshii.
Seven more New York pitchers followed. Atlanta skipper Bobby Cox used five relievers to back Maddux, who was replaced for a pinch-hitter in the top of the eighth. The 2-2 deadlock persisted into extra innings. As darkness fell over Shea Stadium, so did the rain. Stranded runners (who eventually totaled 31 for both sides) piled up. Run-scoring opportunities went by the wayside – never more so than in the top of the 13th. Chipper Jones appeared to be adding to his "Mets villain" status with a base hit to right field. Keith Lockhart, running on the pitch, attempted to score from first. But Melvin Mora prevented Jones's hit from bouncing to the fence and initiated a relay that got Lockhart out at home by a wide margin.
The Braves broke through in the top of the 15th against Octavio Dotel with the likelihood of finally breaking the Mets' spirits in the process. Lockhart tripled home Walt Weiss from second base to put Atlanta ahead, 3-2. As the rain intensified, the chances dwindled for New York to keep its season alive. That three-week-long tightrope had seemingly frayed to its last straining threads. Three more outs and the Mets' hypnotic, thrilling journey would officially be finished. The Braves thought they had left the Mets for ruin when they pummeled them in late September, when they took a one-run lead in the eighth inning of Game Four, and again tonight.
But then came another encounter with ghosts of miracles past.
To shut the door in the bottom of the 15th, Cox passed on using perhaps his most reliable starting pitcher throughout the regular season, Kevin Millwood, and stayed with a relatively untested Kevin McGlinchy for a second frame. The 22-year-old right-hander battled leadoff hitter Shawon Dunston for nine minutes, 12 pitches, and six foul balls before Dunston singled up the middle. Matt Franco, pinch-hitting for Dotel, worked a walk. Alfonzo, in his ever-understated way, sacrificed both runners 90 feet farther.
With a base open, Olerud — still the lone man responsible for the entirety of the Mets' scoring –got an intentional pass. Pratt, who entered the game when Mike Piazza's strained left forearm wouldn't allow him to continue past the 14th, somehow had the chance to reprise the dramatics of eight days earlier. Yet he played a lesser role here. The rattled McGlinchy walked in the tying run on five pitches.
Bases remained full for a man quite comfortable with this RBI-rich scenario. Robin Ventura, pained yet not sidelined, could send everyone home (and both teams south) with an addition to his 18 career grand slams. "It's different when the bases are loaded and the guy has already walked a guy," said Ventura, who had been 1-for-18 up to this point in the NLCS. "He can't really fool around and throw a bunch of pitches in the dirt. So I'm just trying to get a ball in the air so the guy can score."2
Ventura sent McGlinchy's 2-and-1 offering to deep right-center. Deep enough to certainly score the winning run. And, then, deep enough to clear the right-center-field fence. "He scalded that ball," Pratt said. "I knew we had won the game just the way the ball came off the bat. It was just classic for him to come through."3
The longest game (at the time) in major-league postseason history, at 5 hours and 46 minutes, had reached a spectacular conclusion. But then came an unusual postscript.
After Ventura touched and rounded first base, he incessantly waved over-enthusiastic teammates away so he could round the bases. But their exuberance was too much to allow their hero to savor a home-run trot. Instead, they mobbed Ventura before he reached second. "As long as I got to first base, I don't care," Ventura said. "It means we won."4 Because of the human basepath blockade and because he never touched any of the remaining bases, the "Grand Slam Single" was forever cemented in franchise lore. But whether the final score read 4-3 instead of 7-3 was of little consequence to the joyous Mets. They had risen from the dead once more with another life to spare.
"I've been in long games," a mentally drained Valentine said. "But not games where every pitch meant so much."5
This article was published in "Met-rospectives: A Collection of the Greatest Games in New York Mets History" (SABR, 2018), edited by Brian Wright and Bill Nowlin. To read more articles from this book at the SABR Games Project, click here.

Sources
In addition to the references cited in the Notes, the author also consulted Baseball-Reference.com, Retrosheet.org, and Ultimatemets.com
https://www.baseball-reference.com/boxes/NYN/NYN199910170.shtml
https://www.retrosheet.org/boxesetc/1999/B10170NYN1999.htm
Notes
1 "For Braves' Jones, a Personal Link to Shea Stadium." New York Times. August 18, 2008: 1.
2 "After 15 Pitchers and 15 Innings, Mets Live." New York Times. October 18, 1999: 1.
3 Ibid.
4 Essential Games of Shea Stadium, 1999 NLCS Game Five. MLB Official DVD, A&E Home Video, 2008.
5 Ibid.
Additional Stats
New York Mets 4
Atlanta Braves 3
15 innings
Game 5, NLCS
---
Shea Stadium
New York, NY
Box Score + PBP:
Corrections? Additions?
If you can help us improve this game story, contact us.
Tags
https://sabr.org/sites/default/files/Ventura%20mets.png
600
800
admin
/wp-content/uploads/2020/02/sabr_logo.png
admin
2019-10-17 12:46:21
2020-04-17 13:33:56
October 17, 1999: Robin Ventura's 'grand slam single' sends Mets to win in Game 5