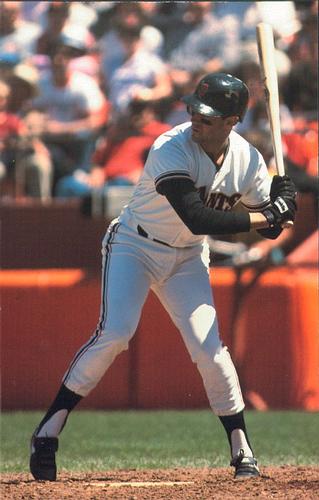 October 4, 1989: Giants' Will Clark has 'helluva week' in 1989 NLCS opener
---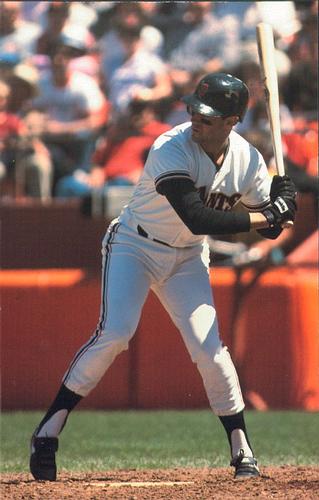 San Francisco Giants first baseman Will Clark had compiled his best season to date when the Giants won the 1989 National League West Division. In only his fourth major-league season, Clark and teammate Kevin Mitchell formed a formidable offensive threat that was being compared to some of the best Giants slugging duos of all time.1 When the Giants faced the Chicago Cubs in Game One of the 1989 National League Championship Series, Clark put an exclamation point on his regular-season production with one of the most outstanding postseason games in baseball history.
Clark had been the model of consistency all season. The left-handed hitter batted .332 during the first half of the season and .335 during the second half. He hit .321 against left-handers and .340 against righties. He batted .325 at home and .341 on the road.
He finished the season first in the National League in runs scored (104); second in hits (196); third in RBIs (111); fourth in doubles (38); and third in triples (9), slugging percentage (.546) and on-base percentage (.407). If there was a downside to his season, it was his losing the batting title to Tony Gwynn during the last series of the year, against San Diego. Clark had been ahead of Gwynn going into the final three games, but finished at .333, three points behind Gwynn.
The Giants drew 23-year-old right-hander Greg Maddux as the Cubs' starting pitcher in the first game of the NLCS, being played at Wrigley Field. Maddux had posted his second consecutive season with 18 or more wins, including seven complete games and a 2.95 ERA.
Despite Clark's outstanding regular-season performance, the conditions were not exactly ideal for him as he approached the first playoff game. He had hit an unimpressive .271 with no home runs in 12 regular-season games against the Cubs. He was only 2-for-9 against Maddux. He had hit only two home runs in 141 career at-bats against the Cubs, his fewest against any team.2 Clark didn't like playing in Wrigley Field, saying he had trouble picking up pitches.3
Clark was apparently able to overcome these factors and proceeded to put on an offensive display that set the tone for the Giants during the series with the Cubs. He logged a record-setting performance that included 4-for-4 at the plate, two home runs (including a grand slam), and six RBIs.
While Clark may have previously had difficulty seeing pitches in Wrigley, this time he said it was the first time he had played at Wrigley with the wind blowing out. However, he was quick to point out, "It was just one of those games. That doesn't mean I have this ballpark or this pitching staff in my pocket."4
Before an overflow crowd of 39,195 and a game-time temperature of 55 degrees, the Giants wasted no time in getting to Maddux. Brett Butler led off the game with a single to left and advanced on Robby Thompson's sacrifice bunt and a passed ball. Clark smacked a double to left that scored Butler. After cleanup batter Kevin Mitchell singled, Matt Williams hit a double that scored Clark and Mitchell.
Not intimidated by the Giants' heavy-hitting lineup, Chicago responded with its own power in the bottom of the first inning. Ryne Sandberg doubled with one out and Mark Grace hit a two-run home run off right-hander Scott Garrelts. However, the Cubs failed to take advantage of a leadoff triple by Luis Salazar in the bottom of the second.
In the third inning, the Giants and Cubs swapped solo home runs by Clark and Sandberg to put the score at 4-3, Giants.
The fourth inning was a continuation of Maddux's early struggle with the Giants. Pat Sheridan and Jose Uribe led off with singles. With Sheridan on third, Uribe stole second base. Maddux retired Garrelts on strikes and then intentionally walked Butler to load the bases, hoping for a double play with Thompson as the next batter. But Thompson hit a pop fly in the infield instead.
With the hot-hitting Clark due up next, Cubs manager Don Zimmer made a visit to the mound, considering sending Maddux to the showers. Maddux survived the meeting, but then served up his second homer to Clark that cleared the bases. Maddux said about his failed approach to facing Clark, "I wanted to get a fastball in, but I didn't get it there. I just got too much of the plate. The way he's hit all year, I think most pitchers would rather walk him than give in to him."5
Paul Kilgus relieved Maddux to start the fifth inning and held the Giants at bay for three innings. Clark got his fourth hit (a single) in the sixth, but no runs were involved. In the eighth inning, the Giants put icing on the cake. After Thompson reached base on an error and Clark walked, National League home-run champion Mitchell completed the Giants' scoring with a three-run home run off Steve Wilson. It was Mitchell's first home run at Wrigley since 1987. The game ended with a final score of 11-3.
Garrelts, who had been the National League regular-season ERA leader, claimed the victory, allowing eight hits and a walk in seven complete innings, yielding three earned runs. He struck out six. Maddux took the loss, lasting only four innings and giving up eight hits and eight earned runs.
Clark's six RBIs set a single-game playoff record and tied the postseason record set by Bobby Richardson in the 1960 World Series. His 11 total bases set a new record for National League playoff games. He tied NLCS records for most hits, runs scored, and most times reaching base in a game.
Asked if he thought the playoff game was his best ever, Clark replied, "Well let's just put it this way. I don't know if it's my best; it's certainly the most timely game I've ever had. It's just one of those nights when I was locked in at the plate. I felt real good."
Clark's mother, Letty (who watched the game from hometown New Orleans), felt pretty good about her son's results, too. He had promised her a home run on her birthday, and he came through with two.6
Cubs shortstop Shawon Dunston offered his assessment of Clark's performance: "We had our ace out there and Will Clark beat us. He's no fluke. Some people think he's cocky, but he's just good. Sometimes, you wish he and Kevin Mitchell weren't playing."7
Zimmer summed up Clark's brilliant outing: "Clark had a helluva week tonight."8
Giants manager Roger Craig said he had anticipated "a good playoff out of Clark" following the pressure of the last series of the regular season, when Clark lost the batting title to Gwynn. He added, "And I think he's just getting started."9 Craig proved to be spot-on in his prediction, as Clark posted a slash line of .650/.682/1.200 for the series that included six extra-base hits among a total of 13 hits. He scored eight runs while driving in eight and was named the NLCS MVP for his outstanding performance.
San Francisco wound up dominating the Cubs in the five-game series. Clark provided additional heroics in Game Five when he drove in the go-ahead runs on a two-out, bases-loaded single off Mitch Williams in the ninth inning. However, the Giants' postseason dominance ended there, as they were swept in four games by the Oakland A's in the earthquake-interrupted World Series.
Sources
In addition to the sources referenced in the Notes, the author also consulted:
baseball-reference.com/boxes/CHN/CHN198910040.shtml.
retrosheet.org/boxesetc/1989/B10040CHN1989.htm.
Holtzman, Jerome. "Giant Effort Clubs Cubs," Chicago Tribune, October 5, 1989: 4, 1.
Notes
1 Nick Peters, "Mitchell and Clark: Most Valuable Pair," Giants Magazine Vol. 4, No. 4, 1989: 17.
2 "Clark a Giant in Victory," New Orleans Times-Picayune, October 4, 1989: C, 1.
3 Rod Beaton, "Bay Area Lands 1-2 Punch," USA Today, October 5, 1989.
4 New Orleans Times-Picayune.
5 Clark Johnson, "Maddux Would Like Pitch Back," USA Today, October 5, 1989.
6 Peter Finney, "Clark Made for Good TV," New Orleans Times-Picayune, October 6, 1989: D, 1.
7 Johnson.
8 Bernie Lincicome, "Maddux's Mistake Was 2nd; Zimmer Made the First One," Chicago Tribune, October 10, 1989: 4, 1.
9 Hal Bodley, "Clark's punishing blows silence Cubs," USA Today, October 5, 1989.
Additional Stats
San Francisco Giants 11
Chicago Cubs 3
Game 1, NLCS
---
Wrigley Field
Chicago, IL
Box Score + PBP:
Corrections? Additions?
If you can help us improve this game story, contact us.
Tags
https://sabr.org/sites/default/files/ClarkWill-1987.jpg
600
800
admin
/wp-content/uploads/2020/02/sabr_logo.png
admin
2019-07-09 14:39:55
2020-04-17 13:33:58
October 4, 1989: Giants' Will Clark has 'helluva week' in 1989 NLCS opener