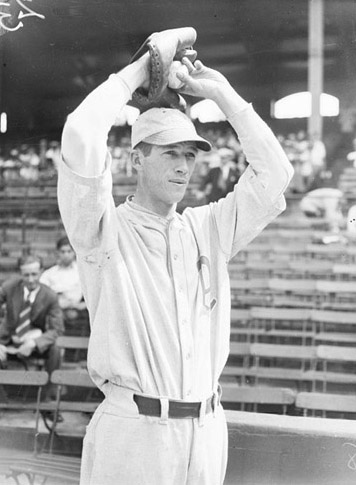 October 1, 1931: Lefty Grove, A's subdue Cardinals in opening game of World Series
---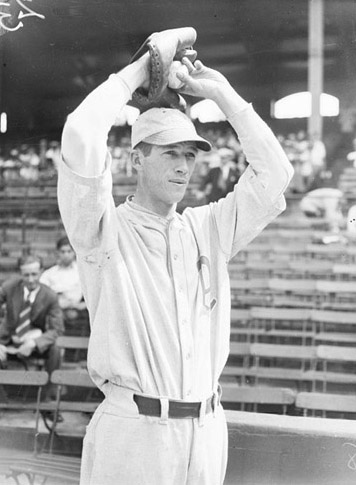 Anticipation of the 1931 World Series steadily peaked all summer in the St. Louis area as the Cardinals clinched their fourth National League pennant in mid-September. The Redbirds eventually finished 13 games better than the runner-up New York Giants, but their previous league flags, in 1926, 1928, and 1930, were all secured by meager two-game margins as those campaigns came down to nail-biting conclusions. A rematch against the powerful Philadelphia Athletics, who defeated the Cardinals in the 1930 World Series, along with the promise of hosting the opening game at Sportsman's Park for the first time helped heighten fans' eagerness for the calendar to turn to October.
The Athletics arrived via train in the late afternoon of September 30, and were welcomed by St. Louis Mayor Victor Miller and a crowd of several hundred at Union Station.1 The A's Connie Mack had earlier praised his 107-win squad after they wrapped up their third consecutive American League crown, boasting, "I have confidence in its ability to set a new record by capturing its third straight world championship."2
Gabby Street of the Cardinals piloted his St. Louis players to a franchise record 101 victories, but seemed annoyed when asked who would win the Series. "I have always felt that a ballclub should do its playing on the field, and for that reason I am not going to begin shouting that we will win the World's Series," said Street.3
Many of the major-league managers had their predictions published in The Sporting News. Most of them voted the "party line" and tabbed their respective league representative as the eventual world champion. Bill Killefer of the St. Louis Browns offered some praise for the Cardinals, but declared, "I look for a short Series with the A's a decisive winner."4 Giants skipper John McGraw predicted a close Series and concluded his analysis: "The most significant feature of the advance preparation for the Series was the absolute confidence of the Cardinals."5
Street knew his players were confident and ready to take on the two-time defending world champions. In the middle of each team's lineup was its league's batting champion – Al Simmons for Philadelphia and Chick Hafey for St. Louis. The slugging left fielders would feature prominently in the middle of the batting order. Simmons hit .390 for the season, and had catcher Mickey Cochrane (.349) hitting in front of him with first baseman Jimmie Foxx (30 home runs and 120 RBIs) behind him. Hafey squeaked in as tops in the NL at .349, which gave him a very narrow margin over New York's Bill Terry. Hafey would be complemented by veteran first baseman Jim Bottomley (.348 in 108 games), and relative newcomer Johnny "Pepper" Martin (.300), who would patrol center field. Street had a couple of late-season injuries to deal with: the losses of stalwart pitcher Jesse Haines (right shoulder)6 and possibly starting third baseman Sparky Adams (ankle sprain). Reserve infielder Andy High was tabbed to start at the hot corner for Game One.7
While Mack felt good about his hitters, he knew that the key to capturing a best-of-seven series would be his pitching staff. Just before Game One, Mack offered that he did not know yet who would start in the opening game.8 Most notable was Bob "Lefty" Grove, who led the majors by posting a 31-4 mark, with the possibility that George Earnshaw (21-7) or Waite Hoyt (10-5) might get the nod. Grove won two games with a 1.42 ERA in 19 innings in the 1930 World Series, but was actually overshadowed by Earnshaw, who also posted a pair of victories and compiled a 0.72 ERA in 25 innings. Hoyt had been claimed off waivers from Detroit in early July, and came on board with 10 World Series starts on his résumé. Mack ultimately decided on the southpaw Grove to start the first game.
October 1 finally arrived and the ex-catcher Street, who celebrated his 49th birthday the day before, announced that rookie Paul Derringer, 18-8, with a 3.36 ERA, would start Game One. The 6-foot-3 right-hander, just shy of 25 years old, had led the Cardinals' staff with four shutouts. Street's lineup for Game One included only two left-handed batters, High and Bottomley.9 Mack put his batting order together and gave it to coach Eddie Collins, who later met at home plate with Redbirds' second baseman Frankie Frisch to present the lineup cards to arbiter Bill Klem just before the 1:30 P.M. start.10
Ideal weather greeted the crowd of 38,529, with the high temperature expected to reach 80 degrees. The Sportsman's Park fans were relatively quiet before they let out a mighty cheer as the Cardinals took the field in their new white uniforms. Underneath the new attire, as tokens of good luck, were the same stained sweatshirts that had not been washed since the season began.11 After the band played the last note of "The Star Spangled Banner," umpire Klem called "Play Ball" as Philadelphia's Max Bishop walked to the batter's box.12 The 1931 World Series was about to begin.
Derringer's opening pitch was low and outside, but the youngster came back to strike out Bishop, and then he fanned Mule Haas. After a wide pitch to start Cochrane, Derringer got the A's catcher to ground out to shortstop for the third out. With just nine deliveries, Derringer walked to his dugout after completing a perfect first inning. Grove overmatched High and struck him out on three pitches to start the bottom half, but Wally Roettger singled to center. Frisch singled to right and Roettger raced to third. Bottomley, 1-for-22 with nine strikeouts in the 1930 Series, lined an RBI single over second to put St. Louis up, 1-0. Grove fanned Hafey, but Martin knocked a double off the right-field pavilion screen to score Frisch and send Bottomley to third. After allowing four safeties and a pair of tallies, Grove induced a groundball out from Jimmie Wilson to end a shaky first.13
The second inning was impressive for Derringer as he notched two more strikeouts with the A's again going down in order. Charley Gelbert almost solved Grove to begin the bottom half, but Bing Miller hauled in his drive to deep right. High singled with two outs, but was left stranded. The Athletics managed their first baserunner in the third when Jimmy Dykes opened with an infield single off High's glove. Dykes motored to third on Dib Williams's single past first before Grove was called out on strikes. Bottomley fielded Bishop's hard grounder and fired to the plate to put Dykes out in a rundown going catcher to third to catcher. But just as Derringer appeared ready to escape the jam, Haas followed with a clutch RBI double to put Philadelphia on the board. Derringer seemingly became unnerved as he lost his control and walked Cochrane and Simmons to force in the tying run. Foxx then smacked a two-run single back through the box to put the A's up 4-2 before the side was finally retired. Grove settled down and recorded his first three-up and three-down frame in the Cardinals' third.14
Both hurlers were able to pitch out of trouble from the fourth through the sixth, benefiting from good defense, avoiding the extra-base hit, and inducing timely twin killings. The Athletics padded their lead in the seventh when Simmons followed Cochrane's single by drilling an offspeed pitch into the left-field bleachers to give Philadelphia a 6-2 margin. "I am afraid that Al's home run has convinced the Cardinals that a slow ball is not Al's batting weakness," said Mack after the game. 15
Jake Flowers hit for Derringer to open the bottom of the inning and was the victim of a fine defensive play from Dykes at third base for the first out before Grove finished another scoreless half, despite allowing two more hits.16 Syl Johnson took the mound for the Cardinals to start the eighth and worked two perfect innings. Grove retired six of the last seven St. Louis hitters he faced to gain his third career postseason win and give the Athletics an early edge in the World Series. There were no errors, and the contest took one hour and 55 minutes to complete.
Simmons and Foxx led the Mackmen as five of Philadelphia's runs were funneled through their plate appearances. The Cardinals, with Martin going 3-for-4 with a stolen base, tagged Grove for 12 hits, the most safeties the left-hander had ever allowed in World Series action, but St. Louis left nine men on base and finished 2-for-10 with runners in scoring position. Derringer took the loss, and pitched admirably for five of his seven frames. He struck out nine, compared to seven for Grove, but allowed three walks, and six earned runs on 11 hits.
Mack heaped postgame praise on Derringer, saying, "I think Derringer will develop into one of the greatest pitchers in baseball. His mistake today was pitching too hard at the start. He forgot that there were eight other men working on his side. His strenuous efforts in those first two innings prevented him from being as effective as he should have been later on."17 Nonetheless, as the discouraged rookie hurler left the ballpark, Derringer waved off the many autograph hounds seeking his signature.18
This article appears in "Sportsman's Park in St. Louis: Home of the Browns and Cardinals at Grand and Dodier" (SABR, 2017), edited by Gregory H. Wolf. Click here to read more articles from this book online.
Sources
In addition to the sources noted in this game account, the author also accessed Retrosheet.org, Baseball-Reference.com, SABR.org, Newspapers.com, and The Sporting News archive via Paper of Record.
Notes
1 "Athletics Arrive for First World Series Game Tomorrow," St. Louis Post-Dispatch, September 30, 1931: 1B.
2 "Major Managers Stick With Their Own Leagues in Series Selections," The Sporting News, October 1, 1931: 5.
3 Ibid.
4 Ibid.
5 Ibid.
6 Gregory H. Wolf, "Jesse Haines," SABR BioProject, https://sabr.org/bioproj/person/afeb716c.
7 J. Roy Stockton, "Cardinals in Final Workout Still Hopeful Adams Can Play," St. Louis Post-Dispatch, September 30, 1931: 1B, 3B.
8 "Major Managers."
9 Herman Wecke, "World Series Highlights," St. Louis Post-Dispatch, October 1, 1931: 1B.
10 E. Roy Alexander, "Cards First on Field; Many in Line at Gates Wait All Night," St. Louis Post-Dispatch, October 1, 1931: 1B.
11 Ibid.
12 Ibid.
13 "The Game, Play-by-Play," St. Louis Post-Dispatch, October 1, 1931: 1B.
14 Ibid.
15 William E. Brandt, "Mack Is Cheered by Men's Batting," New York Times, October 2, 1931: 20.
16 Ibid.
17 Brandt, "Mack Is Cheered."
18 Wecke, "World Series Highlights."
Additional Stats
Philadelphia Athletics 6
St. Louis Cardinals 2
Game 1, WS
---
Sportsman's Park
St. Louis, Mo
Box Score + PBP:
Corrections? Additions?
If you can help us improve this game story, contact us.
Tags
https://sabr.org/sites/default/files/images/GroveLefty-CDN-s068546.jpg
600
800
admin
/wp-content/uploads/2020/02/sabr_logo.png
admin
2018-11-07 12:22:28
2020-04-17 13:34:00
October 1, 1931: Lefty Grove, A's subdue Cardinals in opening game of World Series