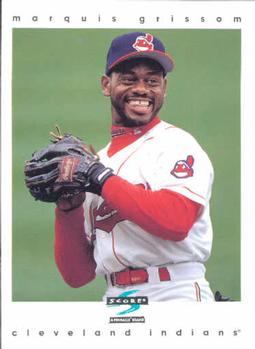 October 11, 1997: Grissom speeds home to give Indians an extra-innings win in Game 3 of ALCS
---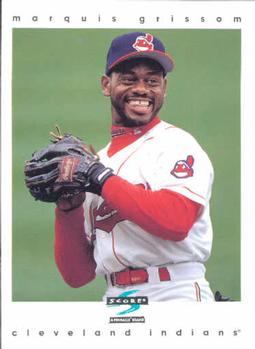 The 1997 American League Championship Series between the Baltimore Orioles and the Cleveland Indians was tied at one game apiece. The first two games, at Camden Yards, were tightly contested. Scott Erickson pitched the Orioles to a 3-0 victory in Game One. The right-handed hurler went eight innings, scattered four hits, and struck out three. Brady Anderson and Roberto Alomar homered to account for all of Baltimore's runs.
In Game Two, Marquis Grissom launched an eighth-inning three-run homer into the center-field seats to erase a 4-2 deficit and deliver a 5-4 win for the Indians to even the series. The homer capped a 3-for-4 day for Grissom; those three hits were half of Cleveland's total.
The series switched to Cleveland with Games Three through Game Five scheduled for Jacobs Field . Indians fans might have had revenge on their minds: The 1996 season ended rather unceremoniously. After winning 100 games in the regular season, the Indians faced the Orioles in the ALDS, and Baltimore emerged victorious, deposing Cleveland in four games.
As if that weren't bad enough, Clevelanders were still bitter about their beloved football team, the Browns, picking up stakes and moving to Baltimore in 1996. The hatred was palpable and it carried over to the diamond. After all, football was a sort of religion in Cleveland. Now, with Sundays free, folks might have to return to their house of worship a little more often from September to December.
The pitching matchup looked to be a dandy. Orioles skipper Davey Johnson was going with his ace, Mike Mussina (15-8, 3.20 ERA). Moose, as he was often called, had struck out a career-high 218 batters, fourth in the AL, in 1997.
Cleveland manager Mike Hargrove went with the wily veteran with the professor looks, Orel Hershiser (14-6, 4.47 ERA). Bulldog, a name given to him by Los Angeles Dodgers manager Tommy Lasorda , was in his third season with the Tribe, and his wins diminished by one in each season. Still, he was as competitive as they come.
On paper, a matchup between a Moose and a Bulldog did not look like a fair fight. But then again, that is why the games are not played on paper.
For those fans who are partial to a pitchers' duel, they were in the right park. A beautiful sun-splashed day greeted the sold-out crowd of 45,057 at Jacobs Field. The 4:00 P.M. start meant that not only would the batters have the outstanding pitching of Mussina and Hershiser to deal with, but also that the encroaching shadows around home plate would make it difficult to pick up the pitchers' offerings.
After Hershiser set the Orioles down in order in the top of the first inning, Mussina answered by striking out the side in the home half.
The leadoff batter for Baltimore reached first base in the third, fourth, fifth, and sixth innings. But a double play in each instance snuffed out any real threat. Mussina struck out the side again in the third inning. Both pitchers were in a good rhythm. "I must be the only person on the whole planet who never feels like he's in a groove," said Mussina. "It's the playoffs. This is a very good team, it's 0-0, and I'm just trying to get the guy out at the plate. Whatever way that happens, that's how I'm pitching."1
Mussina was doing a tremendous job of "getting the guy at home plate." He whiffed Brian Giles to end the fifth inning, struck out the side in the sixth, and fanned Manny Ramirez to lead off the seventh. The five consecutive strikeouts by Mussina tied him with Curt Schilling (October 6, 1993) for the most in an LCS game.
However, it was the Indians who broke through first on the scoreboard, in the bottom of the seventh inning. After striking out Ramirez, Mussina walked Jim Thome on a 3-and-2 curveball that was deemed high by home-plate umpire John Hirschbeck . David Justice followed with a pop fly to right field that dropped in for a single. Matt Williams singled through the infield to score Thome and give Cleveland a 1-0 lead.
Both pitchers exited after working seven innings. Mussina had set an LCS record with 15 strikeouts. Hershiser was no slouch, scattering four hits, striking out seven, and walking one.
The game was turned over to the bullpens. In the top of the ninth, Cleveland turned to its closer, Jose Mesa, in an attempt to seal the victory. However, Mesa gave up a single to Chris Hoiles leading off. Jeff Reboulet ran for him. Jeffrey Hammonds batted for Mike Bordick and Reboulet was safe at second on Hammonds' grounder to second base. Brady Anderson stepped into the batter's box and skied a pop fly to Grissom in center field. Grissom lost track of the baseball in the lights and it dropped just past him. Reboulet sped around third base to tie the score, while Anderson was credited with a double.
"I felt like the worst person in the world," said Grissom. "I felt bad for the team, bad for Orel, because he had pitched so well, and bad about myself. Anybody would feel like that."2
The Indians could not score in the bottom of the ninth, and the game went to extra innings. As it turned out, the bullpens turned out to be just as stingy about allowing runs as Mussina and Hershiser had been.
Both teams had opportunities to score in the 11th inning. But the Orioles' Rafael Palmeiro struck out with the bases load and two outs to nullify a scoring threat. In the bottom of the inning, Omar Vizquel led off with a walk and went to second on a single by Ramirez. Arthur Rhodes, who entered the game in the 10th inning, uncorked a wild pitch and Vizquel advanced to third base with none out. But there he would stay.
Randy Myers relieved Rhodes. Hargrove called on Kevin Seitzer to face the southpaw, sitting down Thome. Seitzer grounded out to third for the first out. Justice lined out to left for the second. After Williams walked to load the bases, Sandy Alomar Jr. whiffed to end the inning.
In the bottom of the 12th, Myers struck out Giles for the first out. Grissom, seeking redemption in any fashion, took a walk. Tony Fernandez singled to right field, sending Grissom to third base. Vizquel stepped to the plate. "I started thinking squeeze right away," said Hargrove. "There are certain players you can do certain things with."3
On a 2-and-1 count, Vizquel squared to bunt, but missed the baseball. The ball glanced off Baltimore catcher Lenny Webster's glove and rolled away. Grissom sped home with the winning run, and was credited with a stolen base. "The squeeze sign was on and I missed the ball." said Vizquel. "I never tipped it. You can feel it if you tip it."4
The Orioles insisted that the ball was a foul tip. "He definitely tipped the ball and it deflected off my glove," said Webster. "I saw contact. I heard contact. When Hirschbeck gestured, I thought he meant it was a foul ball. That's why I didn't run after it."5
"I thought I heard a tick, but maybe it was wishful thinking," said Johnson. "I wanted them to ask the umpire at second base (Larry McCoy ) because he had the best view. They didn't want to do that. I just didn't want to get beat on another bad call. I thought he should have asked for help."6
Myers was tagged with the loss, while Eric Plunk picked up the win in relief.
The happiest person in the Indians clubhouse was undoubtedly Grissom. "If we lose that game, I'm the rottenest person in the world," he said. "Once I touched home plate and the guys came around me, I think I was the happiest man in the world, not just Cleveland."7
Cleveland now led the Orioles 2-1 in the series, with two more games to be played at Jacobs Field. Eventually, Cleveland won the ALCS, defeating the Orioles in six games.
Sources
The author accessed Baseball-Reference.com (baseball-reference.com/boxes/CLE/CLE199710110.shtml )for box scores, play-by-play information, and other data, aswell as retrosheet.org (retrosheet.org/boxesetc/1997/B10110CLE1997.htm ).
Notes
1 Roch Kubatko, "Mussina Is Record Changer," Baltimore Sun, October 12, 1997: 3C.
2 Peter Schmuck, "Indians Have a Friend in Fate," Baltimore Sun, October 12, 1997: 2C.
3 Paul Hoynes, "Grissom's Dash Home Gives Tribe 2-1 Series Lead and Fabulous Finish," Cleveland Plain Dealer, October 12, 1997: 1S.
4 Ibid.
5 Ibid.
6 Ibid.
7 Tim Warsinskey, "Grissom Scores Sweet Redemption: Winning Run Erases Game-Tying Blunder," Cleveland Plain Dealer, October 12, 1997: 3S.
Additional Stats
Cleveland Indians 2
Baltimore Orioles 1
12 innings
Game 3, ALCS
---
Jacobs Field
Cleveland, OH
Box Score + PBP:
Corrections? Additions?
If you can help us improve this game story, contact us.
Tags
https://sabr.org/sites/default/files/Grissom-Marquis-CLE.jpg
600
800
admin
/wp-content/uploads/2020/02/sabr_logo.png
admin
2019-03-01 11:11:53
2020-04-17 13:33:58
October 11, 1997: Grissom speeds home to give Indians an extra-innings win in Game 3 of ALCS