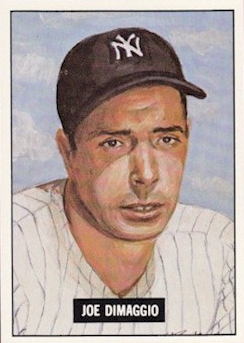 October 5, 1950: DiMaggio's 10th-inning homer gives Yankees a 2-0 lead in World Series
---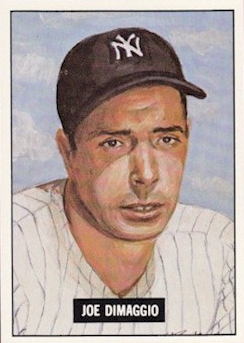 The 1949 World Series opened with Allie Reynolds facing Brooklyn's best pitcher, Don Newcombe. Yankees manager Casey Stengel wanted the 1950 World Series to start that way as well. Reynolds against Philadelphia's best pitcher. But it did not work out that way as Jim Konstanty rather than Robin Roberts started Game One. Eddie Sawyer's gambit would not change Stengel's strategy. Reynolds was called on to face Roberts in Game Two.
The 33-year-old Reynolds was not quite as good as Vic Raschi had been in his start. Raschi had given up two hits and no runs. Reynolds allowed seven hits and one run. He also issued four walks to Raschi's one. But it was enough because on this day Joe DiMaggio came through to win the game on the field and at bat.
Reynolds was not the ace of the staff that year; Raschi's 21-8 and Eddie Lopat's 18-8 easily surpassed Reynolds's 16-12 record. While his record did not look impressive, he lost several games by one run, and down the stretch Reynolds was 6-1, which helped make the difference in New York's tight pennant race with Detroit. Stengel had as much regard for him as he did for Raschi. While a starter, Reynolds could also relieve — a handy option that would prove valuable later in the Series. In his garbled Stengelese syntax, he reflected how he felt about Reynolds, "The greatest two ways, which is starting and relieving, the greatest ever. …"1
Roberts, who came up to the Phils in mid-1948, enjoyed the first of six straight 20-win seasons in 1950, going 20-11 in what was to become a Hall of Fame career. With tremendous stamina, the 24-year-old, commanding an overpowering fastball, started a league-leading 39 games and pitched 304⅓ innings.2
Attendance for the game was 32,660, up from the 30,746 who attended Game One. Philadelphia, unaccustomed to the ebb and flow of tickets for a World Series, held about 2,000 tickets for baseball groups that were never picked up. By the time the Phils realized they had not been claimed, it was too late to get word out on their availability.3
In the first inning, the contest started almost in the same manner as Game One. Two Yankees got on base, via singles by Gene Woodling and Yogi Berra. Roberts managed to end the rally by inducing Johnny Mize to pop up for the third out.
In the second, Roberts ran into trouble again as Jerry Coleman walked with two outs. Reynolds, a .185 hitter during the season, then singled. Woodling hit a high bouncer that Willie Jones could not reach. Granny Hamner grabbed the ball but could not make a play as Coleman scored.4 Roberts, by his own admission, was not in a groove for the first several innings and continued to work into and out of jams.5
Reynolds also faced several scoring threats. In the first Richie Ashburn doubled to right with one out but could get no farther. In the second Hamner tripled with one out but was left stranded. Eddie Waitkus doubled in the third, also with one out, but the threat ended with Ashburn popping up and Dick Sisler grounding out.
Finally in the fifth Philadelphia scored its first run of the Series when second baseman Mike Goliat, a .234 hitter, opened the inning with a single. Roberts bunted, but popped up to the pitcher. Waitkus hit a ball that took a crazy bounce over Coleman's head for his second hit of the game, moving Goliat to third. Ashburn brought Goliat home with a sacrifice fly to Woodling in left to tie the game at 1-1.
The Phillies attempted another rally in the sixth. Leadoff batter Del Ennis, whose 126 RBIs led the National League during the season but who was 0-for-5 to this point, hit a line drive to deep right-center field. DiMaggio, at 35 not fleet of foot any longer, made a dramatic catch over his shoulder right before the 400-foot sign.6
Neither team scored over the next three innings. The Yankees put men on in the eighth but they were stranded when Reynolds struck out to end the inning. Hamner doubled with one out in the bottom of the ninth; only DiMaggio's perfect play on the ball in the gap kept it from going for a triple.7 Reynolds walked pinch-hitter Dick Whitman, and then induced Goliat to ground into a double play.
The game went into the 10th with Roberts and Reynolds still on the mound. The first batter Roberts faced was DiMaggio. Stepping to the plate, he had not gotten a hit in the Series. Moreover, on each of his previous four at-bats, DiMaggio could not even get the ball out of the infield, popping up each time.
DiMaggio's poor performance in the Series brought back memories of how tough a year this had been for him. Near the end of June he was hitting in unfamiliar .250 territory. He was becoming convinced his skills were eroding: "I haven't got that feeling I used to have that I can walk up there and hit any pitcher who ever lived." He was in a funk, dealing with personal issues, and his frame of mind was not helped by Stengel's starting him at first base in early July.8 It was the only time in DiMaggio's major-league career that he appeared in a position other than the outfield. He looked distinctly uncomfortable at first. The next day he went back to the outfield. His troubles continued until mid-August, when Stengel announced he was benching DiMaggio for a week. It was what Joe needed.
Upon his return to the lineup on August 18, DiMaggio homered to win a game against the Philadelphia Athletics 3-2. He then went on a tear. In 27 games in September, he drove in 30 runs on the strength of nine home runs, and compiled a .362 batting average. He ended the year at .301 with 32 homers and 122 RBIs and led the league in slugging average with a .585 mark. But now DiMaggio's 0-for-6 over two games without getting the ball out of the infield brought back concerns that he was through.
Roberts worked the count to 2-and-1, then got a ball out over the plate. DiMaggio turned on it and the ball landed in the upper deck in left for a home run, the seventh he hit in World Series competition.9 After DiMaggio rounded the bases, Roberts retired the side in order. When DiMaggio went out to play the bottom of the 10th, the fans in center field gave him a loud ovation.10
Backup outfielder Jackie Mayo was called on to pinch-hit for Roberts to lead off the bottom of 10th. Mayo had played in only 18 games for the Phils during the season, having been a September callup. He had been added to the roster in place of outfielder Bill Nicholson, whose diabetes had flared up. Mayo worked a walk off Reynolds and advanced to second on a sacrifice by Waitkus. Ashburn popped up for the second out. Dick Sisler, whose three-run homer had won the pennant-clinching game for Philadelphia four days earlier, came to bat.
Reynolds proceeded to fan Sisler to end the game. Working his eighth World Series, umpire Bill McGowan rang up Sisler on a called strike three. Sisler felt he had been robbed. "I shouldn't be complaining about the umpires but I believe McGowan missed that last strike he called on me. It was high and inside and I didn't break my wrist but McGowan said I did — and he has the last word." But Sisler's complaint fell on deaf ears. He acknowledged that he was playing "terrible ball." In that he was right. Through the first two games he was 0-for-9 with four strikeouts.11 He was not alone in his lack of hitting. For the first two games Philadelphia as a team was batting .145 with nine strikeouts.
After the game Tommy Henrich tried to enter the Yankees clubhouse dressed in street clothes. A policeman barred his way, "Who are you?" "I'm a ballplayer," Henrich replied. Questioning continued until a teammate passing by vouched for him. A year before, Henrich had to be escorted off the field after his home run in the bottom of the ninth gave the Yankees a 1-0 win in the first game of the Series against the Brooklyn Dodgers. The 37-year-old outfielder, ineligible for the Series because of a knee injury, would be released in December.12
The Phillies left Shibe Park down two games to none. No team had ever come back from such a deficit to win the World Series. Philadelphia would have to turn things around in Yankee Stadium beginning the next day. And do so with veteran starting pitcher Ken Heintzelman, who had been 3-9 for the season. He would be facing Eddie Lopat, an 18-game winner during the season. The Phillies' challenge was daunting.
Shibe Park had now hosted eight World Series. It was the ballpark's last; Shibe was demolished in 1976 before another Philadelphia team could reach the fall classic.
This article appears in "The Whiz Kids Take the Pennant: The 1950 Philadelphia Phillies" (SABR, 2018), edited by C. Paul Rogers III and Bill Nowlin. Click here to read more stories from this book at the SABR Games Project.
Notes
1 Sol Gittleman, Reynolds, Raschi and Lopat: New York's Big Three and the Yankee Dynasty of 1949-1953 (Jefferson, North Carolina: McFarland & Company Publishers, 2007), 86.
2 Specifically, Roberts tied with Vern Bickford and Warren Spahn of the Braves for the lead at 39 games started.
3 "Second Game Notes," The Sporting News, October 11, 1950: 10.
4 "DiMaggio's Homer Wins 10 Rounder," The Sporting News, October 11, 1950: 9.
5 Robin Roberts and C. Paul Rogers III, The Whiz Kids and the 1950 Pennant (Philadelphia,: Temple University Press, 1996), 340.
6 Richard Whittingham, ed., The DiMaggio Albums (Vol. 2) (New York: G.P. Putnam's Sons, 1989), 675.
7 The DiMaggio Albums, 676.
8 DiMaggio's ex-wife was getting a divorce from her second husband, which had the potential for further disrupting his son Joe Jr.'s life. Peter Golenbock, Dynasty: The New York Yankees, When rooting for the Yankees was like rooting for U.S. Steel (Englewood Cliffs, New Jersey: Prentice-Hall, Inc., 1975), 36-37.
9 In The Whiz Kids and the 1950 Pennant, Roberts has DiMaggio hitting his pitch on a 2-and-0 count. Contemporary news accounts (see "See Second Game Notes," The Sporting News, October 11, 1950: 9) describe it as a 2-and-1 pitch.
10 "Second Game Notes."
11 Ibid.
12 "Second Game Sidelights," The Sporting News, October 11, 1950: 9.
Additional Stats
New York Yankees 2
Philadelphia Phillies 1
10 innings
Game 2, WS
---
Shibe Park
Philadelphia, PA
Box Score + PBP:
Corrections? Additions?
If you can help us improve this game story, contact us.
Tags
https://sabr.org/sites/default/files/images/DiMaggioJoe-Bowman.jpg
600
800
admin
/wp-content/uploads/2020/02/sabr_logo.png
admin
2018-11-29 12:56:50
2022-10-20 16:48:03
October 5, 1950: DiMaggio's 10th-inning homer gives Yankees a 2-0 lead in World Series