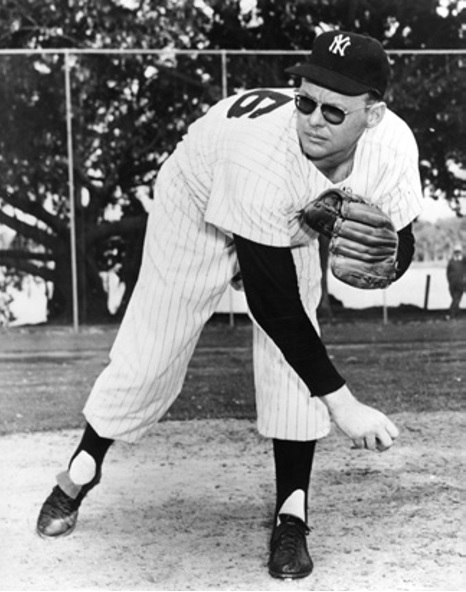 October 8, 1958: Yankees score two in 10th to send World Series to Game 7
---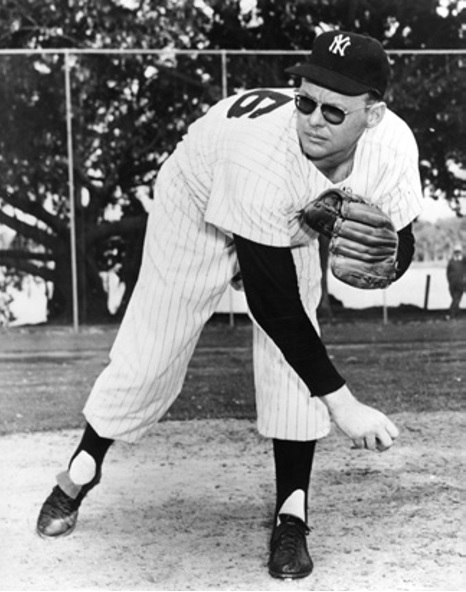 Having beaten the New York Yankees in the 1957 World Series, holding a 3-games-to-2 edge in 1958, returning home, and lining up Warren Spahn (albeit on short rest) for Game Six and Lew Burdette (if necessary) to start Game Seven, the Milwaukee Braves seemed in prime position to take the 1958 title. New York had won Game Five in the Bronx, but the Braves still appeared the overwhelming favorite to win one of the two remaining games that it would host. "Could the Yankees sweep what's left of this one? It could happen, but it hardly would be smart to wager on such an eventuality."1
Yet even before Game Six began in Milwaukee, "the local folks appear strangely subdued. … The … startling manner in which Casey Stengel's Bombers bounced back … by soundly thrashing the Milwaukeeans in the Monday game in New York jarred the local citizenry no end. The folks no longer are so sure."2
Although he would throw on only two days of rest, "'I'm ready and I'd like to pitch,' Spahn told his manager."3
Whitey Ford would oppose Spahn and, like his fellow southpaw, also go on only two days of rest.
"Two were out in the Yankees' first inning when Bauer … hammered [a] homer deep among the spectators in the left field bleachers"4 His record-tying fourth circuit blast in the 1958 World Series after hitting just 12 all year put the Yankees up 1-0. Mickey Mantle reached on a Red Schoendienst error, but Elston Howard grounded to short to end the top of the first.
In the bottom of the inning Schoendienst made up for his miscue and started a Milwaukee rally by singling off Ford. Johnny Logan sacrificed Red into scoring position. Eddie Mathews struck out looking, but Hank Aaron tied the game with a hit to left. Like Howard, Joe Adcock grounded into a fielder's choice to end the frame, but the Braves had tied the game. Not surprisingly, given the lack of normal rest, neither pitcher had started strongly.
Spahn pitched around another middle-infield error, this time by Logan, to get out of the top of the second unscathed, but Ford, after fanning Del Crandall, allowed three straight singles — the last of which Spahn smacked to score a run — and walked a batter before Stengel hooked him in favor of Art Ditmar, who came on to face Logan with the bases loaded and one out. In a critical early sequence, Ditmar got Logan to hit "a gentle fly ball to Elston Howard in short left. … The obvious play was for [Andy] Pafko to tag up, draw a throw and return to third, because Pafko is slow-footed and Howard is strong-armed. But [third-base coach Billy] Herman ordered Pafko home. It was basepath hara-kiri. Howard threw the runner out by a city block for a double-play."5 That kept the Milwaukee lead at just 2-1 after two innings.
Yet another Milwaukee error, Logan's second of the game and the team's third in three innings, allowed Bauer to reach in the third, but Spahn held the lead. Ditmar threw away an Aaron bunt for a New York error but likewise kept the Braves off the board.
Neither team threatened again until the bottom of the fifth, when Schoendienst doubled and Logan again sacrificed. Ditmar held Milwaukee, however, as neither Mathews nor Aaron hit the ball out of the infield.
Perhaps inspired by Ditmar's relief heroics, the Yankees tied the score in the top of the sixth. Bill Bruton had replaced Pafko in center for defense. Consecutive singles by Mantle and Howard, the latter of which "Bruton pawed dreamily,"6 allowing Mantle to go to third, set up the tying run on Berra's sacrifice fly, with Yogi succeeding where both Logan and Mathews had failed; namely, hitting the ball far enough to get in a run from third with less than two outs. Spahn stayed in a jam by walking Bill Skowron but escaped by retiring pinch-hitters Enos Slaughter and Jerry Lumpe, the latter with runners on second and third and two outs, to keep the game knotted, 2-2.
Lumpe stayed in, playing shortstop, and Ryne Duren relieved Ditmar. Duren gave up a hit to Wes Covington in the sixth but recovered to strike out the side.
Spahn and Duren matched zeroes for the seventh, eighth, and ninth innings. In those three frames, Spahn yielded just an infield single to Bauer in the seventh and a walk to Lumpe in the ninth. After the free pass, Andy Carey struck out and Crandall threw out Lumpe trying to steal to complete the double play.
In the bottom of the ninth, the Braves needed but a single run to win the World Series for the second straight time, but Duren fanned Covington, Bruton, and Spahn in order. With an .844 OPS, Spahn had the best batting season of his career in 1958, but Haney could have hit for him with a chance to win the Series, especially since Spahn had thrown so many innings already on such short rest. Haney chose not to, perhaps because Spahn had four hits already in the fall classic and had won Game One of the Series in 10 innings.
On this day, however, Spahn was nearly out of gas. Asked before the game about a Yankee he preferred to avoid at the plate, Spahn had answered Gil McDougald.7 To open the 10th, McDougald hit his second homer of the Series to put New York up 3-2. Spahn "said he thought that McDougald had hit a good pitch — a fast ball about waist high."8 With two outs and none on, Howard and Berra both singled. "Spahn was obviously tired,"9 so Haney finally came out to get him. "Friend and foe alike stood and applauded the 37-year-old Milwaukee southpaw when he was relieved … after having pitched magnificently in an attempt to beat the Yankees for the third time in eight days."10 Don McMahon came on; "Moose Skowron greeted McMahon with a line single" that made the score 4-2.11
Duren, who had struck out to end the top of the 10th, could not quite wrap up the game. With one out, he walked Logan although after the game the pitcher "insisted … that [Charlie] Berry, the plate umpire, had erred on the call. … Ryne said the pitch should have been called a third strike rather than a fourth ball."12 "Throwing nothing but fast balls"13 in this game, Duren recovered to strike out Mathews, Ryne's eighth strikeout in 4⅔ overpowering relief innings. Logan took second on defensive indifference, and Aaron singled him home to cut the New York lead to 4-3. Aaron represented the tying run on first, and Adcock the winning run at the plate. Adcock came through with a single to chase Aaron to third and Duren from the game. Both managers made moves as one more out would end the game. Stengel called on his Game Five starter, shutout winner Bob Turley, to pitch. Fred Haney tapped Frank Torre to bat for Crandall, and Felix Mantilla to run for Adcock. "Torre sent a soft fly toward right and it looked every inch a single. But McDougald, the Yankee second baseman and the hero apparent because of his homer, tore back on the grass. He leaped high in the air and pulled down the ball, which suddenly had lost its height and momentum."14
Officially, Duren got the win, but a true team effort by the Yankees forced a Game Seven over a Milwaukee team that a gutty, exhausted Spahn almost carried to the title.
This article appears in "From the Braves to the Brewers: Great Games and Exciting History at Milwaukee's County Stadium" (SABR, 2016), edited by Gregory H. Wolf. To read more stories from this book at the SABR Games Project, click here.

Notes
1 Arthur Daley, "Impatient Waiting," New York Times, October 8, 1958.
2 John Drebinger, "Spahn to Seek Series Clincher and His Third Victory Against Yanks Today," New York Times, October 8, 1958.
3 Hy Hurwitz, "Yanks to Do or Die With Mystery Pitcher," Boston Globe, October 8, 1958, 29.
4 "Spahn Loses Cliff-Hanger as Bombers Square Count," The Sporting News, October 15, 1958, 24.
5 Arthur Daley, "Rescue at the Precipice," New York Times, October 9, 1958.
6 Red Smith, "Struggle to Lose Won by Braves," Boston Globe, October 9, 1958, 43.
7 Jimmy Cannon, "Spahn Unmoved by Hero's Mantle," Milwaukee Journal, October 8, 1958.
8 Roscoe McGowen, "Haney Says Removing Spahn Was His 'Toughest Job' of Series," New York Times, October 9, 1958.
9 Edward Prell, "Series Even; Burdette vs. Larsen Today," Chicago Daily Tribune, October 9, 1958, D3.
10 Harold Kaese, "Spahn Magnificent in Defeat," Boston Globe, October 9, 1958, 41.
11 Red Thisted, "Burdette to Face Larsen or Kucks," Milwaukee Sentinel, October 9, 1958, 1.
12 Louis Effrat, "Yankees Criticize Umpiring, Claiming Mantle Caught Drive by Covington," New York Times, October 9, 1958.
13 Bob Wolf, "Yankees Prolong Series, 4-3," Milwaukee Journal, October 8, 1958.
14 John Drebinger, "Yankees Win, 4-3, in Tenth and Tie Braves in Series," New York Times, October 9, 1958, 1 and 51.
Additional Stats
New York Yankees 4
Milwaukee Braves 3
10 innings
Game 6, WS
---
County Stadium
Milwaukee, WI
Box Score + PBP:
Corrections? Additions?
If you can help us improve this game story, contact us.
Tags
https://sabr.org/sites/default/files/Ryne%20Duren.jpg
600
800
admin
/wp-content/uploads/2020/02/sabr_logo.png
admin
2018-03-27 21:06:20
2020-04-17 13:34:03
October 8, 1958: Yankees score two in 10th to send World Series to Game 7