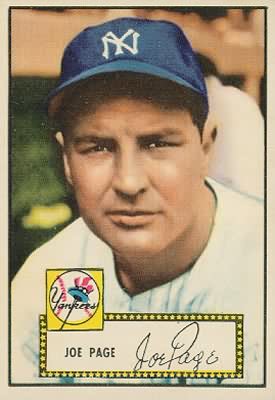 September 30, 1947: Yankees score 5 in 5th inning to beat Dodgers in World Series opener
---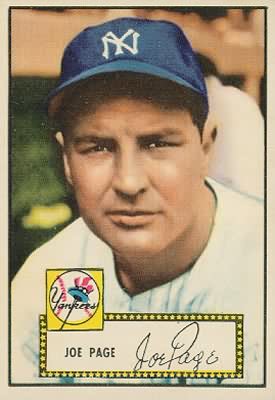 Weather forecasts predicted rain but when the sun rose on New York, there were clear skies as the Brooklyn Dodgers prepared to face off against the Yankees for the second time since 1941. The wind "played tricks with the pennants high above the roof" of Yankee Stadium and "sweaters and topcoats formed standard equipment for the fans."1
The two teams were led by their "Cinderella managers." The 63-year old Burt Shotton wasn't even managing in 1946 and now he was on the cusp of taking the Dodgers to their first championship. The Yankees Bucky Harris had been in the World Series once before as the "boy manager" of the Senators in 1924. But he told reporters that it was "so long ago that he scarcely remembers it."2
New York started 24-year old right-hander Frank "Spec" Shea from Naugatuck, Connecticut. Shea finished with a 14-5 record paired with a 3.07 ERA in his inaugural season.
Shea allowed the Dodgers to grab the lead in the first. Shea walked Jackie Robinson with one out. Before the series, Yankee catcher Yogi Berra had boasted that Robinson had not stolen a base against him when they played each other in the International League. "The nimble [Robinson made] Yogi eat those words promptly by stealing second as Berra's belated throw bounced into the dirt."3
Pete Reiser then hit a "ground ball to Shea that hung up [Robinson] long enough between second and third to allow Reiser to reach second"4 before Robinson was tagged. A single by "Flatbush's seeming ageless idol, Dixie Walker, put the [Dodgers] a run in front when Johnny Lindell had trouble following the ball due to the windy gusts blowing through the stadium."5
Shea held the Dodgers in check through the next four innings. The Dodgers had a chance to score again in the third when Shea walked Robinson again. This time Robinson reached second on a balk but he was stranded there when Reiser flied out. Walker had his second single in the fourth but it went for naught when Gene Hermanski hit into a double play.
Shotton gave the starting assignment to Ralph Branca. Branca, who hailed from Mt. Vernon, New York, led the Dodgers in wins (21) and ERA (2.67). He wore number 13 on his back "for a most peculiar reason. He is one of a family of 13 children, having seven sisters and five brothers."6
Branca pitched perfectly through the first four innings. The Yankees managed to hit just three balls out of the infield, all of them easily caught by the Dodger outfielders. Branca also struck out five of the twelve batters that he faced during that stretch. "The tall right-hander's fastball was singing a sweet song, his curve was a jagged blur and [the press corps] started asking whether anyone had ever pitched a no-hitter in a World Series."7
Then Joe DiMaggio led off with a single when Pee Wee Reese's throw was late to first base. Branca walked George McQuinn and hit Billy Johnson. Suddenly the bases were loaded. Lindell doubled into the left field corner and two runners scored. When asked about the pitch that he hit, Lindell said "An inside curve. But don't tell anybody or they won't give me another one."8
Branca still couldn't find the plate and walked Phil Rizzuto to fill the bases again. At this point, Yankee manager made a gamble. He sent lefthander Bobby Brown to the bat for Shea who had been pitching well. Branca pitched hard but couldn't find the plate. When his first two pitches were ball, Shotton finally replaced Branca with Hank Behrman. Behrman struggled to get the ball over the plate and walked Brown to send Johnson home with the third Yankee run.
Snuffy Stirnweiss then hit a ground ball to Robinson at first who quickly threw home to get the force on Lindell. "Heinrich, Tommy-the-Clutch, was up [next] and he cleaved the space between Spider] Jorgensen and Reese with a hard ground single. Rizzuto and Brown crossed the plate to add two more runs to the Yankees total. Behrman finally got out of the inning when Berra and DiMaggio both flied out but the Yankees had grabbed a 5-1 lead with just three hits.
Harris later said that "[Shea] had a lot of stuff, was strong and was pitching all right. I just wanted to get as many runs as possible when the chance presented itself. I held back on sending Brown as a pinch hitter because I didn't want them to pull Branca too soon."9
Shotton told reporters "It was a one-pitch ball game. If Branca had got that curve ball outside instead of inside we'd still be going at it out there." A dejected Branca, for his part, said "I guess that I was just bearing down too hard and couldn't get the ball where I wanted."10
One of his teammates tried to console Branca in the locker room after the game saying "You didn't have a hard game. You'll be back in a couple of days." Branca snapped at him, "You don't think I was scared out there, do you?" Eddie Stanky also came to Branca's defense. "I've seen the same thing happen in the World Series to better pitchers and earlier in the game and nobody ever questioned their guts."11
Shea was asked if he was disappointed with Harris pulling him for a pinch hitter. "Jeepers, sure I wanted to stay in there. No, there's nothing the matter with my arm. Just wish that I had come to bat in the fourth inning. I probably would have stuck it through, although I did find it a little difficult to get warmed up. It was could out there."12
Harris had said that he wouldn't hesitate to use Joe Page in every game if necessary and the Yankee made his first appearance when he took over for Shea to start the sixth. Stanky led off with a single to center. He was forced out at second on a groundout by Robinson. Robinson reached second when Reiser beat out an infield hit and the first baseman barely missed tagging him. Pinch hitter Carl Furillo singled with two outs to bring Robinson home with the second Dodger run.
After Reese singled with one out in the seventh, Eddie Miksis batted for Behrman. Miksis struck out but Reese managed to steal second during the at-bat. With Stanky at the plate, "Page made the granddaddy of all wild pitches. It flew past the startled Yogi and back to the screen. Berra chased it and fell flat on his face. Reese churned around third and kept going. He easily beat the catcher's wide throw. Yogi looked like a battered rag doll."13 It would be the last run that the Dodgers scored "and the highlight of the Dodgers attack for the day."14
Hugh Casey pitched the final two innings and limited the Yankees to just one single. Fans thought that the Yankees added to their lead in the eighth when DiMaggio hit a long fly ball to center. Unfortunately it was hit against the wind and Furillo was able to grab as he raced toward the 415-foot mark in center.
Page recovered from his wildness in the seventh to shut down the Dodgers in the final two innings. He walked Furillo to start the ninth but quickly got out the next three batters to earn a save and give the Yankees victory in the first game.
Page gave credit to the wind for helping him in the ninth. "That wind came to my rescue in the ninth. I had thrown two balls to Reese. Fast ones. I threw two more fast ones too. And both were going outside, but the wind took'em right over the plate and made strikes for me. Then I came in with a curve and Reese hit it right back to me. The wind was mighty nice to me in that spot."15
The Yankees needed just four hits to grab the lead in the subway series, leaving Brooklyn fans disappointed in their team's start. But Shotton told reporters, "Sure I think that we're going to win. They didn't show me much."16
Tommy Holmes of the Brooklyn Daily Eagle summed up the game, saying "As the last few thousands left Yankee Stadium, everyone was saying it was a lousy ballgame indeed. Before the largest World Series crowd (73,365) in history, the Dodgers outplayed the Yanks in eight out of nine innings yet wound up behind the eight ball."17
Sources
In addition to the sources cited in the Notes, I also used the Baseball-Reference.com, and Retrosheet.org websites for box score, player, team, and season pages, pitching and batting game logs, and other material pertinent to this game account.
https://www.baseball-reference.com/boxes/NYA/NYA194709300.shtml
https://www.retrosheet.org/boxesetc/1947/B09300NYA1947.htm
Notes
1 Tommy Holmes, "Dodgers Score Run on Single by Walker, "Brooklyn Daily Eagle, September 30, 1947:1.
2 John Drebinger, "Yanks' 5 In Fifth Beat Dodgers, 5-3, In Series Opener," New York Times, October 1, 1947: 1.
3 Drebinger.
4 Harold Burr, "Failure to Locate Dish Ruins Branca," Brooklyn Daily Eagle, October 1, 1947: 17.
5 Drebinger.
6 John Drebinger, "Young Mound Aces Slated for Action," New York Times, September 30, 1947: 28.
7 Tommy Holmes, "Clinical Notes on the First Game, Brooklyn Daily Eagle, October 1, 1947: 17.
8 Jim McCulley, "Dodgers Unawed By Yankee Might," New York Daily News, October 1, 1947: 76.
9 James Dawson, "Four Hits Enough to Down Dodgers," New York Times, October 1, 1947: 34.
10 Dick Young, "Dodgers Unawed by Yankee Might," New York Daily News, October 1, 1947: 76.
11 Young.
12 McCulley.
13 Joe Trimble, "Yanks Trim Dodgers in Opener, 5-3," New York Daily News, October 1, 1947: 74.
14 Drebinger, "Yanks' 5 in Fifth."
15 McCulley.
16 Young.
17 Holmes, "Clinical Notes."
Additional Stats
New York Yankees 5
Brooklyn Dodgers 3
Game 1, WS

---
Yankee Stadium
New York, NY
Box Score + PBP:
Corrections? Additions?
If you can help us improve this game story, contact us.
Tags
https://sabr.org/sites/default/files/images/PageJoe.jpg
600
800
admin
/wp-content/uploads/2020/02/sabr_logo.png
admin
2020-01-22 14:00:04
2021-11-04 23:18:29
September 30, 1947: Yankees score 5 in 5th inning to beat Dodgers in World Series opener