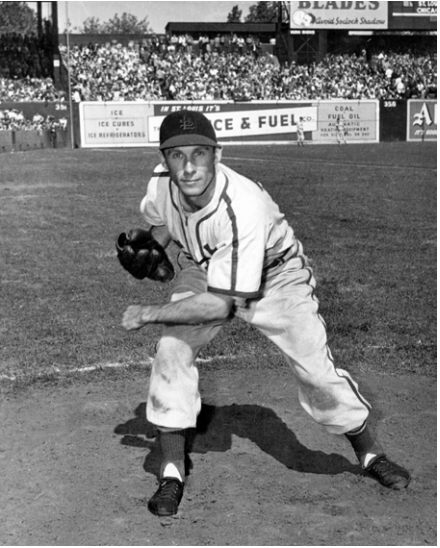 October 7, 1946: 'The Cat' Harry Brecheen purrs for Cardinals in Game 2
---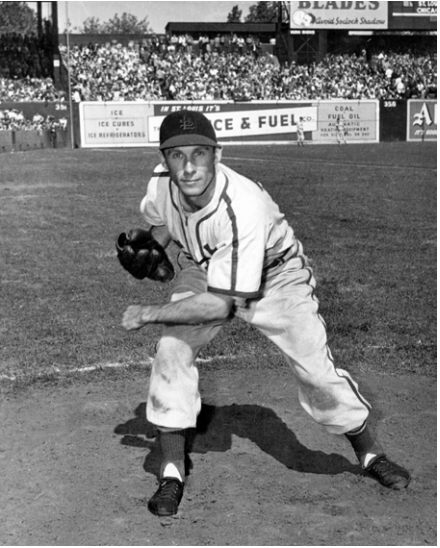 Despite the loss to the Boston Red Sox in the 1946 World Series opener, Cardinals fans approached Game Two with enthusiasm. Thousands of unreserved seats were sold the morning of the game. Pregame entertainment — comprised Frank Miller's 25-piece jazz band and a 77-year-old bricklayer from Ohio dancing behind home plate in a white linen suit with a red parasol1 — helped set the festive mood. Unseasonably warm temperatures in the 80s caused many fans in the outfield pavilion to strip to their undershirts.
For Game Two, Cardinals manager Eddie Dyer handed the ball to Harry "The Cat" Brecheen. The Cardinals starter went 15-15 for the NL champions, but "[his] work during the 1946 campaign, including assignments in most of the tough ones, is not truly pictured by his season's record."2 In the season's final days and with the pennant on the line, Brecheen shut out the Cubs at Wrigley Field on September 23 and then held Chicago to a single run in a September 28 victory.
Brecheen would face Red Sox left-hander Mickey Harris, who played in his only All-Star Game that season and completed the season with a 17-9 record and a 3.64 ERA. The heat pleased Harris, who believed the weather suited his game.3 Facing a southpaw, Dyer adjusted his lineup from Game One. Enos Slaughter dropped in the order so Whitey Kurowski could assume the cleanup spot; Erv Dusak took Harry Walker's place in left field; and Del Rice was the catcher in place of Joe Garagiola. Rice caught Brecheen regularly during the season and usually started against lefties.4
Brecheen's day commenced inauspiciously when Tom McBride sent his first pitch past second baseman Red Schoendienst and into right field for a single. After two failed attempts to bunt, Johnny Pesky stared at Brecheen's fastball for strike three. Dom DiMaggio sent a grounder past Brecheen only for Marty Marion to nab the ball, step on second to force McBride, and complete the double play with a toss to first baseman Stan Musial. Harris put down the Cardinals in order, with possible assistance from gusts blowing in from center field. Leading off, Schoendienst sent a long fly to DiMaggio but the wind may have spared the Red Sox an early deficit.
Ted Williams led off the second for the Red Sox, greeted by what would be known variously as the Boudreau shift, the Williams shift, or the Dyer shift, moving the fielders drastically to the right. Cardinals fans also gave Williams a "greeting"; they "booed lustily" on this and every occasion Williams came to the plate. With a 1-and-2 count, Williams grounded sharply to Musial for the out. Rudy York's 10th-inning home run to deep left field had provided Boston's winning margin in Game One, so Brecheen pitched him cautiously on this day. York worked the count full, and Brecheen's payoff pitch missed. On Bobby Doerr's bounding grounder to Schoendienst the only play was to first base, and York advanced to second. After Brecheen intentionally walked Pinky Higgins, Roy Partee's grounder to Schoendienst ended the Red Sox second. In the bottom of the inning, Whitey Kurowski singled, but Harris set down the next three batters to keep the game scoreless.
After Brecheen's three-up, three-down third inning against the Red Sox, the Cardinals grabbed the lead in the bottom of the inning. Rice drove Harris's pitch against the wall in left field for a double. Brecheen showed bunt before lashing a 1-and-2 pitch into right field, scoring Rice. Seeking to advance Brecheen, Schoendienst laid down a bunt. First baseman York fell down fielding the ball, but recovered to throw out Schoendienst as Doerr covered first. With Brecheen on second, Terry Moore's groundout moved the Cardinals pitcher to third base but Brecheen was stranded there when Musial flied out to DiMaggio.
DiMaggio led off the fourth by flying out to Moore, his center-field counterpart. Williams again faced the shift and the boos. After taking two pitches for strikes, Williams swung and missed at an inside fastball for the second out. The Red Sox rallied as Doerr followed York's second walk with a single. Higgins's groundball to Marion ended the threat, however. Harris allowed a two-out walk in the bottom half of the inning, but otherwise scattered three fly outs to keep the score 1-0.
Harris's single in the top of the fifth was the only base hit for the Red Sox in that half-inning. In the home half, Rice reached first on another leadoff hit, a low line drive into left-center. Brecheen bunted down the third-base line and Higgins went for the lead runner with unfortunate consequences for the Red Sox. His throw sailed wide and deflected off Pesky's glove into center field. While Pesky scrambled to retrieve the ball, Rice made it to third and Brecheen raced safely to an unguarded second base. Doerr held the runners on Schoendienst's groundout, but Moore's subsequent grounder took a bad hop off Doerr's glove and rolled into right-center field. Rice crossed the plate for a 2-0 Cardinals lead. When the Red Sox proved unable to turn the double play on Musial's groundball to Doerr, Brecheen scored from third. Kurowski's grounder to Pesky ended the inning, but the Cardinals had expanded their lead to 3-0.
DiMaggio's grounder to Marion produced the first out of the sixth, bringing Williams to the plate. After a first-pitch strike, Williams swung hard and missed at Brecheen's next offering. The force of the swing caused the bat to fly out of Williams's hands and crash into the Red Sox dugout. Cardinals partisans stopped their jeering long enough to gasp at the sight of the flying bat before resuming the boos. Williams eventually lined out to Schoendienst on a ball that might have been a single but for the shift.5 Kurowski's stop of York's sharp grounder to third was the final out.
Slaughter led off the Cardinals sixth with a groundball to York, whose throw to the pitcher was just in time as Harris dawdled a bit getting to the bag. After working a full count by staring at five straight pitches, Dusak sent Harris's next pitch into the screen in right-center field for a double. Facing Marion, Harris delivered a pitch that catcher Partee scrambled to dig out of the dirt. For his effort, Partee suffered a badly bruised right thumb that required Boston manager Joe Cronin to replace him with Hal Wagner. After Marion flied out to McBride in right, Harris intentionally walked Rice in order to face Brecheen. The Cardinals pitcher struck out to end the inning but not for lack of effort: He swung so hard he fell down twice during the plate appearance.6
Neither team struck a blow in the seventh inning. Harris's day ended when Cronin sent up pinch-hitter Leon Culberson to start the eighth, but the utilityman flied out to Slaughter in right field. Brecheen then induced a fly out and groundout from McBride and Pesky, respectively, to put out the side. Joe Dobson replaced Harris on the hill for the Red Sox. Slaughter flied out to McBride in short right field for the first out. Dyer gave Dick Sisler his Series debut as a pinch-hitter for Dusak.7 He grounded to Doerr for the second out, before Marion did the same for the final out.
Brecheen took the mound for the ninth, seeking his sixth shutout of the year. DiMaggio reached base by beating the throw to first after dropping a slow-rolling bunt along the third-base line. Facing the shift once more, Williams made an effort to overcome the Cardinals defense but managed only a pop fly that Marion caught in foul territory near the Cardinals dugout on the third-base side. York and Doerr launched "towering flies"8 toward the outfield, but their balls landed in Cardinal gloves for the final outs of the game.
The postgame comments centered on Brecheen's stellar performance and Williams's struggles against the shift. Dyer praised his starter. "He won for us today. You can't say anything else."9 Brecheen boasted, "I threw plenty of screwballs at them, and they couldn't do a thing with them."10 Dyer laughed about Williams: "We had Ted crazy before it was over."11 For his part, Williams declared, "I know that those wide-open spaces in left loom invitingly, but with that short right-field fence, the percentages are still in my favor for hitting to right."12 The percentages went against Williams in Game Two, and the teams headed to Boston for Game Three with the Series knotted at one game apiece.
This article appears in "Sportsman's Park in St. Louis: Home of the Browns and Cardinals at Grand and Dodier" (SABR, 2017), edited by Gregory H. Wolf. Click here to read more articles from this book online.
Sources
In addition to the sources listed in the notes, the author also consulted baseball-reference.com and SABR.org.
Notes
1 Selwyn Pepper, "35,815 Roaring Fans See Cards Win and Even Up World Series," St. Louis Post-Dispatch, October 7, 1946: 3A.
2 "Brecheen Stops Red Sox With Hill Magic, Big Bat," The Sporting News, October 16, 1946: 6.
3 "Cards Found a Way to Still York Bat," New York Times, October 8, 1946: 27.
4 Bob Broeg, "Series Sidelights," St. Louis Post-Dispatch, October 7, 1946: 1B.
5 J. Roy Stockton, "Cardinals Win, 3-0, and Square Series," St. Louis Post-Dispatch, October 7, 1946: 1B.
6 Ibid.
7 Dick Sisler, a St. Louis native and a son of Browns legend George Sisler, thus achieved a feat that eluded his father: appearing in a World Series game.
8 John Drebinger, "Cards Even Series With Red Sox, 3-0, as Brecheen Stars," New York Times, October 8, 1946: 27.
9 "Brecheen Says He Used Screwball to Check Red Sox in Masterful Exhibition," New York Times, October 8, 1946: 28.
10 Ibid.
11 "Brecheen Stops Red Sox With Hill Magic, Big Bat."
12 Arthur Daley, "Sports of the Times," New York Times, October 8, 1946: 28.
Additional Stats
St. Louis Cardinals 3
Boston Red Sox 0
Game 2, WS
---
Sportsman's Park
St. Louis, Mo
Box Score + PBP:
Corrections? Additions?
If you can help us improve this game story, contact us.
Tags
https://sabr.org/sites/default/files/Brecheen_Harry.png
600
800
admin
/wp-content/uploads/2020/02/sabr_logo.png
admin
2018-11-14 13:57:34
2020-04-17 13:33:59
October 7, 1946: 'The Cat' Harry Brecheen purrs for Cardinals in Game 2