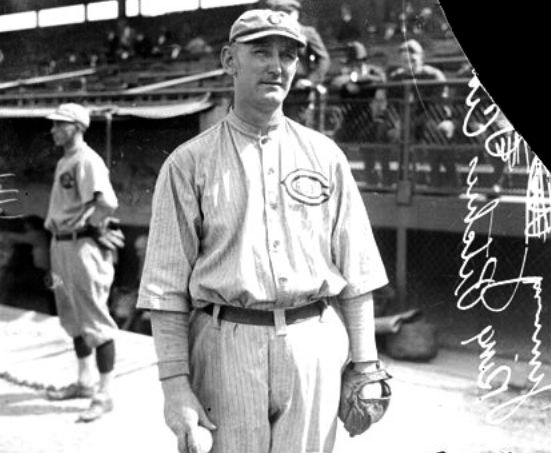 October 4, 1919: Ring's pitching, Cicotte's errors lead Reds over White Sox in Game 4
---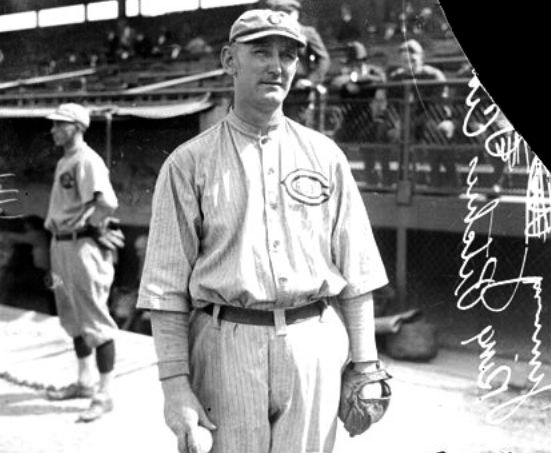 Thanks to Dickey Kerr serving his teammates a dose of rejuvenating elixir in Game Three, the Chicago White Sox had regained their confidence and were ready to take Game Four of the 1919 World Series at Comiskey Park. "Reassured by yesterday's shutout of the Reds, the White Sox today declared they were ready to back up Eddie Cicotte … and even up the series 2-2," announced the Elmira Star-Gazette.1 The Reds were equally buoyant and insisted they were merely familiarizing themselves with Comiskey Park's "breezes, shadows and sunspots," the day before and this time would be different.2
With the fourth tilt scheduled for a Saturday, fans began lining up for tickets before midnight Friday and the crowd of 34,363 was more than 5,000 fans stronger than Friday's horde of 29,126. Cicotte was looking to redeem himself after a terrible outing in Game One that saw him allow six runs in 3⅔ innings. He'd allowed five or more runs only three times during the regular season and only twice did he throw fewer innings in a start, the latter being a planned two-inning tune-up for the World Series in his last regular-season start on September 28.
The Reds countered with 24-year-old right-hander Jimmy Ring, who bounced between the rotation and bullpen en route to a 10-9 record and 2.26 ERA that fell just out of the top 10 in the National League.
---
---
The park was full by noon and the bugs enjoyed an enthusiastic round of practice by the Reds featuring a long blast by Pat Duncan that cleared the left-field pavilion and a circus catch by Greasy Neale that brought a round of applause from the packed house.
Not surprisingly, the loudest cheers were reserved for the White Sox. "The stands got to their feet with a tremendous roar when the Gleason tribe took over the field for practice," reported the Buffalo Evening News. "Sirens, bells, and horns were brought into play. Two enthusiasts in the stands battered shiny dish pans with metal spoons."3 But Cicotte was all business, his cap pulled down low, a smile nowhere to be found.4
Moments before Morrie Rath stepped to the plate to start the fray, a strong wind carried a cloud bank from Lake Michigan, lowering the temperature by several degrees and bringing the threat of rain. Cicotte tossed his first pitch and cut the heart of the plate with a curveball for strike one. Rath went down 0-and-2, but battled back and lined a single over Buck Weaver on the pitcher's sixth slant. Cicotte buckled down and got Jake Daubert to shoot a grounder to Eddie Collins, who started a 4-6-3 double play, then coaxed a popup off Heinie Groh's bat for the third out.
Nemo Leibold led off for the White Sox in the bottom of the first and worked the count to 2-and-2 before popping up to Daubert in short right field. Eddie Collins swung wildly at a Ring curveball and skied it to Rath for the second out, and Weaver poked a Ring heater to Neale to end the frame. Ring "showed a world of speed and his fast one was hopping in fine shape. …"5
Cicotte was working "very slowly and cautiously," mixing his fastball with a sweeping curve, and the tactic worked to perfection.6 National League batting champ Edd Roush began the second with an easy fly ball to Joe Jackson, Duncan popped to Collins, and Larry Kopf swung feebly at strike three.
As dominant as Ring was in the opening stanza, he was equally wild in the second, but he tiptoed out of a bases-loaded situation and escaped without allowing a run. Jackson led off with a shot to center that should have been an out had Roush not misjudged it into a double, then moved to third on a sacrifice by Happy Felsch. Chick Gandil poled a high pop in front of the plate that the wind grabbed before Groh hauled it in, and the White Sox had only one more chance to get Jackson in from third.
Swede Risberg worked a seven-pitch walk, then stole second base easily on a pitch that catcher Ivey Wingo dropped. Ray Schalk drew a free pass on four straight balls to load the sacks and there's little doubt it was by design with the weak-hitting Cicotte on deck. The Sox hurler almost spoiled the strategy when he battled to a full count, which actually had Ring grinning, but Rath made a nice play on Cicotte's hard grounder to second and he tossed to Daubert to end the threat.7
Cicotte looked nothing like the man who'd been battered about in Game One and cruised through another fairly uneventful inning in the third. Neale slammed Cicotte's first pitch down the third-base line, but Weaver picked it and threw the right fielder out. Wingo took a called strike before dropping a hit beyond Collins's reach, but Ring fouled three straight pitches before fanning on the fourth and the Reds had two out with a man on first.
Rath took a ball, then fouled one to left, where Jackson almost made a spectacular play when he snared the ball, but dropped it when he crashed into the wall. Wingo took off for second on the next pitch, but Schalk's throw was so strong Wingo didn't even bother to slide and the Reds were done. Ring had to work his way out of another jam, not entirely of his own making, when the Sox had runners at first and third with two outs – he hit Collins in the ribs with a curveball and Jackson was safe on Rath's error – before he coaxed Felsch to ground out to third.
Rath stepped to the plate again in the top of the fourth and this time shot a fly right at Jackson, who didn't have to move to record the out. Cicotte was working "easily and confidently" and his curve was "breaking nicely" as he dispatched Cincinnati with ease in the fourth, using only eight pitches to retire Rath, Daubert, and Groh.8
Unfortunately for the home team, Ring was finding his groove again, "burning the ball across in dazzling fashion," and needed only seven tosses to retire the White Sox in the bottom of the fourth.9 Gandil hit an anemic popup to Daubert for the first out, Neale caught Risberg's fly ball on the right-field foul line after a long run, and Schalk popped up to Kopf to send the game into the fifth with neither team able to put a crooked number on the scoreboard.
That was about to change. Schalk recorded another assist when he deftly fielded a Roush tapper in front of the plate and threw him out for the first out of the fifth inning. The second out should have come soon after when Cicotte knocked down Duncan's shot up the middle, but his attempt to throw the runner out was wild and Duncan landed at second base on the error. Kopf followed with a single to left and Duncan lit out for home on what looked to be a close play at the plate. "Jackson rifled a perfect throw to the plate to cut off the run," wrote Eliot Asinof in Eight Men Out. "But Cicotte interceded. He stepped in front of the ball to cut it off. Artfully, as if to hurry his throw to second base, he allowed the ball to deflect off his glove for his second error of the inning. It rolled to the stands behind home plate."10 Duncan scored and Kopf went to second on the muff.
Neale took two balls and a strike before driving the ball over Jackson's head for a run-scoring double; and the game, for all intents and purposes, was in the bag for Cincinnati. Cicotte was brilliant the rest of the way and faced the minimum 12 batters over the final four innings, allowing only a single in the eighth to Wingo, who was erased on a double play. But the White Sox couldn't crack Ring despite putting a runner on base in every inning from the fifth to the ninth.
Only one reached second base and the Reds went up three games to one on Ring's three-hit shutout in the 2-0 win.
This article will be published in an upcoming SABR Digital Library book on the greatest games at Comiskey Park.
Sources
In addition to the sources cited in the Notes, the author also accessed Retrosheet.org, Baseball-Reference.com, and SABR.org.
Notes
1 "White Sox Confident of Victory Today While Reds Expect Some Easy Pitching," Elmira Star-Gazette, October 4, 1919
2 Ibid.
3 "Loose Fielding by Cicotte Gives Cincinnati Two Runs," Buffalo Evening News, October 4, 1919.
4 Ibid.
5 Ibid.
6 Ibid.
7 Ibid.
8 Ibid.
9 Ibid.
10 Eliot Asinof, Eight Men Out (New York: Simon & Schuster, 1963), 115. In an interview with Melvin Durslag that appeared in the September 17, 1956, issue of Sports Illustrated, Chick Gandil claimed he yelled to Cicotte to intercept the throw because they had no chance to get Duncan at the plate, but still had a shot at Kopf going to second.
Additional Stats
Cincinnati Reds 2
Chicago White Sox 0
Game 4, WS
---
Comiskey Park
Chicago, IL
Box Score + PBP:
Corrections? Additions?
If you can help us improve this game story, contact us.
Tags
https://sabr.org/sites/default/files/RingJimmy-SDN-061871.png
600
800
admin
/wp-content/uploads/2020/02/sabr_logo.png
admin
2019-09-17 14:03:12
2020-10-19 00:34:59
October 4, 1919: Ring's pitching, Cicotte's errors lead Reds over White Sox in Game 4