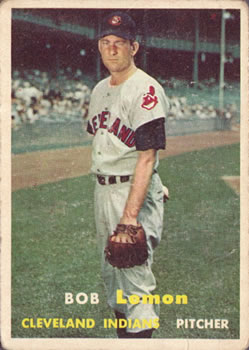 October 7, 1948: 'I guess they can't win 'em all': Indians top Braves in Game 2
---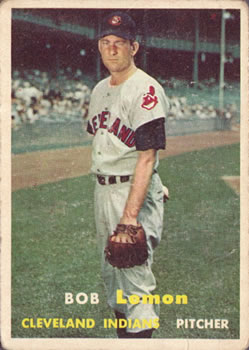 The favored Cleveland Indians had succumbed to the homestanding Boston Braves in the World Series opener on October 6, 1948, and the stage was set for Game Two. If the Braves won, they would take a 2-0 Series lead to Cleveland.
The pitchers were Warren Spahn for the Braves and Bob Lemon for the Indians, and as if two 20-game winners (Lemon was 20-14 and Spahn, who was 15-12 in 1948, had won 21 in 1947) were not enough to put a chill into some bats, the game-time temperature in the mid-50s made things even worse for the hitters, and winds that gusted to more than 20 miles per hour made it feel even colder for the 39,633 spectators. Not among the spectators was LoRene Spahn, Warren's wife, who had given birth to their son Greg on October 1 and watched the game on television in her hospital room.1
Neither pitcher was overpowering, but it was Lemon, pitching in and out of trouble all day (allowing the leadoff man to reach first four times), who emerged with the win. Spahn, on the other hand, was rewarded for his efforts with an early shower.
The Braves scored first on an uncustomary fielding lapse by the Indians' Joe Gordon in the first inning. He briefly bobbled a grounder off the bat of Alvin Dark that allowed the Braves shortstop to reach first base safely, or so said umpire Bill Stewart. It was the second close call in two games for Stewart. In the first game, when he was umpiring at second base, he called Braves runner Phil Masi safe when the Indians tried to pick him off at second with two outs. The decision was hotly contested by the Indians, but to no avail. The call allowed the inning to continue and Masi scored from second for the game's only run on a single by Tommy Holmes. In the sixth inning of Game Two, as luck would have it, Masi was inserted into the game as a pinch-runner at second base. Remembering the incident from Game One, he told Indians shortstop-manager Lou Boudreau, who took the pickoff throw in Game One, "No tricks, now."2
Dark advanced to third on a single by Earl Torgeson. A single by Bob Elliott scored Dark, but the ball was hit so hard that Torgeson couldn't advance beyond second base.
Then came what was perhaps the turning point of the game. With Marv Rickert at the plate and the count at 2-and-2, Boudreau put on the pickoff play again. After giving a well-disguised signal to Lemon, Boudreau snuck in behind Torgesen and Lemon's perfectly timed pickoff throw arrived in time to catch the Braves first baseman.
Boudreau was known to Boston fans as creative. The prior season, he had initiated the shift against Ted Williams in which he moved his infielders to the right of second base to thwart the Boston left-hander. The shift became commonplace over the balance of Williams's career.
The evolution of the pickoff was capsulized by Hy Hurwitz in the Boston Daily Globe: Lemon bent way over, faking that he was having trouble seeing catcher Jim Hegan's signals. Meanwhile Boudreau crept stealthily to the rear of Torgeson. At the count of three, set in motion by a signal from Lemon to Boudreau, Lemon wheeled around and fired the ball to Boudreau. Torgeson was caught flat-footed. He didn't even have a chance to slide back.3 Lemon struck out Rickert to end the inning. From that point on, the hosts were unable to put any runs on the board off Lemon.
Lemon's assist on this play was one of six assists he had during the game. He also tied a World Series record for pitchers with three putouts at first base on throws from first baseman Eddie Robinson.
The Indians, after being shut out in the opener and for three innings of the second game, broke through for two runs in the fourth inning against Spahn, who deserved a better fate. Boudreau opened the inning with a double off a Spahn changeup, and scored on a single by Joe Gordon. Boston left fielder Marv Rickert attempted to gun down Boudreau at the plate, but Boudreau scored easily. The throw home allowed Gordon to advance to second base. Columnist Red Smith categorized the hit as "the sort that would score a fast man from second, but Boudreau is so unsound he'd be ruled off any self-respecting horse track." Smith noted that Rickert's ill-advised throw "came fluttering in like a wounded dove. It dropped to earth not far beyond third base, too spent to permit a decent cut-off play."4 Larry Doby's single to right field brought home Gordon.
The following inning, the Indians knocked Spahn out of the game. Dale Mitchell opened the inning with a single and went to second on a bunt by Allie Clark. Boudreau's single scored Mitchell and motivated Braves manager Billy Southworth to remove Spahn. Red Barrett put out the fire, but the Indians had what proved to be an insurmountable 3-1 lead. After the game Spahn said, "I'll be back. My change of pace was hanging too high. I couldn't get it down low, and that licked me."5
Both teams pulled off defensive gems. In the top of the sixth inning, Cleveland threatened. With one out, Eddie Robinson singled to center field off Barrett, but was quickly erased. Catcher Jim Hegan sent a fly ball to deep right field, seemingly beyond the reach of Tommy Holmes. Hegan was off at the crack of the bat, but Holmes caught up with the ball, reached out and grabbed it, and easily doubled Hegan off first base. It was the first double play of the World Series.6
The keystone combo of Gordon and Boudreau pulled off double plays in the sixth and eighth innings to thwart Braves opportunities. In the sixth, Eddie Stanky, a step slower than he had been in his prime, hit a grounder to Boudreau. Two throws later, the ball was safely in the glove of first baseman Eddie Robinson and Stanky was a dead pigeon at first base. In the eighth inning, Lemon induced Bob Elliott to hit into a double play with a steady diet of curveballs. With the count at 1-and-2, Elliott hit a groundball to Gordon, who sent the ball to shortstop Boudreau who fired on to first for the double play.7
The Indians added a run in the ninth as Hegan reached on an error by Dark, went to second and third on two groundball outs, and scored from third on a single by Bob Kennedy.
The difference in the game was timely pitching and defense. In both the second and fourth innings, Lemon got out number three with runners on second and third.
The Braves had not played well in losing. In two games at Boston, their hitting was quite feeble as they scored but one earned run in 18 innings. The press was not particularly kind to the Braves as they left for Cleveland. Harold Kaese wrote, "Except for hitting, pitching, fielding, and thinking, the Braves had everything in the clutch yesterday."8
The loss was the first ever in World Series play by the Braves in the 20th century. But then again, they had not played that often in the fall classic. They had swept to victory in 1914 and after an absence of 34 years they had won the opener in 1948. They never again won a World Series game in Boston.
This article appeared in "Braves Field: Memorable Moments at Boston's Lost Diamond" (SABR, 2015), edited by Bill Nowlin and Bob Brady. To read more articles from this book, click here.
Sources
In addition to the sources mentioned in the Notes, box scores for this game can be seen on baseball-reference.com, and retrosheet.org at:
http://www.baseball-reference.com/boxes/BSN/BSN194810070.shtml
http://www.retrosheet.org/boxesetc/1948/B10070BSN1948.htm
Barry, Jack, "Stranding Men Not Way to Win … Southworth," Boston Daily Globe, October 8, 1948, 30.
Campbell, Gordon, "Indians Win 4-1," Boston Traveler, October 7, 1948, 1, 35.
Cole, Jean, "Mrs. Spahn Sure Braves Will Win," Boston Daily Record, October 8, 1948, 3.
Hern, Gerry, "Braves Baffled by Pickoff Play," Boston Post, October 8, 1948,
Hurwitz, Hy, "On to Cleveland," Boston Daily Globe, October 8, 1948, 1, 29.
Kaese, Harold, "Lapses by Torgy, Southworth, Rickert Contribute to Loss," Boston Daily Globe, October 8, 1948, 31.
Lee, Bill, "Lemon Hurls Cleveland to 4-1 Victory," Hartford Courant, October 8, 1948.
Malaney, Jack, "Bickford Is Hope of Braves Today," Boston Post, October 8, 1948, 1, 28.
Maloney, Alta, "Mrs. Warren Spahn Sees Lefty Pitch on Television," Boston Traveler, October 7, 1948, 37.
Smith, Red, "Patched Up Braves Starting To Fall Apart at Seams," Boston Daily Globe, October 8, 1948, 33.
Wolf, Al, "Indians Even Series, 4-1,"Los Angeles Times, October 8, 1948, 1.
Notes
Additional Stats
Cleveland Indians 4
Boston Braves 1
Game 2, WS
---
Braves Field
Boston, MA
Box Score + PBP:
Corrections? Additions?
If you can help us improve this game story, contact us.
Tags
http://sabr.org/sites/default/files/LemonBob-1957-Topps.jpg
600
800
admin
/wp-content/uploads/2020/02/sabr_logo.png
admin
2017-04-14 00:15:34
2020-04-17 13:34:06
October 7, 1948: 'I guess they can't win 'em all': Indians top Braves in Game 2