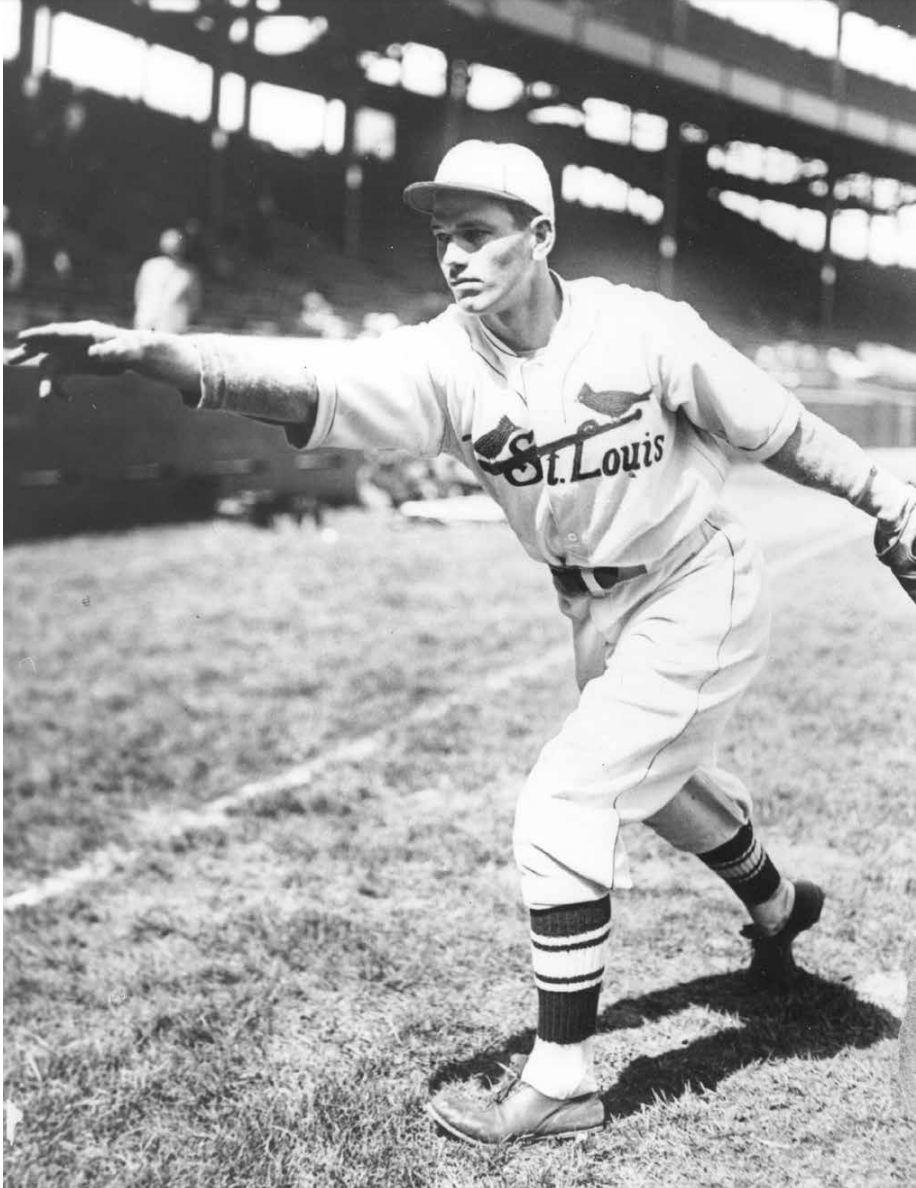 October 6, 1934: Tigers even World Series in Game 4; Dizzy Dean knocked out cold
---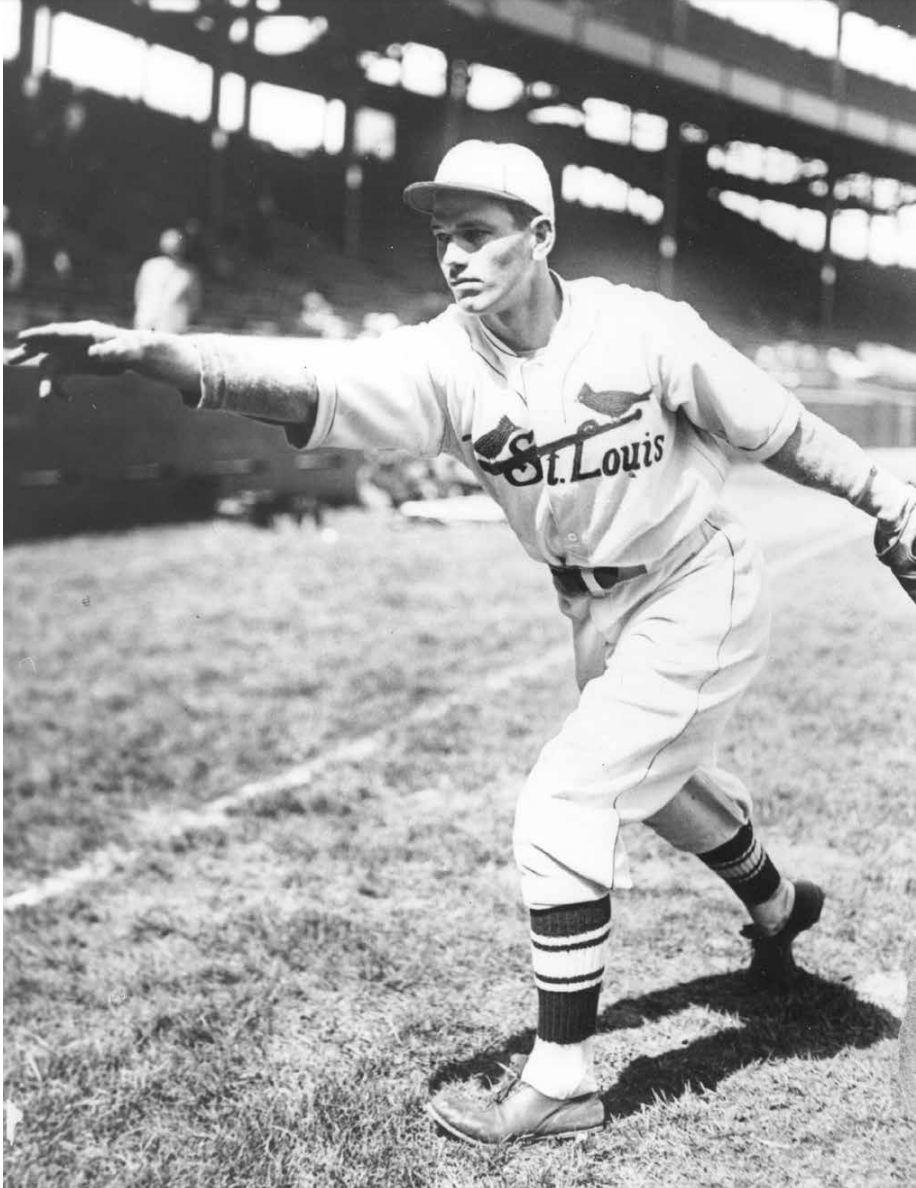 Down two games to one in the 1934 World Series, the Detroit Tigers evened the count in Game Four with a resounding 10-4 win in a lengthy 2 hours and 43 minutes before 37,492 disappointed Sportsman's Park fans. It was a game full of misadventures, dominated by Dizzy Dean's attempt to run the bases. After slow-footed Spud Davis singled in the fourth inning, Dean, who fancied himself an excellent baserunner, ran onto the field to pinch-run before Cardinals manager Frankie Frisch could send anyone else out.1 Pepper Martin then hit a double-play groundball to second baseman Charlie Gehringer, who scooped it up and tossed to shortstop Bill Rogell to force Dean at second. Dean, however, came into the base standing up and Rogell's relay throw nailed him squarely in the head, sending him straight to the ground.
According to the New York Times, Dean was "out cold as a mackerel."2 His brother Paul and others eventually carried him fireman's style from the field to the great concern of Cardinals fans, since he was slated to toe the rubber for the pivotal Game Five the next day.3 Dean recovered quickly, however, and after X-rays that evening was pronounced fit to start the next day. Although apocryphal, the story is often told that a St. Louis newspaper reported the next morning that "Doctors X-rayed Dizzy's head and found nothing."4
The starting pitchers were Tex Carleton for the Cardinals, who had a 16-11 regular-season record, versus submariner Elden Auker of the Tigers, who had been 15-7. Both were former college football players,5 prompting Grantland Rice to write, "Here were two ex-collegians trying to steal the show from the brush and the sage — from the boys of the open road and the school of the harder way."6
Before the game began, the Cardinals' band played "Take Me Out to the Ballgame."7 Then, after a scoreless inning and a half, the Cardinals struck in the bottom of the second beginning with a sharp single to center by Joe Medwick and Rip Collins's ringing double off the pavilion screen in right that sent Medwick to third. Ernie Orsatti then hit a long sacrifice fly to Goose Goslin in left to drive in Medwick before Auker was able to retire the side without further damage.
The Tigers quickly responded after two outs in the top of the third against the side-winding Carleton on a double past first by Mickey Cochrane, two walks and Rogell's single to center, which plated two runs and sent the Tigers to a 2-1 lead. Detroit would not trail again although plenty of entertaining, if not particularly pristine, baseball remained.
After Rogell's hit, Frisch gave Carleton a quick hook and brought in 43-year-old Dazzy Vance in relief. Hank Greenberg greeted Vance with a single off shortstop Leo Durocher's glove to drive in the third run of the inning. Down 3-1, the Cardinals bounced back in the bottom half when, with two outs, Rogell lost Frisch's high bounder in the sun.8 Medwick walked on a 3-and-2 count and Collins followed with a whistling shot to center on the first pitch to drive in Frisch and make it a one-run margin, 3-2.
In the fourth the Tigers extended the lead back to two runs without a hit thanks to shoddy fielding by the Cardinals. With one out Jo-Jo White worked a walk from Vance, stole second, and went to third on the play when catcher Bill DeLancey's throw got past Frisch covering and Martin muffed centerfielder Orsatti's return throw to third. Vance promptly uncorked a wild pitch to enable White to scoot home to extend the score to 4-2.
The Cardinals managed to tie the score in the bottom half of the inning in spite of Dean's misadventure on the basepaths. Orsatti led off with a single to center, and then barreled into second on Durocher's groundball to Marv Owen at third, causing Gehringer to bobble the throw while covering the bag.9 With runners on first and second, Davis, batting for Vance, singled to deep right field to drive in Orsatti and send Durocher to third. Durocher actually scored the Cardinals' fourth run to tie the score when Dean intercepted Rogell's relay throw with his noggin on what should have been Martin's double-play groundball.10 According to Grantland Rice, the impact of the ball on Dean's head sounded like the backfire of an automobile as the ball bounced 30 feet in the air and ended up 100 feet away in Greenberg's glove in short right field.11
After Bill Walker replaced Vance on the mound for St. Louis, the teams traded goose eggs for the next two innings. The Cardinals, however, wasted a scoring chance in the bottom of the fifth when with runners on first and second and one out, Greenberg snagged Orsatti's liner to first and threw behind Medwick, who had misread the ball and strayed too far off the bag at second, to double him up and end the threat.
The Tigers wasted Pete Fox's first-pitch double off the wall in the top of the sixth. In the bottom half, Durocher led off with a single past Owen but didn't advance as Auker bore down to retire the next three batters.
Thus, even with the Cardinals' sloppy play, the game remained tied heading into the top of the seventh. The Tigers, who faced a three-games-to-one deficit if they lost, rallied for a go-ahead run thanks to more bungling by the Cards. Gehringer led off with a single to center and was sacrificed to second by Goslin. Rogell then grounded to Durocher at short who threw to Martin at third to try to nail Gehringer but Martin dropped the throw for his third error of the game, leaving runners on first and third with one out.12 Greenberg then lofted a long fly to center that Orsatti got a late jump on because of the sun. The ball slipped out of his glove for a double that scored Gehringer and sent Goslin to third. But with runners now on second and third with one out, Walker managed to avoid further damage, retiring Owen on a liner to Jack Rothrock in right, and, after an intentional walk to Fox to load the bases, getting Auker on a groundout to Frisch.
As the bottom of the seventh got underway, the public-address announcer informed fans that Dean was okay, prompting relieved applause from the crowd.13 It would be the last opportunity for the hometown fans to cheer. The Cardinals went out in order, highlighted by Greenberg's great stop of Medwick's hard grounder to first.
St. Louis totally unraveled in the top of the eighth. White started the Tigers' rally with a walk and was safe at second when Walker, still on the mound for the Cardinals, threw Cochrane's sacrifice past Durocher covering at second. Gehringer sacrificed the runners to second and third, and then an intentional walk to Goslin loaded the bases with one out. With a count of two strikes and a ball, Rogell singled just past Durocher's glove to drive in two runs and send Goslin to third. Greenberg then laced the first pitch far off a fan's outstretched hands in front of the right-center-field wall for a double to drive in Goslin with the third run of the inning.14
That was it for Walker, who was relieved by 41-year old Jesse Haines. Marv Owen slashed Haines's first pitch for a line single to right to score Rogell and send Greenberg to third. Fox then struck out swinging on a 3-and-2 pitch as Owen took off for second. When DeLancey, the Cardinals catcher, threw to second, Greenberg took off from third and beat Frisch's hurried throw to the plate by kicking the ball from DeLancey's grasp as the Tigers successfully executed a double steal for another tally.15 The carnage came to five runs on three hits and two more Cardinals errors as Detroit extended its lead to 10-4.
The Cardinals managed a hit in each of their last two innings, but were unable to score as Auker finished his complete game, scattering 10 hits and allowing four walks while striking out only one to close out the 10-4 victory. After the game, Frisch said, "We played like a lot of sandlotters. There was no one especially to blame. We all had a finger in the pie."16
True to his word, Dizzy Dean did start for the Cardinals the following day, but lost 3-1 to Tommy Bridges as the Tigers took a 3-2 Series lead before the teams returned to Detroit for Games 6 and 7. Once there, Paul Dean outdueled Schoolboy Rowe 4-3 to even the Series at three games apiece. The climatic Game Seven was anything but as Dizzy Dean, pitching with one day's rest, shut out the Tigers 11-0 to win the world championship.17
This article appears in "Sportsman's Park in St. Louis: Home of the Browns and Cardinals at Grand and Dodier" (SABR, 2017), edited by Gregory H. Wolf. Click here to read more articles from this book online.
Photo Caption
The most famous pitcher of his generation, Dizzy Dean won 30 games in 1934, the last NL pitcher to accomplish the feat. (National Baseball Hall of Fame, Cooperstown, New York)
Sources
Besides the sources listed in the Notes, the author consulted the following:
Alexander, Charles C. Breaking the Slump — Baseball in the Depression Era (New York: Columbia University Press, 2002).
Barthel, Thomas. The Fierce Fun of Ducky Medwick (Lanham, Maryland: The Scarecrow Press, 2003).
Barthel, Thomas. Pepper Martin — A Baseball Biography (Jefferson, North Carolina: McFarland & Company, 2003).
Berkow, Ira, ed. Hank Greenberg — The Story of My Life (New York: Time Books, 1989).
Bevis, Charles. Mickey Cochrane — The Life of a Baseball Hall of Fame Catcher (Jefferson, North Carolina: McFarland & Company, 1998).
Durocher, Leo, with Ed Linn. Nice Guys Finish Last (New York: Simon and Schuster, 1975).
Golenbock, Peter. The Spirit of St. Louis — A History of the St. Louis Cardinals and Browns (New York: Avon Books, 2000).
Kurlansky, Mark. Hank Greenberg — The Hero Who Didn't Want to Be One (New Haven: Yale University Press, 2011).
Lieb, Frederick G. The St. Louis Cardinals (New York: G.P. Putnam's Sons, 1945, reprinted by Southern Illinois University Press, 2001).
Lieb, Frederick G. The Detroit Tigers (New York: G.P. Putnam's Sons, 1946, reprinted by Kent State University Press, 2008).
Shapiro, Milton J. The Dizzy Dean Story (New York: Julian Messner, 1963).
Skipper, John C. Charlie Gehringer — A Biography of the Hall of Fame Second Baseman (Jefferson, North Carolina: McFarland & Company, 2008).
Smith, Curt. America's Dizzy Dean (St. Louis: The Bethany Press, 1978).
Notes
1 According to one quote of Frisch, "The hard-playing S.O.B. was down there running himself for Davis." Bob Broeg, The Pilot and the Gas House Gang (St. Louis: The Bethany Press, 1980). See also Robert E. Hood, The Gashouse Gang, (New York: William Morrow and Company, 1976), 132; Vince Staten, Ol Diz — A Biography of Dizzy Dean (New York: Harper Collins, 1992),144-45; Richard Bak, Cobb Would Have Caught It — The Golden Age of Baseball in Detroit (Detroit: Wayne State University Press, 1991), 269. In his autobiography, Frisch wrote that "Diz was red hot to run for [Davis]. Why not? He was a fine base runner." Frank Frisch as told to J. Roy Stockton, Frank Frisch: The Fordham Flash (Garden City, New York: Doubleday, 1962), 173-74. After the game Frisch was quoted as saying, "Dean kept pulling my sleeve and begging me to use him." Wray's Column, "Did Frankie Boot One?" St. Louis Post-Dispatch, October 7, 1934: 19.
2 John Drebringer, "Tigers Rout Cards, 10-4, Pounding Five Pitchers to Square Series at 2-2," New York Times, October, 7, 1934: S3.
3 Paul Dean later said he knew his brother was all right when he came to because he was talking. Asked what Dizzy was saying, Paul said, "Nuthin'. He was just talking." Broeg, 140-41.
4 Elden Auker with Tom Keegan, Sleeper Cars and Flannel Uniforms (Chicago: Triumph Books, 2001), 53; Robert Gregory, Diz (New York: Viking, 1992), 225.
5 Carleton had played at TCU while Auker had played at Kansas State.
6 Grantland Rice, "The Storm Breaks — Fortunate Recovery of Dean Is Only Bright Spot for Those Tiger-Chewed Cards," Detroit Free Press, October 7, 1934: 3.
7 "Martin Discovers That Fans Forget," New York Times, October 7, 1934: S3.
8 Alan Gould, "Cards Bow to Tigers," Los Angeles Times, October 7, 1934: Part VI a, 2; Charles P. Ward, "Tigers Unleash Bats, Trounce Cards, 10-4, and Even Series," Detroit Free Press, October 7, 1934: 17.
9 Grantland Rice described Orsatti as "pulling a Marty Brill blocking act by jolting the ball from Gehringer's grip." Rice, Detroit Free Press: 3.
10 Dean was running on the inside of the basepath instead of out toward the outfield grass. Rogell thought Dean had no business trying to pinch-run (Bak, 269), but he felt bad that he had nailed Dean, saying, "[T]he play was too fast for me to see Dizzy blaring into second standing up." William M. Anderson, The Glory Years of the Detroit Tigers — 1920-1950 (Detroit: Wayne State University Press, 2012), 252.
11 Rice, Detroit Free Press: 3. Not surprisingly, Frisch received a lot of criticism for allowing Dean to pinch-run. Sportswriter Paul Gallico noted that "Frankie Frisch took a million dollar asset and used him on a ten-cent job." Doug Feldman, Dizzy and the Gashouse Gang (Jefferson, North Carolina: McFarland & Company, 2000), 156.
12 By the end of the game, the Cardinals had committed five errors, making a total of 11 in just four games. For their part, the Tigers had committed eight errors by the game's end. Herman Wecke, "This Series One of Most Loosely Fielded in History," St. Louis Post-Dispatch, October 7, 1934: 18.
13 James P. Dawson, "Game at St. Louis Told Play by Play," New York Times, October 7, 1934: S3.
14 Greenberg raced to third on the hit and Rogell also scored from first, but after Frisch protested, the umpires ruled the hit a double and sent Greenberg back to second and Rogell to third. Dawson, New York Times: S3.
15 Rice, Detroit Free Press, 3. Owen moved to third when DeLancey let Frisch's throw get away for the second Cardinals error of the inning.
16 Feldman, 156.
17 Game Seven is remembered mostly for Joe Medwick's kicking of Marv Owen at third after a triple in the sixth inning which brought the score to 9-0. Medwick claimed that Owen came close to spiking him, prompting his kicking action. Frustrated Detroit fans pelted Medwick with fruit, vegetables, and bottles when he took his position in left field the next inning, prompting Commissioner Kenesaw M. Landis to remove him from the game. J. Roy Stockton, The Gashouse Gang and a Couple of Other Guys (New York: A.S. Barnes & Company, 1945), 129-130; V. Owen, The Adventures of a Quiet Soul — A Scrapbook of Memories (San Jose: The Rosicrucian Press, 1996), 70-75.
Additional Stats
Detroit Tigers 10
St. Louis Cardinals 4
Game 4, WS
---
Sportsman's Park
St. Louis, MO
Box Score + PBP:
Corrections? Additions?
If you can help us improve this game story, contact us.
Tags
https://sabr.org/sites/default/files/Screen%20Shot%202018-11-08%20at%2012.18.41%20PM.png
600
800
admin
/wp-content/uploads/2020/02/sabr_logo.png
admin
2018-11-08 12:28:49
2020-04-17 13:34:00
October 6, 1934: Tigers even World Series in Game 4; Dizzy Dean knocked out cold