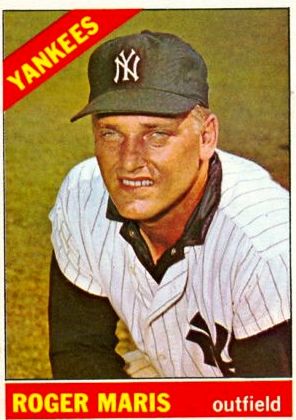 October 7, 1961: Roger Maris's ninth-inning home run wins Game 3 for Yankees
---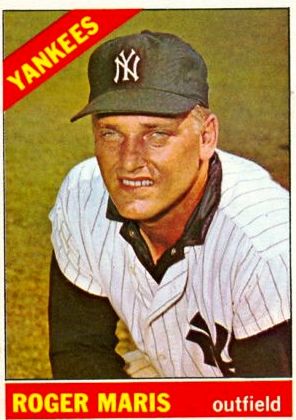 The 1961 World Series between the Cincinnati Reds and the New York Yankees moved to Cincinnati's Crosley Field for a pivotal third game with the Series tied at a game apiece. The Reds, under temperamental manager Fred Hutchinson, had won the National League pennant by four games over the Los Angeles Dodgers.1 They were in their first World Series in 21 years and were significant underdogs to the defending AL pennant winners, who under first-year manager Ralph Houk had won 109 games and swept to the American League pennant by 8 games.
The 1961 World Series was almost anticlimactic after the dramatic chase by Roger Maris and Mickey Mantle to overtake Babe Ruth's almost mythical 60-home-run record had captivated the nation.2 But the Reds had hung in against the Yankees in the first two games, played in Yankee Stadium, losing the opener 2-0 to Whitey Ford's shutout pitching before bouncing back to win Game Two, 6-2, behind 21-game-winner Joey Jay's clutch four-hitter.
Hutchinson named 32-year-old veteran Bob Purkey, who had gone 16-12 in the regular season, to start Game Three against 22-year-old Bill Stafford who had won 14 games and posted a 2.68 earned-run average for the regular campaign, second lowest in the American League.
The weatherman dialed up a terrific day for baseball with sunny, cloudless skies and temperatures in the mid-70s.3 William "Dummy" Hoy, former Reds outfielder and, at 99, the oldest living former major-league ballplayer, threw out the first pitch. The game also featured the return to the lineup and first appearance in the Series of Mickey Mantle, who had been out of action since September 26 with a badly abscessed hip. Although Mantle would go 0-for-4 in the game, according to teammates Tony Kubek and Bobby Richardson, his inspirational return to the lineup was the turning point in the Series.4
Purkey, who relied heavily on his knuckleball and other offspeed pitches, fairly breezed through the Yankees for the first three innings, allowing only a second-inning walk to Yogi Berra. Stafford, on the other hand, was shaky. In the second he escaped a two-out jam with runners on second and third by striking out Purkey, who swung and missed with a flourish.5 But in the third, Frank Robinson6 laced a two-out double down the line to the terrace in left to drive in Elio Chacon, who was on third after a hit and a throwing error by Stafford and a groundout to second by Vada Pinson.
Purkey retired nine Yankees in a row after the walk to Berra before, with one out in the fifth, Elston Howard unloaded a smash to center that hit about two feet from the top of the wall, 390 feet from home plate. Vada Pinson held Howard to a double and the threat was short-lived as Moose Skowron lined to Eddie Kasko at shortstop. Kasko easily doubled off Howard, who was halfway to third, to end the inning.
Meanwhile, Stafford had settled down and retired the Reds in the fourth, fifth, and sixth innings, allowing only a harmless sixth-inning single to Gordy Coleman. Heading into the top of the seventh, Purkey had thrown only 48 pitches and was still mowing down the Yankees down, allowing only the fifth-inning double to Howard.7 But Tony Kubek led off with a single to center and, after Maris flied to Pinson for the first out, Kubek advanced to second on a passed ball by Johnny Edwards while Mantle was batting. Mantle struck out for the second out but then Berra lifted a fly to short right field. Second baseman Chacon raced back and got his glove on the ball, but Frank Robinson, racing in from deep right field, ran into Chacon and jarred the ball loose, allowing Kubek to score easily for an unearned run to tie the score, 1-1.8 It was the Yankees' first run in 11 innings.
The Reds quickly bounced back in the bottom of the inning. Johnny Edwards smacked a one-out double deep down the right-field line. After Purkey struck out for the second out, Jerry Lynch, pinch-hitting for Chacon, was intentionally walked.9 Eddie Kasko came through with a clutch line-drive single to left to score Edwards from second and drive Stafford from the mound. Left-hander Bud Daley relieved and averted further damage by coaxing Pinson to fly out to Maris in right for the third out.
Cincinnati's lead was short-lived, however. Purkey was still battling and retired the first two hitters in the eighth, Skowron on a comebacker and Clete Boyer on a foul pop to Coleman at first. Houk then sent up Johnny Blanchard to pinch-hit for Daley, telling him to "hit one out of here."10 Blanchard had put together a career year as a pinch-hitter and reserve catcher and outfielder, batting .305 and blasting 21 home runs in only 243 at-bats. Four of the homers had been pinch hits.11 He had been sitting on the bench watching Purkey all afternoon and noticed that Bob often threw a first-pitch fastball or slider to get ahead in the count. Blanchard went to the plate looking for a fastball, got one, and didn't miss it, depositing it deep into the right-field bleachers to tie the score at 2-all.12
Richardson followed Blanchard's blast with a single to left and then stole second as the Yankees threatened to take the lead. But Purkey was able to get Kubek to fly to Pinson in center to end the threat.
Yankees ace reliever Luis Arroyo took the mound in the bottom of the eighth and retired the heart of the Reds order, Robinson, Coleman, and Wally Post, on a swinging strikeout, foul pop to catcher Edwards, and groundout to Boyer at third.13
Maris, exhausted by the regular-season home-run chase, was 0-for-10 in the Series when he led off for the Yankees in the top of the ninth against Purkey. His seventh-inning lazy fly out to center was the first time he had even gotten the ball out of the infield in the Series. But with the count 2-and-1, Maris feasted on a low slider out over the plate and golfed it into the right-field bleachers to give the Yankees their first lead of the day, 3-2.14 Purkey again showed his mettle by settling down to strike out Mantle swinging and retire Berra and Howard on comebackers.
The Reds still had to contend with Arroyo in the bottom of the ninth15 and he struck out Gene Freese swinging to begin the inning. Hutchinson sent Leo Cardenas up to pinch-hit for Edwards and Cardenas immediately threw a scare into the Yankees, launching a booming drive high off the 70-foot scoreboard in center to put the tying run on second with one out. Had the ball gone anywhere else in the ballpark it would have been a game-tying home run.16 Dick Gernert pinch-hit for Purkey and hit a slow roller near second that had a chance to get through. Kubek, however, was able to glove the ball and throw to first to nail Gernert for the second out as Cardenas advanced to third. Hutchinson sent Gus Bell, yet another pinch-hitter, to the plate to try to tie the score. Bell responded with a hot smash up the middle, but Arroyo was able knock it down with his glove hand and recover to throw out the batter, end the game and put the Yankees into a 2-1 Series lead.
The victory was Arroyo's first World Series win, nicely capping his dream season. He had previously pitched for the Cardinals, where, in 1956 then manager Hutchinson had sent him to Triple-A Omaha. In 1959 Arroyo found himself with the Reds, where Hutchinson again dispatched him to Triple A, this time to Havana.17 But that was before Arroyo perfected his screwball, which turned him in to a bullpen stopper.18
Game Three turned out to be the most exciting as well as the pivotal game of the Series as the Yankees went on to rout the Reds, 7-0 and 13-5, to close out the Series, four games to one. After the Series, Hutchinson told the press corps that "Maris's home run in the third game, that's what did it. We were never the same after that."19
This article was published in "Cincinnati's Crosley Field: A Gem in the Queen City" (SABR, 2018), edited by Gregory H. Wolf. To read more articles from this book at the SABR Games Project, click here.
Sources
Game stories in the St. Louis Post-Dispatch, St. Louis Star, and Philadelphia Inquirer were accessed via Newspapers.com. Stories in The Sporting News were accessed via PaperofRecord.com.
https://www.baseball-reference.com/boxes/CIN/CIN196110070.shtml
https://www.retrosheet.org/boxesetc/1961/B10070CIN1961.htm
Notes
1 Relief pitcher Jim Brosnan's first-hand account of the Reds' 1961 season is considered a classic. Jim Brosnan, The Pennant Race (New York: Harper & Brothers, 1962).
2 Among the best accounts of the memorable 1961 season when Roger Maris hit his 61st home run off Tracy Stallard of the Boston Red Sox on the last day of the season are Phil Pepe, 1961 – The Inside Story of the Maris-Mantle Home Run Chase (Chicago: Triumph Books, 2011); Ralph Houk and Robert W. Creamer, Season of Glory (New York: G.P. Putnam's Sons, 1988); and Tony Kubek and Terry Pluto, Sixty-One (New York: Macmillan, 1987).
3 John Drebinger, "Reds Bow in Ninth – Maris and Blanchard Hit Late Homers as Yanks Beat Purkey," New York Times, October 8, 1961: S2.
4 Mantle played although he could barely run. The day before, he winced in pain when he missed the first pitch during the Yankees batting practice in Crosley Field on the offday. He then hit six batting-practice home runs. Kubek and Pluto, 135-136.
5 Drebinger: S2.
6 Robinson had had a monster year, batting .323 with 37 homers, 124 runs batted in, and a league-leading .611 slugging percentage.
7 Bill Ford, "'It Was a Good Pitch …,'" Cincinnati Enquirer, October 8, 1961: 1-A. One Cincinnati writer described Purkey as making the Yankees "look like a collection of banjo hitters for six innings." Lou Smith, "Maris Homers to Beat Reds, 3-2," Cincinnati Enquirer, October 8, 1961: 1-A
8 Lou Smith, 1-A. According to Red Smith, after Robinson jarred the ball loose, "Chacon went spinning to the turf and Kubek went romping to the plate." Red Smith, "Yankee Torture Slow and Cruel," Cincinnati Enquirer, October, 8, 1961: 3-H.
9 Veteran Don Blasingame then pinch-ran for Lynch.
10 Joseph M. Sheehan, "Houk Strategy Pays Off as Manager Tells Blanchard: 'Hit One Out of Here,'" New York Times, October 8, 1961: S2.
11 In July, Blanchard had also homered in four consecutive at-bats, two of which were as a pinch-hitter. "Yankee Heroes Do What Comes Naturally," New York Times, October 8, 1961: S3.
12 Kubek and Pluto, 136. Purkey described the pitch as his worst of the day, "a slider I got too high." Ford: 1-A.
13 Arroyo had also had a career year with 15 wins against 5 losses and 29 saves in 64 relief appearances, while compiling a 2.19 earned-run average. Many of his saves benefited Whitey Ford, who went 25-4 but had only 11 complete games.
14 Purkey later called it a good pitch and gave Maris credit for hitting it. Ford: 1A.
15 Jack Reed replaced the ailing Mantle in center field at the start of the inning.
16 Drebinger: S1-S2.
17 Red Smith: 3-H.
18 Houk and Creamer, 269.
19 Houk and Creamer, 271.
Additional Stats
New York Yankees 3
Cincinnati Reds 2
Game 3, WS
---
Crosley Field
Cincinnati, OH
Box Score + PBP:
Corrections? Additions?
If you can help us improve this game story, contact us.
Tags
http://bioproj.sabr.org/bp_ftp/images4/MarisRoger.jpg
600
800
admin
/wp-content/uploads/2020/02/sabr_logo.png
admin
2019-10-07 14:29:11
2020-04-17 13:33:57
October 7, 1961: Roger Maris's ninth-inning home run wins Game 3 for Yankees