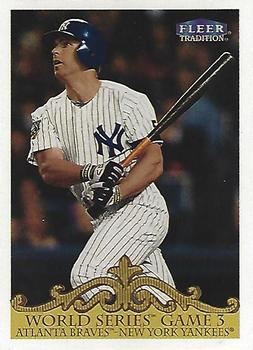 October 26, 1999: Chad Curtis whacks a World Series walk-off home run for Yankees
---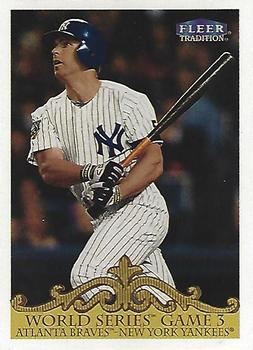 The third game of the 1999 World Series was a critical moment for the visiting Atlanta Braves and the New York Yankees alike. The Yankees had burned Atlanta in the first two games in Atlanta, 4-1 and 7-2, so were now leading the World Series two games to none. A win in this game would give them a commanding lead in the series.
Two of the teams' titans faced off: the Braves' Tom Glavine, a future 300-game winner and Hall of Famer, against the Yankees' Andy Pettitte, a member of the "Core Four," whose number 46 would ultimately be retired and honored in Monument Park. Both were control pitchers, with superb location.
Pettitte went to work on leadoff hitter Gerald Williams, who lashed a single to right field. He moved to third on Bret Boone's double. Chipper Jones dribbled a groundball to third baseman Scott Brosius. The normally sure-gloved Brosius intended to throw home to nail Williams at the plate, but could not scoop up the ball on the first try. He had to settle for erasing Jones at first, and the run scored.
The Yankees struck back at Glavine in the first inning when leadoff hitter Chuck Knoblauch smacked a line drive to right that popped out of Brian Jordan's glove for an error. He moved to third on a sharp Derek Jeter lineout to right, and scored when Paul O'Neill singled to left. A rally was building that was ended seconds later when Bernie Williams hit another liner, this time straight at first baseman Brian Hunter, who stepped on first base for the inning's final outs: an unassisted double play.
The score remained tied at 1-1 until the top of the third, but Pettitte did not have his best stuff, putting Hunter on in the second inning, and coughing up a wild pitch. Meanwhile, Glavine, who had missed starting Game One with a stomach virus, was popping his way through the Yankee lineup with pinpoint control on his sinking fastball.
Pettitte got into trouble in the third. Second baseman Boone greeted him with a double to center, then moved to third on Jones's grounder to short. Right fielder Jordan singled Boone home. Center fielder Andruw Jones singled Jordan to second, bringing up DH José Hernández, who bashed a double to left field, scoring both runners. The Braves now led 4-1, with a runner on second and one out. A lineout and fly out ended the rally.
The lead widened in the top of the fourth, when left fielder Gerald Williams smacked a one-out triple to center and Boone bashed another double, this one to left, scoring Williams. The Braves now led 5-1.
After Boone was caught stealing third, Chipper Jones singled to center. Yankees manager Joe Torre shuffled out to the mound to remove the puzzled Pettitte, summoning the reliable Jason Grimsley. Torre gave Grimsley his usual simple brief for these situations: "Hold them here and get yourself a win."1 While Torre did so, Derek Jeter and Chuck Knoblauch, trying to keep warm in the cold, told each other the same thing.
They were right. The tide began to turn in the bottom of the fifth. Left fielder Chad Curtis faced Glavine, who was still locating his pitches perfectly. With two out, Curtis tore a home run into the right-field seats to make the score 5-2. It was his first postseason home run. An unnerved Glavine served up a single to catcher Joe Girardi, but Knoblauch's groundball back to the box ended the inning.
Grimsley had done an excellent job all year, posting a 7-2 record, with a 3.60 ERA in 55 relief appearances. He held the ferocious Braves at bay for 2⅓ innings, yielding only two hits.
Glavine was still pitching in the bottom of the seventh with one out when Tino Martinez, the Yankees first baseman, came to bat. He smashed a pitch into the right-field second deck to cut the Braves' lead to 5-3.
Jeff Nelson, an imposing figure at 6-feet-8, came on for the eighth inning, and he stifled the Braves efficiently on a strikeout and two fly outs. Braves manager Bobby Cox got his eighth-inning pitcher, Mike Remlinger, and his closer, John Rocker, ready in the bullpen. Glavine had done his job — seven good innings. But Glavine's pitch count was low and the cerebral Massachusetts native assured Cox he felt fine. "He was throwing great," Cox said later. "He didn't want to come out of the game. I asked him if he was tired and he said no."2
Girardi led off the home half of the inning and lined a single to right. Next up was Knoblauch, who ripped a powerful drive that sent Jordan reaching back over the wall. The ball jumped into Jordan's glove and back out, landing in the first row of seats in the first deck. The game was tied, 5-5.
"I was so happy, I wanted to lift him up and carry him," Yankees center fielder Williams said after the game. "But I realized we still had to win the game."3
Cox was bitter in his postgame analysis, remembering how a major factor in his 1996 World Series loss to these same Yankees was caused by an umpire preventing one of his outfielders from reaching a crucial pop fly. Now he saw Knoblauch's short home run in the same way. "We basically got beat with the pop-up," he said. "It was a Yankee home run. We got beat with a 315-foot home run. You get a 315-foot fly ball and it's an out in my book."4
Knoblauch's response was simple. If that was good luck, "We'll take it every time."5
That was all for Glavine. Cox strolled out to the mound, took the ball, and summoned Rocker to prevent any further damage.
He yielded a single to Jeter, who was erased when O'Neill's bunt turned into a double play, followed by Bernie Williams's fly ball to center.
Nonetheless, the Yankees were feeling happy, Yankees pitcher David Cone said later.6 They were turning the game over to Mariano Rivera.
But Boone rapped his fourth hit of the night, a single to right, to lead off the ninth inning. Gambling on that one run, Cox sent in Otis Nixon to run for him, but the speedy Nixon was caught stealing second.7 Rivera quickly disposed of the next two hitters.
Rocker matched Rivera's excellence in the bottom of the ninth with three quick outs.
On to the 10th: the 50th extra-inning game in World Series history. After Jones grounded out to second to open the inning, Cox sent veteran Ozzie Guillén to bat for Hernández. Rivera struck out Guillén. Ryan Klesko pinch-hit and singled to right, and Greg Myers batted for first baseman Hunter, grounding out to Martinez.
Pinch-hitters Klesko and Myers stayed in the game, at first base and behind the plate respectively. Cox, recognizing that he had gotten two innings out of Rocker and needed him the next day, summoned Remlinger from the bullpen to face leadoff hitter Curtis.
Curtis's plan was small, he said later. To hit the ball up the middle, not do too much with the pitch, and simply start the inning.
Curtis fouled off the first pitch, stepped out, and then back in. Remlinger threw a changeup, and Curtis hit the ball deep to left field. Curtis himself, watching the drive from the plate, flipped his bat and ran around the bases, expressionless. "I don't remember anything," he said later when asked about the ritual trip around the bases to score the run and end the game.8 The ball had landed in the visitors' bullpen.
Curtis leaped into a sea of happy teammates at home plate to celebrate the Yankees' 6-5 victory. The Yankees were now one game away from sweeping the Atlanta Braves and winning their 25th world championship.
There was more: It was Torre's 11th consecutive World Series victory, which broke the major-league record set by his illustrious predecessor Joe McCarthy, who won 10 straight World Series games between 1937 and 1941. Curtis's game-winning shot was the 11th time a World Series game had ended on a home run. The last one had been Joe Carter's legendary 1993 world championship blast. The four Yankee home runs were the most in a World Series game since the A's bashed five at the expense of the San Francisco Giants in Game Three of the 1989 World Series. This was the Yankees' 100th World Series game win in their long and amazing history.
Sources
https://retrosheet.org/boxesetc/1999/B10260NYA1999.htm
https://baseball-reference.com/boxes/NYA/NYA199910260.shtml
Author's Note
The author of this story was at the game with his wife, seated in the right-field upper deck. He still has his scorecard and his ticket in its plastic lanyard, and can vividly remember Chad Curtis's game-ending home run flying toward the visitors' bullpen. He does not remember where it landed, as he and everyone else were soon facing home plate to watch Curtis cross it.
Notes
1 Buster Olney, "WORLD SERIES; With 1-2 Punch, Yankees Grab 3-0 Lead," New York Times, October 27, 1999: 1.
2 Ibid.
3 Ibid.
4 Ibid.
5 Ibid.
6 Ibid.
7 This was the last play of Nixon's 17-year major-league career.
8 Olney.
Additional Stats
New York Yankees 6
Atlanta Braves 5
10 innings
Game 3, WS
---
Yankee Stadium
New York, NY
Box Score + PBP
Corrections? Additions?
If you can help us improve this game story, contact us.
Tags
https://sabr.org/sites/default/files/CurtisChad-1999.jpg
600
800
admin
/wp-content/uploads/2020/02/sabr_logo.png
admin
2019-02-01 02:24:15
2020-04-17 13:33:58
October 26, 1999: Chad Curtis whacks a World Series walk-off home run for Yankees