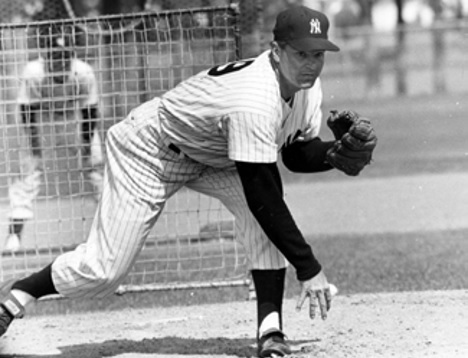 October 9, 1958: Yankees rally late to beat Braves in Game 7 of World Series
---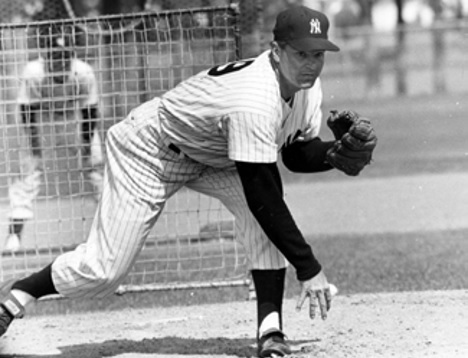 The New York Yankees broke a 2-2 tie with four runs in the eighth inning of Game Seven to win the 1958 World Series, reversing the result from the previous year, capturing the Bronx Bombers' sixth title of the 1950s, and becoming the first team to win a Series by taking the final two games on the road after dropping three of the first four games.
Former Yankee and 1957 World Series hero Lew Burdette toed the rubber for the Milwaukee Braves. Ominously, "[o]nly Burdette draws a cheer when the lineups are announced."1 He started well, retiring the first three batters. The 1956 World Series hero Don Larsen, by contrast, struggled from the start, giving up a single to Red Schoendienst and a walk to Bill Bruton. Batting third in the order in place of Eddie Mathews for the first time in the Series (Mathews, with only four hits in the first six games, was dropped down to sixth in the order), Frank Torre advanced both runners with a sacrifice. Hank Aaron walked, and Wes Covington put the home team on top with an RBI groundout. New York manager Casey Stengel risked a big inning by ordering the slumping Mathews intentionally walked, but Larsen escaped deeper trouble by fanning Del Crandall.
The Yankees recovered quickly thanks to more shoddy defense from Milwaukee. (The Braves had made four errors in Game Six.) After Yogi Berra walked to start the second, "[t]he usually good-fielding Frank Torre messed up two balls around first base";2 his consecutive errors on tosses to Burdette covering first loaded the bases with none out. Bill Skowron drove home the tying run with a groundout to short, and then Tony Kubek put New York ahead with a sacrifice fly to Covington. Burdette retired Larsen on a grounder to Schoendienst, but had to feel frustrated at yielding two runs on one walk and two errors.
Larsen had his lone good inning in the bottom of the second before Burdette pitched around a double by Gil McDougald in the top of the third. Larsen did not survive the third.
Bruton singled, Torre popped out, and Aaron singled Bruton to second. Stengel wasted no time in pulling Larsen, who may have had elbow problems.3 On came Bob Turley, who, after getting crushed in Game Two, had won Game Five and saved Game Six. Turley got Covington out on a weak tapper in front of the plate. Then after a second intentional walk to Mathews, "Crandall lined a shot off Turley's glove. The ball was deflected away from second. The alert McDougald, who had started toward the bag when the ball was hit, changed his direction swiftly and with a neat pickup and peg rubbed out Crandall to end the inning."4
The Yankees looked to widen the margin in the fourth with an Elston Howard single and stolen base. Jerry Lumpe's grounder to third failed to advance the runner, however, rendering Skowron's fly to Bruton harmless. Mirroring Stengel's strategy and getting the same good result, Milwaukee manager Fred Haney ordered Kubek walked, and Turley hit into a force to end the threat.
Neither team had a batter reach again until the bottom of the fifth. Torre walked with one out, but Aaron bounced into a second-to-first double play.
Burdette had retired seven in a row when the Braves batted in the bottom of the sixth. With two out, the struggling Crandall, who had stranded six baserunners in his first two plate appearances, homered with nobody on to tie the game, 2-2.
Skowron broke Burdette's steak with a leadoff single in the seventh. Moose went to second with two out thanks to a Turley sacrifice, but Burdette got Bauer to pop to Mathews to keep the score tied heading into the home half of the seventh. Turley got three Milwaukee grounders in a quick frame.
After Skowron's single, Burdette put down the next five Yankees in a row and seemingly had his ex-mates under control. The syndicated columnist Red Smith described Burdette as "a large, perhaps insanitary West Virginia hillbilly with a dry wit and a moist delivery, who pitches with his arm and head and heart and tongue. Employing all the weapons which nature, a combative temperament and 32 years of living have given him, he … held [New York] off for seven innings … virtually unaided."5
But the game, season, and Series quickly unraveled for the Braves. With two outs in the eighth, Berra doubled ("He hit a bad pitch, high and inside," according to Burdette6) on a hit "that lacked only a couple of feet of being a tiebreaking home run. Howard immediately drove him in with a bounding single that barely eluded Johnny Logan's reach behind second"7 to give New York a 3-2 lead. Andy Carey, who had replaced Lumpe in the bottom of the sixth, "lined a single off Eddie Mathews' glove"8 to put two on with two out for Skowron. Moose hit a crushing blow, a three-run homer to bust open the game and give the Yankees a formidable 6-2 lead. "It was a lousy pitch that I gave Skowron," Burdette said after the game. "It was a slider — the same thing he looked bad on before — but this one I got in too high."9 Skowron confessed, "It probably would have been an out in Yankee [S]tadium."10
Kubek struck out to end the disastrous inning for Milwaukee, which found itself in a deep late-game hole. "One run the Braves could have gotten back … if that was all they needed for a tie, but four runs killed them as certainly as Cain slew Abel."11
Pitching "faster, according to Yogi Berra, who caught him, than he had been in the past,"12 Turley made quick work of the Braves' 3-4-5 hitters with a 1-2-3 eighth.
Don McMahon struck out the first two New York batters in the ninth before giving up a single to McDougald and a walk to Mickey Mantle, but Berra's groundout stranded both.
Milwaukee needed four to tie in the bottom of the ninth. Mathews worked a walk, but Crandall and Johnny Logan both flied out. A Joe Adcock pinch-hit single put two on with two out for Schoendienst. Bruton represented the tying run on deck. Red "rifled a liner at [center fielder] Mickey Mantle. On the mound, Turley raised both hands to shoulder level and waited anxiously. Master Mickey enveloped the ball. Turley's arms shot overhead in exultation. He leaped off the ground, almost as if defying the law of gravity."13
In a syndicated column, former catching great Roy Campanella wrote, "Burdette didn't deserve such a fate. He really pitched his heart out and would have won if the Braves gave him any kind of support."14
But just as the Yankees had gotten revenge on Brooklyn by beating the Dodgers in 1956 after losing in 1955, New York flipped the script on Burdette and Milwaukee by winning in 1958 after losing in 1957. The Milwaukee Braves would never again make a World Series, and a Milwaukee team would not appear in the World Series again until 1982.
This article appears in "From the Braves to the Brewers: Great Games and Exciting History at Milwaukee's County Stadium" (SABR, 2016), edited by Gregory H. Wolf. To read more stories from this book at the SABR Games Project, click here.

Notes
1 Lloyd Larson, "There's No Tomorrow … Hail the New Champs, the Yankees," Milwaukee Sentinel, October 10, 1958.
2 Fred Lieb, "Bombers' Big Comeback Led by Bauer," The Sporting News, October 15, 1958, 22.
3 John Drebinger, "Yanks Beat Braves, 6-2, and Win Series; Turley, in Relief, Outpitches Burdette," New York Times, October 10, 1958, 37.
4 Hy Hurwitz, "Yanks Top Braves, 6-2, In Finale to Win Series," Boston Globe, October 10, 1958, 38.
5 Red Smith, "Spahn, Burdette Deserved Title But Tribe Didn't," Boston Globe, October 10, 1958, 37.
6 Richard Dozer, "Skowron's 3 Run Homer Deals 6-2 Defeat to Burdette," Chicago Tribune, October 10, 1958, E2.
7 Bob Wolf, "Yankees' Comeback Equaled Only Once," Milwaukee Journal, October 10, 1958.
8 Edward Prell, "Turley Holds Braves to 2 Hits after Larsen Fails," Chicago Tribune, October 10, 1958, E3.
9 Roscoe McGowen, "Haney Credits Yankees' Hitting and Pitching and Doesn't Blame His Club," New York Times, October 10, 1958.
10 Don C. Trenary, "Couldn't Afford Mistake So We Didn't Make Any, Chortles Happy Stengel," Milwaukee Journal, October 10, 1958.
11 Red Thisted, "No Joy in Bushville!" Milwaukee Sentinel, October 10, 1958: 1.
12 Louis Effrat, "Stengel Calls Improved Defense Key to Yanks' Stirring Series Comeback," New York Times, October 10, 1958.
13 Arthur Daley, "Return to Normalcy," New York Times, October 10, 1958.
14 Roy Campanella, "Yanks Colossal, Won Like Champs — Campy," Milwaukee Sentinel, October 10, 1958.
Additional Stats
New York Yankees 6
Milwaukee Braves 2
Game 7, WS
---
County Stadium
Milwaukee, WI
Box Score + PBP:
Corrections? Additions?
If you can help us improve this game story, contact us.
Tags
https://sabr.org/sites/default/files/Bob%20Turley.jpg
600
800
admin
/wp-content/uploads/2020/02/sabr_logo.png
admin
2018-03-27 21:26:25
2020-04-17 13:34:03
October 9, 1958: Yankees rally late to beat Braves in Game 7 of World Series