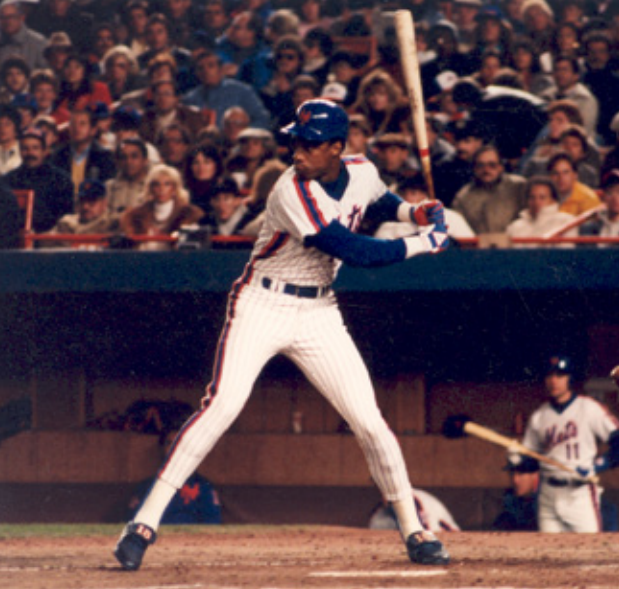 September 28, 1986: Strawberry delivers with 11th-inning homer to beat Bucs
---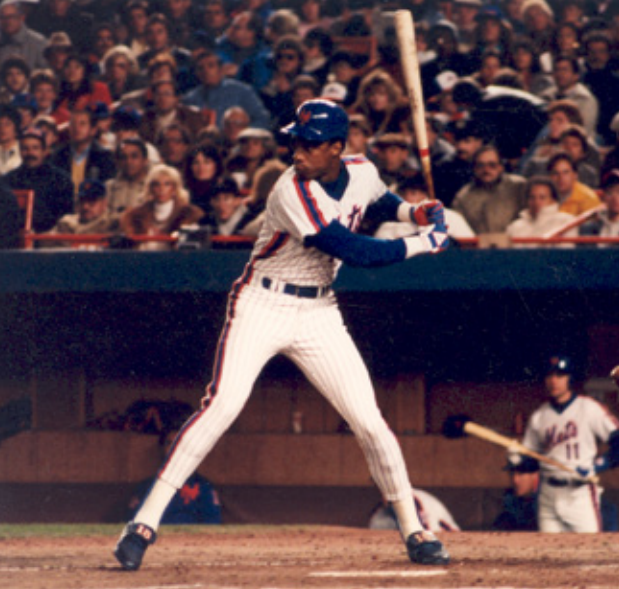 The misery that was the 1986 National League East pennant race for every team except the New York Mets was just about over. There was just a week left in the season; the Mets had already won 102 games. They led the second-place Phillies by 20 games and were in Pittsburgh on Sunday, September 28, to face the last-place Pirates, 40 games back. The proverbial fat lady had indeed sung.
Manager Jim Leyland's Pirates had had no success at all against the Mets in 1986. The teams had opened at Pittsburgh's Three Rivers Stadium on April 8; the Mets won, 4-2. They had also prevailed in 12 of the next 13 meetings, losing only the first game of a June 6 doubleheader in Pittsburgh.1 In this series, they had already won twice, 3-1 on Friday and 4-2 on Saturday. The Saturday win was by way of a two-run Pittsburgh error in the top of the 11th inning.
Only 13,210 had come out on Saturday to watch their cellar-dwelling Bucs, but the Sunday game was the last home date of the season, one traditionally observed as Fan Appreciation Day in Pittsburgh. The Pirates did not disappoint, rolling out over a thousand prizes including a new Cadillac, chicken dinner for everybody, and a promised postgame concert featuring the Four Tops and Chuck Berry. The festivities brought out 30,606, the third largest crowd of the season, and one that moved the Pirates over a million in attendance for the first time in three years.2
The throng settled in for a pitching matchup that augured more Mets success. Manager Davey Johnson sent out 17-game winner Bob Ojeda, a left-hander, against Pittsburgh's Bob Patterson. Patterson, a fellow lefty, was at 27 years old just a year younger than Ojeda but far less experienced; he had made the Opening Day roster, but spent the summer with the Pirates' Pacific Coast League affiliate in Hawaii. He'd earned a September recall, but had pitched only 28⅓ major-league innings, including four the prior year with San Diego. His prospects were shaky as he faced the formidable Mets.3
With the divisional title long since clinched, the Mets rested first baseman Keith Hernandez. Gary Carter moved to first from behind the plate, Ed Hearn took over there, and Tim Teufel, part of a platoon with Wally Backman all season, manned second against left-handed pitching. The Pirates had few names recognizable outside the western Pennsylvania/northern West Virginia/eastern Ohio fan-base area; one who would be much recognizable later, Barry Bonds, was a rookie in 1986 but not in the day's lineup.4
Patterson impressed through the first three innings, yielding only a two-out single to Ray Knight in the second and striking out five, including Carter and Darryl Strawberry in succession before Knight's single. The Mets broke through in the fourth, though, as Teufel hit a leadoff double, reached third with two outs, and scored on Strawberry's infield single. Although Patterson then balked Strawberry to second and Knight singled, Pittsburgh center fielder Bobby Bonilla cut down Strawberry at the plate to save a run and end the half-inning.
Ojeda, meanwhile, didn't allow a Pittsburgh baserunner until Tony Pena singled with two outs in the fifth inning, but he was quickly erased on a force play. Light-hitting Pirates shortstop Sammy Khalifa singled to lead off the sixth. Patterson sacrificed him to second and he went to third on a groundout by Rafael Belliard. The threat ended, though, when Ojeda struck out Bonilla.
Still hanging tough into the New York eighth, Patterson ran through some raindrops at that point as Hearn and Rafael Santana singled to open the inning. Ojeda laid down a bunt, but the Pirates were able to nip Hearn at third. They got another crucial outfield assist when the next batter, Mookie Wilson, lined to Mike Brown in right and Brown's throw to first baseman Sid Bream caught a straying Ojeda for a double play.
Pena led off the Pittsburgh eighth with a single and after Brown fouled out, Leyland sent out three straight pinch-hitters. Johnny Ray walked, but Junior Ortiz, hitting for Patterson, and U L Washington failed to move the runners. It was still Mets 1, Pirates 0.
Leyland's new pitcher, Don Robinson, made quick work of Teufel, Kevin Mitchell, and Carter in the Mets' ninth. Likewise, Ojeda efficiently disposed of Bonilla and Mike Diaz in the bottom of the inning to bring cleanup hitter Jim Morrison to the plate as the Bucs' last hope.
Morrison hadn't gotten the ball out of the infield in three tries against Ojeda. But this time, he launched his 22nd home run of the season to center field, forging a 1-1 tie. After Sid Bream flied out, there was free baseball in Pittsburgh to go with the waiting chicken and concert.
Robinson pitched around an error and a hit batsman to escape the New York 10th. Howard Johnson, one of three pinch-hitters in the inning, had struck out for Ojeda, who was now finished for the day with a frustrating four-hit, one-walk effort and no chance to be the winning pitcher. His replacement, Rick Aguilera, yielded a walk and a single in the bottom half, but, aided by his own skill in turning a would-be sacrifice into a 1-6-3 double play, never allowed a runner past first base.
Leyland had hit for Robinson in the 10th; righty Bob Walk came on as the third Pittsburgh pitcher in the 11th inning. He struck out Wilson and Teufel, but Lenny Dykstra5 singled to right and Carter followed with a single to center.
Strawberry, who had been booed in New York,6 especially during a late-July-through-mid-August swoon,7 and had been occasionally benched against left-handed pitching,8 batted next. Walk, after a visit from Leyland, worked a 2-and-2 count before Strawberry "stepped out and told myself to try something new. I choked up on the bat about half an inch," something he said teammate Keith Hernandez had recently suggested to provide a quick, short swing.9
It worked, and Strawberry later reported "it felt pretty good,"10 as he drove Walk's next pitch into the center-field seats for a three-run homer. It was his 24th of the season. His four RBIs accounted for all the New York scoring in the game.
Knight fanned to end the half-inning, but the snake-bitten Pirates rolled three harmless groundballs in their half off Aguilera, who got the 4-1 win.
Davey Johnson lamented for Ojeda: "It's a shame Bobby couldn't have won it, because he deserved to the way he pitched. If there's anybody on my staff who qualifies for the Cy Young Award, he's right there."11
Jim Leyland lamented the weekend of close losses for his club, now 32 games under .500: "If we had been able to execute just one more thing in each game, we could have swept this series. We gave them a battle, but that's still no consolation when you get swept."12
And the crowd lamented that it took extra innings to sink their Bucs. Chuck Berry's contract stipulated that he would start before 5 P.M. When the game ran past that, he refused to perform. Fortunately, the fans, bolstered by 60,000 pieces of chicken, 4,400 pounds of cole slaw, 40,000 dinner rolls, and freely-flowing Coca-Cola all around, got to see an extra half-hour of the obliging Four Tops.13
This article originally appeared in "The 1986 New York Mets: There Was More Than Game Six" (SABR, 2016), edited by Leslie Heaphy and Bill Nowlin.
Sources
In addition to the sources cited in the Notes, the author utilized the Baseball-Reference.com and Retrosheet.org websites for box scores, player, team, and season pages, pitching and batting logs, and other data pertinent to this article.
Notes
Additional Stats
New York Mets 4
Pittsburgh Pirates 1
11 innings
---
Three Rivers Stadium
Pittsburgh, PA
Box Score + PBP:
Corrections? Additions?
If you can help us improve this game story, contact us.
Tags
http://sabr.org/sites/default/files/Strawberry-Darryl.png
600
800
admin
/wp-content/uploads/2020/02/sabr_logo.png
admin
2016-12-27 15:34:11
2020-04-17 10:25:57
September 28, 1986: Strawberry delivers with 11th-inning homer to beat Bucs