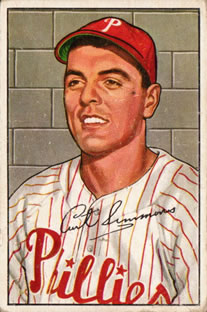 September 9, 1950: Phillies rally to beat Braves in Curt Simmons' last start before call to arms
---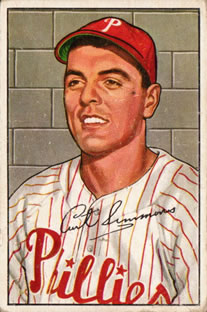 "Naturally we're going to miss him," said Philadelphia Phillies manager Eddie Sawyer about left-hander Curt Simmons. "No team can lose a pitcher of Curt's caliber without feeling it."1 In his breakout campaign, the 21-year-old southpaw made his last start on September 9 of the Phillies' most exciting season in history since their last pennant, in 1915. The following day, Simmons reported to Camp Atterbury in Indiana, where his other team, the 28th Division of the Pennsylvania National Guard, began training as the conflict on the Korean peninsula intensified.
The Phillies were in unusual territory when they arrived at Shibe Park on that Friday to play the first of a two-game set with the Boston Braves. In a pennant race for the first time since 1916, in the days of Pete Alexander and Eppa Rixey, Philadelphia was in first-place (81-52), 5½ games in front of the Brooklyn Dodgers. But the Whiz Kids, the youngest team in the NL, heard footsteps behind them. After winning 11 of 15 games on a road trip, the Phillies had lost the first five games on their current 18-game homestand, including three straight to Brooklyn before pulling out a hard-fought 4-3 victory the night before on Russ Meyer's six-hit complete game. "We weren't hitting against the Dodgers," said Sawyer. "The kids were a little tight."2 Sawyer, the youngest manager in the NL at just 39 years of age, took the losses in stride. "We're still on top," he told Phillies beat reporter (and former major leaguer) Stan Baumgartner. "We were due for a little letdown."3 In contrast, Billy Southworth, skipper of the Boston Braves, saw his club's chances for their second pennant in three years slipping away. The Tribe was in third place (72-57), seven games behind the Phils, but was playing inconsistently of late, having won only 12 of their last 23 games.
The highly touted Simmons, a former bonus baby who had notched a disappointing 12-23 record in his first three seasons, entered the game with a stellar 17-8 record and now was arguably the best left-handed starter in the NL not named Spahn. His season had already been interrupted once, for about 10 days, when he fulfilled his service obligations to the National Guard in August. He returned to win three of five decisions, including two shutouts. "[H]is very presence as one of the four starters," opined Stan Baumgartner, "helped the other pitchers maintain balance."4 Simmons's unit had actually been activated on September 5, but spent a week at the armory at Broad and Diamond in Philadelphia before shipping out to Camp Atterbury. As a result, Simmons was required to be at the armory from 7 A.M. to 5 P.M. before reporting to the ballpark.5
His mound opponent that evening was 28-year-old Max Surkont, a hard-throwing right-hander, making just his third start for the Braves since his acquisition from the Chicago White Sox three weeks earlier. After an erratic rookie season, Surkont had regained his groove with the Sacramento Solons (Pacific Coast League) in 1950, going 18-13.
A crowd of 24,488, including 9,159 screaming children who received free tickets, packed Shibe Park to see a game described by the Associated Press as "bizarre,"6 and as "sloppy" by Boston sportswriter Clif Keane.7 The teams combined for 13 runs, 27 hits, 4 errors, and 2 passed balls, leading Keane to quip sarcastically that the game was "probably an example of the stuff people played back in '76," the year the NL was founded.8
After a quiet first inning, the Braves struck first following two consecutive errors by Phillies second baseman Mark Goliat. Light-hitting Buddy Kerr stroked a two-out double to right field to give the visitors a 2-0 lead. The score remained that way until the bottom of the fourth, when all five Phillies batters connected on Surkont's first pitch.9 Del Ennis reached on a bunt single to lead off the inning and Jackie Mayo doubled to put runners on second and third. After Granny Hamner popped to first for the first out, Andy Seminick knocked in Ennis on a grounder to short. Goliat followed with a single to left field, but Mayo, racing from second base, was cut down at home plate on a strong throw by Sid Gordon to end the frame.
Surkont and Simmons remained locked in a tight pitchers' duel through six innings. That changed quickly in the seventh. Boston's Roy Hartsfield led off the inning with a thundering home run to left field. After Sam Jethroe fanned, Earl Torgeson singled, stole second, and moved to third when Seminick's wild throw sailed into center field. The Phillies caught a break when Simmons fielded Bob Elliott's chopper back to the mound and fired a strike to Seminick to nail a charging Torgeson at the plate. But Simmons's day was over two batters later when Walker Copper singled and Sid Gordon followed with one of his own to drive in Elliott and make the game 4-1. The fans knew that this was Simmons's last game and as he left the mound they all rose and gave him a rousing ovation.10 Bob Miller came in to relieve and, after Seminick's passed ball, put out the fire by intentionally walking Tommy Holmes to load the basses and dispatching Kerr on a fly ball to center.
The Phillies must have been inspired by the Braves' inning. With runners on second and third, courtesy of a single, walk, and passed ball, pinch-hitter Dick Whitman hit a "slow grounder" to first baseman Torgeson for what appeared to be an easy out, but Surkont failed to cover the bag. Whitman was safe and Granny Hamner scored.11 Eddie Waitkus followed with a shallow fly to center field. According to Cliff Keane, Jethroe let loose with a wild "transcontinental peg" that flew over catcher Walker Cooper's head, allowing Goliat to score easily. Whitman, on second, "undoubtedly had never seen anything like it," continued Keane, and strolled to third.12 Richie Ashburn tied the game, 4-4, when he singled, plating Whitman and ending Surkont's day.
The Phillies led off the eighth with three straight hits off reliever Bobby Hogue. After Ennis doubled, Mayo chopped a bunt in front of the plate, but Hogue lost the ball in the sun, enabling Mayo to reach first safely. Hamner singled to drive in Ennis and give the Phils their first lead of the game, 5-4. Seminick greeted reliever Dave Cole, making his first big-league appearance, with a deep fly to left field to drive in Mayo. With one out and runners on first and second, Sawyer let Jim Konstanty, who had hurled a 1-2-3 eighth, bat for himself. The result was an inning-ending double play when Konstanty whiffed and Goliat was caught stealing.
Konstanty, who had allowed only three earned runs in his previous 45⅔ innings, "was not his usual reliable self," wrote the AP.13 Torgeson connected for a single off the eventual 1950 NL MVP to lead off the ninth. Elliott "pickled one of Konstanty's pet sliders" for his 21st round-tripper of the season to tie the game, 6-6.14 After Gordon singled with one out, Konstanty avoided more trouble by inducing Willard Marshall to hit into an inning-ending 4-6-3 double play.
In what was described by Clif Keane as "one of [Southworth's] several errors of judgment," Cole was on the mound for the Braves to start the ninth and "met his Waterloo."15 Waitkus led off with a single and moved to second on Ashburn's sacrifice bunt off reliever Mickey Haefner. Next up was Willie "Puddin' Head" Jones, mired in a "paralyzing slump" with just one hit in his previous 27 at-bats.16 After taking a ball and a strike, he lined a walk-off single into the left-field corner to drive in Waitkus, giving the Phillies a dramatic victory, 7-6. "Luck stuff," said Braves' coach Johnny Cooney incredulously after the game. "Jones hits a knuckleball on his fist and gets two bases."17 [With Waitkus on second, Jones was officially credited with a single].
Konstanty got credit for the win to improve his record to 14-5 while Cole was collared with the loss in his debut in a game that lasted 2 hours and 25 minutes. Although Simmons's last outing until April 29, 1952, did not have a fairy-tale finish, he pitched well enough to keep the Phils in the game, surrendering nine hits, striking out three, and walking two in 6⅔ innings. Only two of the four runs charged to him were earned. "It's a shame about the kid," said Sawyer. "He was due for a great season. If he hadn't already lost that time in Army training (in August), I think he would have won 20 games by now."18
For his part, Simmons was stoic about having to leave the team in the middle of a pennant race. Simmons realized that there was political pressure not to treat ballplayers any different than any other reservists and there was not much anyone could do about it.19
The Phillies' victory was a team effort, indicative of how the club played all season long. Each position player other than the catcher, Seminick, recorded a hit, led by Hamner's three; six different players scored a run, and the same number drove in a run. With the win, the Whiz Kids increased their lead to 6½ games over the Dodgers with 20 games to play. Braves manager Billy Southworth suggested yet another reason for Philadelphia's success. "In my 40 years in baseball," said the future Hall of Famer, "I have never seen fans equal to those of Philadelphia. They won as many games as the players."20
This article appears in "The Whiz Kids Take the Pennant: The 1950 Philadelphia Phillies" (SABR, 2018), edited by C. Paul Rogers III and Bill Nowlin. Click here to read more stories from this book at the SABR Games Project.
Sources
In addition to the sources in the notes, the author consulted BaseballReference.com, Retrosheet.org, and SABR.org.
Notes
1 The Sporting News, September 20, 1950: 17.
2 Clif Keane, "Braves Hand Phillies 7-6 Verdict," Boston Globe, September 10, 1950: C47.
3 The Sporting News, September 20, 1950: 9.
4 Ibid.
5 Robin Roberts and C. Paul Rogers III, The Whiz Kids and the 1950 Pennant (Philadelphia: Temple University Press, 1996), 286.
6 AP, "Phillies Shade Braves on Jones' Hit in Ninth," Springfield (Massachusetts) Republican, September 10, 1950: B1.
7 Keane.
8 Keane.
9 Joe Looney, "Jones Hit Nips Tribe in 9th," Boston Herald, September 10, 1950: 57.
10 Roberts and Rogers, 285.
11 Clif Keane and Joe Looney go into detail on this play. According to BaseballReference.com, Whitman singled to center and advanced on Jethroe's error.
12 Keane.
13 AP.
14 AP.
15 Keane.
16 AP.
17 The Sporting News, September 27, 1950: 4.
18 The Sporting News, September 20, 1950: 17.
19 Roberts and Rogers, 286.
20 The Sporting News, September 27, 1950: 4.
Additional Stats
Philadelphia Phillies 7
Boston Braves 6
---
Shibe Park
Philadelphia, PA
Box Score + PBP:
Corrections? Additions?
If you can help us improve this game story, contact us.
Tags
https://sabr.org/sites/default/files/SimmonsCurt-PHI.jpg
600
800
admin
/wp-content/uploads/2020/02/sabr_logo.png
admin
2018-11-28 12:50:48
2020-04-17 10:23:44
September 9, 1950: Phillies rally to beat Braves in Curt Simmons' last start before call to arms