This Week in SABR: April 29, 2016

Welcome to "This Week in SABR!" Click here to view this week's newsletter on the web. Here's what we've been up to as of April 29, 2016:
---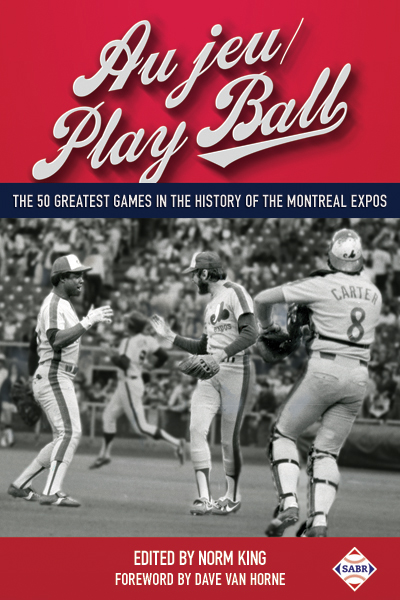 Add a championship book to your collection with the newest e-book from SABR Digital Library:
Au jeu/Play Ball: The 50 Greatest Games in the History of the Montreal Expos
Edited by Norm King
Foreword by Dave Van Horne
ISBN (paperback): 978-1-9438-1615-6, $12.95
ISBN (ebook): 978-1-9438-1614-9, $5.99
149 pages, 8.5″ x 11″

This volume by members of the Society for American Baseball Research (SABR) presents the 50 greatest games in Montreal Expos history. The games described here recount the exploits of the many great players who wore Expos uniforms over the years — Bill Stoneman, Gary Carter, Andre Dawson, Steve Rogers, Pedro Martinez, and others.
The book details games from the earliest days of the franchise, to the glory years of 1979-81, the what-might-have-been years of the early 1990s, and the sad, final days. It describes the famous first game at Shea Stadium on April 8, 1969, when the Expos defeated that year's eventual world champion New York Mets. It also details the first regular season major league game ever played outside the United States, when fans jammed little Jarry Park and began a love affair with the team.
These game summaries don't just retell the runs, hits, and errors. They give a context to the times and individuals involved. The article about Dennis Martinez's perfect game also describes how he overcame his struggle with alcohol to resurrect his career. The piece about Curtis Pride recounts how he reached the major leagues despite the disadvantages of deafness, and what it felt like when 45,000 fans cheered as Expos coach Jerry Manuel spurred him through gestures to acknowledge the crowd.
SABR members, get this e-book for FREE!
Having trouble downloading our e-books? To view PDF files on your computer, click here to download the free Adobe Reader software. Having trouble downloading e-books to your Kindle, Nook, Sony Reader or iPad? Click here for additional help.
SABR members will get discounted rates for all Digital Library publications, including many for free. To download all past titles, visit SABR.org/ebooks.
---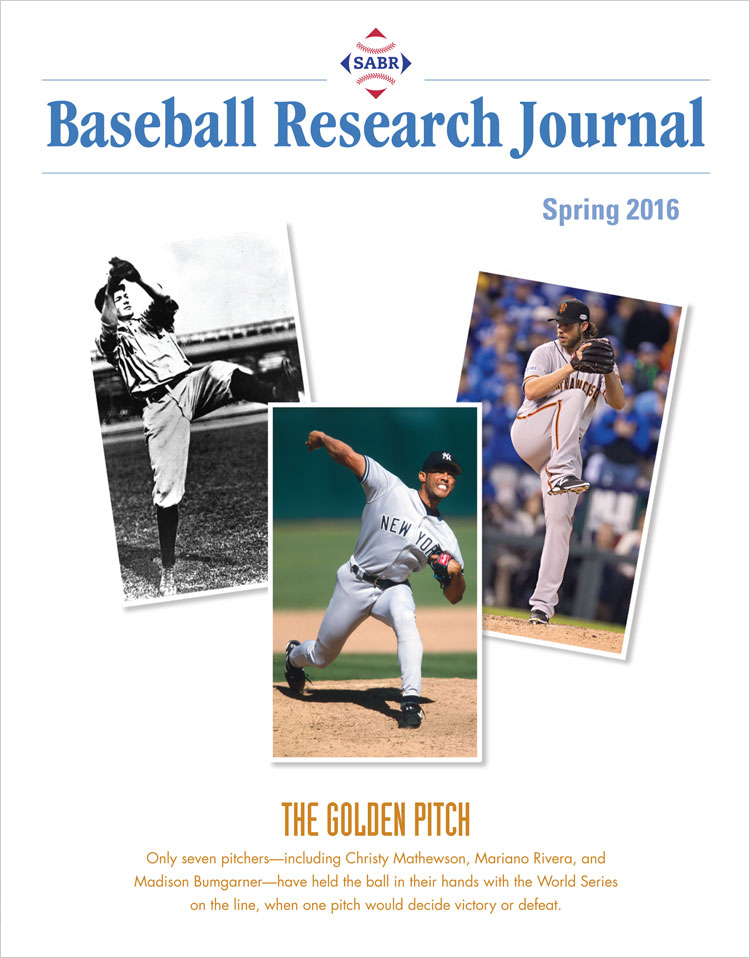 Good news! The Spring 2016 edition of the Baseball Research Journal has been mailed out to all SABR members.
Those of you who receive the print edition should find your BRJ arriving very soon, although we hear many have already arrived. For digital subscribers, the e-book edition was delivered to your inboxes on April 7.
To learn more about contributing to a future SABR publication, click here.
Having trouble downloading our e-books? To view PDF files on your computer, click here to download the free Adobe Reader software. Having trouble downloading e-books to your Kindle, Nook, Sony Reader or iPad? Click here for additional help.
We hope you enjoy reading the Spring 2016 Baseball Research Journal!
---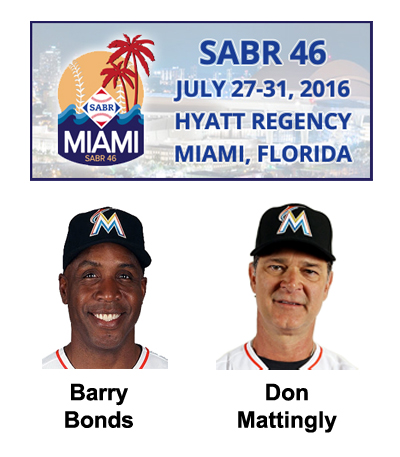 We are excited to announce that former MLB All-Stars Barry Bonds and Don Mattingly will be featured speakers at the SABR 46 convention this summer in Miami.
SABR 46 will be held July 27-31, 2016, at the Hyatt Regency Miami. Discounted early registration rates are available now at SABR.org/convention. All baseball fans are welcome to attend.
Bonds, who joined the Miami Marlins as their hitting coach in 2016, was one of baseball's most complete and controversial players, a seven-time MVP and 14-time All-Star who ranks among the all-time leaders in almost every offensive category, playing for the Pittsburgh Pirates from 1986-1992 and San Francisco Giants from 1993-2007. He holds the single-season (73) and career (762) records for most home runs, surpassing Hank Aaron's iconic total of 755 in 2007. His 2,558 walks are the most by any hitter, and he also ranks third in runs scored and fifth in RBIs. He stole 514 bases and earned eight Rawlings Gold Glove Awards. He is the son of former major-leaguer Bobby Bonds and the godson of Hall of Famer Willie Mays.
Mattingly is entering his first year as the Marlins manager, after a five-year stint with the Los Angeles Dodgers, where he won three consecutive NL West titles from 2013-15. He played 14 seasons with the New York Yankees, compiling more than 2,000 hits, 222 home runs and a .307 lifetime average. He was a six-time American League All-Star, a nine-time Rawlings Gold Glove Award winner, and voted the league's Most Valuable Player in 1985. In 1987, he tied an MLB record by hitting home runs in eight consecutive games and set a record with six grand slams in a season.
Both former ballplayers will be part of our SABR 46 pregame ballpark session at Marlins Park on Friday, July 29, moderated by SABR member and MLB.com columnist Barry M. Bloom. You must be registered for SABR 46 and have a Marlins game ticket in order to attend the ballpark session. Discounted all-inclusive registration packages are now available at SABR.org/convention.
Please note: All speakers are subject to change depending on availability.
More details and the complete schedule will be announced in the coming months. Find more information on SABR 46 at SABR.org/convention.
---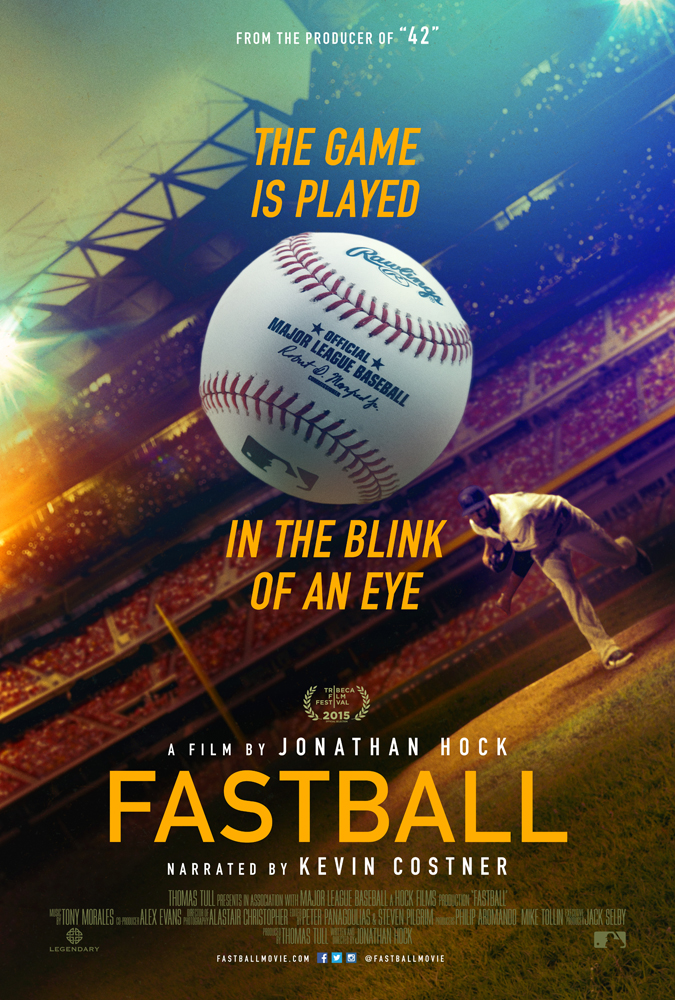 Attendees at SABR 46 this summer will have a chance to see a special screening of the new Fastball documentary film, directed by the Emmy Award-winning Jonathan Hock and narrated by Kevin Costner, on Thursday, July 28, 2016, at the Hyatt Regency Miami.
Discounted early registration rates are now available for SABR's 46th national convention at SABR.org/convention. All baseball fans are welcome to attend. The convention will be held July 27-31, 2016, in Miami, Florida.
Filmed at baseball's most hallowed grounds, from the Hall of Fame in Cooperstown to Yankee Stadium to the sandlot field in Weiser, Idaho, where Walter Johnson's fastball changed the game over a hundred years ago, the film provides unparalleled insight into both the mechanics and the mythos of our National Pastime. The film features interviews with dozens of former players, from legendary Hall of Famers to up-and-coming All-Stars. Fastball documents the history of the "fastest" pitcher — from Walter Johnson's famous speed of 122 feet per second, to Bob Feller's post-war record of 98.6 mph, to Nolan Ryan's "officially" clocked best of 100.9, to the current speed gun king Aroldis Chapman's 105.1.
For more information on Fastball, or to view a trailer of the film, visit fastballmovie.com.
---

We hope you'll join us for what promises to be a spectacular SABR 46 convention, July 27-31, 2016, at the Hyatt Regency Miami in downtown Miami, Florida.
All SABR 46 attendees will also receive a souvenir print edition of The National Pastime, our annual convention journal, focusing on baseball teams, players and events in the Miami area. All SABR members, whether you attend the convention or not, will receive the expanded e-book edition of The National Pastime in their inboxes later this summer. Click here to register for SABR 46.
---
With generous funding from The Anthony A. Yoseloff Foundation, Inc., SABR will award up to four scholarships to high school or college students to attend SABR 46 in Miami. This scholarship will pay for registration, transportation and lodging (double occupancy) up to a total value of $1,250. Students must be currently enrolled in a high school, college undergraduate or graduate program, and be between 18 and 29 years of age at the time of the conference. Some form of age verification (photocopy of driver's license, passport, etc.) must be attached to your application.
Submissions must include a written essay and a letter of recommendation from a current high school/college teacher, guidance counselor or a school administrator. The deadline to apply is May 1, 2016.
For full details on how to apply, or to download an application, click here.
---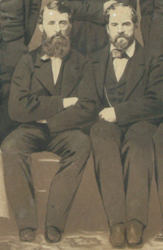 SABR's 19th Century Baseball Grave Marker Project is pleased to announce a special ceremony to dedicate the newly installed marker for New York Knickerbocker pioneer James Whyte Davis.
Join us at 10:00 am on Saturday, May 14, 2016, at the main entrance of Brooklyn's historic Green-Wood Cemetery (500 25th Street, Brooklyn, NY 11232) as celebrants take a trolley tour, hosted by historian Tom Gilbert, through the story of early baseball. The journey will begin at the burial site of "Too Late" Davis, where the first marker installed by the young Project will be unveiled.
The grave marker unveiling is free and open to all cemetery visitors. A ticket for the trolley tour is $20 and must be purchased in advance.
Inspired by an idea proposed by official Major League Baseball historian John Thorn at SABR's 2015 Frederick Ivor-Campbell 19th Century Base Ball Conference, the committee was formed last year in an effort to correct some of the slights of history. The game's pioneers spent their early working lives dedicated to a sport that, even at the highest level, had not yet become the lucrative opportunity we think of today. Many of them died without the funds to mark the ground where they were laid to rest. With the help of donations from SABR members as well as a generous grant from Major League Baseball, the Project intends that James Whyte Davis — pictured at right, with Doc Adams — is just the first of many afforded the honor they were denied at the times of their deaths.
To learn more about James Whyte Davis at John Thorn's "Our Game" blog, click here.
Before the ceremony, guests will take a tour of the most famous final resting place in New York City. Through the Gothic spires of Green-Wood Cemetery lie more than 200 of the game's early players, managers, executives, and notables. Hall of Famer Henry Chadwick and baseball's first superstar, Jim Creighton, spend eternity not far from Davis, as do other former Knick teammates Louis F. Wadsworth, Duncan Curry, and William Tucker. The history of the early game is told in the stone of Green-Wood.
Graveside speeches by noted baseball historians will tell the story of Davis, a man that Doc Adams referred to as baseball's first "fiend." Please be a part of this historic event and celebrate the life of one of the men whose largely unknown history played such an important role in America's Pastime.
For more information, please contact Ralph Carhart at thehallballproject@gmail.com.
---
The 19th annual Jerry Malloy Negro League Conference will be held July 7-9, 2016, in Kansas City. The conference is open to all baseball, history and sports fans of all ages. Registration is now available.
The 2016 Jerry Malloy Negro League Conference will celebrate "Barnstorming in the Negro Baseball Leagues." Barnstorming has always been a central part of the life of Negro League ballplayers. All Negro Leaguers took part in barnstorming games across the country and in cities like Kansas City. Monarchs great Satchel Paige, whose 110th birthday is being celebrated during this conference, did his fair share of barnstorming. Presentations may focus on any topic related to the theme, or other Negro Leagues issues.
Visit SABR.org/malloy for information on the 2016 Call for Papers, Essay Contest, Art Contest, and Library Grant Program.
---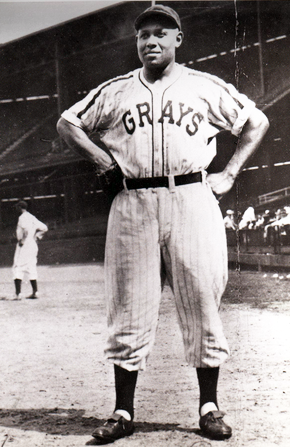 We are pleased to pass along this update from SABR member Gary Ashwill at Seamheads.com on April 25:
After two years of relative stability, 1940 proved to be a difficult season for the Negro leagues, as the trickle of players defecting to Venezuela or (especially) Mexico became a flood. Many of black baseball's biggest stars—Josh Gibson, Cool Papa Bell, Willard Brown, Leon Day—spent most or all of 1940 south of the border.

Compounding this problem, the most famous of the Negro leaguers, Satchel Paige, spent his fourth consecutive season in exile. Injury and a refusal to play for the Newark Eagles, the team that owned his contract, had kept him off league rosters since 1936. Finally a complicated deal that awarded the Eagles two other players from the Crawfords—shortstop Bus Clarkson and pitcher Ernie Carter—resulted in Paige being allowed to suit up for league games with the Kansas City Monarchs, the club whose barnstorming B-team he had been headlining for two years. (Unfortunately we don't yet have any box scores covering his league appearances late in 1940.)

The Homestead Grays may have lost Josh Gibson to Mexico, but they retained most of the rest of their roster, including Ray Brown (16-2, 1.88), Buck Leonard (.369, 8 homers), and Edsall Walker (11-4, 3.13). The Grays, now playing most of their home games in Washington, D. C., also added Howard Easterling (.344./.404/.511) and the 44-year-old Jud Wilson. The latter was supposed to make up for the loss of Gibson's power but finished the year homerless and with a .260 average. Still, these players proved to be just enough to stave off the Elite Giants' challenge and give the Grays their third pennant in four years.

Over in the Negro American League, the defending champion Kansas City Monarchs lost their two best everyday players, Willard Brown and Ted Strong. But KC compensated through the fine play of infielders Herb Souell (.340) and Jesse Williams (.368) and the pitching of Frank Bradley (4-1, 2.38), Jack Matchett (6-2, 2.58), and others, and won the pennant going away.

Once again, we owe our stats for the 1940 season to Larry Lester, Wayne Stivers, and the Negro League Researchers and Authors Group.
Read the full update here: http://seamheads.com/2016/04/25/negro-leagues-db-update-1940-nnl-nal/
To view the award-winning Seamheads Negro Leagues Database, visit http://www.seamheads.com/NegroLgs/index.php
---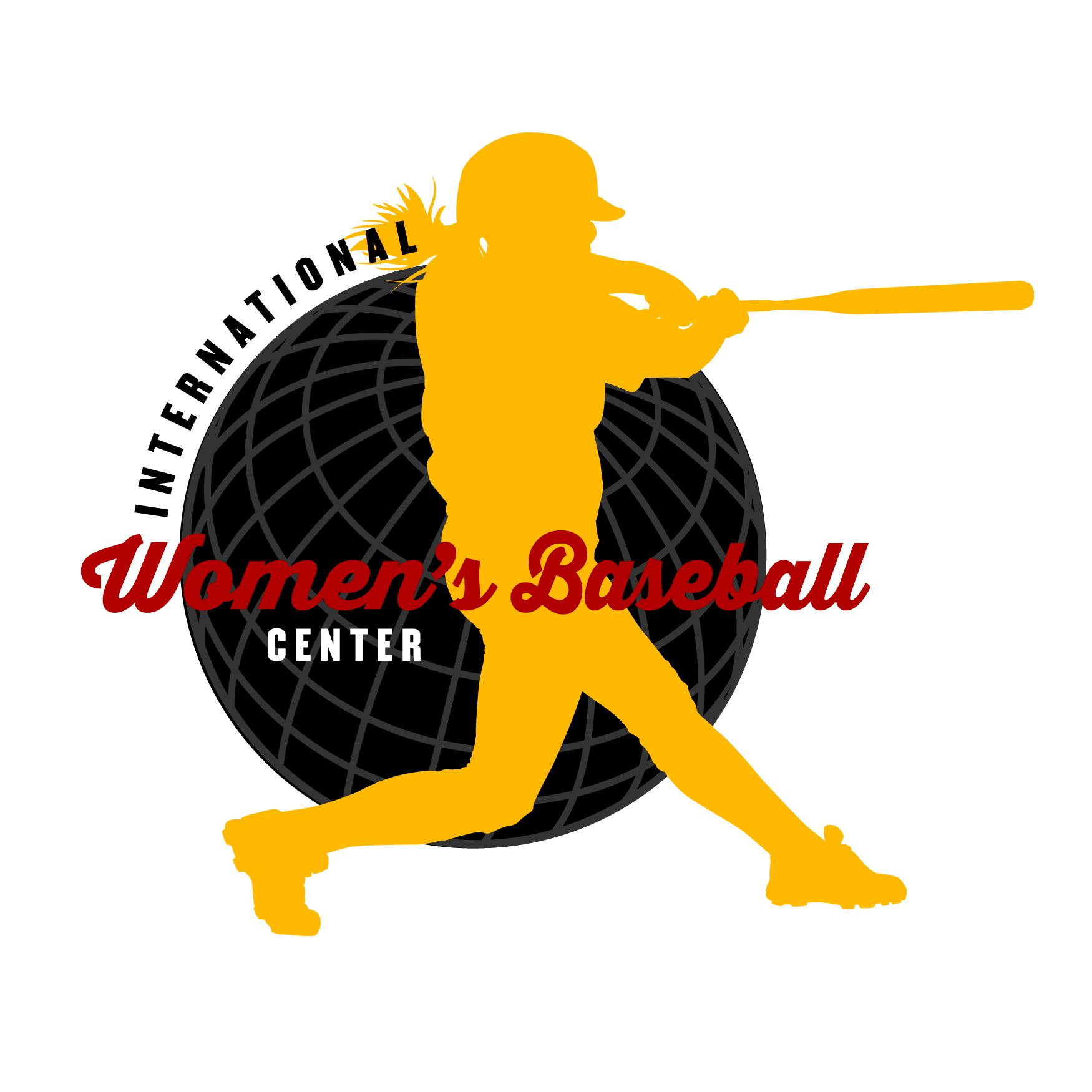 SABR's Women in Baseball Research Committee is teaming up with the International Women's Baseball Center to sponsor the 2016 Women on the Diamond art competition.
The winning entry and runner-up in each category, professional and amateur, will have their art displayed during the third annual Women's Baseball Symposium in September 2016 at the Louisville Slugger Museum in Louisville, Kentucky. The winning entry in the professional and amateur category will also receive a $200 prize. Photos of the winning entries and runners-up will also be included in an upcoming issue of SABR's Women in Baseball newsletter.
Deadline for all entries to be received is May 23, 2016. Entry fee: $30 (includes up to three entires per category); make all checks out to "International Women's Baseball Center." JPG images may be e-mailed to Lheaphy@kent.edu or photocopies/entry fees mailed to: Dr. Leslie Heaphy, Kent State University at Stark, 6000 Frank Rd., No. Canton, OH 44720. For sculptural works, multiple pictures in jpeg format may be entered. All entries must be "by the hand of the artist." For complete criteria, click here to download the application form.
A Youth Art Contest is also being held, with an entry fee of $10. The winner will receive a $150 prize. All schools that enter students will have their name placed in a drawing and two winners will be chosen. The winning schools will each receive $250 worth of age-appropriate books about women's baseball for their libraries. Click here to download the Youth Art Contest application form.
Judges include graphic designers and artists Miranda Bowman, Gary Cieradkowski, James Fiorentino, and Debbie Sampson.
For more information on the Women in Baseball Research Committee, click here.
---
Jeff Long has been selected as the winner of the fourth annual Greg Spira Baseball Research Award. His $1,000 prize-winning entry, "Every Player in Its Right Place," was written for Baseball Prospectus, where he has been a writer since 2014.
Long's winning piece featured the comparison of players using proprietary information through an arrangement with Ayasdi, an analytics company that uses machine intelligence software to analyze data sets. Looking at all 311 players with at least 250 plate appearances in 2014, Long analyzed the resulting topological maps, providing a new look at "the old ballgame," those who play it at the highest level, and how many have more similar skill sets than would otherwise.
Jon Feyen was selected for the $200 second prize. "Analytics: The New Currency of Major League Baseball" was the capstone project in his Sports Management graduate degree program at Cardinal Stritch University in Fox Point, Wisconsin. Feyen gleaned many of his insights while serving as an advance scout for the Milwaukee Brewers in 2015.
Third-place winner Ben Diamond is 18 years old and a student at Wesleyan University in Middletown, Connecticut. Diamond is the youngest person to earn a Spira prize in the four years that Spira Award has been given. He received the $100 prize for his piece, "What Is the Success Rate of Shoulder Surgery?" on the Baseball Essential website.
The Greg Spira Award is given annually in recognition of the best published article, paper, or book containing original baseball research by a person 30 years old or younger. The winners are announced on April 27, Greg Spira's birthday. This year's award was announced on the 49th anniversary of Greg's birth.
The Greg Spira Memorial Baseball Library is housed at the SABR office in Phoenix, Arizona. Visitors to the SABR office are welcome to use the Greg Spira Memorial Baseball Library for research or reading. Please call (602) 496-1460 before your visit to check on office hours and availability. For more information, please go to www.SpiraAward.org or contact Gary Gillette, co-founder of the Spira Award and Secretary for the Spira Award Committee.
To learn more about this year's winners, click here.
---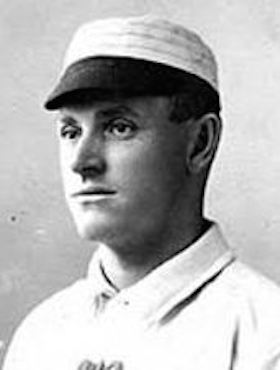 Six new biographies were posted this week as part of the SABR Baseball Biography Project, which brings us to a total of 3,745 published biographies. Here are the new bios published this week:
All new biographies can be found here: http://sabr.org/bioproj/recent
---
Two new game stories were posted this week as part of the SABR Games Project. Here are the new game stories:
All new Games Project stories can be found here: http://sabr.org/gamesproject/recent
---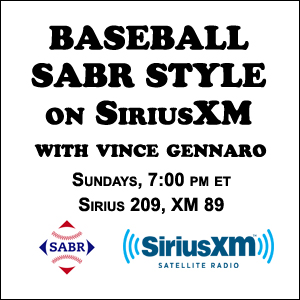 Behind the Numbers: Baseball SABR Style on SiriusXM, a radio show hosted by SABR President Vince Gennaro, will air this weekend at its regular time, 7:00-8:00 p.m. ET on Sundays, on MLB Network Radio.
This week's guest is SABR member Ben Lindbergh, co-author (with Sam Miller) of The Only Rule Is It Has To Work: Our Wild Experiment Building A New Kind of Baseball Team.
Now, you can also watch video highlights of Behind the Numbers: Baseball SABR Style on SiriusXM on MLB.com and you can also listen to all recent episodes on-demand on the SiriusXM Internet Radio App.
Click here to watch more video highlights of Baseball SABR Style from MLB.com.
Behind the Numbers: Baseball SABR Style on SiriusXM focuses on examining and interpreting the statistical analysis that plays a critical role in baseball today. It airs weekly throughout the year on MLB Network Radio, available to subscribers nationwide on XM channel 89, Sirius channel 209, and on the SiriusXM Internet Radio App.
For more information, click here.
---
We've heard your feedback: Some of you have said you look forward to "This Week in SABR" every Friday, but sometimes there are just too many compelling articles and announcements to read every week. We're not complaining — hey, keep up the great work! — but we know the feeling. So in an effort to make the length of this newsletter more manageable to read, we'll summarize some of the repeating/recurring announcements in a special "In Case You Missed It (ICYMI)" section of "This Week in SABR".
Here are some major headlines from recent weeks that we don't want you to miss:
All previous editions of This Week in SABR can be found here: http://sabr.org/content/this-week-in-sabr-archives.
---
We'd like to welcome all of our new SABR members who have joined this week. You can find all Members-Only resources at members.sabr.org and the Membership Handbook can be downloaded here.
Please give these new members a warm welcome and help them make the most of their membership by giving them the opportunity to get involved in their local chapter or a research committee.
You can find contact information for any SABR member in the online membership directory (SABR.org/directory).
| Name | Hometown | | | Name | Hometown |
| --- | --- | --- | --- | --- | --- |
| Hank Cole | Golden, CO | | | Kimberly Hannigan | Denver, CO |
| Mike Cormany | Sandwich, IL | | | Daniel Jallits | Elmhurst, IL |
| Chris Dahl | White Plains, NY | | | Zachary Kramer | San Francisco, CA |
| Adam Ehart | Towson, MD | | | Gary LaBrec | Manchester, CT |
| Joel Emrick | Leeds, MA | | | Ethan Moore | Broomfield, CO |
| Colin Gallagher | Kent, OH | | | Greg Petty | Denver, CO |
| Kyle Ganning | Newton, NJ | | | Joseph Price | Whittier, CA |
| Anthony Giancana | Phoenix, AZ | | | Phil Ross | Denver, CO |
| Tiffany Haenfler | Edgerton, MN | | | Michael Sanchez | Coral Gables, FL |
| Erin Haight | Spokane, WA | | | Tom Stanton | New Baltimore, MI |
---
Here are the new SABR research committee updates this week:
Find all SABR research committee newsletters at SABR.org/research.
---
Here are the new regional chapter updates this week:
Visit SABR.org/chapters for more information on SABR regional chapters.
---
Here is a list of upcoming SABR events:
All SABR meetings and events are open to the public. Feel free to bring a baseball-loving friend … and make many new ones! Check out the SABR Events Calendar at SABR.org/events.
---
Here are some recent articles published by and about SABR members:
Read these articles and more at SABR.org/latest.
---
This Week in SABR is compiled by Jacob Pomrenke. If you would like us to include an upcoming event, article or any other information in "This Week in SABR," e-mail jpomrenke@sabr.org.
Have trouble reading this e-mail? Click here to view this week's newsletter on the web.
Are you receiving our e-mails? "This Week in SABR" goes out by e-mail to all members on Friday afternoons. If they're not showing up, try adding "sabr.notes@sabr.org" to your contact list to ensure they show up in your inbox (and not the spam folder.)
---
Originally published: April 29, 2016. Last Updated: April 3, 2020.
https://sabr.org/wp-content/uploads/2020/03/research-collection4_350x300.jpg
300
350
admin
/wp-content/uploads/2020/02/sabr_logo.png
admin
2016-04-29 15:00:00
2020-04-03 14:38:46
This Week in SABR: April 29, 2016