This Week in SABR: August 1, 2014

Live from Houston, welcome to "This Week in SABR!" Here's what we've been up to as of August 1, 2014:
---
Leslie Heaphy, a SABR Director since 2010 and a recognized authority on the Negro Leagues and women in baseball, was announced as the winner of the Bob Davids Award during the SABR 44 Awards Luncheon on Friday, August 1, 2014, in Houston, Texas.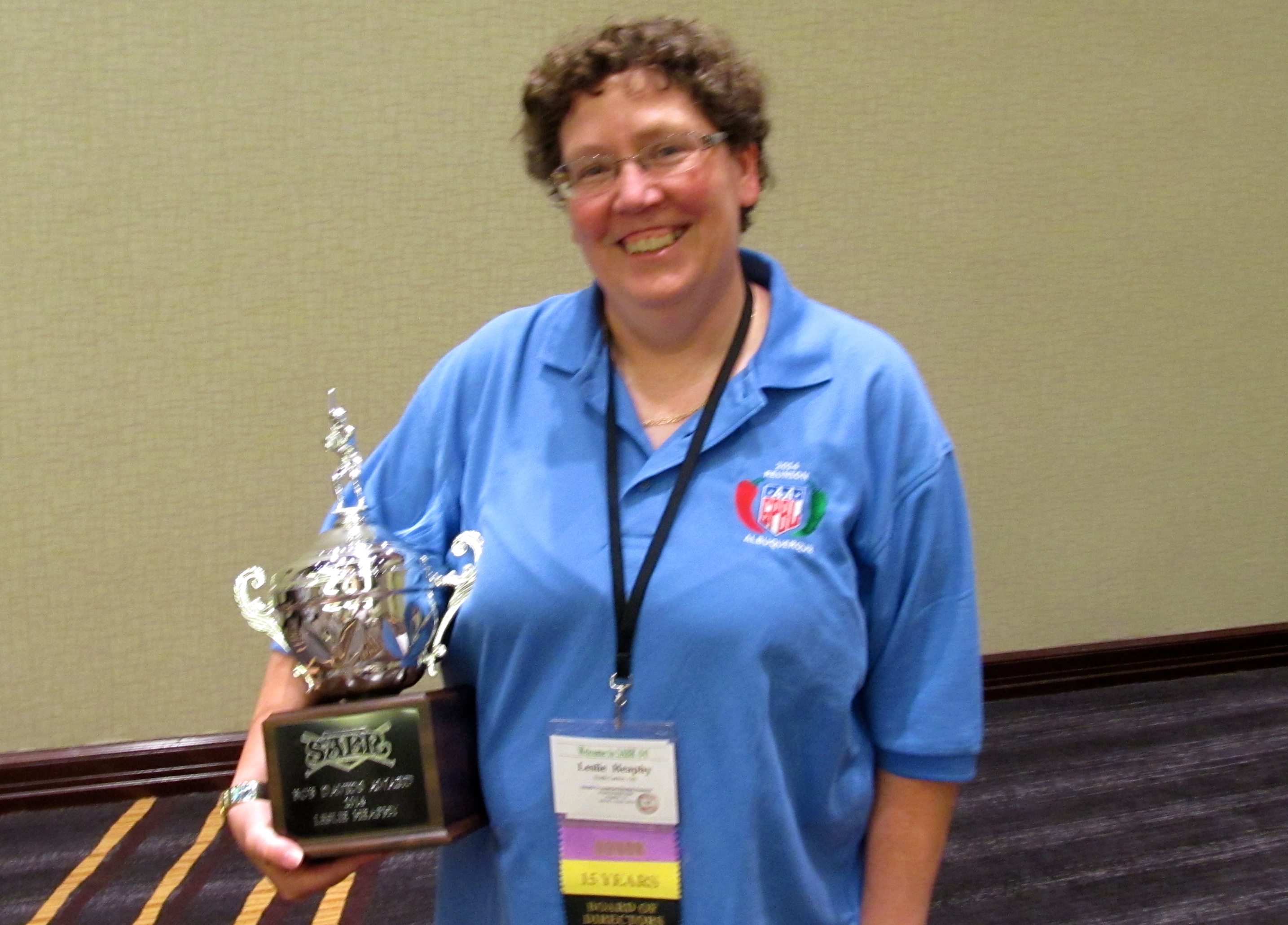 The award — which is the Society's highest honor — honors SABR members whose contributions to SABR and baseball reflect the ingenuity, integrity, and self-sacrifice of the founder and past president of SABR, L. Robert "Bob" Davids.
"I'm truly humbled by this honor," Heaphy said. "I hope I'm worthy of being part of this wonderful group."
Heaphy is Associate Professor of History at Kent State (Ohio) University at Stark, teaching survey classes along with courses in Asian, 20th-century American, and sports history.
She joined SABR in 1989 and has chaired the Women in Baseball Research Committee since 1995. In 1997, she and Larry Lester founded SABR's Jerry Malloy Negro League Conference, the only symposium dedicated exclusively to the examination and promotion of black baseball history. Elected to SABR's Board of Directors in 2010, she continues to serve with distinction.
"Leslie carries her achievements lightly. Everything she does, she does with good sense, good humor, and good will," said Jan Finkel, a Bob Davids Award recipient in 2012 who served on the award selection committee. "Everyone in SABR knows Leslie for her genuine smile and welcoming hand. To know Leslie is to know why we're in SABR: We get to meet people who share our varied interests in baseball and offer friendship and kindness."
Heaphy is a first-rate scholar and researcher. Her work resulted in the 1950s team rosters in The Negro Leagues Book (1994). In 2003, McFarland published her magnum opus (so far), The Negro Leagues, 1869-1960. Since then, and with McFarland, she has edited or co-edited The Encyclopedia of Women and Baseball (2006) and two collections of essays on black baseball in Chicago and Kansas City. In 2008, she became the founding editor of the journal Black Ball, a position she holds to this day. She is currently at work editing a team book on the Colorado Silver Bullets.
Previous Bob Davids Award winners in attendance Friday at the SABR 44 Awards Luncheon were: Bill Carle (1993), Len Levin (1997), David W. Smith (2005), John Thorn (2006), Andy McCue (2007), Mark Armour (2008), Tom Ruane (2009), Bill Nowlin (2011), Jan Finkel (2012), and Dick Beverage (2013).
The Bob Davids Award was established by the Board of Directors in 1985, and is awarded each year at the annual convention. Click here to view previous winners.
---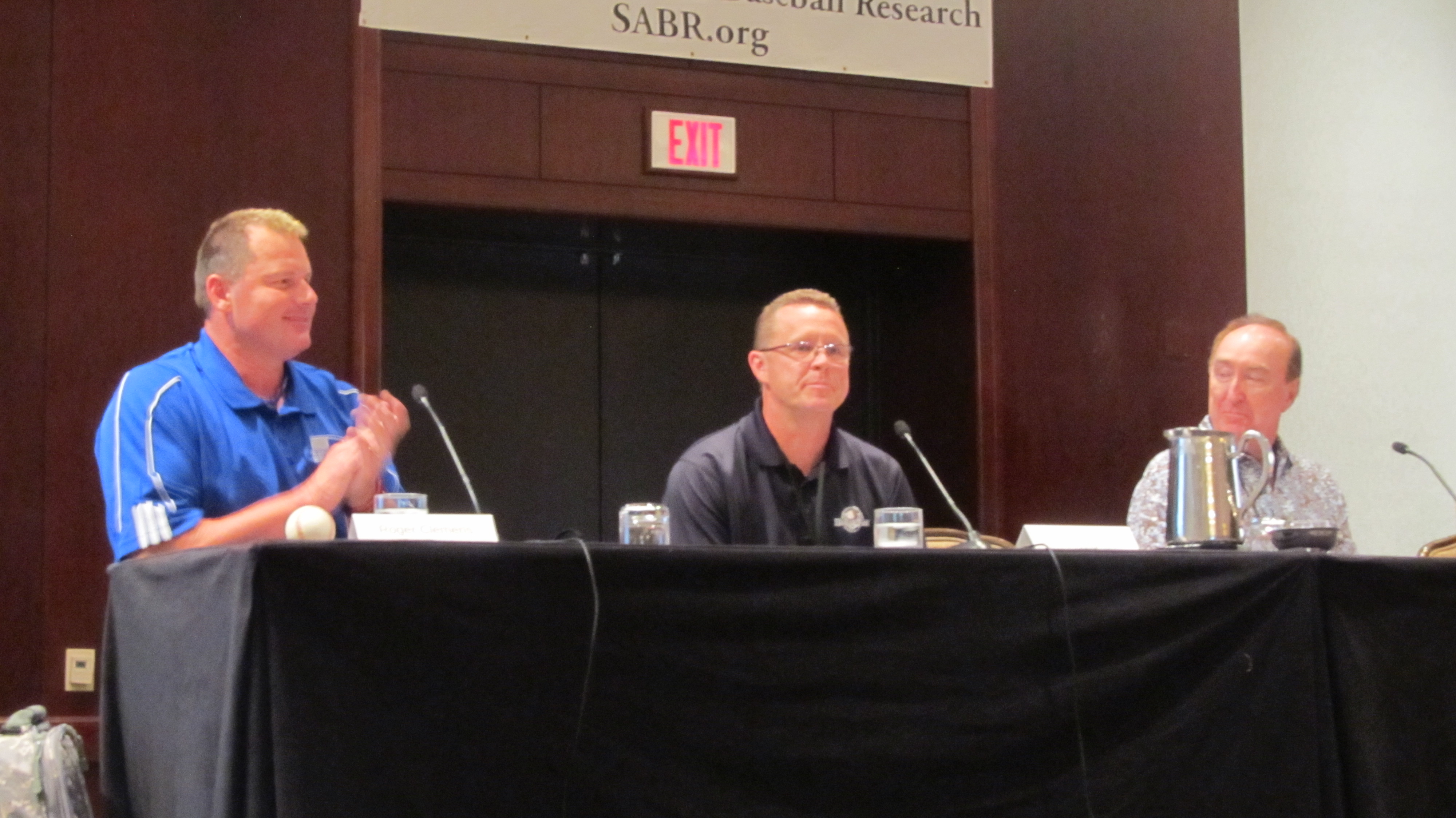 A few Texas college baseball icons stopped by for the SABR 44 College Baseball Panel on Thursday, July 31 at the Royal Sonesta Houston.
Roger Clemens, star pitcher at the University of Texas who went on to win 354 games and seven Cy Young Awards in the major leagues, was joined by Mike Gustafson, president and CEO of the College Baseball Hall of Fame, and Lamar University coach Jim Gilligan. The panel was moderated by SABR member Mike Vance.
Click here for more highlights from the SABR 44 College Baseball Panel.
---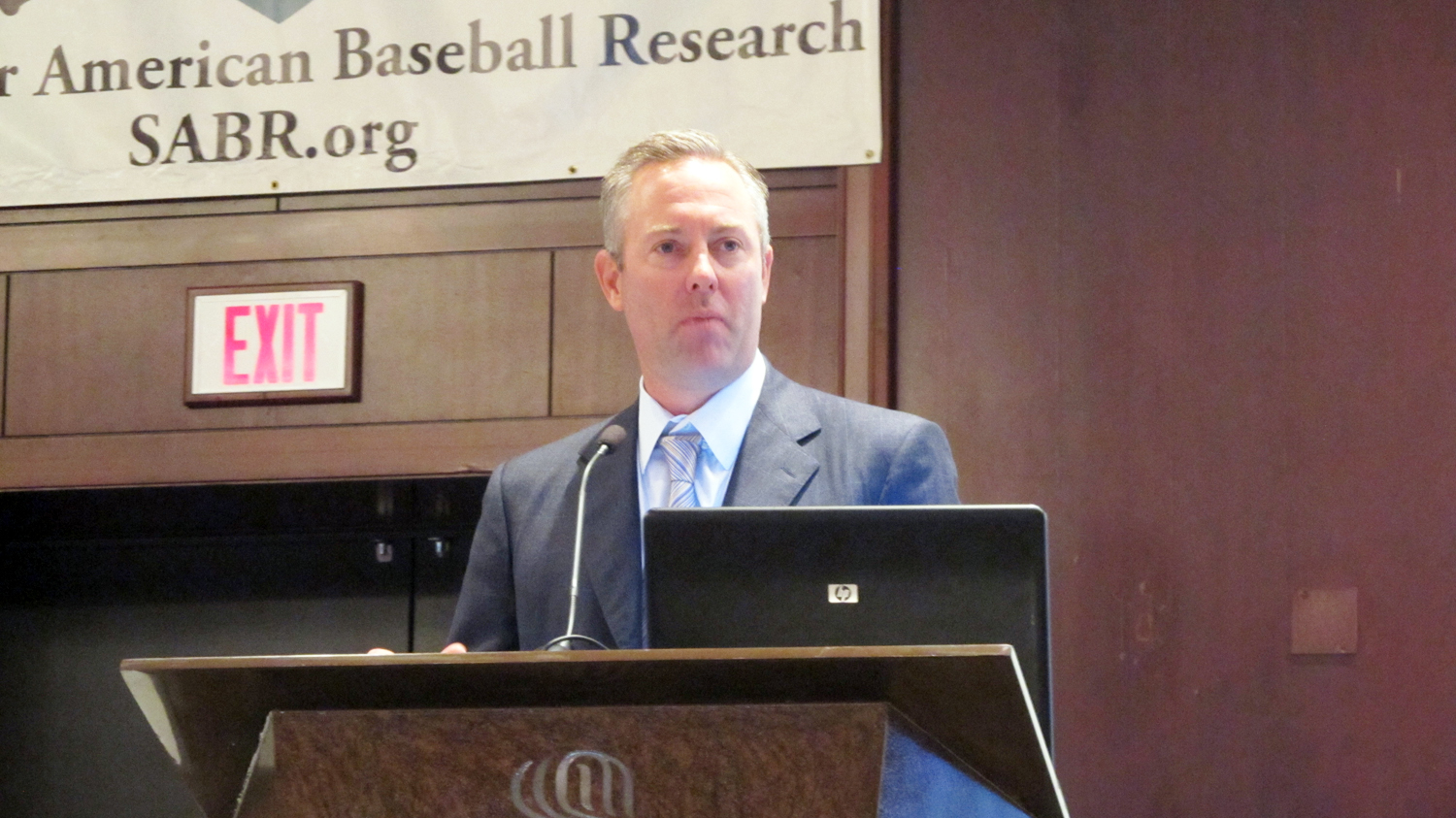 Houston Astros executive Reid Ryan delivered the opening remarks at SABR 44 on Thursday, July 31 at the Royal Sonesta Houston.
Ryan was named President of Business Operations for the Houston Astros in May 2013. The oldest son of Hall of Fame pitcher Nolan Ryan, he compiled a great deal of experience moving up through professional baseball, as founder and CEO of the Round Rock Express and Corpus Christi Hooks, affiliates of the Astros and Texas Rangers that are annually among the minor league attendance leaders. He also serves on the Board of Trustees for Minor League Baseball. After playing collegiately and graduating from Texas Christian University, Reid Ryan pitched in the Texas Rangers organization in 1994 and '95 before moving into management.
Click here for more highlights from Reid Ryan's opening remarks at SABR 44.
---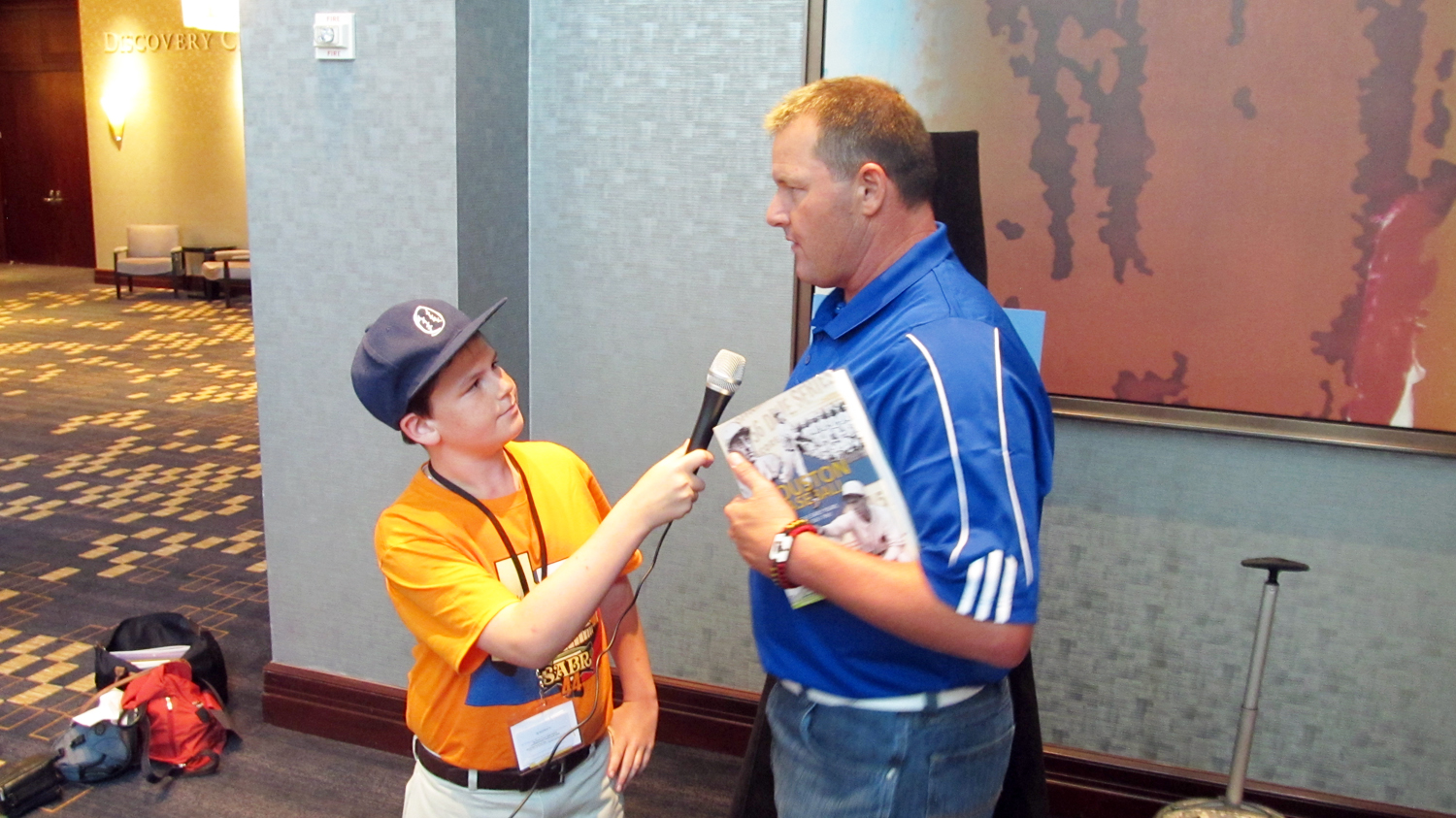 Can't make it to Houston for SABR 44? Check out some early coverage from the 2014 convention festivities by clicking on the links below:
For more coverage of the SABR convention, visit SABR.org/convention.
And stay tuned for more coverage next week from SABR 44 in Houston!
---
We steadfastly maintain that there is nothing trivial about baseball trivia. The world-famous SABR Trivia Contest finals will be taking place tonight at SABR 44 in Houston, and it's always an entertaining and competitive battle to crown the individual and team champions.
We invite you to follow along with us live on Twitter beginning at 7:30 p.m. CDT/8:30 p.m. EDT on Friday, August 1 by visiting Twitter.com and searching for the hashtag #SABR44. We'll be live-tweeting questions (and answers if everyone gets stumped!), and you'll have your chance to test your knowledge online with other SABR members and friends.
The SABR Trivia Contest is moderated by D. Bruce Brown, co-chair of Horsehide Trivia with T. Scott Brandon and president of the Bob Davids Chapter in Washington/Baltimore. The questions are written and edited by Brown and Brandon, who also assembles the game boards, illustration and animation of the semifinal and final rounds.
The questions are presented in ascending difficulty. The early-round questions will be at a relatively easy starting point, while the late-round questions, though more difficult, will still interest casual fans.
The individual semifinalists are three-time individual champion David Fleitz (2006-08) of Pleasant Ridge, Michigan; Dan Massey of Lancaster, Pennsylvania; two-time team champion Rob Rafal (2005, '09) of Douglaston, New York; and Steve Schaeffer.
You can view all past Trivia Contest winners by clicking here.
For more coverage of SABR 44, visit SABR.org/convention.
---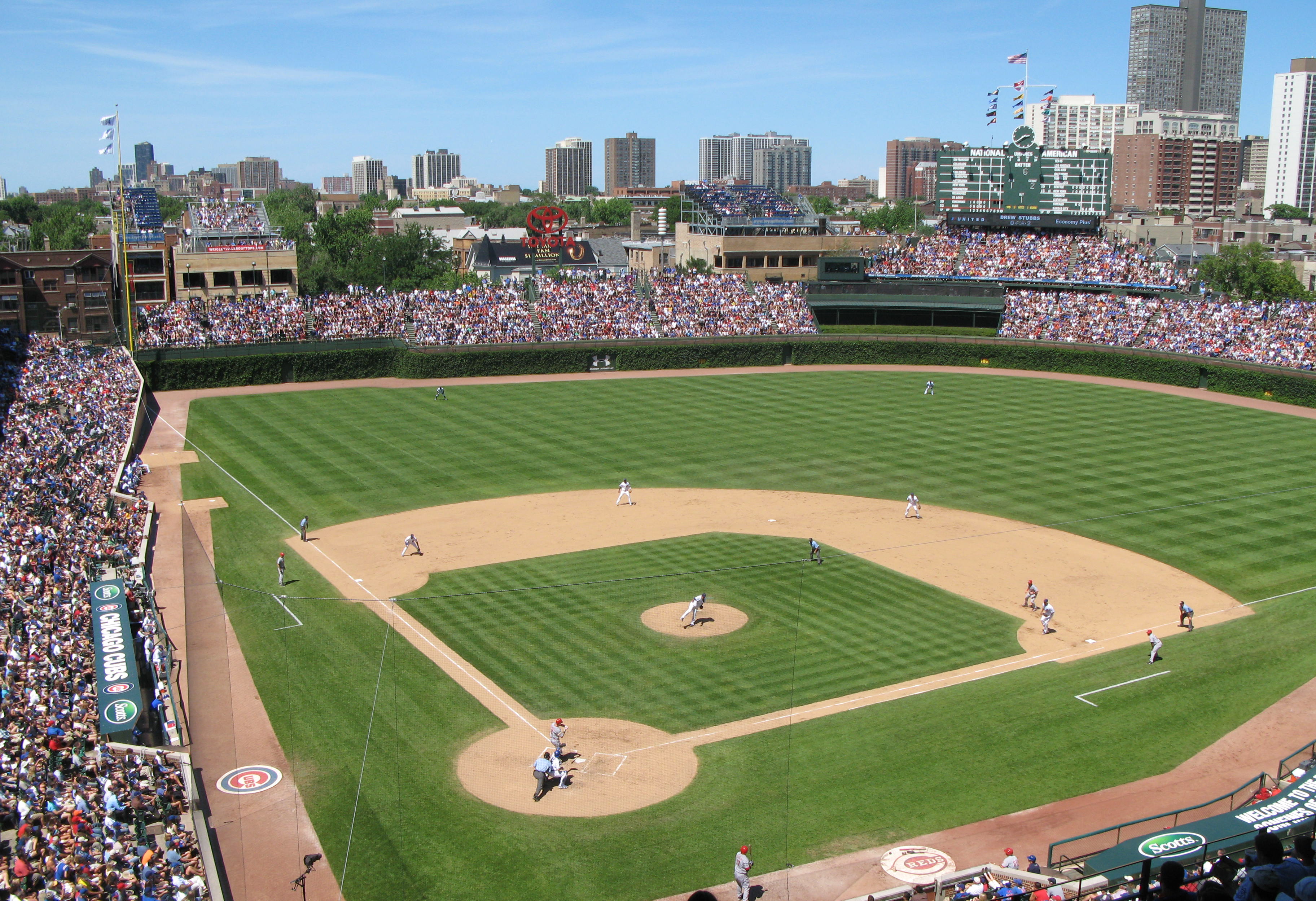 Save the date! SABR 45 will be held June 24-28, 2015, at the Palmer House Hilton in Chicago, Illinois. The SABR Board of Directors announced the convention dates during the SABR 44 Annual Business Meeting on Thursday, July 31. Registration information will be available at SABR.org in early 2015.
The 2015 national convention will be SABR's 45th annual gathering; the organization's founding in Cooperstown in 1971 is counted as the first.
Chicago is one of the most visited and historic cities in Baseball. It is the home of the White Sox and Cubs, founding teams of the National League and American League. It is the home of original league offices of the National League, American League and Federal League as well as baseball's first commissioner, Judge Kenesaw Mountain Landis. Men like Spalding, Comiskey, Anson, Wrigley and Veeck created a rich history of Chicago baseball. It is a city with a rich Negro League history. And of course there are the ballparks. Comiskey Park, site of the first All-Star game and Negro All-Star games, is no longer around, but historic Wrigley Field is currently celebrating its centennial season.
In addition to the activities inside the hotel, there will be other offerings to get you out into the city. SABR 45 attendees will be staying in the heart of the famous Chicago Loop with its world renowned architecture. You will be within walking distance of the famous lakefront, Chicago river, Michigan Ave, Lake Shore Drive with Grant Park, Millennium Park, the Art Institute as well as top restaurants, bars, theatre and music venues. The museum district is only a short drive away, and if you wish to venture to the Field Museum, Adler Planetarium, Soldier Field or a little bit further north to Lincoln Park or south to the famous Museum of Science and Industry.
This will be SABR's fourth national convention in the Windy City, and the first since SABR 16 in 1986. The third annual convention in 1973 featured broadcaster Bob Elson and Negro Leaguer Dave Malarcher as guest speakers. In 1976, SABR members gathered again in Chicago as former White Sox manager Lew Fonseca, the 1929 American League batting champion, served as the keynote speaker.
Longtime Chicago Sun-Times columnist Bill Gleason was the featured speaker at the 1986 convention, which attracted a then-record 479 attendees. Learn more about SABR's convention history by clicking here.
For more information on the SABR convention, visit SABR.org/convention.
---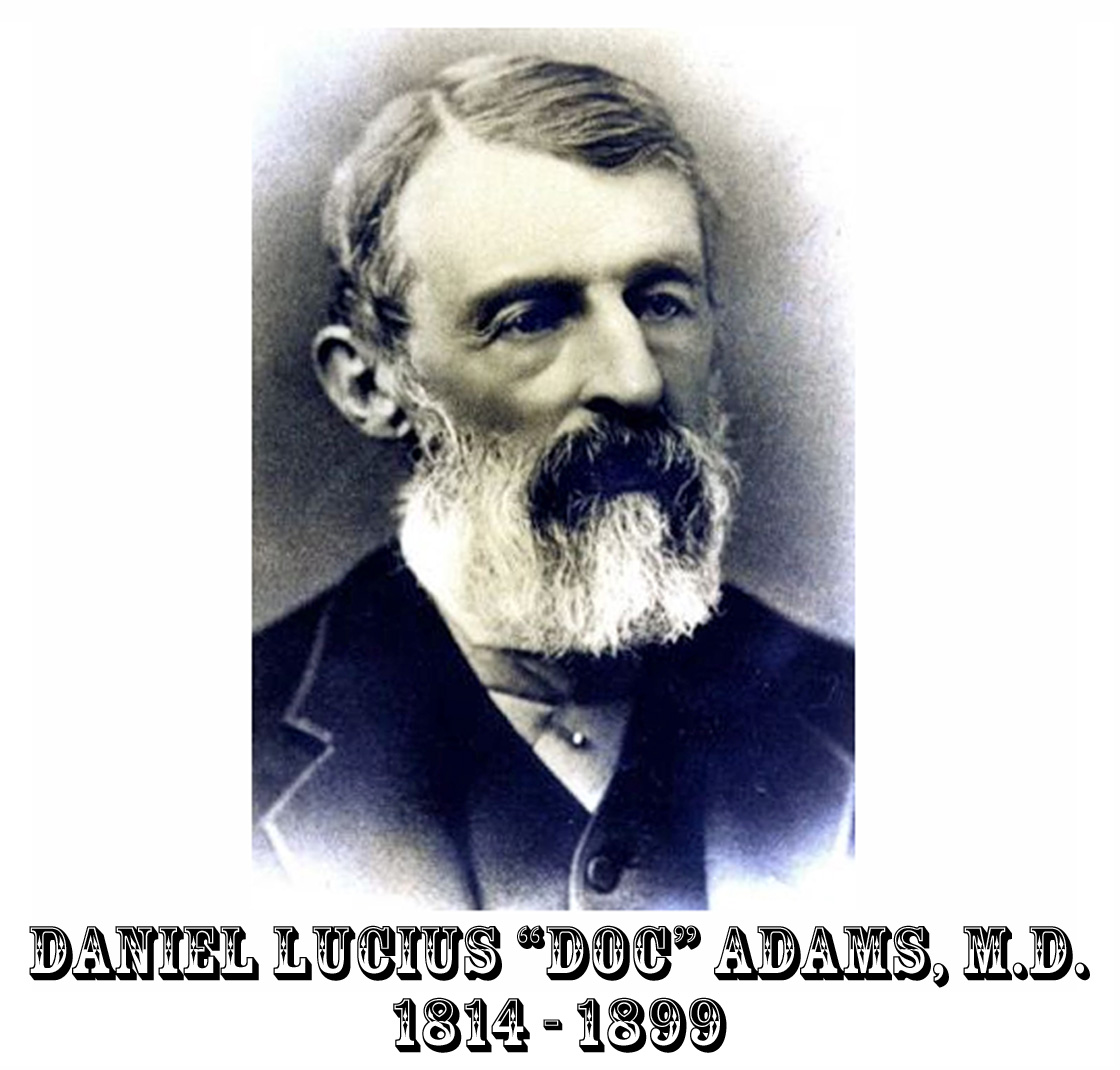 Daniel Lucius "Doc" Adams has been selected as SABR's Overlooked 19th Century Base Ball Legend for 2014. The announcement was made Thursday, July 31 at the Nineteenth Century Committee's annual business meeting held at SABR 44 in Houston.
In June, members of SABR submitted their votes for the 2014 Overlooked 19th Century Base Ball Legend—a 19th-century player, manager, executive or other baseball personality not yet inducted into the National Baseball Hall of Fame in Cooperstown, New York.
To read a biographical profile of Adams written by SABR member Adam Darowski, who chairs the Overlooked Legends project, click the link below:
/latest/sabr-44-doc-adams-selected-overlooked-19th-century-baseball-legend-2014
Previous Overlooked Legends were Pete Browning in 2009, Deacon White in 2010, Harry Stovey in 2011, Bill Dahlen in 2012, and Ross Barnes last year. White became the first Overlooked Legend to be inducted into the Hall of Fame in 2013.
For more information on the Overlooked 19th Century Baseball Legends Project, visit SABR.org/overlooked-19th-century-baseball-legends or contact Project Chairman Adam Darowski.
For more information about Doc Adams, see his SABR biography written by John Thorn: SABR.org/bioproj/person/14ec7492
For more coverage of SABR 44, visit SABR.org/convention.
---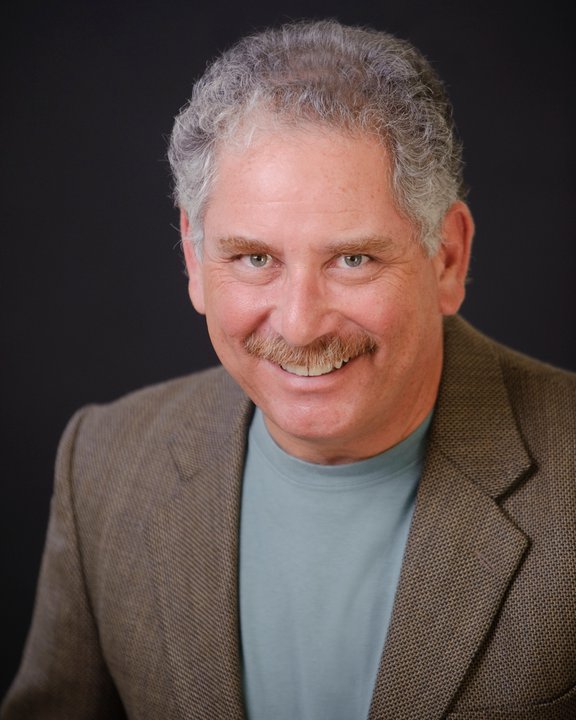 Paul Hirsch, 56, a former SABR Director and past president of the Lefty O'Doul Bay Area Chapter, passed away of brain cancer on Saturday, July 26, 2014, in San Diego, California.
Hirsch joined the SABR Board of Directors in 2007 and served admirably for six years at a critical time in the organization's history. He first joined SABR in 1983 and was a leader for many years with the Lefty O'Doul Chapter in the Bay Area, helping to organize the 1998 national convention in San Mateo, California.
In 2004, he and SABR founding member Daniel Ginsburg founded the SABR Donor Program, which has helped the organization thrive in the 21st century. Hirsch was also a member of the Umpires and Rules Committee, and conducted extensive research on post-war franchise moves, his beloved Dodgers, and baseball uniforms.
He wrote several SABR biographies and articles for The National Pastime, and also contributed essays to three BioProject books: The Miracle Has Landed: The Amazin' Story of how the 1969 Mets Shocked The World (2008); The Team That Forever Changed Baseball and America: The 1947 Brooklyn Dodgers (2012); and The Year of the Blue Snow: The 1964 Philadelphia Phillies (2013).
Born August 12, 1957, in Brooklyn, New York, Paul was the son of an engineer and a housewife, Jerry and Ann Hirsch. He grew up in Orange County, California, and was smitten with baseball from an early age. In the first game he attended, Sandy Koufax beat the Pirates at Dodger Stadium. He served as a ballboy for the California Angels during the 1974 season and caught more than a dozen in-game foul balls, which he liked to have autographed by the player who hit them.
After graduating from Mission Viejo High School and Cal State Fullerton, he began an award-winning career in marketing and public relations, where he advised Fortune 500 companies such as Cisco Systems and Sybase, along with the San Francisco 49ers, Pacific Bell, Sun Microsystems, and many others.
He is survived by his wife, Debbie, of San Diego, California; daughter Rebecca, of Northridge, California; son Mark, a student at Arizona State University; and brother and sister-in-law, David and Gwen.
A memorial service is scheduled for 11 a.m. Thursday, August 7 at St. Timothy's Epsicopal Church, 1550 Diablo Road, Danville, CA 94526.
---
Frank Hamilton, longtime team member of SABR's Minor League Statistics Project, is stepping down from his everyday duties of marshaling the effort required to enhance and prepare the minor league statistical data that appears at Baseball-Reference.com. This project, launched in 2006, has been one of the highest priority research projects in SABR, and has compiled nearly 1,600 league-seasons.
Hamilton's contributions to this project, and to the field of minor league research, have been remarkable. He has not only managed the Herculean task of shepherding hundreds of files and juggling a team of volunteer contributors, but he has lent his considerable skills and expertise as a baseball researcher to the project.
In the short term, volunteers should send completed workbooks and any inquiries to Sean Lahman, who will attempt to fill Hamilton's shoes while we seek a permanent replacement.
Hamilton has agreed to support and advise the project to ensure a smooth transition. If you have questions or would like to volunteer for the Minor League Statistics Project, please feel free to contact Lahman at seanlahman@gmail.com or say hello to him at SABR 44 in Houston.

---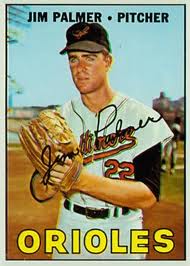 One new game story was posted this week as part of the SABR Games Project. Here is the new game story:
The SABR Baseball Games Project was launched in January 2014 to research and write articles on major-league and Negro League regular, postseason, and All-Star Games. These game accounts will complement Retrosheet and Baseball-Reference box scores as well as BioProject essays on the players involved.
The articles are not intended to be mere play-by-play summaries, nor should they be first-person narratives. Rather the goal is to put each game in historical context — whether that history is of a particular player, team, season, or something even broader.
Visit the new Games Project website at SABR.org/gamesproject.
---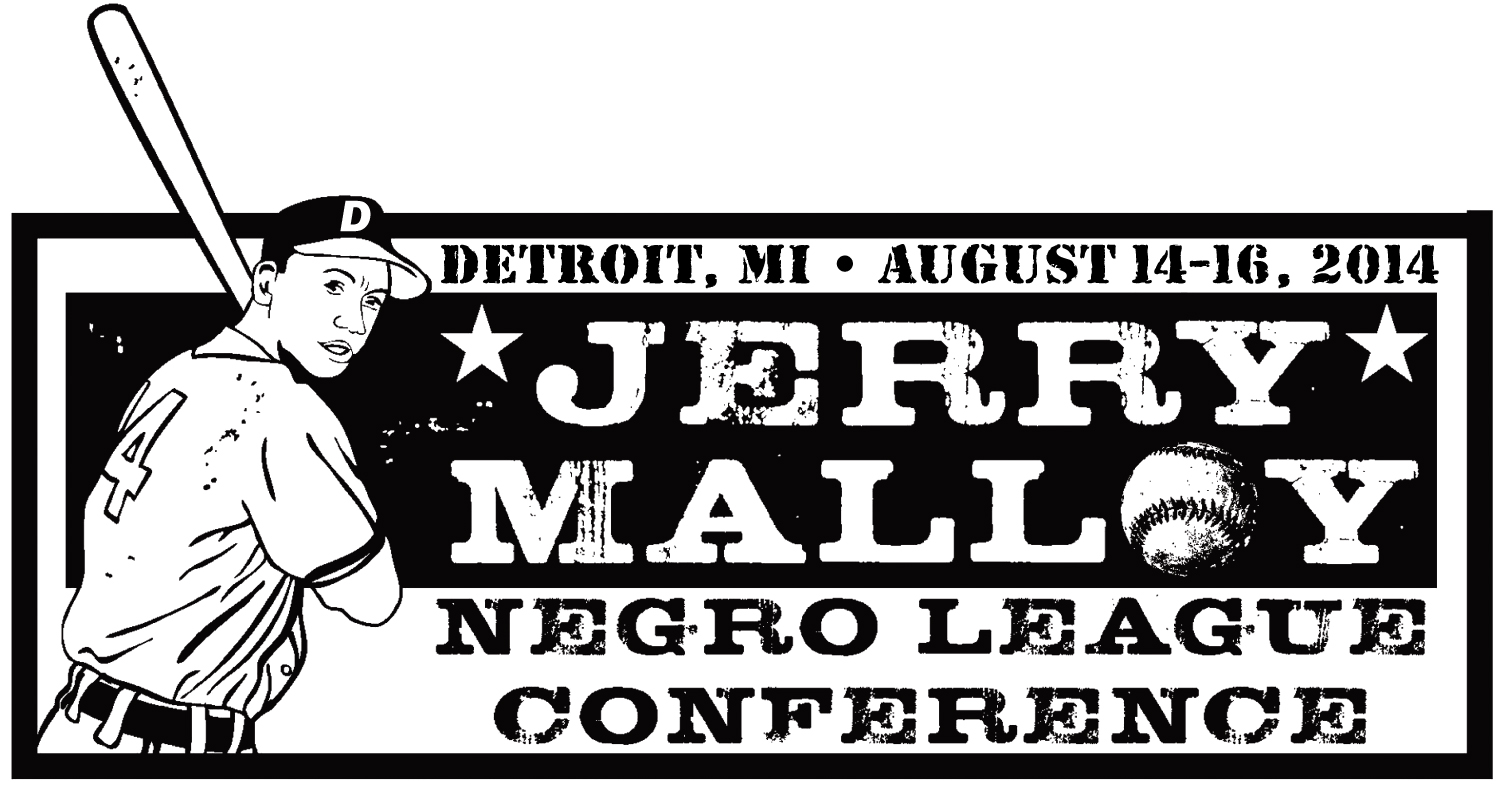 The 2014 Jerry Malloy Negro League Conference will be held in downtown Detroit from August 14-16. As the only national conference devoted to the history of the Negro Leagues, the Malloy is coming to Detroit for the first time. This year's theme is "Turkey Stearnes and Black Baseball in Michigan."
In addition to great research presentations and an education program a few highlights for the conference include a visit to location of the old Hamtramck Stadium, a discussion with Robert Paige and the family of Turkey Stearnes, a Tigers-Mariners game on Friday night, and a panel with former Negro League players. Come and join us for the full conference or even just a day.
Registration is open to all baseball fans; single-day rates are available. Click here to learn more about the schedule and speakers:
/latest/2014-malloy-conference-includes-visit-hamtramck-stadium-detroit
For questions, please contact Tom Salvner at (734) 730-0081 or tsalvner@gmail.com, or Rick Meister at (734) 397-3692 or fjmeister@sbcglobal.net.
---
What are the best baseball analytics articles you've read in 2014?
We're seeking nominations for the 2015 SABR Analytics Conference Research Awards, which recognize baseball researchers who have completed the best work of original analysis or commentary during the preceding calendar year in the following categories:
Contemporary Baseball Analysis: Honoring the best analysis focusing on a subject related to the modern game(s), team(s) or player(s).
Contemporary Baseball Commentary: Honoring the best commentary focusing on a subject related to the modern game(s), team(s) or player(s).
Historical Baseball Analysis/Commentary: Honoring the best original analysis or commentary focusing on a subject related to a game(s), team(s) or player(s) throughout baseball history.
Please send all nominations via e-mail to this address: 2015-analytics-awards@sabr.org no later than January 15, 2015. Include author, title, date of publication and a URL link (if applicable).
For more information about the criteria, click here.
Voting for the winners will be conducted online in January-February 2015 at SABR.org, BaseballProspectus.com, FanGraphs.com, HardballTimes.com and BeyondtheBoxScore.com, with results weighted equally at 20%.
Results will be announced and presented at the fourth annual SABR Analytics Conference, March 12-14, 2015, at the Hyatt Regency Phoenix in Phoenix, Arizona. Learn more at SABR.org/analytics.
To view past award winners and finalists, click here.
---
We've heard your feedback: Some of you have said you look forward to "This Week in SABR" every Friday, but sometimes there are just too many compelling articles and announcements to read every week. We're not complaining — hey, keep up the great work! — but we know the feeling. So in an effort to make the length of this newsletter more manageable to read, we'll summarize some of the repeating/recurring announcements in a special "In Case You Missed It (ICYMI)" section of "This Week in SABR".
Here are some major headlines from recent weeks that we don't want you to miss:
All previous editions of This Week in SABR can be found here: /content/this-week-in-sabr-archives.
---
We'd like to welcome all of our new SABR members who have joined this week. You can find all Members-Only resources at members.sabr.org and the New Member Handbook can be downloaded here.
Please give these new members a warm welcome and help them make the most of their membership by giving them the opportunity to get involved in their local chapter or a research committee.
| Name | Hometown | | | Name | Hometown |
| --- | --- | --- | --- | --- | --- |
| Jeff Barden | Corvallis, OR | | | Richard McHugh | Salisbury Mills, NY |
| Edward Carter | New Orleans, LA | | | Kathleen Morrison | Meriden, CT |
| Henry Decker | New York, NY | | | Gary Oswald | Ajax, ON |
| Kevin Fontenot | Sugar Land, TX | | | Joseph Sclafani | Cedar, MI |
| Ralph Hackemack | La Grange, TX | | | Edward Skwiersky | Roslyn Heights, NY |
| Josh Hancock | Atlanta, GA | | | Ron Teixeira | Wilmington, DE |
| Michael Hand | Hershey, PA | | | Robert Truhn | Ellicot City, MD |
| Mark Hildreth | New York, NY | | | Matthew Veasey | Philadelphia, PA |
| Alan Jurkonis | Gardnerville, NV | | | Cooper Watts | Denver, CO |
| John Long | Charlotte, NC | | | Phil Williams | Charlotte, NC |
| Scott Mann | Valley Springs, CA | | | Laura Witt | Norton, VA |
---
Here are the new SABR research committee newsletters published this week.
Find all SABR research committee newsletters at SABR.org/research.
---
Here are the new regional chapter updates for this week:
Visit SABR.org/chapters for more information on SABR regional chapters.
---
Here is a list of upcoming SABR events:
All SABR meetings and events are open to the public. Feel free to bring a baseball-loving friend … and make many new ones! Check out the SABR Events Calendar at SABR.org/events.
---
Here are some recent articles published by and about SABR members:
Read these articles and more at SABR.org/latest.
---
This Week in SABR is compiled by Jacob Pomrenke. If you would like us to include an upcoming event, article or any other information in "This Week in SABR," e-mail jpomrenke@sabr.org.
Are you receiving our e-mails? "This Week in SABR" goes out by e-mail to all members on Friday afternoons. If they're not showing up, try adding "sabr.notes@sabr.org" to your contact list to ensure they show up in your inbox (and not the spam folder.)
---
Originally published: August 1, 2014. Last Updated: April 3, 2020.
https://h2j7w4j4.stackpathcdn.com/wp-content/uploads/2020/03/research-collection4_350x300.jpg
300
350
jpomrenke
/wp-content/uploads/2020/02/sabr_logo.png
jpomrenke
2014-08-01 14:30:00
2020-04-03 14:39:16
This Week in SABR: August 1, 2014