This Week in SABR: February 26, 2016

Welcome to "This Week in SABR!" Click here to view this week's newsletter on the web. Here's what we've been up to as of February 26, 2016:
---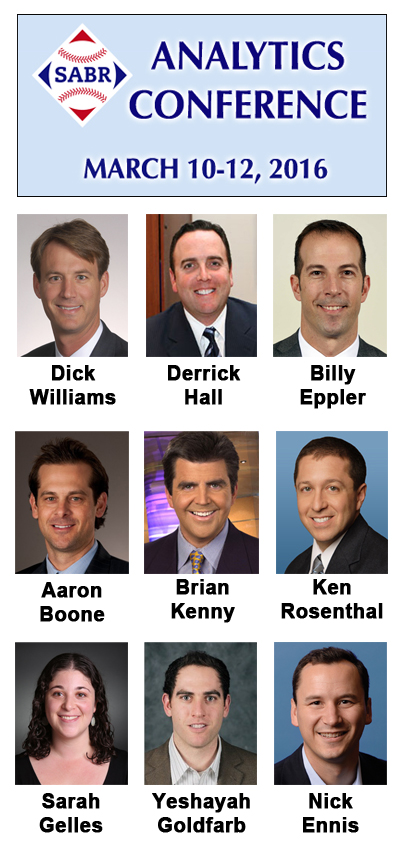 The fifth annual SABR Analytics Conference is just a couple weeks away and there's still time to register! Once again, we're bringing together the top minds of the baseball analytic community under one roof to discuss, debate and share insightful ways to analyze and examine the great game of baseball.
Click here for a full schedule of the 2016 SABR Analytics Conference. The schedule will consist of a combination of Guest Speakers, Panels, and Research Presentations — plus the unique Diamond Dollars Case Competition, in which undergraduate, graduate, and law school students from across the country analyze and present a real baseball operations decision.
Conference registration is available now at the SABR Store.

Click here to register!

The conference is open to all baseball fans. The full registration rate is $595 for SABR members and $695 for nonmembers, or $350 for currently enrolled high school or college students (includes one-year membership to SABR). Please note: The early-registration discount has now expired.
Hotel: The 2016 SABR Analytics Conference will be held Thursday, March 10 through Saturday, March 12 at the Hyatt Regency Phoenix, 122 N. 2nd St., Phoenix, AZ 85004. Visit phoenix.hyatt.com or call (602) 252-1234 to book your room. Please note: The special SABR discounted group rate has now expired.
Our featured speakers and panelists are expected to include: Derrick Hall, President/CEO, Arizona Diamondbacks; Dick Williams, Senior Vice President/General Manager, Cincinnati Reds; Billy Eppler, General Manager, Los Angeles Angels of Anaheim; former major-leaguers Aaron Boone, Alex Cora, and Dallas Braden of ESPN and Eric Byrnes of MLB Network; Brian Kenny of MLB Network; Ken Rosenthal, MLB Network and FoxSports.com; John Dewan; owner, Baseball Info Solutions; broadcaster Mike Ferrin of the Arizona Diamondbacks and MLB Network Radio; front-office executives Nick Ennis of the San Diego Padres, Sarah Gelles of the Baltimore Orioles, Yeshayah Goldfarb of the San Francisco Giants, and Caleb Peiffer of the Seattle Mariners; SABR President Vince Gennaro; Dan Migala of PCG/SportsDesk Media; Corrine Vitolo of SmartSports; Eno Sarris of FanGraphs; and Michael Bentley of Blast Motion as featured speakers at the 2016 SABR Analytics Conference.
Visit SABR.org/analytics for more information.
---
We are excited to announce two new panels at the 2016 SABR Analytics Conference: Statcast on Every Screen, scheduled for 2:30 p.m. on Friday, March 11, and How Big Data and Analytics is Impacting Baseball's Business Operations, scheduled for 11:00 a.m. on Saturday, March 12.
Statcast is a revolutionary tracking technology developed by MLB Advanced Media. It gathers and displays aspects of the game that were previously immeasurable. The system collects the data using high-resolution optical cameras and radar equipment that have been installed in all 30 Major League ballparks. The technology precisely measures the positions and movements of the ball and every player on the field, introducing fans to a whole new generation of stats such as Exit Velocity, Launch Angle, Route Efficiency, Top Speed and more. MLBAM's director of baseball research and development Daren Willman and MLB.com analyst Mike Petriello will discuss Statcast and how they're using it to tell, and visualize, baseball's most interesting stories, engaging fans in a multi-platform world. Moderated by SABR President Vince Gennaro.
The business of baseball is becoming more dependent on analytics. Our panel will take an inside look into how team's front offices are using analytics and big data to progressively drive incremental revenue growth. Speakers are expected to include: Royce Cohen, Director of Analytics & Development, Los Angeles Dodgers; John Fisher, Senior Vice President, Ticket Sales and Marketing, Arizona Diamondbacks; Ryan Gustafson, Vice President, Strategy & Innovation, San Diego Padres; and moderator Dan Migala, Chief Innovation Officer for PCG/SportsDesk Media.
Click here for a complete list of speakers, panelists, and presenters at the SABR Analytics Conference.
---
We are pleased to announced the participating schools for the 2016 Diamond Dollars Case Competition, which will take place during the fifth annual SABR Analytics Conference on Thursday, March 10 at the Hyatt Regency Phoenix in Arizona.
In the Diamond Dollars Case Competition, developed by SABR President Vince Gennaro, four- to five-person student teams are asked to evaluate a baseball operations case problem. The student team presents their analysis and recommendations to a panel of judges that includes MLB front office executives.
Here are the participating schools:
University of Alabama-Manderson School of Business (Tuscaloosa, AL)
Carnegie Mellon-Tepper School of Business (Pittsburgh, PA)
Columbia University-Masters in Sport Management Program (New York, NY)
Ryerson University (Toronto, ON)
Stanford University (Palo Alto, CA)
Elon University (Elon, NC)
Loras College (Dubuque, IA)
Middlebury College (Middlebury, VT)
NYU-SCPS Tisch Center (New York, NY)
Ohio University (Athens, OH)
St. John Fisher College (Rochester, NY)
Syracuse University (Syracuse, NY)
VCU-Maggie L. Walker Governor's School (Richmond, VA)
Virginia Polytechnic Institute and State University (Blacksburg, VA)
The judges are expected to include:
Mike Debartolo, Washington Nationals
Scott Freedman, Philadelphia Phillies
Sarah Gelles, Baltimore Orioles
Ed Lewis, Arizona Diamondbacks
Samuel Mondry-Cohen, Washington Nationals
Dane Sorensen, St. Louis Cardinals
Victor Wang, Cleveland Indians
To learn more about the Diamond Dollars Case Competition, click here. Nearly a dozen alumni from previous Diamond Dollars Case Competitions have secured internships or permanent positions within Major League Baseball.
---
For those of you whose memberships expired recently, there's still a couple days left to renew and be a part of the SABR community again in 2016. If you've already renewed, we thank you for your support and look forward to another exciting year ahead.
Renew now to receive the Spring 2016 edition of the Baseball Research Journal, plus discounts on registration to the 2016 SABR Analytics Conference and SABR 46 in Miami, and a lot more! Please note: We MUST receive your dues by Monday, February 29, 2016, in order for you to receive the upcoming BRJ.
Here's how to renew: You can renew your membership for 1 year or 3 years online at the SABR Store; by phone at (602) 496-1460; or by mailing this downloadable PDF form and your payment to the SABR office at Cronkite School at ASU, 555 N. Central Ave. #416, Phoenix, AZ 85004.
Logging in: If you've had trouble logging in this week, please try resetting your password using this link and then try again at the link above: https://sabr.site-ym.com/general/email_pass.asp. We apologize for any inconvenience, but we appreciate your patience!
Dues are the same as they have been in recent years: for this, you get two editions of the Baseball Research Journal, the expanded e-book edition of The National Pastime; 8-10 free e-books published by the SABR Digital Library; "This Week in SABR" every Friday; access to research resources such as Paper of Record (with complete archives of The Sporting News); discounts to all SABR conferences such as the National Convention (Miami 2016), the SABR Analytics Conference, the Jerry Malloy Negro League Conference, and the Frederick Ivor-Campbell 19th Century Conference; and much, much more.
We believe SABR has something for everyone, from the active researcher to someone passionate about baseball. We hope you'll invite your friends, colleagues and family members to join at store.sabr.org.
---
Once again, SABR is offering its members the opportunity to opt out of receiving the printed version of the Spring 2016 Baseball Research Journal. We'll deliver the e-book version of the BRJ in the format of your choice (EPUB, MOBI/Kindle or PDF) straight to your inbox around Opening Day 2016. Click here to learn more about receiving the e-book edition of the BRJ.
Opt out of receiving the printed edition by February 29, 2016, in order to get early access to all the great content in the BRJ in e-book format and online at SABR.org.
To opt out of receiving the printed version of the Baseball Research Journal: Click here to edit your membership profile. Scroll to the bottom and select "Receive publications electronically." Then save your changes.
Please note: If you do nothing, you will continue to receive two print editions of the Baseball Research Journal every year by mail.
If you've never read a Baseball Research Journal in e-book form, click here to try it out with the Spring 2015 edition. The Baseball Research Journal, and all SABR e-books, are available in EPUB, MOBI/Kindle or PDF formats.
---
The SABR Nominating Committee seeks nominations for candidates for the Spring 2016 elections. All candidates for the Board of Directors must have been members of the Society for at least the preceding four years to be eligible for election. Deadline for nominations is TONIGHT, February 26! Nominees must prepare a Candidate Statement Form following guidelines that will be available from any Nominating Committee member.
The Candidate Statement Form must be received by the Nominating Committee chair no later than March 18, 2016.
The offices to be filled:
Vice-President (2-year term; currently Bill Nowlin)
Director (3-year term; currently Leslie Heaphy)
Director (3-year term; currently Chris Dial)
The Nominating Committee also seeks your input. Members are asked to submit office-specific questions for each of the offices open in this election. We also seek input on general questions for every nominee. Candidates will answer selected questions on the Candidate Statement Form. Regional Chapter leaders and Research Committee Chairs are especially encouraged to pass on this request to their respective members to better address member needs.
Self-nominations are welcome. If you would like to nominate yourself or another candidate or suggest a question for the candidates, contact Nominating Committee chair Neal Traven at beisbol@alumni.pitt.edu.
---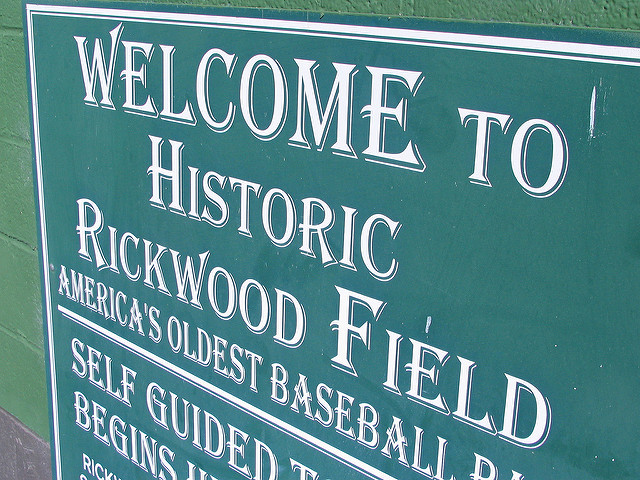 SABR's Board of Directors has approved the formation of a new regional chapter.
The Rickwood Field Chapter, based in Birmingham, serves members in Alabama; the chapter leaders are Clarence Watkins and Lamar Smith.
SABR's 71 regional chapters cover 37 U.S. states, Puerto Rico, and Washington, D.C.; plus international chapters in Canada (Quebec, Ontario, British Columbia), Japan, South Korea, Australia, Latin America (Venezuela, Dominican Republic), the United Kingdom, and Italy. For a list of all SABR chapters, visit SABR.org/chapters. A calendar of upcoming SABR meetings can be found at SABR.org/events.
To sign up for chapter email announcements and receive instant notification of upcoming SABR events in your area, click here to select from the list of chapters, then click "Join Group" at the top of the chapter page. All SABR members are eligible to sign up for announcements from any chapter or committee.
---

Periodically throughout the year, SABR.org publishes listings of new books that are received at the SABR office. This feature is called The SABR Bookshelf, continuing a popular section from the old SABR Bulletin.
Here are The SABR Bookshelf listings for Winter 2016:
http://sabr.org/content/sabr-bookshelf-winter-2016
Click the link above for more information on the following books:
Nuclear Powered Baseball: Articles Inspired by The Simpsons episode "Homer At the Bat", edited by Emily Hawks and Bill Nowlin
The Team That Time Won't Forget: The 1951 New York Giants, edited by Bill Nowlin and C. Paul Rogers III
Bobo Newsom: Baseball's Traveling Man, by Jim McConnell
Road-Tripping the South Atlantic League: A Guide to the Teams, Ballparks and Cities, by Walter Triebel
The Great Baseball Revolt: The Rise and Fall of the 1890 Players League, by Robert B. Ross
Baseball's Power Shift: How the Players Union, the Fans, and the Media Changed American Sports Culture, by Krister Swanson
Playing with Tigers: A Minor League Chronicle of the Sixties, by George Gmelch
Kiss the Sky: My Weekend in Monterey at the Greatest Concert Ever, by Dusty Baker
The Selling of the Babe: The Deal That Changed Baseball and Created a Legend, by Glenn Stout
The Cardinals Way: How One Team Embraced Tradition and Moneyball at the Same Time, by Howard Megdal
Cuba's Baseball Defectors: The Inside Story, by Peter C. Bjarkman
The Golden Era of Major League Baseball: A Time of Transition and Integration, by Bryan Soderholm-Difatte
Handsome Ransom Jackson: Accidental Big Leaguer, by Ransom Jackson Jr.
Integrating the Orioles: Baseball and Race in Baltimore, by Bob Luke
All-Time Nines: Baseball's Greatest Teams As Determined by Analytics, by Don Cox
Boiling Out at the Springs, by Don Duren
The Boy Who Would Not Play Ball, by Robert Taylor Brewer
The Art of Being a Baseball Fan, by Brian R. Johnston
Baseball's No-Hit Wonders: More Than a Century of Pitching's Greatest Feats, by Dirk Lammers
Baseball and the Law: Cases and Materials, by Louis H. Schiff and Robert M. Jarvis
The Champions of Philadelphia: The Greatest Eagles, Phillies, Sixers, and Flyers Teams, by Rich Westcott
Baseball FAQ: All That's Left to Know About America's Pastime, by Tom DeMichael
Finley Ball: How Two Baseball Outsiders Turned the Oakland A's into a Dynasty and Changed the Game Forever, by Nancy Finley
Bob Oldis: A Life in Baseball, by Stephen M. Bratkovich and Bob Oldis
Babe's Place: The Lives of Yankee Stadium, by Michael Wagner
The Baseball Hall of Fame Corrected, by Eddie Daniels
1930 – St. Louie Browns – A Fantasy, by T. Robert Yani
To get your NEW book listed on The SABR Bookshelf, make sure a review copy is sent to: The SABR Bookshelf, Cronkite School at ASU, 555 N. Central Ave. #416, Phoenix, AZ 85004. An e-book file will also suffice; please send the e-book in PDF, EPUB or Kindle/MOBI format to jpomrenke@sabr.org.
To ensure a listing in The Baseball Index — SABR's online catalog of baseball research materials — make sure a review copy is sent to The Baseball Index, 4025 Beechwood Pl., Riverside, CA 92506.
Bolded names indicates that the author(s) is a SABR member. Click here for a list of publishers found in the SABR Bookshelf, along with their contact information.
All new SABR Bookshelf listings can be purchased at the SABR Bookstore, powered by Amazon.com. In addition, check out new books published by SABR at SABR.org/ebooks (free for SABR members!)
---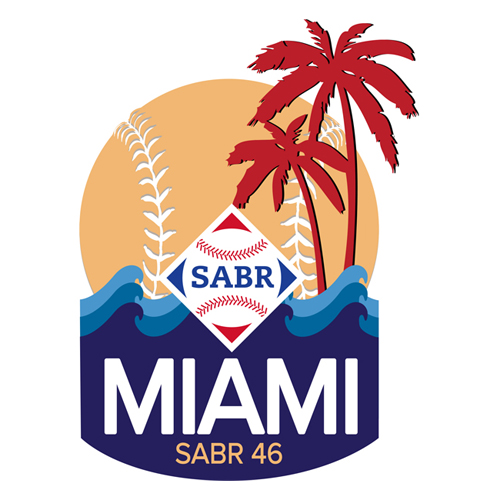 We hope you'll join us for what promises to be a spectacular SABR 46 convention, July 27-31, 2016, at the Hyatt Regency Miami in downtown Miami, Florida.
Registration: Click here for complete information on SABR 46 registration rates, all-inclusive packages, and optional sessions. Or click here to register for SABR 46! More details on guest speakers, panelists, and presenters will be announced soon. We're again offering a special all-inclusive rate for the annual SABR convention. SABR members can pay $269 for an all-inclusive package that includes full registration to SABR 46, a premium Home Plate Box ticket to the Miami Marlins game on Friday, July 29 (includes special pregame ballpark session/tour and roundtrip bus transportation), and one ticket to the Awards Luncheon — the package is a savings of $40 off the regular rate. Non-members can pay $299 for the all-inclusive rate. The deadline to register at the all-inclusive rate is Monday, June 13, 2016.
Hotel: Don't forget to book your hotel room at the Hyatt Regency Miami; our room block usually goes quickly. Click here to book your room online. The deadline to book your room at the SABR group rate of $129/night (plus tax) is Monday, June 13, 2016. If you have any questions about your reservation, please call the hotel at (305) 358-1234.
Pregame ballpark session/tour: SABR 46 attendees will have a special opportunity to visit Marlins Park for an exclusive pregame ballpark session with Miami Marlins executives and players. Before the Marlins 7:10 p.m. game against the St. Louis Cardinals on Friday, July 29, a special SABR 46 panel discussion will take place at Marlins Park followed by a ballpark tour for convention attendees. Guest speakers and more details will be announced soon. Purchase of SABR 46 conference registration AND a game ticket will be required to attend this special session. A SABR 46 Marlins game ticket also includes roundtrip bus transportation. Click here to learn more.
Pre-order your SABR logo shirts, caps, or souvenir baseballs: Avoid the rush at registration, and pre-order your SABR logo polo shirt, T-shirt, baseball caps, or souvenir crystal baseball online when you register for SABR 46

. Please indicate shirt size (adult S to XXXL) when you register. Caps are one-size-fit-most. Your items will be available to be picked up when you arrive at the SABR convention.

The souvenir baseballs are crystal paperweights measuring about 3 inches around, with an embossed SABR logo in the center.

Deadline to pre-order: Monday, June 13, 2016.
Apply for a Yoseloff Scholarship: With generous funding from The Anthony A. Yoseloff Foundation, Inc., SABR will award up to four scholarships to high school or college students to attend SABR 46 in Miami. This scholarship will pay for registration, transportation and lodging (double occupancy) up to a total value of $1,250. Students must be currently enrolled in a high school, college undergraduate or graduate program, and be between 18 and 29 years of age at the time of the conference. Some form of age verification (photocopy of driver's license, passport, etc.) must be attached to your application. Submissions must include a written essay and a letter of recommendation from a current high school/college teacher, guidance counselor or a school administrator. For full details on how to apply, click here.
All SABR 46 attendees will also receive a souvenir print edition of The National Pastime, our annual convention journal, focusing on baseball teams, players and events in the Miami area. All SABR members, whether you attend the convention or not, will receive the expanded e-book edition of The National Pastime in their inboxes later this summer. Click here to register for SABR 46.
---

SABR invites all members to present their research findings to their colleagues attending SABR 46, the 2016 annual convention on July 27-31 in Miami, Florida.
Oral presentations are expected to last 20 minutes, followed by a five minute question-and-answer period. Posters will be presented, with the author on-hand to discuss the work, during a poster session of 90 or so minutes, and will probably remain on display throughout the convention. Through on-site judging, the most highly-regarded presentations will receive the Doug Pappas Award for best oral presentation and the USA Today Sports Weekly Award for best poster presentation.
The submission deadline for SABR 46 abstracts is midnight PST, Sunday, MARCH 13, 2016. Click here for complete details and criteria.
Submit abstracts to sabr2016-presentations@comcast.net, the research presentations address for SABR 46. You may also use the alternate address sabr46-presentations@comcast.net.
Please note: If your abstract is accepted and you intend to make a research presentation, you must register to attend the SABR 46 convention. Registration and hotel information for SABR 46 is now available at SABR.org/convention.
---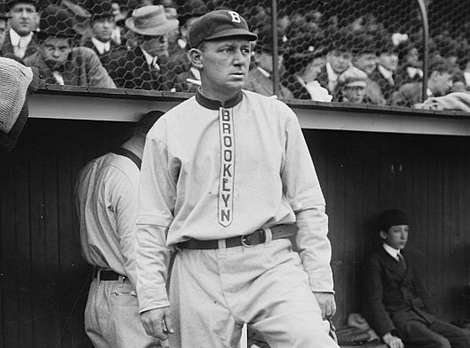 Nine new biographies were posted this week as part of the SABR Baseball Biography Project, which brings us to a total of 3,609 published biographies. Here are the new bios:
All new biographies can be found here: http://sabr.org/bioproj/recent
Search for any SABR biography: You can now visit sabr.org/bioproj_search to search for any player — or manager, executive, scout, spouse, broadcaster, or umpire — who appears in the SABR BioProject. You can also browse all of these BioProject categories and a lot more, including 300-game winners, Hall of Famers, 1960s All-Stars, or Negro Leaguers, at our Browse page: sabr.org/bioproj/browse.
---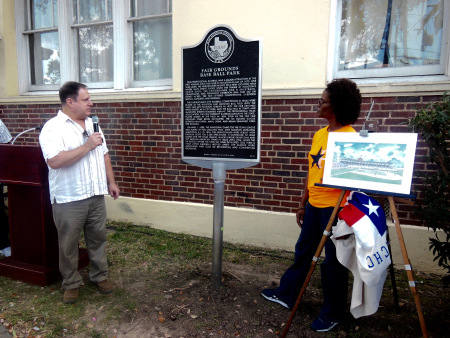 Behind the efforts of Houston historian/Master of Ceremonies Mike Vance, the Harris County Historical Commission, and the Texas Historical Commission, the plaque that memorializes Fair Grounds Park, at the block bordered north and south by Milam to the west and Travis to the east, and east west at its northern boundary by McGowen in the Midtown area of Houston, is now done. The featured plaque went up as planned on Saturday, February 20 before a small and genteel crowd of avid preservationists and baseball history fans.
According to Mike Vance, seven individual proclamations were received in support of the marker dedication: Harris County Judge Ed Emmett, Houston Mayor Sylvester Turner, Governor Greg Abbott, Congresswoman Sheila Jackson Lee, Senator Ted Cruz, State Senator John Whitmire and State Representative Garnett Coleman all sent notices of support that Saturday was dedicated by them all as "Fair Grounds Base Ball Park Day in Houston and the State of Texas." And, as Mike Vance also notes on his Facebook page, this was a united show of four Democrats and three Republicans.
Thanks go out to Greg Jacobsen, the owner of the property that now occupies and uses the land that once hosted the Fair Grounds Base Ball Park for more contemporary commercial purposes. Without his supportive permission to the premises installment of the historical marker today, this beautiful moment in time could not have happened.
Click here to view more photos and read a complete recap at The Pecan Park Eagle.
— Bill McCurdy
---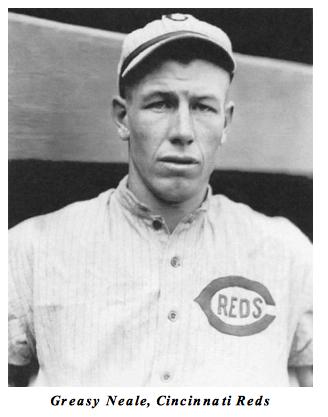 Editor's note: This article by Joseph Wancho first appeared in the SABR Deadball Era Committee's February 2016 newsletter. To learn more about the Deadball Era Committee, click here.
You may be able to visualize the scene from your very own living room: "I'll take 'Hall of Fame' for $400 Alex." Alex asks, "I was an outfielder on a World Series winning team, coached in the Rose Bowl, coached back-to-back championship teams in the NFL, and was inducted into the Pro Football Hall of Fame." The contestants stare blankly and offer no response. Alex says "We were looking for Earle "Greasy" Neale. Pick again."
One question that comes to mind is where on earth did William and Rena Neale's boy receive such a nickname? "There was a boy I grew up with in Parkersburg, W. Va., and he was a kind of Huckleberry Finn. His parents didn't pay him much mind or discipline him in any way. He wasn't too particular about his appearance, and one day I called him 'Dirty Face' or 'Dirty Neck' or some such thing, and he got even by calling me 'Greasy,' because I had worked for a time as a grease boy in a rolling mill. The other kids picked it up, and it stayed with me for life. Of course, some sportswriters wrote that the nickname referred to my elusiveness as a ball carrier in football and a base runner in baseball. But it was that boy back home who gave me the name," Neale explained. Later in his life, Neale was hired as an assistant football coach at Yale University. The "high-brow set" at the New Haven campus did not approve of his moniker. "No point in changing now just because I'm in the Ivy League," Neale said.
Read the full story at SABR.org by clicking here.
---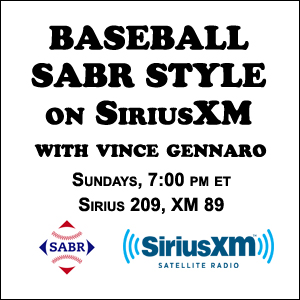 Behind the Numbers: Baseball SABR Style on SiriusXM, a radio show hosted by SABR President Vince Gennaro, will air this weekend at its regular time, 7:00-8:00 p.m. ET on Sundays, on MLB Network Radio.
You can listen to all recent episodes on-demand on the SiriusXM Internet Radio App.
Baseball SABR Style focuses on examining and interpreting the statistical analysis that plays a critical role in baseball today. It airs weekly throughout the year on MLB Network Radio, available to subscribers nationwide on XM channel 89, Sirius channel 209, and on the SiriusXM Internet Radio App.
For more information, click here.
---
Minutes from the Board of Directors conference call on January 10, 2016, have now been posted on the SABR website.
You can view all past minutes of SABR Board meetings by going to the page below:
http://sabr.org/content/sabr-board-minutes
Or you can go to the Members' Info page and click on "Org. files", then "Board Minutes" to view the minutes.
---
In Memoriam
Joseph F. Belle Isle, 85, a SABR member since 1983, died on February 22, 2016, at his home in New London, New Hampshire. He retired in 1988 after 25 years as an advertising executive for Doyle, Dane, Bernbach. He graduated from Rutgers University in 1953 and spent two years as a First Lieutenant in the US Air Force followed by seven years in the Reserves. While living in Sea Cliff, Long Island, he was advertising manager for Phelps Dodge Copper. He loved music and was considered an expert on jazz. He was married to Dolores "Dee" (Read) Belle Isle for 60 years and is survived by her; two sons, Joseph Leborgne Belle Isle of New London and Richard R. Belle Isle of Marshall, Virginia; two daughters, Elizabeth Belle Isle of Springfield, Massachusetts, and Mary Belle Isle of Fitzwilliam, New Hampshire; five grandchildren, nieces, nephews, cousins, and many godchildren. A mass will be celebrated on Wednesday, March 2 at 11:00 a.m. at Our Lady of Fatima Church, New London. Burial will be in New London's Old Main Street Cemetery in the spring. For more information, click here.
---
We've heard your feedback: Some of you have said you look forward to "This Week in SABR" every Friday, but sometimes there are just too many compelling articles and announcements to read every week. We're not complaining — hey, keep up the great work! — but we know the feeling. So in an effort to make the length of this newsletter more manageable to read, we'll summarize some of the repeating/recurring announcements in a special "In Case You Missed It (ICYMI)" section of "This Week in SABR".
Here are some major headlines from recent weeks that we don't want you to miss:
All previous editions of This Week in SABR can be found here: http://sabr.org/content/this-week-in-sabr-archives.
---
We'd like to welcome all of our new SABR members who have joined this week. You can find all Members-Only resources at members.sabr.org and the Membership Handbook can be downloaded here.
Please give these new members a warm welcome and help them make the most of their membership by giving them the opportunity to get involved in their local chapter or a research committee.
You can find contact information for any SABR member in the online membership directory (SABR.org/directory).
| Name | Hometown | | | Name | Hometown |
| --- | --- | --- | --- | --- | --- |
| Mike Brown | Chandler, AZ | | | John Houston | Clifton, NJ |
| Phil Campanella | Forest Hills, NY | | | Michael Mariano | Los Angeles, CA |
| Reg Delperdang | Bend, OR | | | Larry Ostler | Ottawa, ON |
| Brenda Doherty | Houston, TX | | | John Spinato | Hamden, CT |
| Todd Fertig | Topeka, KS | | | Jim Swanson | Snoqualmie, WA |
| Conor Fitzgerald | Redding, CA | | | Joshua Wortsman | Davis, CA |
| George Gmelch | San Francisco, CA | | | | |
---
Here are the new SABR research committee updates this week:
Educational Resources: The SABR Educational Resources Committee is creating a Syllabi and Activity Depository to collect baseball related education materials. We are hoping in the near-future to create a database for people to search, and download these materials. We are asking that if you are teaching a "baseball course" (Introduction to Baseball Literature, etc.) or using baseball as an example to teach a particular topic to please share those materials with us. Please fill out one of our surveys — click here for the Syllabi form or click here for the Activity form — and then e-mail your activity or syllabi (in PDF format) to Tom Mueller at hoopsgis@gmail.com.
Find all SABR research committee newsletters at SABR.org/research.
---
Here are the new regional chapter updates this week:
Visit SABR.org/chapters for more information on SABR regional chapters.
---
Here is a list of upcoming SABR events:
All SABR meetings and events are open to the public. Feel free to bring a baseball-loving friend … and make many new ones! Check out the SABR Events Calendar at SABR.org/events.
---
Here are some recent articles published by and about SABR members:
Read these articles and more at SABR.org/latest.
---
This Week in SABR is compiled by Jacob Pomrenke. If you would like us to include an upcoming event, article or any other information in "This Week in SABR," e-mail jpomrenke@sabr.org.
Have trouble reading this e-mail? Click here to view this week's newsletter on the web.
Are you receiving our e-mails? "This Week in SABR" goes out by e-mail to all members on Friday afternoons. If they're not showing up, try adding "sabr.notes@sabr.org" to your contact list to ensure they show up in your inbox (and not the spam folder.)
---
Originally published: February 26, 2016. Last Updated: April 3, 2020.
https://sabr.org/wp-content/uploads/2020/03/research-collection4_350x300.jpg
300
350
admin
/wp-content/uploads/2020/02/sabr_logo.png
admin
2016-02-26 15:00:00
2020-04-03 14:39:13
This Week in SABR: February 26, 2016