This Week in SABR: July 3, 2015

Welcome to "This Week in SABR!" Click here to view this week's newsletter on the web. Here's what we've been up to as of July 3, 2015:
---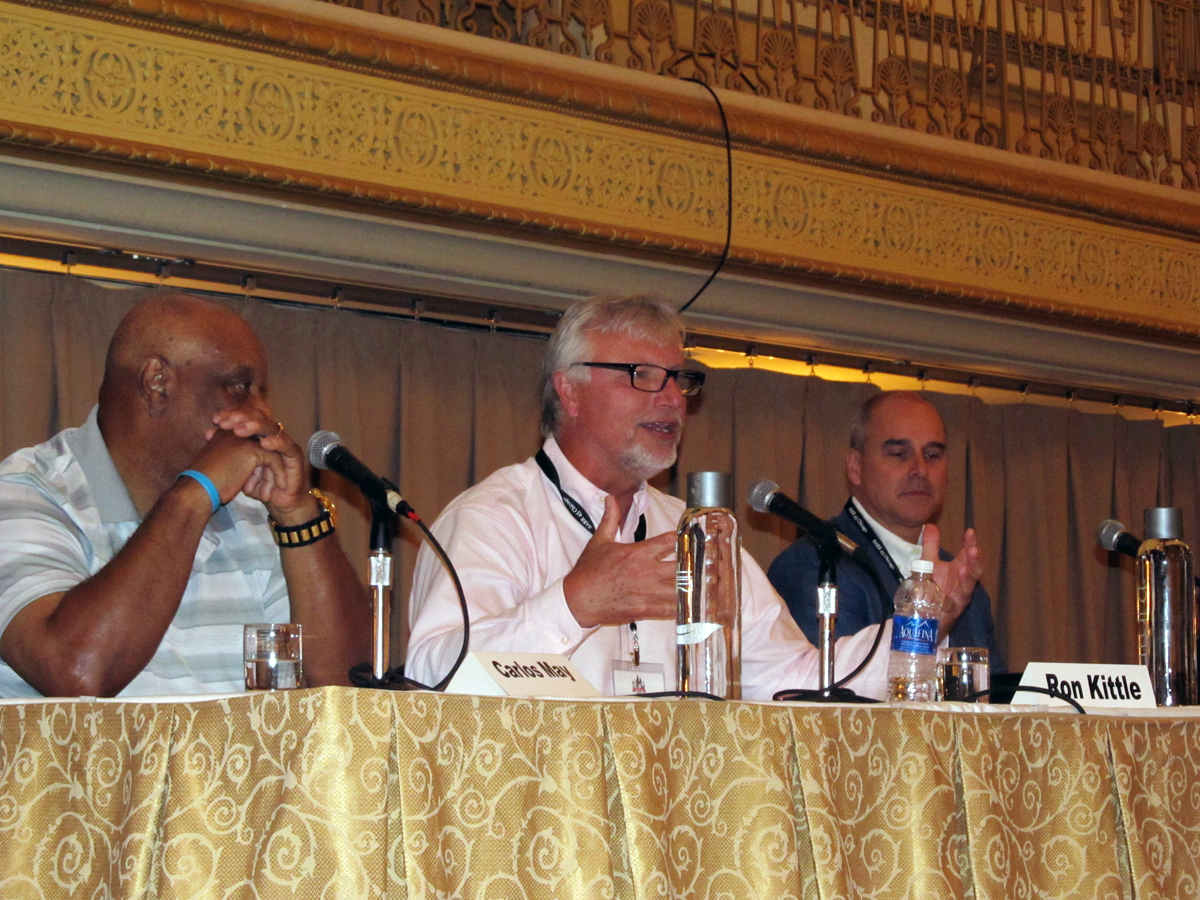 Couldn't make it to Chicago for SABR 45? Check out complete coverage from the 2015 convention by visiting SABR.org/convention.
The Society for American Baseball Research held its 45th annual convention on June 24-28, 2015, at the elegant Palmer House Hilton in downtown Chicago.
Click on a link below for more stories, photos, and multimedia clips from the SABR 45 convention in Chicago. We'll post more stories, photos and clips online at SABR.org/convention next week.
Broadcasters Panel: Listen to highlights from our SABR 45 session with Cubs announcers Len Kasper, Ron Coomer, Jim Deshaies, and moderator Curt Smith (audio)
White Sox Panel: Listen to highlights from our SABR 45 player panel with Ron Kittle, Carlos May, Mike Huff, and moderator Dan Migala (audio)
Curveballs Panel: Listen to highlights from our SABR 45 pitching prodigies panel with Steve Trout, Joe Berton ("Sidd Finch"), and moderator Barry Bloom (audio)
Women in Baseball Panel: Listen to highlights from our SABR 45 session with Martha Jo Black, Christy Spisak, John Kovach, Caroline Phillips, and moderator Leslie Heaphy (audio)
More stories, photos, and clips coming soon at SABR.org/convention!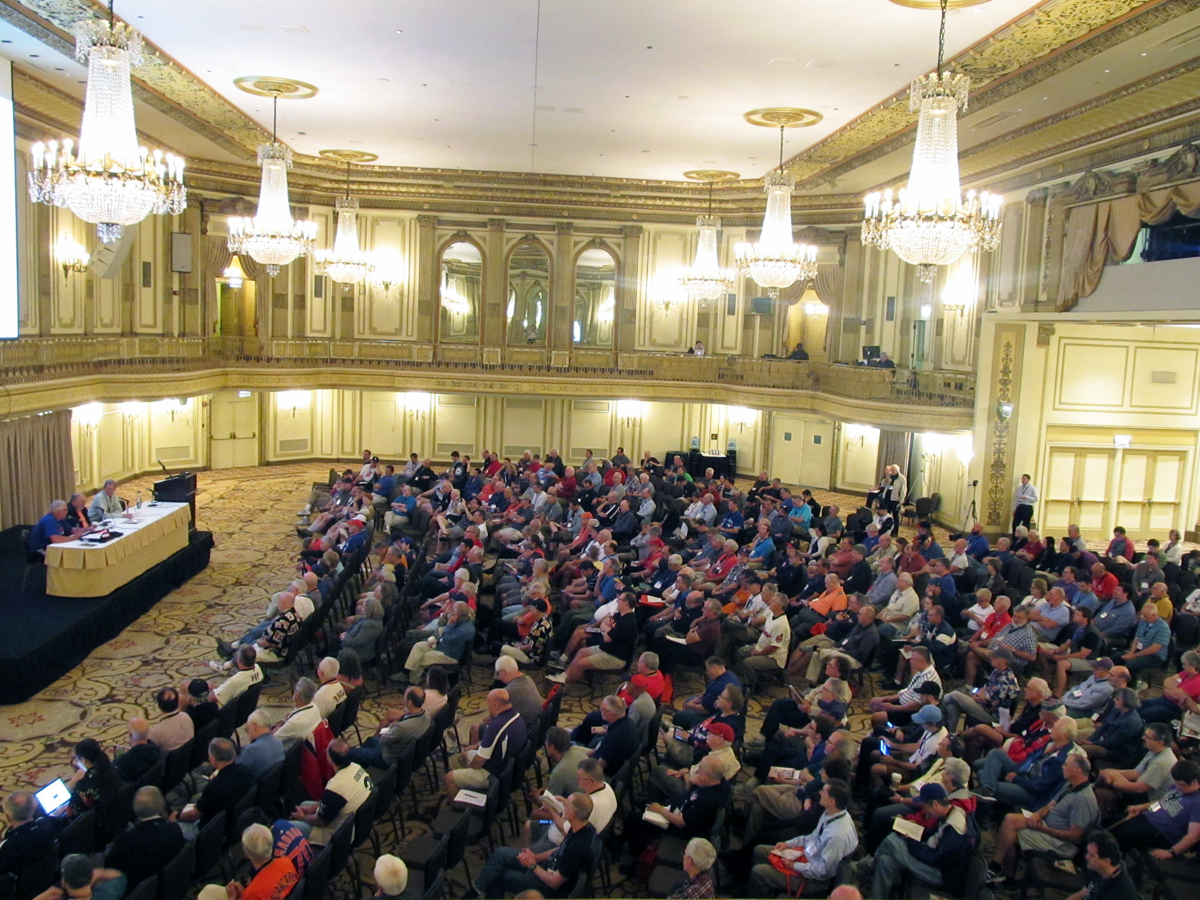 Around the Web:
---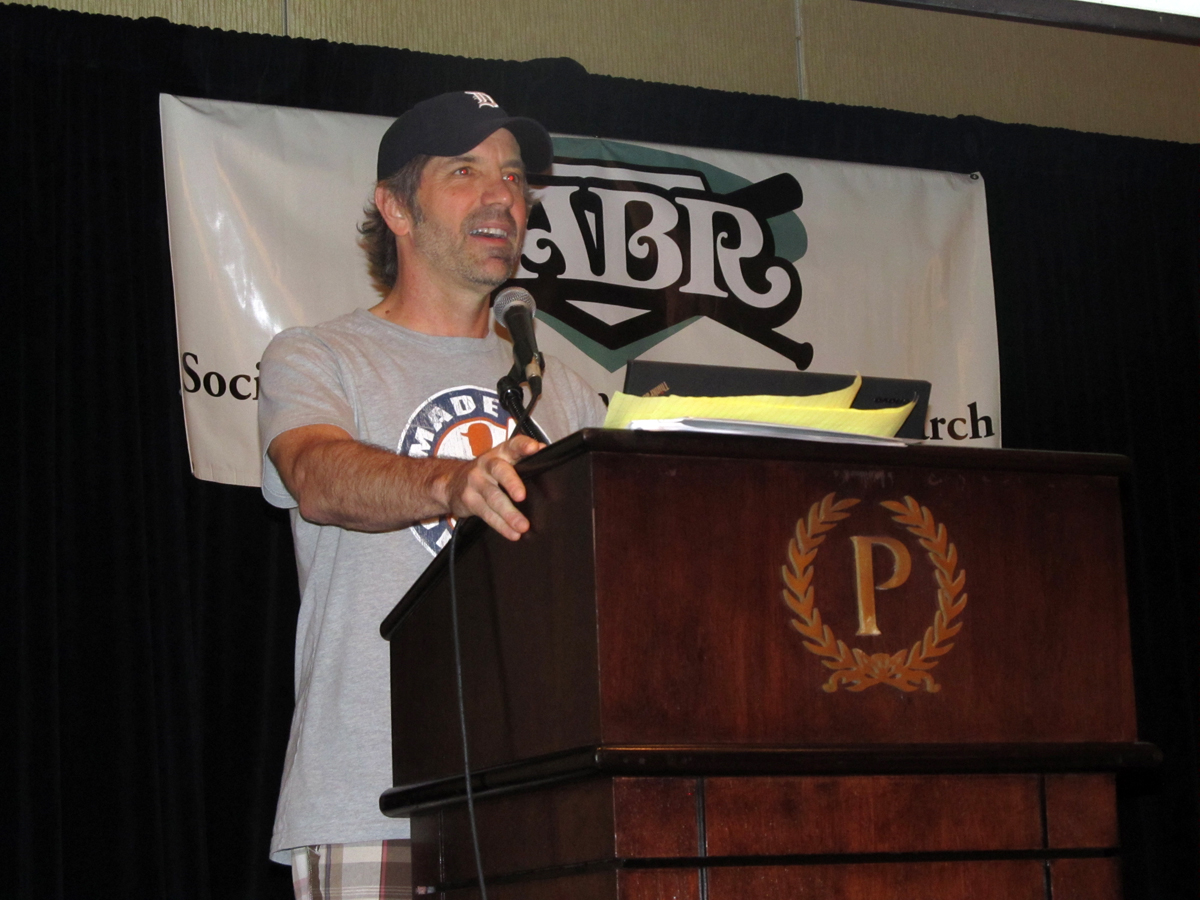 Chuck Hildebrandt has won the 2015 Doug Pappas Award for the best oral research presentation and Brandon Grilc has won the USA Today Sports Weekly Award for the best poster presentation at SABR 45 in Chicago.
Hildebrandt, chair of SABR's Baseball and the Media Committee and a SABR member since 1988, won the Pappas Award for his presentation, "'Little League Home Runs' in MLB History," which he delivered on Saturday, June 27 at the Palmer House Hilton.
The Doug Pappas Award — originally established as the USA Today Sports Weekly Award in 1992 and renamed in 2004 to honor the late baseball researcher — includes a $250 cash prize with a matching amount donated to SABR.
Grilc, a 2014 SABR Yoseloff Scholar and recent graduate from the University of Oregon's Historic Preservation graduate program, won the USA Today Sports Weekly Award for his poster presentation, "Stealing Home: How American Society Preserves Major League Baseball Stadiums, Ballpark, & Fields." (Click here to view a high-resolution JPG image of Grilc's award-winning poster.)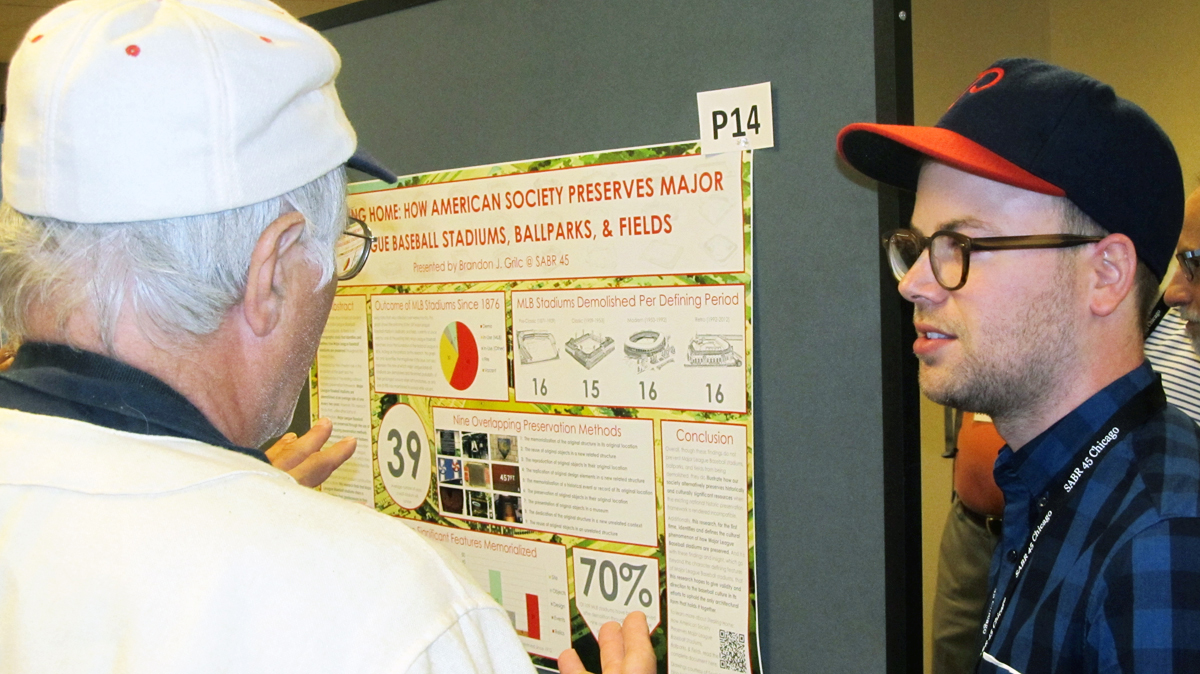 The USA Today Sports Weekly Award — first presented in 1990 as the John W. Cox Award — includes a $125 cash prize with a matching donation to SABR.
Honorable mentions for the oral presentation were:
David W. Smith, "Home Team Scoring Advantage in the First Inning Largely Due To Time and Travel"
Dan Levitt, "Pat Gillick and His 'Many Rivers': One General Manager's Approach to Gaining an Edge"
The honorable mention for the poster presentations was:
Heather O'Neill, "Boom and Bust: How Hitters Perform In Their Contract Year and the First Year after Signing a Long Term Contract"
---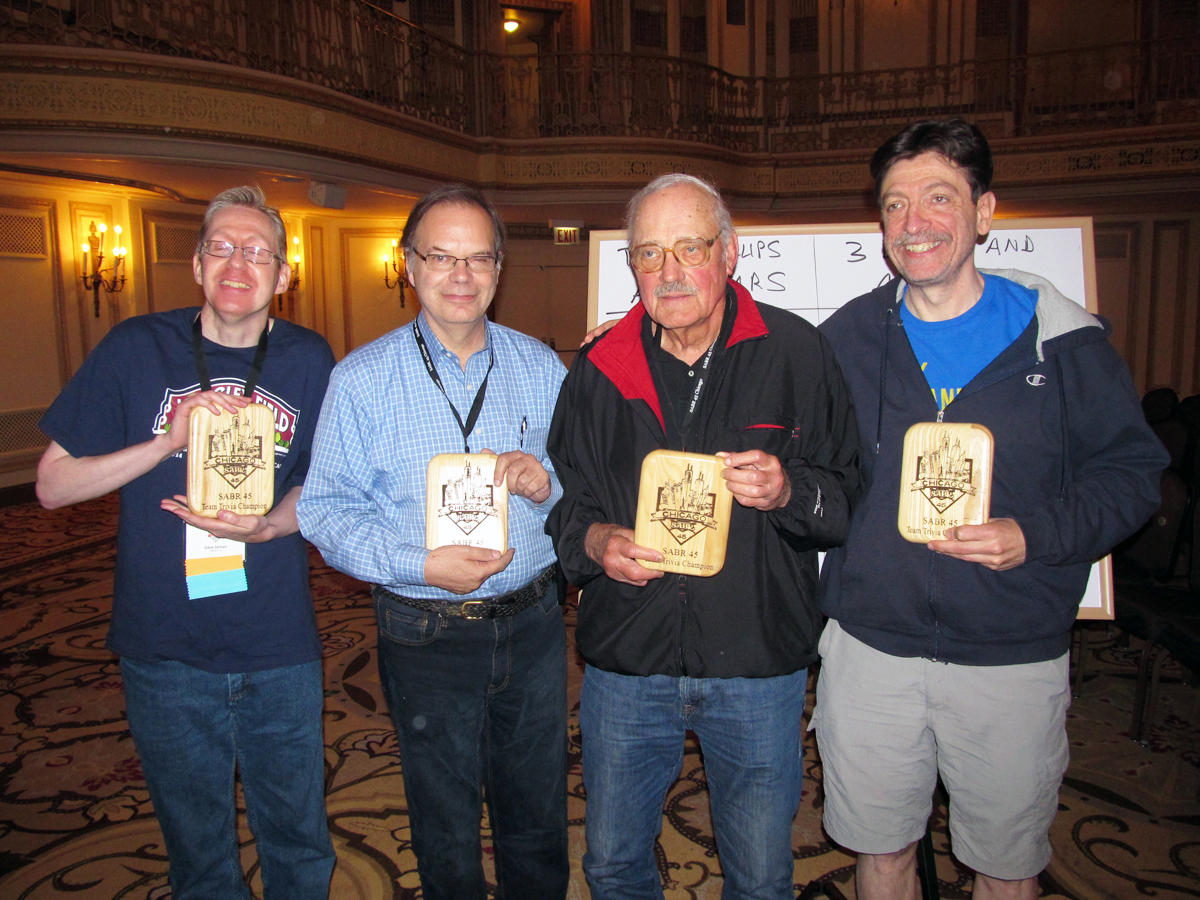 Mark Kanter of Portsmouth, Rhode Island, became the first person to win 10 overall SABR Trivia Contests at the annual convention, while Rob Rafal of Douglaston, New York, captured his first individual championship on Saturday night during SABR 45 at the Palmer House Hilton in Chicago.
Kanter, a SABR member since 1985, was part of his third winning team in the last four years as a powerhouse quartet called 3 Davids and a Mark staged a late rally in the Trivia Contest team final to win 19-14 after being down by 10 points at halftime. The team of Kanter, David Nemec, David Fleitz, and Dave Zeman had 21 championships between them entering the Chicago SABR convention.
Kanter — who was part of winning teams at the SABR conventions in 1997-98, 2000-03, '07, '12 and last year in Houston — broke a tie with Mike Caragliano for the overall lead in Trivia Contest championships dating back to 1982. Caragliano, who did not attend this year's convention, is the all-time individual leader with four titles and he also has been part of five wining trivia teams.
Nemec, of Eastport, New York, moved into third place all-time with his eighth Trivia Contest crown (1 individual, 7 team). The prolific 19th-century baseball historian, who received his Henry Chadwick Award earlier at SABR 45, was most recently part of a winning trivia team at the 2008 convention in Cleveland, the same year that Fleitz won his third consecutive individual title. Fleitz, of Pleasant Ridge, Michigan, now has four overall championships. Zeman, of Addison, Illinois, won his third team title Saturday night.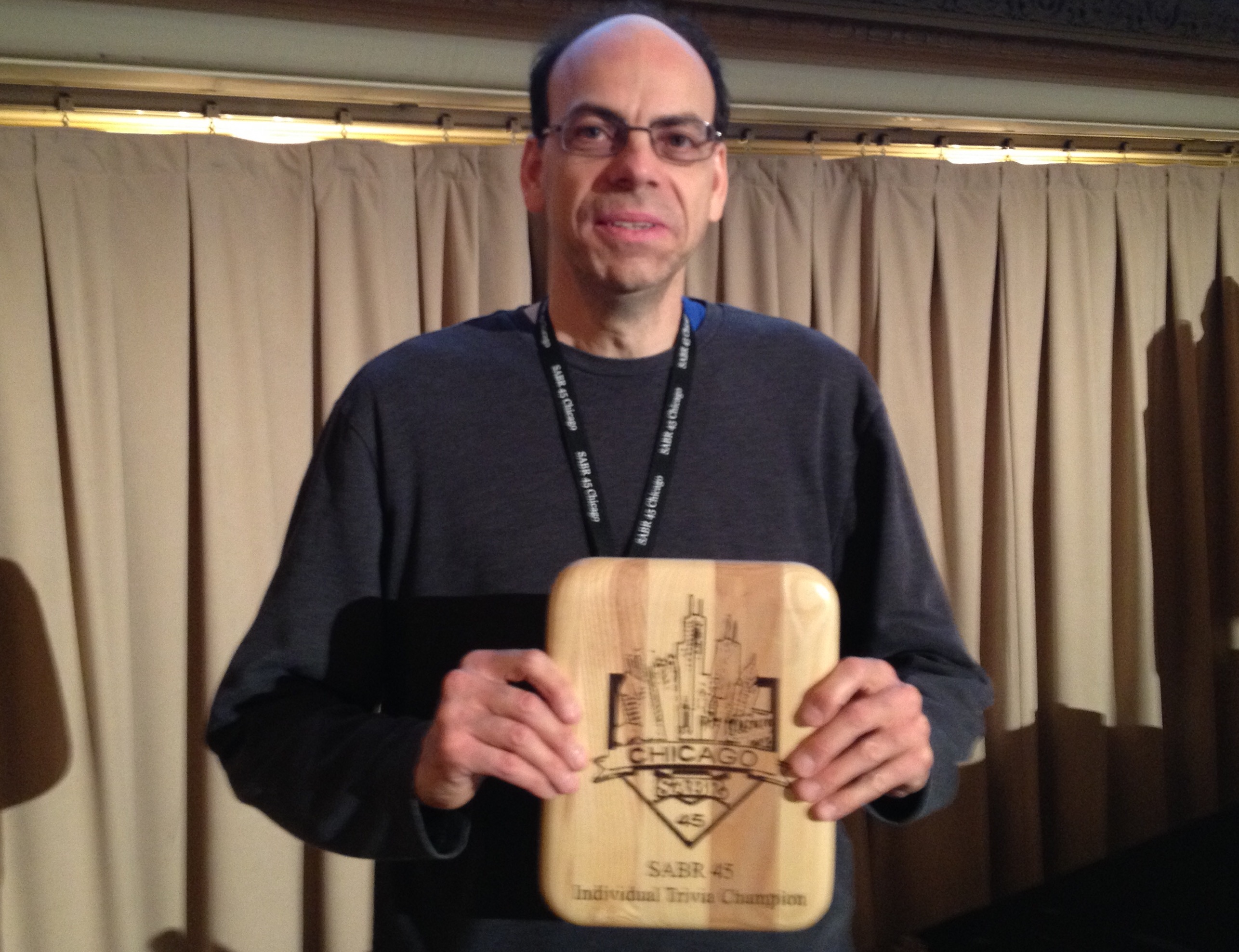 Rafal — who was part of the runner-up team (Tony Phillips All-Stars) along with David Raglin, R.J. Lesch, and Stephen Roney — gained a measure of consolation by capturing his first individual title earlier in the night over Stew Thornley of Roseville, Minnesota. Rafal, who has four overall titles to his credit, had previously been part of winning trivia teams in 2005 in Toronto, 2009 in Washington, and 2014 in Houston.
The SABR Trivia Contest was moderated by D. Bruce Brown, co-chair of Horsehide Trivia with T. Scott Brandon and president of the Bob Davids Chapter in Washington/Baltimore. The questions were written and edited by Brown and Brandon, and the contest was proctored by Barb Mantegani with assistance from Diane Firstman, Damian Begley, Stephanie Weiss, Gregg Gaylord, Steve Krevisky, and Jeffrey Giancana. Brandon also assembled the game boards, illustration and animation of the semifinal and final rounds.
To view a list of previous SABR Trivia Contest winners, click here.
---
The 18th annual Jerry Malloy Negro League Conference will be held August 6-8, 2015, at the Wyndham Grand Pittsburgh Downtown in Pittsburgh, Pennsylvania. The conference is open to all baseball, history and sports fans of all ages.
Register today!

Click here to register online at the SABR Store

. Or click here to download a registration form (PDF); please mail your check or money order before July 31 to SABR Malloy Conference, Cronkite School at ASU, 555 N. Central Ave. #416, Phoenix, AZ 85004.

Regular registration is $175 for an adult rate (includes all activities) or $125 for a student rate. Single-day registration for Friday or Saturday is $100. The rate for the Thursday education forum only is $20. Optional sessions are also available.
The 2015 Jerry Malloy Negro League Conference will celebrate the rich history of black baseball in Pittsburgh. We welcome proposals for oral and poster presentations from all research fields. Previous presenters have included college faculty, public school teachers, graduate students, and independent scholars. Presentations may focus on any topic related to the theme, "Baseball's Best: the Grays and the Crawfords," or other Negro Leagues issues. Some possibilities include: Josh Gibson, Pittsburgh Crawfords, Gus Greenlee, Cum Posey, Vic Harris, Cool Papa Bell, the Crawford Grill, and many others.
Visit SABR.org/malloy for information on the 2015 Call for Papers, Essay Contest, Art Contest, and Library Grant Program.
---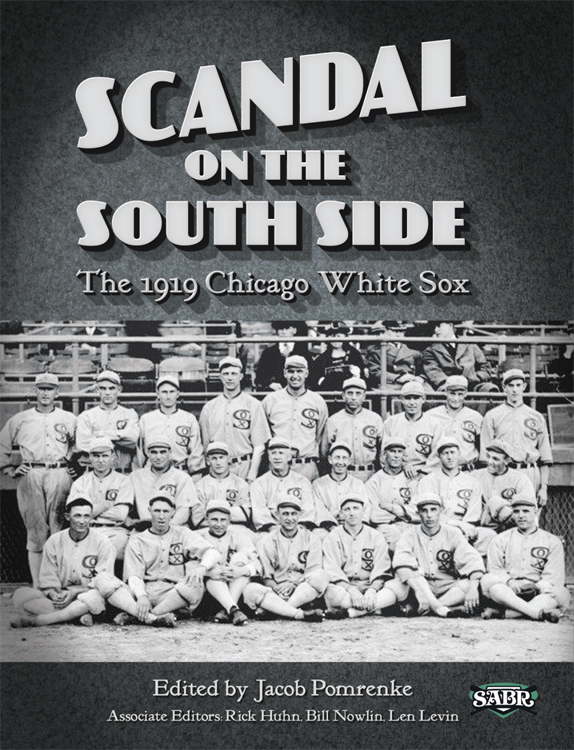 Add a salacious baseball book to your collection with the newest book from the SABR Digital Library:
Scandal on the South Side:
The 1919 Chicago White Sox
Edited by Jacob Pomrenke
ISBN (paperback): 978-1-933599-95-3
ISBN (e-book): 978-1-933599-94-6
$19.95 paperback; $9.99 e-book
8.5″ x 11″, 324 pages
The Black Sox Scandal is a cold case, not a closed case.
When Eliot Asinof wrote his classic history about the fixing of the 1919 World Series, Eight Men Out, he told a dramatic story of undereducated and underpaid Chicago White Sox ballplayers, disgruntled by their low pay and poor treatment by team management, who fell prey to the wiles of double-crossing big-city gamblers offering them bribes to lose the World Series to the Cincinnati Reds. Shoeless Joe Jackson, Buck Weaver, Eddie Cicotte, and the other Black Sox players were all banned from organized baseball for life. But the real story is a lot more complex.
We now have access to crucial information that changes what we thought we knew about "baseball's darkest hour" — including rare film footage from that fateful fall classic, legal documents from the criminal and civil court proceedings, and accurate salary information for major-league players and teams. All of these new pieces to the Black Sox puzzle provide definitive answers to some old mysteries and raise other questions in their place.
However, the Black Sox Scandal isn't the only story worth telling about the 1919 Chicago White Sox. The team roster included three future Hall of Famers, a 20-year-old spitballer who would go on to win 300 games in the minor leagues, and even a batboy who later became a celebrity with the "Murderers' Row" New York Yankees in the 1920s.
All of their stories are included in Scandal on the South Side, which has full-life biographies on each of the 31 players who made an appearance for the White Sox in 1919, plus a comprehensive recap of Chicago's pennant-winning season, the tainted World Series, and the sordid aftermath.
This book isn't a rewriting of Eight Men Out, but it is the complete story of everyone associated with the 1919 Chicago White Sox. The Society for American Baseball Research invites you to learn more about the Black Sox Scandal and the infamous team at the center of it all.
Contributors include: Bruce Allardice, Russell Arent, Steve Cardullo, Brian Cooper, James E. Elfers, David Fleitz, David Fletcher, Daniel Ginsburg, Irv Goldfarb, John Heeg, Rick Huhn, Bill Lamb, Len Levin, Dan Lindner, Adrian Marcewicz, Brian McKenna, Steven G. McPherson, Paul Mittermeyer, Jack Morris, Peter Morris, Rod Nelson, James R. Nitz, Bill Nowlin, Jacob Pomrenke, Kelly Boyer Sagert, Jim Sandoval, Richard Smiley, Lyle Spatz, Steve Steinberg, Brian Stevens, Andy Sturgill, and Gregory H. Wolf.
SABR members, get this e-book for FREE!
Having trouble downloading our e-books? To view PDF files on your computer, click here to download the free Adobe Reader software. Having trouble downloading e-books to your Kindle, Nook, Sony Reader or iPad? Click here for additional help.
---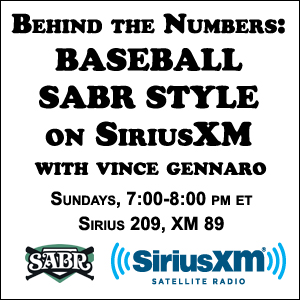 We invite you to listen to Behind the Numbers: Baseball SABR Style on SiriusXM, a new radio show hosted by SABR President Vince Gennaro, on Sunday nights on MLB Network Radio.
Baseball SABR Style focuses on examining and interpreting the statistical analysis that plays a critical role in baseball today. It will air weekly throughout the year on MLB Network Radio, available to subscribers nationwide on XM channel 89, Sirius channel 209, and on the SiriusXM Internet Radio App. (Recent shows are available afterward in the "on-demand" section of the SiriusXM app or website.)
For more information, click here.
---
We've heard your feedback: Some of you have said you look forward to "This Week in SABR" every Friday, but sometimes there are just too many compelling articles and announcements to read every week. We're not complaining — hey, keep up the great work! — but we know the feeling. So in an effort to make the length of this newsletter more manageable to read, we'll summarize some of the repeating/recurring announcements in a special "In Case You Missed It (ICYMI)" section of "This Week in SABR".
Here are some major headlines from recent weeks that we don't want you to miss:
All previous editions of This Week in SABR can be found here: http://sabr.org/content/this-week-in-sabr-archives.
---
We'd like to welcome all of our new SABR members who have joined this week. You can find all Members-Only resources at members.sabr.org and the New Member Handbook can be downloaded here.
Please give these new members a warm welcome and help them make the most of their membership by giving them the opportunity to get involved in their local chapter or a research committee.
You can find contact information for any SABR member in the online membership directory (SABR.org/directory).
| Name | Hometown | | | Name | Hometown |
| --- | --- | --- | --- | --- | --- |
| Christian Breed | Flanders, NJ | | | Mark Hyman | Baltimore, MD |
| Gregory Carstens | Tacoma, WA | | | Matthew Iverson | Jackson, WI |
| Warren Christie | Lloyd Harbor, NY | | | Jim Jeatt | Edmonton, AB |
| Scott Davis | Brampton, ON | | | Vaughan Kastor | Simi Valley, CA |
| Chris Deitschel | Arlington Heights, IL | | | Masato Koike | Nagoya, JPN |
| Nick Demilio | Rocky Mount, NC | | | Christopher Madden | Manhattan Beach, CA |
| Richard Fipphen | New York, NY | | | Michael Manocchio | Davie, FL |
| Greg Giacona | Prescott, AZ | | | Durrell Ramer | Madison, WI |
| Andy Grabia | Edmonton, AB | | | | |
---
Here are the new SABR research committee updates for this week:
Find all SABR research committee newsletters at SABR.org/research.
---
There were no new regional chapter updates this week.
Visit SABR.org/chapters for more information on SABR regional chapters.
---
Here is a list of upcoming SABR events:
All SABR meetings and events are open to the public. Feel free to bring a baseball-loving friend … and make many new ones! Check out the SABR Events Calendar at SABR.org/events.
---
Here are some recent articles published by and about SABR members:
Read these articles and more at SABR.org/latest.
---
This Week in SABR is compiled by Jacob Pomrenke. If you would like us to include an upcoming event, article or any other information in "This Week in SABR," e-mail jpomrenke@sabr.org.
Have trouble reading this e-mail? Click here to view this week's newsletter on the web.
Are you receiving our e-mails? "This Week in SABR" goes out by e-mail to all members on Friday afternoons. If they're not showing up, try adding "sabr.notes@sabr.org" to your contact list to ensure they show up in your inbox (and not the spam folder.)
---
Originally published: July 3, 2015. Last Updated: April 3, 2020.
https://sabr.org/wp-content/uploads/2020/03/research-collection4_350x300.jpg
300
350
jpomrenke
/wp-content/uploads/2020/02/sabr_logo.png
jpomrenke
2015-07-03 03:13:04
2020-04-03 14:39:14
This Week in SABR: July 3, 2015