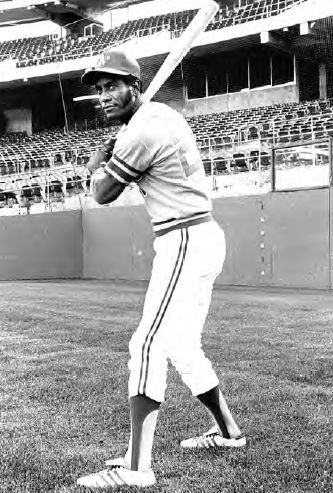 ---
Allan Lewis was baseball's first "designated runner." Owner Charles O. Finley, on one of his many whims, put "The Panamanian Express" on his Kansas City and Oakland rosters for parts of six seasons from 1967 to 1973. "Mr. Finley's called me up every time," said Lewis in 1973. "No reports, no scouts, no managers —just him."1 An outfielder by trade, Lewis played in 156 big-league games —but appeared just 10 times in the field, with three starts. The speedster scored more runs (47) and stole more bases (44) than he had plate appearances (31). Yet he was part of two World Series champions. Later, as a scout, he signed two solid major leaguers, Einar Díaz and Carlos Ruiz, from his homeland.
There are two ambiguities about the birth of Allan Sydney Lewis. Baseball references show that he was born on December 12, 1941, but at least two Panamanian sources show the year as 1937.2 Since many ballplayers have shaved years off their age for professional purposes, there's reason to believe the earlier date. Also, his place of birth is listed as Colón, which could be either of two places. Rather than Panama's second biggest city (which lies near the Atlantic entrance to the Panama Canal), it was probably Colón island in the nation's northwest corner. This isle is part of the beautiful province of Bocas del Toro, on the Caribbean coast near Costa Rica. Its main town, also called Bocas del Toro, is where young Allan first played Little League ball.
"I love the game always since I was a kid," Lewis said. "When I was a kid in Bocas del Toro, I used to listen to baseball on Armed Forces Radio."3 The sport was popular in the area, which proved to be a fertile source of talent. At least three of Panama's 53 major leaguers (as of year-end 2013) were born in Bocas del Toro town: Ivan Murrell, Sherman Obando, and Fernando Seguignol. Like Lewis, Chico Salmón's birthplace is listed as Colón without specifying, but stories from Panama make it clear that Salmón's roots were also in Bocas del Toro.
Information about the Lewis family is lacking, including the names of his parents and siblings. Since people use double surnames in Latin America, though, we know that his mother's maiden name was Elliott.4 It is therefore likely that both sides of the family originally came from English Caribbean possessions. Jamaicans founded Bocas del Toro town in 1826, and more Jamaican immigrants followed as the area became a major center of banana plantations. Even today the town is known for its reggae-flavored ambiance.
Allan went to high school at Colegio Félix Olivares Contreras in David, the capital of Chiriquí, the neighboring province to the south. On December 12, 1959, his birthday, he married Barbara Hall; they would go on to have nine children (six boys and three girls). The likelihood that he married at age 18 seems low, which also supports a 1937 birthdate.
Lewis represented his province in the 17th and 18th National Amateur Championships in 1960 and 1961, helping his team win the title the first year. The Kansas City Athletics signed him to a pro contract, thanks to their Latin American regional scout, Félix "Fellé" Delgado, and assigned him to Albuquerque in the Class D Sophomore League. After missing the early part of the 1961 season with an ankle injury, Lewis hit .271 with 2 homers and 20 RBIs. However, he then broke a leg in June and went back home to Panama.5
After recovering, Allan played most of the 1962 and 1963 seasons with Daytona Beach in the Class A Florida State League. He also saw action with another Class A affiliate of the A's, Lewiston in the Northwest League. He hit over .300 both years in Florida but showed little power. The injuries did not appear to have diminished his speed, though (9.5 seconds in the 100-yard dash).
Lewis first played winter ball in Panama in 1962. In the winter of 1963-64, after initial indications that he might play in Venezuela, he remained in his homeland with the Marlboro Smokers. The fourth Interamerican Series took place in February 1964 in Managua, Nicaragua, and Allan was named to the Panamanian team. He later recalled the biggest thrill of his early career as getting a hit off big leaguer Juan Pizarro in that series. That spring he returned to Daytona Beach, where he hit over .300 again but without any homers.
After another winter with Marlboro, Lewis returned for his fourth season in the Florida State League. Kansas City's entry was now located in the town of Leesburg. Though his average dipped to .280 and he again went homerless, Lewis stole 76 bases and was named a league All-Star. He earned the same honor in the winter of 1965-66 with Marlboro.
The Panamanian Express ran wild in 1966, stealing 116 bases for Leesburg. Lewis also led the league in runs (92) and hits (156). That November he played in a different winter league — Nicaragua. He was supposed to return to Panama when the season opened there on December 1, but the league was reduced to just three teams. Thus he stayed with the Granada Sharks, where he tied with Doug Rader for the league lead in runs scored (40).
Lewis had captured Charlie Finley's fancy. "Finley dispatched his manager of the year, Alvin Dark, to Nicaragua to scout Lewis. Then the owner ordered them to make a command appearance. In a press conference, Finley grandly announced two things: 1. a new dimension in baseball in the pinch-running person of Allan Lewis, and, 2. that the Kansas City A's would wear white shoes for the first time." The club's fastest men, Bert Campaneris and Lewis, got special soft light pairs.6 Newspapers carried the story of the albino kangaroo kicks — with a photo of a grinning Finley and Lewis — on January 17, 1967.7
"Dark seethed. … '(H)e even tried to break camp without me, but Mr. Finley already had all that publicity out so Dark couldn't do it.'"8 Thus Allan Lewis made Kansas City's Opening Day roster. In his debut, on April 11, Lewis ran for Ed Charles in the seventh inning — and Cleveland's Steve Hargan promptly picked him off first base. "The first time I went in … everybody was waiting to see me. I took my lead, and [Hargan] picked me off, just like that. I froze. I just stood there and watched."9
In late April, though, Dark was toeing the party line: "A standout baserunner can give your team a tremendous lift during the eighth and ninth innings of a close game. He raises the devil with the opposition and sets up runs that can win you the squeezers. This is a specialized age. We can use specialized players."10
Lewis was optioned to Double-A Birmingham in late June (ostensibly because the team needed more pitching). He was recalled in July but sent down again in August, having stolen 14 bases in 19 tries. In the winter of 1967-68, Allan returned to Panama, joining Cerveza Balboa. "Beat[ing] out infield grounders and grass cutters," he won the league's batting title at .374, though he had just 91 at-bats in an abbreviated 22-game schedule.11 Balboa was the champion that year, repeated in 1968-69 (as three teams played 26 games each), and added one more in 1970-71. By that time, coverage in The Sporting News had petered out. The original Panamanian League lasted until 1972.
The remainder of Lewis's US pro career resembled the 1967 season. A quick recap will suffice for the summers of 1968 through 1971:
1968: Birmingham through early August, then up to Oakland, where the A's had moved that year.
1969: Iowa Oaks (Triple A), Lodi (Single A), and stints with the big club in June, August, and September. "Al's speed and daring made him a great crowd-pleaser," said Oaks general manager Bob Morris that June.12
1970: Iowa, then Oakland in August and September. After Lewis got picked off base twice in September, one sarcastic newspaperman quipped, "The Panamanian Express is a local that stops between first and second."13 However, on September 27, starting in left field at Anaheim Stadium, Allan hit his one major-league homer, off the Angels' Greg Garrett, in a 9-4 loss.
1971: Lewis broke an ankle in spring training and was reassigned to Double-A Birmingham.14 He saw no big-league action that year.
The 1972 and 1973 seasons are worthy of more attention because Lewis got to appear in the postseason. In 1972 he remained at Birmingham until Oakland recalled him in September. His last of just six major-league hits came in a September 29 start. Lewis was not on the playoff roster, but after Bert Campaneris threw his bat at Tigers reliever Lerrin LaGrow, Finley called him in case Campy was suspended. Instead, Reggie Jackson tore his hamstring in the last playoff game while sliding home on a double steal, and Lewis went to the World Series.
Sharp-tongued manager Dick Williams jibed, "He's a switch-hitter. He batted .300 last year, .150 left-handed and .150 right-handed." Still, Lewis wasn't lacking in confidence. He boasted, "I'm not afraid of [Reds catcher] Johnny Bench. He should be worrying about me."15 Williams sent his 25th man in to run for Mike Epstein in both of the first two games — which angered the hulking first baseman — and Bench cut Lewis down. Sports Illustrated writer Ron Fimrite said: "The Express ran on schedule in both Series games and both times he was derailed by perfect throws by Bench."16 In Game Four, however, Lewis scored the tying run on Gonzalo Márquez's pinch single in the ninth. He appeared in six of the seven Series games, also scoring in Game Seven.
Lewis was back in Birmingham once more in 1973 after dislocating a shoulder near the end of spring training. Fans voted him the team's most popular player that year. Oakland called him up in June, irking captain Sal Bando, who stated that more fully rounded players were more deserving. (In retrospect, though, author Bruce Markusen noted that Bando and Williams both saw some merit to Finley's notion.) Allan was sent down at the end of July and once more recalled when the rosters expanded in September. Again he got to appear in the postseason as Finley pulled strings. As it turned out, Charlie O outmaneuvered himself. When he sought to banish second baseman Mike Andrews after two costly errors in Game Two of the World Series, Commissioner Bowie Kuhn denied Finley's request to replace Andrews with Manny Trillo.
According to a story by Ron Bergman in the Oakland Tribune, "The A's worked themselves into the predicament by selling [José] Morales to make room for pinch-runner Allan Lewis, a Finley favorite, on the 25-man roster. Two days later, Bill North sprained his ankle. The Baltimore Orioles allowed Trillo to replace North for the American League playoffs. When the A's found out the Mets wouldn't agree to the same switch, an attempt was made to get Morales back from Montreal. He didn't clear National League waivers because some team claimed him. Ironically, the Mets allowed the A's to replace North with Lewis."17 He pinch-ran in three World Series games, scoring a key ninth-inning run to help send Game Two to extra innings.
After the A's won their second of three straight championships, they voted Lewis a one-tenth Series share. In December, though, the team assigned him outright to Tucson. He never played again. Around that time, Commissioner Bowie Kuhn was talking up the possibility of a designated-runner rule.18 In March 1974, Charlie Finley signed Olympic sprinter Herb Washington to be Oakland's new pinch-runner deluxe.
Before the 1973 season, Lewis had said, "I'd like to go as far as I can with my role and then be a scout in Latin America. Being a Latin myself would help. I wrote Mr. Finley a letter last year telling him what I want to do."19 Allan worked as an instructor in the A's minor-league system for several years but then decided to come home to Panama.20 After his return he served as a scout for the Cleveland Indians. He recruited catcher Einar Díaz from Chiriquí for the Tribe in 1990.
In January 1997 the Philadelphia Phillies hired Lewis as a regional scouting supervisor along with Jesús Méndez and Fred Manrique. Allan's turf was mainly Panama and the rest of Central America, but he also beat the bushes in unusual destinations such as Ecuador. It's also likely that he spent time in Colombia, which shares a border with Panama. Lewis signed another chiricano, Carlos Ruiz from David, in 1998. As he had done with Díaz, he was responsible for converting the 2008 World Series star from infield to catcher.21 His days of studying catchers as a baserunner gave him insight into the position.22
Lewis also did some coaching in Panama. In the winter of 2001-02, when the nation launched another winter league, he was with the Carta Vieja Roneros, based in Chiriquí. Despite the support of Major League Baseball, that league lasted just one season. In the 2009 World Baseball Classic, at the request of national team manager and fellow big leaguer Héctor López, he was on the staff of Panama's squad. He appears to have retired as a scout after that year; after 2010 stories out of Philadelphia referred to him as a "former Phillies scout." He lives in David with his wife Barbara.
Acknowledgments
Thanks also to SABR member Cliff Blau, whose research provided additional information (notably from the National Baseball Hall of Fame's clippings file).
Sources
Pérez Medina, Ramón G., Historia del Baseball Panameño (Panama: Dutigrafia, 1992).
Extracts from this book are presented on the website El Pelotero: espanol.oocities.com/elpelotero_online/biografextran/allan_lewis.htm
Allan Lewis interview from August 1, 2001, also on the website El Pelotero: espanol.oocities.com/elpelotero_online/entrevistas/allan_lewis01.htm
Blau, Clifford, "Leg Men," Baseball Research Journal, Society for American Baseball Research, 2009
paperofrecord.com (various small pieces of information from The Sporting News)
retrosheet.org
bocas-del-toro.org
Professional Baseball Players Database V6.0
Markusen, Bruce, "Cooperstown Confidential" online columns:
https://oaklandfans.com/columns/markusen/markusen157.html
https://oaklandfans.com/columns/markusen/markusen164.html
Davids, L. Robert, "Lewis Making Mark as Pinch Runner," SABR Baseball Research Journal, 1974.
Notes
1 Ron Bergman, "The Freakish Role of Allan Lewis," Oakland Tribune, March 25, 1973, 24.
2 Lewis interview from El Pelotero. Gustavo Aparicio, "La leyenda Allan Lewis," Día a Día (Panama City, Panama), February 6, 2009.
3 Bergman, "The Freakish Role."
4 Panamanian telephone directory.
5 Carlos Salazar, "'Wheels' keep Lewis going," Albuquerque Tribune, July 21, 1971, 29.
6 Bergman, "The Freakish Role."
7 "A's To Wear White Shoes, Gold Batting Helmets in 1967 Season," Raleigh Register (Beckley, West Virginia), January 17, 1967, 7.
8 Ibid.
9 Maury White, Des Moines Register, May 9, 1969, 1-S.
10 Ed Nichols, "Shore Sports," The Daily Times (Salisbury, Maryland), May 3, 1967, 19.
11 Alberto Montilla, "Lewis Wins Bat Title —In Absentia," The Sporting News, February 17, 1968, 39.
12 Bill Bryson, "A's Nab Oaks' Lewis, Send Velazquez Back," Des Moines Register, June 17, 1969, 1-S.
13 Bergman, "The Freakish Role."
14 Salazar.
15 Ralph Bernstein, "Allan Lewis Can Start Eating Words," Associated Press, October 15, 1972.
16 Ron Fimrite, "A Big Beginning for the Little League," Sports Illustrated, October 23, 1972.
17 Ron Bergman, "Finley Reprimand by Commissioner," Oakland Tribune, October 15, 1973, E35.
18 "Kuhn: No designated runner yet," Associated Press, December 14, 1973.
19 Bergman, "Finley Reprimand."
20 Aparicio.
21 Ben Shpigel, "Phillies Catcher Delivers on a Game 3 Prediction," New York Times, October 26, 1998.
22 Aurelo Ortiz G., "¡Caza – Catcher!" Crítica en Línea (Panamanian online service), critica.com.pa/archivo/01112007/dep15.html.
Born
December 12, 1941 at Colon, Colon (Panama)
If you can help us improve this player's biography, contact us.
http://sabr.org/sites/default/files/AllanLewis.JPG
600
800
admin
/wp-content/uploads/2020/02/sabr_logo.png
admin
2015-09-15 00:00:18
2020-11-12 05:05:08
Allan Lewis