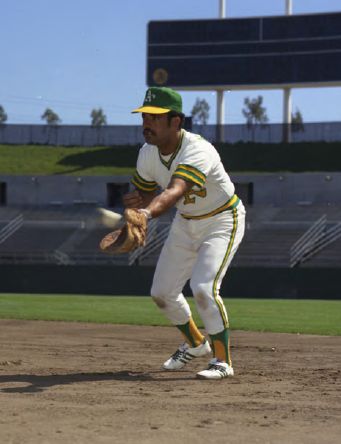 ---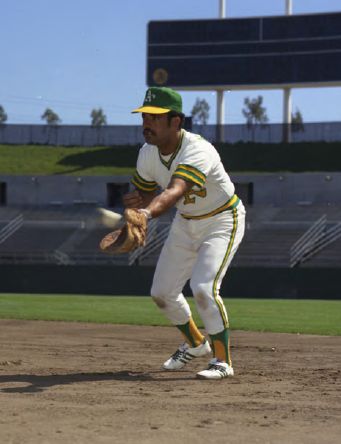 José Manuel Morales was a master pinch-hitter. In 1976 he made his big-league reputation with 25 base hits in this role. This single-season record stood until Colorado's John Vander Wal stroked 28 in 1995; it remained the third best one-year total as the 2013 season ended. Morales — the seventh of 11 men from the US Virgin Islands to make the majors — still ranked eighth on the career list too, with 123.
In 1984, José's last year as a player, AP sportswriter Charles Cooper asked the veteran specialist — who had rarely started a game in the field since 1977 — how he adapted to coming off the bench. Cooper observed, "The lack of playing time forces him to concentrate on the game on a much higher level."1
This cerebral approach to the demands of pinch-hitting was forged over 21 years as a pro. Playing every one of those winters in Puerto Rico was invaluable — though José had to tough it out for ten summers in the minors before he got his first call-up to "The Show" in 1973. But all of his experience led to a productive second career as a batting coach in the majors during the 1980s and '90s.
Morales was born on December 30, 1944, in Frederiksted, St. Croix. This small island is closely linked to its larger neighbor, Puerto Rico. The list of fellow big-league Virgin Islanders includes Valmy Thomas, whose mother bore him in a Puerto Rican hospital but immediately came home. It excludes Henry Cruz, who was born on St. Croix but returned to his family's roots in the city of Fajardo when he was an infant. Another special Puerto Rican case was José's good friend Julio Navarro, who was born on the island of Vieques, east of Puerto Rico, but grew up on St. Croix.
José's mother, Francesca Hernández, also came from Vieques. So did Angel Morales, the man who recognized him with the family name. Unlike the Navarros, however, Francesca left her birthplace at age 7, around 1930, well before the US Navy started taking over most of the island. For a long time, the children of viequenses and other immigrants were never really accepted as Virgin Islanders even if they were born there — but José's case is different. His natural father was a Crucian named Stanley Latimer, whose father and mother came from Maryland and Barbados, respectively.
This Latimer was quite the macho. "My father has been married three times and he was a shoemaker going from door to door. So I have something like 18 half-brothers and half-sisters."2 One of them turned up in 1979, when José got a letter that said, "If you have a brother named Ivan in the Virgin Islands and a father by the name of Stanley, then we have something in common. You and I are brothers." And so Morales found he had a brother, Larry, living in St. Paul, Minnesota.3
In 1999 Morales recalled learning about baseball in the sleepy countryside near Frederiksted. "In them days, we used to just pick up the ball and play, nobody taught you anything like Horace Clarke and Elmo Plaskett [two other major leaguers from St. Croix who became government-paid baseball instructors when their playing days were over]. In Wheel of Fortune [a local neighborhood], Charlie Clarke, Horace's uncle, had a big cattle field that actually turned out to be my grandfather's property, and he cut out a field in the middle of the yard. And he brought the first balls and stuff and we all used to play there."
"From there I moved into town, and then I started playing Little League, and one thing led to another. I kept practicing, I used to go to the ballpark and throw a ball into a garbage can at second base, play by myself, run — you do that today, you're crazy."
While in the majors, José also offered some other glimpses of his shoestring baseball budget as a youth. "We didn't have enough money for weights. We would fill biscuit pans with concrete, and put them on each end of a bar. It weighed maybe 50 pounds and then we would pump those homemade weights. Then we would run two or three miles on the beach. Then we would hit."4
"I am right-handed and the only glove I had was left-handed. So I turned it inside out. One day my mother was angry and she threw it in the fire. I got it out but there was a big hole in it. So I cut a piece of sole from the bottom of my shoe and plugged the hole."5
José readily admitted that there were more naturally gifted players among his peers on St. Croix. Pitcher Norbert Rodgers played nine summers in the minors, including four in Mexico, and was on the staff of the Mayagüez Indios when they won the Puerto Rican championship in 1965-66. Infielder Miguel "Redhead" Santos was a fine hitter and glove man who opted for family life after a brief taste of Class D ball with Elmo Plaskett in 1957. DeGold Francis, a slugging catcher-first baseman, led the Puerto Rican Winter League in home runs during the 1967-68 season. Why did Morales think he made it while they didn't? "I had a little thing different, I had determination."
The only place José played was in the sandlots. Elmo, Julio Navarro, and original Met Joe Christopher, all several years older, played ball for St. Patrick's Catholic School in Frederiksted. But Morales went to the public high school, which did not have a team. "Myself, I was introduced to a higher class by my brother Ivan Latimer. He had a team named the Giants. Then I started to develop a pretty strong arm, and I found out that Pedrín Zorrilla was coming to look for pitchers and catchers." Zorrilla was the owner of the Santurce Cangrejeros, Puerto Rico's most storied franchise. He was also a friend of New York Giants owner Horace Stoneham and served that organization as a scout.
Alfonso Gerard, the pioneer pro from the Virgin Islands, played many years for Zorrilla in Santurce. He then became a bird dog for his old boss on St. Croix and encouraged him to scout there. As it had several years before with Julio Navarro, this connection clicked again — the Giants signed Morales on September 13, 1963. However, the Pirates were also on the scent. José turned down Pittsburgh scout Chick Genovese's $500 offer (he wanted $1,000). Years later, Bucs' superscout Howie Haak — who made the V.I. part of his Caribbean beat — would say, "I just missed you."
José's arm also got him tagged "Shady" as a teenager. "I made a throw that went all the way into the outfield, under the shady tree, and from that time on … the guys are kidding around and you get pissed, and right away, that's it." (Joe Christopher suggested an alternate story — a lusty al fresco interlude; like father, like son!)
Morales noted, "I used to catch, I used to play all over, but I really didn't know that much about the game until I signed professional and went to play in Puerto Rico." When he first went to play in Caguas in late 1963, he was afraid to take the bus because he didn't know much Spanish. Over time, as Puerto Rican baseball man Luis Mayoral observed, José would become eloquent in his second language. But as a brand-new rookie, he walked to the town line, well beyond Yldefonso Solá Morales Stadium. He had not recognized the ballpark because he didn't realize it had lights.
Over his two decades-plus in Puerto Rico, José rose to third on the league's all-time RBI list with 467, behind Bob Thurman and Luis "Canena" Márquez. He also had 84 homers and a career average of .290 in 2,901 at-bats. He led the league three times in doubles, in 1974-75, 1975-76, and 1977-78. In the latter two seasons, he was the leader in base hits as well. Also among his notable feats: batting .402 for the San Juan Senadores in 1968-69, one of 19 men to break .400 in the PRWL. However, his 112 at-bats didn't qualify for the batting title — unsurprising, as he was backing up Johnny Bench.
In the 1978 Caribbean Series in Mazatlán, Mexico, Morales hit .421 and led Mayagüez (29-31 in the regular season!) to the title. René Lachemann, a teammate in the Oakland Athletics system along with Tony La Russa and Joe Rudi, was the manager, thanks to José's recommendation. "The fact I wasn't named MVP didn't bother me that much — we won."6
José did not rise to prominence quickly in Puerto Rico. But he had to claw even harder for every rung of the ladder stateside. He spent two summers in Class A ball (1964-65) and three more at Double-A (1966-68). The A's obtained him from the Giants via the minor-league draft in December 1968, and though Morales finally advanced to Triple-A in 1969, he remained with Iowa of the American Association for that season and the next two. Then he played on loan to Tidewater, the Mets' Triple-A affiliate, in 1972.
One main problem held up José's advance: He was a defensive liability, leading four different minor leagues in errors.7 Indeed, during his major-league career, he appeared in the field in only 104 of his 733 total games, and he never had more than 242 at-bats in a season. Broadcasters often referred to him as "a catcher by trade," though he played first most often in the majors.
José simply commented, "Once you have a bad reputation as a receiver, that's it. Nobody ever taught me how to catch, I just had a strong arm." He suffered occupational hazards such as a broken jaw and (before the flexible mitt) dislocated fingers and a broken thumb. "I concentrated on my batting and became known as an offensive player."
Finally, the A's summoned the 28-year-old in August 1973. Jim "Catfish" Hunter had suffered a hairline fracture of his right thumb in the All-Star Game on July 24. Oakland called Shady up once, sent him back down after a failed bid to put Hunter on the disabled list, and finally shipped out pitcher Dave Hamilton instead.8 Morales had hit over .300 once before in the minors, posting a .306 mark in 1970. But he was hitting just too well to ignore — .355 for Tucson in the Pacific Coast League. Said Toros teammate Jack Heidemann, "José Morales hits the ball so well and so hard that I can't understand why he isn't hitting .400."9
Shady made his debut in Boston's Fenway Park on August 13, 1973. As the designated hitter, he went 1-for-4, reaching on a Danny Cater error in his first at-bat and doubling off Luis Tiant for his first hit in the ninth inning. José had 14 at-bats in six scattered games with the A's before they sold him to the Montreal Expos on September 18. This deal had repercussions in the World Series, but it is little remembered that Morales figured. After second baseman Mike Andrews committed two costly errors in Game Two, Oakland owner Charles Finley sought to replace him with Manny Trillo, but the Mets (as was their right) blocked the maneuver.
According to a story by Ron Bergman in The Sporting News, "The A's worked themselves into the predicament by selling Morales … to make room for pinch-runner Allan Lewis, a Finley favorite, on the 25-man roster. Two days later, Bill North sprained his ankle. The Baltimore Orioles allowed Trillo to replace North for the American League playoffs. When the A's found out the Mets wouldn't agree to the same switch, an attempt was made to get Morales back from Montreal. He didn't clear National League waivers because some team claimed him. Ironically, the Mets allowed the A's to replace North with Lewis."10
The further irony: While Allan "The Panamanian Express" Lewis pinch-ran in three Series games and was voted a one-tenth World Series share, José — who did not receive even a token share from the winners — was unaware of all the wrangling.
Morales played just 25 games for Montreal in 1974. He was back at Triple-A Memphis until July, and though he finished the year with the Expos, he missed by one day a signing bonus for spending 90 consecutive days in the majors.11 On September 15, pinch-hitting for Larry Lintz in the seventh inning, José smacked his first major-league homer, off Pittsburgh's Ken Brett. The three-run blow gave the Expos a 5-4 win.
The next year, 1975, was Shady's breakthrough. He appeared in 93 games, batting .301. For the first of four times, he led his league in pinch hits, recording 15 in 51 at-bats (.294). José then went on to set his pinch-hit record of 25 in 1976, breaking the single-season mark of 24 established by Dave Philley in 1961 and tied by Vic Davalillo in 1970. Two years later, likely tongue-in-cheek, Davalillo remarked, "I played one year with Morales [with the '73 A's]. I taught him everything. And look what he does. He breaks my record."12
José posted a .316 average in '76, his major-league high, with 37 RBIs in just 158 at-bats. He hit 321 with 3 homers and 24 RBIs in his 78 pinch at-bats. As of 2014, the only man besides John Vander Wal who has had more pinch hits in one year since then was lifetime leader Lenny Harris (26 in 1999).  
After the Minnesota Twins purchased Morales on waivers in March 1978, he became a very effective part-time DH. This had already been a frequent role for Shady in Puerto Rico too. Manager Gene Mauch, who was also his skipper in Montreal, said, "José's position is 'bat.'" Indeed, his weapon was almost part of him. "While with the Twins in the late 1970s, Morales insisted on taking his bat with him everywhere. At his hotel, he would stand in front of a mirror and practice his swing. Morales liked his bat so much he would sometimes kiss it."13
Pinch-hitting still remained his prominent raison d'être. In a feature article on Morales by Bob Fowler of The Sporting News that year, Mauch said, "We can use him as the DH often enough to keep him sharp."14 Gene was as good as his word; it was in '78 that Morales recorded his single-season high of 242 at-bats, with a .314 average. He posted an AL-leading 15 pinch hits.
José's performance was not up to his standards in 1979 (.267, 2 homers, 27 RBIs), but he rebounded the next year, hitting eight homers (his most ever in the majors) and batting .303. His 13 pinch hits again led the AL. Even so, the Twins granted him free agency that October. In December he signed with the Baltimore Orioles, where he spent one season plus a month. General manager Hank Peters admired José's hitting ability, while manager Earl Weaver (always known for deep and flexible benches) liked the idea of having an emergency catcher/first baseman.15
Said, José, "I really liked that organization, it was the best one I played for." He drew an interesting comparison between Weaver and Mauch. "Mr. Weaver always really wanted to win, but in spring training, he focused on getting all the guys enough at-bats, getting them ready for the season. But with Gene Mauch, even if it was sandlot ball, he still wanted to win!"
However, after giving Shady just three at-bats in April 1982, the O's traded him to Los Angeles on April 28 for Leo Hernández.  Morales hit .300 in 30 pinch at-bats — but did not play an inning in the field the whole year. Perhaps because carrying such a specialist was a luxury, Dodgers general manager Al Campanis wanted José to retire in 1983, but he said, "Nobody could get me out that spring training." Plus, he still had desire. "I was shooting for that Manny Mota record [150 career pinch hits, which Lenny Harris surpassed in 2001]," and manager Tommy Lasorda continued to spot him the same way. "But I got at least three hits thanks to Dusty Baker — he'd say, 'Hey, give José a chance!'"
In another Sporting News feature on his pinch-hitting prowess, Morales cited the helpful presence of Mota, who had become the Dodgers' first-base coach. "'We sit down and discuss a lot of things. We talk about hitters and situations. … I admire him as a good pinch-hitter who's done a lot to help me. I do pattern myself after his style. I feel if I do my job, the way I'm expected to, nature will take its course."16
Morales saw his only postseason action in 1983, going hitless in two pinch at-bats as LA lost the NL Championship Series to Philadelphia. The Dodgers brought José back again the next spring, but after he went just 3-for-19 off the bench, they released him on June 7, 1984, at age 39. He said, "That's the only thing I feel I didn't get a right break on."
Twelve days later, he signed again with the Expos as a free agent. He was offered jobs as a minor-league hitting instructor with Oakland, Toronto, and Los Angeles,17 but accepted an assignment to Triple-A Indianapolis — his first time back in the minors in ten years, and almost unheard of for a player at that age. But after going .188 in 31 games, he retired. "I got a game-winning hit in the playoffs [for Indianapolis] that year. But they [the Expos] didn't give me a chance to come back. If I'd went back to Baltimore, maybe I'd have gotten a chance."
Morales finished his major-league career with a very respectable .287 batting average, including 26 homers and 207 RBIs. He struck out in only 13 percent of his plate appearances, a testament to his skill as a contact hitter. Like many batters of this type, though, he did not draw a great number of walks — 89 overall, bringing his lifetime on-base percentage to .332. José never stole a base in the majors, though he did swipe eight in Puerto Rico.
When asked about his toughest opponent on the mound in the late innings, José came up with a somewhat surprising choice. "Who was that black lefty pitcher, played with the Phillies and Pirates? Al Holland! He had that sneaky curve. I would say, 'Why I keep missing this guy?' By the time I got to see some video on him, it was too late." Indeed, the record shows that Morales handled some great lefties well and good ones even better. He went 9-for-24 against Ron Guidry, 4-for-10 against Steve Carlton, and 13-for-22 against Larry Gura. Yet he was 0-6 lifetime against Holland.
Shady returned to the Orioles as a minor-league instructor in 1985. "Hank Peters said the day that I retired, he would like me to be with his organization." At the winter meetings that year, Roger Craig, the new manager of the San Francisco Giants, was looking for a hitting coach and found his man in Morales. "My 'godfather,' Gene Mauch, recommended me."
José also started coaching in the Puerto Rican Winter League during the 1985-86 season. Back with Mayagüez again, his star pupil was Wally Joyner, just before Wally's outstanding rookie year with the California Angels. That winter Joyner became just the third man to win the Triple Crown in the PRWL — the last, 35 years before, had been Elmo Plaskett. During spring training in March 1986, Joyner showed what he had learned in a lefty-lefty matchup against Giants reliever Mike Jeffcoat, singling with a shortened swing after falling behind in the count 0-and-2. "Morales, sitting on the San Francisco bench, gave himself away with a grin — a proud teacher's grin."18
Along with his intense observation and teaching, José had also come up with an innovative batting exercise: Players swung one-handed using a special short, heavy bat in order to hit more line drives.
"I invented that little bat when I was in the minor leagues with Baltimore because they were breaking so many bats. I could see that the kids didn't know how to use the regular wood bat, didn't know how to use their hands. I was playing pepper one day, and I said wait a minute, this s**t is different. I noticed how quick my hands reacted, and I came up with the little bat."
"But the only mistake, I didn't patent it. When I was with the Giants, a guy that made those aluminum bats, I can't remember his name, said, 'José, can I have a bat?' So I gave it to him, and the following year, he'd made a small bat, same size. He called me in spring training with the Giants, and I said, 'Hey, are you the sonuvabitch that used my bat?' and he hung up on me and I never heard from him again. That little bat made a lot of money for people, and now everyone's using it."
Morales spent three years in San Francisco, instructing Will Clark and Kevin Mitchell, among others. He then worked in the Indians minor-league system in 1989 — Hank Peters had become Cleveland's GM the previous year — and was hitting coach with the big club from 1990 to 1993. Kenny Lofton, for one, swore by him. "And look at Candy Maldonado. He went down the drain in San Francisco after I left. Then we got him in Cleveland [in 1990] and I helped him make the adjustments." Indeed, Maldonado enjoyed a rousing comeback; his two other best years (1986-87) were also under José's watch.
Another memorable anecdote from 1993 featured José's godson Jaime Navarro, son of Julio. The Indians in particular were feasting on Jaime during one of his slumps, and the reason? "Uncle José" could tell that Jaime was tipping his pitches. Since he worked for Cleveland, he kept his mouth shut and watched his godson get pounded. Only after Morales left the club did he tell the secret."19
However, Mike Hargrove wanted another man after that year, so Shady was out of baseball in 1994. He joined the Florida Marlins in '95, thanks to manager René Lachemann, "like a brother to me, he's good people." On the Florida roster was Jerry Browne, the man who picked up the baton for Virgin Islanders in the majors after Morales retired. They had fun bantering in the local patois, which nobody else could understand.
During the All-Star break in 1996, though, José lost his job along with Lachemann. The Marlins offense had been lagging, and Morales has a personal theory that Lach may have taken the fall out of loyalty because he did not want to see his coach made the scapegoat.
At every stop along his route, José used the original little bat. And he always took care of his team. "It's all about making the adjustments. If you don't see, you can't hit. Your swing becomes too long. The players become like your kids — you gotta watch 'em."
Morales settled in the Orlando, Florida, area. On his property he set up a professional batting cage. He remained a keen observer of the game, willing to lend a hand when asked. Julio Navarro said, "But you gotta be serious! Shady will get you up at 8 in the morning. And he'll ask after that session, 'What are you doing in the afternoon?' He says, 'If you want me to teach, I'll teach. But if you don't, then don't come here.'"
In the winter of 1998-99, Carlos Baerga, another devoted former pupil from the Cleveland days, enlisted Shady's help. When St. Louis invited the second baseman to spring training, José came along. A roving minor-league post with the Cards was discussed but did not pan out. Another big Puerto Rican star who sought out Morales on the comeback trail was Juan González. "Igor really respects José," noted Navarro.
"Big-league hitters, they think you want something if you offer to help," Morales said. "But agents call me. Yorvit Torrealba's agent, he asked me to work with him." It is interesting to note that the Rockies catcher notched career highs in at-bats, home runs, and slugging percentage in 2006. "Yadier Molina — I worked with him on the side last year too."
Rockies general manager Dan O'Dowd, who worked with José in Cleveland as director of player development, interviewed him for the Rockies' vacant hitting instructor position in October 2006. He was also offered jobs at Triple-A, but turned them down. If Morales ever joins a team again, it will be on his terms. "Too much politics in the game — you gotta kiss ass. And I ain't gonna kiss no one's behind," he observed bluntly. "I got my pension, I don't need nothing."
José married his wife, Lyduvina (née Nieves), on January 21, 1968. Lyduvina's nephew, Melvin Nieves, was a big-league outfielder from 1992-98 and another godson of José's. They had three children, Patricia, José Miguel, and Eliut, and two grandsons.
Shady remained highly attentive to the needs of his ailing mother, whose home was close by. He occasionally visited family and friends in the Virgin Islands. In 2002 he remarked, "You get more recognition away from St. Croix than you do there. You're more of a king out of your kingdom. I'm always happy to see my friends, but they're always saying, 'I remember you when you were wearing no shoes!'"
This biography originally appeared on the website Baseball in the Virgin Islands (home.nyc.rr.com/vibaseball), from which it has been adapted. Grateful acknowledgment to José Morales for his personal memories (additional telephone interviews on December 13, 2002, and April 22, 2007). Continued thanks also to Julio Navarro.
José Morales on the art of pinch-hitting
"I've done it so often and for such a long time, I don't consider it a pressure job."
"I've always had success at coming off the bench to hit but I don't really know why. I think you've got to love to hit, and I do. And I believe you must always be ready, and I always am. For instance, when you pinch-hit, you may only see one fastball. Well, when it comes, you better be ready to hit it. You can't let that pitch get past you."
"If you go to the plate thinking the pitcher is good, there is no way you're going to get a hit. You have to have a positive attitude. So I bat thinking I'm going to get a hit every time. No one can bat 1.000. But I try. Then, if the pitcher does get me out, I have to admit he was the better man that time. But he doesn't destroy my confidence. I still feel I'll get him the next time."20
"You have to be thinking something when you go up there. You have to have a plan. You can't go up there cold."21
"There aren't many players that take the game home with them, but I do. Even the night before, I'll be thinking about what the pitcher is probably going to throw in different situations. You have to do a lot of mental preparation. That's the key. I always have my mind on the game."
"In this job you can't afford to miss…that's what they're paying you for. For me a slump is every time I don't get on base. Look, if I don't get a hit, that's my incentive to go out there the next time and bang one. I say to myself, 'Tough luck, José,' and try to do better the next time."
"The only difference between us is that he [a relief pitcher] comes in to close the line, and I go in there to open it up. We have pride in what we do."22
Sources
José A. Crescioni Benítez, El Béisbol Profesional Boricua (San Juan, Puerto Rico: Aurora Comunicación Integral, Inc., 1997), 275.
baseball-reference.com
retrosheet.org
Professional Baseball Players Database V6.0
Notes
1 Charles Cooper, "Braun, Morales, Staub Come Through in a Pinch," Associated Press, June 24, 1984.
2 Augie Borgi, "Just for the Record: José Is OK in a Pinch," New York Daily News, September 28, 1976.
3 The Sporting News, May 12, 1979.
4 Patrick Reusse, "Morales' Tall Talk Tickles Twins," The Sporting News, August 2, 1980.
5 Borgi.
6 Thomas E. Van Hyning, Puerto Rico's Winter League (Jefferson, North Carolina: McFarland & Company, 1995), 130.
7 Mike Shatzkin, ed., The Ballplayers (New York: Arbor House/William Morrow, 1990), 759.
8 Ron Bergman, "Hunter Gets OK to Pitch This Week," Oakland Tribune, August 13, 1973, E31.
9 Regis McAuley, "Depression Catching," Mansfield (Ohio) News Journal, July 8, 1973, 8F.
10 Ron Bergman, "Finley Reprimand by Commissioner," Oakland Tribune, October 15, 1973, E35.
11 Bob Dunn, "Expos Could Present Ideal DH: Morales," The Sporting News, January 24, 1976,  45.
12 Gordon Verrell, "Dodgers Turning Huge Profits in Spanish Antiques," The Sporting News, June 24, 1978, 3. Davalillo's 1970 pinch-hit total was later corrected to 23.
13 Floyd Conner, Baseball's Most Wanted II (Dulles, Virginia: Brassey's, 2003), 122-23.
14 Bob Fowler, "Morales Is Mighty Tough as Twins' Pinch-Swinger," The Sporting News, June 24, 1978,  35.
15 Ken Nigro, "Two Big Bats Buttress O's," The Sporting News, January 10, 1981,  35.
16 Gordon Verrell, "Dodgers' Morales a Pinch-Hit Expert," The Sporting News, May 9, 1983,  18.
17 "Implausible Chiefs Pitching," The Sporting News, July 9, 1984,  35.
18 Tom Singer, "Joy Over Joyner in Angels Camp," The Sporting News, April 7, 1986,  41.
19 Mel Antonen, "Navarro's Godfather Doesn't Pitch Advice," USA Today, March 11, 1994, 4C.
20 Fowler.
21 Verrell, "Dodgers' Morales a Pinch-Hit Expert."
22 Cooper.
Born
December 30, 1944 at Frederiksted, St. Croix (V.I.)
If you can help us improve this player's biography, contact us.
http://sabr.org/sites/default/files/JoseMorales.JPG
600
800
admin
/wp-content/uploads/2020/02/sabr_logo.png
admin
2015-09-18 00:00:58
2020-11-25 06:29:45
José Morales