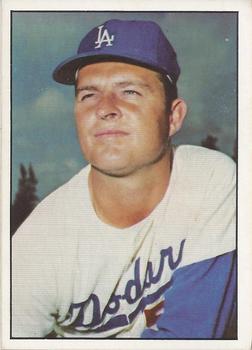 ---
"Hitters would dig a hole and really get anchored with their back foot. Willie Mays dug in sometimes with both feet and he looked up and realized it was Drysdale. I don't think he was even thinking at the time. He called time out and filled up the hole as if to say, 'I made a mistake. I didn't realize he was pitching.' VROOOOM, down he went." — Jeff Torborg, Los Angeles Dodgers catcher1
"He hit me more than anyone else. He kept me going like a rocking chair. That night, I always felt like I had been wrestling a bear. I was so tired when I left the ballpark. But I respected him for the way he went about his job." — Frank Robinson, Cincinnati Reds2
"I know Don Drysdale is trying to hit me. He'll even come to the batting cage and say, 'Where do you want it today, big boy?'" — Mickey Mantle, New York Yankees3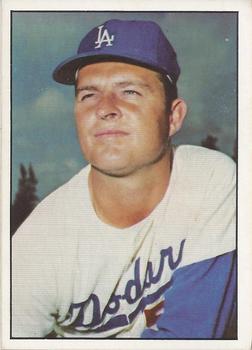 The first World Series game at Dodger Stadium was played on October 5, 1963. The ballpark had opened its gates the previous season. Over the following six decades Dodger Stadium served as the backdrop for some of the greatest moments in major-league history. On October 5, the Dodgers' opponent was the New York Yankees. The Yankees were a particular thorn in the side of the Dodgers, going back to their days in Brooklyn when the Bronx Bombers won six of seven World Series from the neighboring borough.
But as Don Drysdale took the hill for Game Three, his teammates had to be feeling quite confident. Los Angeles had won the first two games of the Series at Yankee Stadium, in rather convincing manner. Sandy Koufax struck out 15 batters in the 5-2 Dodgers win in Game One. Johnny Podres was not as overpowering in Game Two, but still won, 4-1. In starting the two left-handers at Yankee Stadium. Dodgers manager Walt Alston pushed Drysdale, the winner of 19 games and the reigning NL Cy Young Award winner, back to Game Three.
The Dodgers reached the Yankees' Jim Bouton for a run in the bottom of the first inning. Jim Gilliam walked, went to second base on a wild pitch, and scored on a single by Tommy Davis. But that was all the offense the Dodgers could muster. Drysdale would have to be on top of his game to bring home the win. In the top of the third, Tony Kubek reached base on an error by Maury Wills. Not to worry; Drysdale picked Kubek off.
The final out caused the most angst for Drysdale and the Dodger fans. With two outs Joe Pepitone lifted a fly ball to right field. Right fielder Ron Fairly drifted back to the track, just short of the fence in front of the Yankees bullpen, to haul it in. "Pepitone hit it real good and I saw Fairly going back until he was almost touching the fence," Drysdale said. "Then he stopped and put his glove up and I knew I had won the game."4 Drysdale struck out nine and scattered three hits while going the distance to stake the Dodgers to a 3-0 advantage in the series. "The extra rest helped me," Drysdale said. "I felt strong. I know I was pitching high, but the Yankees were apparently looking for low stuff, so I just stayed high."5 Alston praised his right-handed hurler, saying, "He had the left-handers to contend with and he didn't make a mistake all through the game. His control was never better."6
Donald Scott Drysdale was born to Scott and Verna Drysdale on July 23, 1936, in Van Nuys, California. Scott Drysdale was a repair supervisor for the Pacific Telephone Company, which provided a comfortable middle-class upbringing. Scott had a brief career as a minor-league pitcher in 1935, the year before Don was born.
Drysdale credited his father with his early love of baseball. "We played catch in the afternoon," he said. "Often we'd go to the playground and Dad would hit me grounders and flies and I would take batting practice. He really taught me the game."7
It was not until his senior year at Van Nuys High School that Drysdale tried his hand at pitching. He posted a 10-1 record. Brooklyn signed the former second baseman to a $4,000 bonus contract. He was assigned to Bakersfield of the Class C California League. An astute observer, Branch Rickey, then with the Pittsburgh Pirates, scouted the 17-year-old pitcher and on June 15, 1954, wrote:
"A lot of artistry about this boy. Way above average fast ball. It is really good. Direction of the spin and the speed of rotation the same on all fast ball pitches. Angle of delivery is the same, stride is wide and his body is in all pitches. The pitching hand, and placement on fast and curve ball needs no coaching. He is good."8
Drysdale pitched well enough at Bakersfield (8-5, 3.46) to earn a promotion to Montreal of the International League in 1955. He started the season 10-2, but injured his right hand, and continued to pitch with the pain. It proved to be a broken bone and Drysdale lost nine games in the second half of the season to go 11-11. The next year he was promoted to Brooklyn, although Drysdale conceded that it took some good fortune to land him there. "I never would have made the majors the next season if luck wasn't with me," he wrote. "The Dodgers lost Johnny Podres to the Navy, and Billy Loes, Don Bessent, and Karl Spooner got hurt. Stuck for pitchers, the club took me, in desperation."9
It may have been luck that got Drysdale to Brooklyn, but it was skill that kept him there. He pitched in 25 games, mostly as a spot starter and reliever. But he showed enough (5-5, 2.64) to stay with the team all season. Trailing Milwaukee by one game, the Dodgers won the pennant by sweeping the Pirates as the Braves lost two of three at St. Louis. In the World Series, they took a 2-0 lead against the Yankees. But their old nemesis took four of the next five games to win the world championship.
Drysdale was promoted to starter in 1957 and led the club with a 17-9 record. His 2.69 ERA was tied for second in the league with Warren Spahn, right behind his teammate Podres' 2.66. Drysdale's best effort was a two-hitter against Philadelphia. He struck out six and gave up an unearned run in the 5-1 Brooklyn victory.
The young side-armer was getting a reputation as a headhunter in only his second season. With his 6-foot-6, 190-pound frame, Drysdale was an intimidating sight to most batters. On June 13, 1957, against the Milwaukee Braves. "Big D," as he was often called, was not having one of his better days. Bill Bruton homered to begin the game. In the second inning Bobby Thomson doubled and came home on a double by Carl Sawatski. Bruton followed with his second round-tripper. The Braves were up 4-0. "Johnny Logan was up next," recalled Drysdale. "He was strutting around up there and digging in and showing me his teeth and acting like he owned the place. A charge went right through me. I look at this guy and tell myself, 'Okay Buster, you asked for it.' And I aim one inside to let him know who's boss."10 The baseball nearly took Logan's head off his shoulders as he spun out of the way and got hit at the base of his neck. Logan jogged to first base, all the time jawing at Drysdale and Don giving it right back. As Logan took his lead off first, Drysdale threw over in a pickoff attempt. First baseman Gil Hodges stuck out his glove, but missed the ball. Johnny was beaned yet again. Logan charged the mound and set off one of the biggest donnybrooks in years. There was a near-riot as both benches emptied. Drysdale was attacked from all sides, and when the dust cleared, he and Logan were ejected. The Braves had their own nickname for him, the Shooting Gallery Kid.
That 1957 season was a watershed year for major-league baseball. Although expansion had been a movement in recent years, no team moved west of St. Louis or the Mississippi River. Brooklyn Dodgers owner Walter O'Malley and New York Giants owner Horace Stoneham both saw the infinite possibilities for growth on the West Coast. Even though the Dodgers had drawn more than a million to Ebbets Field in 1955, O'Malley was not fond of the park, which was surrounded by a congested and deteriorating neighborhood. The Dodgers moved a handful of home games to Roosevelt Stadium in Jersey City in 1956 and 1957. With cities like Hoboken and Union City to draw from, it also had 10,000 parking spaces, compared with several hundred at Ebbets.
Although the move of games to Jersey was a ploy to strong-arm Brooklyn for a new ballpark, in September 1957 the Dodgers signed a deal to move to Los Angeles for the following season. They would build a new ballpark on 300 acres of land within Chavez Ravine. Similarly, Stoneham moved the Giants to San Francisco.
From 1958 through 1961 the Dodgers played their home games at the Los Angeles Memorial Coliseum. The Coliseum was one of the great football stadiums of all time, serving as the home field for the Los Angeles Rams and the University of Southern California Trojans. The seating capacity was 90,000 and it easily set baseball attendance records. Because it was built for football, and was in the shape of an oval, it lent itself to some strange dimensions. It was 250 feet to left field, 320 feet to left-center, 425 feet to center field, and 440 feet to right-center field. Hence, 260-foot home runs and 430-foot fly outs were a common sight for the fans.
The 1958 Dodgers finished under .500 for the first time since 1938 (not including the 1944 war year record of 69-85) with a record of 71-83. It was not all bad for Drysdale, though. He married Ginger Dubberly, a model and former Rose Bowl Parade Queen, in September 1958. They had one child, a daughter, Kelly.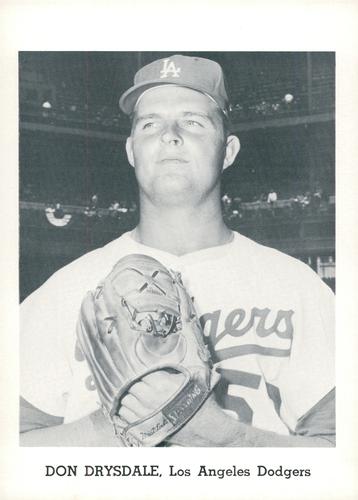 In 1959 Drysdale led the team in wins with 17 and the league in strikeouts with 242. He also led the league in hit batsmen with 18. He made the first of nine All-Star Game appearances on July 7 at Pittsburgh's Forbes Field, as he got the starting assignment for the National League and pitched three hitless innings. (There were two All-Star Games that season. Drysdale also started the second one, on August 3, and took the loss, giving up three runs in three innings.)
The Dodgers finished strong in 1959, coming from third place on September 14 to overtake the Braves and the Giants for the pennant. They won 9 of 11 down the stretch. Their opponent in the World Series was the Chicago White Sox, a team built on pitching, defense, and speed. The White Sox drubbed LA in the opener, 11-0 behind Early Wynn. But the Dodgers came back to win the next four of five, with Drysdale picking up the 3-1 victory in Game Three.
Over the next three seasons the Dodgers fell short in their bid to return to the World Series. Drysdale led the league again in strikeouts in 1960 with 246 and hit batsmen with 10. The following year he hit 20 batters to pace the senior circuit.
Drysdale put it all together in 1962. He posted a 25-9 record with a 2.83 ERA. He led the league in wins, starts (41), innings pitched (314⅓), and strikeouts (232). His 41 starts were the most by a Dodgers hurler since Oscar Jones started 41 games in 1904. It was the first of four straight years in which Drysdale led the NL in starts. "Batting against him is the same as making a date with the dentist," said Pittsburgh's Dick Groat.11 "Drysdale has simply got more stuff than ever before," said Alston.12 Drysdale won the Cy Young Award and was named The Sporting News Player and Pitcher of the Year.
Sandy Koufax, who like Drysdale began his career back in Brooklyn, was mostly a .500 pitcher until the 1961 season, when he hurled his way to an 18-13 record. Beginning in 1962, he led the National League in ERA for five straight seasons. He gave the opposition a much-dreaded combination of power pitchers, one right-handed and Koufax left-handed. He didn't intimidate batters the way Drysdale did by plunking them. Koufax had 18 hit batsmen in his career. He intimidated them with his speed, as he was considered one of the fastest pitchers to ever toe the rubber in the major leagues.
Drysdale may have felt his 1962 awards bittersweet. The Dodgers had put together a seven-game winning streak to take a four-game lead over San Francisco on September 15. But they could muster only three more wins the rest of the season, which placed them in a tie with the Giants at the end of 154 games. The Giants won a best-of-three playoff in three games and advanced to the World Series.
After celebrating the world championship in 1963, the Dodgers slumped in 1964, finishing two games under .500. But they resurfaced to win the pennant in 1965. Drysdale (23 victories) and Koufax (26) accounted for more than half of the team's 97 victories. "When you've been pitching on the same staff for as long as we have, you know when the other one is doing something right or wrong," said Koufax. "We're quick to tell the other one about it, too."13 Drysdale threw a one-hitter against Bob Gibson and St. Louis on May 25. He was no slouch at the plate that season, tying his career high with seven home runs, driving in a career-best 19 runs, and batting .300.
Going into September, the Dodgers sat atop the standings with a 1½-game lead over San Francisco and two games over Milwaukee and Cincinnati. But a 22-8 record, which included a 13-game winning streak (from September 16 to 30) helped LA distance itself from the others.
The World Series started off bleakly for the Dodgers. They dropped the first two games to Minnesota at Metropolitan Stadium, Drysdale and Koufax taking the losses. Both pitchers won the next games; Drysdale fanned 11 Twins in a 7-2 win in Game Four. Koufax won the seventh game, 2-0, to secure another world championship for Los Angeles. "I threw one bad pitch and Harmon Killebrew hit for a home run and I got a curve up high on Tony Oliva and he smacked it out," said Drysdale after his victory in Game Four. "When I saw my breaking stuff wasn't working too well early in the game, I went to my fastball. But the main thing was that I kept moving the ball around, inside and out, and I thought I was setting up the batters pretty well."14
After battling San Francisco again, the Dodgers won the pennant once more in 1966, but were swept by the Baltimore Orioles in the World Series. Drysdale (13-16) had his first losing season since 1958. He lost two World Series games. He pitched well in Game Four, but was outdueled, 1-0, by Dave McNally, on a home run by Frank Robinson.
An arthritic elbow forced Koufax to retire after the 1966 season, prematurely ending his great career at the age of 30. Even though the Dodgers were not an offensive power, the great pitching of Koufax, Drysdale, and Claude Osteen had always given the team a chance to win.
From May 14 to June 8, 1968, Drysdale set a record for consecutive scoreless innings pitched. His new mark was 58⅔ innings, breaking the record of 56 innings set by Walter Johnson in 1913. In three of the games during the streak, the margin of error was slim. Drysdale beat the Cubs and the Astros by a 1-0 score. He topped the Cardinals in another, 2-0. The string ended when Philadelphia scored a run in the fifth inning of a 5-3 LA win at Dodger Stadium. "I have two things to say about Drysdale," said Phillies manager Gene Mauch. "He's a hell of a man and the most knowledgeable pitcher in the game. We didn't think much about the record but I know he was thinking about it, and has for a long time. He's been through a hell of an emotional strain." 15
Drysdale struck out Clay Dalrymple to end the second inning to set the record with his 56 consecutive scoreless inning. "I wanted the record so bad," said Drysdale, "but I'm relieved that it's over. I could feel myself go 'blah' when the run scored. I just let down completely. I'm sure it was the mental strain."16
Twenty years later, Drysdale was working in his first year as a broadcaster for the Dodgers. On September 28, 1988, Orel Hershiser was zeroing in on Drysdale's scoreless-innings record. When Hershiser tied the mark pitching against San Diego, he asked to be removed from the game, out of respect for Drysdale. But manager Tommy Lasorda and pitching coach Ron Perranoski persuaded him to go for the record, and he set a new record: 59 scoreless innings. (Hershiser pitched 10 scoreless innings in that game.) When Drysdale was told that Hershiser wanted to be taken out of the game, he said "I would have gone out there and kicked him in the rear."17
Recurring shoulder injuries slowed Drysdale down. He was an ironman as pitchers go, as he started 35 or more games for nine straight seasons. His injury, which was diagnosed as a torn rotator cuff, never got better. After making just 12 starts in 1969, Drysdale retired as a player. In 14 seasons, all with the Dodgers, he compiled a record of 209-166 with an ERA of 2.95. He struck out 2,486 batters, posted 49 shutouts and hit 154 batters. He struck out 200 or more batters six times. Drysdale hit 29 home runs, sixth all-time for pitchers. He was 3-3 in the World Series, with an ERA of 2.95. He pitched in eight All-Star Games.
Drysdale never left the game. He went right to the broadcast booth. Drysdale was a radio and TV color man for the Montreal Expos (1970-1971), Texas Rangers (1972), California Angels (1973-1979, 1981), Chicago White Sox (1982-1987), and the Dodgers (1988-1993). He broadcast regional and national telecasts for both NBC and ABC. For ABC he contributed to Wide World of Sports and Superstars. His good looks made him a natural for television shows. He made cameo appearances on The Brady Bunch, Beverly Hillbillies, Leave It to Beaver and the Donna Reed Show, among others.
Don and Ginger divorced in 1982. In 1986 Drysdale married Ann Meyers, a college basketball player who was an All-American at UCLA and is a member of the National Basketball Hall of Fame. She was the only woman to be signed to a professional contract in the NBA, with the Indiana Pacers in 1979. They had three children — two boys, Don Jr. and Darren, and a daughter, Drew. "I won't play against her, she's too tough one-on-one," said Drysdale.18.
On August 12, 1984, Drysdale was elected to the National Baseball Hall of Fame with Harmon Killebrew, Pee Wee Reese, Rick Ferrell, and Luis Aparicio. Drysdale was in his 10th year of eligibility and received 78 percent of the vote.
In 1990 Drysdale published his autobiography, Once a Bum, Always a Dodger, written with Bob Verdi. Drysdale gave readers a candid look into his baseball career and his personal life.
Drysdale died on July 3, 1993 of a heart attack in Montreal, where he was with the Dodgers to broadcast a Dodgers-Expos series. A week earlier, the Dodger family had lost Roy Campanella, also to a heart attack. "I think God need a battery, because he got one of the best that heaven could have ever accepted," said Dodgers manager Tommy Lasorda.19
On July 9, 1961, the Cincinnati Reds were playing the Dodgers at the Los Angeles Coliseum. The Reds were atop the National League standings, and the Dodgers were four games behind them in second place. Drysdale came into the game in the fifth inning as a reliever. When the Dodgers came to bat, they were down 7-2. Reds second baseman Don Blasingame was knocked down on a pitch that whizzed by his head, courtesy of Drysdale, to lead off the sixth inning. Big D received a warning from home-plate umpire Dusty Boggess. Blasingame popped out and the next batter was Vada Pinson, who doubled. Frank Robinson stepped to the plate.
Drysdale's offering was an inside pitch that sent Robinson sprawling. Boggess again came out to warn Drysdale. "Shit, Dusty," said Drysdale. "What do you want me to do? Lay the ball right down the middle so he can beat my brains in?"20 Drysdale came inside with the next pitch, and hit Robinson on the right forearm. Boggess immediately ejected Drysdale.
The next day, Drysdale was given a five-game suspension and fined $100 by National League President Warren Giles. Drysdale decided to pay his debt in person. The next time the Dodgers were in Cincinnati, where Giles had his office, Drysdale stopped at a bank and got $100 worth of pennies. He emptied all of the pennies into a sack, walked to Giles' office, and placed them on the desk of Giles' secretary. He walked back to his hotel room, feeling proud of himself, when the phone rang and he was summoned back to Giles' office. The conversation was amiable and it ended with Giles saying, "And by the way, I want you to take those pennies of yours and roll them back up for me."21 Drysdale spent the next few hours cursing and rolling pennies.
Don Drysdale may have been rolling pennies, but to Dodger fans, he was a million-dollar pitcher.
Last revised: November 3, 2021 (zp)
This biography originally appeared in "From Spring Training to Screen Test: Baseball Players Turned Actors" (SABR, 2018), edited by Rob Edelman and Bill Nowlin.
Notes
1 When It Was a Game III, HBO Sports, 2000.
2 Ibid.
3 "Suddenly, Don's Gone Too," New York Daily News, July 5, 1993: 48.
4 "Drive by Pepitone Produced One of Big Thrills of Game," The Sporting News, October 19, 1963: 27.
5 "Drysdale Sparkles, Blanks Bombers With 3-Hit Gem", The Sporting News, October 19, 1963: 27.
6 Bill Becker, "Drysdale Had Visions of Pepitone's Last-Out Drive Going Into the Seats", New York Times, October 6, 1963: S-3.
7 Melvin Durslag, "L.A.'s Fiery Strike-Out Artist," Saturday Evening Post, July 1, 1961: 56.
8 Branch Rickey Papers at the Library of Congress; Don Drysdale player file at the National Baseball Hall of Fame.
9 Drysdale player file.
10 Al Stump, "Headhunter With a Horsehide," True Magazine, May, 1980: 102.
11 Bob Hunter, "Drysdale Crowned Slab King of Year," The Sporting News, November 17, 1962: 1.
12 Huston Horn, "Ex-Bad Boy's Big Year," Sports Illustrated, August 20, 1962.
13 Bob Hunter, "Sandy and Big D Super Stoppers," The Sporting News, July 17, 1965: 4.
14 "Speed-Boy Dodgers Force Twins Into Key Blunders," The Sporting News, October 23, 1965: 27.
15 Al Goldfarb, "Don Drysdale: What Does He Do for an Encore?" Complete Sports, May 1969.
16 Ibid.
17 Steve Wulf, "Deep Roots," Sports Illustrated, December 19, 1988: 69.
18 Ross Forman, "Don Drysdale Reflects on HOF Career," Sports Collectors Digest, June 28, 1991: 111.
19 Associated Press, July 13, 1993, in Drysdale player file.
20 Don Drysdale with Bob Verdi, Once a Bum, Always a Dodger (New York: St. Martin's Press, 1990), 181.
21 Drysdale and Verdi, 182.
Born
July 23, 1936 at Van Nuys, CA (USA)
Died
July 3, 1993 at Montreal, QC (CAN)
If you can help us improve this player's biography, contact us.
https://sabr.org/sites/default/files/DrysdaleDon_0.jpg
600
800
admin
/wp-content/uploads/2020/02/sabr_logo.png
admin
2012-01-04 19:54:12
2023-05-07 05:21:48
Don Drysdale