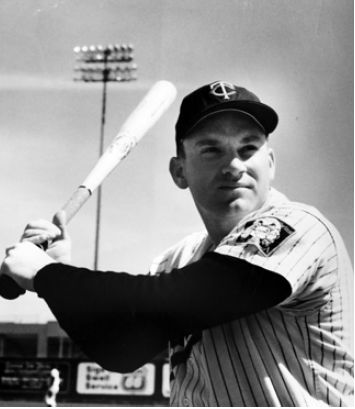 ---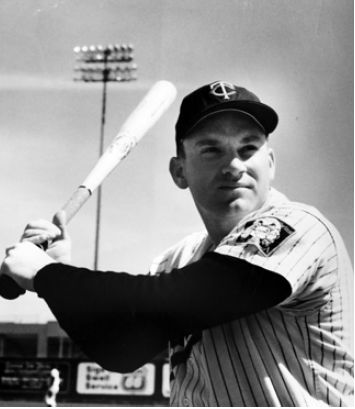 It may have seemed like an eternity. As in many cases when a player is on the verge of breaking a record or accomplishing a milestone, the waiting can be interminable. Such was the case with Minnesota Twins slugger Harmon Killebrew, who had set his sights on 500 home runs. But the epic homer was elusive, keeping Killebrew from joining an exclusive club. Entering the 1971 season, Killebrew had blasted 487 homers. On June 22 "Killer" clubbed number 498 off Oakland's Daryl Patterson. The Twins' promotion department had commemorative mugs made to celebrate the achievement. The mugs were to be distributed at a game on July 6. Certainly he would break through by then. But Killebrew was still sitting at 498 as the day came and went. 
A sprained right toe curtailed Killebrew's at-bats. But in the All-Star Game at Tiger Stadium on July 13, Killebrew knocked one out against Ferguson Jenkins. Then on July 25, he inches closer to his goal when he connected for number 499 against Luis Tiant of Boston. 
Finally, on August 10, 1971, Killebrew smacked the monumental blast, in the first inning of a home game against Baltimore. He drilled a Mike Cuellar curveball into the left-field seats. The sparse crowd of 15,881 cheered with joy as Killer rounded the bases, all of the tension washed away. He became the 10th member of the 500 home-run club. "I didn't feel much pressure, if that's what you want to call it, until they passed out those mugs," Harmon said. "Then it seemed everyone started asking about it and talking about it and I tried a little harder to hit it."1 The Twins lost, 4-3 in extra innings, and Killebrew was the true team player. "It means a little less since the team lost. It's hard to be too happy when you lose," he observed.2
"He didn't say much when he came back to the dugout," said Twins manager Bill Rigney. "But you could tell he was happy. You could see it on his face."3 Rigney told Harmon, "Don't let it be so long between 500 and 501."4  Killebrew acquiesced as he connected for number 501 in the sixth inning off Baltimore southpaw Cuellar.   
Henry Aaron, who set milestones through his illustrious career, knew what Killebrew was going through. "When you get it, you are relieved," said Aaron. "You know you can hit, you know you will get it, but everybody wants to know when. If you have a couple of bad days, you just wish you could get it over so everyone would leave you alone."5
Harmon Clayton Killebrew Jr. was born on June 29, 1936, in Payette, Idaho. He was the youngest of five children (Eugene, Eula, Patricia, Robert) born to Harmon and Katherine Killebrew. Harmon Sr., who preferred to be called Clay, had a big, burly type of build and was a fine athlete. He was a bruising fullback at West Virginia Wesleyan University. (The head coach there was Earle "Greasy" Neale, who was an outfielder for eight years, 1916-1924, primarily with the Cincinnati Reds. Later he went on to coach the NFL champion Philadelphia Eagles in 1948 and 1949, and was elected to the Pro Football Hall of Fame in 1969.)
Clay went on to play professional football for a couple of years with the Wheeling Steelers. He and Katherine then moved out west in search of better opportunities for their family, settling in Portland, Oregon. Eventually the Killebrew clan settled in Payette, where Clay was a sheriff, and eventually started a house-painting business. 
Harmon had the same build as his father, and as a freshman at Payette High School was much bigger than his brother Bob, who was a senior. Harmon lettered for four years in baseball, basketball, football, and track. His boyhood friend Ron Manser recalled, "Harmon was the only person that I recall who graduated from Payette High with four letters in all four years. Heck, that's all we had. He was just an ordinary hard-working kid. And from the time I'd known him as a little kid until he passed away, he hadn't changed any. He was just the same person all his life."6
When Harmon was 16, his father died one evening at home as the result of a heart attack. Clay had worked with Harmon and Bob molding their athletic skills as young men. His death left a big void in Harmon's life. However, by the time Killebrew reached his senior year at Payette, his athletic accomplishments had spread outside of Idaho. He was a quarterback for the Payette Pirates and possessed a rifle arm. His intentions were to attend the University of Oregon on a football scholarship and play baseball there in the spring.  
Killebrew was recommended to Washington Senators owner Clark Griffith by Senator Herman Welker (R-Idaho), who had seen him perform on the diamond. (Welker was a regular at Senators home games.) Griffith, either to pacify the Senator or to find out just how good Killebrew was, dispatched Ossie Bluege, head of the Senators' scouting department, to take a look at the youngster. Bluege, who had been a fine third baseman for the Senators in the 1920s and '30s, waited out a rainstorm to see Killebrew play, and then saw the strength of the 17-year old as he clouted a home run some 435 feet into a beet field. Bluege left a contract for Killebrew to look over, and hopefully sign. "The team I wanted to sign with was Boston," said Killebrew. "For a couple of years, I had spoken to Earl Johnson, who was a former Red Sox player who was now their scout in the Northwest. He said that when I got an offer from another team I should call him to see if he could better it. However, when I got an offer from Washington, he said the Red Sox couldn't match it. I wish I could have seen myself in Fenway Park for my career."7   
Killebrew signed with the Senators at a salary of $6,000 for each of the next three years and a $4,000 signing bonus. The size of his bonus made him a "bonus baby," and accordingly was to be placed on the Senators' roster for two years. It was quite a whirlwind for a 17-year-old from Payette, Idaho. "I joined the team on the road in Comiskey Park. I didn't know what to expect in the majors," Killebrew said. "I had never even seen a major league stadium, and all of a sudden I am playing in them with and against major league players I had read about. So everything was strange."8       
Killebrew was a third baseman, but he was not about to unseat Eddie Yost at the hot corner on manager Bucky Harris's club. He made his major-league debut as a pinch-runner on June 23, 1954, at Comiskey Park. He played in only nine games, and at times was stationed at second base. He started 17 games in 1955, but like many bonus-baby players placed on big-league rosters, he could have benefited from some seasoning in the minor leagues. After playing sparingly for three seasons with the Senators, Killebrew made his way through Washington's minor-league chain. He started with Charlotte of the Class A South Atlantic League and worked his way up to Indianapolis of the Triple-A American Association. Each year he also found his way back to the Nats, receiving varying amounts of playing time with the parent club. 
In 1956 Harmon married the former Elaine Roberts, his high-school sweetheart. They had five children: Kenneth, Kathy, Erin, Shawn, and Cameron.   
After the 1958 season, Yost was traded to Detroit, and Washington skipper Cookie Lavagetto gave Killebrew the opportunity to earn his way into the starting lineup. Although Killebrew had showed power in the minor leagues (29 home runs at Double-A Chattanooga in 1957), no one could have predicted the breakout year he had in 1959. Killebrew tied Cleveland's Rocky Colavito for the league lead in home runs with 42. He finished third in RBIs with 105. Lavagetto, who had been a second baseman and third baseman for the Pirates and Dodgers, helped Killebrew with the nuances of playing third base — specifically his throwing. Killebrew threw a baseball much like a football, with a stiff wrist, which seemed to be curtailing his arm strength. 
But there was no doubting Killebrew's ability to swing the lumber, as he enjoyed a spectacular month of May in 1959, hitting 15 home runs and driving in 28 runs. He was selected to play in the All-Star Game. It was the first of 11 appearances for Killebrew. "People have been comparing me to Joe Hardy, the hero of the musical Damn Yankees," he said. "You might be interested to know what (sportswriter) Bob Addie told me the other night after I struck out against the Yankees to end the game. 'You may look like Joe Hardy to some,' said Addie, 'but today you were more like Andy Hardy.'"9
There were many who thought Killebrew's defense was suspect. At times teams would bunt down the third-base line to test him. In some ways the 1960 season was frustrating for Killebrew. A leg injury caused him to miss some time, but also Lavagetto moved him across the diamond to first base. "When I played third, left-handed hitters Julio Bécquer and rookie Don Mincher played first, and when I played first, Reno Bertoia played third. Shifting back and forth was hard mostly because it was hard to use different gloves."10 Lavagetto said of Killebrew, "He pays his way with his bat."11
Like many power hitters, Killebrew had holes in his swing. Early in his career he struck out more often than he walked. He worked hard to reverse the trend and led the league in walks four times as he became more disciplined at the plate. Also, teams began to use shifts against Killebrew. "Lou Boudreau was the first to do that to me when he was managing Kansas City in the mid-'50s. I think I could have been a .300 hitter, but I decided early on that I was helping the club more driving in a lot of runs than going for a high average," Killebrew said.12
During the emergence of Killebrew, along with Bob Allison, Earl Battey, and Jim Lemon, the Senators often remained American League cellar dwellers. As a result, attendance was in a steady decline at Griffith Stadium. This and competition for fans with the Baltimore Orioles caused Senators owner Calvin Griffith to look to relocate the club. Major League Baseball was entering its first expansion period. Many burgeoning cities were vying for an expansion franchise, or one that was relocating. Dallas, Houston, Minneapolis, Seattle, and Louisville were looking to land a team. The league was also considering second clubs in Los Angeles and New York, which left a lot of cities and ownership groups jockeying for position. Recent moves by the Dodgers, Giants, Athletics, Braves, and Browns/Orioles, seemed to make relocation a grand solution for some owners. 
In the end Griffith chose Minneapolis as his club's new home. Minneapolis was a growing city. The Twin Cities were granted an expansion franchise in the NFL in 1960, and played their first schedule in 1961. The Twins had the potential of drawing people from the Dakotas and Iowa as a secondary fan base. The choice for Griffith was clear. Killebrew was fond of playing in Washington. He liked that ballpark, with fans close to the field. He felt that the Nats' faithful supported the team in spite of its losing ways. 
As the club moved to Minnesota, Washington and Los Angeles were granted American League expansion franchises. (The New York Mets and Houston would join the National League the following season.) Killebrew benefited from the move to Minnesota because Metropolitan Stadium was a hitter-friendly park. In the Twins' first season, 1961, he batted a career-high .288, smacked 46 homers, drove in 122 runs, and had a slugging average of .606.
Killebrew began working at WTCN-TV during the season, hosting a pregame show when the Twins were at home. He did interviews with the Twins and opposing players. The show lasted 12 years. He hosted a radio show in the offseason. The jobs helped Killebrew reshape himself from a quiet, reserved type to a more outgoing person.
The transformation in Minneapolis began with the 1962 season. Sam Mele had replaced Lavagetto the previous year. The Twins went from a 70-90 record in 1961 to 91-71 in 1962. They finished second to the New York Yankees by five games. The 21-game swing was amazing. Camilo Pascual and Jim Kaat led the '62 pitching staff with 20 and 18 wins respectively. The smooth-fielding Vic Power took over at first base and Rich Rollins was the new third baseman. Killebrew, now patrolling left field, led the league with 48 home runs and 126 RBIs. Bob Allison had 29 round-trippers and drove in 102 runs. On July 18 against Cleveland, Killebrew and Allison each hit a grand slam in the first inning. The Twins scored 11 runs in the inning on their way to a 14-3 thumping of the Indians.
Killebrew led the league in homers again in 1963 (45) and 1964 (49). For the most part they weren't cheapies either. He hit a homer off Jim Bunning that soared above the double-decked stands and cleared the left-field roof at Tiger Stadium.  "The homers he hit against us would be homers in any park — including Yellowstone," quipped Baltimore manager Paul Richards.13
The Twins put it altogether in 1965 to win the American League pennant by seven games over the Chicago White Sox. Jim Grant led the league in wins with 21 and Kaat won 18. Jim Perry was inserted into the rotation in the middle of the season and posted 12 wins. The team also had offense, with Tony Oliva leading the league in batting (.321) and Zoilo Versalles in doubles (45) and triples (12). Killebrew was on his way to another tremendous season when misfortune came his way. In the sixth inning of a game against Baltimore on August 2, the Orioles' Russ Snyder bunted down the third-base line. Third baseman Rollins made an errant throw to Killebrew at first base. Killebrew reached back to stab the throw and tag Snyder in the same motion, but his left arm collided with Snyder's body. It was said that the snapping of his elbow could be heard in the Twins dugout. Medical personnel ran out to tend to Killebrew as swelling occurred instantly. "You could hear everyone's heart go 'bump, bump, bump' on the bench," said Grant.14 Killebrew was out of the lineup for seven weeks, returning in late September.
The Twins' faced the Los Angeles Dodgers in the World Series. Through Game Six, each team had won three games in its home park. Game Seven was played at Metropolitan Stadium, but Sandy Koufax proved to be too much, shutting out Minnesota 2-0 on three hits. Killebrew batted .286 in the Series, hit one homer, and drove in two runs.
In succeeding seasons Killebrew kept up his home-run pace. In 1966 he hit 39. He led the league in 1967 with 44, tied with the Red Sox' Carl Yastrzemski. Killebrew was selected to The Sporting News AL All-Star Team in 1967 as a first baseman. But there was another part to his game that came to the forefront: his ability to draw walks. From 1966 through 1971 Killebrew led the league in walks four times and in intentional walks three times. Opposing teams respected his ability to wreak havoc, and issuing a free pass began to be the road most traveled. Some pitchers went against logic. "I was 2-and-0 on him one night and I threw him a fastball," said pitcher Dean Chance. "The home run he hit on that pitch was hit so hard that no one in the stands even yelled."15 
In 1967 Sam Mele was let go after posting a 25-25 record. He was replaced by Cal Ermer. Under Ermer the Twins the Twins went 66-46. On September 26 they held a one-game lead with three games to play. But they dropped the three games, including two to the Red Sox at Fenway Park. Boston squeaked by to grab the pennant.
It was truly the last "pennant race" in the major leagues. The Tigers breezed through the American League in 1968. In 1969 both leagues expanded by two more teams and went to a two-division format. This created a round of playoffs before the World Series. No longer was the team with the best record guaranteed a spot in the fall classic. 
Killebrew suffered a serious hamstring injury in the third inning of the 1968 All-Star Game. The first player to be voted a starter at three positions (left field, first base, and third base), he stretched to catch a throw from shortstop Jim Fregosi. But the soil around first base in the Astrodome did not give, his lead foot gave way, and Killebrew folded over his left leg. His hamstring was torn and a bone tore away from his pelvis. He returned to the Twins in September, but was of little value, hitting .257 in 35 at-bats.
Perhaps that was the incentive that made the 1969 season Killebrew's best. He led the league in games played (162), home runs (49), RBIs (140), on-base percentage (.427), walks (145), and intentional walks (20). He was voted the Most Valuable Player by both the Baseball Writers Association of America and The Sporting News. He surprised some people with his defense as well. New skipper Billy Martin had moved Killebrew back to third base. "Everybody told me not to play Harmon at third," said Martin. "Well, he's done a hell of a job there. Admittedly, there is only one Brooks Robinson and Harmon's no Brooks. But then, who is?"16 
"If Harmon Killebrew isn't the league's number-one player, I have never seen one," said Oakland's Reggie Jackson. "He's one of the greatest of all time."17 Killebrew, never one to draw attention to himself, accepted the MVP with his usual aplomb. "What I'm really happy about is that I played every game. That had to mean I was healthy. I had no real slumps, but yet I like to feel that I could have done better. You should never be satisfied. "18    
The "Big Man" carried the Twins to their first American League West Division championship in 1969. He had plenty of help, as Rod Carew won the first of his seven batting crowns with a .332 batting average, and Tony Oliva led the league in hits (197) and doubles (39). Jim Perry and Dave Boswell each won 20 games and Ron Perranoski led the league with 31 saves. But the Twins were swept by Baltimore in three games in the ALCS. 
Killebrew again captured The Sporting News MVP honors in 1970, hitting 41 home runs and driving in 113 runs. He was named as third baseman on The Sporting News AL All-Star team for the second consecutive year. Bill Rigney replaced Billy Martin in 1970. The team won the West Division again, despite missing Carew to a knee injury for a good chunk of the season. But their fate was a carbon copy of the previous season; they were swept by the Orioles in three games.
The 1970 season was the eighth and final one in which Killebrew would exceed 40 home runs. He hit them at a dizzying pace. Through his career, comparisons would be made to Babe Ruth. There would be much conversation about whether Killebrew could eclipse Ruth as the home-run king. Harmon would dismiss such talk as nonsense. "Forget it, I'm just taking them one season at a time," he said. "I'm not thinking of any records. I just want to stay healthy and keep on playing."19    
Killebrew belted his 500th career home run in August 1971, but as he reached the age of 35, his production sank. He hit 28 home runs and led the league in RBIs (119) that season, but in 1972, though he hit 26 homers, his RBIs were down to 74. Sidelined by a knee injury for almost three months in 1973, he played in only 35 games and hit five home runs. He was healthier in 1974, but hit only 13 home runs and drove in 54 runs. For 1975 the Twins offered Killebrew a contract to be a player-coach or possibly manage Tacoma, the Twins' Triple-A affiliate. But Killebrew still wanted to play and rejected the offer. Owner Calvin Griffith replied, "Well, that's fine if you would like to do that. You're welcome to call any other club or talk to any other ballclub that you'd like to."20 
Elaine Killebrew, Harmon's wife, said he strived to please everyone, and never wanted to let anyone down. By all accounts, he was a wonderful person, but at times his good-natured behavior could be taken for granted. He could even let himself be used. He was Mr. Nice Guy. When contract came, Killebrew didn't quibble too much with Griffith. He was paid well, but not overpaid. Jim Kaat told Killebrew that when he stopped hitting home runs over the fence, the front office would forget how to spell his name. Killebrew was beginning to see that Kaat was right. "The Cardinals made a vice president out of (Stan) Musial and the Twins wanted to send you to Triple-A," Kaat told Killebrew during spring training in 1975.21
Killebrew signed a one-year deal with Kansas City to be the Royals' designated hitter in 1975. The Twins, seeking to squeeze all they could out of him, announced a Harmon Killebrew Day for May 4. The attendance was dismal, 14,805 paid, but Killebrew smacked a homer in the first inning. Perhaps it was a swan song for the Twins fans. Killebrew retired at the end of the season. He had homered 573 times, and amassed 1,584 RBIs. He walked 1,559 times and his lifetime batting average was .256. He drove in 100 or more runs nine times. In eight seasons he hit 40 or more home runs, trailing only Babe Ruth who had 11 such seasons. When he retired, Killebrew was fifth in career home runs.
In retirement Killebrew took to broadcasting, working for the Twins, the Oakland A's, and the California Angels. Outside of baseball, his life was on a downward spiral. He and Elaine divorced after more than 30 years of marriage. His car dealership in Ontario, Oregon, and his car leasing company in Bloomington, Minnesota, both failed, pushing him to bankruptcy. He owed money to banks, to Griffith, and to Reggie Jackson. "It's been a living hell," Killebrew said. "You have a lot of those days when you feel you're at the bottom. You get to feeling that sometimes you're out on an island by yourself. I don't feel anger, more sometimes frustration, sadness is another, loneliness is another one. Stressful? That's an understatement."22
Killebrew appeared at sports memorabilia shows, sometimes collecting up to $5,000 for an appearance. But he could never make back what he owed. He filed for bankruptcy in 1993.      
Meanwhile, in 1984 Cooperstown came calling, enshrining Killebrew in the National Baseball Hall of Fame. "It's the biggest thrill I've had in baseball, although the full impact of it probably won't hit me until I go to Cooperstown next summer," he said.23 Killebrew was the first Twin to be inducted into the Hall. He was elected to the Minnesota Twins Hall of Fame in 2000, and the club retired his number 3.   
Harmon "Killer" Killebrew died of esophageal cancer on May 17, 2011, at his home in Scottsdale, Arizona. He was surrounded by his family, including his second wife, Nita. If ever a nickname was an aberration, it was Killer. Killebrew influenced younger players, passing on his knowledge of the game. The saying "he would do anything for you" was not idle chatter when it came to Killebrew. He lived it for all. 
An example: In 1964 Johnny Guiney was hospitalized in New York Hospital with burns over 50 percent of his body. The 8-year-old's robes caught fire as he lit candles at his parish church. Killebrew was the boy's favorite baseball player, as the magazines and baseball cards at home featuring Harmon's likeness could attest to. Johnny's father phoned the New York Daily News to see if they could arrange a visit by Killebrew, who was in town to play the Yankees. Told that Johnny's doctor said a visit "would be the best medicine the kid could have," Killebrew went to see him. Killebrew gave him an autographed baseball and a signed photo to "My pal John," signed his baseball glove, said when he left, "Maybe I'll hit you a couple."24
Killebrew kept his word. He homered in the first and eighth innings of the Twins' victory. Harmon couldn't let Johnny down now, could he? That was Harmon Killebrew; he would do anything for you.
Sources
minnesota.twins.mlb.com/index.jsp?c_id=min&tcid=mm_cle_sitelist
US Census Bureau
Notes
1 The Sporting News, August 28, 1971, 7.
2 Ibid.
3 Ibid.
4 Ibid.
5 Steve Aschburner, Harmon Killebrew: Ultimate Slugger (Chicago: Triumph Books,  2012), 130-131.
6 Aschburner, 20.
7 Danny Peary, We Played the Game (New York: Hyperion Books, 1994), 276.
8 Ibid.
9 Sports Illustrated, June 1, 1959, 49-53.
10 Peary, 486.
11 Sports Illustrated, June 1, 1959, 49-53.
12 Peary, 485.
13 Aschburner, 75
14 Jim Thielman, Cool of the Evening (Minneapolis: Kirk House Publishers, 2005), 170.
15 Aschburner, 122.
16 The Sporting News, October 25, 1969, 3.
17 Ibid.
18 Ibid.
19 The Sporting News, May 15, 1971, 16.
20 Aschburner, 149.
21 Aschburner, 150.
22 Aschburner, 172.
23 St. Paul Dispatch, January 11, 1984, 1A. 
24 New York Daily News, May 27, 1964.
Born
June 29, 1936 at Payette, ID (USA)
Died
May 17, 2011 at Scottsdale, AZ (USA)
If you can help us improve this player's biography, contact us.
http://sabr.org/sites/default/files/HarmonKillebrew.JPG
600
800
admin
/wp-content/uploads/2020/02/sabr_logo.png
admin
2012-01-04 20:24:47
2021-09-24 08:33:40
Harmon Killebrew