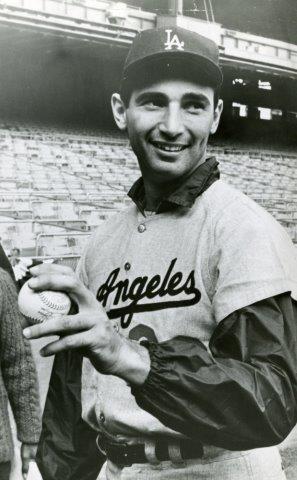 October 14, 1965: Koufax has nothing to atone for in Game Seven masterpiece
---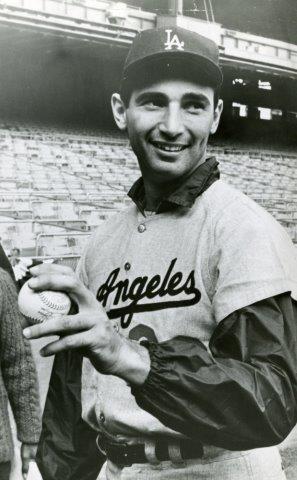 Unfortunately for the Minnesota Twins, there were no Jewish holidays that would prevent Sandy Koufax from pitching for the Los Angeles Dodgers in Game Seven of the 1965 World Series. As a result, he came. He pitched. He shut the Twins out, 2-0. That's really all you need to know.
Actually, there's a little bit more to Game Seven than that. Dodgers manager Walter Alston elected to start Koufax on two days' rest, rather than Don Drysdale, who hadn't pitched in four days. Alston made it clear during a pregame meeting that Drysdale would take over if Koufax faltered.
Jim Kaat started for the Twins, also on two days' rest, and Twins manager Sam Mele was not afraid to change pitchers at the first sign of trouble. He ended up using five pitchers in the game, all of whom shut the Dodgers out after Kaat gave up two runs in the fourth.
"You hate to lose but we didn't disgrace ourselves," said Mele. "We were beaten by the best pitcher that there is anywhere."1
Oddly enough, Koufax didn't breeze through the early innings. Some luck, plus good defense, kept the Twins off the scoreboard until he found his rhythm in the middle frames. He walked right fielder Tony Oliva and third baseman Harmon Killebrew back-to-back in the first inning with two out, prompting Alston to get Drysdale up in the bullpen. But Koufax struck out catcher Earl Battey to escape any damage. In the third, Drysdale began warming again after shortstop Zoilo Versalles singled with one out. Versalles stole second, but had to return to first when center fielder Joe Nossek was called out for batter interference.. Koufax then struck out Oliva for the third out.
Lou Johnson opened the fourth with a home run to deep left, giving the Dodgers a 1-0 lead. Ron Fairly followed that with a double and scored on a single by first baseman Wes Parker. That was the end of the season for Kaat, who was replaced on the mound by Al Worthington.
The Twins' most serious threat came in the fifth. With one out, second baseman Frank Quilici doubled to left. Koufax walked the next batter, Rich Rollins, who was pinch-hitting for Worthington. Versalles was up next and he hit a scorcher toward third base that could have scored one, possibly two runs. However, third baseman Jim Gilliam made an outstanding backhanded stab and touched the bag for the force on Quilici. Nossek then grounded into a force play at second and the inning, and the Twins, were done.
"I didn't even have time to think about (the play)," said Gilliam. "It was about a foot from the bag and as I grabbed it, I slipped to one knee. But I saw the runner and knew I had time so I got up and stepped on the bag."2
"Gilliam's play could have been the turning point," said Mele. "Rollins has a chance to score from first, depending on what happens in the left-field corner. It was a great play, no doubt about it."3
Minnesota went three-up-three-down in the sixth, seventh, and eighth. Killebrew got a base hit with one out in the ninth, but – stop me if you've heard this one – Koufax struck out the next two batters to win the game with a flourish.
The game capped a remarkable World Series for Koufax, who was chosen Series MVP for the second time (he also earned the honor in 1963 when the Dodgers swept the New York Yankees). He went 2-1 and gave up only one earned run in 24 innings pitched (a 0.38 ERA), struck out 29, and threw two shutouts. He even had a hit and an RBI.
While Koufax deserved the award, he wasn't the only suitable candidate. Ron Fairly had 11 hits in the Series, for a .379 batting average, with two home runs, three doubles, and a 1.069 OPS. Maury Wills also had 11 hits, for a .367 average. If they had an unsung-hero award, Lou Johnson would have won easily. Johnson was a 31-year-old career minor leaguer with only 96 games of major-league experience prior to the 1965 season. After playing for six different organizations in such far-flung outposts as St. Jean, Quebec, and Ponca City, Oklahoma, he got his big break in 1965 when regular left fielder Tommy Davis broke his ankle on May 1. Johnson proved to be a sparkplug for the Dodgers, helped carry them to the pennant, and batted .296 with two home runs in the fall classic, one of which was the Series-winning hit.
Associated Press sportswriter Joe Reichler summed up the reasons for the Dodgers' victory quite succinctly: "In the final essence, it was Dodger pitching with the shutouts and the ability of Los Angeles' supposedly weak hitters to all but match the Twins in home run power that swung the balance to the Dodgers."4
As for Mele, if he didn't have enough on his plate during the Series, his wife, Connie, was several days overdue with the couple's fifth child. In fact, Sam was told during Game Five that she had gone into labor, but that turned out to be a false alarm. Connie gave birth to their fifth child, Scott, four days after the Series ended.
Sources
Milwaukee Journal
San Bernardino (California) Daily Sun
Sports Illustrated
Janesville (Wisconsin) Daily Gazette
Notes

1 William Leggett, "The Final Strength Was Sandy," Sports Illustrated, October 25, 1965.
2 Jack Hand, "Shutout Sandy Stymies Twins to Give Dodgers World Series," San Bernardino (California) Daily Sun, October 15, 1965.
4 Joe Reichler, "Koufax Dominant Figure of World Series Champions," Janesville (Wisconsin) Daily Gazette, October 15, 1965.
Additional Stats
Los Angeles Dodgers 2
Minnesota Twins 0
Game 7, WS
---
Metropolitan Stadium
Bloomington, MN
Box Score + PBP:
Corrections? Additions?
If you can help us improve this game story, contact us.
Tags
http://sabr.org/sites/default/files/images/Koufax-Sandy-NBHOF.jpg
600
800
admin
/wp-content/uploads/2020/02/sabr_logo.png
admin
2016-07-22 13:40:53
2020-04-17 13:34:07
October 14, 1965: Koufax has nothing to atone for in Game Seven masterpiece