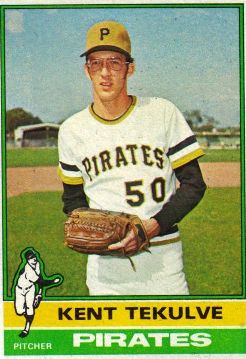 ---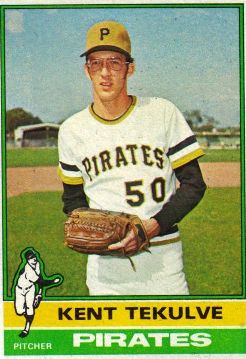 At the Pirates' minor-league pitching camp in 1970, Harding Peterson, the team's minor-league director, told two pitching prospects to abandon their side-arm pitching delivery. Fortunately neither listened, as each would become a Pirate World Series hero, with Bruce Kison starring in 1971 and Kent Tekulve in 1979 with the "We Are Family" champs. During offseason banquets, Tekulve said, "That's how smart you need to be as the general manager of a World Series champion."1
Kenton Charles Tekulve was born on March 5, 1947, in Cincinnati to Edna and Henry Tekulve, and his younger brother Jerry came along a few years later. Kent was named after a used-car dealer his parents patronized and said, "I might be the only major leaguer ever named after a used car dealer!"2
Tekulve's father pitched in semipro leagues in Ohio and shared his love of baseball with his son.
The Tekulves lived in Fairfield, a suburb of Cincinnati. His father drove a truck for the Kroger grocery-store chain, and his mother was a purchasing agent for Mercy Hospital in Hamilton, Ohio. Kent began playing in Little League at 9 years old, with Henry as his coach. (Jerry started pitching at 11.) Kent played Little League and Babe Ruth League. He made the high-school team at Hamilton Catholic as a freshman but was cut as a sophomore. Unlike other high-school pitchers, he did not bat cleanup and play another position on the days he was not pitching. Kent always batted ninth and only pitched. He earned a varsity letter in his junior and senior years.
After high school, Tekulve attended Marietta College (1966-69). It was here that his side-arm style began developing into a roundhouse delivery. He recorded a 0.94 ERA during his senior year and was selected to the All-Ohio Athletic Conference second team. (The press box at Don Schaly Stadium was renamed the Kent Tekulve Media Building in 1994.)
No one drafted Tekulve after his college career, although he was invited to a tryout at Forbes Field in Pittsburgh in July 1969. When he got there, he was not asked to pitch. "I just lolled around in the stands and watched," Tekulve said.3
Tekulve later learned that the snub was intentional. The coaches found his running inability to be funny. This seemed unfair, since his forte was pitching. Years later, Tekulve commented, "Now that was ridiculous. If I could run, I'd be stealing bases."4 Eventually, after everybody left, he got a chance to throw. Dick Coury, a Pirates scout, signed him on the spot. Two nights later he was pitching for the Geneva Pirates of the New York-Penn League. The next season, 1970, the Pirates switched Tekulve to relief at Salem, Virginia, of the Carolina League. Tekulve moved on to Sherbrooke of the Double-A Eastern League in 1972, and experimented with what became his trademark submarine delivery. He patterned himself after Ted Abernathy, whom he had watched pitching for the Reds. Pitching exclusively in relief for Sherbrooke in 1973, Tekulve won 12 games, tied for the lead in the Eastern League.
In 1974 Tekulve began the season at Triple-A Charleston, then was called up in May. He made his major-league debut on May 20, 1974, giving up a hit and no runs while pitching one inning of a 4-2 loss to the Montreal Expos. His first win came on May 27, when he gave up a tie-breaking homer to John Grubb of the Padres in the top of the ninth, then the Pirates' Richie Hebner hit a walk-off two-run homer in the bottom of the inning. A few weeks later, Tekulve was sent back to Charleston.
Tekulve was available in the draft after the 1974 season, but all 23 teams passed on him. He began the 1975 season with Charleston, but was recalled in June, and pitched in 34 games for the Pirates. He got his first major-league hit on September 5 off Dale Murray of Montreal using a bat borrowed from first baseman Bob Robertson.
Tekulve got his first playoff exposure in 1975, appearing in two games of the National League Championship Series against the Reds. After the playoffs he went to Águilas of the Dominican League, where he led the league with an ERA of 1.00.
Tekulve established himself as the top man in the Pirates bullpen during the 1976 season. In 64 games pitched, he went 5-3, with a 2.45 ERA and nine saves. At first, he appeared in mopup situations, but bullpen problems forced manager Danny Murtaugh to call on him when it counted. Tekulve was especially effective in September, posting a 1.64 ERA in 14 games. The Pirates (92-70) finished in second place, nine games behind the Philadelphia Phillies.
After the season, on October 30, Tekulve married Linda Taylor of Washington, Pennsylvania, on October 30. They had met shortly after he joined the Pirates in 1975.
Under new manager Chuck Tanner, many of the Pirates had exceptional seasons in 1977. Right fielder Dave Parker won his first batting title, first baseman Bill Robinson had his only 100-RBI season, and shortstop Frank Taveras set a club record with 70 stolen bases. Tekulve put together an impressive record as Goose Gossage's setup man. He was 10-1 with a 3.06 ERA and seven saves in 72 games. Tekulve was not happy with his secondary role, but he never popped off about how he was used. It was a season of adjustment for him. "I had to adjust to middle-inning relief early, then I had to adjust to when I started getting the call late in the game," he said. "When you're the late man, the game most often is on the line. And I like that challenge."5 The Pirates went a solid 96-66, but finished second to the Phillies again, five games back.
After the season, Gossage became a free agent and signed with the New York Yankees. The Pirates tried to trade for a dominant closer for 1978, but decided to stay in-house with Tekulve. Chuck Tanner sang his submarine reliever's praises, saying, "Teke made my job easier. Anytime a manager can count on one pitcher to pitch four to five times a week, it makes his job easier."6 Tekulve regained his closer role in 1978 and never lost his late-inning mentality. He pitched in 91 games and had 31 saves.
For the third season in a row, the Bucs finished behind Philadelphia, this time by 1½ games. Their last four games of the season were against the Phillies, and Tekulve won both games of a doubleheader on September 29 before picking up his 31st save on October 1. He finished second to Rollie Fingers as the Rolaids Fireman of the Year.
Tekulve entered 1979 as the Pirates' closer. The ninth inning with the Pirates leading came to be known as Tekulve Time.7 The loudspeakers at Three Rivers would blare: "Hey, y'all, prepare yourself, for the Rubber Band Man. … You're bound to lose control, when the Rubber Band Man starts to jam!"8
Seeing Tekulve coming in from the bullpen was a familiar sight to Pirates fans. But seeing him go to left field was not. This happened on September 1, 1979. Pittsburgh was in San Francisco and Chuck Tanner employed an unusual strategy. Tekulve was pitching with two outs in the ninth and left-hander Grant Jackson was warming up in the pen. Darrell Evans, a left-handed power hitter, was due up. It seemed logical for Jackson to come in. What was not logical was for Tanner to send Tekulve to left field. But that is what he did.
Tanner's idea was to keep Tekulve in the game to face the next batter if Jackson did not get Evans out. Tekulve strolled out to left, picked up a few blades of grass, and tossed them into the air to check for velocity and direction of the wind. Evans was a notorious pull hitter, but he got around late on Jackson, and hit a fly ball to Tekulve. The new left fielder did not move and caught the third out.
After three consecutive second-place finishes to the Phillies, the Pirates finally won the NL's Eastern Division title in 1979, clinching on the last day of the season with Tekulve nailing down the save, his 31st of the season. (He pitched in a league-leading 94 games.)
Roger Angell defined the team's character thusly: "All year at Three Rivers Stadium the loudspeakers blasted out the Pirates' theme song during the seventh inning stretch – a thumping, catchy, disco rock number, 'We Are Family' by Sister Sledge!" 9 Willie Stargell appropriated the tune as the team's theme song after hearing it during batting practice in St. Louis.
Pittsburgh squared off against Cincinnati for the National League pennant. In a reversal of their last meeting in the playoffs, in 1975, the Pirates swept the Reds. Tekulve pitched in the first two games, throwing 2⅔ shutout innings.
The World Series started at Memorial Stadium in Baltimore on October 10. Baltimore won the first game, 5-4, scoring five runs in the first inning. The Pirates won the second game, 3-2. Tekulve worked a scoreless ninth for his first World Series save. The Orioles won the third game 8-4.
A rare blown save by Tekulve in Game Four increased the Orioles' lead to three games to one. With one out in the Baltimore eighth, the Pirates leading 6-3 and the bases loaded, Tanner signaled for his bullpen ace. But this was not to be Tekulve's night. He gave up two doubles, a single, and a walk as the Pirates' lead disintegrated into a 9-6 deficit, a lead the Orioles preserved.
The Pirates bounced back in Game Five, winning in a 7-1 romp. In Game Six the successful partnership of John Candelaria and Tekulve resulted in a 4-0 shutout. Tekulve got his second save of the Series, entering in the seventh with the Pirates ahead 2-0 and shutting the door on the Orioles, giving up just one hit in three innings and striking out four.
In Game Seven, at Baltimore, Pittsburgh was up 2-1 when Tanner summoned Tekulve in the bottom of the eighth with two Orioles on and one out. Standing at the plate was Terry Crowley, who had smacked a two-run double off Tekulve in Game Four. Meeting Tekulve at the mound, Willie Stargell told him, "Teke, show the people why you're the best in the National League. And if you don't think you can do that, then play first and I'll pitch!"10
Tekulve got Terry Crowley to bounce out to second. Next he intentionally walked Ken Singleton, loading the bases and bringing up Eddie Murray, who was on a 0-for-20 streak. Murray hit a line drive to right field, the kind Dave Parker normally caught easily. Parker slipped a couple of times. "I thought that, 'I hope his legs don't fail him now, but he's made those plays all year and somehow I knew he would get it," Tekulve said after the game.11 Parker caught the ball, and the threat was over.
In the bottom of the ninth Tekulve struck out Gary Roenicke and Doug DeCinces. Pinch-hitter Pat Kelly batted, with the Pirates one out from the Series victory. "I threw the ball and did not see the catch," Tekulve said. "I was so wrapped up in the game that it didn't hit me until the ball was in the air and Omar [Moreno, Pirates center fielder] caught it. I then thought. world championship; it's ours and nobody can take it away!"12
Tekulve's performances during the Series strengthened his celebrity status in the Pittsburgh area. Shortly after the Pirates' victory he went to a department store to buy diapers for his infant son, Jonathan. Bedlam broke out. Tekulve spent over two hours signing everything from pillowcases to sales receipts. Afterward he deadpanned, "By the time I get out of here, my son will be toilet-trained."13
Tekulve finished fifth in the Cy Young Award voting, just as he had in 1978, but he took more pride in pitching in nearly 100 games on the season.
Chuck Tanner chose Tekulve for the All-Star squad in 1980, the only time he made it to the midsummer classic. He did not pitch in the National League's 4-2 victory. Tekulve had mechanical difficulties and struggled during the season. His bread-and-butter pitch was his sinker, but it was not sinking, and his slider was hanging. "I wasn't doing the basics," Tekulve recalled. "I wasn't following through. I wasn't driving with my motion. All mechanical."14 Still, he earned his 100th career save that season.
Tekulve's struggles continued into 1981. He ended a personal 10-game losing streak that dated back to August 29, 1980, with a win on May 26 against Chicago. The Pirates had their first losing season since 1973. They returned to their winning ways in 1982, as Tekulve pitched in 85 games, ending up with a slate of 12-8 and 20 saves. But he was no longer the dominant closer. For instance, he gave up 11 runs during consecutive outings on July 7 and 8.
After a successful 1983 season (18 saves, 1.64 ERA), Tekulve sought a four-year deal from the Pirates. They were far apart in negotiations, and Tekulve became a free agent. Next to Gossage, he was the most coveted reliever on the market. Just before Christmas, Tekulve and the Pirates came to an agreement paying him $900,000 per season for 1984-86.
After the 1984 season Tekulve made it known that he did not like the way he was being used. Chuck Tanner took exception to his comments, saying, "I don't like to hear that Teke is saying such things. It seems that he is making excuses for himself. Sometimes I was confused with the way he pitched. We didn't score many runs last season and we didn't have the luxury of putting Tekulve in with a three- or four-run lead. Sometimes he didn't get the job done but I consider him a quality pitcher and he is always ready to pitch."15
Tekulve was traded to the Phillies on April 20, 1985, for reliever Al Holland and a minor leaguer. In Tekulve's first two appearances for the Phillies he allowed just an infield hit in four innings, and the Phillies returned him to the closer role. He won his first game for the Phillies on April 29, when he pitched 2⅔ innings of scoreless relief in a 3-2 win over Montreal. Tekulve finished 1985 as the Phillies closer, but it was the last time he served in that role as a major leaguer. He was 4-10 with 14 saves. He pitched three more years in Philadelphia as a setup man for Steve Bedrosian, who was enjoying his best years during that time, posting 29, 40, and 28 saves, and winning the Cy Young Award in 1987.
Tekulve continued to add to his record by leading the National League with 90 appearances in 1987, a mark that still stood as of 2016 as the Phillies team record for appearances in a season. At the age of 40 he became the oldest pitcher to lead the league in appearances. (Tekulve's Pittsburgh record of 94 appearances in 1979 was tied by Salomón Torres in 2006.) As of 2016 Tekulve's 1,050 pitching appearances placed him ninth in that category.
After the 1988 season the Phillies did not offer Tekulve a contract. Several teams expressed interest, and he decided to go to the Reds' spring training as a nonroster player. He made the team and was signed to a one-year contract. The plan was for him to be a setup man for John Franco. Tekulve was never comfortable with his role. He retired on July 17, 1989, explaining, "After all those years of being in the middle of things, I wasn't enjoying being on the fringe."16
Later that season the Pirates honored Tekulve at Three Rivers Stadium. He received an oil painting of himself pitching, a golf cart, a crystal bowl, and a lifetime pass to Pirates games. His wife, Linda, was given a gold necklace with 27 diamonds representing Tekulve's uniform number when a Pirate.
Tekulve could not stay away from baseball. He became a member of the Phillies broadcast team in 1991, and stayed on until 1997. He returned to the Western Pennsylvania area as the general manager and pitching coach of the Washington Wild Things of the Frontier League in 2003, and in 2006 became an advance scout for the Pirates. Later he worked as a postgame analyst for the Pirates games, and was as the president of the Pirates Alumni Association.
In 2008 Tekulve received the William A. "Bill" Shea Distinguished Little League Graduate Award, presented each year to a former Little Leaguer who went on to major-league baseball.
Last revised: August 1, 2016
An updated version of this biography appears in "When Pops Led the Family: The 1979 Pitttsburgh Pirates" (SABR, 2016), edited by Bill Nowlin and Gregory H. Wolf.
Sources
In addition to the sources cited in the notes, the author also consulted:
The Daily Courier, Connellsville, Pennsylvania, May 20, 1974.
Fimrite, Ron. "A Series of Ups and Downs," Sports Illustrated, October 22, 1979.
Fimrite, Ron. "Rising From the Ashes," Sports Illustrated, October 29, 1979.
"Size/On Air: experienced Tekulve has given FSN spot-on analysis," Pittsburgh Post-Gazette, May 20, 2008.
Little League On-Line, "Former MLB Relief Pitcher Kent Tekulve to Receive Bill Shea Distinguished Little League Graduate Award," – Little League Communication Division, August 15, 2008.
Finoli, David, and Bill Ranier. The Pittsburgh Pirates Encyclopedia, "The Top 100 Players." (Champaign, Illinois: Sports Publishing, 2003).
Stargell, Willie, and Tom Bird. Willie Stargell: An Autobiography (New York: Harper & Row Publishers, 1984).
McCollister, John. Tales From the 1979 Pittsburgh Pirates (Champaign, Illinois: Sports Publishing, 2005).
Notes
Born
March 5, 1947 at Cincinnati, OH (USA)
If you can help us improve this player's biography, contact us.
http://bioproj.sabr.org/bp_ftp/images4/TekulveKent.jpg
600
800
admin
/wp-content/uploads/2020/02/sabr_logo.png
admin
2012-01-04 20:47:15
2022-01-20 08:15:37
Kent Tekulve