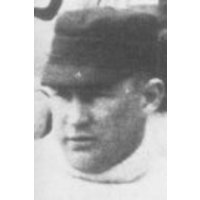 ---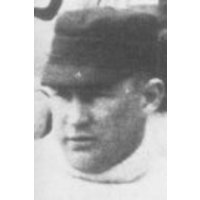 In 1889 at the age of 15, diminutive southpaw Willie McGill graduated from the Chicago sandlots to the Evansville (Indiana) Hoosiers in the Central Interstate League. He defeated the Davenport Hawkeyes in his first outing. The following year he joined the Cleveland Infants in the Players' League and had 11 wins under his belt before his 17th birthday. In 1891 he signed with Cincinnati's Kelly's Killers in the rough-and-tumble American Association. He pitched Opening Day for them, making him most likely the youngest pitcher to do so in major league history.1
Alas, McGill's short stint with the Killers led indirectly to tragedy: His father died in a rail accident while coming to the aid of young Willie, who'd been arrested after a drunken assault. Thomas McGill served as a mentor/agent for his son. It also appears that he was Willie's number one fan and endeavored to see his son play when possible. We will never know what would have transpired had Thomas lived to confront Willie about his drinking. Could he have said or done anything to keep the young man from further incidents?
Intemperance continued to plague McGill in 1892 as his life and career spiraled downward. Thankfully his mother and friends in baseball brought him back to reality; he managed to stay on the straight and narrow after that. He compiled a lifetime mark of 71-73 in the majors through 1896. Although he was just 22 when he pitched his last big-league game, he continued in the minors through 1905 and semipro ball well beyond that.
William Vaness McGill was born November 10, 1873 in Atlanta, Georgia. He was the youngest of six children born to Thomas and Virginia (Lightner) McGill. Thomas's ancestors had left Ireland before the Great Famine of the 1840s and settled in North Carolina. In the 1880s the family moved to Chicago when the elder McGill's railroad employer in Georgia appointed him to handle the Midwest region. Of the six births, only three children survived to make the move to Chicago.
How much schooling Willie received is uncertain. When he pitched a game for Notre Dame in April 1892, he was mentioned as a former student. Considering that his major-league career started when he was 16 it is likely that he attended the prep school associated with Notre Dame rather than the university itself. One author mentioned that he left the school at age 14.2 As for learning baseball, McGill was tutored by his father and honed his craft on the sandlots of Chicago.
McGill is listed as being 5-foot-6 and weighing 170 pounds. Later in his career he was nicknamed "Wee Willie" and those dimensions certainly qualified him for the moniker. Yet, he may have been even smaller. When he joined Cleveland in 1890 a writer noted that, "Everybody in this town knows how little Cub Stricker is and when it becomes known that young McGill is nearly a half head shorter one will realize what a midget he really is."3 Baseball Reference lists Stricker at 5-foot-3 and weighing 138 pounds. Considering his age, McGill could have had a growth spurt after his 1890 debut or he may have been tinier than records suggest.
After opening 1889 with the Meridens in Chicago's Commercial League, McGill was signed by the Hoosiers. He saw his first action on June 22 when he "started in the contest a little nervous," but settled down and showed a sharp breaking curve to go with a powerful fastball.4 The Hoosiers triumphed, 7-3. He won two of the next three games before the wear and tear took its toll on his teenage body. He lost four games in a row in July and twice had to miss a turn when he was ill.
On July 26 he faced Davenport again and beat them, 3-0 while twirling a dandy no-hitter. The umpire of the game was former major leaguer George McGinnis who would later recommend McGill to Cleveland. McGinnis opined that McGill's drop ball was unequaled by any he had seen including that of Toad Ramsey.5
The no-hitter was possibly his last win with Evansville. He suffered six losses in August before being released to finish the season with the league-rival Burlington Babies. McGill went 2-3 for the Babies, his best effort was a 6-0 revenge victory over Evansville when he struck out eight. The Hoosiers and the Babies closed the season tied for last place.6
His inaugural season was physically taxing on McGill. His teenage limbs suffered under the stress of pitching as often as he did. An Evansville writer noted, "There is the making of a good pitcher in McGill … but he wants at least three years' development of mussel (sic) and sinue (sic)." The same writer pointed out that a curve and a dropball need to have a fastball to go with them.7 A tired McGill would lose his fastball and be an easy target for batters.
Accompanied by his father the following March, the 16-year-old McGill joined the Cleveland Infants in St. Louis where they were playing a string of exhibition games. Ironically McGill's first test came against George McGinnis, who was trying to hook on with the Chicago Pirates of the Players' League. Neither man looked sharp as McGinnis walked five and McGill issued 10 passes in his 10-6 loss.
McGill "has wonderful speed, drops and curves" according to writers, but his wildness and the inability of Sy Sutcliffe to handle his pitches made for a tough debut.8 Two days later he again faced Chicago and surrendered eight runs in the first on the way to an 11-4 defeat.
The season opened in Buffalo with four games against the Bison in which the Cleveland pitching staff surrendered 75 runs. The Infants' staff had Henry Gruber and Jersey Bakley doing the bulk of the work in the early going. McGill's father convinced management to give Willie another try.
On May 8 McGill made his debut in Cleveland against the Bison. With Pop Snyder catching for him McGill overcame control problems—seven walks—and held Buffalo to seven hits and five runs in a 14-5 win. While the headline writers gushed over his success, the sportswriters were more subdued, pronouncing that "young McGill … is not a "phenom," but a clever, heady, and nervy pitcher … McGill's work yesterday was only a little short of wonderful."9
Despite the debut McGill went nearly a month before his next start. He was the only lefty on the staff but watched as Gruber, Bakley, and John "Cinders" O'Brien did the pitching. He finally went to the box on June 5 but was rained out after two innings. He returned the following day and whipped Buffalo, 14-4. He earned two more starts and his record stood at 4-0 on June 17.
On June 19 McGill took a drubbing from Chicago losing, 20-9. He was relegated to the bench by manager Henry Larkin and made only one start in July. Patsy Tebeau replaced Larkin in early August. When O'Brien fell ill, McGill was given a spot in the rotation. He beat Buffalo again on August 14 and went on to finish the season with an 11-9 record with a 4.12 ERA that was second on the four-man rotation.
Dubbed the "Boy Wonder" and "Kid" in papers across the Midwest, the nickname "Wee" had not yet come into use. McGill gave all the appearance of an older, seasoned hurler. He pulled "his cap over his right ear" and walked with "a tough little swagger."10 Besides a good selection of pitches, McGill was one of the best at "shadowing the ball" or hiding it behind his back to make it tough for the hitter to pick up.11 To at least one writer he looked "twenty-five years old, if a day."12
In 1891 he entered the tumultuous world of the American Association, signing on with Cincinnati. Kelly's Killers opened the season April 8 on the road. McGill started the season opener in St. Louis, which ended in a 7-7 tie, although originally it was forfeited to St. Louis by umpire "Brudder" Bill Gleason, who had played over 600 games as a Browns infielder.13 The game got out of hand after player-manager King Kelly was ejected in the sixth. After St. Louis tied the game in the ninth, Cincinnati claimed it was too dark to continue but Gleason started the tenth inning. The Cincinnati players proceeded to make a mockery of the game and Gleason ordered a forfeit. Kelly filed a protest with American Association President Kramer who declared the forfeit null.14
Lost in the wrangling over the opener was McGill's three-hit performance. A St. Louis writer noted that "McGill's pitching yesterday was remarkable in the face of Gleason's erratic umpirical (sic) work. A less plucky pitcher would have given up in despair."15 McGill's next start came on a Friday night in Louisville and resulted in an 8-3 loss.
After that game, he and teammate Ed Crane "went out to sample some of Kentucky's staple product … they imbibed rather freely," until they were uncontrollably drunk. Wandering back to their hotel in the wee hours of the morning, they got into a fight and pummeled an unsuspecting man. Police took them into custody and the two ballplayers gave fictitious names to the constabulary. Crane and McGill were quickly sent before a judge and fined. Kelly paid their fine ($10 each plus court costs), then fined them an additional $30 each.16
Upon hearing of his teenage son's transgression, Thomas McGill boarded a train in Chicago and headed south. As the train approached Indianapolis, it hit a broken rail and the car in which the elder McGill was riding derailed and overturned. He was badly injured and succumbed in mid-May.17
Virginia McGill filed a civil suit because the cause of the wreck was a damaged rail. In December 1891 she settled for $5,000.18 She passed away in 1904 and was buried beside her husband in Fredericksburg, Virginia.19
McGill recovered from his binge and pitched a sound game on April 17 but lost, 4-3. The home opener was delayed while the new grounds were readied. The team finally returned home after 15 road games to face Louisville on April 25. McGill took the box for Cincinnati and suffered the defeat.
In May he was sold to the St. Louis Browns. The Browns were a notoriously wild contingent. A reporter labeled third baseman Denny Lyons the "prince of the lushers."20 Lyons and some of the other Browns were the role models that McGill least needed at that point in his life. When word came that his father had taken a turn for the worse the team was in Baltimore. McGill left the team for Indianapolis but sadly arrived at his father's bedside after the elder McGill had already passed away.
The Browns were managed by Charlie Comiskey, who found himself with a youthful pitching staff including rookies Clark Griffith (age 21) and George Rettger (age 22). The 17-year-old McGill posted the second-highest total of innings (233) pitched on the team. The workhorse on the staff was Jack Stivetts (age 23) who appeared in a league-leading 64 games and toiled 440 innings.
In an era when pitchers were expected to throw complete games, Comiskey was an anomaly with his bullpen use. Perhaps it was the youth of his staff, but he had similar tendencies the next two seasons in Cincinnati. In McGill's case, Comiskey exhibited a quick hook in tight ballgames in May and June. Once he proved himself, McGill was seldom relieved. Besides relieving struggling starters, Comiskey tended to rest his starters when a game reached blow-out proportions and with the Browns offense that was a frequent occurrence.21
Despite Comiskey's expert juggling, the team finished second to Boston. Part of the problem was the lack of discipline shown by the players. In August Lyons and McGill went on a drinking spree and were not seen for a day. The next day McGill reported for duty, but Lyons was still AWOL. McGill was fined $50 and the team ownership threatened to suspend Lyons for the remainder of the season.22 At the same time Stivetts was suspended indefinitely for undisclosed misconduct. He only missed four days. Some reporters claimed in August that McGill was released and had left baseball at the behest of his mother, but those reports were overly dramatic, and he closed out the year with the team.23
McGill is credited with an 18-9 record for the Browns, including a June 3 shutout of Baltimore. He posted the lowest ERA of his MLB career (2.70) and WHIP (1.429) and his highest strikeout (146) totals. The Browns played a round of exhibition games in neighboring states after the season with McGill seeing action. In late February N.E. Young, the National League secretary sent out a bulletin that stated, "William McGill has been assigned to the list of the Cincinnati Club by the committee."24
McGill failed to appear when spring training began. The Cincinnati Post wondered if he had fallen into a vat of beer in St. Louis.25 Salary was the real cause. When McGill heard pitcher Billy Rhines was ailing he supposedly raised his demands by "several hundred dollars."26 McGill joined Notre Dame University's team for a game against the University of Michigan, leading to speculation he would enroll at Notre Dame. He pitched the Irish to a 6-4 win. The victory was not taken easily by Michigan fans who complained about McGill. This led to a letter to the editor of the South Bend Tribune from the Notre Dame team. They noted that McGill "is an old student" and that he "was not hired but volunteered his services."27
Finally, Comiskey, now managing the Cincinnati club in the National League, met with McGill and coaxed him to sign for $1,800. A few days after he joined the team McGill's first start came May 1 versus Cleveland. He needed relief help but won, 12-9. He followed that with a loss to Brooklyn and a poor showing against Baltimore on May 8 when he was pulled in the second inning. When the team returned to Cincinnati, McGill and catcher Jerry Harrington went on a drinking binge that was reported in great detail by the local press. McGill was released; he had only been with the club for two weeks.
Out of work and threatened with blacklisting, McGill fell from sight. His mother had Chicago police telegram the Cincinnati force to try and locate the young man. About four days later he turned up and was held until his mother could arrive.28 Mother and son returned to Chicago and the ensuing six weeks must have been an excruciating time for them. By all indications Virginia McGill made a breakthrough and Willie promised to be a teetotaler.
In late June, McGill joined the Menominee, Michigan club in the Wisconsin-Michigan League. McGill won praise for his performance in the league, especially for a 12-inning loss to Marinette, 2-1. He did not allow a hit until the tenth inning.29 He had a few games with strikeout totals of 14. Game stories share the common theme that the Menominee team's fielding was subpar which would explain McGill's near .500 record.
He signed with the Chicago Colts in early January and made it known to reporters that he was a changed fellow. His contract reportedly contained a temperance oath, which was not unusual in those days. McGill joined the Colts in Atlanta for spring training. When he pitched his first exhibition game the local fans presented him with a basket of flowers to welcome him back to his birthplace. He was pulled in the fifth in a game eventually won by Chicago, 14-13.30
When the regular season began, McGill earned the start in the April 27 opener in Cincinnati. After walking four in the second, he was replaced in the 10-1 loss. He earned his first win of the season on May 4 with a 5-3 victory over Cy Young and the Cleveland Spiders. McGill struggled with consistency and control the whole campaign. One of his better days came on July 11 when he beat Washington, 15-5. Most surprising that day were the three hits he got. His bat came alive after that, and he ended up hitting .234 after coming into the season as a career .151 (27-for-178) hitter.31
McGill led the eighth-place Colts with 17 wins (Bill Hutchison had 16). He hurled over 300 innings for the only time in his career but walked a career-high 181. Nevertheless, by modern statistical standards, he had the best season on the team as he led the roster with a 5.5 WAR, per Baseball-Reference.com.
Spring training for the Colts was in the south in 1894—the south side of Chicago that is.32 The team played well in the exhibition season against teams in the Western League, winning seven straight.33 The regular season began in a drizzle in Cincinnati with Hutchison getting pounded, 10-6. The weather was an indication of how the Colts' and McGill's season was going to be. He took the mound on April 22 on a "miserably wet and cold" day. "He was wild, gave many bases on balls, but at times drove curves over the plate that completely puzzled the Reds."34 McGill kept the Colts in the game, but surrendered a double and single in the ninth to lose, 5-4.
On May 13 McGill defeated Louisville, 14-12. The win was his third in eight starts, but the team stood at 5-11-1 in tenth place. Clark Griffith, who would emerge as the ace of the staff, had only made one start in the early going. The Colts finally put together a long winning streak in late July and August, but McGill was not a part of it. He languished on the bench while rumors of a trip to Omaha or possible release swirled.
On September 9, the Colts were in a six-game losing skein and turned to McGill. He had been "practicing a new and deceptive ball—a cross between and inshoot and a low drop." He was so enamored with the new offering that "he worked nothing but that one style of curve, and the results were pitiable."35 Before abandoning his new pitch, McGill surrendered five first-inning runs on way to a 9-5 loss to Cleveland. He closed the season with a 7-19 record, leading his team in losses.
On February 28, 1895, the Colts disposed of McGill; he was quickly signed by the Philadelphia Phillies.36 Training camp was in Virginia and McGill started the first exhibition against a team from Newport News. He looked good, scattering four hits over four innings in a 32-3 blowout.37 Things did not go as well in his first regular season start on April 20 in Baltimore. He surrendered eight runs (three earned) in three innings of work. The Orioles proceeded to pound reliever Kid Carsey for a 23-4 win.38 In his next outing in Washington, McGill smacked two hits to center field and scored a run but lost, 5-4.39
His favorite game of his career came with the Phils that year. On May 21 he faced Cap Anson, Hutchison, and the Colts. McGill won, 15-2. Years later he recalled that he allowed only four hits (actually seven) and struck out 12 (really 10). "Any ballplayer would remember that one."40
Both the Philadelphia newspapers—The Times and Inquirer—began calling him "Wee" Willie McGill. Now aged 21, "Boy Wonder" seemed inappropriate and "Kid" was already taken by Carsey, who won 18 in 1894. The new nickname would follow him for the rest of his life. McGill posted a winning record (10-8) but was forced to the bench in August before the Phillies went on a hot streak.
The Phillies' late-season rush took them to third place, but McGill was just an observer resting a tired body and an ailing knee. His last start came on August 3 against Boston but he "had neither speed nor curves and his legs were weak." Manager Arthur Irwin replaced him with rookie Ernie Beam who walked 10 men in a 9-6 loss.
A fan survey to pick the most popular player was conducted at the ballpark during the season. Over 51,000 votes were cast with McGill coming in fourteenth with 723 votes. Future Hall of Famer Sam Thompson led the voting with 8,106.41
McGill played handball and lifted weights during the winter the rebuild his strength. The Phillies made a fateful and ill-advised move in the offseason by trading future Hall of Famer Billy Hamilton to Boston for Billy Nash, who was appointed manager. To open the season, the Phils took two-of-three from Boston before hitting the road to New York. McGill drew the assignment of facing the Giants in their home opener and authored a 3-1 victory with his "excellent command, plenty of speed … and variety of curves."42
The win proved to be the highlight of McGill's season. In late June he was traded to St. Paul in the Western League for outfielder Sam Mertes.43 Tuck Turner was loaned to the same club in the deal. The move reunited McGill with St. Paul manager Comiskey. McGill would never return to the majors.
McGill debuted with the Saints on June 30 against former teammate Hutchison and the Minneapolis Millers, coming away with an 8-6 win. There was a repeat bout five days later that Hutchison won, 8-5. Soon after, a broken hand from a batting practice accident sidelined McGill until late in August. He closed out the year at 3-1.
In 1897 he struggled with consistency with St. Paul and was released late in the season. He returned to Chicago and was pitching semipro ball in September. He spent 1898 on the Chicago semipro circuit before returning to the Western League in 1899.
He became a workhorse on St. Paul's pitching staff. He posted a .318 batting average with them before he was sent to Grand Rapids.44 He won his first start with the Bugs, 18-8 over Kansas City. At bat he hit a double and stole a base.45 End-of-season records show him with a 15-20 record and batting .303.46
The Western League became the American League in 1900. McGill joined the Chicago White Stockings, playing six games with the Windy City team and posting a 3-2 record before his release. He returned to the Chicago semipro diamonds in July.
McGill then toured the Midwest, playing in St. Paul, Peoria, Evansville, Toledo, and Milwaukee the next three years. In 1904, he found himself on the east coast with the Norwich (Connecticut) Reds in Class D ball. He closed out his professional career in 1905, then returned to the semipro game until past his 40th birthday. One of his better performances in the semipro ranks came on May 30, 1907, when he tossed back-to-back one-hitters in a doubleheader.47
McGill stayed in sports by becoming an athletic trainer. He began as an assistant at the University of Chicago. In 1912 he was hired by the University of Illinois as their head trainer.48 From there he went to Northwestern University where he also coached the baseball team.
In the late 1920s he moved to Indianapolis and worked at Butler University as trainer and baseball coach. His ace pitcher there was Oral Hildebrand. He left the college game in the 1930s and joined the Indianapolis Power and Light Company athletic department before getting a job in the steel industry. He also coached semipro teams in Indianapolis.
McGill held true to his pledge to his mother to follow a temperate path. By all accounts he strove to be a role model for the collegians that he met and cared for. On June 26, 1915, he married Mary (Shaw) Egan who was 10 years his junior. She had two sons named William and Howard from a previous marriage. In 1917 the couple welcomed a son named James.
McGill passed away from cancer on August 29, 1944, in Indianapolis. In addition to the family mentioned earlier, he left four grandchildren. He was laid to rest in the Crown Hill Cemetery in Indianapolis. Mary passed away in 1982 and joined him there.
Acknowledgments
This biography was reviewed by Bill Lamb, Rory Costello, and Joel Barnhart and fact-checked by Kevin Larkin.
Thanks also to Emmett McAuliffe for his input on the 1891 Browns and Charlie Comiskey.
Notes
1 https://www.mlb.com/news/youngest-players-to-start-on-opening-day Last accessed on January 14,2020. The site also claimed that 20-year old Catfish Hunter was the youngest opening day pitcher. https://sabr.org/research/youngest-major-league-players. Last accessed January 21, 2020.
2 Richard W. Fogarty, "Butler Baseball Coach Recalls Playing Days in Majors and Start of Career as Trainer of College Athletes," Indianapolis Star, April 3, 1932: 4.
3 "Quite a Twirler," Cleveland Plain Dealer, May 9, 1890: 5. Another height comparison was to Davy Force who stood 5'4".
4 "A Red Hot Game," Evansville Journal, June 23, 1889: 2.
5 "The Sporting World," Plain Dealer, March 28, 1890: 5.
6 From newspaper records it appears McGill was 4-11 with Evansville giving him a 6-14 record for the year. The standings were recorded in the September 28 Evansville Journal.
7 "Base Ball," Evansville Courier and Press, August 24, 1889: 1.
8 "Chicago (P.L.), 10; Cleveland (P.L.), 6," Boston Globe, April11, 1890: 3.
9 "Quite a Twirler," May 9, 1890.
10 "Willie McGill's Adieu," August 11, 1891.
11 "Johnny Evers and Hugh Fullerton, "Touching Second," The Washburn Leader (Washburn, North Dakota), August 19, 1910: 7. A syndicated coloum.
12 ""King"Kelly Busted," The Courier-Journal(Louisville, Kentucky), April 15, 1891: 6.
13 ""Brudder" Bill," Cincinnati Enquirer, April 9, 1891: 2.
14 "Fifteen Thousand Present," The Evening Star (Washington, D.C.), April 13, 1891: 6.
15 "Base Ball Notes," St. Louis Republic, April 9, 1891: 5.
16 "McGill and Crane on a Spree," St. Louis Globe-Democrat, April 25, 1891: 7.
17 "Willie McGill's Adieu," The Boston Globe, August 11, 1891: 5.
18 "Indiana State News," The Indianapolis News, December 9, 1891: 6.
19 https://www.findagrave.com/memorial/12058339 Last visited on January 12, 2020.The burial location was near her birthplace. Thomas McGill had served with the 30th Virginia Infantry which was raised in Fredericksburg during the War Between the States.
20 St. Louis Globe-Democrat, October 22, 1891: 9.
21 The Browns had 101 complete games which was eighth in the league and led the league in relief appearances and saves.
22 "Lyons Suspended," St. Louis Post-Dispatch, August 19, 1891: 8. Management reinstated him about 2 weeks later.
23 "Willie McGill's Adieu," August 11, 1891.
24 "Billy M'Gill," Cincinnati Post, February 23, 1892: 1.
25 Cincinnati Post, April 2, 1892: 4.
26 "Base Ball Notes," The Evening Star, April 15, 1892: 7.
27 South Bend Tribune, April 27, 1892: 3.
28"M'Gill's Mother," Cincinnati Post, May 16, 1892: 1.
29 "Good Twelve Inning Game," Daily Inter Ocean (Chicago, Illinois), July 17, 1892: 7.
30 "Ray of Hope at Last," Chicago Tribune, April 2, 1893: 7
31 It is unknown whether McGill batted left or right or both. Many of the game stories have his hits going to center field so any conjecture is impossible.
32 "Anson's Men Busily Practicing," Chicago Tribune, April 3, 1894: 11.
33 "Beaten by Handspun," Chicago Tribune, April 17, 1894: 11.
34 "Beaten in the Ninth," Chicago Tribune, April 23, 1894: 8.
35 "M'Gill Pitches Ineffective Ball," Chicago Tribune, September 10, 1894: 11.
36 "Quakers Get M'Gill," The Inter Ocean, March 1, 1895: 4.
37 "They Can't Hit a Bit," The Times (Philadelphia, Pennsylvania), March 24, 1895: 8.
38 "Phillies Playing Away Off," The Times, April 21, 1895: 8.
39 "The Senators Were Outplayed," The Times, April 25, 1895: 8.
40 Richard W. Fogarty, "Butler Baseball Coach Recalls Playing Days in Majors and Start of Career as Trainer of College Athletes," Indianapolis Star, April 3, 1932: 4.
41 "Wind-Up of the Baseball Season," The Philadelphia Inquirer, October1, 1895: 5.
42 "First Victory Over New York," The Times, April 22, 1896: 4.
43 "Mentes (sic) Secured," The Philadelphia Inquirer, June 24, 1896: 5.
44 "Batting and Fielding," The Saint Paul Globe, July 23, 1899: 11.
45 "Blues Not In," The Saint Paul Globe, July 30, 1899: 14.
46 "Dungan Led Batsmen," The Saint Paul Globe, October 16, 1899: 5.
47 "On the Base Line," The Dispatch (Moline, Illinois), May 31, 1907: 7.
48 "M'Gill Will Train Illinois Athletes," Journal Gazette (Mattoon, Illinois), September 24, 1912: 7.
Born
November 10, 1873 at Atlanta, GA (USA)
Died
August 29, 1944 at Indianapolis, IN (USA)
If you can help us improve this player's biography, contact us.
https://sabr.org/sites/default/files/McGillWillie.jpg
600
800
admin
/wp-content/uploads/2020/02/sabr_logo.png
admin
2020-02-25 14:39:31
2020-04-09 14:37:26
Willie McGill