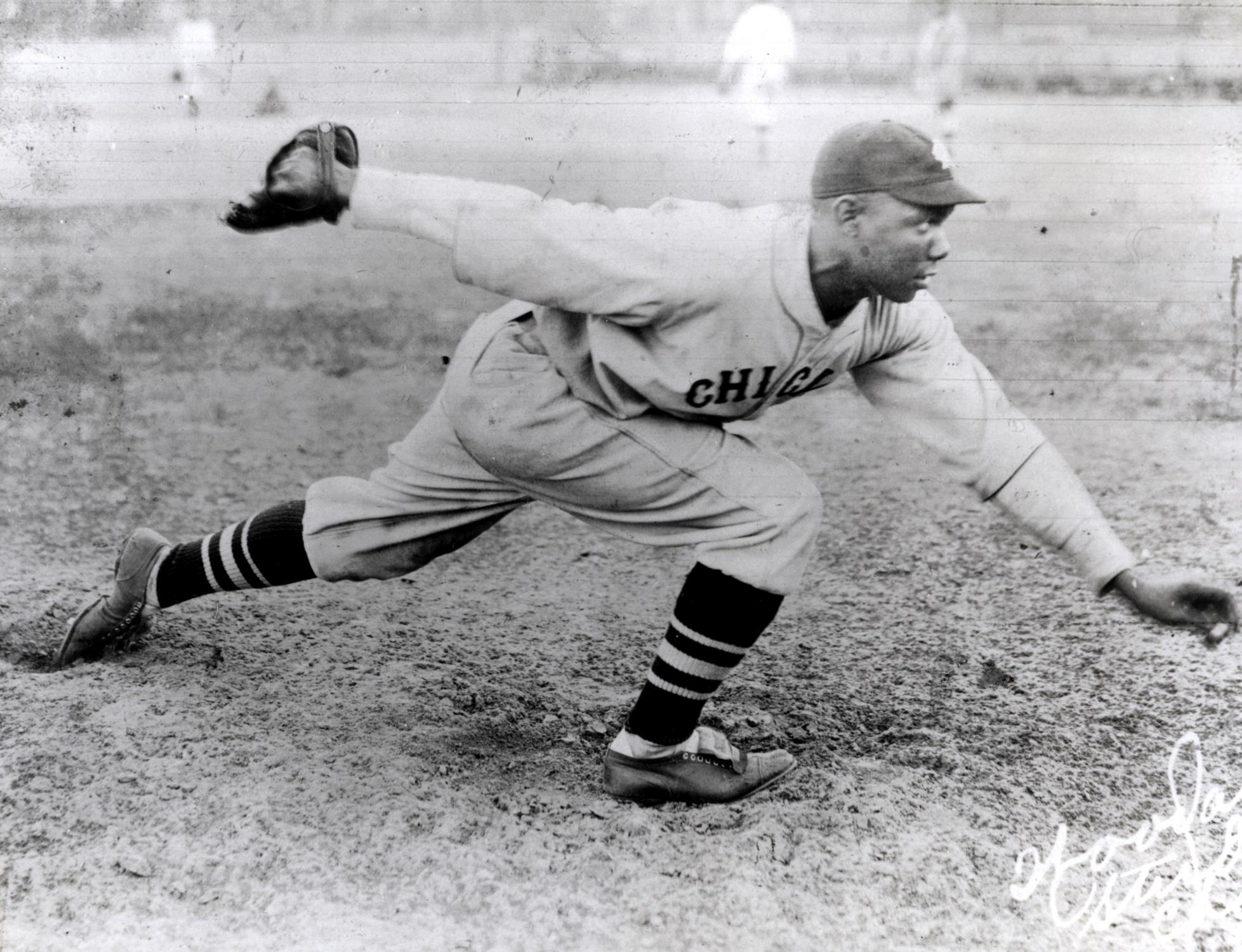 ---
"Willie Foster was the greatest left hander that I ever played with and he was a gentleman on and off the field." — Ted "Double Duty" Radcliffe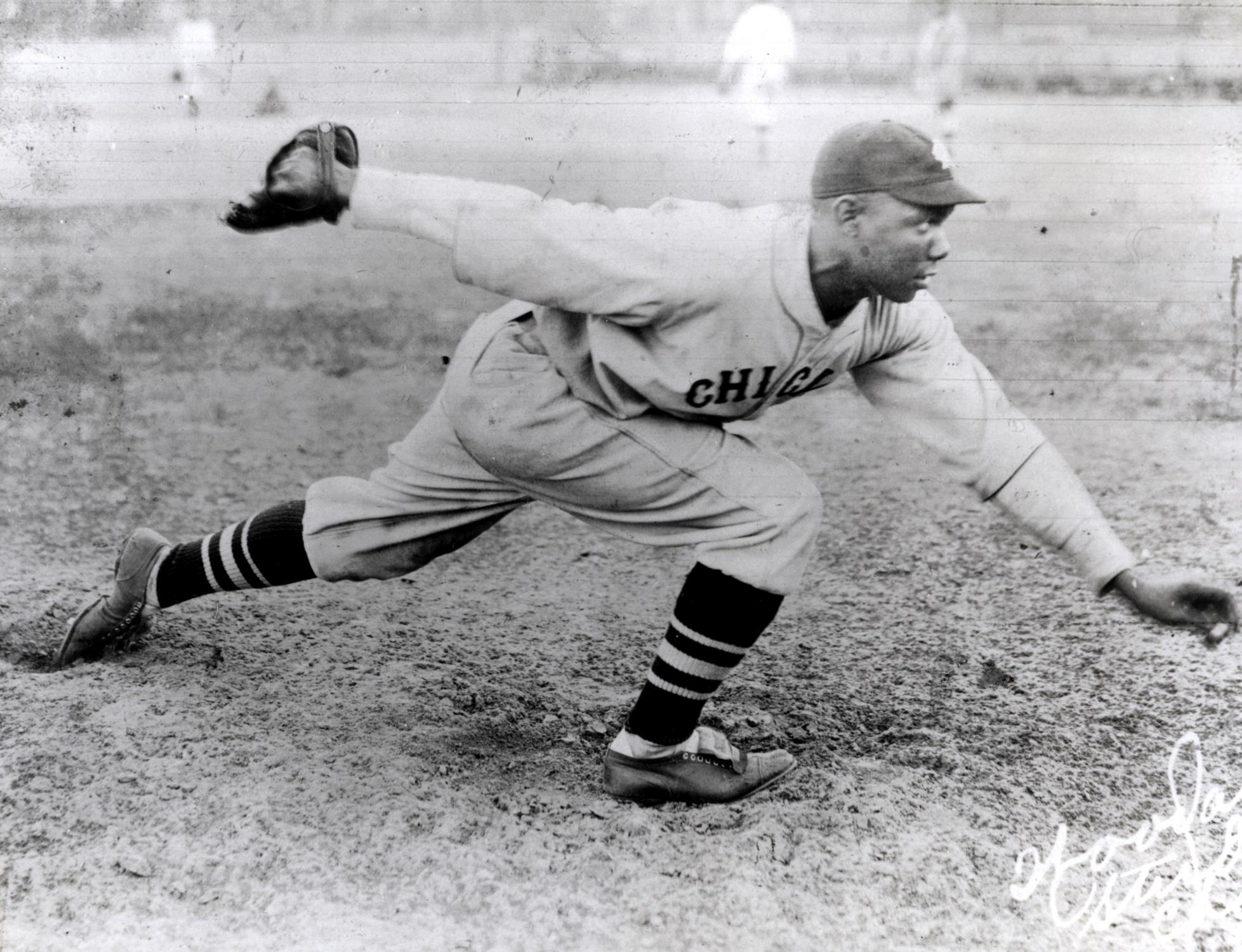 If there was a signature moment for a baseball player, Willie Foster's complete-game victories in both ends of the doubleheader for the Chicago American Giants to decide the 1926 western Negro League playoffs against the Kansas City Monarchs might well be it. That occasion at the young age of 22 marked a stretch of unparalleled pitching. Seventy years later, Foster was inducted into the Baseball Hall of Fame. His early promise, epitomized by his accomplishments in 1926, was merely a foretaste of his career.
The decision to induct William Hendrick "Big Bill" Foster into the Hall of Fame was predicated on his body of work. However, this was a significant hurdle for Negro League players; their career statistics were problematic to assemble and only estimative of their achievements. That said, Foster in his prime was second to none, a status fortified by the box scores of African-American papers like the Chicago Defender and Pittsburgh Courier and the recollection of the many who played for and against him.
The testimonial of Cum Posey, part-owner of the Homestead Grays, didn't hurt. In the late 1930s, Posey picked a team of Negro League All Stars, noting, "[T]he agitation which has rightly arisen over the blacklisting of colored baseball players from the White Major Leagues was the source from which the idea of picking an All-star Colored Baseball club from 1915 to the present time came." In a series of articles in the Pittsburgh Courier in late 1937, Posey selected the players of his team, one of whom was Foster. He is, Posey wrote, "a man who took utmost care of himself … the Willie Foster of this team is the Foster … who specialized in a blazing fast ball and a sharp curve."1
With the likes of Satchel Paige and Smokey Joe Williams often stealing the limelight of Negro League pitching lore, Foster's selection by Posey as probably the greatest left-handed Negro League pitcher was high praise. Even the incomplete records of the day affirmed Foster's legacy: 79 wins against only 44 losses, 94 complete games, and 20 shutouts along with 685 strikeouts over 12 seasons.2 Some would argue that on the Mount Rushmore of Negro League pitchers – Paige, Williams, and Foster would be there, with the fourth spot going to either Leon Day or Bullet Joe Rogan.
Willie Foster's birth, like his early career in baseball, started in the shadow of his half-brother, Rube. Twenty-five years before Willie was born, Andrew "Rube" Foster became the fifth son of Reverend Andrew Foster and gospel singer Evaline on September 17, 1879, in Calvert, Texas.3 Rube Foster's well-chronicled place as a player, manager, owner, and force in the formation of the Negro Leagues makes him one of the more compelling figures in the game. Willie Foster's baseball beginnings were influenced, if not directed, by his older half-brother.
Reverend Foster later remarried and his second wife, Geneva, gave birth to Willie on June 12, 1904, also in Calvert.4 "His mother died when he was only 4 years old, and the youngster was raised by his maternal grandparents in Mississippi," says Negro Leagues historian James Riley.5 At an early age, baseball became an important part of Foster's life. His size and giftedness must have made him stand out. Foster told the story of how he became connected to what was then Alcorn Agricultural and Mechanical College ("the oldest public historically black land-grant institution in the United States"6, now Alcorn State University) in Lorman, Mississippi. It was his springboard to organized baseball and his landing place in later years.
After Saturday chores, the 13-year-old Foster would play ball all day long. One Saturday, he went to Lorman, a dozen miles from Rodney, Mississippi, his home, to watch the Alcorn baseball team.
Foster told the story that "after a while, the coach walks over to me and says, 'What are you doing here, big fella?' I told him I could beat anybody out there, so he said to come on. I struck out everybody they had. I made the baseball team then." Even in sixth grade, Foster said, you could make the college baseball team. "The school was sixth grade up. You could play ball the whole time. You could also play professionally and still come back and play for the college."7
According to Riley, Foster "attended school at Alcorn until 1918, when he traveled north to Chicago to work in the stockyards."8 Alcorn focused on vocational training as well as education and at the age of 14, when Foster went north as part of the great migration of African-Americans from the South, his schooling helped prepare him to find work.
Around that time, when Willie was a young teenager, he learned that he was the great Rube Foster's half-brother. Given the younger Foster's emerging love for baseball, he reached out to Rube to ask to play with the Chicago American Giants, the team Rube owned and managed. John Holway's lengthy interview with Foster in 1970 in an unpublished manuscript in the Baseball Hall of Fame archives (from which a March 1975 Black Sports article was derived as well as Holway's chapter on Foster in Voices from The Great Black Baseball Leagues) captured Willie's recollection of those early days.
Foster remarked, "I knew I had a brother and I heard all about the great Rube Foster, but I never met him until I went to Chicago to work in the stockyards. That was around 1918. … Rube was 15 [sic] years older than me. He was my half-brother, but I never knew him until I was 15 years old. He had already left home and gone to Chicago when I was born, in 1904, in Texas."9
No one can tell the story better than Foster himself about what happened next. "He wouldn't let me play baseball at all. He had a ball team then and wouldn't let me play. Well, he didn't want me to play ball, that was it, he wanted me to do so something else: 'That's no life for you, don't play baseball.' Well, I wanted to play."10 What might have shaped Rube's thinking at the time? Was this the protectiveness of an older brother for his 14-year-old kin? Or a belief that Willie should focus on school? A brief essay on Willie by Larry Lester in the Hall of Fame archives suggests the latter: "Rube encouraged Willie to complete his education."11
Foster returned to Mississippi and over the next few years played semipro ball between his time at Alcorn. This caught the eye of the Negro National League's Memphis Red Sox, just north of the Mississippi border. The team signed him to pitch in a series against rival Arkansas in which he won twice.  
In 1923 the young Willie Foster was becoming good and his pitching with Memphis exposed him to a wider audience. That included Rube Foster, who, as president of the Negro National League, regularly kept in touch with the teams in the league. "So he routinely called the Arkansas manager, and asked how they had done against Memphis, and the Arkansas manager told him that a young left-hander had whipped them a couple of times. 'What was his name?' the president-manager [Rube Foster] asked. 'Bill Foster,' said the Arkansas manager. 'Bill Foster!' exclaimed the president manager. 'Why that's my brother!'" Rube's introduction to young Willie's baseball prowess changed his thinking and he is reputed to have said, "Find him, give him a train ticket and $50, and send him up to Chicago. I want him playing for me."12
The younger Foster continued his reflections. "I came back on down here [to Lorman, Mississippi after his failure to convince his brother to let him play] and then when I got ready to go up again, I went to Memphis, and Bubber Lewis [according to Larry Lester, his mother's brother13 gave me a chance to pitch for the Memphis team. That was in 1925 [the year actually was 1923]."14
Holway's invaluable interview with Foster offered additional insight on the sibling relationship and its impact on the younger brother.
Rube was manager and owner of the American Giants, and he was also president of our league. When he found out I was in Memphis, he just told Bubber Lewis to send me to Chicago, and I think that's one of the things that came between Rube and me. After Bubber had given me a chance, I didn't feel like I should have left Bubber. I just didn't want to go, but Lewis said, "I don't have any way out. He's your brother, he's president of the league and he's got a ball team. I didn't have any business, really, trying to sign you until you had talked to Rube." So he says, "You gotta go."15
After Foster's brief Memphis sojourn and forced transfer to his brother's team, his career with the Chicago American Giants took shape. Initially, it was a rocky one. Upset by the events in Memphis, Foster queried his older brother, "Why didn't you take me before I went to Memphis? I never did get over that. I decided from then on I was going to do everything like I wanted to do it. He would try to show me the right way, and I didn't know the right way or the wrong way. I didn't know anything. But I was going to be obstinate, you know … but Rube was a shrewd man. The more I think of it, the older I get, I can see Rube's point of view in a lot of things. And whatever he told me, stuck."16
Foster's first stint with the Chicago American Giants, from 1923 to 1930, witnessed his ascendence to elite status. From 1923 to 1925, he pitched on a limited basis for the American Giants, and was also loaned to Memphis in 1924 and to the Birmingham Black Barons in 1925.17 However, Rube had no intention of losing Bill and, in fact, indicative of his embracing his brother in his orbit, called on the services of his younger brother to serve as majority shareholder when Rube orchestrated the initial incorporation of the Negro National League in the winter of 1924-1925. Lester notes, however, that later on "Willie Foster did not play an active role in the league's operation, leaving the administrative decision to his older brother Rube."18
In 1926 the fans of Negro National League witnessed Big Bill Foster's breakout year. Negro League statistics were problematic, record-keeping being as uneven as it was, but according to the Hall of Fame's brief bio of Foster, "He won 26 consecutive games (both league and non-league games)."19 Foster reflected, "That was the year they said I was one of the greatest pitchers of all time, that I had well-nigh perfect control. I think I won 28 or 29 games that year, and I didn't lose but three or four."20
Foster led a Chicago American Giants team managed by Dave Malarcher (who took over from Rube Foster that year due to Rube's deteriorating health) to the second-half championship of the Negro National League. The reward was playing the Kansas City Monarchs (winners of the first half) for the league championship. The seven-game series between the two teams was the stuff of ages. The Monarchs were one of the best teams in the Negro Leagues, having won the first Negro League World Series (against Hilldale) in 1924.
The American Giants and Monarchs played a best-of-nine series in which Bullet Joe Rogan outdueled Foster in Game One. Kansas City also won Games Two and Three (all three games were in Kansas City), but lost Game Four in their home park (Foster got a rare save for Chicago) before the Series shifted to Chicago. Rogan won again in Game Five with Foster giving up six runs in the fourth inning. Kansas City needed to win only one more to take the West. Chicago fought back and hurlers George Harney and Rube Currie won the next two games to pull the American Giants to three wins against the Monarchs' four. It was left to a doubleheader on Wednesday, September 29; the Monarchs needed one win, Chicago two, to take the Series. In Shades of Glory: The Negro Leagues and the Story of African American Baseball, Lawrence Hogan tells the story of that memorable doubleheader:
"When the Monarchs won three out of four on their home field, and took the first contest at the American Giants' Schorling Park grounds, the outcome seemed assured. What no one counted on was Willie Foster — no one, that it is, but the Giants themselves. Needing a sweep of a final doubleheader on September 29, manager Dave Malarcher, who assumed the team's reins that summer after Rube Foster was hospitalized, sent younger brother Willie to the mound against Kansas City's best, Bullet Rogan. Light snow was falling as one of the great pitching duels in baseball history commenced. It took nine innings for either team to score a run. That one tally came in the bottom half when pitcher Foster sacrificed Stanford Jackson to third, and with two out, Sandy Thompson hit a walk-off single to register the win for Chicago."21
The series was now tied four games apiece. Hogan continued:
"'Who do you want to pitch the second game?' Dave Malarcher asked his players. They replied with one voice, 'Foster!' When Bullet Rogan saw who was warming up, he took the ball from the appointed starter Chet Brewer, determined to match Willie Foster and avenge the first-game loss. Shortened because of approaching darkness to a five-inning contest, the score stood 5-0 when the game was called for a lack of light. It is unusual for any pitcher to throw a shutout. It is rare for a hurler to pitch two in one day. Willie Foster sparked one of the greatest comebacks in baseball history, black or white."22
What did Foster think about that day? "We hadn't planned to leave Chicago — it wasn't in the plan that we were going to play the World Series, because everybody was expecting Kansas City. So when we beat the doubleheader, we had to get ready and go out East. Well, I had pitched a doubleheader on Friday in Chicago and then I opened up on Sunday in Philadelphia in the World Series against the [Atlantic City] Bacharach Giants."23 In fact, Foster came in in the eighth of that game to relieve Rube Currie, who could not hold on to an early lead.
That first game ended in a tie and the best-of-nine Series went 11 games due a second tie in Game Five (that Foster pitched). With Dick Lundy's Bacharach team up three games to one (along with the two ties) entering Game Seven, Foster pitched and won when the American Giants scored the winning run in the bottom of the ninth. Chicago took two of the next three, evening the series at four each.24 Game Eleven, for all the marbles, had Foster pitching against Hubert Lockhardt, who had already lost once to Foster in Game Seven. What followed was another masterpiece: Foster pitched a shutout, even more remarkable given that he gave up 10 hits. The American Giants won on a single by light-hitting outfielder Sandy Thompson with one out in the bottom of the ninth, scoring Jelly Gardner.25
What kind of pitcher exactly was Willie Foster? At 6-feet-2 and 195 pounds, Foster's frame brought length and power. According to Buck O'Neil, Foster was a "front line starter [with a] hard sinking fastball and over the top curve ball." Both pitches were "strike out pitches" and he spotted all pitches well."26 "As a young pitcher Foster relied mainly on his blinding speed," writes another biographer. "Upon maturing, he added a fast breaking curve, a change-up, and an early version of the slider to his repertoire, and delivered all his pitches with the same motion."27
As great as Foster pitched in 1926, 1927 was an encore performance. He led the Negro National League (West) in victories (21) and strikeouts (106). Chicago won the first-half pennant and defeated the second-half winners Birmingham Black Sox to play Atlantic City from the Eastern Colored League for the World Series. The American Giants won the best-of-nine series with Foster going 2-2.28
In 1927-1928, Big Bill Foster journeyed to Cuba for his only appearance in the Cuban winter league. Records are sketchy for these games, but thanks to Jorge Figueredo, it is known that Foster played for the Cuba franchise in a four-team league against Habana, Cienfuegos, and Almendares. Habana ran away with the league title, led by league MVP Martin Dihigo. Foster played alongside Oscar Charleston and Judy Johnson for second-place Cuba. His nine complete games and two shutouts led the league, but he was also tagged with eight losses against six wins.29
Foster also played three seasons in the California Winter League. The league was considered America's first integrated professional baseball league and featured quite a few Negro League stars playing against white competition. He appeared in 1926-1927, 1930-1931, and 1931-1932, each time for the Philadelphia Royal Giants.30 The league's size and duration of season changed over time, but Foster's superlative play was a constant. He was 6-0, 9-1, and 9-0 in those three seasons, leading his team to first-place finishes each year. Over those three campaigns, he played on a Giants team with the likes of Turkey Stearnes, Joe Rogan, Willie Wells, Biz Mackey, Jud Wilson, Mule Suttles, Rap Dixon, Cool Papa Bell, and (in his first California Winter League stint in 1931-1932), Satchel Paige. Although white players were deemed, with a few exceptions, to be Triple-A caliber at best, Foster's pitching reflected a superlative talent that shone whether in Negro League play or on the winter or barnstorming circuit.31
The years 1928 and 1929 were solid seasons for Foster (14-10 and 15-10 respectively), although Chicago finished in the middle of the pack behind the St. Louis Stars and Kansas City Monarchs.
The American Giants' hometown paper, the Chicago Defender, regularly chronicled Foster's games. Big Boy Bill Foster is the "southpaw hurler on whom the Giants rely to win his ball games on the southern tour. Foster is the main cog in the pitching machine."32 And even when he did not have his best, Foster prevailed. "Sunday the Cubans touched Willie Foster for 11 hits in the first game of the twin bill, but couldn't score one run as Foster would tighten with men on base."33 The American Giants eventually won that game, 8-2.
No World Series with the American Negro League (East) winners was played in 1929, but the American Giants bested the Homestead Grays (both teams added some star players to their sides) in a postseason series, sweeping them in five games with Foster winning Game Two against Smokey Joe Williams, 1-0.34
The 1929 season featured one of the more famous Negro League vs. Major League All Star series. The beefed-up Chicago American Giants with Cool Papa Bell, Mule Suttles, and Willie Wells, just off their series win against the Grays, played five games against a team led by Charlie Gehringer, Heinie Manush, and Harry Heilmann. Chicago won three of the five games and Foster pitched in three, winning two.35
In the mid-1920s, Foster entered his prime and did so at a time when his older brother began suffering from mental illness. Rube first withdrew from managing, turning over the reins to Dave Malarcher. Later, he departed from the game completely to the care of health institutions in Chicago. Rube died on December 9, 1930, a sad loss to his family, including Willie, and to the game.
In 1930 Bill Foster became a player-manager for the only time in his career. Many accomplished players took on a managerial role as their careers evolved and perhaps Foster felt it was his turn. But he served only one year, reflecting that "he could not do justice to the manager's job and continuing pitching."36 In a troubled year for the league due to the Depression, leading to its collapse, Chicago finished with a record a few games over .500, but well behind the win totals of St. Louis, Kansas City, and Detroit.37
Foster recounted the impact of the hard times on him and his fellow players after the Great Crash. "The team couldn't pay us, it was the Depression and nobody was working. … The people couldn't go to the ball game, and our bosses promised us so much money, but they didn't have it 'cause they weren't making it.38
In 1931 Cum Posey, the owner of the Homestead Grays and better off financially than most owners at the time, lured Foster to his team. Foster went 12-2 for the Grays that year, winning three games against Kansas City in the World Series ending on September 14. Curiously, with the agreement of both teams, Foster then switched jerseys and played for Kansas City in barnstorming games after the Series. Notable was his winning performance versus a team of major-league all-stars in a game the Monarchs won 4-3. On the major-league squad were Bill Terry, Paul Waner, Lloyd Waner, Babe Herman, and Heinie Meine (NL leader in wins).39
"I played with the Homestead Grays in '31, and we had nine starters. I pitched on a Friday, pitched my ball game and finished it. Do you know that Sunday evening it was my turn again? Everybody had pitched and everybody had stayed in the ball game? Yes sir, we played nine ball games in two days! … That was a great ball club there — Oscar Charleston, Vic Harris, Jake Stephens, Judy Johnson, Jud Wilson, Cool Papa Bell, and Smokey Joe Williams. And that was the year that Josh Gibson first came up."40
After the 1931 season, Foster rejoined the American Giants, now sometimes named for its new owner, Robert Cole. The 1932 campaign would be one of Foster's best, with John Holway's Complete Book of Baseball's Negro Leagues naming him the George Stovey Award recipient for best pitcher in the Southern League, where the American Giants now resided. Foster won games Seven and Eight of the series against Nashville in a Southern League playoff between the winners of the two half-seasons to give the American Giants the league title.41
In 1933 the American Giants played in Indianapolis after their park burned down, and led the standings in the revamped Negro National League, but league President Gus Greenlee awarded the pennant to his own team over the American Giants' protest.42
That year, more so than league play, the first black All-Star game, the East-West classic, drew the rapt attention of fans around the country. On September 10 in Comiskey Park, the same venue as the first major-league All-Star Game, the West defeated the East 11-7 with Foster as the starting and winning pitcher.
His league performance in 1933 and the fan vote (he received 40,637 — the most for any player) earned him the distinction of being the starting pitcher for the West squad.43 At that time the rules did not restrict a pitcher to three innings in All-Star competition, and Willie pitched the entire game to win over an East lineup with Cool Papa Bell, Oscar Charleston, Josh Gibson, Judy Johnson, Biz Mackey, Jud Wilson, and Dick Lundy. According to William Nunn of the Pittsburgh Courier, "This afternoon, Willie Foster, who likes to boast and backs his talk with his mighty left arm, humbled the bats of the greatest All Star aggregation he's ever met and allowed but seven hits. … We saw a great southpaw who was 'right' this afternoon. He proved to us that he had a 'fighting' heart, and our hats are off to him."44 The inside story suggested Foster's accomplishment was even more astounding. "Lefty Bill Foster was in there for the West with a sore arm, but with the aid of a curve ball and a fine pitching head, held the Easterners to seven hits and as many runs to pile up victory number 1 in the all-star tussle," wrote the Chicago Defender. "Foster had been suffering from a sore arm for two weeks prior to the classic."45 His arm troubles would stay with him for the remainder of his career.
The 1933 season also saw players take their talents to a North Dakota semipro league. Foster and Paige joined the exodus and famously dueled in a game where Paige pitched for Bismarck and Foster for Jamestown. The game was scoreless until the ninth inning when Paige won the game with a single.46
That year was also important to Foster for a reason other than baseball. A document he apparently completed for the Hall of Fame some years later (and is in the HOF archives) records that Foster attended Alcorn for four years in elementary school, four years in high school, and four years in college. It showed that in 1933, he earned a bachelor of science in agricultural education thanks to his offseason sojourns at Alcorn to complete his studies.47 Foster valued his education and not only was Alcorn the bookend to his baseball career; it had become a stopping place throughout his playing days when he could find a moment to continue and complete his studies.
In 1934 the American Giants won the second-half championship of the Negro National League but lost a tough playoff, four games to three, to the first-half champion Philadelphia Stars.48
Foster pitched again in the East-West All-Star Game (August 26, 1934), entering the game in the seventh inning, but lost 1-0, giving up the run in the ninth.49
"I remember the All-Star ball game of 1934, Satchel and I were pitching against each other. The ball game was 0-0 in the ninth, I had two men out, Bell was on second base, Jud Wilson hitting. I had two strikes on Jud and two balls. I threw Jud a high fast ball, broke the bat in two places, and the ball dribbled by the second baseman, didn't hardly get on the grass when Bell scored and beat me 1-0. From second! He scored from second on that dribble!"50
The Chicago press commented on the game and reflected on the pitching matchup that did not go the West's way. "When the 7th inning opened Malarcher sent Willie Foster to the mound and just as many feared it was Bill's inability to match the pitching of Paige that gave the East its victory," commented the Defender.51
Admittedly, at the age of 31, Foster's talents were diminishing and he had only a few years left in the tank. Nor was his team as good as it used to be. There were no playoffs for the American Giants in 1935; the team finished under .500 and Foster was no longer among the league leaders in wins or strikeouts.
After Foster underwent offseason surgery for a "peculiar shoulder injury,"52 Gus Greenlee took a chance on the aging veteran and Foster joined the Pittsburgh Crawfords in midseason in 1936. The Pittsburgh Courier noted his first game with the Crawfords on July 25: "Willie Foster made his initial appearance for the Crawfords and won the second game [of a doubleheader against the Philadelphia Stars — Satchel Paige won game 1, 6-4] 8-5."53 Although he was past his prime, records show he started a half-dozen games for the Crawfords and was one of six future Hall of Famers (along with Paige, Gibson, Bell, Johnson, and Charleston) on a team that won the Negro National League (East).54
The 1937 season was the left-hander's last full season with a top team in the Negro Leagues. He was back with the Chicago American Giants. In the erratic seasons that had become the Negro Leagues, the American Giants won a playoff with Kansas City to claim the Negro American League pennant, but then the combined teams of the Monarchs and American Giants lost to the Grays and Eagles in an impromptu showcase series.55
The 1938 season would be Bill Foster's swan song; he tried out for Memphis, but did not play beyond the exhibition season. "I had a sore arm way late — in '38 — that's why I came out of baseball. I probably would have stayed in there if I hadn't had to have an arm operation. I'd have to wait a year until it got healed, and then I decided, well, I'm 35 years old anyway, so what the heck?"56
Foster never lost the baseball urge and although he didn't play again in the Negro Leagues, he continued in semipro ball for a number of years.
Comparisons abound when reviewing Bill Foster's career. He had his share of head-to-head matchups against Satchel Paige, the premier Negro League pitcher of the day and one of the few Negro League greats who made it to the major leagues. "I think, as near as I can remember, we faced each other 13-14 times. And I think I got the edge on Satchel when I beat him a doubleheader in Pittsburgh one Saturday, 5-0 and 1-0. I think that put me one ball game ahead of him in our career. … But I'll tell you something: If Satchel got one run first, he would beat you; if I got one run first, he was beat."57
Thanks to John Holway, Bill Foster's own words are available to share his story about the game he played. "I had a pretty good fastball, and I had a good overhand curve ball, which was known as a drop ball. And then I had what they call sliders now. I had what is called a sidearm curve ball — palm down. I had a slider, an 'outshoot' and a curve ball all on the same pitch. … Now, if you can keep a man off balance, he can't hit the ball hard. … How do I keep him off balance? And with what pitches? It boils down to the fact that I had to have one motion to control every pitch."58
Foster continued, "This job of pitching is a little more technical than I think most ballplayers give credit for. You see, you can't forget when you're pitching out there. I can't forget what I got you out on the first time up. Because you're thinking, too." And if once you catch up with me with that big bat, I'm hurt."59
About pitching complete games, "We didn't tire back then, and we didn't have much relief pitchers. Here's one thing I can't understand: I can't understand why these fellows in the major leagues take two and three men to pitch a game … because you didn't get us out in our league that fast. When we started a game, we finished it."60
Larry Lester's reflections on Foster's pitching gave further tribute to how special he was: "Foster was to baseball what Picasso was to painting. Big Bill could paint the corners of home plate with his colorful palate of pitches. He had a rainbow of pitches that he delivered for a variety of windups. This painter was known for his pinpoint control, silver-streaking fastball, a red ball espresso slider, and a blouse-inducing sidearm curve that dropped like a slinky. During his 16-year career, Foster white-washed many teams."61
Willie settled after the 1936 season in Tarboro, North Carolina, where his childhood sweetheart Thelma Quigless had relocated, They married in 1941.Their son, William Douglass Foster, accepted his father's plaque at the Hall of Fame induction ceremony in 1996, 18 years after Willie's passing. Stories of his time in Tarboro speak of Foster's selling insurance for North Carolina Mutual Life, participating in social activities, playing semipro ball, and managing the local Little League team. Foster and Quigless eventually divorced, and he relocated to Lorman and Alcorn State. Foster became the dean of men and baseball coach at Alcorn in 1960. He married Audrey Davis and lived in Lorman until his death on September 16, 1978, on the campus at Alcorn. He was buried at Carbondale Cemetery in Alcorn.62
In a conversation with John Holway in his later years, Foster reflected, "I've had a wonderful life. I don't regret anything at all that I can remember, up to this very night. … It just wasn't time then for Negroes in the major leagues. Oh, I could have made it all right, but it wasn't time."63
Ted "Double Duty" Radcliffe summed up William Hendrick Foster's life well: "Willie Foster was the greatest left-hander that I ever played with and he was a gentleman on and off the field. He could have made history if he could have played in the big leagues."64
Like many of Negro League standouts, Foster's achievements were eventually given proper due, but only after his death. The National Baseball Hall of Fame came in 1996, the Texas Sports Hall of Fame honored him and Rube together in 1999.65 The Mississippi Sports Hall of Fame inducted Foster in 2003 and Alcorn State named its baseball field after him in 2010.66
His Hall of Fame induction in 1996 was at the hands of the Veterans Committee. As had been the case for some years, the committee was empowered to choose as many as two executives, managers, umpires, and older major-league players. However, it was further permitted (as of 1995) to consider Negro Leagues and nineteenth-century players and could pick one each from those categories. In 1996, the committee elected four for induction (the maximum permitted): Jim Bunning, Earl Weaver, Ned Hanlon, and Bill Foster. Foster was the 13th Negro League player chosen for the Hall.
The Hall of Fame's plaque for Foster captured his career with these words:
Regarded as one of the best left-handed pitchers in Negro League history and also managed several clubs. Devastating sidearm delivery made him consistent winner. Instrumental in Chicago American Giants Negro League pennant and World Series success in 1926, 1927, 1928, and 1933. Won 26 straight in 1926 and had 32-3 mark in 1927. Coached baseball at alma mater, Alcorn A&M College in Mississippi, 1960-1978.67
Acknowledgments
This biography was reviewed by Chris Rainey and Len Levin and fact-checked by David Kritzler and Warren Corbett.
Notes
1 Cum Posey, "Posey Picks All Time All America Baseball Club," Pittsburgh Courier, December 18, 1937: 16.
2 Seamheads,com: seamheads.com/NegroLgs/player.php?playerID=foste01bill, last accessed October 9, 2019.
3 Larry Lester, Rube Foster in His Time (Jefferson, North Carolina: McFarland and Company, 2012), 169.
4 Rob Fink, Foster, William Hendrick, Texas State Historical Association: tshaonline.org/handbook/online/articles/ffo56, last accessed March 26, 2019.
5 James A. Riley, The Biographical Encyclopedia of the Negro Baseball Leagues (New York: Carroll & Graf Publishers, 1994), 292.
6 Alcorn State University: alcorn.edu/, last accessed March 31, 2019.
7 Lonnie Wheeler, "Memories: Foster Recalls the Good Ole Days," Clarion Ledger-Jackson (Mississippi) Daily News, August 14, 1977: 1D.
8 Riley, 292-293.
9 John Holway, "Historically Speaking: Bill Foster," Black Sports, March 1974: 58.
10 John Holway, Voices from the Great Black Baseball Leagues, Revised Edition (New York: Da Capo Press, 1992), 191.
11 Larry Lester:, Bill Foster Essay, Baseball Hall of Fame Player File, March 6, 1996, 1.
12 Wheeler: 11D.
13 Lester, Essay, 1.
14 Holway, Voices, 191.
15 Ibid.
16 John Holway, Unpublished Bill Foster Manuscript, Baseball Hall of Fame Player File, 1970, 4-5.
17 Baseball-reference.com, Last accessed March 25, 2019.
18 Lester, Essay, 1.
19 Baseball Hall of Fame, Bill Foster: baseballhall.org/hall-of-famers/foster-bill, last accessed March 14, 2019.
20 Holway, Voices, 192.
21 Lawrence D. Hogan, Shades of Glory: The Negro Leagues and the Story of African American Baseball (Washington: National Geographic Society, 2006), 171-172.
22 Holway, Voices, 193.
23 Ibid.
24 John B. Holway, The Complete Book of Baseball's Negro Leagues: The Other Half of Baseball History (Fern Park, Florida: Hastings House Publishers, 2001), 218.
25 Baseball reference.com: baseball-reference.com/bullpen/1926_Negro_World_Series, last accessed October 9, 2019.
26 Buck O'Neil, Bill Foster Scouting Report, Baseball Hall of Fame Player File.
27 Gerald E. Brennan, Foster, Willie "Bill," in Biographical Dictionary of American Sports, Baseball Hall of Fame Player File.
28 Holway, Complete Book, 230.
29 Jorge S. Figueredo, Cuban Baseball: A Statistical History (Jefferson, North Carolina: McFarland & Co., 2003), 174-176.
30 William F. McNeil, The California Winter League: America's First Integrated Professional Baseball League (Jefferson, North Carolina: McFarland & Co., 2002), 174-176.
31 McNeil, 119.
32 "Chicago Ace," Chicago Defender, June 2, 1928: 11.
33"Chicago Off with Flying Start: Win Five Straight from Cubans to Lead in 2nd Half," Chicago Defender, July 14, 1928: 2.
34 Holway, Complete Book, 250.
35 Holway, Complete Book, 252.
36 Robert Peterson, Only the Ball Was White (New York: McGraw Hill, 1984), 211.
37 Holway, Complete Book, 258.
38 Holway, Voices, 195.
39 Holway, Complete Book, 284.
40 Holway, unpublished Foster manuscript, 8.
41 Holway, Complete Book, 277.
42 Holway, Complete Book, 299.
43 Lester, Essay, 3.
44 William G. Nunn, "West's Satellites Eclipse Stars of the East in Classic," Pittsburgh Courier, September 16, 1933.
45 "Wins! Sore arm and All," Chicago Defender, September 16, 1933: 8.
46 Holway, Complete Book, 303.
47 William H. Foster, unpublished profile, Baseball Hall of Fame Player File.
48 Seamheads.com: seamheads.com/NegroLgs/year.php?yearID=1934, last accessed on October 9, 2019.
49 Larry Lester, Black Baseball's National Showcase: The East-West All-Star Game, 1933-1953 (Lincoln: University of Nebraska Press, 2001), 61.
50 Holway, unpublished Foster manuscript, 10.
51 Al Monroe, "Willie Foster Loses Contest to S. Paige," Chicago Defender, September 1, 1934: 11.
52 Cum Posey, "Cum Posey's Pointed Paragraphs," Pittsburgh Courier, March 21, 1936: 5.
53 "Paige, Foster Pitch Craws to 2 Wins," Pittsburgh Courier, August 1, 1936: 5.
54 Holway, Complete Book, 329.
55 Holway, Complete Book, 346.
56 Holway, unpublished Foster manuscript, 22.
57 Holway, unpublished Foster manuscript, 3.
58 Holway, Voices, 198.
59 Holway, Voices, 199.
60 Holway, unpublished Foster manuscript, 18A.
61 Ryan Whirty, Baseball Bonds Princeville, Hall of Fame Pitcher Bill Foster, Newsobserver.com, September 24, 2013.
62 Ibid.
63 Holway, Voices, 202.
64 Kyle P. McNary, Ted "Double Duty" Radcliffe: 36 Years of Pitching and Catching in Baseball's Negro Leagues (Minneapolis: McNary Publishing, 1994), 241.
65 "Eight Picked for Texas Hall of Fame," Albany (New York) Times Union, January 29, 1999.
66 Rob Fink, Foster, William Hendrick, Texas State Historical Association: tshaonline.org/handbook/online/articles/ffo56.
67 William H. Foster Hall of Fame Plaque, Baseball Hall of Fame, 1996, last accessed April 4, 2019.
Born
June 12, 1904 at Calvert, TX (US)
Died
September 16, 1978 at Alcorn, MS (US)
If you can help us improve this player's biography, contact us.
https://sabr.org/sites/default/files/FosterBill.jpg
600
800
admin
/wp-content/uploads/2020/02/sabr_logo.png
admin
2019-12-09 13:02:37
2021-09-17 01:14:39
Bill Foster