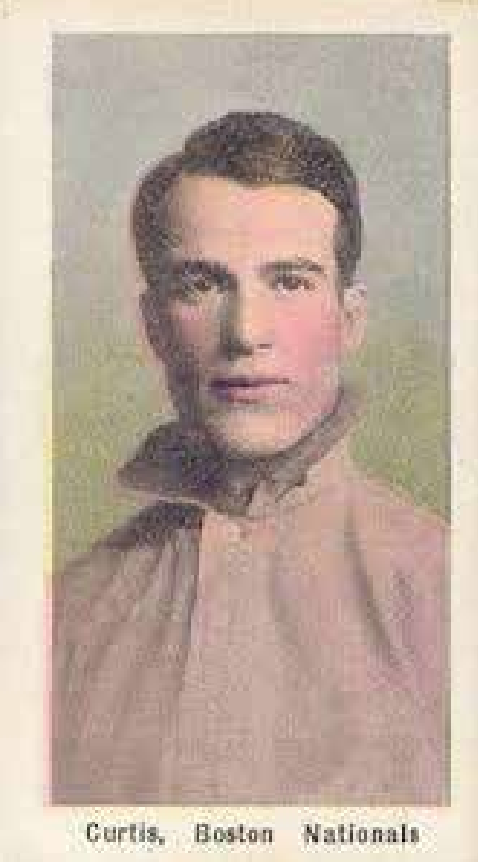 ---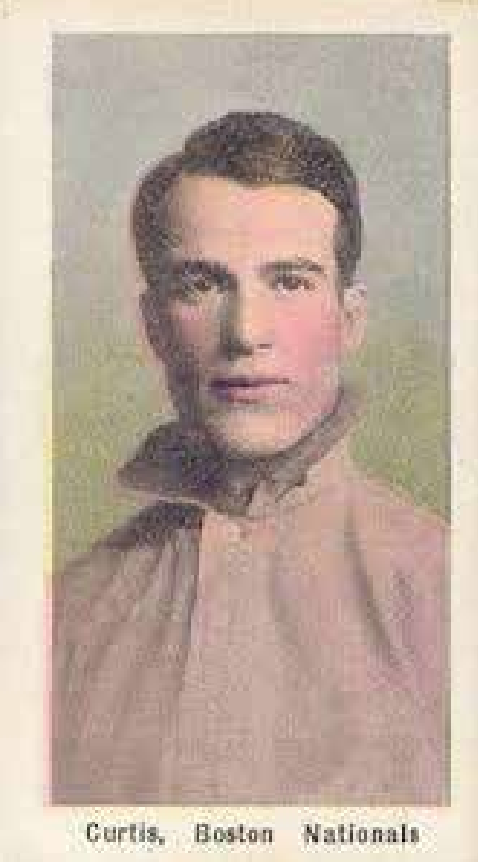 "You can't win 'em all." It's said with a shrug, a human acknowledgement that nobody goes undefeated, that nobody is perfect, that even if you do everything possible sometimes you will lose.
The origin of this phrase could be Connie Mack after the 1916 Philadelphia A's went 36-117. But it could also be from Cliff Curtis, one of the most hard-luck pitchers to ever throw a ball in a major-league game.1 In 1910-11 with the Boston Doves, Curtis lost a major-league record 23 consecutive decisions (since broken by Anthony Young), and didn't win a game in 28 consecutive starts, also a record (now a three-way tie with Matt Keough and Jo-Jo Reyes).
Born in Delaware, Ohio, on July 3, 1881, Clifton Garfield Curtis almost certainly got his middle name in honor of a fellow Ohio native, President James A. Garfield, shot by an assassin the day before. (The president lived in agonizing pain for several months before dying in September.) Such a patriotic addition makes sense for Cliff considering that his father, Albert, was a Civil War veteran who became a tinsmith and then sold used goods.2
The third of six children, Cliff grew up playing baseball and was good at it. With brother Bert as his catcher, they played for many area teams.3 Big for his time – topping out at 6-feet-2 and listed at 180 pounds – he was often the tallest player on his teams and played center for the Delaware High School basketball team.4 But baseball was his sport, and he signed his first pro contract in 1902, appearing in a few games for the Columbus team, 30 miles from home, in the new American Association. His mother, Emogene, died that same year over the winter.5
Curtis got a full season with the Central League's Fort Wayne (Indiana) team in 1903, and threw two no-hitters while winning 27 games for the league champs.6 The Cleveland Naps drafted him and it seemed like a charmed start, the Ohio boy given a chance to play for an Ohio major-league team.7
Unfortunately for Curtis, this was the beginning of a pattern in his major-league path – so close, and yet so far. The Naps sold him to the American Association's Milwaukee Brewers with an option to buy him back after the season. Over the next four years he pitched well enough to get drafted or have his option get picked up, and then returned to the Brewers before getting any chance with the major-league club. Part of it was control problems. One time a Milwaukee Journal write-up punned that he gave up so many free passes "one would think he was a railway president."8
Milwaukee newspapers reported that Curtis had a second job for a few years as head baseball coach at Ohio Wesleyan College in his hometown of Delaware, but that doesn't match up with Ohio Wesleyan's records,9 which list a "Ben Davis" as 1905's head coach and "Bert Curtis," which could also have been his brother, for 1906.10 In addition, Curtis didn't miss an Opening Day with Milwaukee.
On January 4, 1908, Cliff's father, Albert, died, and never saw his son pitch in a major-league game.
Just over four months later, on May 8, 1908, Curtis threw the first no-hitter at Milwaukee's Athletic Park in front of 5,500 fans. In the top of the first, Indianapolis's Cy Coulter lined one right into Curtis's stomach, but he recovered and got the out. Curtis was also helped by a good catch in the seventh by Danny Green and a diving stop by Rabbit Robinson for the first out in the ninth. After the final out the crowd tried to give Curtis a celebratory ride on their shoulders around the diamond but he ran to the clubhouse to avoid it.11 Toward the end of the season he was drafted by the Philadelphia A's but Connie Mack sold him back to Milwaukee.12
While he waited for some team from the majors to give him a chance, Curtis did not become bitter or angry. He was cheerful, friendly, and well-liked throughout his time playing ball and into retirement. Though not an alcoholic like so many players of the time, he was not afraid to have a beer and enjoy himself. He played poker with the fellows, and won a fine diamond-and-sapphire stickpin that he had made into a ring and eventually gave to his daughter.13
Off the field, at some point Curtis took up embroidery. In between starts, in hotel rooms and train waiting rooms, and going from city to city and ballpark to ballpark, Cliff Curtis made fine, colorful tablecloths that his family treasured.14
When the Brewers visited Kansas City in July 1909, Milwaukee won the Sunday game and so did Curtis, but those were two different games. Curtis was not scheduled to pitch in the series and instead pitched for National League star and holdout catcher Johnny Kling's team in the outlaw Inter-City League, using the name "Ellison." Curtis was recognized and the game was played under protest, but he pitched anyway and won 5-4 in 13 innings. Milwaukee manager John McCloskey feigned innocence, saying he gave Curtis the day off and didn't know what he was up to. There were no apparent repercussions for Curtis's day as an outlaw.15
In mid-August, Curtis was sold to the Boston Doves of the National League. He finally made his major-league debut on August 23 at the South End Grounds in Boston against the Chicago Cubs. He was given a chance after starting pitcher Lew Richie was roughed up by the defending World Series champions, giving up seven hits and seven runs in 1⅓ innings.
Curtis's fortunes in Milwaukee were already known. Chicago Tribune writer I.E. Sanborn called him "hard luck Curtis" and failed to mention it was his first major-league game. Curtis gave up three hits, a sacrifice, and four more runs before finally ending the inning with the Cubs ahead 11-0.
Sanborn wrote that for the next seven innings, "Curtis, despite poor control, pitched pretty good baseball and held (Frank) Chance's men without a run, although they were taking a crack at anything he put up to them for a while." While Sanborn's box score notes a hit for Curtis, the New York Times does not.16 But both show that he scored one of Boston's late runs to make the final 11-6. Both newspapers said the game was poorly played, with Sanborn going so far as to call it "Farce Comedy."17
Curtis made his first start that Friday against Cincinnati, and pitched a three-hitter, but three errors allowed the Reds to score three of their four runs. With the score tied in the ninth, Curtis led off the inning with a single. Two sacrifices moved him to third and Dave Shean knocked in the rookie for the winning run and his first-ever major-league victory.
His next start was against the Pittsburgh Pirates in the first game of a September 2 doubleheader. The eventual World Series champions had beaten Boston 16 straight times that season. But Curtis baffled the Pirates, not allowing a hit into the seventh, when Honus Wagner opened with a clean single but was thrown out trying to stretch it into a double. Curtis finished the 1-0 gem by leaving the tying run on second in the ninth.
Despite not getting called up until late August and pitching in only 10 games, Curtis was the WAR (Wins Above Replacement) leader for the 1909 Doves with a 3.5. Curtis officially finished 4-5 in 10 games. (He was given the loss for his first game, even though under modern scoring rules it would go to Richie.) He threw two shutouts in 83 innings, allowing 13 earned runs (17 total) for a 1.41 ERA. The only Doves pitcher that season to win more than seven games was left-hander Al Mattern, second in team WAR with a 3.3 and a 15-21 record.
Early in the 1910 season, when the Doves opened a series in Cincinnati on May 21, Curtis was not there. He went home to marry Florence Elizabeth Van Sickle.18 He returned on May 24 and threw a four-hit shutout against the Reds. "Cliff Curtis, of the Beantowners, upset the old fallacy that honeymoons are bad for pitchers. He made the Reds eat out of his hand, and he didn't serve 'em anything but goose eggs in all styles!"19
In front of a very big crowd in Boston in the first game of a doubleheader on June 8 against the champion Pirates, again Curtis stifled them, throwing a two-hit shutout and improving to 7-6.
That was Curtis's last victory for nearly a year.
After losing six straight, Curtis held a one-run lead in Pittsburgh on July 19 in the ninth inning, but an error by shortstop Bill Sweeney allowed the tying run to score. Still on the slab in the bottom of the 11th, Curtis uncorked a wild pitch and since the wall behind home plate was 75 feet away, Vin Campbell scored the winning run from second.20
After a loss in Chicago, Curtis next pitched in Brooklyn at Washington Park. He didn't allow a run in nine innings, but Superbas starter Cy Barger didn't allow the Doves to score either. In the bottom of the 11th, Curtis gave up his third hit of the game, a leadoff double by Jake Daubert. After a walk, a perfectly placed bunt and a hard chopper to first, Curtis had lost his 15th of the year and his ninth straight. He got a save (retroactively) against Cincinnati on August 3, but since a save isn't a "decision," his personal losing streak continued.
For loss number 20 of the season (and 14th in a row), the Doves and Pirates were tied, 3-3, in the seventh when Pittsburgh scored five runs, the big blow being a three-run homer by first baseman John Flynn.
On August 29 in Cincinnati Curtis gave up two runs in the bottom of the eighth and the game was called a tie due to darkness. He got another save on September 3 against Brooklyn. On September 20, Curtis got just one out as the Pirates scored five runs, sending him to his 24th loss of the year and 18th in a row. Curtis made his final start of the year against Philadelphia, allowed the tying run in the sixth and the game was called after seven once again because of darkness.
Curtis's 24 losses didn't even lead the league, and the 18-game personal losing streak was never mentioned. (His official 6-24 mark is the only time anyone has ever finished with that record.21) In fact, Curtis was called one of the best pitchers Boston had despite giving up a league-leading 154 runs (99 earned). "(Al) Mattern, Curtis and (Sam) Frock did the best work and this trio practically carried the pitching burden most of the season."22
Curtis was still considered trade material, and rumored to be headed to the Cubs for an unhappy Joe Tinker.23 But nothing happened, and the 1911 season started badly for Curtis. He made his season debut against the Phillies in the fourth game of the season at the South End Grounds on April 15, promptly hurt his arm and left after just one inning.24 Big Jeff Pfeffer pitched the rest of the way and beat a rookie in his major-league debut named Pete Alexander in 10 innings.
Curtis's next appearance was in relief in Brooklyn's home opener, and he pitched 3⅓ innings in relief to get his third career save. A week later Curtis got another start against the Phillies in the Baker Bowl. Again, he was staked to an early lead, but then he gave up two two-run home runs to Hans Lobert and lost his 19th straight game.
Another week passed before Curtis's next appearance, this time in the ninth inning of a 7-7 game with the Reds. Curtis matched zeroes with Harry Gaspar for six innings until he allowed a game-winning RBI by Dick Hoblitzell in the 15th to make it 20 straight defeats.
Curtis opened a series against Pittsburgh on May 13 and gave up five runs in the eighth to lose again. He started the final game of the series on the 17th and was still pitching in the 10th inning when Pittsburgh scored two runs for a 6-4 lead. Boston got two of its own to continue the game. Curtis stayed in as well. In the 12th an error by the normally surehanded Buck Herzog allowed the go-ahead run to score, and this time the Rustlers could not respond, sending Curtis to his 22nd straight loss.
On May 22, Herzog homered in the fourth to give Boston a 1-0 lead over the Cardinals, but Curtis allowed three runs in the top of the fifth and that was it for scoring. Curtis had opened the season 0-5 and hadn't won a game since the prior June 8.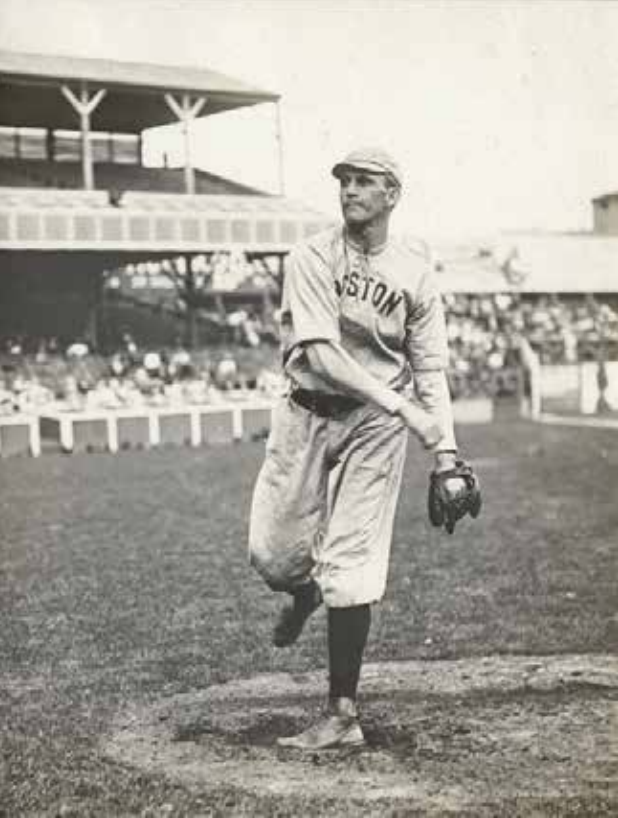 Curtis next took the mound on May 26 against Brooklyn. The Rustlers scored two in the bottom of the first and never trailed. Curtis even singled, scored a run of his own, and threw a two-run, six-hit complete game, a 7-2 victory. Boston's 14-game losing streak was over, but more importantly so was Curtis's, mercifully, at 23 straight games.
No mention was made of the end of the losing streak or the relief Curtis must have felt. Instead, it was simply: "Curtis kept the visitors' hits well scattered and was given good support."25 Newly acquired third baseman Harry Steinfeldt, best known for being the fourth man in the famed Chicago Cubs' Tinker-to-Evers-to-Chance infield in the early 1900s, was also singled out for being a welcome addition.
On June 8 in St. Louis, Curtis got only partway into the third before being replaced. Manager Fred Tenney started him again the next day against Slim Sallee, who is still considered one of the best pitchers in Cardinals history despite playing for them when they were at their worst. Sallee blinked first, walking Curtis in the third. Two batters later, Tenney drove him in and for a long time it looked as if that would be the difference. But in the bottom of the eighth Ed Konetchy tripled and scored, Steve Evans singled and scored, and just like that, Curtis dropped to 1-8. In exactly one calendar year (for his 23-game losing streak had started after the two-hit shutout against Pirates on June 8, 1910) he was 1-26. And that was the last game Cliff Curtis ever pitched for Boston.
The very next day, June 10, 1911, Curtis was traded to the defending National League champion Chicago Cubs. The Cubs had been in the World Series four of the last five years, winning back-to-back titles, but were now part of a three-team race with the Giants and Phillies. In addition, first baseman-manager Frank Chance was nearing the end of his injury-plagued career, so Chicago needed help.
Curtis was not the centerpiece of the deal. That honor went to Cubs catcher Johnny Kling, still considered one of the best backstops in franchise history. The last time the Cubs hadn't won the pennant was 1909, when Kling ran a pool hall in his home town of Kansas City (and Curtis pitched for his outlaw team).
The eight-player trade was billed as a steal for Chicago. "There is no doubt at all that the Chicago people managed to get what they wanted and compelled the Boston club to give up material they wished to keep. A pretty way, indeed, to weaken the weak and strengthen the strong."26
That included their new pitcher. "Cliff Curtis always pitched good ball for a losing team and Chance figures that he will brace up the Cubs' twirling department, which is none too strong."27 That a guy who had just gone 1-26 in the last 365 days was lauded like that tells you about how closely statistics were followed in 1911.
After three games with Chicago, Curtis went home. On July 28, 1911, Florence Curtis gave birth to their only child, Mary Florence Curtis.28
Curtis rejoined the Cubs in early August. In his first game, he relieved German-born rookie Reggie Richter in the third inning of the series opener against the Cardinals. Curtis pitched a scoreless inning and the Cubs scored five in the bottom of the frame to take the lead, Curtis even singling and scoring to help Chicago to a 7-3 lead. After another scoreless frame, Chance put in Mordecai "Three-Finger" Brown. Brown pitched the last five innings for the (retroactive) save, and Cliff finally had his first and only win for Chicago.
Chance swapped Curtis to Philadelphia for Jack Rowan on August 18. Rowan appeared in exactly one game for Cubs before being sold to Louisville.
Undaunted, "Pitcher Cliff Curtis has reported to acting-manager (Red) Dooin in better shape than he has ever been in his career."29 He made his Phillies debut on August 25 against the Reds at the Baker Bowl. Curtis's new team staked him to a three-run lead in the bottom of the first, but he ended up with a no-decision after allowing the tying run in the top of the ninth.
After an inning of mop-up duty on Labor Day, Curtis got his second start for Philly the next day, and baffled Brooklyn the entire game, not allowing a hit until the bottom of the seventh, when Zack Wheat doubled. Curtis even singled and drove in a run in the 6-0 complete-game two-hitter for his third win of the year. He now had one victory for each team he had played for, and finished the season 4-11.
Curtis returned to Ohio and his new family for the winter. He sent in his contract for 1912 in time for spring training in Hot Springs, Arkansas. There, "Messrs. (team owner Horace) Fogel and (manager) Dooin are paying close attention to the baths at Hot Springs. Mr. Fogel obtained the services of Dr. E.H. Ellsworth, one of the best physicians at the resort, and he gives individual directions to each player. This physician declares that pitchers Alexander and Curtis came to him just in time, for they showed malarial symptoms."30
Escaping from malaria, Curtis was 2-4 when he took the mound at the Baker Bowl for the second game of a doubleheader against Brooklyn on June 28. In the second inning, Zack Wheat hit a hard chopper back to the mound and Curtis had no time to react. The ball hit him square in the face and knocked him unconscious.31 Nowadays he would not be allowed to pitch until his concussion was gone, but Curtis pitched five days later in Boston on his 31st birthday and made it only through two innings.
During some downtime in Boston, one can safely assume Curtis was having beer and playing poker in the Copley Square Hotel room of one-time Phillies owner and manager Bill Shettsline, now the team's business manager, with manager Red Dooin and second baseman Jimmy Walsh. Shettsline's room was directly below current owner Horace Fogel. In the days before air conditioning, the only relief for the July heat was an open window with a large awning over it to try to get some sort of breeze. A lighted cigar stump came out of the window of Fogel's room and landed on the awning of Shettsline's window, which caught fire. The blaze quickly spread to the curtains and threatened to take over the entire room. All four men sprang into action. Shettsline and Dooin put the fire out, while "players Walsh and Curtis … threw more water over Charley Dooin than on the blaze."32
Hopefully not due to throwing water in his manager's face, Curtis was placed on waivers and on July 10 was claimed by Brooklyn, his fourth team in two years. "Pitcher Cliff Curtis, just claimed from Philadelphia by Brooklyn, has been a baseball nomad. He has seen service with Chicago, Boston, Phillies and now he goes to Brooklyn. He has never been anything more than a prospect."33
In the long history of the Dodgers, five of their six worst years by winning percentage come between 1904 and 1912. The 1912 team is the sixth-worst Dodgers team, and this is the team Cliff Curtis now found himself on, some 30 games behind New York but still ahead of St. Louis and Boston.
Curtis made his Superbas debut five days later in Pittsburgh, in the bottom of the eighth of a tie game against Hank Robinson, a second-year Pirates lefty. Both threw zeroes for five innings, and the game stretched into the 13th. In the bottom of that inning Curtis walked Honus Wagner. When first baseman Dots Miller bunted, Wagner surprised every Brooklyn player by not just taking second, but also third. Two batters later, Alex McCarthy singled him in and Pittsburgh won, 4-3. Curtis started his Brooklyn career just the same way it had seemed to go everywhere else. The loss even dropped the Superbas into seventh place, behind St. Louis, where they would stay.
After not making it out of the second inning in his first two starts, Curtis picked up a five-inning save in his home debut at Washington Park. On August 10 against the Pirates, Cliff started but Pittsburgh led 5-1 going into the bottom of the sixth. The Superbas then scored five off Marty O'Toole to take the lead. Curtis was pinch-hit for during that inning, and Eddie Stack pitched three innings of two-hit ball for the save. Curtis finally had his first win in a Brooklyn uniform.
After two more wins, his game against Philadelphia on September 28 was the same old story. "Cliff Curtis twirled eight innings of the second game, which he should have won. Four of the five Quaker runs were helped along by Brooklyn errors."34 Instead he dropped to 5-12 for the seasons and 3-7 with Brooklyn.
In his final game of the year, he pitched a complete game against the Giants, who had already clinched the pennant by a wide margin, and won it when the Superbas scored four in the sixth and four in the eighth. It was the last game Brooklyn ever won at Washington Park, as owner Charlie Ebbets was building a new place in Flatbush. It would be ready for 1913, and he was trying to build a winning team to complement his brand-new ballpark.
Curtis knew this, and likely figured out his age (31) and his inability to win were going against him. He sent in his signed 1913 contract before the end of December.35
The next spring, Curtis did not pitch in the very first game at Ebbets Field, an exhibition win over the Yankees, nor did he throw in the first official game, a loss on Opening Day to the Phillies. He made his debut there on April 21, and the Superbas had yet to score an official run at their new ballpark. First baseman Jake Daubert scored the first run in the park for the home team while Curtis pitched the ninth and did not get a decision as Brooklyn lost to Philly 2-1.
The next day in Boston, Curtis pitched a complete-game seven-hitter, allowing just one earned run in the 8-3 victory. He even singled in a run on his own behalf.
Brooklyn finally got a win at Ebbets on April 26, over the Giants, and Curtis got to start at home on May 5. He threw eight innings of two-run, seven-hit ball, but was pinch-hit for in the bottom of the inning as Brooklyn rallied to tie the score and won in the 10th on a walkoff single by second baseman George Cutshaw.
Four days later, Curtis relieved Eddie Stack in the third and got his first victory at Ebbets Field in a 7-5 win. He was now 2-0 for the first time in his major-league career and the surprising Superbas were tied for first with the Phillies.
On May 13 it was a similar story. Curtis came in for Frank Allen in the third against Cincinnati, gave up just five hits and didn't allow a run the rest of the way for a comeback win, Brooklyn's fifth in a row. On the 16th Curtis gave up three runs in the top of the first to St. Louis, two of them on an Ed Konetchy home run. But Brooklyn scored five times in the next four innings to take the lead, Curtis hung on to move to 4-0, and the Superbas were still tied for the league lead.
Then things began to go wrong. On May 22, it was raining hard even before the game with Pittsburgh began, but umpire Bill Klem told both teams to take the field as scheduled. Curtis got the start against the Pirates' Wilbur Cooper, and no runs were scored in the first four innings. In the top of the fifth, the Pirates loaded the bases with nobody out. At that point, the crowd in the bleachers, likely small to start with, left their open seats and rushed the field. They had likely been asking to move to the covered grandstand and were being denied. To avoid a forfeit Superbas management quickly allowed them to move to the mostly empty covered grandstand. Already in trouble with the bases full, Curtis then walked Max Carey, forcing in Chief Wilson for the first run of the game. Curtis got out of it but Brooklyn could do nothing against Cooper. A short time later as the downpour showed no signs of stopping, so Klem called the game and Brooklyn protested, but Klem's word was law.36
His best day in a Brooklyn uniform came on June 26 during a doubleheader in Philadelphia as the Superbas tried to stave off a slide into the second division. It was a hot one and Nap Rucker, Brooklyn's ace, was on the hill. In the 13th inning, tied 2-2, Rucker singled but then had to leave the game.37 The Superbas didn't score and Curtis, scheduled to pitch the second game anyway, was called in. He pitched a scoreless two innings and when Brooklyn scored three in the top of the 14th, he came away with the victory.
Brooklyn manager Bill Dahlen, one of his old teammates in Boston, then sent Curtis back out to start game two as scheduled. Matched up against another old teammate, Pete Alexander, Curtis gave up single runs in the fourth and seventh, while the Superbas scored two off Alexander in the sixth and two more in the ninth for a 4-2 victory. Cliff Curtis had won two games in one day. The papers went nuts for the feat, with Sporting Life declaring it hadn't been seen since "the days of Joe McGinnity."38
By the time early August rolled around, however, Curtis knew he would be sent to the Newark Indians of the International League no later than August 20.39 As Charlie Ebbets owned both the Superbas and the Indians, the exchange seems like a mere formality today.
But at the time there was immense pride in "home town" ball teams, no matter what level of ball they played. In August 1913, the Indians were running away with the International League, seemingly on the way to their first pennant since joining the league in 1902.40 Also, across the country in the progressive labor movement of the time, trusts and syndicates and monopolies were under fire in every industry, from steel to railroads to baseball. To keep above suspicion, Ebbets had to let Brooklyn fail (when the deal was announced the Superbas were 25 games out of first) while Newark succeeded for as long as possible. Once there was no way Newark could lose and no way Brooklyn could win, no one would complain about transferring players. Thus, the agreed-upon exchange date was August 20, when a month remained in the International League season.41
Curtis took the mound for the second game of the doubleheader against the Cardinals at Ebbets Field on August 16, 1913, knowing it was probably his last game in the major leagues. A friend to all on the club, no doubt the other players wanted to send him out on top.
In a time when one home run a game was a rare occurrence, the Superbas hit four. Curtis's batterymate, rookie catcher William Fischer, hit his first career home run in the third inning, a three-run blast. Casey Stengel, playing center that day, hit a solo shot in the sixth. And shortstop Bob Fisher, who hit only 11 home runs in a seven-year career, had two, in the seventh and the eighth, and he tripled as well. Even Curtis went 3-for-4. He went the full nine in the 14-5 pasting, and walked away with the most run support he ever got in a major-league game.
The trade was made official on August 19 as several Newark players were transferred to Brooklyn.42 Curtis's manager in New Jersey was his first manager and one-time catcher on the Boston Doves, Englishman Harry Smith. Despite being all but assured of the pennant, Newark then began to falter and Curtis could not help stem the tide. In his first game at Baltimore, on September 1, he was shelled in a 12-2 loss. On the 6th in Providence he was shelled again. He pitched a two-run, four-hit game on the 13th in Jersey City but lost. He then won his next two games, including the one that finally clinched the pennant, a complete game against Jersey City on September 20.43 It was the first time Curtis had pitched on a pennant winner since 1903 in Fort Wayne.
Curtis went on a barnstorming tour to Cuba with most of the Superbas that fall and returned to Newark for 1914.44 And the tough baseball luck that dogged Curtis continued, for Brooklyn fired manager Bill Dahlen after 1913 and replaced him with Wilbert Robinson, the former Giants pitching coach. Every Giants pitcher for more than a decade had been tutored by Robbie. The list includes Mathewson, McGinnity, Jeff Tesreau, Rube Marquard, and Al Demaree, all stars during the Giants' long run at the top of the National League. What could Robinson have done if Curtis remained on the staff? Maybe nothing, for Curtis was already 32. Even if Uncle Robbie had been able to turn Cliff's career around, it would have been for only a year or so, and Robinson was trying to turn an entire franchise around.
Curtis went 16-12 for Newark in 1914 as the Indians slipped to fifth place. He then went back to Ohio and threw three full seasons for the Columbus Senators, the first pro team he ever played for. The Senators finished last in 1915, seventh in 1916, and in 1917 Curtis's one-time Cubs teammate Joe Tinker bought into the team and installed himself as manager. Tinker, welcomed back into Organized Ball when the Federal League folded, managed the Senators to fourth place in 1917, and at age 36 Curtis went 10-7 in his final full year in pro ball. He pitched a few games for Columbus and St. Joseph, Missouri, in 1918 before finally hanging up the spikes.
After retiring Curtis was an avid fan of the Cleveland Indians, the team that first drafted him in 1903, and a fine amateur bowler.45 He moved his family to nearby Utica, Ohio, and ran a Ford dealership for more than 20 years.46 He also coached the Utica High baseball team to several league championships.47
Perhaps the best indication of how Curtis was thought of in baseball comes through in how his family was treated by his former teammates after Cliff died at home on April 22, 1943, from a heart attack after fighting an out-of-control grass fire.48 Daughter Mary remembered her mother, Florence, calling the Yankees hotel every time they came to Cleveland when their manager was Casey Stengel, Cliff's teammate in Brooklyn. Casey always gave them the best seats, right behind the Yankees dugout, and would spend time with the Curtis family. Curtis's grandson remembered as a 12-year-old sitting in the Yankees dugout for close to an hour, talking ball with Stengel.49
"I don't give a damn what his record was," his grandson said about him. "Everybody says he was a great guy and that's what's important."50
This biography is included in "20-Game Losers" (SABR, 2017), edited by Bill Nowlin and Emmet R. Nowlin.
Sources
In preparing this biography the author relied on Dennis Pajot's history of the early Milwaukee Brewers teams for Curtis' minor-league years. Game descriptions were taken from original scans of Sporting Life and the New York Times. Season and career statistical information and other statistics are from Baseball-Reference.com and Retrosheet.org.
Notes
1 Paul Dickson, The New Dickson Baseball Dictionary (New York: Harcourt, Brace & Company, 1999), 547.
2 Ancestry.com, 1900 US Census.
3 Marion (Ohio) Daily Star, April 23, 1943.
4 Ibid.
5 FindAGrave.com, Emogene L. Westfall Curtis.
6 Chuck McGill, Minor League No-hitters, docs.google.com/spreadsheets/d/1deBSHdsKaYa0BObQqY-f12dTaCv6k8vIxjhomWRrlLQ/edit?authkey=CL_3m-cC&authkey=CL_3m-cC&pref=2&pli=1#gid=0; Dennis Pajot, 1904 Milwaukee Brewers, 16. (Pajot's research is at sabr.org/research/1902-1919-milwaukee-brewers-files); Rudolph H. Horst, "Central League," Spalding's Official Baseball Guide 1904, 194-197.
7 Horst.
8 Pajot, 1904 Milwaukee Brewers, 25.
9 Pajot, 1905 Milwaukee Brewers, 8; 1906 Milwaukee Brewers, 9.
10 Ohio Wesleyan University 2017 Baseball Media Guide, 36.
11 Pajot, 1908 Milwaukee Brewers, 19.
12 Pajot, 1909 Milwaukee Brewers, 9.
13 "Family of Record Holder Wants to See Met Hurler Win, Ellensburg (Washington) Daily Record, June 25, 1993.
14 Ibid.
15 Pajot, 1909 Milwaukee Brewers, 40.
16 New York Times, August 24, 1909.
17 I.E. Sanborn, "Champs and Doves in Farce Comedy," Chicago Tribune, August 24, 1909.
18 Marion (Ohio) Daily Star, May 23, 1910.
19 Ren Mulford Jr., "Mulfordisms," Sporting Life, June 4, 1910: 2.
20 Clem's Baseball Reference, Forbes Field dimensions, andrewclem.com/Baseball/ForbesField.html.
21 Bill James and Rob Neyer, The Neyer-James Guide to Pitchers (New York: Simon & Schuster, 2004), 477.
22 "1910 National Teams: The Boston Team," Sporting Life, October 22, 1910: 11.
23 "National League Notes," Sporting Life, November 26, 1910: 17.
24 "Philadelphia at Boston," Sporting Life, April 22, 1911: 8.
25 "Brooklyn at Boston," Sporting Life, June 3, 1911: 9; New York Times, May 27, 1911.
26 J.C. Morse, "Changes in the World of Baseball," Baseball Magazine, September 1911.
27 "Big Mid-Season Deal!" Sporting Life, June 17, 1911: 1.
28 "National League Notes," Sporting Life, August 19, 1911: 24.
29 "National League Notes," Sporting Life, September 2, 1911: 15.
30 "Local Jottings," Sporting Life, March 16, 1912: 6.
31 "Brooklyn at Philadelphia," Sporting Life, July 6, 1912: 11.
32 "Local Jottings," Sporting Life, July 13, 1912: 5.
33 "Local Jottings," Sporting Life, July 20, 1912: 3.
34 "Philadelphia at Brooklyn," Sporting Life, October 5, 1912: 9.
35 "National League News in Short Metre," Sporting Life, December 14, 1912: 8.
36 "Pittsburgh at Brooklyn," Sporting Life, May 31, 1913: 10.
37 Abe Yager, "In the Race Again," Sporting Life, July 5, 1913: 5.
38 Ibid.
39 "International Items," Sporting Life, August 9, 1913: 15.
40 "Close of the Season," Sporting Life, September 27, 1913: 12.
41 Abe Yager, "Loyal to Organized Ball," Sporting Life, August 2, 1913: 5.
42 "Brooklyn Announces Player Deals," Sporting Life, August 23, 1913: 7.
43 "Jersey City at Newark," Sporting Life, September 27, 1913: 12.
44 Abe Yager, "Brooklyn Briefs," Sporting Life, October 4, 1913:18.
45 Ibid.
46 Marion Daily Star, April 23, 1943.
47 Ibid.
48 "Family of Record Holder Wants to See Met Hurler Win."
49 Ibid.
50 Ibid.
Born
July 3, 1881 at Delaware, OH (USA)
Died
April 23, 1943 at Utica, OH (USA)
If you can help us improve this player's biography, contact us.
https://sabr.org/sites/default/files/Screen%20Shot%202018-10-04%20at%2012.41.24%20PM.png
600
800
admin
/wp-content/uploads/2020/02/sabr_logo.png
admin
2012-01-04 20:42:54
2012-01-04 20:42:54
Cliff Curtis