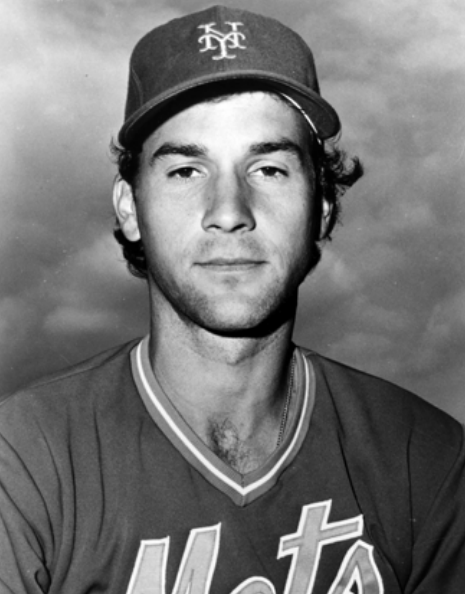 ---
Danny Heep was a respectable major leaguer who made a career not out of being a star, but of being a highly useful role player who fit in well on championship-caliber teams. He was born on July 3, 1957, in San Antonio, Texas, where he grew up and went to college. His father, Jacob, was a semipro baseball player who worked in logistics at Kelly Air Force Base.
Heep's uncle, Matt Batts, had a 10-year major-league career, mostly as a backup catcher. He spent half of it with the Boston Red Sox and as a result, most of the Heep family rooted for Boston. But Heep picked his own path and rooted for the Pirates teams that were led by Roberto Clemente and Willie Stargell.
Jacob Heep got his son involved in baseball at a young age and Danny established himself as being pretty good, good enough pitch and play the outfield locally at St. Mary's University, an NAIA school. This was not an ordinary NAIA program.
Heep was more of a star as a pitcher than as a hitter. As of 2015 he ranked second in St. Mary's history in career ERA (2.33). In 1978 he posted an 0.69 ERA and 11 saves. Heep earned All-Conference honors for three years and was Big State Conference Player of the Year in 1978. He was selected by the Houston Astros with the 37th overall pick in the 1978 major-league draft.
The minor leagues would pose a bit of a challenge. Heep was used to playing 40 games a year, not 140. "It took me a little while to get used to that," he said.1
Heep hit .340 in 66 games for Daytona Beach in the Florida State League, then the next year for Columbus (Georgia) in the Double-A Southern League, the power came. He hit .327 with 21 home runs and was named the league MVP.
Said his manager, Jim Johnson: "I've never seen anyone who can swing the bat like Heep can. He has good arm extension on the inside pitch or the outside. It's his stroke that separates Heep from the rest."2
Heep earned a call to the big leagues at the end of the 1979 season, and went 2-for-14 for the Astros. Johnson and Heep moved up to Triple A in 1980 and both thrived in Tucson of the Pacific Coast League. The team went 87-59 and Heep led the Toros with a .343 batting average, while hitting 17 home runs in 96 games. "He's the best hitter in the organization," Johnson said. "He's very serious, very dedicated."3
This time the Astros brought Heep up in mid-July for a longer look and he made the playoff roster as the Astros won the NL West and faced the Philadelphia Phillies. They lost in an epic five-game series that ranks among the best in postseason history. Heep, who hit .276 in 87 regular-season at-bats, had one at-bat in the series, flying out in the 10th inning of Game Five. The Astros made the playoffs again the next season and lost to the Dodgers in the Divisional Round. Heep, again a late-season call-up from Tucson, did not play in that series.
The Astros outfield had José Cruz in one corner and Terry Puhl in the other, and since Heep's best fit was as a corner outfielder, it was hard for him to crack the lineup. On December 10, 1982, a month after Heep married his wife, Jane, the Astros traded him to the Mets for pitcher Mike Scott. (The move happened the same day the Mets agreed to a deal with the Reds to bring back Tom Seaver.)
Though Heep didn't match Scott's Houston stardom, the Mets got good value from him as a pinch-hitter and backup outfielder. Heep wanted to play more often than he did and made that known publicly in August, venting to a reporter from the New York Post that "they can get anyone to do what I'm doing for them."4 But with time, Heep adjusted to his role. He hit four pinch-hit home runs in 1983. And he found a fan in new manager Davey Johnson, who took over in 1984 and got Heep into the lineup.
"(Pinch-hitting) was brutal," Heep said. "I was never really very good at it. No one is really good at pinch-hitting. To face other team's closers, that's not the best situation. The key to me having a decent couple of years as a pinch-hitter was that Davey Johnson gave us all one or two starts per week. Everybody got some playing time. I learned a lot from Rusty Staub—how to prepare and how to watch pitchers."5
In 1985 Heep found himself a part of a baseball milestone when his former Houston teammate, Nolan Ryan, made him his 4,000th strikeout victim. "I remember they called a pitch six inches outside for strike two, so I was pretty much toast," Heep said.6
Heep was also a part of one of baseball's most unusual highlights. On July 4, 1985, the Mets and Atlanta Braves played a bizarre 19-inning game in Atlanta. Heep watched the game-tying 18th-inning home run hit by Braves pitcher Rick Camp sail over the left-field fence and put his hands on his head in disgust.
The Mets won the game, 16-13 in 19 innings. It ended at close to 4 A.M.
"The one thing I do remember (from that game) is that we were on the way back from the hotel, we were trying to cross an intersection, we're crossing a low-water area and we said. 'This bus feels like it's floating,"' Heep said with a laugh. "This would be the last thing we need."7
The Mets did more than stay afloat. The 1985 team won 98 games, finished second to the Cardinals and was in the race for the NL East title until the season's final days. After finishing second in each of the previous two seasons, the Mets came into 1986 with the intent of dominating.
Heep had his best season to that point, hitting .282 with a .379 on-base percentage and 5 home runs in 195 at-bats. He was solid as a pinch-hitter, with nine hits, eight RBIs and a .300 batting average off the bench.
"Danny Heep is a reflection of the depth of the 1986 Mets," said Greg Prince, a Mets historian and the author of Faith and Fear in Flushing. "To have carried a player who was capable of starting for most teams almost as an afterthought shows just how loaded the 24-man roster was.8 He was the embodiment of usefulness, in the best sense of the word, providing insurance in left, right and first and was a proven bat off the bench."9
When the Mets made the World Series, Heep got a chance to play. The Mets lost the first two games, with Heep coming off the bench in both, but he got a chance to start at DH in Game Three. After the Red Sox botched a first-inning rundown to keep a Mets rally going, Heep singled in two runs against Red Sox starter Oil Can Boyd. That extended a 2-0 lead to 4-0 and the Mets were on their way to a 7-1 romp. It cut Boston's lead in the series to two games to one.
"There wasn't any panicking," Heep said of the Mets' early deficit in the Series. "We just came back in, prepared the same way and had confidence that we were good enough that we could (win at least two games). We didn't want to put any more pressure on ourselves than we really had."10
The Mets got even in the series by winning Game Four, 6-2 (Heep went 0-for-4) but lost Game Five (with Heep on the bench) to trail three games to two. Heep played a peripheral role in the Mets' comeback in Game Six. With the team down 2-1 and men on first and third with nobody out in the fifth inning, Johnson had Heep pinch-hit for Rafael Santana. Though Heep hit into a double play, the tying run scored.
The Red Sox took a 5-3 lead into the bottom of the 10th inning of Game Six. As the first two outs were made, Heep was among those players watching with Keith Hernandez in Davey Johnson's office, where players would often hang out during games. He saw the groundball go through Bill Buckner's legs there.
Heep was one who wanted to go watch from the dugout, but once the rally started, Hernandez would not let anyone leave. "Keith said no, no, no, no, no," Heep said with a laugh. "Nobody wanted to move."11
With Heep and his friends watching on TV, the Mets won that game. Heep knew they wouldn't lose Game Seven. "After we won (Game Six), we thought this has to be destiny," he said.12
It was. The Mets won Game Seven to win the World Series. Heep got to be a participant in a championship parade.
Among the things he remembered most about his playing time was the camaraderie of the 1986 Mets. Though Heep was a member of the "Scum Bunch" (the nickname for a group that drank and goofed off on plane trips), he stayed out of trouble.
"We were all 28, 29, 30 years old," Heep said. "Everybody on that team got along. I don't know if you'll ever see a team that close-knit. We were like a college team, a bunch of friends doing what they like to do."13
Heep was a free agent that offseason and ran into the same issue that other free agents had that offseason. Teams did not make any free-agent signings. (An arbitrator later found owners guilty of collusion and they were forced to pay a penalty.) As a result, Heep, who wanted to return to the Mets, agreed to a deal with the Los Angeles Dodgers.
Heep spent two years with the Dodgers, where his role was as a backup outfielder and pinch-hitter, similar to that which he had with the Mets. He was a member of the 1988 Dodgers team that stunned the Mets in the NLCS and the Athletics in the World Series. When injured pinch-hitter Kirk Gibson hit his game-winning home run off Athletics reliever Dennis Eckersley, Heep got a view from the dugout, rather than the clubhouse.
In February 1989 Heep signed with the Red Sox and, at age 31, got the most playing time he'd ever gotten in his career as the Red Sox had injury issues in their outfield. He hit .300 in 320 at-bats with more walks (29) than strikeouts (26).
In 1990 Heep had back problems and needed surgery. When he tried to come back, near the end of the season, he was not effective, though the Red Sox still thought enough of him to put him on their postseason roster. He went 0-for-2 in the ALCS as the Red Sox were swept by the Athletics. That offseason Heep became a free agent and was invited to spring training with the Chicago White Sox. The Atlanta Braves gave him a chance but after a month on their roster in May/June, he was asked to accept a demotion.
Heep's wife was eight months pregnant with their daughter, Joanna, at the time and Heep realized it was time to end his playing career. He declined the demotion and retired.
Not long after that, an assistant-coach position opened up at the University of the Incarnate Word, a private Catholic college in San Antonio. Heep applied and was hired. He became the program's head coach in 1998 and had 18 seasons on the job as of 2015. He steered it through promotions from NAIA to NCAA Division II in 2000 and Division I in 2014. Through 2014 Heep's team had won more than 500 games and he was a three-time conference coach of the year.
"I'm teaching the way I was taught," Heep said. "The fundamental parts of the game and hitting are very basic. It wasn't really changed since 1985. Coaches like Walt Hriniak and Bill Robinson taught the same fundamental swing that is taught today. I never made a lot of money playing, but I'm comfortable and I like what I'm doing."14
A handful of Heep's players have been drafted, but he has preached caution with regard to considering a pro career. He took a similar approach with his son, Robert, who was a Dean's List student studying business at Texas A&M. (His daughter planned a career as a lawyer.)
"I'm more proud of his making the Dean's List than any home run he hit or game he played," Heep said. "The proudest thing for me as a coach is the academic side. I tell our guys let's make a 3.5 or better in the classroom. That's what's going to make you money."15
Heep was a player respected by his peers and became a coach respected by his players. His playing days remained an important part of his persona. "I'd like to be remembered as a good team player who got along with everybody," Heep said. "You want to be the best player, but you want to be remembered as a teammate."16
Notes
1 Phone interview with Danny Heep, July 16, 2015 (hereafter Heep interview).
2 Cecil Darby, "Heep Hitting a Heap at Columbus," Columbus Ledger, September 1979. Undated clipping in Heep's player file at the National Baseball Hall of Fame.
3 The Sporting News, August 9, 1980.
4 Mike McAlary, "Heep fuming over part-time role," New York Post, August 16, 1983.
5 Heep interview.
6 Heep interview.
7 Danny Heep radio interview with Mike Silva, Blogtalk Radio, July 9, 2008.
8 Rosters were 24 players instead of 25 that season and three others, as noted at baseball-reference.com/bullpen/Roster.
9 Email interview with Greg Prince, July 28, 2015.
10 Heep interview.
11 Heep interview.
12 Heep interview with Mike Silva.
13 Heep interview.
14 Heep interview.
15 Heep interview.
16 Heep interview.
Born
July 3, 1957 at San Antonio, TX (USA)
If you can help us improve this player's biography, contact us.
http://sabr.org/sites/default/files/Heep-Danny.png
600
800
admin
/wp-content/uploads/2020/02/sabr_logo.png
admin
2012-01-04 20:24:39
2021-03-11 05:48:54
Danny Heep