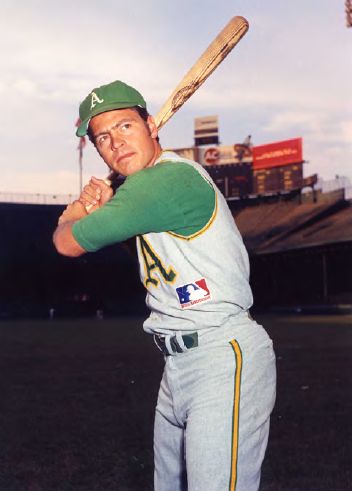 ---
Second base was a revolving door for the Oakland A's during their 1972-74 dynasty – the team used 17 players at that position. The closest thing to a regular was steady veteran Dick Green. Though he missed most of 1972 after surgery on a herniated disc in his back, he recovered in time for the postseason. Green – who wore uniform number 1, as befit the senior man in terms of service with the club – remained Oakland's primary second baseman in '73 and '74, during the regular season, playoffs, and World Series. Despite going hitless in the '74 Series against the Dodgers, he was a strong MVP candidate because of his superb fielding.
There were many other excellent glove men among Green's American League peers, which explains in part why he never won a Gold Glove during his career. Despite that, he was universally recognized as one of the best in the business, and the available advanced metrics confirm that he was well above average in the field. Green had some power before his back became a problem, but his hitting was up and down – moderate at best. "I'm lucky, the caliber ballplayer I am, to get my eight or nine years in," he said ahead of the 1972 season. "I work very hard for everything. I've got to concentrate so much."1 Still, all in all, he was an integral part of Oakland's success.
Ted Kubiak, Green's most frequent backup, gave insight in 2013. "Dick was well liked by Mr. Finley and rightly so. He was probably as surehanded an infielder as you'd find. He rarely made an error, positioned himself well and turned the double play as well as anyone. He gave the pitchers a comfort level because of his consistent defensive play year after year. He played through a lot of back trouble. Our club had players who did maybe not a lot of things well but excelled consistently in others. The composite skills of everyone made for a team that didn't make a lot of mistakes."2
Richard Larry Green was born on April 21, 1941, in Sioux City, Iowa. He was the first of Mick and Millie Green's three children; a sister named Patty followed, then a brother. Mick Jr., also a second baseman, signed with the A's in 1966.3 The younger Green never actually played pro ball, however, even though Dick said on several occasions that he thought Mick was better.  
Sioux City lies on the Missouri River, near Nebraska and South Dakota. Young Dick lived there for about five years, and then his family moved to Yankton, South Dakota, about an hour's drive northwest.4 One of his childhood friends there was future NBC anchorman Tom Brokaw.5
"I always went to the games growing up in Yankton," Green remembered in 2003. "I'd go see the Yankton Terrys play."6 From 1953 through 1973, there was a high-quality regional circuit called the Basin League that operated mainly in South Dakota. Well over 100 of its players (mostly college men, but some pros) went on to the major leagues, including Hall of Famers Bob Gibson, Jim Palmer, and Don Sutton. Green became one of them.
Partway through high school, Green moved to Mitchell, another South Dakota town about an hour and a half northwest of Yankton. His father had been in the shoe business, which brought about the moves. Mick Sr. later operated a North American Van Lines franchise in Rapid City, in the western part of South Dakota.7 As an adult, Dick joined this business – which became known as Green's Moving & Storage – and remained in it for many years. This was the main reason that he did not play winter ball, except for some Instructional League in Florida during his time in the low minors.
At Mitchell High, Green was all-state in football as a quarterback. He was also a standout in basketball and track. As a senior, he was named South Dakota's prep athlete of the year. "We had no baseball team," he said in 1969. "It was too cold to play baseball during the school year. Baseball is strictly a summer game in Mitchell. So I played Babe Ruth and American Legion ball."8
Green had always loved baseball. "I played midget, junior Legion and summer league, and anywhere else I could," he said in 1961.9 However, many years later, he observed, "Football was probably my best sport. I was on Mitchell's first undefeated team in school history. I was thinking about going to college. I got an offer to go to Florida State and also had a full ride at Michigan. At both places I was going to play football and baseball."10
The local baseball scene, however, was fruitful. Mitchell had a team in the Basin League from 1953 through 1960, and Green played with the Kernels after graduating from high school in 1959. At that time he was a shortstop. "[Manager] Joe Lutz called me and wanted me to try out," Green remembered in 2003. "So I tried out and provided a little hometown flavor. I was very fortunate to have played in the Basin League. When I played, teams got to put up to three major leaguers on their teams. I remember getting to watch some great players growing up and playing against some great players. It was a great experience."11
With Mitchell, Green had at least one teammate who made it to the majors. That was Dean Look, who played in three games for the Chicago White Sox in 1961. (Look, a college football star, also played in one game in the American Football League in 1962 before going on to a long career as a referee in the NFL.)
Green said that as a Kernel, "I was really raw. I made a few errors and I didn't hit very well, as I recall."12 However, Marv Olson, a scout with the Athletics (then based in Kansas City) had been following him for years. Olson, a South Dakotan who played in the majors from 1931 to 1933, had played for Yankton as late as 1956 (he was also the manager). Olson signed Green to a contract, and the $12,000 bonus was enough to make him forsake football.13 Green never played for any other organization.
During his first season in the minors, Green hit just .228 with 8 homers and 54 RBIs for Sanford of the Class D Florida State League in 1960. He led the league's shortstops in fielding, though, and got attention for making sharp plays.14 So he jumped to Class B in 1961. However, the organization shifted him from shortstop to third base with Lewiston of the Northwest League.
Before going to Lewiston, Green had attended Black Hills Teachers College in Spearfish, South Dakota, for one quarter. He concentrated in physical education. "But I've got a six-month Army tour to go through," he said as the season started, "and I enjoy playing winter ball, so I don't know if I'll go back or not."15 As it developed, he did not.
Green noted, "Any ballplayer will tell you that a slider, properly delivered, is the toughest pitch to hit."16 He was confident in his batting, though – indeed, he set a personal best with 18 homers for Lewiston, while hitting .273. Thus, he moved up to Double-A for 1962. He remained at third base for Albuquerque of the Texas League, but he played in only 90 games. A mysterious injury to his right hand bothered him all season; it turned out to be a hairline fracture of his thumb.17 Nonetheless, he hit .285-10-52.
The A's switched Green to second base at their early instructional camp in 1963. In spring training, he impressed many observers.18 The Sporting News wrote, "[He] showed an immediate aptitude for the new job. One of Green's greatest assets is his determination. He fields ground balls for 30 or 40 minutes at a stretch and gave Jimmie Dykes so much exercise with the fungo bat that Dykes started to lose weight."19
Kansas City had Jerry Lumpe at second base and Ed Charles at third, both coming off good seasons. The organization wanted Green to play regularly, and so he finished his minor-league seasoning that year with Portland of the Pacific Coast League (Triple-A). Everyone in the front office was convinced, though, that he would be back.20 He hit .234-15-65 for the Beavers, slumping after a strong start. Coach Bill Posedel thought Green had trouble with the outside pitch, but the following spring, Green himself said he thought it was more a matter of confidence, and that he didn't like it much at Portland. 21
The A's kept Green at second base for the bulk of the season at Portland, though he still played a bit of third. He noted that the hardest things about his new position were the different spin of the ball and especially learning to make the pivot. "It took me about three months before I really got it down," he said. "I got hit pretty good while I was learning." Bill Posedel said, "He makes the double play very well. He has quick hands and a good arm for a second baseman. He moves well and covers a lot of ground."22
Kansas City called Green up after the Beavers' season ended, and he made his debut at Municipal Stadium on September 9. Pinch-hitting for Tom Sturdivant, he drew a walk off Steve Hamilton of the Yankees and came around to score. He got into 13 games for the A's that month, moving to short from second while Wayne Causey was injured, and hit .270 in 37 at-bats. On September 25 he hit his first homer in the majors. It came at Fenway Park off Jack Lamabe of the Red Sox. He wound up with 80, a franchise record for second basemen that stood until Mark Ellis – a Rapid City native – broke it in 2010.
Toward the end of the '63 season, The Sporting News discussed the team's needs – in particular, lack of power. "If the A's do trade a front-line infielder, they probably will have to count on rookie Dick Green as a replacement. This is an admitted gamble."23 The team took that gamble, though, sending Jerry Lumpe to Detroit in a six-player trade that brought in Rocky Colavito. After the trade, A's general manager Pat Friday said, "Second base is a wide open shot, with Green the leading candidate. We know he can do an excellent job defensively. We also know he has power. It's just a question of whether he can make contact with the ball frequently enough against major league pitching."24
Green never did go back to the minors after 1963, and he did take over as Kansas City's starting second baseman in 1964. He had a fine training camp with both bat and glove; manager Eddie Lopat credited the help of coach Luke Appling.25 During the regular season, Green was hitting around or below .200 into early July, but the outlook was good because of his hard work and determination. Indeed, he finished strongly (.264-11-37 in 130 games), despite nagging problems with both thumbs.
Fielding was not a concern. Green's range and effort impressed the likes of Phil Rizzuto and Jerry Coleman, who saw him while broadcasting for the Yankees.26 He played unusually deep at second (except if the batter's speed or turf conditions were factors) and had the arm and agility to make it work.27 Green drew favorable comparisons to another longtime Yankee, incumbent Gold Glover Bobby Richardson, and graciously thanked Richardson for sharing his knowledge and experience.28
Green remained the A's starter in 1965, when he reached a big-league high with 15 homers. Two of the three big-league games in which he homered twice came that year. His average declined to .232, however; in 1966, Green said, "We were having a lot of problems on the club and I let them affect me."29
In October 1965 Green married his first wife, Carol Tomlinson. She was a show-horse fancier, and Green became interested in the animals too, eventually owning several.30 He and Carol had two children – a daughter named Kim and a son named Mike – but were divorced in 1978.
Alvin Dark became the A's manager for the 1966 season. In spring training he rhapsodized about Green's range and hands, saying, "Heck, there isn't anything he can't do." Green had actually considered quitting over the winter, because the previous year's disappointment was lingering and there was also a pay conflict with Charles Finley. He thought he could do just as well working with his father, but the A's finally made him an acceptable offer.31 Green's talk of retirement became a running theme in future years.
Luke Appling wanted Green to stop swinging for the fences, although in Dick's opinion, he got his homers when he was rested and he wasn't trying. He did think, though, that he could lift his average by looking to bunt more and hitting to all fields. He wound up at .250-9-62. As usual, he made numerous sensational plays in the field. At age 25, he was also named team captain after Wayne Causey was traded in late May.32
In 1967 Green got off to a slow start at the plate. A's broadcaster Monte Moore later alluded to a family problem, but Dick discounted that as the reason. John Donaldson, who had been hitting well at Triple-A, was brought up. Green moved to third base, where Sal Bando had not yet come into his own, but his batting continued to languish. He later said, "I think my hitting just fell off when I didn't get to play. I lost my sharpness and ability to concentrate on the pitch."33 He also lost his captaincy; according to a 1972 account, his batting slump was one reason.34 A 1969 story suggested, however, that Green was caught in the middle of the August 1967 squabble among the A's players, Alvin Dark, and Charlie Finley that led to Dark's firing.35
In 1968, after the A's moved to Oakland, Green got into just 76 games. He played just 11 times during April and May; one of his roles was bullpen catcher. Near the beginning of the year, he was pressed into service behind the plate for an inning in an actual game. It was something he said he wasn't cut out for (though he was needed once more in this capacity in 1970).36 Green was dispirited; he was simply looking to get enough time in to qualify for his pension. "Then I was going to get my lunch pail and go home to work for my dad," he said in 1969. "I was through with baseball. I didn't think I had the goods any more."37
After about a month of military service, Green remained a reserve in July – but in August, manager Bob Kennedy benched John Donaldson. Donaldson's fielding was worrisome and his hitting had gone south, so Green was back at his best position.38 In 1969 he went on to have his best year overall with the bat (.275-12-64, .427 slugging percentage, .779 OPS). That was despite badly bruising his knee in mid-June. He missed a couple of weeks, and A's beat writer Ron Bergman observed that August, "It took him quite a while to get his timing back at the plate, although he continued to field spectacularly."39
Green fell off sharply at the plate again in 1970 (.190-4-29). Late that July, Ron Bergman wrote, "It wasn't until late June that Green began to show flashes of the glovework that made him the American League's top fielding second baseman in 1969. But he still couldn't raise his batting average to the .200 mark, nor recall the power he displayed." Manager John McNamara first benched Green, then platooned him with John Donaldson, who had been reacquired from Milwaukee.40 Tony La Russa also got the most extended audition of his big-league career that year.
After the 1970 season, Dick Williams succeeded McNamara and made noises about using Dwain Anderson at second base. Green announced his retirement in February 1971, saying he doubted that he could bounce back, was disinclined to travel, and would stay in Rapid City with the moving business.41 He even sent back his travel expense check before changing his mind and reporting.42 Charlie Finley himself phoned Green at the office in Rapid City and lured him back. His hitting bounced back (.244-12-49) and his fielding once again earned raves. Perhaps Ron Bergman's most interesting observation there concerned Green's way of moving around in the field to disguise where he would wind up playing a hitter.43
From that point on, though, Green hit just five more homers in his career. He started each of Oakland's first seven games in 1972 – but on a cold day at Yankee Stadium, he hurt his back while running to first base. The original diagnosis was a pinched nerve, and he went into traction.44 He went on the disabled list and underwent surgery for removal of a herniated disc on May 18.45
Green returned in mid-August, ahead of schedule. He played in 19 games the rest of the way, though he saw no action from August 30 through September 16. He went back on the DL when Dal Maxvill was acquired.46 Nonetheless, when it came to the postseason, Green started every game in both the ALCS against the Tigers and the World Series against the Reds. Though Dick Williams continued to play musical chairs at second base, frequently pinch-hitting, Green was still 6-for-18 with two doubles against Cincinnati.
He also showed his toughness in the field, as Bruce Markusen (author of the A's book Baseball's Last Dynasty) wrote. "If you've ever seen tape of Hal McRae's vicious slide into second base during the 1972 World Series, it is Green who is on the receiving end of his rolling block. Two innings later, Johnny Bench knocked down Green with a vicious takedown. Green hung in on each play, didn't complain either time, and actually claimed to enjoy being in the middle of such heavy contact."47
After Oakland became champions, Rapid City declared "Dick Green Day" on November 3. South Dakota's governor, Dick Kneip, joined the mayor for the banquet.48
In 1973 Green started 128 games at second during the regular season, though he admitted that his back was stiff in the early going because of cold weather.49 He hit .262-3-42 in 332 at-bats, and though Dick Williams thought that Green might have lost a step in the field, he committed just seven errors. One of his increasingly rare home runs, on May 17 at Anaheim Stadium, was noteworthy because it was the play on which Bobby Valentine badly broke his leg while giving chase.
Once again, Green started every game for the A's in the postseason, although he went just 2-for-29 altogether against the Orioles and Mets. He showed his professionalism after making an error in Game Four, denying that there was any extra pressure on him after owner Finley made a scapegoat of fellow second baseman Mike Andrews for costly errors in Game Two. "I'm out there to do a job," Green said. "You don't concentrate on the bad stuff. The ball was hit right to me. I knew what I was gonna do with it, but I didn't do it."50
Green mulled retirement again that offseason, even sending a formal letter to Charlie Finley.51 But Finley didn't forward the letter to the league office and was able to talk the second baseman into reporting once more. Alvin Dark, who was back as A's manager, also telephoned and said, "You're the guy we need to win the pennant."52
However, Green was able to start just 95 regular-season games in 1974. In the fourth game of the season, he hurt the arch of his right foot while turning a double play, and he wound up missing nearly all of April and May. He spent another stretch on the DL in July. His hitting tailed off to .213-2-22 in 287 at-bats.
Yet again, however, Oakland relied on Green when October came. He started all four games as the A's swept Baltimore in the ALCS and all five in the World Series against the Dodgers. He went just 2-for-9 against the Orioles and was hitless in 13 trips versus Los Angeles, yet he won the Babe Ruth Award as most valuable player in the postseason. In Game Three of the Series, he started three double plays, including a crucial one in the eighth when the Dodgers were threatening. He was perfectly positioned to grab Steve Garvey's liner and double Jimmy Wynn off first base. The savvy vet said, "We studied the scout report two days before the Series started and our pitchers can hit the spots, so you know where you should play."53 Then in the eighth inning of Game Five, he choked off another Dodger rally by nailing Bill Buckner at third base with a perfect relay throw.
"That was one helluva throw he made," said A's captain Sal Bando. "That, in my mind, was the biggest play of the Series, even bigger than all those double plays Greenie took part in." Charles O. Finley said, "No one deserved the [World Series] Most Valuable Player award more than Green." Reggie Jackson added, "In my mind Dick Green was responsible for our winning. … the Little General is our big man." Green himself said simply, "I'm just a fringe ballplayer on a great team, and a lot of other things happen, and I can sit back and enjoy it."54
That offseason he also said with a laugh, "I got more recognition in that World Series than I got in all of the last 15 years." The bigger topic, though, was the perennial talk of retirement. Green told Ron Bergman that in the past he got "itchy feet and maybe a little more money" when spring training came around – but this time he said, "I'm just not going to come back. … I've had enough. I'm done." He had a beautiful home and the moving business was booming, but a big factor for Green was the loss of Catfish Hunter to free agency. He thought the A's couldn't win without the ace pitcher.55
To reflect losing a potential World Series share, Green made what appears to be a largely symbolic request for a salary hike of $20,000, to $80,000. "I'm asking for more than I'm worth," he said.56 In early March, the A's released Green – he hadn't bothered to send in the formal retirement letter.
Dick Williams, who had become the Angels' manager in mid-1974, went so far as to say the A's would miss Green more than Hunter in the long term. Williams called Green the stabilizer in the infield and was another of those who thought the second baseman deserved to be MVP of the 1974 World Series.57 In 2002 Green echoed a common sentiment toward Williams, stating, "I played for 11-12 managers, and as far as liking managers, he was near the bottom of that list, maybe at the very bottom. But he was the smartest baseball man I played for."58
Ever after quitting, Green remained in Rapid City, cherishing the quiet lifestyle. He married Cecelia "Lia" Meirose on August 19, 1982. They did not have any children. As of 2013, Dick was the grandfather of three. He stayed involved with the moving business until 1997, when he sold out to his partner and retired. "I love fishing, traveling, hunting, and a little golf," he said in 2008. "I hate public speaking. … I don't even answer the phone."59
Lia Green made her career in the radio business, rising to become president of New Rushmore Radio in Rapid City. Darrell Shoemaker, who wrote about the Basin League in a series of articles for the Rapid City Journal in 2003, said, "On any given day you can walk into the radio station where Lia is general manager and find Dick chatting and sitting behind the front desk handing out radio prizes to listeners."60
Green also liked to take part in team reunions; in 2013 he added, "I talk to Joe Rudi now and then." When asked about his favorite career memories, his answer was simple: "The World Series."
Sources
Thanks to Dick Green for his input (handwritten responses on draft copy, mailed August 20, 2013), Lia Green, and Darrell Shoemaker. Continued thanks to Ted Kubiak.
Internet resources
baseball-reference.com
retrosheet.org
comc.com (online sports card market with repository of images)
Dick Green page at South Dakota Sports Hall of Fame website (sdshof.com/inductees/dick-green/)
Basin League history by SABR member David Trombley (usfamily.net/web/trombleyd/BasinMenu.htm)
Notes
1 "Like grass, A's Green sprouts for 8th year," Newspaper Enterprise Association, April 9, 1972.
2 E-mail, Ted Kubiak to Rory Costello, July 20, 2013.
3 The Sporting News, September 24, 1966, 16.
4 Darrell Shoemaker, "Hills players filled Basin League lineups," Rapid City (South Dakota) Journal, August 18, 2003.
5 Tom Brokaw, What Baseball Means to Me (Curt Smith, editor) (New York: Hachette Brook Group, 2002). The Yankton High School 1956 yearbook shows them in the same photo.
6 Darrell Shoemaker, "Opportunity knocked; not everyone answered," Rapid City Journal, August 18, 2003.
7 Jim Scott, "Green Is Making A's Rivals See Red," The Sporting News, May 24, 1969, 7.
8 Scott, "Green Is Making A's Rivals See Red."
9 "Green Sharpens Batting Eye After Making Mark In Field," Lewiston (Idaho) Morning Tribune, April 27, 1961, 10.
10 Mike Carroll, "Green to throw first pitch at Pheasants game Saturday," Huron (South Dakota) Plainsman, May 5, 2010. Originally published in 2008.
11 Shoemaker, "Opportunity knocked; not everyone answered."
12 Shoemaker, "Opportunity knocked; not everyone answered."
13 Scott, "Green Is Making A's Rivals See Red."
14 Jack Slayton, "Tribe Triumphs; Saints Here Tonight," Lakeland (Florida) Ledger, August 5, 1960, 5.
15 "Green Sharpens Batting Eye After Making Mark In Field."
16 "Green Sharpens Batting Eye After Making Mark In Field."
17 The Sporting News, June 9, 1962, 47. "Green's Fracture Dukes' Break?," The Sporting News, July 21, 1962, 39.
18 Edgar Munzel, "Dodger Whiz Rated Best of Florida Crop," The Sporting News, April 13, 1963, 5.
19 Joe McGuff, "Spring Surprise – A's Show Off Trio of Snazzy Rookies," The Sporting News, April 13, 1963.
20 McGuff, "Spring Surprise – A's Show Off Trio of Snazzy Rookies."
21 Joe McGuff, "If Dick Green Stumbles, A's Face a Crisis," The Sporting News, March 21, 1964, 23.
22 McGuff, "If Dick Green Stumbles, A's Face a Crisis."
23 Joe McGuff, A's Will Scan Trading Lists for HR Belter," The Sporting News, September 28, 1963, 6.
24 Joe McGuff, "Rookie Green Leading Candidate to Plug Kaycee Gap at Keystone," The Sporting News, November 30, 1963, 18.
25 Joe McGuff, "Three Flashy Rookies Splash A's Picture with Brighter Hue," The Sporting News, April 25, 1964, 27.
26 Joe McGuff, "Rivals Envy A's – Green Makes Flashy Plays as Keystone Kid," The Sporting News, June 20, 1964, 7.
27 Joe McGuff, "Gambler Green Robs Sluggers by Playing Deep at Keystone," The Sporting News, August 29, 1964, 18.
28 "Trio Helped Dick Win Spurs," The Sporting News, March 19, 1966, 5.
29 Joe McGuff, "Dick Green: K.C. Keystone Emerald," The Sporting News, March 19, 1966, 5.
30 Scott, "Green Is Making A's Rivals See Red."
31 McGuff, "Dick Green: K.C. Keystone Emerald."
32 "Dick Green Captain of Kansas City A's," Chicago Tribune, May 31, 1966, C3.
33 Scott, "Green Is Making A's Rivals See Red."
34 "Like grass, A's Green sprouts for 8th year."
35 Ira Berkow, "A's Dick Green Almost Settled for Lunch Pail," Newspaper Enterprise Association, May 31, 1969.
36 Scott, "Green Is Making A's Rivals See Red."
37 Berkow, "A's Dick Green Almost Settled for Lunch Pail."
38 Scott, "Green Is Making A's Rivals See Red."
39 Ron Bergman, "Up, Down … A's Shuttling Chattels Like Chessmen," The Sporting News, August 30, 1969, 16.
40 Ron Bergman, "Donaldson Blue as Green Takes Job," The Sporting News, July 25, 1970, 11.
41 "A's Green Retires," The Sporting News, February 20, 1971, 47.
42 Ron Bergman, "A's Feared Mailed Fist, But Got Velvet Glove From Williams," The Sporting News, March 6, 1971, 38.
43 Ron Bergman, "Green's Glove One of A's Shattering Weapons," The Sporting News, September 25, 1971, 5.
44 Ron Bergman, "Bitter Vida Unloads a Tirade at Finley," The Sporting News, May 20, 1972, 21.
45 Ron Bergman, "Green Has Disc Removed; May Return in September," The Sporting News, June 3, 1972, 25.
46 Ron Bergman, "Green Right at Home as A's Moving Man," The Sporting News, November 25, 1972.
47 Bruce Markusen, "A baseball card mystery: Who's sliding into Dick Green?," The Hardball Times, January 1, 2013.
48 Bergman, "Green Right at Home as A's Moving Man."
49 Ron Bergman, "'Smooth' Awaiting A's Call To Cover Green's Pasture," The Sporting News, May 5, 1973.
50 "Over Early," The Sporting News, November 3, 1973, 7.
51 Ron Bergman, "Finley to Try Green-Edged Charm on Balky Keystoner," The Sporting News, January 5, 1974.
52 "Green a Hitless Wonder," United Press International, October 18, 1974.
53 Lowell Reidenbaugh, "Accurate Scouting Reports Help A's to 2-1 Advantage," The Sporting News, November 2, 1974, 9.
54 "Green a Hitless Wonder."
55 Ron Bergman, "'A's Cannot Repeat,' So Green Retires Again, The Sporting News, January 11, 1975, 31.
56 Ron Bergman, "Finley Clear-Cut Winner Over His Angry A's," The Sporting News, March 15, 1975, 37.
57 Ron Bergman, "A's Bold Forecast – 'We'll Win It Without Catfish," The Sporting News, April 19, 1975, 5.
58 Glenn Dickey, "Saluting Finley's champs," San Francisco Chronicle, July 14, 2002.
59 Carroll, "Green to throw first pitch at Pheasants game Saturday."
60 E-mail from Darrell Shoemaker to Rory Costello, August 30, 2013. Shoemaker, who became a top staffer for Tim Johnson, US senator from South Dakota, added, "I was 12 years old when Dick Green gave a bunch of Boy Scouts, myself included, autographed baseballs signed by the World Series champions."
Born
April 21, 1941 at Sioux City, IA (USA)
If you can help us improve this player's biography, contact us.
http://sabr.org/sites/default/files/DickGreen.JPG
600
800
admin
/wp-content/uploads/2020/02/sabr_logo.png
admin
2012-01-04 20:40:12
2020-10-27 10:05:47
Dick Green