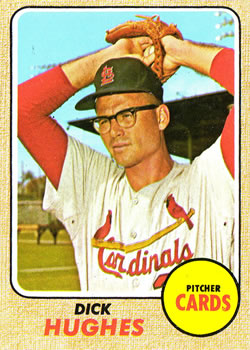 ---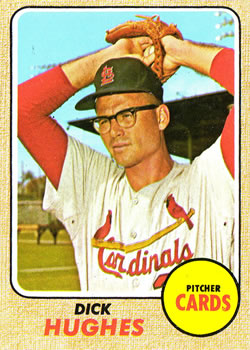 Dick Hughes had a memorable rookie season in the big leagues in 1967. He led the world champion St. Louis Cardinals with 16 wins, while losing just 6 and posting a 2.67 ERA. At age 29, Hughes was runner-up to Tom Seaver for 1967 National League Rookie of the Year honors.
The bespectacled right-hander, who stood 6-foot-3 and weighed 195 pounds, was also superb for the 1966-67 Santurce Crabbers, champions of the Puerto Rican Winter League. His faith, perseverance, and determination helped him conquer wildness. He reached the majors in September 1966 after nine minor-league seasons and winter ball in Puerto Rico and the Dominican Republic. Hughes' favorite manager was Vern Benson, a father figure to him. Red Schoendienst and Earl Weaver took the silver and bronze medals.
Alas, Hughes' career was cut short by a torn rotator cuff in the spring of 1968. He pitched just 63 2/3 innings for St. Louis that year, and his playing career ended after 1969.
Richard Henry Hughes was born in Stephens, Arkansas, on February 13, 1938. He was the oldest child of Alvin Richard Hughes and Odell Hughes, preceding siblings Bill and Linda. Alvin Hughes worked for the Tennessee Valley Authority in 1940. After serving in the U.S. Navy in World War II, he had a long post-war career with Southwestern Electric Company, covering Arkansas, Louisiana, and East Texas. Odell Hughes (née Mobley) was an excellent basketball player, as was her spouse. Odell's mother had built a house in nearby El Dorado, where Dick Hughes lived during World War II. His grandparents tended to him during the war years.
The Hughes family moved to Shreveport, Louisiana (about 95 miles southwest of El Dorado) in 1946. Dick Hughes followed Bob Feller and other pitchers on the 1948 Cleveland Indians, including Gene Bearden, born in Lexa, Arkansas, plus Johnny Sain of the Boston Braves, a native of Havana, Arkansas. The 10-year-old Hughes had visions of pitching in the big leagues.
Hughes enjoyed playing football and baseball as a child, but noted, "I gave up football in junior high school when I started wearing glasses." J.D. Cox, an algebra teacher and Hughes' baseball coach at Shreveport's Byrd High School, also wore glasses. Cox coached Byrd's baseball team from 1944 to 1960, including the 1956 Louisiana Class AAA high school champions, with Hughes on the mound. Two of Cox's players made it to the majors: lefty hurler Seth Morehead and righty Hughes.1
Fred Hahn, a St. Louis Cardinals scout2, got Hughes a scholarship to the University of Arkansas, after Hughes performed well at a tryout camp in Magnolia, Arkansas. Hughes did not play his freshman year (1957); he just pitched batting practice. Arkansas was primarily a football school but was not in the Southeastern Conference back then. As a sophomore, Hughes mostly pitched tournament games in Louisiana, Mississippi, and Arkansas. There was a near-fatal road accident south of Fort Smith, Arkansas, between 3 and 4 A.M. after one tournament. As Hughes recalled, coach Bill "Groundhog" Ferrell, at the wheel of the team bus, "kept us alive — he took the steering wheel and bent it." Ferrell, Head Athletic Trainer at the University of Arkansas from 1950 to 1967, was also an English professor.
Hughes played semipro ball in Bernice, Louisiana between his freshman and sophomore years at Arkansas. Hahn then signed him at a 1958 tryout camp held in St. Louis. "The Cardinals wanted me to come," Hughes remembered in 2012. "I had never flown before, so I went on the train to St. Louis from Shreveport, where I was living." Hughes became a member of the Cardinals organization in July 1958, after he "struck out every guy that I faced" at the tryout. Of his bonus, he said, "it wasn't anything like you could make nowadays."3
Hughes' first pro team was the 1958 Keokuk Cardinals of the Class D Midwest League. His first start for Keokuk came against the Iowa State Penitentiary team — Hughes wasn't sure if he should strike them out or let them get hits. In three weeks there, he got into four regular league games, pitching 11 innings and going 1-1 with a 6.55 ERA. First baseman Fred Whitfield was the team's power hitter and Hughes' roommate in the Cardinals' minor league system for a time. Fellow pitcher Jack Hamilton drove the team bus.
Then came the Winnipeg Goldeyes in the Class C Northern League. Hughes started three games for them in 1958 (0-2, 2.65) with 17 walks in 17 innings. Al Unser, the Winnipeg manager, also managed Hughes with the 1959 Winston-Salem Red Birds, Class B. Hughes pitched seven games, going 1-2, 5.14 and issuing 17 walks in 21 innings, prior to pitching for Winnipeg again in 1959. Hughes befriended pitcher Gordie Richardson in Winston-Salem, the beginning of a friendship which continues.
Hughes got a ring as the 1959 Winnipeg club won the Northern League (80-41) under Chase Riddle. Hughes was used exclusively as a starter, completing eight of his 19 starts. His 10-3 record helped Winnipeg reach the postseason, including a one-game playoff win over Fargo-Moorhead, followed by a two games-to-one triumph in the finals over Aberdeen, managed by Earl Weaver. "When I was in the minor leagues, Earl managed Elmira, Rochester, and Aberdeen," recalled Hughes. "Steve Dalkowski really threw hard, with Aberdeen, but was wild."
Vern Benson managed the 1960 Tulsa Oilers, champions of the Class AA Texas League. Hughes (10-8, 3.71 ERA, 25 starts) developed a friendship with hurler Craig Anderson, one of his Tulsa teammates, and appreciated the presence of Gordie Richardson on this club. Hughes led the team with 189 innings pitched and strikeouts (166), but walked 131. The 76-68 Oilers defeated San Antonio (three games to one) and then swept Victoria in three straight, to cap the 1960 season for Benson's squad.
Hughes' next stop was Triple A, with the 1961 Portland Beavers. He was again under Benson, until Benson was promoted to be a coach for St. Louis. Hughes said that his season took "a turn for the worse" after Benson was replaced as Portland's manager by Ray Katt. "I was wild and everything else," stated Hughes. "I came apart at the seams."4 Hughes went 8-14, 4.78 in 29 starts. In 192 innings, he struck out 139 but walked 130. Craig Anderson was Hughes' best friend on the Portland team, a club which also featured 55-year old Satchel Paige for 19 days. Hughes viewed it as an effort by the team owners to make some more money.
St. Louis sent Hughes to the Dominican Republic to pitch for the Licey Tigers in the fall of 1961. Hughes noted that fans called Licey teammate Willie Davis "El Lobo Negro" (The Black Wolf). However, the season ended after just 18 games because of political unrest (dictator Rafael Trujillo had been assassinated earlier that year). "We were [staying] in the Embajador Hotel," Hughes recalled, and there were [worker] strikes, fire bombings going off…we just stayed in the hotel." Hughes did his U.S. military service duties during the offseason in the early 1960s with Gordie Richardson and Craig Anderson. He stayed at Anderson's Washington, D.C. home, while he performed transportation assignments at Fort Eustis, Virginia.
As the 1962 minor-league season started, Hughes was with the Atlanta Crackers. His batterymate was Tim McCarver. In Atlanta, Hughes roomed with another righty pitcher, Harry "The Flame Thrower" Fanok. "We both played guitar," said Fanok in 2007, "so we got along fine." Fanok added that they invited Fred Whitfield and his wife to join their house after Whitfield got sent down to the Crackers. Fanok said, "Now we had three guitar players!"5
However, Hughes was demoted to Tulsa after 10 relief appearances. Though he had struck out 17 in 17 innings, his ERA was 6.88. Hughes' hitting — .364, 12-for-33 — was better than his pitching for Tulsa: 6-5, 3.45 ERA, 57 strikeouts to 51 walks, in 99 innings. Gordie Richardson was the staff ace for the 77-63 Oilers, winners of the Texas League after posting post-series wins over Albuquerque (three games to none) and Austin (three games to one). "I still have my minor league championship rings," said Hughes. "Our [Tulsa] manager was Whitey Kurowski, the 'White Rat.'"
In 1963 Hughes was loaned to the York White Roses, a Class AA Eastern League team of the Washington Senators after two starts with Atlanta. He posted a fine season for York: 11-5, 2.17, with markedly improved control. Along with 142 strikeouts in 137 innings, he walked just 46. In his 22 games, he made 17 starts, recording 11 complete games and four shutouts. This was a reason Hughes earned a second stint in the Dominican Republic, for the 1963-64 Licey Tigers — managed by Vern Benson.
Hughes was 5-7 for Licey, which finished 29-29, but his ERA was a solid 3.29 and he led the league in starts (17). He pitched 106.2 innings, fanned 95 and walked 44. Hughes recalled the plane trips to Caracas and Maracaibo for home-and-home series with Venezuelan League clubs. Ted Davidson, a future teammate in Puerto Rico, also pitched for Licey. After the regular season, Hughes returned to Arkansas and married Anne Wreyford, on January 26, 1964.
For the postseason, Licey's owner revamped and reinforced his team with players from the Puerto Rico Winter League: Fred Talbot, John Boozer, Alan Koch, Rubén Gómez, Tony Oliva and Miguel de la Hoz.6 The Tigers won the league playoffs by overcoming deficits in the semifinals and finals (five straight wins). Hughes did not pitch for Licey in the postseason, which ended after the league finals. The Tigers did not participate in the February 1964 Inter-American Series, hosted by Nicaragua and won by the home country's Cinco Estrellas.
Hughes was quite confident going into spring training, and pleased when St. Louis put him on their 40-man roster. The 1964 Jacksonville Suns, St. Louis's top farm team, were managed by Harry "The Hat" Walker. Hughes was 9-4, 2.92, with 105 strikeouts and 60 walks in 142 innings. He nearly made it to St. Louis in late July, but was hit in the arm with a line drive against Columbus, the very same night of a call-up. His buddy Gordie Richardson was summoned instead. Miguel Cuellar and Barney Schultz were two other 1964 Jacksonville hurlers who also spent time with St. Louis. The 89-62 Suns used 20 pitchers, 18 of whom either had or would eventually get big-league experience. Jacksonville fell short in the playoffs to Rochester, four games to none.
A 27-year old Hughes returned to Jacksonville in 1965, but regressed to 7-8, 3.82 ERA. He started 24 games, relieved nine times, and threw 158 innings. His 109 strikeouts and 65 walks were similar totals versus 1964. Hughes wondered if he would make it to the majors. After 15 innings for the 1966 Tulsa Oilers (1-1, 5.40), he was loaned to the Toledo Mud Hens, a New York Yankees farm club. His teammates included Stan Bahnsen and Bobby Murcer. Hughes could have given up, but impressed manager Loren Babe with marks of 9-4, 2.21, completing seven of 16 starts. He gave up 80 hits in 110 innings, striking out 132 and walking just 31. What brought about his improvement over time? Hughes cited his ability to focus and shut out the outside world while throwing his sliders and cut fastballs.
St. Louis promoted him to the parent team in September 1966, after rosters expanded. Hughes joined the Cardinals in Pittsburgh, winning his debut in relief on September 11. In three innings, he fanned three Pirates, including Roberto Clemente on a ninth-inning slider; he allowed only a walk to Bill Mazeroski. Tim McCarver's two-run hit off Roy Face gave St. Louis a come-from-behind win. "I was so happy," said Hughes. "Felt comfortable on the mound…and I belonged." Two days later, Hughes saved a game for Larry Jaster against Cincinnati. On September 30, he pitched a three-hit shutout against the Chicago Cubs and Ferguson Jenkins at Wrigley Field.
Orlando Cepeda then encouraged Hughes to pitch for the Santurce Crabbers in Puerto Rico. By this time, the Hughes family had grown to three, with the birth of Stephen in Arkansas. The 1966-67 Crabbers had a working agreement with the Baltimore Orioles. Thus, Earl Weaver — then the manager of Baltimore's top affiliate, Rochester — became Santurce's skipper. Larry Haney, Paul Blair, and Dave May reinforced the team as imports, along with Hughes, Darrell Osteen, and reliever Ted Davidson, who came down at Tony Pérez's suggestion.
Anne Hughes recalled that her husband, Blair, and May each chipped in $100 per month to rent a Volkswagen. Anne drove the three to their home games at Hiram Bithorn Stadium, plus all games with arch-rival San Juan Senators, with Stephen seated in the front passenger seat, and the trio sitting in back. Travel to all other away games (to Arecibo, Caguas, Mayagüez, and Ponce) was in a team bus. Dick and Anne also enjoyed the hospitality of teammate Rubén Gómez and his wife Teresa. Hughes greatly enjoyed playing the card game of Hearts with Weaver and others on the team bus. He affectionately called Weaver a "banty rooster" and a "pepper pot."
Hughes performed admirably for the 45-26 Crabbers. In 17 starts, his record was 11-2 with a league-leading 1.79 ERA. In 126 innings, he had 79 strikeouts and only 26 walks. His three shutouts led the pitching staff and were third-best in the league behind Steve Carlton and Nelson Briles, who had five each for Ponce. "I enjoyed the rivalry with [46-25] Ponce; they had two St. Louis pitchers," said Hughes. "Jim Cosman of St. Louis pitched [for Arecibo] that winter."
Hughes posted a win over Arecibo in the semifinals, followed by a 1-1 mark versus Ponce in the finals.7 Anne and Stephen sat in the Santurce owner's box because of loud crowd noise from whistles given to the fans. Paul Blair's three-run homer in Game Six, at Ponce, gave Santurce a 6-3 win, and the league title, February 1, 1967, behind the pitching of Juan Pizarro and Ted Davidson.8 Blair, the hero, enjoyed the bus ride back to Santurce with his Volkswagen buddies, Dave May and Hughes.9
The Cardinals assigned Hughes to the bullpen when 1967 spring training concluded. Bob Gibson, Carlton, Ray Washburn, Al Jackson and Larry Jaster made a formidable starting rotation. Hughes saved a Jaster win on April 14, against the Dodgers, and pitched in relief the rest of the month. His first 1967 start came at Wrigley Field on May 5. It was solid — 6 2/3 innings, three earned runs, eight strikeouts and four walks — but he got a no-decision. Hughes went back to the pen for the next three weeks, until blanking the Atlanta Braves, 5-0, on May 25.
He took Al Jackson's spot in the rotation the rest of the season, starting 25 more games. Jackson was ineffective as a starting pitcher, but valuable in long relief in 1967. In July, Gibson was hit by a Clemente line drive, and Briles replaced him in the starting rotation. When Gibson was hurt, Hughes said, "Collectively, we thought, 'This isn't good.'"10 However, Hughes posted a 7-2 record in the ace's absence, mostly quality starts of six-plus innings, allowing three or fewer runs. He fired his second shutout of the season on August 24 against San Francisco. It featured his RBI single off a Gaylord Perry spitball in a 2-0 win.
Hughes recalled that St. Louis general manager Stan Musial gave him two separate $1,500 raises during the 1967 season, bringing his six-month compensation close to $12,500. "Musial called me in a couple of times," stated Hughes. "He did not like to dicker with players over salaries." This seemed to be the main reason Musial served only one year as the team's GM. Hughes liked manager Red Schoendienst and the team's four coaches: Bob Milliken (bullpen), Billy Muffett (pitching), Joe Schultz (third base), and Dick Sisler (hitting). "Red and his coaches threw the balls and bats out, and let you play," affirmed Hughes. "Muffett was an encourager-type; finer points [were] already given to me…more or less did some normal tweaks. I played for Schultz in the minors; 'Bo' (Bob Milliken's nickname) was a really nice guy; so was Sisler."
After Gibson's pennant-clinching win on September 18, Hughes pitched the next night in Philadelphia against Jim Bunning. "I had a contract with Spalding," he remembered, "and used a Jim Bunning glove." Hughes outpitched Bunning in a 1-0 gem, allowing five hits, with seven strikeouts and a walk.
Hughes finished 1967 at 16-6 with 2.67 ERA, after a superb 3-1 complete-game win over Atlanta on September 30. It was the team's 100th win. Orlando Cepeda, the National League MVP, drove in the final run. Hughes noted the 1967 team's nickname — "El Birdos" — reflected Cepeda's cheerleader influence, but Joe Schultz actually coined the nickname. In addition to leading the team in wins, he also led in innings pitched (222.1), complete games (12), and shutouts (three). He also had the best ratio of walks and hits allowed per inning pitched (WHIP): .954. Twenty-one of his 27 starts were quality starts. Retroactively, he was credited with three saves in his 10 relief appearances. It was on to the 1967 World Series versus Boston.
Hughes started Game Two at Fenway Park on October 5, on his normal four days' rest. He matched zeroes with Jim Lonborg through three innings, until Carl Yastrzemski drilled a long home run to right field in the home fourth. Hughes departed in the sixth inning after allowing an unearned run; it ended at 5-0 for Boston.
Hughes also started Game Six on October 11, at Fenway. A second-inning home run by Rico Petrocelli preceded three more Boston homers in the fourth by Yastrzemski, Reggie Smith, and Petrocelli. The Cardinals got Hughes off the hook with two in the seventh, but Boston promptly scored four in their half of the inning to win 8-4. Yet all was forgotten after Bob Gibson earned his third Series win in Game Seven, 7-2.
Tom Seaver won 1967 National League Rookie of the Year honors with 11 of the 20 writer's votes or points, followed by Hughes with six and Gary Nolan with three. Of interest, Hughes beat out Seaver for the Sporting News 1967 National League Rookie Pitcher of the Year Award.11 At 29, Hughes was the oldest winner in the history of this award. He appreciated the recognition and a special day in his honor in his birthplace, Stephens, in late October. The $8,314.81 World Series winning share was also significant in 1967.12
Hughes sustained his major injury while warming up prior to his final 1968 spring training tune-up. "Something happened" at the end of the warm-ups, throwing at game speed. "My shoulder ached," remembered Hughes, and "I was given a [cortisone] shot." Hughes pitched five innings after alerting trainer Bob Bauman that something was wrong. X-rays later showed he had a torn rotator cuff, an injury doctors could not properly repair in those days. Hughes said it would have been "best in hindsight to shut it down and give it time to heal." He added that he accepted the injury because of his Christian faith. Another source of cheer was that Anne Hughes gave birth to daughter Sherry in St. Louis during 1968.
Hughes pitched in 25 games for the Cardinals that year, starting five of them; he picked up four saves. He got one of his two wins while starting game two of a June 2 doubleheader against the Mets, pitching 7 1/3 with seven strikeouts in a 3-2 win. Several days later, though, the Cardinals placed him on the 21-day disabled list.
Hughes got his 20th and last big-league victory in long relief at Philadelphia on August 21. His final regular season game was on September 28 in St. Louis versus the Houston Astros. He pitched two scoreless innings in relief.13 Despite his sporadic action, Hughes remained on the roster as the 97-65 Cardinals faced off against the Detroit Tigers in the 1968 World Series.
St. Louis won three of the first four contests before losing Games Five through Seven. Hughes pitched briefly in Game Six, allowing RBI singles to Norm Cash and Willie Horton before retiring Jim Northrup on a fly ball to left field. This 13-1 loss preceded Detroit's Game Seven win in St. Louis the next day. The Cardinals' players later received $7,078.71 as their loser's share. Hughes' 1968 salary had doubled to $25,000 when Bing Devine was the team's GM, and the Cardinals had major league baseball's highest payroll.
Hughes was 31 when he pitched in 15 games for the St. Petersburg Cardinals (Class A). In 35 innings, he was 1-2, 2.31. "St. Louis paid me the major league minimum ($10,000) that final season," said Hughes. "I accepted an offer to stay in the St. Louis organization as a pitching coach." Hughes served in that role for the 1970 Class AA Arkansas Travelers, managed by Ken Boyer. Their best pitcher was Al "The Mad Hungarian" Hrabosky. José "Cheo" Cruz, Sr., was the team's best hitter. Ron Willis, Hughes' ex-roommate with St. Louis, was the Travelers' closer. Hughes enjoyed the 1970 season.
After concluding his playing career, Hughes coached minor league pitchers in Sarasota, Florida, for two years, before he took over Fred Hahn's scouting territory of Arkansas, Mississippi, and Tennessee. Scott, Dick and Anne's third child, was born in Arkansas in 1971. Having three children motivated Hughes to leave the scouting profession around 1973 and do animal husbandry — a.k.a. farming — full-time. Hughes bought chicken houses and cattle and farmed until retiring in 2000. He stays active in his church, does community work, and helps the needy. He also finds time to do baseball clinics in Hot Springs.
On May 17, 2017, Hughes attended a pre-game ceremony at Busch Stadium in St. Louis, commemorating the 50th anniversary of the 1967 World Series Champion Cardinals. It preceded a Boston-St. Louis Interleague game. Tim McCarver told Hughes the 1967 Cardinals used 13 pitchers the entire season, and the 2017 Cardinals had that many pitchers on their active roster! Julian Javier alerted Hughes he wanted to keep in touch with him. Orlando Cepeda was there. The 94-year old Red Schoendienst was at the ballpark, after recovering from a heart procedure. Lou Brock, Bob Gibson, and Steve Carlton were also in attendance during this ceremony.
Dick Hughes' greatest baseball memories are pitching for two pennant winners and a World Series champion for St. Louis, along with contributions to minor-league and winter-league championship teams. He is proud of his three children — his sons are engineers and his daughter is a school teacher — and four grandchildren. Dick and Anne Hughes are truly blessed.
Last revised: February 6, 2018
Acknowledgments

Grateful acknowledgment to Dick and Anne Hughes, for memories via phone interviews in July 1992; July 22 and 28, 2017; and August 8, 2017, as well as an in-person chat at the meeting of SABR's Brooks Robinson–George Kell chapter in Little Rock, Arkansas on February 3, 2018. Unless otherwise indicated, all Hughes quotes are from these interviews.
Nico Van Thyn shared insights on baseball history in Shreveport, Louisiana. Ike Futch, ex-pro baseball player from Spearsville, Louisiana, also provided insights. Rory Costello's editing was invaluable. Tito Stevens furnished memories of Santurce celebrating its 1966-67 Puerto Rico Winter League title. Paul Blair (now deceased) conversed with the author at Smith-Wills Stadium, Jackson, Mississippi, July 1994.
This biography was fact-checked by Chris Rainey.
Sources
Online
http://www.arkansasrazorbacks.com
http://www.baseball-almanac.com/ws/wsshares.shtml
http://www.baseballamerica.com
http://coehp.uark.edu/colleague/hhpr/weber-ferrell-scholarship.php
http:/www.dailystatesman.com/story/1857010.html
http://www.i70baseball.com/2010/09/21/cardinals-rookie-hurlers-of-the-past-dick-hughes/
http://nvanthyn.blogspot.com/2015/05/legion-ball-part-2-on-road-to-majors.html
Books
Lloyd Johnson and Miles Wolff (editors), Encyclopedia of Minor League Baseball, Durham, North Carolina: Baseball America, Third Edition, 2007.
Thomas E. Van Hyning, Puerto Rico's Winter League, Jefferson, North Carolina, McFarland Publishers, 1995.
Thomas E. Van Hyning, The Santurce Crabbers, Jefferson, North Carolina, McFarland Publishers, 1999.
Magazine and Newspaper Articles
Bienvenido Rojas, "Licey rebotó 0-3 en 1963-64." Diario Libre, January 25, 2012.
Jorge L. Ortiz. "Stan Musial formed a perfect marriage in St. Louis." USA Today Sports, January 20, 2013.
Joseph Rose. "Vintage Oregon: Nostalgia or wishful thinking? Satchel Paige's 3 weeks as a Portland Beaver." The Oregonian/OregonLive, August 25, 2015.
Rick Hummel. "Brock 'turned it up a notch' and 'Gibson was Gibson' in Cards' magical season." St. Louis Post-Dispatch, May 18, 2017.
Notes
1 Shreveport's Willard Brown was the first African-American player in the American League (1947) and the best Negro Leagues player from that city. Brown had a storied winter league career with the Santurce Crabbers.
2 This Hahn was not the Fred Hahn who pitched in one game for the Cardinals in 1952.
3 Corey Noles, "From the pitching mound to the tractor…The Dick Hughes Story," The Daily Statesman [now The Dexter Statesman], Dexter, Missouri, June 6, 2012.
4 Ibid.
5 Harry Fanok and Rory Costello, "Harry Fanok," SABR BioProject.
6 Postseason winter league reinforcements were called "vultures" by players the author interviewed. Vultures who were starting pitchers could earn $1,500 for a best-of-seven or best-of-nine championship series in the mid-1960s.
7 Hughes' Puerto Rico post-season: three starts, 16.1 innings, 2-1 record, 2.20 ERA, nine strikeouts, three walks.
8 Paul Blair interview with Thomas E. Van Hyning, Smith Wills Stadium, Jackson, Mississippi, July 1994. Blair's three-run homer came off John Boozer, known for throwing spitballs. Blair hit the "dry side" of the baseball.
9 The Santurce team bus went through various Santurce neighborhoods, before reaching Hiram Bithorn Stadium. Tito Stevens, a San Juan Star sportswriter at the time, witnessed this in the early morning of February 2, 1967.
10 Quote provided to Rick Hummel, St. Louis Post-Dispatch, May 17, 2017.
11 This award was given from 1963 to 2003, to American and National League rookie pitchers and players.
12 The winning World Series player share was $43,279.69 for the 1982 St. Louis Cardinals. It was $362,173.04 for the 2006 Cardinals and $323,169.98 for the 2011 Cardinals.
13 Hughes' major- and minor-league career stats are readily available online. However, his winter-ball stats from two complete regular seasons with Licey and Santurce are less accessible: 16-9 won-loss, .640, 2.48 ERA, 36 games, 34 starts, nine complete games, three shutouts, 232.2 innings pitched, 64 earned runs, 174 strikeouts and 70 walks.
Born
February 13, 1938 at Stephens, AR (USA)
If you can help us improve this player's biography, contact us.
https://sabr.org/sites/default/files/HughesDick.jpg
600
800
admin
/wp-content/uploads/2020/02/sabr_logo.png
admin
2017-10-02 13:54:33
2020-04-09 14:40:31
Dick Hughes