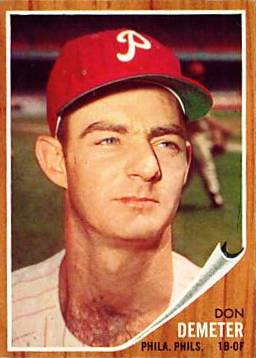 ---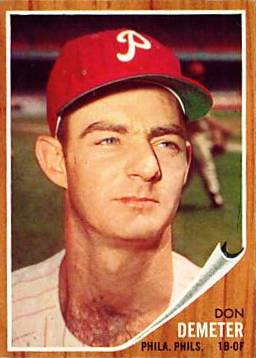 A tall, rangy, 6-feet-4 Don Demeter played major-league baseball for 11 seasons, mostly patrolling the outfield grass, while also spending time at the infield corners. A man of deep abiding faith, he was a member of the Fellowship of Christian Athletes and a pastor in his hometown, Oklahoma City.1 A very highly regarded player during his career, he is largely a forgotten man now. While a member of the 1967 Red Sox for only a few months, he was part of the trade that brought over Gary Bell, a key member of the Impossible Dream.
Donald Lee Demeter was born on June 25, 1935, in Oklahoma City, Oklahoma. Don's father was a painting contractor and his mother a housewife. When he was about 10, the family moved to Denver. A little over a year later, his parents broke up and he was sent to live with his grandparents back in Oklahoma City. His mother remarried to a man from Keene, New Hampshire and Don spent a winter there but soon returned to Oklahoma City where he went through high school. During his high school years, he lived with a foster family, who instilled in him the faith that carried him for the rest of his life. His foster father, George Stevens, was a Sunday School superintendent and chairman of the deacons at a local Baptist church. "I saw their family life," Don recalls, "That's what I wanted for my family. He was a real witness and testimony for me."
Don had an older brother, who became a dentist, as well as both an older and a younger sister. His own interest in baseball began around fifth grade – the first time school had offered organized ball teams. "I was always able to run faster than most of the kids. All the kids had an interest in baseball. There wasn't any television to watch. That's just what we did – we went from baseball to basketball to football." Baseball was his best sport, and from an early age he knew that was what he wanted to do. "It never dawned on me that I wouldn't play in the major leagues. If I'd known the odds…."
That self-confidence served him well. He had an uncle, Leland Enochs, who was very supportive. His mother's brother worked at a local meat packing company but enjoyed taking in ballgames and often took Don along, later coming to see him play while he was on the Capitol Hill High School team in Oklahoma City. There was a Double-A baseball team in Oklahoma City and Don played Y League ball locally. Team members received passes to see the Texas League pro team play, so Don and uncle Leland hit all the games – seeing visiting teams from cities like Fort Worth, Dallas, and Houston. "I became real interested at that point," he says. "I got to watch a guy play that I roomed with in the major leagues. He played for Fort Worth. Don Hoak." When they were both on the Philadelphia Phillies as roommates, the subject came up. "Don didn't believe me but I showed him some old scrapbooks and, sure enough, I'd gotten his autograph when he was playing for Fort Worth and I was in the kids league."
Don was a center fielder, and he had quite a high school team. The team won the state championship both his junior and senior years. A full 11 boys from the school signed pro contracts – nine of them signed with the Brooklyn Dodgers and two with the Yankees. This was during the era that most major-league clubs had extensive farm systems and hundreds of kids in the pipeline. Of the 11 Capitol High players who signed, Don Demeter was the only one to make the major leagues.
It helped that the high school coach, John Pryor, was a birddog scout for the Dodgers, but the man who signed Don was Bert Wells. Ironically, Don was the only boy on the starting high school team who didn't make Oklahoma City's All-City team. "Everyone but the center fielder," he laughs.
Bert Wells of the Brooklyn Dodgers signed him in 1953 for an $800 bonus, and Don began his professional baseball career at the Class-D Sooner State League, playing for the Shawnee Hawks. A mediocre batting average of .223 did not hold the center fielder back, as he moved up to the Class-C Bakersfield Indians in 1954, where he had an excellent season, hitting .267 and swatting 26 home runs.
Demeter continued his quick ascension through the deep Dodgers system. In 1955, a strong two months for Pueblo, Texas, of the Class-A Western League (.262 in 39 games) earned a promotion to Double-A Mobile of the Southern Association, where he clubbed 11 home runs and hit .251 over the second half of the season. Don also played winter ball in Venezuela for two years, following both the 1954 and 1955 seasons. He remembers it as good competition and a privilege to be selected, offering a chance to advance in the Dodgers organization.
In 1956, he was at Fort Worth (Texas League), where his 41 home runs, 128 RBIs, and .287 average proved his was ready for the final step. Don was 21 when the Dodgers called him up to the big leagues that September.
Demeter made his major-league debut for the Dodgers at Ebbets Field on September 18, 1956. He struck out in a pinch-hit appearance that day. "I didn't even take a swing. The next night I got to pinch hit again and the first swing I took, I hit a home run. They put me in the Ebbets Hall of Fame because I have a .500 average in Ebbets Field. I had an at-bat in Pittsburgh. I think I grounded out." Don finished the season going 1-for-3. The Brooklyn Dodgers went on to capture their second consecutive National League crown.
He was re-introduced to a former high-school classmate, Betty Madole, that summer of 1956, and married her a few months later. They were to have two boys, Russ, born in 1959, and Todd, born in 1962, and a daughter Jill, born during the family's stay in Boston.
He spent the entire 1957 season playing for the St. Paul Saints of the American Association, where he hit 28 home runs and sported a solid .309 batting average. It was then that Don's father first saw him play baseball, when St. Paul paid a visit to play Denver.
Don was one of 13 players who were to have been called up by the Dodgers after the minor-league playoffs were over, but when St. Paul was eliminated on September 21, Brooklyn had just five games to play. Demeter never appeared on the parent club during the 1957 season. "I just wasn't ready," he says. He also fit in a stint in the U. S. Army between seasons.
In the off-season, his Dodgers relocated from Brooklyn to Los Angeles. Demeter was a "highly regarded power-hitting outfielder" in the spring of 1958, and began play for the Los Angeles Dodgers after his Army hitch, on April 24, getting his first major-league start a week later on May 1 against the Pirates. He also got involved in team functions, like helping out at the Los Angeles Food Brokers Club luncheon and at various youth clinics sponsored by the team. Don remembers the move: "The guys who had been in Brooklyn – Duke Snider and Carl Erskine and Clem Labine and those guys – really, really hated to move. It was their home away from home, I guess. But they acclimated. They treated us really nice in L.A. People out there welcomed us so much."
However, he was sent back to St. Paul on May 13, just before the Dodgers' first transcontinental trip, so he could get more work in the outfield. He continued to display his versatility by playing left and center field, as well as a little first and third base. He was batting .283 with 14 home runs and 48 RBIs when he was recalled to Los Angeles for good on July 30, 1958, as both Carl Furillo and Duke Snider were ailing. Said his manager, the legendary Walter Alston, of the promising youngster, "Don can give you the long ball and he can also pull pretty good. As for his outfield play, there's nothing I could fault him on. He can play all three spots out there."2 He made his re-appearance on August 5 against the Cardinals, and played regularly for the Dodgers the rest of the year, although he struggled at the plate, hitting only .189, with five home runs.
Demeter really started getting noticed in 1959, when the press began calling him "Dangerous" and "Dazzling" Don Demeter, as well as "Big D." This was especially true after he smacked three two-run home runs, including an inside-the-park home run, in a single game, on April 21, the last one in the bottom of the 11th to beat the Giants, 9-7. One Los Angeles paper even had a contest to give him a nickname. The winning name? "Spee-Demeter."3 He led the Dodgers in RBIs through July, although his inconsistency led to spotty playing time as the year wore on. He did finish the year with a respectable .256 batting average, 18 home runs, and 70 RBIs.
He helped the Dodgers win the National League pennant that year, when they beat the Milwaukee Braves in a two-game playoff. He started the first game of the playoffs, going one for four, and appeared as a pinch-hitter in the second game. The Dodgers went on to capture the World Series title against the Chicago White Sox, with Demeter appearing in all six games, starting three, and going 3-for-12 (.250), while scoring two runs. He later called this his greatest thrill in baseball.
The winter of 1959 had Demeter prominently mentioned in trade talks, especially with Calvin Griffith of the Minnesota Twins. One report had Griffith backing off from a deal when it was rumored that Demeter was going to quit baseball and join the ministry. As it was, Demeter began the 1960 season with the Dodgers, but he fractured his wrist in a collision with Maury Wills on July 3, effectively ending his season. Originally thought to be only a sprain, as early x-rays failed to disclose the fracture, he wasn't called out for the season until the end of August as the injury took longer to heal than expected. He hit .274, with 9 home runs in 168 at-bats for the year.
He also became an excellent golfer, even playing one-handed while his wrist was injured in 1960.
Demeter was once again a central figure in trade rumors over the winter, with the Milwaukee Braves, along with the Detroit Tigers and New York Yankees mentioned as possible landing spots. He opened the 1961 campaign still a Dodger, with high hopes for a successful and healthy season. After struggling at the plate, the Dodgers finally traded him along with third-baseman Charley Smith to the Phillies for hard-throwing reliever Dick "Turk" Farrell and light hitting infielder Joe Koppe. One columnist said the Dodgers had "shucked him off as an inadequate third baseman."4 He was hitting only .172 at the time, with one home run, but he rebounded nicely once with the Phillies, finishing the year at .251 and smacking 20 more home runs. He had the second three-homer game of his career, when he cracked solo, two- and three-run jobs on September 12, driving in a total of seven runs, as the Phillies beat his old team, the Dodgers, and future Hall of Famer Sandy Koufax, 19-10.
He went on to have his finest season as a professional for the 1962 Phillies, hitting .307, with 29 home runs, and knocking in 107 runs while scoring 85. He finished 12th in the MVP voting that year, leading the NL in sacrifice flies, and ranking sixth with a slugging percentage of .520.
He also began an errorless game streak as an outfielder of 266 games in September of 1962. He wasn't to make another error until July 1965 when he was with the Tigers, and it ended in a bizarre fashion during a game in Kansas City. These were the years when owner Charlie Finley kept some mules at the ballpark. Another Finley gimmick was to have some trained dogs on the ground crew. In the fifth inning, they would run out onto the field with a base in their mouth and the crew would change the bases. "I have a line drive hit to me and I scooped it up and I guess the ground crew thought it was the last out and sent the dog on the field. I scooped the ball up and threw it to Dick McAuliffe at shortstop. The dog just shot out there and the ball went through his legs at the same time the dog went through there." The runner advanced a base, and the scorer couldn't charge the dog with the error so it was assigned to Demeter. He is gracious about it: "I know in my own mind there were probably some balls on which I should have been given an error but they didn't." He had completed a total of 449 error-free chances. His string of error-free games by an outfielder stood as the major-league outfielder record until the Giants' Darren Lewis broke it in 1994.
Always a team player, Demeter said he didn't pay attention to his batting average, preferring to emphasize his RBI totals, "That's the important one as far as I'm concerned. Ask anyone. Runs win ball games." He did most of his damage in 1962 while playing third base, stepping in when third baseman Andy Carey refused to play for the Phillies. He played 105 games at third, 63 in the outfield, and even one game at first base. His manager, Gene Mauch, went out of his way to praise Demeter's work ethic, "… he grinds it out every day, with the best disposition in the world. And now he's established himself in three positions – a greater value to himself and any team."5
He traveled to Japan with Bobby Richardson in February of 1963, to spread the gospel, which he called one of the great spiritual experiences of his life. Demeter went on to have another solid season for the fourth-place Phillies in 1963, with a career high of 154 games. Once again, he played the outfield and both corner infield positions. His batting average was just .258, but he cracked 22 home runs and drove in 83 runs.
After being prominently mentioned in trade talks with teams like the Chicago White Sox, on December 5, 1963, the Phillies traded him to Detroit along with Jack Hamilton (who later earned the undying enmity of all Red Sox fans when he beaned Tony Conigliaro during the 1967 season) for pitcher Jim Bunning and journeyman catcher Gus Triandos. Chuck Dressen, the Tigers manager, was pleased to get the more "consistent" Demeter to replace Rocky Colavito, who had been traded to Kansas City the previous month. "Don is a better all-around player than Colavito. He is a better runner and a better fielder."6
Dressen went on with more praise for Demeter. "We simply had to get a top-flight outfielder. Actually, there were only two outfielders we considered. The other was Felipe Alou. I consider him [Demeter] one of the best outfielders in the game today."7 Bunning went on to win 74 games for the Phillies in the next four years, as well as pitching a perfect game (caught by Triandos.)
Demeter had a tough time his first year in Detroit, as his playing time was sporadic. Shirley Povich of the Washington Post chided the Tigers on the trade after Bunning pitched his masterpiece, saying Demeter "has been a bench-warmer much of the season."8 Sid Ziff of the Los Angeles Times called Demeter a "washout and spends much of his time on the Detroit bench."9 His manager continued to support him, though, saying in July after a big series against the Angels "…I'll be surprised if he doesn't have a big year now."10 You could even buy a Don Demeter Rawlings baseball glove, on sale for $18.60. He ended up with very similar numbers to his 1963 campaign – .256 average, 22 home runs, and 80 RBIs, although his at-bats fell from 515 to 441 due to a series of nagging injuries.
Demeter continued to wear his faith proudly as a member of the "Fellowship of Christian Athletes." No less a luminary than Jim Murray of the Los Angeles Times wrote an article on Don's calm attitude and religious convictions. Fans would send him Bibles, which he would autograph with a proverb.11
Going into the 1965 season, the Tigers showed renewed confidence in their centerfielder. "Demeter's hitting looked better than it did in the box score," said interim manager Bob Swift, serving due to Charlie Dressen's heart attack, "because he drove in the tying or go-ahead run in 28 games. He'll be getting a second-year look at American League pitching… and we still like the Demeter-for-Bunning trade."12 Dressen, the recovering manager, said, "What we need is to get good performances … out of Don Demeter, who was hurt a lot."13
He started the campaign strong, hitting .300 after the first couple of weeks. A highlight of the season came on August 12, when he drove in seven runs on a single, triple, and grand slam in an 11-1 thrashing of the Kansas City Athletics. He finished the year hitting .278, but once again declined in at bats, with only 389, home runs (16), and RBIs (58), splitting time between the outfield (82 games, at all three positions mostly in center and right field) and first base (34 games), as the Tigers finished fourth, 13 games behind the league-leading Minnesota Twins.
Demeter began the 1966 season as a fourth outfielder and utilityman, as the Tigers had a logjam in the outfield, with Willie Horton, Mickey Stanley, and Al Kaline envisioned as the starting trio, and Norm Cash holding down first base. He played sporadically, appearing in only 32 games, batting a mere .212 for the Tigers, before being traded to the Red Sox on June 14. He accompanied minor-league reliever Julio Navarro to Boston, as the Tigers got pitcher Earl Wilson and former New York Mets outfielder Joe Christopher, who was assigned to the minor leagues. Haywood Sullivan was glad to get the versatile Demeter, "Although we regret giving up Earl Wilson, we think we have obtained a great outfielder in Demeter who has always hit well at Fenway Park."14 Manager Billy Herman echoed Sullivan's praise when he said, "This gives us a solid outfield. In Demeter, we have a right-handed hitter who can hit the wall in our ballpark."15
However, once again, the trade would prove to be a lopsided one for the team losing Demeter, as Wilson went on to star for the Tigers. One scribe went so far as to describe the trade as "the best deal Detroit has made since it got rid of the Edsel."16 Wilson even hit a grand slam against his former teammates on August 13, 1966, leading the Tigers to 13-1 victory. The trade was linked with Billy Herman's eventual firing as the Red Sox manager late in the season, as Wilson went on to go 18-11 (13-6 as a Tigers hurler) for the season while Demeter played only part time.
Demeter played mostly center field for the Red Sox in 1966, hitting .292 with 9 home runs in 73 games for them. His final statistics for the year were down once again, with only 14 home runs, 41 RBIs, and a .268 batting average. The Red Sox staggered to a ninth-place finish, a half-game ahead of the Yankees, but a whopping 26 games behind the eventual World Champion Baltimore Orioles. He ended the season by undergoing tests for a back ailment, which had contributed to his limited playing time.
Demeter was expected to compete with rookie Reggie Smith (called "the best looking rookie to come since Mickey Mantle") and José Tartabull for playing time in center field in the spring of 1967. He played all three outfield positions, as well as one game at third for the team before being traded on June 4 with Tony Horton to Cleveland for pitcher Gary Bell, who went on to be an important hurler for the pennant winning Red Sox. His most memorable hit for the Impossible Dream team came on May 14 as his second double of the day was the 28th extra-base hit of the day's doubleheader, breaking a 62-year-old AL record for most extra base hits, combined, while the Red Sox swept the Tigers in a doubleheader, 8-5 and 13-9. He was hitting .279 for the Red Sox at the time of the trade, with only one home run and four RBIs.
"I enjoyed playing in Boston. Mr. Yawkey had the club at the time. He was very much a players' owner. Those were enjoyable times for us." Naturally, looking back, there is some disappointment that he wasn't there for the pennant run – but he believes there would probably not have been a pennant run if he'd stayed. "I tell Gary Bell this a lot when I see him at golf tournaments. Had they not traded me and got Gary, I don't think they would have won. Gary won 12 games for them. That's exactly the truth. He helped them far more than I would have." Don adds, "He always shows me his World Series ring and tells me it's mine."
For Cleveland, Demeter continued to play all three outfield positions, as well as one game at third base. But he hit only .207 for the Tribe, with five home runs and 12 RBIs. Two of the homers came in the same game, in a 5-3 loss to the New York Yankees. It would prove to be his final season in the majors, as nagging injuries and a suspect heart led to his retirement the next spring. In his last start, on August 27, he had two hits, including a single in his final at-bat. His last plate appearance in the major leagues came the next day, when he was hit by a pitch as a pinch hitter. He was sold to Detroit on August 31 but the sale was later canceled when a physical uncovered a heart problem, called "a disturbance of the athlete's coronary artery circulation," causing him to sit out the rest of the season.17 It was really an irregular heartbeat, and after he had returned home, Demeter received a better diagnosis. "It turned out it was just a dietary thing. I just needed to learn to eat right. I've had no problems since then. When I went to Cleveland, though, I knew I was just about finished although I was only 31 years of age. I couldn't get to balls that I used to get to. And I don't think I had the desire. Our kids were just about the age where you had to take them out of school and put them in another school, and I wanted stability for them at home. I had thought that if I could play five years in the major leagues, that would be wonderful, and it turned out that I played twice that much."
When he returned home and received the reassuring diagnosis, Detroit indicated they wanted to "buy me back" but he decided it was time to call it a career.
After his baseball career ended, Don went on to become an insurance agent, as well as founding a swimming pool installation company which his son Russ now runs. He appeared in old-timers games for the Dodgers, while continuing to be very involved with his church, where he became pastor. He was named the president of the minor-league Oklahoma City 89ers baseball team in November 1973, though that didn't work out too well; the owner really knew little about running a baseball team. Demeter had an unsuccessful run for the state legislature as a Republican candidate in 1976. In 1999, he was inducted into the Brooklyn Dodgers Hall of Fame.
His younger son, Todd, was a highly sought after high school first baseman, and was drafted by the New York Yankees in the second round. He signed for $208,000 in 1979 after he threatened to go to college. Unfortunately, Todd was stuck in the minors, and never appeared in the major leagues. He went on to work in his father's pool installation business until Hodgkin's Disease tragically struck Todd down in 1996. The Demeters' daughter Jill has four children, two girls and two boys. The boys played high school baseball and Don deemed them very good athletes.
In his later years, Don did some swimming pool sales for his son, but primarily devoted his life to the church. He pastored a small Southern Baptist church in Oklahoma City, the Grace Community Baptist Church, which he helped form a few years ago. Former Yankees pitcher Tom Sturdivant was a member of the church community, and a number of the boys he played high school ball with came to the church as well.
Today, many major-league ballplayers hold chapel on Sunday morning. This is a change, Don notes: "When I was playing, there wasn't really much of that. There was a handful of guys – Bobby Richardson and myself, Dave Wickersham, Dalton Jones, Al Worthington, Albie Pearson – but it wasn't organized like it is now." Don spoke at chapel in Kansas City and in Arlington, Texas. He enjoyed keeping in touch.
Demeter died at the age of 86 on November 29, 2021.
A version of this biography originally appeared in "The 1967 Impossible Dream Red Sox: Pandemonium on the Field" (Rounder Books, 2007), edited by Bill Nowlin and Dan Desrochers.
Sources
In addition to the sources cited in the notes, the author relied on Retrosheet.org, Baseball-Reference.com, baseballlibrary.com, and James C. Hefley's Play Ball. (Zondervan, 1965).
Notes
Born
June 25, 1935 at Oklahoma City, OK (USA)
Died
November 29, 2021 at Oklahoma City, OK (USA)
If you can help us improve this player's biography, contact us.
http://bioproj.sabr.org/bp_ftp/images2/DemeterDon.jpg
600
800
admin
/wp-content/uploads/2020/02/sabr_logo.png
admin
2012-01-04 20:08:33
2022-08-11 23:54:48
Don Demeter