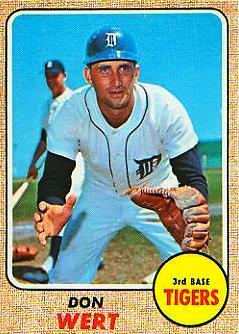 ---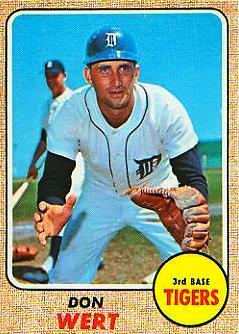 The Detroit Tigers' magic number for clinching the American League pennant had been whittled to one as they entered play on September 17, 1968. A Tigers win or a Baltimore Orioles loss would give Detroit a pennant the city had been waiting 23 years to enjoy. Heading into the ninth inning, the Tigers led the Yankees 1–0 behind Joe Sparma's brilliant pitching performance. However, the Yankees tied it with a run in the top of the ninth and that left it up to the Tigers to stage a rally in their half of the inning in order to secure the World Series berth. The first two hitters were retired, but then Al Kaline drew a walk. Bill Freehan contributed a single to left field, which caused the Yankees to change pitchers. Lindy McDaniel was brought in to face Gates Brown, who drew a base on balls from the Yankees reliever. As Don Wert walked to the plate, 46,000 fans were on their feet in Tiger Stadium waiting for what they hoped would be the celebration that they had been anticipating. Don Wert, the Tigers' steady third baseman, swung and sent the ball safely into right field for a single that scored Kaline and started pandemonium with the fans rushing the field. Don Wert was the hero of the day for the pennant-winning Tigers.
Donald Ralph Wert was born in Strasburg, Pennsylvania, on July 29, 1938, to a family of German descent. Don attended Harmony Elementary School through the eighth grade, then attended Southern Lancaster County (Solanco) Joint High School. He excelled in athletics and academics in high school. Don was a three-sport star, participating in football, basketball, and baseball. He especially excelled in football, where as a 145-pound junior quarterback he led the team to the conference championship and was named the all-league quarterback and the player of the year. Upon graduation from high school in 1956, Don was offered an athletic scholarship to Franklin and Marshall College in Lancaster to play all three sports and work toward a career as a teacher and coach. It was thought he was primarily needed for his skills as a quarterback. As it turned out, he played only football in college. He played for the freshman football team in 1956, serving as halfback and placekicker as well as quarterback.
Because of finances, however, Wert could not attend the school after the first semester. His academic record was good, but Franklin and Marshall's expenses were substantial, even with his scholarship. Looking back, Wert said, "I think I made a bad choice. I should have gone to Millersville State College (a teachers' college also in Lancaster County with lower tuition). I think that I could have met my fees easier even without the scholarship and could have acquired my teaching credits more directly. However, I thought a liberal arts college would afford me better grounding. But I have no regrets now." In February 1958, Wert took a job with the Farm Bureau in Quarryville, Pennsylvania, as a loading and delivery man. The job involved him having to load and deliver 100-pound sacks of feed and grain, and this enabled him to keep his arms and legs in shape.
Wert had not worked there too long before his life took a drastic turn. Ralph DeFranco, a Lancaster native, was the Detroit Tigers' scout for eastern Pennsylvania. He had followed Wert's baseball career since his prep days and had continued to follow it as he played American Legion ball and in the Lancaster City and County leagues. DeFranco, along with chief Tigers scout Ed Katalinas, signed the right-handed-hitting Wert to a contract in early 1958 for $5,000. Wert started out working with Idaho Falls of the Pioneer League and then reported to Lakeland, Florida, for spring training in the Tigers camp. An uneventful camp left him being sent to Valdosta in the Class D Georgia-Florida League to play the 1958 season, in which he hit .284.
During spring training at Lakeland's Tigertown complex in 1959, the Detroit brass attempted to move Wert to shortstop, but he resisted the move and remained at third base. This resistance may have slowed his trek to the big leagues. He was assigned to Durham of the Class B Carolina League for 1959 and finished with a .220 average. At season's end, Don married his high school sweetheart, Marlene Fay Rineer, on October 3, 1959. (They had three children, Scott, Barbara Ann, and Kimberly.) In 1960 he returned Durham, where his batting average rose to .276 and he led the Carolina League with 259 assists.
In 1961, because of his solid 1960 season at Durham, Wert was promoted to Triple A Denver of the American Association. Going from B ball to AAA was quite a jump, and the Denver club was apprehensive when the Tigers asked that Wert be its regular third baseman. As the season progressed, Denver was more than happy to have him on its roster. In Denver, Wert was able to work with manager Wayne Blackburn, who was also Detroit's minor league hitting instructor. "Wayne changed my hitting almost completely, " Don said. "I was throwing my weight forward on my left foot on the swing too fast and too far. He taught me how to keep my weight distributed and in reserve on my right foot, swiveling my weight, as it were. I worked hard at it this and Wayne kept at it with me." The hard work paid off as Wert won the American Association batting title by hitting .328. His glove work was also making people take notice. "He's in the class with guys like George Kell, Kenny Boyer, and Brooks Robinson as a fielder at third base," commented Indianapolis manager Cot Deal after watching Wert come up with nine assists—at least five of them sensational—in a game against Indy in August. It was the second time that season that Wert had accumulated nine assists in a game, one below the league record. After this breakthrough season, Wert began to feel that the major leagues could be within his grasp. Since high school, he had always been known for his fielding, but this was the first time he had experienced this much success at the plate. He attributed his fielding success and his fundamental knowledge of the game to his high school coach, Harold Suder, who mentored him as a pitcher, outfielder, and—Don's favorite position—third base.
And 1962 was another solid year. Wert's batting average fell to .267, but his walks doubled, from 44 to 96. He now had confidence in himself and his abilities, and contributed many clutch hits along with his steady glove work.
In 1963, the Tigers brought in John "Bubba" Phillips from the Cleveland Indians to be their regular third baseman. After Wert couldn't dislodge Phillips in spring training, he went back to the minors, with Syracuse of the International League (the American Association had folded). Wert continued his clutch hitting and steady, if not spectacular, work with the leather at third base; and in May, the Tigers called him up. Don Wert, at 24 years of age, made his major league debut before a crowd of 5,540 on Saturday, May 11, at Tiger Stadium in a game against the Cleveland Indians. The Tigers lost, 6–5 in ten innings to the Indians. Wert got into the game as a pinch-runner and scored in a four-run rally in the bottom of the ninth that tied the score. In the tenth inning, after Cleveland scored twice in the top half, Wert hit an RBI double off Jerry Walker in his first major league at-bat to bring the score to 6–5, as close as the Tigers got that day. He went on to play in 78 games for the Tigers that year. He had 251 at-bats, 31 runs, 65 hits, 6 doubles, 2 triples, 7 home runs, 25 RBI, and a .250 batting average. He played 47 games at third base, but also played second base (21 games) and shortstop (8 games). That year, the Tigers got off to a slow start that eventually cost manager Bob Scheffing his job. He was replaced by former Brooklyn manager Charlie Dressen. The Tigers tied with Cleveland for fifth place at 79–83, 25.5 games behind the Yankees.
The tables turned during spring training in 1964; Wert won the regular third base position, and Phillips was relegated to the backup role. It was Dressen's first full season as manager and he felt Wert's potential for improvement would be better served by his being in the lineup on a regular basis. It was during this spring training that Wert acquired his nickname of "Coyote." Manager Dressen reportedly requested Wert to become more vocal at third base and Don responded with high-pitched chatter that sounded like the yip-yip-yipping of a coyote. Don Demeter is reported to have saddled him with the moniker. Wert played in 148 games for the Tigers in '64, with 525 at-bats, 63 runs, 135 hits, 18 doubles, 5 triples, 9 home runs, 55 RBI, and a .257 batting average. He finished third in the American League with seven sacrifice flies. The team again started the year slowly, but did better toward the end, and had a 20–10 record in August. They finished at 85–77, in fourth place, 14 games behind the pennant-winning Yankees. Wert's solid everyday play put him in the mix for Dressen's plans for 1965 and beyond. Dressen was primarily given credit for giving Wert a chance where others had not. The Tigers' surge during the latter part of the season coincided with Wert's bat warming up. He crushed a three-run homer on September 9 off the Yankees' Whitey Ford into the upper deck at Tiger Stadium, then two nights later he went 4-for-4 with a triple and scored the winning run in the ninth to defeat the Senators. In a span of 19 games, Wert mashed the baseball at a .370 pace and raised his batting average 17 points. Wayne Blackburn, Wert's former manager in the minors and in 1964 a Tigers coach, commented, "I said last year that Wert could make the plays over there like a Brooks Robinson or a Clete Boyer and everybody laughed at me, but they're not laughing anymore."
With Phillips released by the Tigers in February 1965, Wert knew that third base was all his. Dressen spoke highly of his 5-foot-10, 160-pound third sacker by saying, "There isn't a better fielding third baseman in the American League. The little guy makes all the plays that Brooks Robinson and Clete Boyer make." The respect for Wert's defensive prowess was beginning to expand outside the Tigers' organization as well. After the Minnesota Twins watched him make a bevy of remarkable stops and throws in a series at Tiger Stadium, Twins manager Sam Mele said, "I'd like to take him with us." It was believed that Wert's solidifying the third base position led to the overall defensive improvement of the Tigers. He finished 1965 with just 12 errors, strides ahead of the 39 that had been committed by Tiger third basemen in 1962. And although he did make spectacular plays, it was his steadiness on a daily basis that led observers to realize just how valuable he was. Wert became a great friend of the developing Tigers' pitching staff, especially left-handers like Mickey Lolich and Hank Aguirre. Typically the third baseman gets a lot of action at the "hot corner" with lefties on the mound and Wert did not disappoint because he could handle anything hit his direction. Statistically, Wert had the best season of his blossoming career in 1965. He played in all 162 games for the Tigers and had 609 at-bats. He scored 81 runs, had 159 hits, 22 doubles, 2 triples, 12 home runs, 54 RBI, and 73 walks, and batted .261. Defensively, he contributed 163 putouts and 331 assists, and was involved in 33 double plays. Also, his name began to appear in the American League Top Ten for certain categories. He was first in games played, third in at-bats, fourth in times on base, sixth in walks and singles, and ninth in runs and hits. He finished tenth in the AL Most Valuable Player voting for 1965. As a team, the Tigers improved to 89–73 and finished in fourth place, 13 games behind the Twins. They accomplished this despite having to deal with Charlie Dressen's having a heart attack during the season and being temporarily replaced by coach Bob Swift. Dressen had been the one to show confidence in Wert, especially at the start of 1965, and Don had commented: "When Dressen stayed with me, I felt, finally, that I had it made. This is what I needed and I think it made a major leaguer out of me once and for all."
During the off-season, Don went back home to New Providence, Pennsylvania, to work in the sports department of the local Sears-Roebuck store. It was his second off-season working there so that he could establish himself for a possible post-career position with the company. While at home, he received news of being selected Tiger of the Year by the Detroit chapter of the Baseball Writers Association of America. Watson Spoelstra of the Detroit News described Wert by using a quote from Branch Rickey: "Don't ever put it down that the quiet fellow is not smart or resourceful. Vocalization is not the test of courage." Spoelstra said this described Wert perfectly. "He is smart and resourceful without talking about it." Spoelstra wrote. Fans had also taken notice when they proclaimed Don as King Tiger through the fan club voting process for that season. Along with these awards, Wert also was honored by his hometown Lancaster sportswriters and broadcasters. At the time, he was the first position player from Lancaster to make it to the major leagues since the early 1900s.
In January 1966, Wert accepted the Tiger of the Year Award from Detroit baseball writers and spoke with promise for the coming season. He declared, "We can go all the way this year, I really think so." In what turned out to be an ironic counterpoint, Dressen agreed: "We've added enough to a young club to make us a contender. We'll be all right if the Good Lord keeps them all healthy." But the 1966 season was one of adversity for the Tigers. They had three managers during the campaign with two of them eventually dying. In May, Dressen suffered his second heart attack in two years and died in August. After Dressen was hospitalized, coach Bob Swift took over on an interim basis. He led the Tigers on a 19–5 surge in June to close within 1.5 games of first place. But by mid-July, manager Swift was hospitalized with lung cancer and eventually died in October. That left the reins to coach Frank Skaff, and under him, the team finished 88–74 in third place, ten games behind the winning Orioles. Skaff had been the third-base coach before taking over the team and had a good relationship with Wert, having coached him in the minors at Durham and Denver. Of Wert, Skaff said, "He has all the equipment to be one of the top third baseman in baseball. The esteem of his mates and his election as Tiger of the Year ought to provide the spark to stardom." Wert played in 150 games in 1966 and had 559 at-bats. He scored 56 runs and had 150 hits, 20 doubles, 2 triples, 11 home runs, 70 RBI, and a .268 average, the latter two numbers career high. In the field, he had 128 putouts and 253 assists and committed only 11 errors for a fielding average of .972.
In 1967, the Tigers came oh-so-close to reaching the World Series. Under new manager Mayo Smith, they finished 91–71, tied for second with the Twins, one game behind the Boston Red Sox. Wert started the season slowly, hitting only .200 after the first 35 games. Along with batting coach Wally Moses, he determined that he was restricting his swing by leaning too much at the plate. With a changed stance, Wert hit nearly .300 over the next 35 games, even though many of his well-struck balls were finding their way into opposing fielders' mitts. "You can't feel too bad about it when you hit the ball hard," Wert said. "You tell yourself, 'Things even up and maybe I'll get my share of bloops.'" The new manager thought highly of Wert's capabilities as a hitter by using him in the leadoff, second, and third spots on occasion. Wert had his share of key hits during the season. They included a double on May 21 that was the last hit off the Yankees' Whitey Ford—as Ford left the game with arm trouble and never returned to competition—and a fourth-inning, game-winning double on June 6 against Kansas City Athletics pitcher Blue Moon Odom after Bill Freehan had been intentionally walked. Wert ended up playing in 142 games with 534 at-bats. He scored 60 runs and had 137 hits, 23 doubles, 2 triples, 6 home runs, 40 RBI, and a batting average of .257. He had 112 putouts, 280 assists, only 9 errors while at third base for a fielding average of .978. Wert had some unforeseen competition when Eddie Mathews was picked up from Houston for an added boost during the pennant drive. Mathews ended up playing 21 games at third base for the Tigers. General Manager Jim Campbell and Mayo Smith were concerned by Wert's added weight, which may have contributed to a couple of leg injuries during the season, prompting the acquisition of Mathews. Coming into the season, Wert's weight had increased to about 180 pounds after he quit smoking because of a respiratory infection the season before. But Wert changed his eating habits and had his weight down to the 168 pounds that manager Smith has requested for him before the off-season.
Wert had a new streamlined look as he prepared for 1968. His third-base competition, Mathews, was moved to compete with Norm Cash at first base. As an example of Wert's rediscovered quickness, during a Grapefruit League game against Oakland, he dove to stop a smash off the bat of speedster Bert Campaneris and jumped to his feet to make the throw for the out. "Wert didn't have that kind of quickness last year," said Mayo Smith. "I don't think he could have gotten up to make the throw." Don was excited about the prospects of the new season, saying, "We've got a heck of a chance to win the pennant. We know we need a good start. I can help by doing something with the bat in the early months." Wert added, "A strong first half would help my All-Star chances. I'd like to make the All-Star Game some year. The guys in our league are honest about voting for players who do well early in the year." Up to this point, Wert's All-Star aspirations had been usually dimmed because he played the same position as Brooks Robinson. They were considered to be equals with the glove, but Robinson was seen as being the better batsman.
The Tigers got off to a good start and by May 10 had assumed the lead for keeps. Detroit finished at 103–59, twelve games ahead of Baltimore. But Wert's batting average plunged to a career-low .200. He played in 150 games with 536 at-bats. He scored 44 runs and had 107 hits, 15 doubles, 1 triple, 12 home runs, and 37 RBI. He committed 15 errors while registering 142 putouts and 284 assists. His fielding average was .966. His poor offensive figures may have been a result of his being hit in the head on June 24 by a pitch from Indians sidearmer Hal Kurtz in Cleveland. The pitch shattered his batting helmet. He was carried off the field on a stretcher and spend two nights in the hospital. He was out of the lineup for a week and when he returned, he had added a protective earflap to his batting helmet. "I had no bad headaches," he said, "but I had a numb feeling above my left ear for several days." Over the rest of the season, Wert batted a paltry .179. Despite the injury, he attained one of his career goals by being selected to join teammates Bill Freehan, Denny McLain, and Willie Horton and manager Mayo Smith as members of the American League All-Star team. The game, at the Astrodome in Houston, was the first All-Star Game to be played indoors on artificial turf. As the National League won, 1–0, Wert batted once and doubled off Tom Seaver of the New York Mets for one of only three hits by the AL.
Going into the World Series, the Tigers were the decided underdog against the defending champion St. Louis Cardinals. In Game 1, on October 2 at Busch Stadium in St. Louis, the Cardinals won easily, 4–0, defeating the Tigers' 31 game winner Denny McLain. Bob Gibson struck out 17 Tigers and gave up only five hits. Wert had one of them, a single, going 1-for-2. The next day in St. Louis, Detroit rebounded and walloped the Cardinals, 8–1 behind the six-hit, nine-strikeout performance of Mickey Lolich. Wert went 0-for-2, but contributed an RBI. The series resumed in Detroit and the Cardinals pounded out 13 hits in defeating Detroit, 7–3. Wert went 0-for-4. In what seemed a pivotal Game 4, the Redbirds looked like champions in hammering out 13 hits in a 10–1 triumph. Gibson was once again magnificent, striking out 10 and giving up only five hits. Eddie Mathews assumed Wert's third-base duties in this game and went 1-for-2 against Gibson. Down three games to one, the Tigers came out clawing in Game 5 and eked out a close win, 5–3, a complete-game victory for Lolich. Wert was 0-for-3. The Series shifted back to St. Louis for Game 6 and it proved to be all Tigers as they won going away, 13–1. McLain got the victory. Wert went 0-for-3 but scored a run after getting hit by a pitch. At this point, Wert was a disappointing 1-for-14 going into the deciding game, in which Lolich faced Gibson, both looking for their third win of the Series. The Tigers' Jim Northrup hit a triple in the seventh inning that broke open a scoreless game. Curt Flood, the Cardinals' center fielder, appeared to have a bead on it, but slipped, and the ball fell safely. Wert contributed by driving in pinch-runner Dick Tracewski with a single in the ninth to add an insurance run for the Tigers. With a 4–0 lead, Lolich allowed only a Mike Shannon home run in the ninth inning. Wert played in six games and went 2-for-17 with six walks. Both of his hits were off Gibson. He had two RBI. Although his batting average was only .118, his on-base percentage was .375.
During the off-season, there was concern over Wert's lack of hitting late in the 1968 campaign. Coming up on the age of 31, it wasn't a certainty he would be the regular third baseman in 1969. Wally Moses, the hitting coach, intended to concentrate on Wert in spring training. But after having a good spring training, Wert had problems at the plate once the season started. The Tigers, thinking something might be wrong physically, ordered some medical tests, which found no problems. Wert hit nearly .300 for a midseason stretch, but wound up hitting only .225, with 423 at-bats in 132 games. But he did hit a career-high 14 home runs. His fielding didn't suffer, but the frustration at the plate led Wert to commit himself and his family to staying in Detroit in the off-season instead of going back to New Providence. The Tigers finished the 1969 season in second place in the American League East Division in 1969 with a respectable record of 90–72, but still 19 games behind the Orioles.
Don had a battle on his hands to keep his position in 1970. As the season started, he said confidently, "The job's mine until somebody takes it away," and his competitive fire pleased manager Mayo Smith. Wert's chief competition was from veteran Dalton Jones, acquired from the Red Sox in the off-season, and promising rookie Elliott Maddox, who had been a phenom at the University of Michigan. As the season progressed, Wert's playing time shrank to 117 games, with Maddox playing in 41 games and Jones in 18 at third base. Wert hit .218, with just 79 hits in 363 at-bats. His home run total dropped to six with only 33 RBI. His 14 errors gave him a fielding percentage of .953 at third base, the lowest of his career. The team struggled to a fourth-place finish out of six teams in their division. The Tigers were 79–83, 29 games behind front-running Baltimore. The poor showing cost Mayo Smith his job at the end of the season; he was replaced by Billy Martin. On October 9, 1970, Wert was involved in an eight-player trade between the Tigers and Senators. The Tigers sent Elliott Maddox, Norm McRae, Denny McLain, and Wert to the Senators for Jim Hannan, Joe Coleman, Aurelio Rodriguez, and Ed Brinkman.
The trade spurred Wert on as the 1971 season approached. He said he was "rather excited to play for Mr. [Ted] Williams," the Nats' manager. But things did not go as expected. On March 21, in spring training, Wert was injured in a collision at second base and was hospitalized with a back injury. He began the season on the disabled list. When he returned, he fared poorly. He got into 20 games, only 15 in the field. He had only two hits in 40 at-bats for an .050 average with one double and two RBI. His final appearance with the Senators was on June 11. The Senators released him on June 24. He was 32, and his career in professional baseball was over.
Don returned to his native eastern Pennsylvania. He became involved in farming and business; at one point he was associated full-time with the Jay Advertising Co. of Ronks, Pennsylvania. In 1976, he took a part-time coaching position with the Franklin and Marshall College. His mentoring skills were acknowledged in a recent article in Franklin and Marshall Magazine, in which Donnie Marsh, a 1979 graduate, said, "My coaches—Glenn Robinson and Bill Fry in basketball, and Ken Twiford and Don Wert in baseball—helped a guy who had never been away from home to grow up and become a leader in a very tough, very competitive environment." As the 1968 club's 40th anniversary neared, Wert continues to live in eastern Pennsylvania.
Sources
National Baseball Hall of Fame Biographies
Sullivan, George, and David Cataneo. Detroit Tigers: The Complete Record of Detroit Tigers Baseball. New York: Collier. 1985.
The Sporting News
Christian Science Monitor
Total Baseball
www.answers.com
www.baseball-almanac.com
www.baseball-reference.com
www.wikipedia.org
www.thebaseballcube.com
www.tigerscentral.com
Note
This article originally appeared in the book Sock It To 'Em Tigers–The Incredible Story of the 1968 Detroit Tigers, published by Maple Street Press in 2008.
Photo Credit
The Topps Company
Born
July 29, 1938 at Strasburg, PA (USA)
If you can help us improve this player's biography, contact us.
http://bioproj.sabr.org/bp_ftp/images3/WertDon.jpg
600
800
admin
/wp-content/uploads/2020/02/sabr_logo.png
admin
2012-01-04 20:25:41
2012-01-04 20:25:41
Don Wert