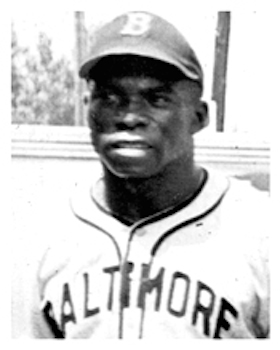 ---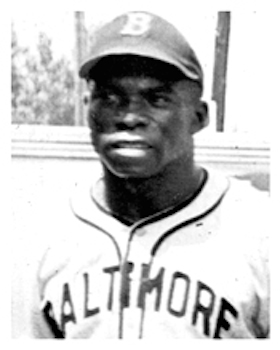 Henry Kimbro was a stocky speedster who earned his living slap-hitting baseballs between third base and shortstop or into the outfield gaps. He served as the lead-off hitter for the Negro League Baltimore Elite Giants for 13 of his 18 seasons in the Negro Leagues. Kimbro was not known for power, but his 5-foot-8 and 175- pound frame could generate quite a punch when he chose. He is one of the few players to ever launch a home run over the roof of Briggs Stadium in Detroit. A fine defensive outfielder, he started in five East-West games from 1941 to 1947 and was a late sub in another. He added three more appearances in the 1950s when the Negro Leagues were losing their luster.
Henry Allen Kimbro was born on February 10, 1912, in Nashville, Tennessee. He was the fifth child born to Will and Sallie (King) Kimbro. Both were Tennessee natives and resided in West Nashville. Will is listed as a cemetery groundskeeper in census reports and also raised crops for Walden College.1 Sallie tended the children and took in laundry when the need arose. Kimbro attended school near home through the sixth grade, but the black junior high was a 10- to 12-mile trek to the other side of town and that discouraged him from further schooling.
Kimbro took a job at a gas station where he worked into his early twenties. There he learned how to repair cars, keep them running, and even give them extra power. He earned a reputation as a top notch driver and was rumored to have run moonshine in Western Tennessee. During his baseball career his knowledge of cars came in handy. He helped repair the team buses (Chevrolet and Buick) and served as a back-up driver.
Kimbro met and fell in love with Nellie Bridges. They married and a son, Larry, was born March 10, 1936. That April Kimbro left for the baseball season leaving Nellie alone with Larry for over five months. The marriage was a struggle and the long separations made life even more difficult. Their volatile marriage eventually ended in divorce. In the mid-1940's, Kimbro had a relationship with a woman in Baltimore that produced a daughter, Geraldine. Kimbro included her as best he could in his life, but the family eventually lost track of her. She was his only child that did not complete college.
Tom Wilson had been sponsoring teams in Nashville for more than a decade when he became aware of Kimbro's talents on the amateur diamonds. He approached the speedster about joining the Nashville Elite Giants but Kimbro turned him down at first. Then in the fall of 1935 Kimbro joined a barnstorming troop on a southern swing. He must have enjoyed the pay- for- play lifestyle because he signed with Wilson's Elite Giants in 1936 and went with the team when it transferred to Columbus, Ohio. In 1937 the franchise shifted to Washington D.C. and joined the Negro National League. That fall Kimbro joined a group of all-stars managed by Oscar Charleston. The highlight of that short tour was playing Satchel Paige's team before 35,000 fans at Yankee Stadium.
In 1938 the Elite Giants made Baltimore their home and installed Kimbro as the lead-off hitter and centerfielder. Nicknames were very common in baseball; Kimbro was frequently called "Jimbo" or "Kimmie". In 1939 the Elite Giants barely earned a spot in the playoffs. They beat Newark in the first round, then won the Jacob Ruppert Trophy by beating the Homestead Grays in the Championship Series. Seamheads.com's database shows Kimbro hitting .235 (8 for 34) in nine playoff games. His defense earned raves, especially in Game Two when he made two spectacular catches. One came in the third inning when "he raced from deep centerfield to haul in Vic Harris' terrific clout near the right-field fence."2
Kimbro made his first trip to Cuba that fall with a group sponsored by Cum Posey. They won all six games in the series. Kimbro remained in Cuba after the series and played for the champion Almendares ballclub.
After the Homestead Grays earned the Negro National League title in 1940, Wilson decided the Elite Giants needed a shake-up. In April, 1941 he put together a two-part swap with the New York Black Yankees. When all the wheeling-and-dealing was done, the Black Yankees had Kimbro, three pitchers, two catchers, first baseman Red Moore and cash. Baltimore added first baseman Johnny Washington, centerfielder Charley Biot, plus a pitcher and a catcher.3
New York manager Tex Brunett tried to get Kimbro to drop his slap-hitting style and go for the long ball. He even installed Kimbro in the third spot of the lineup. The experiment did not last long. At the time of this writing, Baseball –Reference.com statistics give Kimbro zero homers for 1941. He was back in the lead-off position by late June. Despite a seemingly down season (Baseball-Reference assigns him a .242 average), he was named a second- team outfielder on the Pittsburgh Courier's "Dream Team for '41". The team was selected by Cum Posey and included players from the American and National Negro Leagues as well as the Mexican League.4 (Six of the 19 players are Hall of Famers.)
In February, 1942, Wilson made another deal with New York, this time returning Kimbro to Baltimore for Biot and pitcher Schoolboy Griffith. The Giants and Grays staged a hard-fought pennant chase. On August 9, Giants' catcher Roy Campanella and infielder Sammy Hughes chose to play in an exhibition game against a white all-star team and missed a crucial game with the Grays. Not surprisingly the players were suspended. Campanella responded by going to Mexico for the remainder of the season and Baltimore finished just behind Homestead in the second-half pennant race. That winter, as he had in 1941, Kimbro went with the Elite Giants to the California Winter League. The next couple of winters he stayed in Baltimore and worked on defense jobs.
The Elite Giants fell to fifth place in 1943 and struggled to a second place finish in 1944. Kimbro's game kept improving; his average was well over .300 in 1944. He duplicated his strong stats in 1945 and 1946 but the team never reached the championship. In the winter of 1946 he played for Havana. There he met Erbia de la Candida Del Rosario Mendoza. She was a student at a Havana teacher's college. Neither spoke the other's language, but with friends and family acting as translators they fell in love. Kimbro followed the traditional Cuban rules on courtship. The couple was able to date only if escorted by chaperones. Often they simply sat together in the family home. He wooed the family with trips to the movies and chocolate.5 After the 1947 season he returned to Cuba and won the batting title with a .346 average. It was initially reported that he earned a $1000 bonus for his efforts, but that was lowered to $600 in later reports.6 In addition to the title, Kimbro set an all-time Cuban winter mark with 104 base hits, was named an all-star and anchored Havana's championship team.7
Jackie Robinson and Larry Doby broke the major-league color barrier, but Kimbro got very little attention as a possible big-leaguer. He had a reputation as a loner, his age (35) was working against him, and by his own admission, "if somebody did something to me, I'd have been up at 'em. No way in the world I wouldn't have fought back."8 When spring training opened in 1948 manager Candy Jim Taylor was hospitalized in Chicago and Kimbro was put in charge. When Taylor passed away, Jesse "Hoss" Walker was hired as manager. The Elite Giants won the first half pennant in 1948, but dropped the playoffs in three straight to the Grays.
That winter Kimbro returned to Cuba, where he led the league in walks. Patience at the plate was an integral part of his game. Teammate Butch McCord claimed that "I never saw him swing at a first pitch." After that season Kimbro returned to the island to continue the courtship of Erbia, but did not play baseball. Their daughter, Harriet, thinks he made only one trip a year until he finally earned permission to wed. He brought his fiancée back to Nashville where they were married on September 5, 1952.9 The couple would welcome two daughters and a son and enjoyed their lives together in Nashville. The children remember trips back to Cuba in the 1950s.
In 1949 the Elite Giants ran the table and defeated the Chicago American Giants in the World Series 4-0. In September the Afro-American credited Kimbro with a .332 average, but his final stats are uncertain. The Negro Leagues were winding down, but the 1950 Elite Giants were still going strong. Kimbro, now 38, was still a force at leadoff and in the field. On July 17 he added manager to his resume when skipper Lenny Pearson was sold to Milwaukee in the American Association. The Giants won his first game 5-4 over the Birmingham Black Barons, but finished behind the New York Cubans and missed the playoffs. When the Elite Giants disbanded after the 1951 season, Kimbro moved on to the Birmingham Black Barons through the 1953 season. By that time the Negro Leagues had shrunk to four teams and Kimbro was 41. He retired from baseball and took up family life and an arduous seven-days-a-week work schedule.
After a few years as a cab driver, Kimbro purchased a gas station and eventually started Bill's Cab Company in Nashville. Both endeavors proved very successful and provided the family with steady income for over two decades. Kimbro was able to afford college for Larry (Tennessee State), Harriet (Fisk), Philip (Fisk), and Maria (Florida A&M). More importantly, "Daddy taught us how to live, how to triumph over any odds, how to succeed," his daughter Harriet later told the Tennessean.10 After retirement Kimbro often met with fellow Negro Leaguers at a Nashville sports shop called the "Old Negro League Sports Shop." The "loner" image from his early days was a thing of the past.
When Major League Baseball chose to honor the Negro Leagues at events during the 1990s, Kimbro was a frequent invitee, including an appearance at the 1993 All Star game at Camden Yards. He was inducted posthumously into the Tennessee Sports Hall of Fame in 2003.
In his final years he struggled with a heart condition. After repeated hospitalizations in 1999, he opted to return home rather than try experimental surgery. He died at his Nashville home on July 11, 1999 of congestive heart failure. After funeral services at the Patterson Memorial United Methodist Church he was laid to rest in Greenwood Cemetery not far from where he grew up.
Sources
Dick Clark & Larry Lester. ed. The Negro Leagues Book. Cleveland, Ohio: SABR, 1994.
Leslie A Heaphy The Negro Leagues, 1869-1960. Jefferson, North Carolina: McFarland & Company, 2003.
Brent Kelley, Voices from the Negro Leagues. Jefferson, North Carolina: McFarland & Company, Inc., 1998.
Bob Luke, The Baltimore Elite Giants. Baltimore: Johns Hopkins University Press, 2009.
Notes
Born
February 10, 1912 at Nashville, TN (US)
Died
July 11, 1999 at Nashville, TN (US)
If you can help us improve this player's biography, contact us.
http://sabr.org/sites/default/files/kimbroHenry.jpg
600
800
admin
/wp-content/uploads/2020/02/sabr_logo.png
admin
2016-09-19 15:02:46
2021-09-17 01:07:05
Henry Kimbro