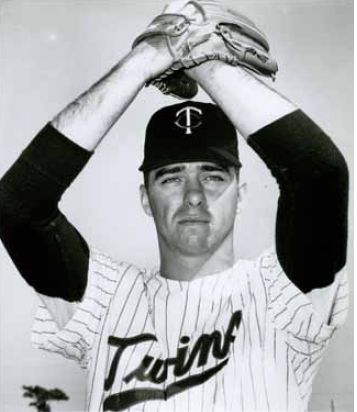 ---
A goal of every major leaguer is to play on a team destined for the World Series.  While individuals are in the game for money and personal achievement, being part of a team going to the fall classic is a treasured experience. Nearly 50 years after Minnesota took the 1965 championship, Jerry Fosnow – who gained credit for the first of their 102 victories in the season – continued to savor memories of being part of that team. He was especially aware that for one whose career spanned just a few games in 1964 and half the season in 1965, his timing was perfect. Many whose careers extended over 20 years never had a like opportunity. For every Derek Jeter who played on multiple pennant winning teams there are dozens like Hall of Famer Ted Lyons who played 21 years without being part of a championship squad. 
Gerald Eugene Fosnow, born on September 21, 1940, in Deshler, near Toledo in northwestern Ohio, was the second of two children born to Harry and Dorothy Fosnow. He and his sister, Joan, grew up on their parents' 400-acre farm. Fosnow recalled his earliest memory of wanting to be a big-league pitcher.1 To that end, he pitched countless hours to his father. A bellwether day came when his father could no longer catch his pitches. Gerald's cousin became the new receiver. Speed, then accuracy, became the goal; later hitting a tire nailed to the barn helped him develop consistency in the strike zone. Small for his age, Fosnow was undistinguished until his senior year at Deshler High School. Sprouting seven inches between junior and senior years, he became a dominant pitcher who helped his team to a district championship in 1959 and gained him the attention of several scouts.
Detroit and Cleveland showed the most interest. Indians scout Charles LeCrone arranged for Fosnow to come to Cleveland Stadium for a tryout. In a simulated game against college and semipro players, he struck out six in three innings, impressing the Indians, who offered a $500 signing bonus. Fosnow wanted to try out with the Tigers, who had offered to look at him in Toledo. However, his father, a devoted Indians fan, persuaded him, after some arguing, to sign with Cleveland.
Cleveland assigned Fosnow to the Selma Cloverleafs of the Class D Alabama-Florida League in 1959. At 18, he was the youngest player on the team, where he played with future major leaguers Max Alvis, Larry Brown, and Doc Edwards. He got off to a fast start, winning his first nine games. The Sporting News carried almost weekly notice of Fosnow's exploits, which included pitching Selma's first shutout of the year, defeating Panama City 2-0, then later beating Pensacola 7-4 while striking out 14.2 Subsequently, The Sporting News reported Fosnow winning his eighth straight game.3 His performance continued to impress, leading Fosnow to consider that perhaps he ought to receive a raise. He was underpaid, like most rookies, earning $150 per month. Writing the Cleveland head office, he requested a $25-a-month increase.
Indians general manager Frank Lane had a reputation for his epic – and acrimonious – salary battles with such major leaguers as Rocky Colavito and Roger Maris. One has to wonder how the front office viewed an 18-year-old rookie's request for a pay raise in midseason. If Lane was going to haggle with Colavito over $1,500, a Class D player would receive scant – and disdainful – attention.4 The Indians denied Fosnow's request; if he continued to do well he would see an increase the following year.
Fosnow was 9-0 when he lost his first game in late June; he went on to compile a 15-4 record.5 His 3.42 ERA was well under the league average of 3.97.6 Selma finished second. In the best-of-five semifinal playoffs, Fosnow pitched a no-hitter against Pensacola, walking just one batter.7 Selma went on beat the Dothan Cardinals for the league championship.
The next season the Indians promoted Fosnow to the Minot Mallards of the Class C Northern League, where he posted a 13-9 record and tied for the league lead in shutouts. He pitched in 40 games, starting 21. Then Fosnow's career took a curious turn. In 1961 Cleveland assigned him to Dubuque of the Class D Midwest League, seemingly a demotion. In an interview Fosnow said he did not recall why he was demoted, but Cleveland had cut its eight affiliate teams in 1960 to five in 1961.8 After pitching in seven games for Dubuque, and despite a 3-1 record, Fosnow was released. He recalled going to the ballpark and finding someone else wearing his uniform number. He confronted manager Pinky May, who could not adequately explain Cleveland's decision to let him go. After offering May a few choice words, he vowed, "I will make it to the majors." Fosnow did not pitch the rest of 1961.                     
Fosnow signed with the Minnesota Twins before the 1962 season after he impressed scout Dick Wiencek while pitching in a tournament.9 The Twins placed Fosnow at Wilson of the Class B Carolina League, where he went 12-12, striking out 187 batters in 209 innings and posting a 2.84 ERA. Next year, the Wilson Tobs – and Fosnow – moved up to Class A. He went 13-9 and pitched in the league all-star game. 
Fosnow's performance earned him a promotion to Triple-A Atlanta in 1964. Manager Jack McKeon made him a short reliever. Fosnow did well in his new role. In late June, he became particularly effective. Called on to make an infrequent start, he threw a complete game to snap the Crackers' 10-game losing streak. The next day Fosnow won in relief, and just two days later he relieved again for another victory. He pitched 16 innings during these three appearances, giving up just six hits.10 While Fosnow was proving particularly effective, the Twins needed help.
Minnesota was in the pennant race as the American League season neared the halfway point. The Twins had an explosive offense; they would lead the league in runs scored thanks to the power of Harmon Killebrew and Bob Allison and the hitting of rookie sensation Tony Oliva. What they did not have was pitching, especially in the bullpen. Bill Dailey and Bill Fischer, counted on to be mainstay relievers, had disappointed. (Dailey was released and after Fischer injured his ankle, he was placed on the voluntary retired list and became a scout.11) The Twins purchased Johnny Klippstein and Al Worthington from the Philadelphia Phillies and the minor-league San Diego Padres respectively. They also decided to bring up Fosnow as well.
Fosnow pitched in a losing effort for the Crackers on June 26.  Three days later he appeared in his first major-league game, facing Baltimore at Memorial Stadium. He came into the game in the seventh inning with the Twins down 4-1 and walked Jackie Brandt, the first batter he faced. After getting two outs (the second, Boog Powell, on strikes), he gave up a home run to Norm Siebern. The Orioles eventually won 6-3.
Fosnow next pitched three weeks later against the California Angels, throwing two scoreless innings in a blowout game. His performance the rest of the season was subpar, as he appeared in just five more games. Fosnow recalled asking Twins manager Sam Mele for more opportunities to pitch, arguing that he would do better if allowed to pitch more. "Give me a chance; let me get my feet wet," Fosnow urged the manager.12  
Among the factors working against Fosnow at the time was the combined effectiveness of Klippstein (1.97 ERA) and Worthington (1.37). Fosnow finished the year with a 0-1 record and a 10.97 ERA in seven games. The Twins finished sixth. 
Fosnow had not pitched well, but he had redeemed his pledge to Pinky May that he would pitch in the majors some day. Sadly, his making the majors came too late for his father to enjoy it. The elder Fosnow had died in 1962 never having had the opportunity to see him pitch in the majors.13
Fosnow's substandard performance for Minnesota made his position on the roster tenuous. Mele liked his potential, but was concerned about a lack of control, saying, "He's got the stuff if he gets it over the plate."14 Fosnow had his work cut out for him in the offseason. He did have a few factors working in his favor. As solid as Klippstein and Worthington's performance had been, they were 37 and 36 respectively. Fosnow was 24 and he was a left-hander – always a plus on a pitching staff.
Assigned to the Florida Instructional League at season's end, Fosnow did well. Then he pitched for San Juan in the Puerto Rican winter league, also impressing with his performance.15 While pitching in Florida, he came under the tutelage of Johnny Sain, the Twins' new pitching coach, who went to work on his technique and pitch repertoire. In a subsequent article in The Sporting News, Fosnow's description of how Sain worked with him illustrated why Sain was one of the most respected pitching coaches in the game. "For the first time, I can throw a curve ball and change of pace and know I will get them over the plate," Fosnow said. "I throw everything side arm and my curve always was flat. Sain watched me a while, them he asked if I ever had a dip in my curve. I told him no one had ever taught me how to do it. So he showed me how to bend my wrist and hold the ball farther back in my hand. Now it dips."16  
During spring training, Fosnow made his mark; at one point he had given up one hit in 12 innings over five appearances.  Mele added to his earlier comments, "I need a left-hander for late-inning relief. We've been trying to get Fosnow ready for that job."17 His strong performances continued, enabling him to make the Opening Day roster. 
Fosnow joined a team not expected to do well; the Baseball Writers Association of America picked them to finish fifth. The consensus was that while the Twins' offense was peerless, lack of pitching and defensive limitations would consign them to the list of also-rans.18 There was a more serious problem – a sense of lethargy. They had finished second and third before tumbling to sixth in 1964. With the team's disappointing performance, owner Calvin Griffith publicly questioned their apathetic play and lack of commitment, suggesting that Mele fine players when the occasion warranted it. During spring training, Mele did just that, pulling shortstop Zoilo Versalles out of an exhibition game for indifferent effort. It turned the team around, generating a new attitude and paying immediate dividends.19  
On Opening Day, it was apparent that Mele had gained a higher opinion of Fosnow's abilities. With the score tied 4-4 in the top of the 10th at Metropolitan Stadium, Mele called on Fosnow to relieve Jim Kaat who after pitching solidly, gave way to a pinch-hitter in the ninth inning. Fosnow held the New York Yankees scoreless in the 10th and 11th. Nearly 50 years later, he recalled the thrill of striking out Roger Maris to end a Yankees scoring threat. In the bottom of the 11th, César Tovar singled Bob Allison home to win the game. For Tovar, winning the game was redemptive – he had committed an error in the ninth that allowed New York to tie the score. 
It was the first of the Twins' 102 victories for the season. It was Fosnow's first major-league win. He later joked that he was only 19 wins from his 20th victory of the season.20 The win had significance beyond winning on Opening Day: It came at the expense of the Yankees, who had won five straight pennants and were favored to win a sixth by the same writers who saw the Twins finishing fifth.
Fosnow was Mele's go-to hurler in the Twins' next game. Entering in relief of Camilo Pascual against Detroit with the score tied 4-4 in the sixth; he soon faced future Hall of Famer Al Kaline with a runner on first. Trying to keep the ball down, he missed high and Kaline hit what turned out to be a game-winning home run. Not found in the box score was that before Kaline batted, Dick McAuliffe had hit a line drive off Fosnow's hand. The Sporting News noted approvingly, "Fosnow pitched three more innings, striking out four after that" – a performance that demonstrated to his teammates Fosnow's grittiness.21         
A little over a week later Fosnow faced New York again, this time at Yankee Stadium, a daunting experience for most young players. Fosnow entered the game with Minnesota leading 7-2 in the eighth. Facing the likes of Mickey Mantle and Maris, he held the Yankees scoreless to gain (retroactively) his first save. The victory provided a further psychological boost for Minnesota – vanquishing the favorite team, this time in their backyard. 
By the end of April the Twins were in first. As the season progressed, they melded into a team that believed in itself, and believed that something special was developing. Mele felt that the win on Opening Day was in a game they would have lost the year before after allowing the Yankees to tie it.22 Fosnow reminisced that everyone was pulling for one another and that the clubhouse was loose.23 Oliva felt the same: "There was no jealousy on this team. If you failed, there was always someone there to pick you up. I was happy for everybody."24 Jimmie Hall's observation was more succinct, "We're together and we're winning."25         
Mele continued using Fosnow regularly. Catcher Earl Battey appreciated his ability, telling him he was the most difficult pitcher of the Twins to catch because of how his pitches moved. Fosnow threw a pitch described as a "heavy ball," a fastball that as it neared the plate dropped several inches. He became more effective as the season progressed. 
On July 4 the Twins and Cleveland were tied for the American League lead. The next day Minnesota took sole possession of first place, sweeping a doubleheader from Boston as Cleveland lost to Chicago. Less than a week later the Twins had opened their lead over the Indians to four games as they hosted the Yankees. New York was 13½ games behind as the last game before the All-Star break took place. Despite their substandard record, many still felt the Yankees a viable contender, fully capable of making a run for the pennant.
The July 11 game went into the last inning tied 4-4. Two Twins errors contributed to the tie, offsetting a home run by Versalles. Mele called Fosnow in to hold New York. With two outs and Yankees at first and third, Roger Repoz hit a high bouncing ball down the first-base line. Running down the baseline, he made contact with Fosnow as the ball dropped to the ground. Repoz was called out for interfering with Fosnow, apparently ending New York's scoring opportunity. But Yankees manager Johnny Keane protested the call, contending Fosnow had possession of the ball but dropped it, thus negating the interference call. The umpires reversed their call. Repoz was safe at first and a Yankee runner scored, giving them a 5-4 lead. Mele argued but could not get the umpires to go back to their original call. He notified the umpires he was playing the game under protest.
Lurking in the back of everyone's mind was that this was the sort of break the Yankees had been capitalizing on over the years, the type that opened the gates for them to get back in the race. Keane brought Pete Mikkelsen in to save the game. With two outs and a runner on first, Killebrew slammed a 3-and-2 fastball over the left-field fence to turn what would have been a disheartening loss into a rousing victory. The win erased the last vestige of hope New York had for a comeback and essentially determined that this was to be Minnesota's year. The victory was Fosnow's third of the season – and his last in the majors.   
Sometime before pitching against New York, Fosnow had hurt his arm. He told the writer it happened in Kansas City a week earlier. He woke up the morning after pitching against the Athletics feeling as if a knife had been stuck into his arm.
After the All-Star break, Fosnow was called in to relieve Jim Grant, who being pummeled in the first inning by the Royals. Fosnow didn't do much better, giving up three runs in 1⅓ innings before leaving the game. It proved to be Fosnow's last major-league appearance. With his arm rendering him ineffective, Minnesota had no choice but to replace him on the roster. He was optioned to Denver and replaced by Garry Roggenburk. In 36 major-league games, all in relief, Fosnow had a record of 3-4 with two saves and a 5.65 ERA.
Fosnow's arm miseries did not go away. He went 3-3 with a 5.14 ERA in Denver while watching from afar as Minnesota took the pennant by seven games over the White Sox, then lost the World Series to the Dodgers in seven games. Several weeks after the Series ended, Fosnow got a check for $4,422.90, two-thirds of a Twins player's share of the World Series revenue.26                                             
When Fosnow was hurt, pitchers faced the stark choice of "pitching through" their ailment, resting with hope that the pain might disappear, retiring, or trying a new method of treatment, cortisone shots. (Sandy Koufax's career was extended in part because of cortisone.) After the season Fosnow saw a physician who took x-rays and determined that he had not torn any muscles, but had pulled a tendon. The physician recommended cortisone injections. Fosnow agreed. The doctor admonished him to refrain from throwing for 24 hours after the procedure. The treatment worked; he was pain-free. 
Invited to spring training in 1966, Fosnow pitched well in exhibition games; however, he was dropped when the Twins made their final cuts.27  Fosnow's name came up in a potential trade that would have sent him to Boston in exchange for catcher Bob Tillman. Mele advised Calvin Griffith to make the transaction if possible, but it never came about.28 Optioned to the Charlotte Hornets in the Southern League, Fosnow went 5-9 for the sixth-place club. He struck out 93 batters in 98 innings, the best strikeout rate of his professional career. 
Fosnow was invited to spring training in 1967, only to be optioned out again. Convinced he was not going anywhere with the Twins organization, he asked for an opportunity elsewhere. The Twins obliged and Fosnow joined the Spokane Indians for the 1967 season. He pitched well, posting a 4-1 record with a 2.51 ERA as Spokane won the western division championship. Manager Roy Hartsfield, in his end-of-season report, acknowledged Fosnow's solid work, but concluded that he was no longer major-league material.29 Furious with Hartsfield, Fosnow sought out the advice of his friend Tommy Lasorda, then managing the Ogden Dodgers in the Pioneer League. Lasorda, a realist, essentially told Fosnow there were not many options available to him.
When Fosnow was with the Twins, he became acquainted with several officials of Gulf Oil who were fans. Several times he left tickets for them to attend games when the Twins played the White Sox at Comiskey Park. His new friends advised him to look them up should he need a job after his baseball career ended. 
Fosnow, 27 years old with a family and only a high-school education, decided it was time to get out of baseball, and called to see if the offer still held. An interview a few days later consisted entirely of a discussion about baseball. His interviewer eventually told him there was an opening in Anderson, Indiana, with Gulf in marketing. Fosnow took the job and began a long association with Gulf and later Chevron, which took over Gulf. He was employed at various locations in the Northwest. Later he joined American Personnel Services supervising the advertising, buying, and merchandising for more than 100 stores. Eventually he moved to Florida, where he retired.  
As of 2014, Fosnow and his wife, Diane, lived in DeBary, Florida. Their marriage was the second for both; there are. three children and four grandchildren. Fosnow gives time to the MLB Alumni Association, participating in clinics it runs for young players, offering tips on how to play the game and advice on how to conduct themselves off the field.30 
In The Cool of the Evening, Jim Thielman described how the 1965 Twins kept in contact with one another over the years the way a close-knit high-school class might. Celebrity golf tournaments, local events, and travel plans were coordinated to get together. Fosnow eagerly joined in. Ticking off a list of how several teammates were doing, he specifically described keeping in touch with Jim Grant on a regular basis. As teammate Frank Kostro said, "You just cannot believe how these friendships were such a genuine part of the deal.31         
Summing up, the farmer's son who wanted to pitch ever since he could remember did fairly well. He made the major leagues and pitched on a pennant-winning team. If you doubt it, just ask Jerry Fosnow. He'll show you his ring for being a member of the 1965 American League champions.                
Notes
1 Phone interview with Jerry Fosnow, May 18, 2014 (hereafter cited as Fosnow interview)..
2 "Minor League Highlights: Alabama-Florida League," The Sporting News, May 27, 1959, 38.
3 Minor League Highlights: Alabama-Florida League, The Sporting News, June 24, 1959, 38.
4 Bob Vanderberg, Frantic Frank Lane, Baseball's Ultimate Wheeler-Dealer, (Jefferson, North Carolina:  McFarland & Company, Inc., Publishers, 2013), 83, 90-91.
5 Unless otherwise noted, all records are from baseball-reference.com/ or retrosheet.org/.
6 J.G. Taylor Spink, ed., in collaboration with Paul Rickart and Cliff Kachline, 1960 Baseball Guide (St. Louis: The Sporting News, 1960), 316.
7 "Indian Farmhand at Selma Posts Gem in Playoff Game," The Sporting News, September 2, 1959, 39.
8 Fosnow interview; Baseball Reference.com.
9 Max Nichols, "Ex-High School Pals Fosnow, Reese Together as Twins," unidentified publication dated April 24, 1965, in Fosnow's file at the Baseball Hall of Fame, Cooperstown, New York.
10 "International Items," The Sporting News, July 4, 1964, 36.
11 Jim Thielman, Cool of the Evening: The 1965 Minnesota Twins, (Minneapolis: Karl House Publishers, 2005), 110-111; "Rest Cure Working Wonders – Killer Goes on Homer Rampage, The Sporting News, June 13, 1964, 11..
12 Fosnow interview.
13 Ancestry.com.
14 Max Nichols, "Ex-High School Pals."
15 "Torrid Boswell Temper Chilled By 5-Day Ban," The Sporting News, November 14, 1964, 26; "Crabbers Tip Their Caps to Hurler Talbot," The Sporting News, December 19, 1964, 27.
16 "Twin Hurlers Salute Sain – Master Tutor," The Sporting News, March 13, 1964, 25.
17 Max Nichols, "Eight Rookies to Dot Twin Roster," unidentified, undated publication I Fosnow's Hall of Fame file.  
18 "Yanks, Phils Picked by Writers, Fans," The Sporting News, April 17, 1965, 1.
19 Thielman, 2-3.
20 Ibid, 75.
21 "Injury Wave Claims Five Twins In First Two Games of Campaign," The Sporting News, May 1, 1963, 18.
22 Thielman, 74.
23 Fosnow interview.
24 Thielman, 215.
25 Thielman, 116.
26 "Dodgers' Series Slice: $10,297 each," Chicago Tribune, October 28, 1965, E1.
27 "Great Cesar's Ghost, Twins Find Zoilo's Sub in Wraith-Like Sub," The Sporting News, April 16, 1966, 22.
28 "Red Sox Seek Twins Fosnow," Boston Globe, February 1, 1966, 17.
29 Fosnow interview.
30 Fosnow interview.
31 Thielman, 239.
Born
September 21, 1940 at Deshler, OH (USA)
If you can help us improve this player's biography, contact us.
http://sabr.org/sites/default/files/JerryFosnow.JPG
600
800
admin
/wp-content/uploads/2020/02/sabr_logo.png
admin
2012-01-04 20:49:13
2021-07-19 03:32:27
Jerry Fosnow