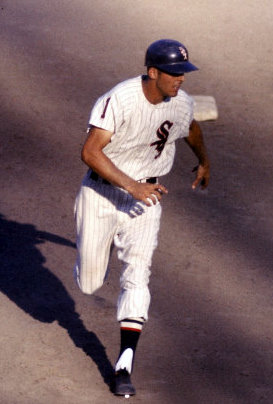 ---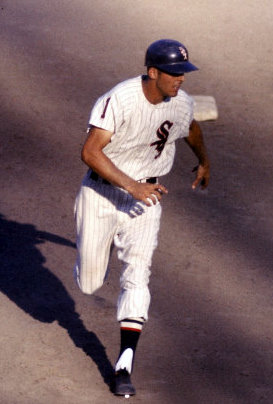 Jim Landis had a memorable stint with the Go-Go White Sox of the late 1950s, and is considered to be one of the best defensive center fielders in big-league history. He also played with the Kansas City Athletics, Cleveland Indians, Houston Astros, and Detroit Tigers before finishing his career with a short but memorable stint with the 1967 "Impossible Dream" Red Sox. His .989 career fielding average placed him second only to Jimmy Piersall at the time of his retirement among major-league outfielders.
James Henry Landis Jr. was born on March 9, 1934, in Fresno, California to factory worked James Henry Landis and his wife Maida, a homemaker. He was signed for $2,500 by the Chicago White Sox as an amateur free agent in 1952, out of Contra Costa Junior College in San Pablo.1 Before that, he had a stellar career as a third baseman at Richmond (California) High School.
He was signed "after playing about four games at the junior college," he recalled. "I was approached by a White Sox scout named Bob Mattick who asked me about signing a big-league contract and I said, 'Let's do it.'"2
Landis began as a third baseman and outfielder with Wisconsin Rapids of the Class-D Wisconsin State League in 1952. He batted .274 in 92 games.
The next season he moved up to Colorado Springs of the Class-A Western League, where he hit 14 home runs and posted a career-best .313 batting average. "Don Gutteridge, my manager at Colorado Springs, really encouraged me," said Landis in a 2008 interview. "The Sox also had a former major-league center fielder named Johnny Mostil in their minor-league system who really worked my butt off day in and day out."3
Landis then spent 1954 and 1955 in the Army. "I was a lucky guy, I got stationed up in Alaska," he said with a chuckle. "I did get to play some baseball up there, but it wasn't a long season."4
He returned to Colorado Springs in 1956, and in the same season was quickly promoted to the Memphis Chicks of the Double-A Southern Association. In 1957, on April 16, he made his debut with the Chicago White Sox. "My first game was horrible," Landis recalled. "I was facing Herb Score and the Indians, and I was just kind of floating on air. I remember saying, 'What am I doing here?' It took a little while but finally I said to myself, 'You belong,' and that's when I started to play better."5
Landis's first season was anything but easy, however. He played in 96 games as a rookie in '57, splitting time between right field and center field in an outfield that featured veteran stars Larry Doby and Minnie Minoso. On defense the speedy, sure-handed Landis nicely complemented the veteran outfielders, but he struggled terribly at bat. After a decent first month he slumped, and by the end of June Landis's batting average had dropped to .187. But though the White Sox gave Landis some time on the bench, they never gave up on him. "I got off to a slow start with the bat," he recalled, "but my defense carried me. Al Lopez was great. … He made up his mind that I was going to be his center fielder, and he stuck with me. And eventually my hitting improved."6 It didn't improve much in 1957 – Landis hit only .212 for the year — but in 1958 he was a different player, hitting .277 with 15 home runs and 19 stolen bases. Only 24 years old when the 1958 season ended, Landis had established himself as a budding star.
Then came the memorable 1959 Go-Go Sox season. That year, they became the first American League team since the Cleveland Indians (1948 and 1954) to wrest the pennant from the New York Yankees.
"It was a great year. We had a good ballclub, we had four Hall of Famers on one team," Landis said, rattling off the names of Early Wynn, Luis Aparicio, Nellie Fox, and Larry Doby.7 The White Sox also featured Earl Torgeson at first base, Bubba Phillips at third and catcher Sherm Lollar. Landis, Al Smith, and a platoon of Jim McAnany and Jim Rivera were in the outfield, while the pitching staff included Wynn, Bob Shaw, and Billy Pierce, with Jerry Staley and Turk Lown keys to the bullpen.
"One of the best things about the White Sox was the terrific group of guys I played with," he said. "Guys like Nellie Fox, Billy Pierce, Bob Shaw, Minnie Miñoso, Jim Rivera. All these guys were true vets and I was the new kid. They were all like fathers to me."8
Landis batted .272 for the pennant winners and excelled in center field in '59, leading all American League outfielders in putouts. Although he hit only five home runs that year, he ranked 10th in the American League with a .370 on-base percentage, and his 20 stolen bases were tied for the third highest total in the league. After the season he received 66 points in balloting for the American League's Most Valuable Player award, which was won by teammate Fox.
The White Sox were beaten in six games in the World Series by the Los Angeles Dodgers, who were led by the starting pitching of Johnny Podres and the bullpen work of Series MVP Larry Sherry, who won two games in relief and had two saves. In the Series, Landis batted .292 with seven hits for Chicago. "The Dodgers had a playoff series with the Braves to decide the National League pennant, and that delayed the start of the World Series a little," he recalled. "I think that took a little bit of the edge off us. Also, some of brought our wives out to LA for the games there, and that was a bit of a distraction. But we got beat fair and square, and we were in every game except for the last one."9
In 1960, Landis's average slipped to .253 as the White Sox, hoping to repeat as American League champions, fell to third place. It was a disappointing season for the Sox, who had traded youngsters Norm Cash, Johnny Callison, Earl Battey, and John Romano to bring in veteran sluggers Minnie Miñoso, Roy Sievers, and Gene Freese. "We sure asked, 'What the hell is going on?'" Landis told interviewer Mark Liptak. "We knew how good those kids were because we saw them in the spring. Every single one of the guys we traded wound up making the All-Star team in the next few years."10
Despite his drop in batting average, Landis had a fine all-around season in 1960, stealing a career-high 23 bases and winning the first of five straight Gold Gloves. A fan favorite in the Windy City, he was known for his many over-the-fence catches stolen from Comiskey Park's center-field bullpen. "I knew how to play the game and I'm proud of my Gold Gloves," he said. "I think fielding was my forte, and I felt I knew the game well."11
In 1961, Landis had his best year with the bat when he had career highs of 22 home runs, 85 RBIs, and a .283 average. "It was one of my best years. Everything kind of fell together for me," he said. "For a while I think I was hitting just around .300. I had a shot [at .300], but I blew it with a slump in May."12 May always seemed to be a difficult month for Landis, who had a career average of just .225 in that month.
Landis was selected to his only All-Star Game in 1962. In his lone All-Star at-bat at Washington's D.C. Stadium in the first of two All-Star games that year, Landis struck out against former White Sox teammate Bob Shaw. "I got a real funny feeling because I didn't want to hit against him," he told Mark Liptak. "He was my friend and teammate for a number of years."13
Despite the All-Star appearance, Landis batted only .228 in 1962, and he continued to struggle at bat in 1963 (.225) and 1964, when he batted a career-low .208. The '64 season was particularly disappointing as the White Sox had a chance to once again capture the pennant from the Yankees, but fell one game shy.
After the 1964 season, Landis was involved in a three-team deal between the White Sox, Kansas City, and Cleveland. He was traded with outfielder Mike Hershberger and pitcher Fred Talbot to Kansas City; slugging outfielder Rocky Colavito went from Kansas City to Cleveland. The trade was no surprise to Landis. "I had hardly played in '64 compared to previous seasons," he commented. "One thing that happened that year was that I was the Sox player rep, and when the players wanted to receive $50 for doing radio and TV interviews, I told that to (Sox general manager) Ed Short. He didn't like it and got mad at me."14
After one season, playing in 118 games with a .239 average for the last place A's in 1965, Landis was traded with pitcher Jim Rittwage to Cleveland for catcher Phil Roof and outfielder Joe Rudi. As his number of outfield appearances continued to dwindle with the Indians in 1966, he was once again moved.
He began the 1967 season in Houston, and then went to Detroit in June, playing 25 games with the Tigers filling in for Al Kaline, who had broken his finger jamming his bat into the bat rack. Once the Tigers released him in late August, the Red Sox scooped him up in hopes that he could fill the void when Tony Conigliaro was lost for the season as a result of a tragic beaning on August 18.
Landis's debut with the Red Sox was as a pinch-runner for Norm Siebern in a game against the Washington Senators on August 23. He took Jose Tartabull's place in right field and struck out in the bottom of the ninth to end the game at Fenway.
The next day, Landis came on to play defense late in the game against Washington; it was the day Conigliaro was released from Sancta Maria Hospital. With the Red Sox leading, 6-2, in the eighth inning, Landis homered off Darold Knowles, providing a 7-2 cushion, but he made an even bigger contribution in the top of the ninth.
The Senators scored three runs and had the bases loaded with two outs in the ninth, when Ken McMullen hit a fastball from John Wyatt to deep right. A gust of wind caught the ball and, as Ken Coleman noted in his book The Impossible Dream Remembered, "Landis did a Tango under it: 'I nearly lost it in the sun,' Landis said. `The wind slowed down and started to pull the ball away from me.'"15
At the last second, Landis, running all the way, made a one-handed grab to end the game, lunging for the ball as the runners circled the bases. The victory put the Red Sox into virtually a first-place tie with Chicago, just a percentage point behind the White Sox. It was one of the very few times since the 1940s that the Red Sox had been atop the standings this late in the season.
The heroics earned Landis a start the following night in right field against the White Sox in the first game of a doubleheader. He batted leadoff and went hitless in a 7-1 Red Sox victory. In the nightcap, Landis was a late-inning replacement in right field as Chicago scored a run in the last of the ninth to win 2-1.        
His final appearance came on August 27, another late-game appearance replacing Thomas in right field of the second game of a doubleheader. Gary Peters outdueled Jose Santiago, 1-0, as the White Sox scored a run in the last of the 11th inning.
The next day, Landis was released when the Red Sox signed Ken Harrelson , who had been released by the Kansas City A's after a well-publicized feud with owner Charlie Finley.
Landis' five-game totals for the Red Sox read seven at-bats, with one hit — the solo home run — for a .143 batting average. He was reconciled to retirement and knew that the 1967 season would likely be his last in the majors, and relished his brief moment with the Red Sox.
"For me, knowing that I was going home the next year, it was nice to get to know some of those players," he said. "Being around Yastrzemski that year, even for a short time, was a nice ending to my career. I knew I'd be going out at the end of the year, so it was nice to be in the middle of a pennant race."16
Ironically, the frantic 1967 American League pennant race featured three teams that Landis had played with in his career: Chicago, Detroit, and Boston.
"To be honest with you, I was pulling for Boston to win it down the stretch," Landis said. "It was the last team I was with. And to be honest, I didn't leave happily from the White Sox."17
Landis finished his 11-year major-league career with a .247 batting average, 1,061 hits, 93 home runs, and 139 stolen bases. His good eye at the plate is reflected in his .344 career on-base percentage.
After he retired from baseball, Landis went into a safety sign business for about 15 years, catching on shortly after the creation of OSHA, the federal Occupational Safety and Health Administration. After he retired, he continued to stay active in baseball as a Babe Ruth League baseball coach in the Napa, California, area for several seasons.
He and his wife, Sandra, had two daughters, Vicky and Michelle, and two sons, Craig and Mike. Craig, a shortstop, was the number one draft pick of the San Francisco Giants in 1977 and remained in the Giants' system through Triple A. He was a standout baseball player and football defensive back at Stanford University. Later he went to work as a as a sports agent, representing Paul Konerko, Randy Winn, and Aaron Rowand.
"Even though I only spent a week in Boston, it was a great place to be," Jim said. "Boston fans are great, and it was a good ending to my career. I had no complaints."18
But it is for his play with the White Sox that Landis will best be remembered. In 2000, he was selected as one of the outfielders in fan balloting for the 27-player White Sox All-Century team, commemorating 100 years of baseball on the South Side. Former teammates Luis Aparicio, Nellie Fox, Minnie Miñoso, Sherm Lollar, Billy Pierce, Gary Peters, and Hoyt Wilhelm were also selected to the team. "I was very grateful," Landis said. "What I'm most proud of is the number of guys from that team forty years ago who made it. … Nellie, Billy, Louie, myself. We had a real good team then."19
Jim Landis was an important member of that "real good team."
Landis died of cancer in Napa, California on October 7, 2017. He was survived by his wife Sandra (Foster), his son Craig (a player agent), son Michael, and two daughers, Vicki Robinson and Michele Stafford.
An earlier version of this biography appeared in SABR's "Go-Go To Glory: The 1959 Chicago White Sox" (ACTA, 2009), edited by Don Zminda.
Acknowledgments
Don Zminda supplied some additional material to this piece.
Sources
Baseball Encyclopedia (Toronto: The Macmillan Company, Information Concepts Incorporated, 1984).
Marazzi, Rich, and Len Fiorito. Aaron to Zuverink (New York: Avon Books, 1982).
20th Century Baseball Chronicle (Lincolnwood, Illinois: Publications International, 1992).
Notes
Born
March 9, 1934 at Fresno, CA (USA)
Died
October 7, 2017 at Napa, CA (US)
If you can help us improve this player's biography, contact us.
http://bioproj.sabr.org/bp_ftp/images5/LandisJim.jpg
600
800
admin
/wp-content/uploads/2020/02/sabr_logo.png
admin
2012-01-04 20:46:13
2021-09-24 09:34:51
Jim Landis