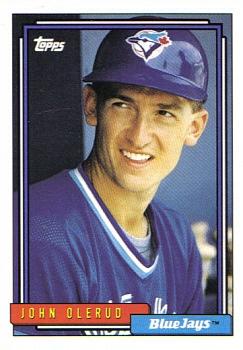 ---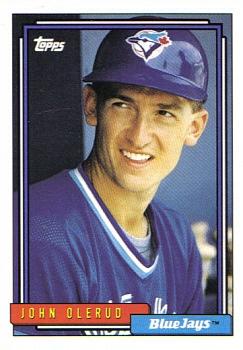 To many fans, John Olerud was the player who wore his batting helmet while in the field. But to those who knew him best, he was a player with a gorgeous swing, a reliable glove, and a refusal to ever say anything remotely mean or controversial. After suffering a nearly fatal brain aneurysm in college (his reason for wearing his helmet in the field), Olerud went on to win two World Series championships over a 17-year career with five teams.
John Garrett Olerud was born to John E. and Lynda (Daley) Olerud on August 5, 1968, in Seattle, Washington. John was later joined by his sister, Erica. The elder Olerud works as a dermatologist and professor of medicine at the Universty of Washington. He was also a minor league baseball player who saw his son's talent and love for the game develop at an early age.
"I'd go to spring training and he was a little kid who really loved balls and to hit," Dr. Olerud said.1 "I remember once in spring training I was with the Montreal Expos organization, and we were in West Palm Beach, he'd be down there with this little plastic bat. I'd be throwing balls and he'd be ripping the balls into the surf. People would stop and say, 'Wow, that little kid is good!'"
John G. Olerud played baseball and golf at Interlake High School in Bellevue, Washington, lettering for three years on both teams.2 Baseball was his top passion, and as a junior he led his team to the Kingco Athletic Conference championship game. He batted .435 and had a pitching record of 9-2 with a 1.54 earned run average. During his senior season, he was named to the All-County and All-State teams, and was awarded Most Valuable Offensive Player of the All-State game.
Olerud was drafted out of high school by the New York Mets in the 27th round of the 1986 MLB draft, but decided instead to attend college at Washington State University.3
In his first year with the WSU Cougars, he earned All-American honors after he hit .414 with five home runs and 20 runs batted in. He also had an 8-2 pitching record with a 3.00 ERA.4
As a sophomore in 1988, he had arguably the best season all-time for a two-way college baseball player. As a pitcher, he went 15-0 with a 2.49 ERA over 122 2/3 innings. He recorded 113 strikeouts and just 39 walks. At the plate, he batted .464 with 23 home runs and 81 RBIs. He was the first player in college baseball history to win 15 games as a pitcher and hit 20 home runs in the same season. He broke or tied 12 school records, including: batting average (.464), hits (108), home runs (23), total bases (204), slugging percentage (.876), longest hitting streak (22 games), pitching victories (15), innings pitched (122 ⅔), and strikeouts (113).5 He was also named College Player of the Year by Baseball America.6
A similar performance in 1989 would have easily made him a top draft pick after his junior year. However, a severe health issue almost derailed his dream of playing professional baseball.
In December 1988, he suffered an intense headache while working out. It happened again another week later. He didn't think they were too worrisome and didn't tell anyone about them.7 But things got worse on January 11, 1989, when he collapsed while jogging around the Washington State athletics complex.8 He didn't wake up until an hour later. He stayed in the hospital for two weeks before returning to school in February, planning to resume baseball in March.9
His recovery process hit another snag on February 24 when he went to see Dr. Richard Winn, the head of neurosurgery at the University of Washington. Dr. Winn took several X-rays of Olerud's brain and found something potentially deadly: an aneurysm near the brain.10
"The guy brings out the X-ray, and I go, 'There it is,'" Olerud said. "You didn't have to be a brain surgeon to pick it out."11
John underwent six hours of extremely high-risk surgery. The operation was a success, but he still faced a multitude of challenges. Surgeons had to cut open his head to get to the aneurysm, which left an unprotected portion when they were finished. As a result, he began to wear a helmet on the baseball field at all times, a practice he continued his whole career.12
He made his season debut on April 15, less than two months after going under the knife. Over his entire junior season, he batted .359 with five home runs and 30 RBIs in 78 at-bats, and had a 3-2 pitching record with a 6.68 ERA.13
"I definitely feel a little more mortal because of what happened," Olerud said. "Being young and in good shape, I obviously had no idea anything like this could happen to me. I feel fortunate it turned out the way it did."14
Even after a solid post-surgery season, he decided to skip the 1989 MLB draft and return to Washington State for his senior year. He even went so far as to explicitly tell teams not to select him.15
The Toronto Blue Jays, however, didn't seem to listen and took him in the third round. Toronto made him an offer of $400,000, which would have been the highest bonus in baseball history. Olerud turned it down, but later that month signed a three-year deal for $800,000 that included a $250,000 bonus. It also guaranteed that he would start his career in the majors.16
"They made me an offer that was too good to pass up," Olerud said.17 "I had an opportunity to be in a pennant race, and that's something a lot of great players never experience… I didn't think they could offer me enough to drive me away from Washington State, but what they came up with were things I couldn't have had after my senior year."18
Despite playing for only three years in college, Olerud left WSU as the school's record holder in batting average (.434), slugging percentage (.824), and wins for a pitcher (26).19
Olerud joined the Blue Jays in September 1989, becoming one of the rare players to skip the minor leagues and debut in the majors — other players in that group include Hall of Famers George Sisler, Frankie Frisch, Mel Ott, Bob Feller, Sandy Koufax, Jim "Catfish" Hunter, Dave Winfield, Eppa Rixey, and Ted Lyons.
Olerud went 3-for-8 with two runs in six games to close out the 1989 season. During the offseason, he and the Blue Jays decided that he would no longer be a two-player and would solely be a hitter. "I knew sooner or later I'd have to give one of the two up," he said about no longer being a pitcher. "I was expecting it but hoping to postpone it as long as I could. I still dream about doing both every now and then, but Toronto said concentrate on one and become the best I can be."20
In 1990, Olerud's first full professional season, he was leading all major-league rookies in home runs (10), RBIs (33), walks (35), slugging percentage (.465), and on-base percentage (.375) at the All-Star break.21 He platooned with Glenallen Hill as designated hitter and served as backup to Fred McGriff at first base.22 He finished fourth in the American League Rookie of the Year voting behind Sandy Alomar Jr., Kevin Maas, and Kevin Appier.
"He has unbelievable ability," Blue Jays catcher Pat Borders said about Olerud. "It makes me mad, because I work so hard and I could never have a swing as nice as his. He reminds you of Wade Boggs — he has a super eye and a great swing. Everything is so compact, it's hard to make him look bad on any pitch."23
During his second full season, 1991, Olerud established himself as the team's main first baseman after Fred McGriff, who had averaged 35 home runs over the previous three seasons, was traded away. With McGriff gone, Olerud had 17 home runs and 68 RBIs.
He put up similar numbers in 1992 while helping Toronto to its first World Series win. It was a good year all around, for on November 28, 1992, he married Kelly Plaisted. They had known each other in high school and become a couple while in college.
The 1993 season was the best single year of Olerud's career. He had a 25-game hitting streak at one point and was batting above .400 into August. His incredible run even caught the eye of another legendary ballplayer — Ted Williams.
"John Olerud may just be the No. 1 subject on Ted's mind these days," said Bobby Doerr, Williams' former Red Sox teammate. "Ted's very impressed with him. He said he's never seen a youngster with as much discipline at the plate as John has. Ted really thinks John has a chance to become the first player since himself to hit .400… Ted and I agreed that, if any kid has the combination of ability and personality makeup to hit .400 nowadays, it's John."24
Olerud ended up falling short of .400, but he still led the majors in on-base percentage (.473) and doubles (54). He also led the American League in batting average (.363), OPS (1.072), and intentional walks (33).
"As it got closer and closer to the end of the season, I started to think I could do it," he said about his quest for .400. "And that's maybe when I started struggling a little bit. When you change your focus, that's usually not a good thing."25
Olerud finished third in MVP voting behind Frank Thomas and teammate Paul Molitor. He also earned his first selection to the All-Star game. He hit .300 in the playoffs on his way to collecting his second World Series ring.
He was also awarded the Fred Hutch Award, named after former pitcher and manager Fred Hutchinson, who died of cancer in 1964, and is given to a player who shows Hutchinson's character and fighting spirit as Hutchinson. Olerud was honored for overcoming his brain aneurysm in college.26
During the following offseason, Olerud and the Blue Jays managed to avoid arbitration, and the reigning American League batting champion signed a three-year, $17 million contract that came with a $6.5 million option for the fourth year, well above the $1,562,500 he earned in 1993.27
Despite the new deal, his performance at the plate declined in 1994. He hit .297 with 12 home runs and 67 RBIs while playing in 108 of the team's 115-game strike-shortened season. It wasn't just Olerud who faltered; the Blue Jays finished 55-60, ending a streak of 11 consecutive years with a winning record.
The Blue Jays, like the rest of the major leagues, played a shortened schedule of 144 games in 1995, but they only won 56, tying the Twins for the worst record in the AL. Olerud also had the worst season of his career up to that point, falling under .200 at the start of May and going into the All-Star break at .246. He turned things around during the second half of the year, posting a .336 batting average the rest of the way, finishing at .291 with eight homers and 54 RBIs.
After the 1996 season, in which Olerud hit .274 (nearly 90 points lower than his .363 mark just three years prior), the Blue Jays traded him to the New York Mets for Robert Person, who went 4-5 with a 4.52 ERA that season. Toronto also gave New York $5 million, meaning the Mets would only have to pay Olerud $1.5 million for the upcoming year.
"It's been frustrating the last couple of years to not play as well as I feel I'm capable of playing," Olerud said. "I'm looking forward to the new opportunity, turning things around and having a good year."28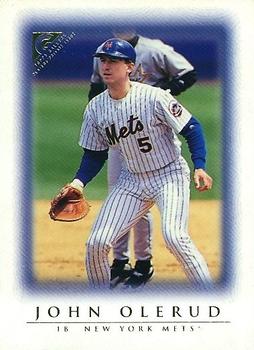 The newest Met quickly found himself among the millions of people looking for a place to live in the Big Apple. "New York is a big city; there are a lot of things to do," he said. "I want to make sure we're conveniently located to Shea Stadium. I definitely don't want to be stressed out about getting to the ballpark every afternoon. But we'd also like to see some things in the city and be somewhere safe."29 He and Kelly ultimately decided to live in Manhattan, joining Derek Jeter and David Cone as the only New York ballplayers to live inside the city itself.30
When the 1997 season started, Olerud wasted no time making an impact on his new team. On Opening Day, he led off the third inning with an opposite-field single to left, and scored the Mets' first run of the season when he was driven in by a two-run homer off the bat of Todd Hundley. He walked to load the bases with two outs in the fourth, setting up a two-run single by Bernard Gilkey. He also doubled to left-center in the sixth and hit a sacrifice fly in the eighth.
Over the next two games, he recorded a home run, two doubles, a single, and two walks.
In September, Olerud hit for the cycle — the first of his career — and drove in five runs. His night included an RBI double in the first, a single in the third, a solo homer in the seventh, and a bases-loaded triple in the eighth. He became the seventh Met to hit for the cycle and the first to do it at Shea Stadium since Tommie Agee in 1970.31
Olerud's first year with the Mets saw a return to a high level of offensive production, a .294 average with 22 home runs and 102 RBIs. His performance took a dip during the middle of the year, but he picked it back up at the end. After the season, he signed a two-year deal with the Mets worth $8 million.
"What determines the salary is the previous few years," Olerud said about the new deal. "The pay cut is directly related to those years. I'm going with a two-year deal and look forward to having two solid years and getting the value up."32
Unlike previous years when Olerud's performance dropped in the summer months, 1998 was a different story. In July, he started a hitting streak that lasted 23 games, and he also took the lead in the NL batting race with a .349 average.
"I don't know if there is a better pure hitter there," Mets manager Bobby Valentine said about Olerud. "But as far as who I want up there for one hit or who hits the best, I'd have to vote for John. Maybe I'm prejudiced because he's my guy, but if I wanted to go out and watch a pure hitter in New York I'd have to buy a ticket to see John."33
In September 1998, Olerud left the Mets during a road trip to join his wife Kelly in New York after hearing she would soon be going into labor.34 He was heading back to the hotel on the team bus after a game in Philadelphia when he received the call. He boarded the 12:37 a.m. train to New York, making it back home to bring Kelly to the hospital in the morning. That night around 9:00 Kelly gave birth a 9-pound, 4-ounce boy named Garrett.35
"Garrett takes after his father — very steady, calm, and laid back," Kelly said when their son was just nine days old.36
Olerud returned to the team with 14 games left in the season, and the birth of his son seemed to give him a boost. He hit .468 over those last two weeks, with 3 home runs, 10 runs batted in, and nine runs. He finished at .354, breaking the club record for a single season set by Cleon Jones in 1969 — Olerud's mark still stands.37
"There could be something to that," Olerud said about his impressive stats after becoming a father. "When you have your first child, you look at things from a different perspective. It seems like the ball slows down; I'm picking up the off-speed pitches sooner."38
Olerud started the 1999 season by reaching base safely in each of the first 30 games. He batted .330 over those 30 games with a 1.099 OPS, six home runs, and 17 RBIs.
"He's climbing rapidly," Mets catcher Mike Piazza said about Olerud. "He's so disciplined. You watch him every day and he just does not make mistakes with his at-bats."39
"I don't feel like I've got it all figured out just yet," Olerud said about himself. "But I feel like I've gotten better and more comfortable as the years go by at just knowing what I need to do to be successful and to help a team."40
He ended up playing in all 162 games in the 1999 season, enjoying his third straight season with an on-base percentage above .400.
Defensively, Olerud, along with second baseman Edgardo Alfonzo, shortstop Rey Ordonez, and third baseman Robin Ventura, were named the "greatest infield in baseball history" by Sports Illustrated. They committed just 24 errors all season (Olerud had eight), taking down the 1964 Baltimore Orioles as the best-fielding team in history.41
Olerud was eligible for free agency for the first time after the 1999 season, and after his years in New York, his market value was pretty good. The Detroit Tigers were reportedly willing to offer him around $8 million, while one agent said he could get a contract similar to Robin Ventura's from the year before, which was for four years and $32 million.42
Ultimately, Olerud decided to return to his home state of Washington, signing a three-year, $20 million deal with the Mariners.43
"This was a real difficult decision for me," Olerud said. "There were times where I was leaning towards the Mets, definitely. I came close, but never to the point where I said, 'Let's go for it.'"44 "One of the big things was family considerations. It's definitely a tough decision. You look at the things you're going to miss with the Mets, but I think this is the right decision for me, the right decision for my family. I have a good feeling about it, a peaceful feeling about the decision."45
He finished the first year in his new uniform with his third triple-digit RBI total (103) to go with 45 doubles, his second season with 40+ two-baggers. He also led all American League first basemen in fielding percentage, while winning his first career Gold Glove.46
On June 16, 2001, he became just the second player in MLB history to hit for the cycle in both the American and National Leagues, joining Bob Watson in that exclusive club.47 His night included a double in the second inning, a triple in the third (the ball got caught under a bench in the Mariners' bullpen, helping Olerud, who was never known for his speed, reach third base), a single in the fifth, and a two-run home run in the ninth to complete the cycle.48
In June 2002, he became the 46th player in MLB history to record 400 doubles, 1,000 walks, and 1,000 RBIs. At the time, the only other active players in that club were Jeff Bagwell, Barry Bonds, Mark Grace, Rickey Henderson, Fred McGriff, Rafael Palmeiro, and Edgar Martinez.49
Olerud also won his second Gold Glove Award in 2002 after posting a .996 fielding percentage, with only five errors in 1,275 chances, as well as 101 assists.50
Over 2001 and 2002, he averaged .301 with 21 homers and 98 RBIs. Those stats helped him sign a two-year deal worth $15.4 million to stay with the Mariners.51
On June 16, 2003, he hit a two-run homer in the fourth inning against the Anaheim Angels, his 2,000th career hit.52 It took him 1,933 games to reach that number.53
"That was nice, especially the ovation I got," he said about becoming the 224th player to join the 2,000-hit club. "I think it means I'm getting older. But it is a big milestone, a nice milestone to get to."54
That ended up being one of the lone high points of 2003 for Olerud. He finished the year with a .269 batting average, 28 points below his career average and his lowest in 12 years. His 83 RBIs were 16 fewer than his average over the previous six years. It was also the last season in which he played at least 150 games. He recorded 145 hits, breaking his streak of six consecutive 150+ hit seasons. He did, however, collect his third Gold Glove award thanks to his usual stellar play at first base.
Entering the 2004 season, the 35-year-old Olerud began seriously considering whether it was time to retire. "I've been thinking of retirement for some time, but it really entered my thoughts last year," he said. "The team would take a loss and you'd have a bad game, and you sit at your locker and think, 'Maybe the time is drawing near.' You can't help but think like that. No one wants to go through stuff that is no fun."55
When Opening Day 2004 came around, Olerud was still playing for the Mariners in the last year of his contract. On July 24, he was designated for assignment. But he wasn't out of a job long. Less than a month later, he was picked up by the New York Yankees to play first base while Jason Giambi was injured.56
"This is a place I've always admired, a team I've always admired because of the way they do things," Olerud said. "I think it's going to work out well around here."57
"He's a very good player. He's had a very good career. I think this is going to work out well for both of us, the team and for John," Yankees manager Joe Torre said.58
When Olerud joined the team, there was already a fan waiting for him in the clubhouse. "He's the best player I ever played with," said Alex Rodriguez, who played with Olerud in Seattle. "I'm very excited because I know what he can do for any team. He just completes our team."59
Olerud wasted no time making an impact for the Yankees, going 5-for-8 with four RBIs in his first two games in pinstripes. Over his final three weeks with the Mariners, he went just 4-for-37 with three RBIs.
He spent the 2004 offseason without a team to call home as he recovered from a torn ligament that occurred during Game 3 of the ALCS against the Boston Red Sox when he hit his foot with his bat while running out of the batter's box.60
He eventually signed a contract with the Red Sox in May worth about $750,000. The deal meant more than just a new team for Olerud; it also meant the first time he would play in the minor leagues.61
He hadn't played baseball outside the major leagues since he played for the Alaska Summer League Palouse Cougars in 1989. But age 36, he found himself suiting up for the Pawtucket Red Sox.
"When I went to Pawtucket, other players called me up and said, 'You're doing things backwards,'" he said. "But I was hurt, and I needed to do a rehab assignment. It was just a normal thing to do. Everybody starts in the minors. Going down there was a good experience. I had a great time there."62
When he made it back to the major leagues, he showed that he could still contribute to an offense. He hit .294 with four doubles, six RBIs, and one home run in his first 22 games.
"When a young player doesn't play, he fears that people will forget about him," he said about his role on the Red Sox. "He thinks, 'If I stay backup too long, they'll look at it as if it's all I can do,' He's afraid that'll be his role instead of playing every day. For me, I'm established. I'm not trying to make a name for myself. Everybody likes to play every day. But my circumstances were that I was hurt, and the Red Sox picked me up after the season started. I understand the role that I have, and that makes it easier to accept. Still, there isn't anybody in here who wouldn't want to play every day if they could fill out the lineup."63
The 2005 season turned out to be Olerud's final year in the majors; he retired in December. In typical Olerud fashion, there was no big press conference for him to announce he was hanging up his cleats. In fact, most people in the baseball world didn't even know until the winter meetings when Boston was asked why Olerud's name wasn't listed among the unsigned free agents.
"He retired," assistant to the general manager Jed Hoyer said.64
Olerud finished his career with a .295 batting average, a .398 on-base percentage, 255 home runs, 1,230 RBIs, 2,239 hits, and 500 doubles. He never struck out more than 96 times in a season and had a career strikeout rate of 11%. He also had a .995 fielding percentage at first base, collecting three Gold Glove awards throughout his career.
In 2007, Olerud was inducted into the National College Baseball Hall of Fame. Three years later, the College Baseball Foundation created the John Olerud Two-Way Player of the Year Award, which is now given annually to the best dual hitter/pitcher at the collegiate level.65
"There have been a lot of great players in college baseball and for the College Baseball Foundation to name it after me, I am humbled and honored," he said about having the award named after him.66
In 2011, Olerud's first year on the Hall of Fame ballot, he received only four votes, eliminating him from future ballots.
In 2016, Olerud was selected as the Pac-12 Conference Player of the Century for his stellar play as both a hitter and pitcher, as well as for the way he returned to the field after overcoming his potentially life-threatening brain aneurysm.
After retiring from baseball, Olerud and his wife, Kelly, moved back to Washington with their three children: Garrett (b. 1999), Jordan (b. 2000, d. 2020), and Jessica (b. 2004).
Garrett and Jessica were both healthy children, but unfortunately, Jordan had a much more difficult time. She was born with a condition known as "tri-some 2p, 5p-," which meant she had an extra second chromosome and was missing part of her fifth chromosome. She spent the first years of her life eating through a tube, unable to walk or speak, save for the occasional "yes" or "no." She underwent close to a dozen surgeries and other medical procedures in her first five years of life. At the time of her diagnosis, she was the only person in the world known to have the condition.67
In 2003, the Oleruds started the Jordan Fund to help other parents with special needs children pay for their treatments.68
"The thing that really hit us about having Jordan and a special needs child is that we had the financial means to get help and to get as good as care as we could get for her," Olerud said. "We came up with the Jordan Fund, because that was our desire to help kids and families with special needs. If there were things we could do to help out families, we wanted to make sure that we could do that."69
Jordan Olerud passed away in 2020 as a result of her condition. She was 19.70 Those who are interested in learning more about the organization can visit the Jordan Fund here.
In December 2014, Olerud, joined by his family, received the honor of raising the "12th Man Flag" at CenturyLink Field before a Seattle Seahawks NFL game. Talking about the highlights of his career, he said: "A lot of great times, great teams and teammates…it's hard to pick just one, but I would say probably the 1993 World Series, just because in '92 I was a nervous wreck the whole time during the World Series — in '93 I felt like I could relax more and contribute more to that team."71
Even in 1990, Olerud put his overall life in perspective well: "[Baseball is] hardly a life-and-death situation for me. I've had the chance to think about dying. I know what's really important… [That's to] live life to its fullest. Don't waste a moment. I plan to enjoy whatever life brings my way and be thankful I have a life to enjoy."72
Last revised: March 4, 2020
Acknowledgments
This biography was reviewed by Rory Costello and Jan Finkel, and fact-checked by Alan Cohen.
Notes
1 Larry Clark, "John E. Olerud '65 – Science Is A Lot Like Baseball," Washington State Magazine, April 26, 2012.
2 "John Olerud," Washington Interscholastic Activities Association. http://www.wiaa.com/ardisplay.aspx?ID=333
3 "Former Washington State, Seattle Mariners Standout John Olerud To Be Inducted Into Pac-12 Conference Hall Of Honor," Spokesman-Review, March 9, 2019.
4 Greg Johns, "John Olerud: The Ultimate Two-Way Player," Seattle Post-Intelligencer, February 18, 2010.
5 Tom Leo, "Not Invincible, But Still A Top Prospect," Syracuse Herald American, March 24, 1990.
6 Jim Callis, "Olerud Rebounds To Success After Near-Fatal Aneurysm," Baseball America, 1989.
7 Callis, "Olerud Rebounds To Success After Near-Fatal Aneurysm."
8 Callis, "Olerud Rebounds To Success After Near-Fatal Aneurysm."
9 Callis, "Olerud Rebounds To Success After Near-Fatal Aneurysm."
10 Callis, "Olerud Rebounds To Success After Near-Fatal Aneurysm."
11 Hank Hersch, "A Gentleman And A Slugger," Sports Illustrated, August 15, 1991.
12 Jim Callis, "Olerud Rebounds To Success After Near-Fatal Aneurysm."
13 Callis, "Olerud Rebounds To Success After Near-Fatal Aneurysm."
14 Anstine, "John Olerud."
15 Callis, "Olerud Rebounds To Success After Near-Fatal Aneurysm."
16 Callis, "Olerud Rebounds To Success After Near-Fatal Aneurysm."
17 Mike DiGiovanna, "Big Leagues No Big Deal To Him: Blue Jays," Los Angeles Times, May 24, 1990.
18 Tracy Ringolsby, "Draft Gambles Sometimes Hit Big," Baseball America, July 10, 1990.
19 "Timeline: John Olerud's Baseball Career," Washington State Magazine. https://magazine.wsu.edu/web-extra/timeline-john-oleruds-baseball-career/
20 Tom Leo, "Not Invincible, But Still A Top Prospect," Syracuse Herald American, March 24, 1990.
21 Jeff Redd, "Olerud Makes Smooth Move," USA Today, July 20, 1990.
22 Leo, "Not Invincible, But Still A Top Prospect."
23 DiGiovanna, "Big Leagues No Big Deal To Him: Blue Jays."
24 Marty York, "Williams Keeps Eyes On Olerud," Toronto Globe And Mail, June 19, 1993.
25 Jeff Bradley, "Olerud Knows Pressure Will Build Up On O'Neill," New York Daily News, May 25, 1994.
26 Hal Bodley, "Honors," USA Today, 1994.
27 "Blue Jays Sign Olerud For $17 Million," USA Today, February 4, 1994.
28 Chuck Johnson, "Mets Figure Timing Is Right To Acquire Olerud From Jays," USA Today, December 23, 1996.
29 Thomas Hill, "Heading For Home," New York Daily News, January 12, 1997.
30 Hill, "Heading For Home."
31 "Mets' Olerud Hits For Cycle," Associated Press, September 12, 1997.
32 David Waldstein, "Olerud Returns To Mets For 2 Years At $4M Per," New York Post, November 25, 1997.
33 David Waldstein, "Olerud Streaks Closer To Amazin' Record," New York Post, August 14, 1998.
34 Tom Keegan, "John Gets Wide Birth," New York Post, September 11, 1998.
35 Filip Bondy, "With Sleep, Pop's Ready To Do More Than Dream," New York Daily News, September 21, 1998.
36 Bondy, "With Sleep, Pop's Ready To Do More Than Dream."
37 Mike Piazza also hit .348 in 1998.
38 Bondy, "With Sleep, Pop's Ready To Do More Than Dream."
39 Joel Sherman, "Olerud Is Following O'Neill's Recipe For Success," New York Post, April 30, 1999.
40 Jason Diamos, "The Most Cosmopolitan Met," New York Times, May 7, 1999.
41 Tom Verducci, "Glove Affair," Sports Illustrated, September 6, 1999.
42 Rafael Hermoso, "Mets Take Stock Of Olerud Market," New York Daily News, October 31, 1999.
43 "Olerud Returns To Seattle Roots," Associated Press, December 7, 1999.
44 "Olerud Returns To Seattle Roots."
45 Murray Chass, "You Can Go Home Again: Olerud Joins Mariners," New York Times, December 8, 1999.
46 "American League Winners," USA Today, November 16, 2000.
47 "Season Of Accomplishments," USA Today, October 9, 2001.
48 "Olerud Hits For Cycle In Dramatic Seattle Win," Associated Press, June 17, 2001.
49 New Jersey On-Line, July 1, 2002.
50 "Molina Halts I-Rod's Streak, 3 M's Win AL Gold Gloves," ESPN, November 13, 2002.
51 "Baseball: Garciaparra, Hamm Engaged," New York Post, December 7, 2002.
52 Jim Street," Olerud Milestone Highlights Win," MLB.com, June 17, 2003.
53 Jim Cour, "John Olerud Homers For 2,000th Career Hit," Midland Daily News, June 15, 2003.
54 Street," Olerud Milestone Highlights Win."
55 Bob Finnigan, "Olerud On Fence, But Still In Ballpark," Seattle Times, March 15, 2004.
56 Anthony Reiber, "It's Olerud At First Soon," Newsday, August 2, 2004.
57 Mike Vaccaro, "Yanks & John A Perfect Match," New York Post, August 4, 2004.
58 Vaccaro, "Yanks & John A Perfect Match."
59 Jack Curry, "Olerud Will Be Satisfied Being Lost In The Mix," New York Times, August 6, 2004.
60 Dom Amore, "Olerud Out With Foot Injury," Hartford Courant, October 18, 2004.
61 Chris Snow, "Olerud Signed To Give First Aid," Boston.com, May 2, 2005.
62 Ron Indrisano, "Olerud Has Role Down Pat," Boston Globe, June 29, 2005.
63 Indrisano, "Olerud Has Role Down Pat."
64 John Blanchette, "Olerud Retired In Typical Way, With Quiet Class," Spokesman-Review, December 8, 2005.
65 Mark Zwolinski, "Old Blue Jays Rarely Fly Together," Toronto Star, August 7, 2009.
66 Zwolinski, "Old Blue Jays Rarely Fly Together."
67 Adam Kilgore, "Growing Family: Oleruds' Faith Helps Them Cope With Their Daughter's Illness," Boston Globe, June 24, 2005.
68 Kilgore, "Growing Family: Oleruds' Faith Helps Them Cope With Their Daughter's Illness."
69 Jason Krump, "John Olerud '88: Faith, Hope, and Horses," Washington State Magazine, November 3, 2011.
70 Mark Fischer, "Jordan Olerud, daughter of John Olerud, dead at 19 after battling rare disorder," New York Post, March 1, 2020 (https://nypost.com/2020/03/01/jordan-olerud-daughter-of-john-olerud-dead-at-19-after-battling-rare-disorder/)
71 https://www.seahawks.com/video/12-flag-raiser-john-olerud-interview-104736
72 Leo, "Not Invincible, But Still A Top Prospect."
Born
August 5, 1968 at Seattle, WA (USA)
If you can help us improve this player's biography, contact us.
https://sabr.org/sites/default/files/OlerudJohn-1992.jpg
600
800
admin
/wp-content/uploads/2020/02/sabr_logo.png
admin
2019-08-27 12:02:51
2020-04-09 14:37:31
John Olerud